Whether you're riding for pleasure or to stay in shape, it's not always possible to ride a real bicycle. Some days it's pouring rain when it's time for your ride. And with winter coming on, there are the twin plagues of snow and ice. So unless you actually enjoy riding your bike in all-weather conditions, an indoor exercise bike makes sense. An indoor bike can also be helpful when time is limited, or if you have small children. That way, you can keep an eye on them, and still get your workout in. But home exercise bikes also have a major downside. They just don't give you the same experience as riding in the real world.
Over the past decade, companies have been using technology to bridge this gap. The most famous example is Peloton, with their interactive workouts. For example, you might simulate riding a hilly route, and the resistance will adjust accordingly. You'll push yourself hard to go "uphill," and pedal more easily on the "downhill." Many of these bikes also offer interactive classes, and the ability to bike with your friends. Think of it as a Zoom call for you and your workout buddies. But most of these bikes either cost as much as a used car, or require an expensive subscription plan. So what do you do if you're looking for something a bit more affordable?
Mobifitness is a UK-based company that's breaking new ground in this arena. The Mobifitness Smart Exercise Bike comes with many features you'd only expect on a premium model. The app offers free classes, group rides, and more. Not only that, but the bike has a unique, contemporary design, which is something Mobifitness is known for. But that really only scratches the surface of all the things we should be considering. Behind all the smart features and cosmetic touches, this is still a mechanical machine. We need to know how it's built, how it works, and what kind of workout you can expect to experience. After we've looked at all these features in detail, we'll be able to render a fair verdict. Let's get started!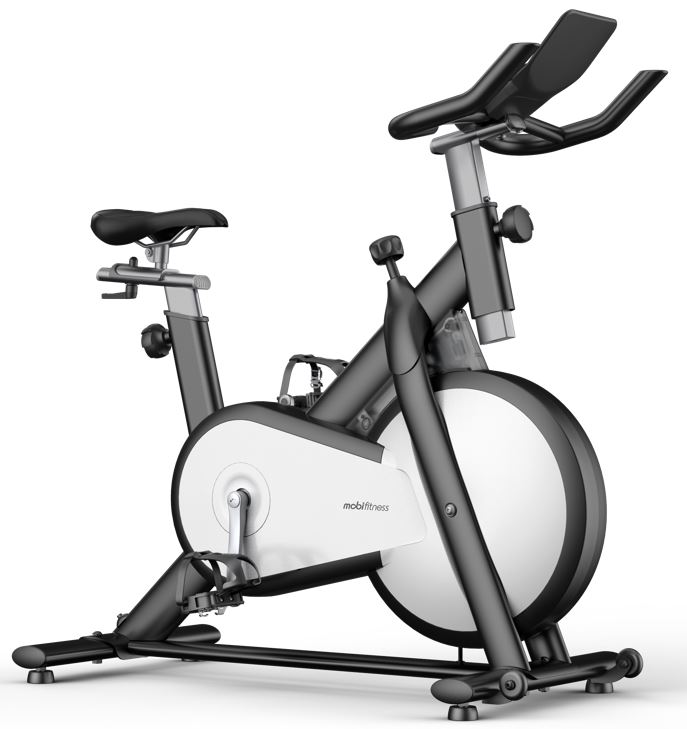 Overall Design
The Mobifitness Smart Exercise Bike stands out first and foremost for the way it's constructed. It has a sturdy aluminum frame, with a buff grey finish that's as modern as it gets. To compliment that frame, all the paneling and accents are a shinier, silvery color. The main frame rails, including the base, are broad, flat ovals. On the base, you'll find four adjustable feet, one at each corner. These only offer a small range of adjustment, but that's all you should really need. Their only purpose is to ensure that the bike remains level while you're riding it. On the front of the base, there are a set of wheels, pointed towards the front. These are for portability. If you want to move the bike around, you just grab the handlebars from the front, push down, and roll.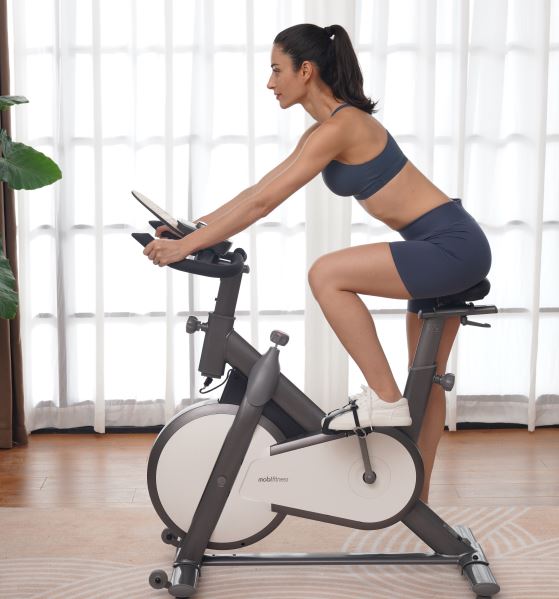 Portability is key, because this is a beefy machine. Because of its sturdy metal construction, it tips the scales at 112 pounds. The electromagnetic resistance system also contributes to this weight, since the large magnets are inherently heavy. Then again, the bike is small enough to be easily stowed away. The length is 42.52 inches, the width is only 20.08 inches, and the maximum height is 44.49 inches. And for all of that compact size, the Mobifitness bike is surprisingly tough. It has a weight limit of 330.7 pounds, more than most workout bikes that aren't expensive gym machines.
The flywheel and other mechanical components are all enclosed in a single housing. The aluminum frame wraps around this housing, and the outer border of the housing is also aluminum. The side panels are made of plastic, but the chromed finish looks like more aluminum. Just behind the flywheel, the word "Mobifitness" is printed in grey type. All in all, this housing is attractive and modern. It also has a significant safety advantage. Since it covers all the moving parts except the pedals, there's less risk of children's fingers getting pinched. The only downside is that you can't actually see the flywheel. But that's a purely aesthetic concern, and a relatively minor one.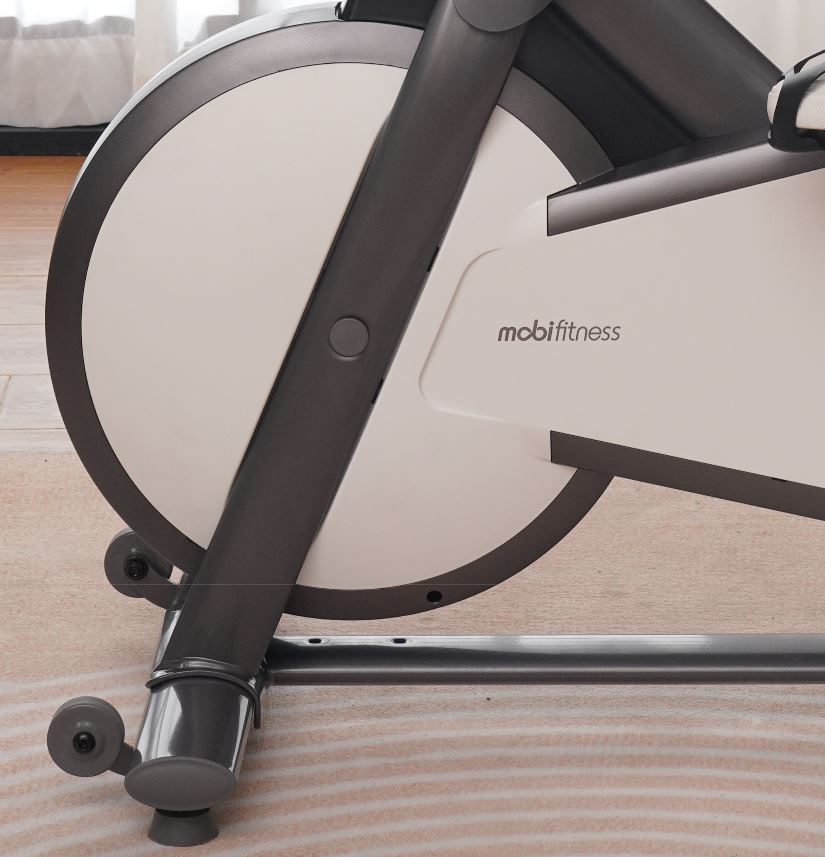 The pedals are mounted on aluminum posts, and have a textured plastic finish. Like many exercise bikes, there are toe straps on the front of these pedals. They're just narrow rubber straps, but they're functional and effective. You don't have to worry about your feet popping out of the pedals mid-workout.
Moving up, we come to the seat, which is mounted in a tall, backward-angled portion of the frame. It has a medium profile, which is suitable for male and female riders alike. The padding is firm, and provides enough support that you won't develop any pressure points. It would be ideal for endurance riding, and it's certainly more than good enough for everyday workouts.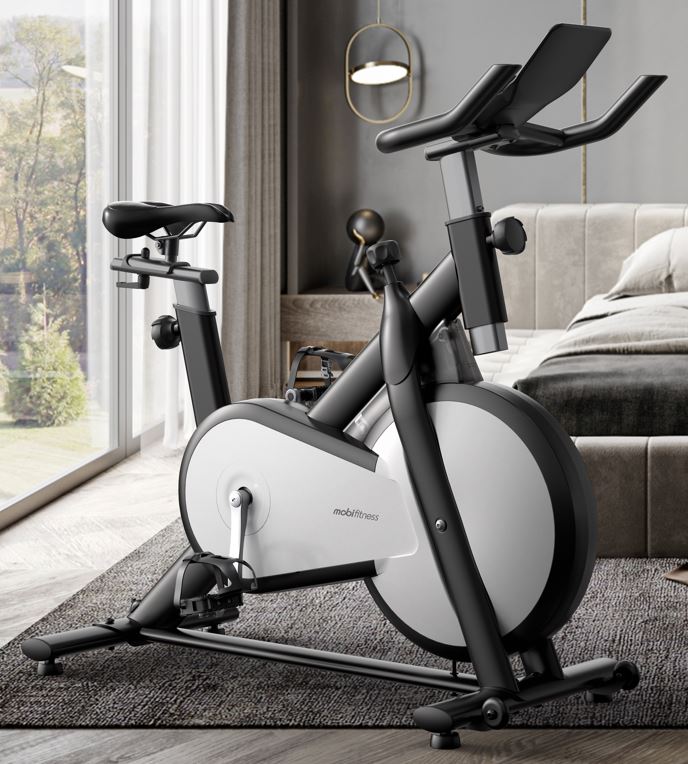 The handlebars are some of the largest we've seen on an exercise bike. They're almost like the handles on some treadmills, with both upper and lower extensions. This allows you to take a variety of riding positions, depending on your preferences and riding style. The grips are hard, but they're still surprisingly comfortable to hold. And because of the way they're curved, they can accommodate wide and narrow grips alike.
In between the handlebars, there's a polished wooden platform. It has a half-oval shape, and it's designed to support your smartphone and tablet. This is an essential, key feature, since there's no built-in display. Instead, you use your tablet as a display, when you pair it with the bike via the app. We'll talk more about those features in a little bit. The thing that most impressed us here was the use of wood. It's a nice touch, and it adds to the "premium" feel of the machine.
All of this is covered by a one-year limited parts and labor warranty. If there are any defects or premature failures, you'll get a free replacement or repair.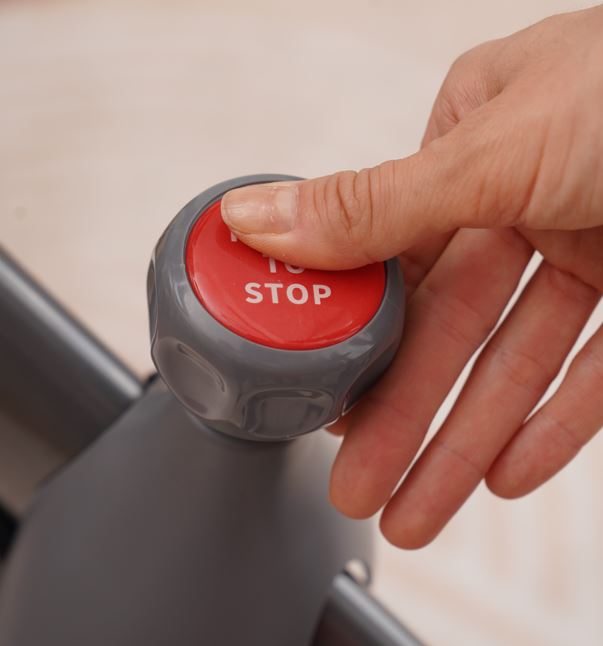 Workout Functions
The main working component of a home exercise bike is the resistance system. This is a device that makes it harder to work the pedals. Without a resistance system, the pedals would simply spin freely, and you wouldn't get any exercise. A resistance system can take many forms. The most basic is a simple tensioner on the drive belt. But this method applies friction, which wears on the belt over time. It's also imprecise.
The Mobifitness Smart Exercise Bike utilizes an electromagnetic resistance system. The flywheel is made of conductive metal, and there are magnets positioned to either side. The more power is delivered to the magnets, the more drag they will exert on the flywheel. There are two major advantages to this system. First, there's no physical contact and no friction, so there's no wear from heavy use. Secondly, you can adjust the resistance much more precisely than with a physical tensioner. The only real downside is that the bike has to be plugged in.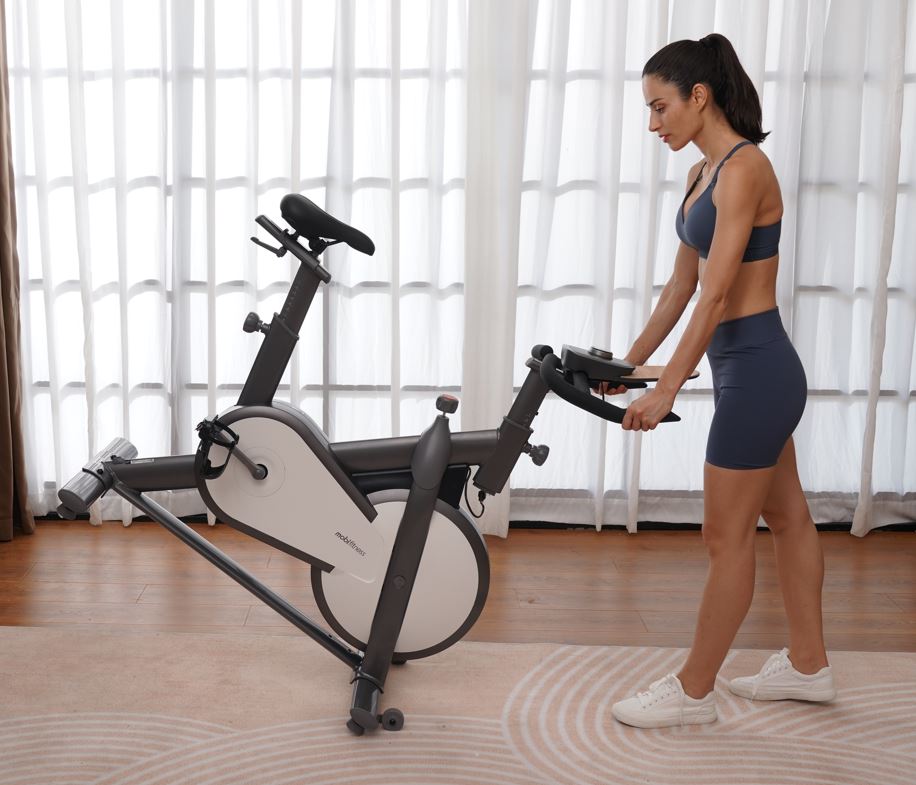 The flywheel has a maximum resistance of 26.45 pounds, which is heavier than it sounds like. In all, there are 32 possible settings, from less than one pound all the way up to the maximum. This gives you the ability to create a truly customized workout experience. You can adjust the resistance either by turning a knob on the housing, or via the app. As a result, you can easily turn it up or down without interrupting your workout.
The resistance isn't the only thing on the Mobifitness bike that's adjustable. The seat and the handlebars are also fully adjustable. The seat can be moved up or down, by tightening and loosening a single screw knob. However, it can also be moved forwards or backwards. This makes it very easy for the bike to accommodate shorter or taller riders. Along the same lines, the handlebars can be adjusted up or down, using a similar screw knob mechanism. No matter what size you are, you shouldn't have trouble getting the perfect fit.
These are all great features, whether you need a light workout or a heavy one. But suppose you want to get a light walking workout? In that case, consider a standing desk treadmill. They're great for walking while you work, read, or watch TV. Then again, you won't get the same intense cardio you can get from a bike.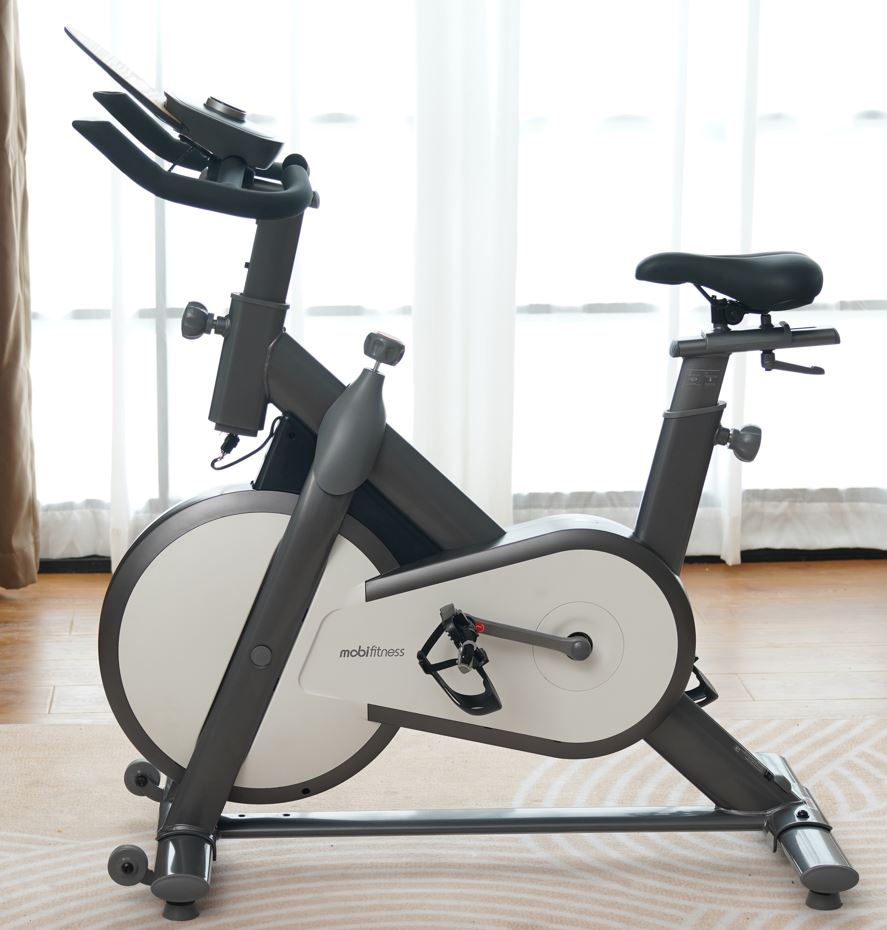 App and Connectivity
To get the most out of the Mobifitness Exercise Bike, you need to use the app. The app is free to install, and works on both Android, iPads, and iPhones. Once it's installed, you'll be able to pair with your exercise bike. When you do this, your phone or tablet becomes a control station and monitor for your bike.
Inside the app, you can access a number of features to enhance your workout experience. To begin with, there are free online workout classes and sessions. Sometimes, an enthusiastic instructor cheering you on is all it takes to help you stay motivated. This is something you'd normally have to pay a ton of money for, but it's all included. Another neat feature is Mobofitness' online tournaments. There, you can compete against others, riding the same virtual course. That way, you can watch your name rise in the leaderboards, even while you get into better shape.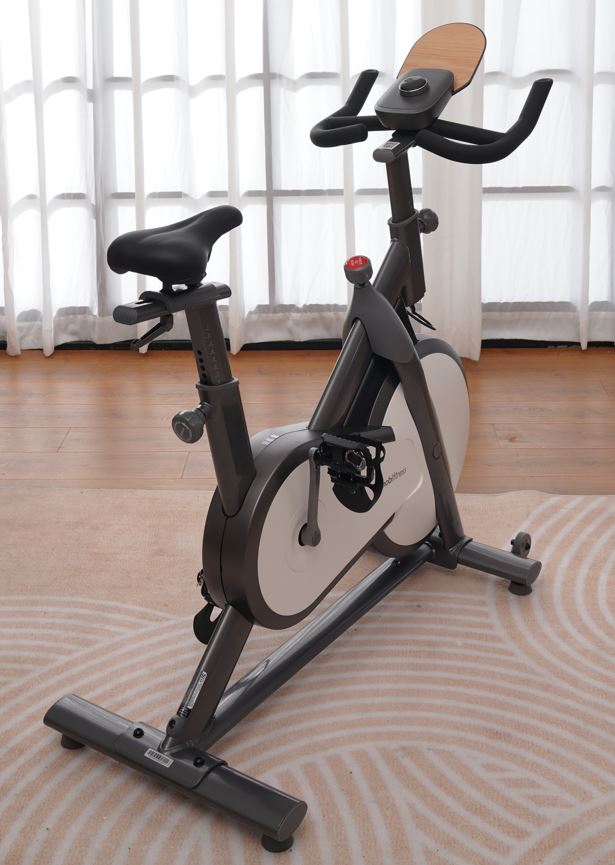 These are all great features. But what if you want something even more immersive? If you want true immersion, check out the VirZOOM Virtual Reality Exercise Bike. You can use it not just for ordinary riding, but for cool games, or even flying through the air. Then again, the physical build isn't as robust as the Mobifitness.
Final Verdict
The Mobifitness Smart Exercise Bike is one of the most impressive workout machines in its range. It's robust, it's durable, and it's easy to use. It also has a powerful resistance system, as well as a full-featured app. There's a lot to like about this bike!