JIRENO CUBE4
Pros
1080p native resolution with 4K downscaling.
Can install streaming apps directly to the projector.
Automatic focusing and keystone adjustment.
Sturdy, portable design.
Totally sealed, optical machine technology.
Cons
Doesn't ship until January, 2022.
Internal speaker quality is only so-so.
Home video projectors have a unique place in the world of entertainment. They're both the oldest way to watch a movie, as well as one of the most advanced. Before the days of video tape, a projector was the only way to enjoy a movie at home. These old-school projectors were clunky and expensive, and required reel-to-reel film. As a result, only rich people and hardcore movie buffs actually used one. And as soon as video tapes were invented, film projectors all but disappeared from people's homes. But nowadays, high-quality projectors are starting to make a comeback. Instead of film, they receive a digital video signal, and project a high-resolution video on your wall or screen.
So, what makes one projection system better than another? There are a number of possible reasons, and a lot depends on what the projector is for. For example, if you're buying a projector for an office, you want one that's bright and easy to connect. The brightness is helpful under fluorescent office lighting, and easy connection means less wasted time. For home use, you might consider other factors. Video quality will be more important at home, since you're presumably watching for entertainment. Another major consideration at home is how easy the projector is to set up. In an office, this is less of a concern, since your projector will likely be permanently mounted.
Today, we're going to review the JIRENO CUBE4 Portable Projector. This is JIRENO's latest offering, the successor to their popular CUBE1 projector. This is a native 1080p projector that supports up to 4K video inputs. The CUBE4 has several video inputs, supports wireless casting, and automatically focuses itself. You can even download and install popular streaming apps directly to the internal hard drive. That said, this projector is only available for pre-order, albeit at a discounted price. It's just completed its last round of crowdfunding, and production models will start shipping in January, 2022. Then again, if you can wait, there's a lot of value to be found. Let's take a closer look, and see what the latest JIRENO projector has to offer!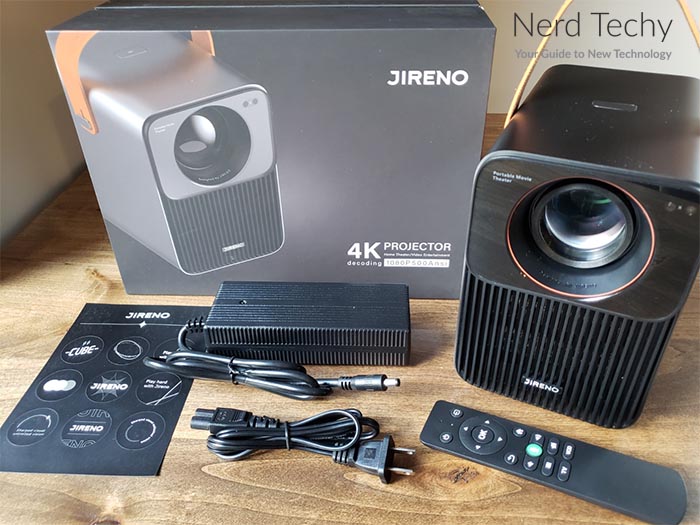 Design & Controls
The JIRENO CUBE4 Portable Projector has a unique design, unlike any other projector. Most projectors have a horizontal build, with the lens housing to one side. The CUBE4, while not exactly a cube, has a more vertical design, with the lens mounted in the top half of the housing. This has a couple of major advantages. First, because heat rises, the lens isn't heating up the rest of the projector, and it's easy to cool. Secondly, the vertical design makes the projector more portable. There's a big orange rubber handle across the top, so you can pick it up and carry it around. And if you don't like the handle, it can be removed in just a few seconds.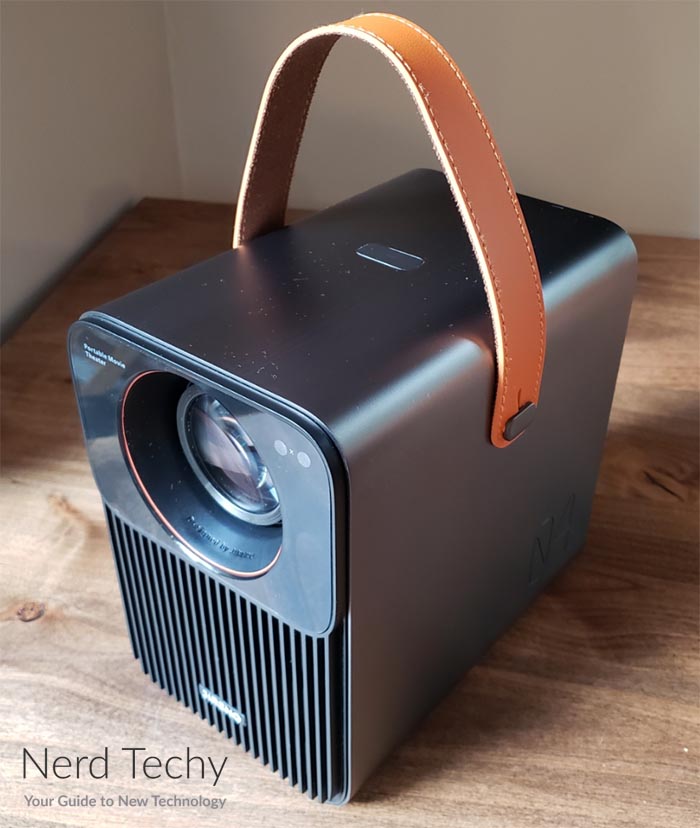 The housing is grey in color, and is CNC manufactured from high-quality aluminum. This makes the projector much more durable than others with plastic housings. Not only that, but aluminum is far better at conducting heat, which improves cooling performance. The finish is smooth and attractive, without a ton of branding. There's a low-key, embossed "CUBE04" on one side, and a small Jireno logo on the front. The only physical control is a power button, located smack dab in the middle of the top of the housing. Other than that, everything is done through the system menu, via the remote control.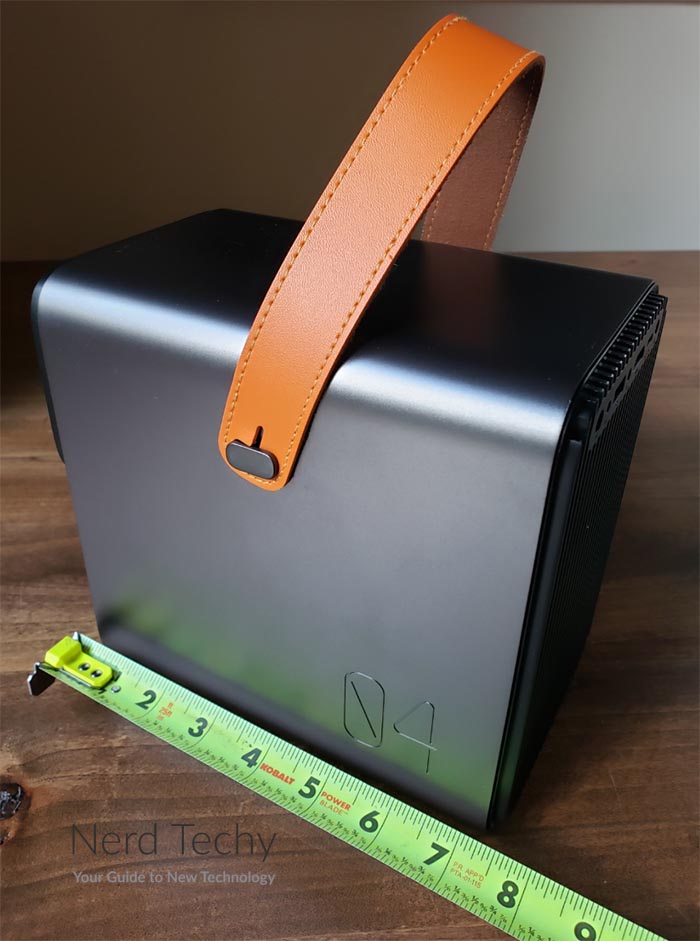 As you can see, the CUBE4 is already fairly portable. But what if you want to take your projector with you on an airplane? In that case, the PVO YG300 could be the ideal choice. It's an insanely compact mini projector that supports the same input types, including WiFi. However, it doesn't have as high a resolution, and it's not quite as bright.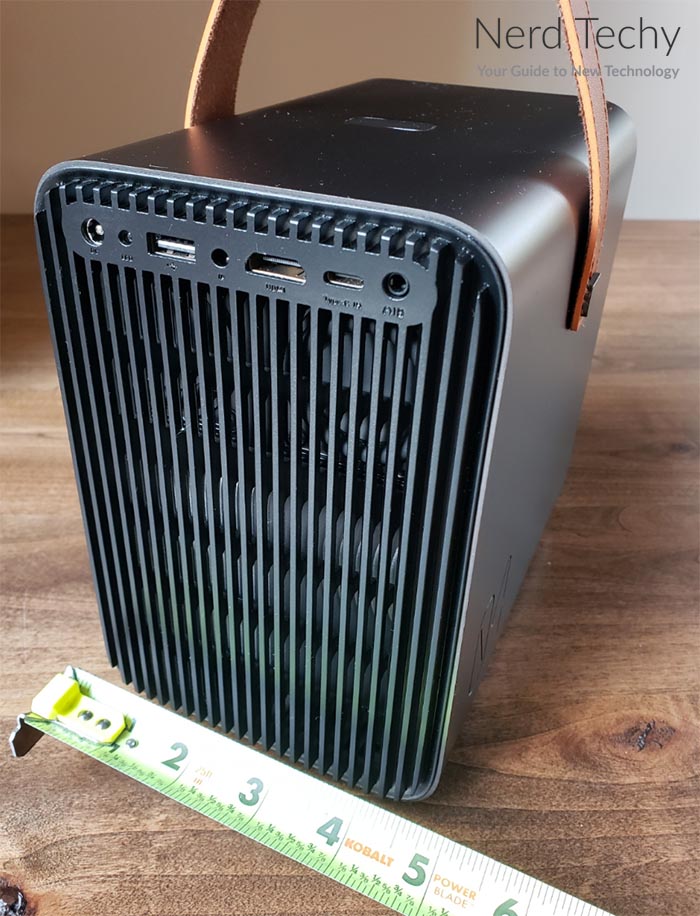 One thing you don't have to worry about with the CUBE4 is cooling. The bottom two thirds of the housing consist of consist of vertical slotted vents, on the front and back. This allows for plenty of airflow through the inside of the projector. As a result, the fan doesn't need to run at as high of a speed in order to keep the lens cool. The low-speed fan is quieter than most projector fans, and doesn't interfere with watching your movie.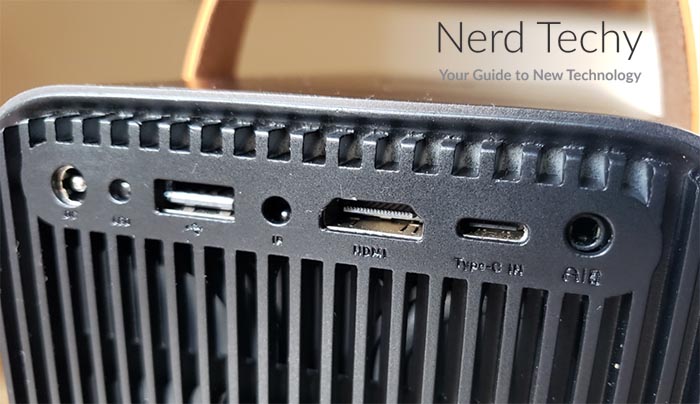 All of the input and output ports are located on the back, along the top of the unit. This makes cable management easy, since you don't have wires coming in from multiple directions. The first port, on the left, is the DC power input. Next to that is an LED, which glows red when the projector is plugged in, and green when it's powered on. Third in line is the USB Type-A port, followed by the infrared remote sensor. After that, you'll see a standard HDMI port. A USB Type-C port and a 3.5mm aux audio output round out all your physical connections.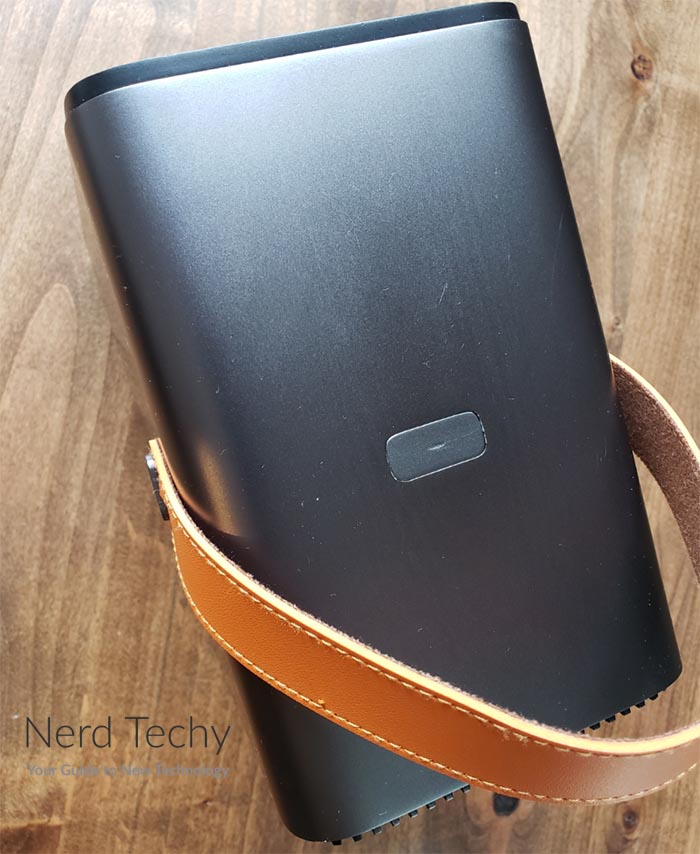 The kit includes a DC power adapter and cord, so you're all ready to plug in. You also get a 12-month manufacturer's warranty, covering any defects in material or workmanship. The only thing you don't get is a projector screen. If you're looking for an all-in-one kit, consider the GooDee W80 instead. It supports pretty much any input device, and includes an 80-inch screen. Then again, the native resolution is only 720p, less than the CUBE4.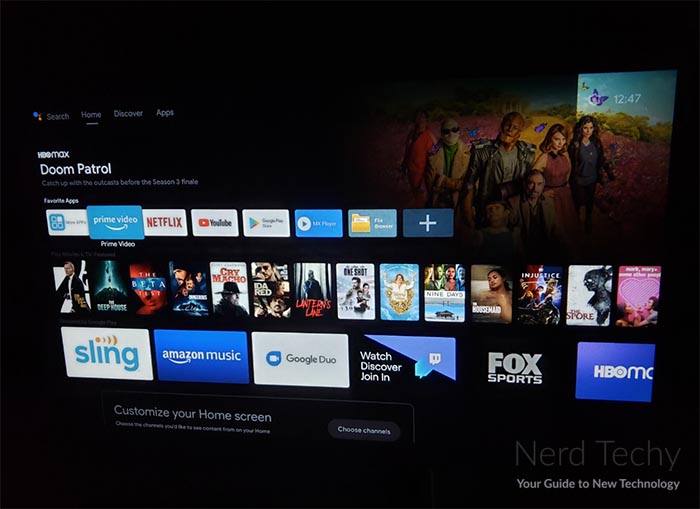 Video Quality
The CUBE4 has some of the best video quality we've seen on any projector to date. There are actually two ways of measuring this. The first measurement is what's called "native resolution," the quality of the image the projector actually produces. This projector has a native resolution of 1080p, which is better than your typical 720p home projector. The second measurement is the supported resolution – the type of input the projector will support. In the case of the CUBE4, the supported resolution is up to 4K, which is again quite good.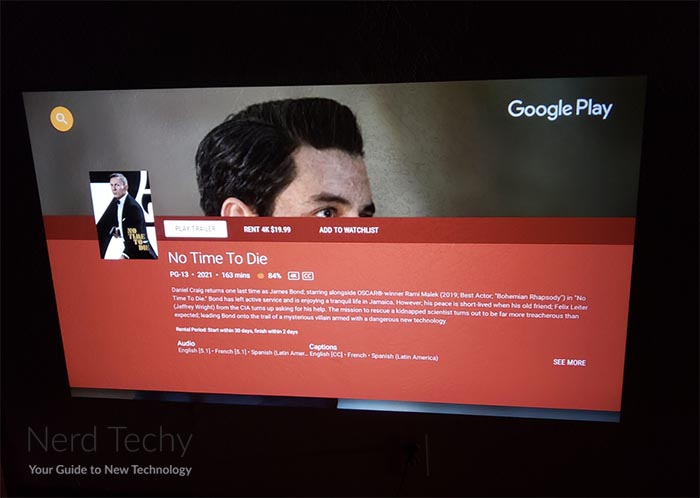 The reason there are two measurements is that projectors are traditionally not as sharp as the sharpest monitors. During the age of 1080p, 720p projectors have been the norm. As we slowly move to a 4K world, you can expect to see more 1080p projectors. So, what happens if you want to watch a 4K video? In that case, the CUBE4 will simply downscale the video to 1080p. It will do the same with 2K videos, and anything else that's a higher resolution than 1080p. Keep in mind that the same is not true for lower-resolution videos. If your video source is 480p, you're going to see a 480p video on your projector screen.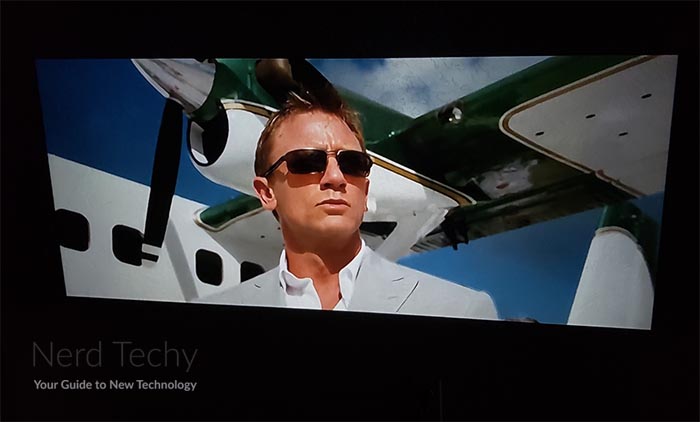 The total brightness of the bulb is 500 lumens ASIN. This is an appropriate brightness for a medium-sized room, or for a large room with the lights off. It's also more than good enough for outdoor use, provided the sun has gone down. The only trouble you'll have indoors is if you're in a large room, like a conference room, with fluorescent lighting.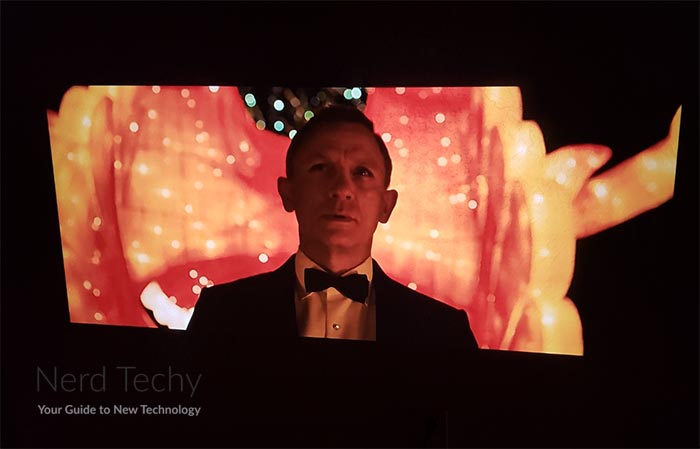 The CUBE4 uses an infrared sensor above the lens to detect the distance to the screen. When you bring up the projector menu, you can select an option for automatic focus. The video might go blurry for a second, but within less than 10 seconds, it will be perfectly focused. This system is very reliable, and works more quickly and easily than a manual focus system. There's also an option for automatic keystone adjustment. This is semi-accurate, but you'll often find that you want to tweak the image further. In that case, you can also adjust the keystone manually, and independently move all four corners with the remote. Regardless, positioning your projector a bit to the side is not going to be a problem.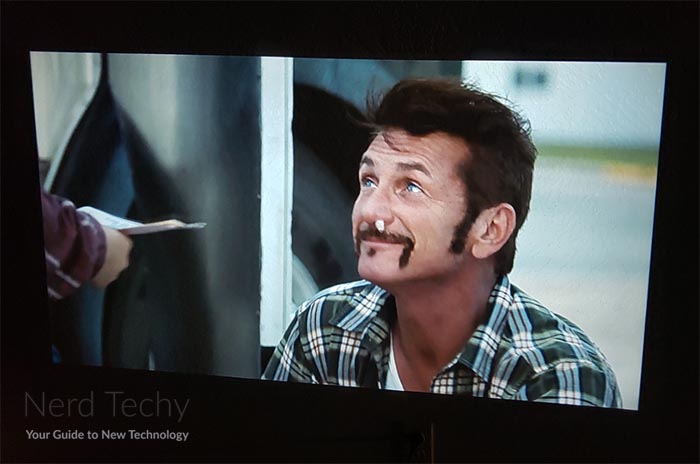 In addition, you can make some further changes to your image. There's a zoom function, which effectively makes the video smaller. That might sound undesirable, but it's actually a great feature in smaller rooms. You can also change the aspect ratio from 16:9 to 4:3. This will eliminate any distracting "black bars" when playing back older content.
Compatibility & Extras
So, what can you connect to the CUBE4? In short, just about anything. With HDMI, USB Type-C, and regular USB inputs, you can connect most consoles, computers, and Blu-Ray players. But in addition to that, you can also connect your smartphone via WiFi or Bluetooth 5.0. This allows you to use the various casting features in iPhone and Android apps. Basically, your phone will treat the projector like a smart TV.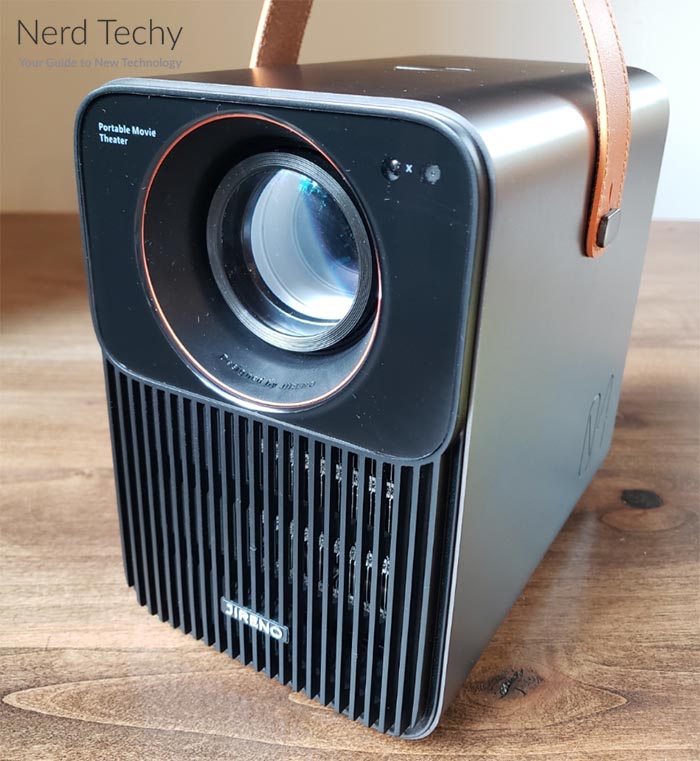 Then again, if this is what you want, why not just get a regular WiFi projector, like the WiMiUS S25? It's more affordable, it works great with smartphones, and it even comes with a nifty carrying case. On the downside, the video quality and build quality are not as good.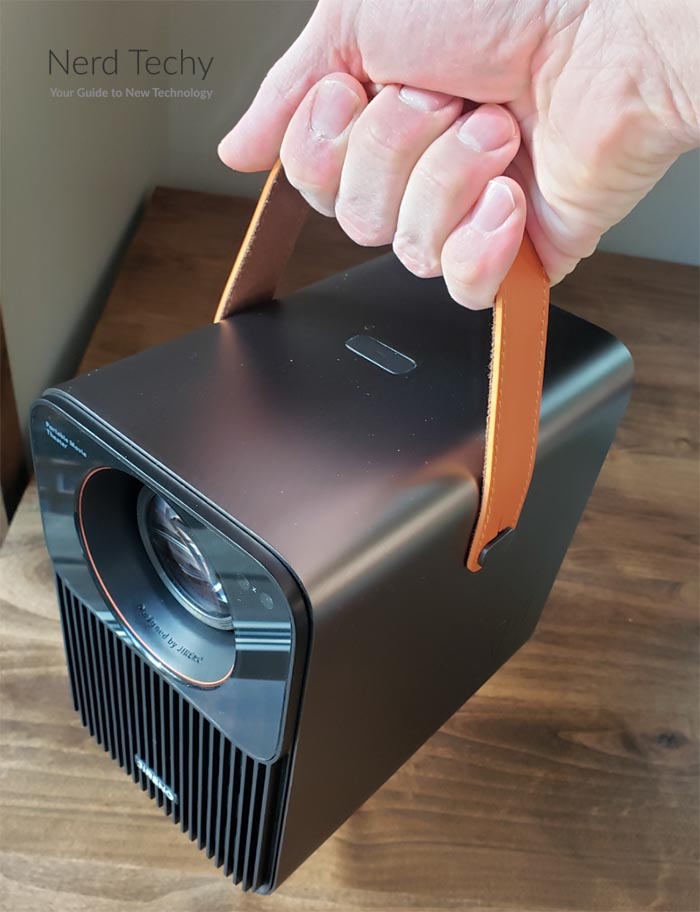 One thing the S25 won't do is play your videos directly. The CUBE4, on the other hand, has its own operating system and 16GB internal hard drive. This allows you to install streaming applications like Netflix, HBO Plus, Shudder, and even YouTube. As long as you have access to the internet, you won't need any other devices to watch your favorite content.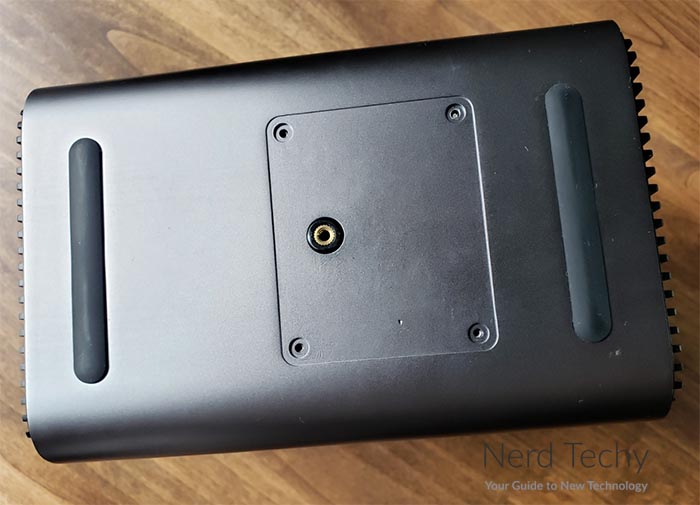 The dual 5-watt speakers inside the projector are reasonably loud for indoor use. You can enjoy a family movie night without having to strain to hear what's going on. The audio quality is also surprisingly good. That said, as with most projectors, you'll struggle with audio volume outdoors, or in large indoor spaces. In those situations, you'll want to use external speakers, connected via the 3.5mm aux port.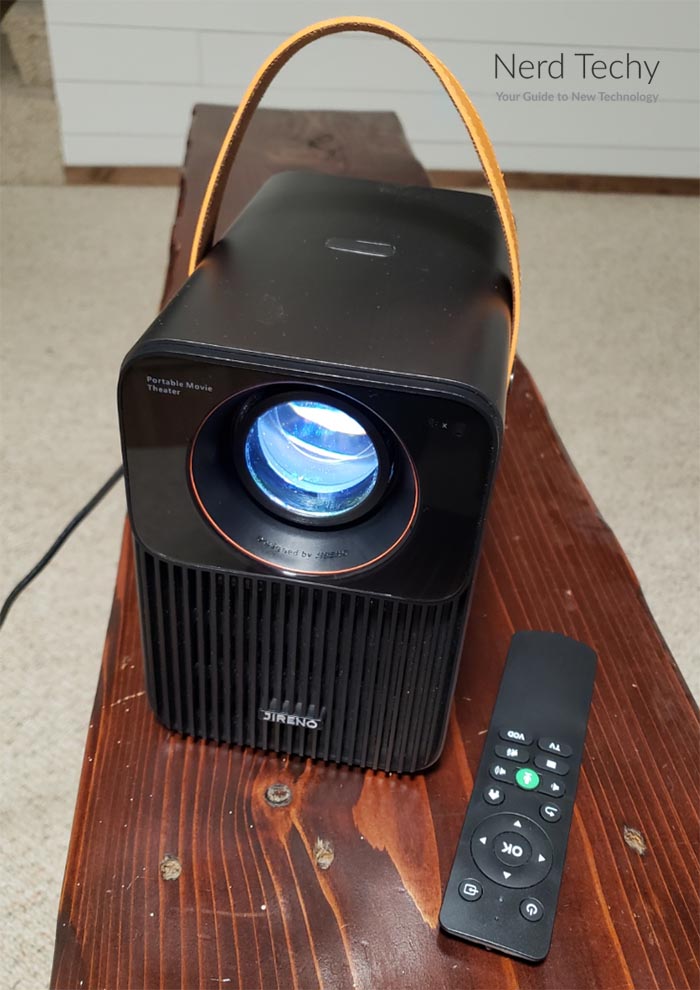 Final Verdict
The JIRENO CUBE4 Portable Projector is one of the most impressive home projector systems we've seen. From the ultra-rugged build to the high-quality video, we were very impressed. The ability to essentially use it like a smart TV is just a nice added bonus.
While the crowdfunding campaign for the CUBE4 is active, JIRENO is holding a giveaway. As a reward, they have prepared a set of generous prizes that will be issued to the first people who back the campaign on Kickstarter. On November 23rd, five lucky backers will be given prizes that consist of a Nintendo Switch, an iPhone 13 or a $100 Netflix Gift Card. Be sure to get in early so you have the best chance of winning a prize.
Meet Derek, "TechGuru," a 34-year-old technology enthusiast with a deep passion for tech innovations. With extensive experience, he specializes in gaming hardware and software, and has expertise in gadgets, custom PCs, and audio.
Besides writing about tech and reviewing new products, Derek enjoys traveling, hiking, and photography. Committed to keeping up with the latest industry trends, he aims to guide readers in making informed tech decisions.