Many people crave office jobs for their creature comforts. This only makes sense. In an office or home office, you don't have to worry about hot or cold weather. You're not out in the rain, and your risk of a major workplace injury is virtually zero. For these and other reasons, many "blue collar" jobs actually pay better than your average office job. It turns out you actually have to pay people a premium for unpleasant working conditions.
That said, desk jobs have a major disadvantage; there's no physical activity involved. Even if you're watching your diet, it's easy to watch helplessly as your waistline balloons larger and larger. Not only that, but typing and clicking a mouse does nothing for your cardio health and builds no muscle. No, the muscles that control your fingers don't count. To help address these issues, many people use a standing desk. A standing desk forces you to remain upright, and maintain a better posture. But if you really want to stay healthy, you'll actually need to get exercise.
Thankfully, technology has provided us with plenty of creative ways to work out. With a standing desk in particular, a low-profile treadmill can be a perfect solution. No, you won't be able to run at full speed. But even a slow walk provides more exercise than standing still. We're about to review three of the best treadmills for standing desks, beginning with the Citysports Under-Desk Treadmill. This is a wide, flat treadmill with built-in speakers. Next, we'll look at the Egofit Walker Plus. This is a tiny inclined treadmill with app controls. Finally, we'll examine the Goplus Under Desk Treadmill. This is an ultra-slim treadmill with touch controls. Which one is the right choice for you? Let's dig deeper, and find out!
Walking Treadmill Basics
So, what makes one walking treadmill preferable to another? There isn't any single factor. In fact, there are any number of reasons you might choose a particular treadmill. That said, there are a few things you need to keep in mind when you're making your choice. Let's talk about belt size, weight capacity, and an inclined surface.
Belt Size
The size of the belt dictates the length and width of your stride. The larger the belt, the more freely you can move. A good running treadmill will be at least 55 inches long, and should be 60 inches or more for taller runners. That said, a larger belt also means a bigger treadmill, which isn't ideal for keeping under your desk. The treadmills we're looking at today are walking treadmills, with lengths of under 50 inches. They're also narrower than running treadmills, which are oftentimes as wide as two feet. At low speeds, this isn't a problem. But keep in mind that you won't be able to use these treadmills for actual jogging.
Weight Capacity
Weight capacity is exactly what it sounds like. It's the amount of weight that your treadmill can safely support. That said, "safely" is not the same as "effectively." If the treadmill is constantly being pushed to its limit, the motor will tend to wear out faster. For this reason, it's best to look for a treadmill that can support your body weight, plus 50 extra pounds. That way, your treadmill won't just be safe; it will last you for years to come.
To Incline or Not To Incline
An inclined treadmill forces you to walk slightly uphill. As a result, you'll burn more calories in the same amount of time. It also helps you to build muscle, since you're putting out more effort. On a full-sized treadmill, you can get an incline of as much as 20 percent. You'll also be able to adjust the incline electronically on any of the nicer models. With a mini treadmill, you won't have as much flexibility, and the incline won't be as steep. Still, it's worth considering a treadmill with this feature.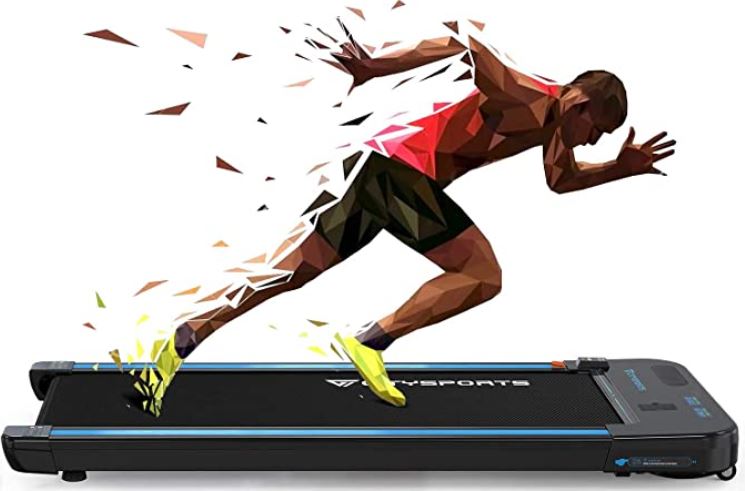 Citysports Under-Desk Treadmill
The Citysports Under-Desk Treadmill is a wide, flat unit with a black plastic frame. The main walking area measures 42.5 inches in length, and 16.9 inches wide. That's comfortable enough even for taller folks, as long as you're moving at a relaxed pace. The unit as a whole has a weight capacity of 242 pounds, and platforms on the side you can stand on. These platforms feature attractive blue stripes, which add a bit of flash to the design. Under the front of the housing, there's a pair of wheels. These make it easy to move the treadmill out of the way whenever it's not being used.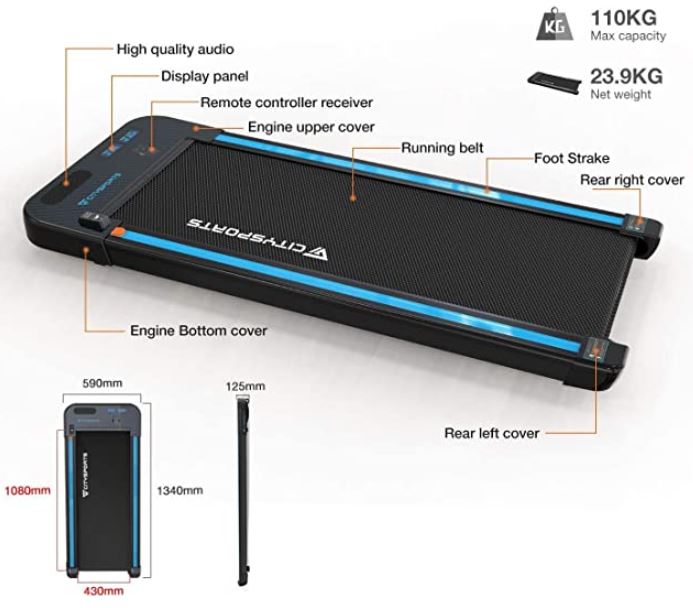 On top of the housing, right in front of the belt, there's a bright LCD display. This display shows your current speed, total distance, and time you've spent running. To the left of this display, you'll find a built-in speaker. This can be paired with your phone like a Bluetooth speaker, so you can listen to your favorite tunes. All in all, this is a well-designed walking treadmill with some great comfort features. Get yourself a handheld misting fan to stay cool, and you'll have a luxury workout experience.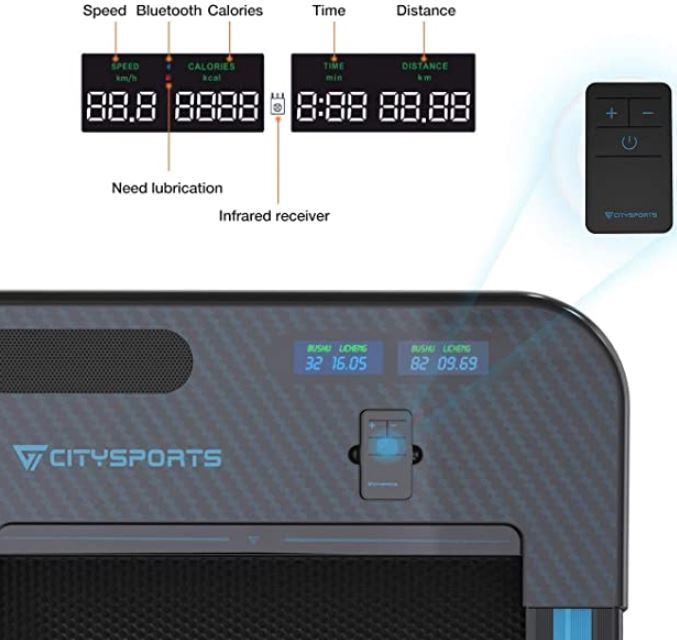 The kit includes a remote control, which you can use to change the motor speed. In total, you can adjust between six different settings, from 0.6 to 3.7 miles per hour. Even the highest speed is just a brisk walk. However, the lower speed settings can also be useful. For example, suppose you want to walk while you're typing.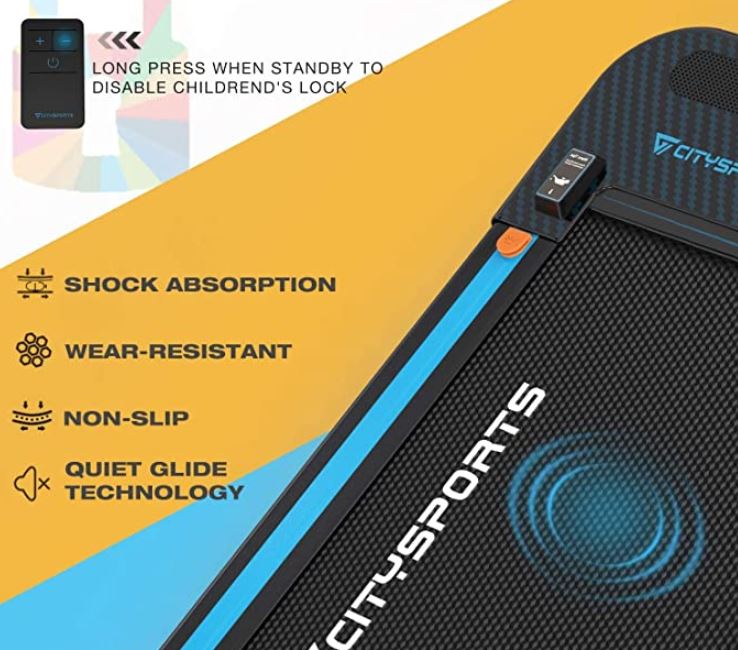 That's a bit of a tall order at 3.7 MPH. But at just over half a mile per hour, you can easily type up an email while you're walking. Not only that, but the design is friendly for shared spaces. The 440-watt motor is overpowered by design, so it runs quietly even at full speed. The only major downside, if you want to call it that, is that there's no incline function.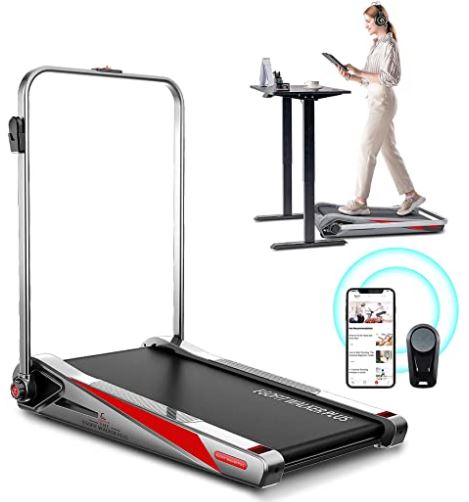 Egofit Walker Plus
The Egofit Walker Plus is noticeably smaller than the Citysports treadmill. With a walking surface of only 16.54 inches wide and 34.24 inches long, it might be too small for taller users. That said, this short belt allows it to be more portable and easier to stow away. But just because it's small doesn't mean it's delicate. This is a tough little treadmill, with a weight capacity of 242 pounds. This applies to the belt, as well as the rest of the chromed plastic housing. There are even little platforms on the sides, with textured surfaces for you to stand on during a break.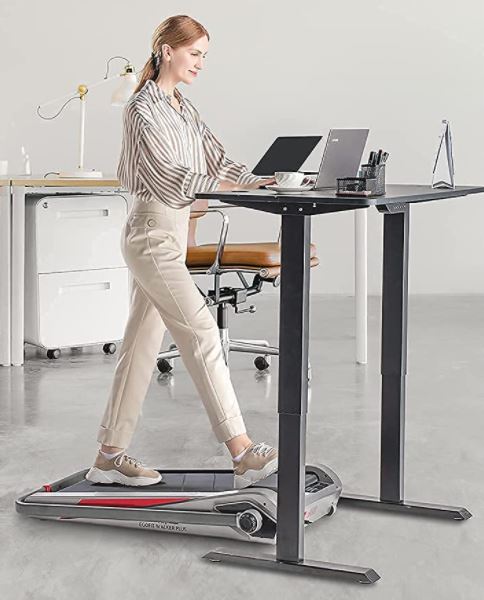 One unique feature of the Walker Plus is its support bar. This is a simple arch over the front part of the unit, which is 39.96 inches in height. It's basically there for you to lean on, whether you're getting tired or just want to change up positions. It's also collapsible, and can be folded down to rest around the back of the treadmill. Also on the front of the housing is a digital LCD display. It's recessed just below the front of the belt, and shows you all your vital data. You'll see your speed, total steps, total distance, workout time, and an estimate of your calories burned.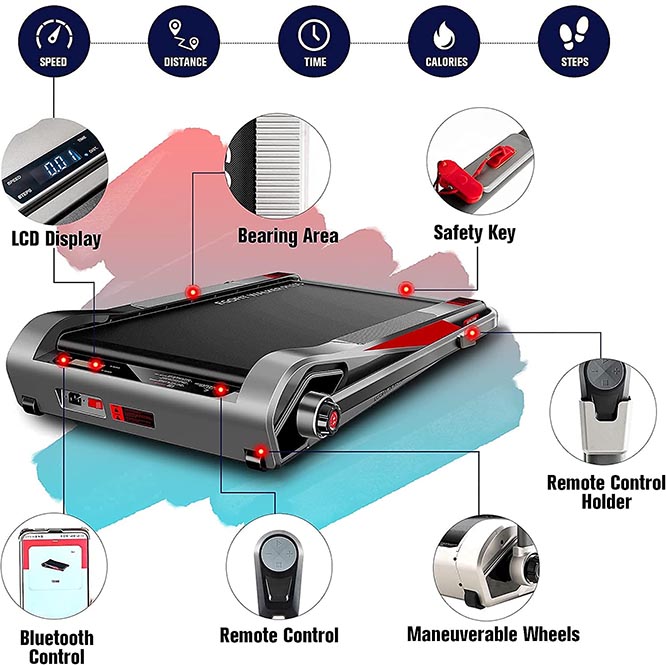 Like the Citysports treadmill, the Walker Plus can be adjusted between 0.6 and 3.7 MPH. However, the belt is positioned at an incline of five degrees. This isn't a huge incline, but it's enough to make a noticeable difference in your workout. Not only that, but it serves to slightly shorten the total length, at the expense of making the treadmill thicker. Another neat feature of the Walker Plus is the app control. If you want to use your phone instead of the standard remote, you can. The app also lets you track your workout stats, and monitor your progress.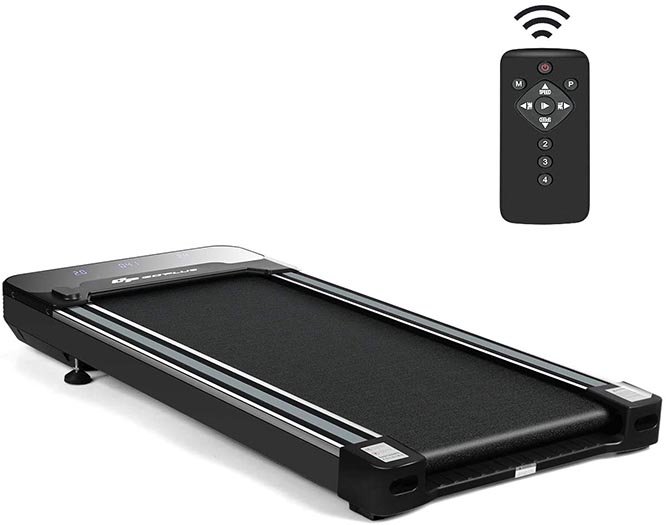 Goplus Under Desk Treadmill
Goplus is a unique brand, since they make a little bit of everything. For example, we once reviewed their hydraulic crimping tool. The Goplus Under Desk Treadmill takes a no-nonsense approach to its construction. The body is made from black plastic, but is reinforced by an interior steel frame that's surprisingly sturdy. It has a weight limit of 220 pounds, which is the lowest on our list. On the other hand, it's also only six inches thick, so it's quite tough for its size.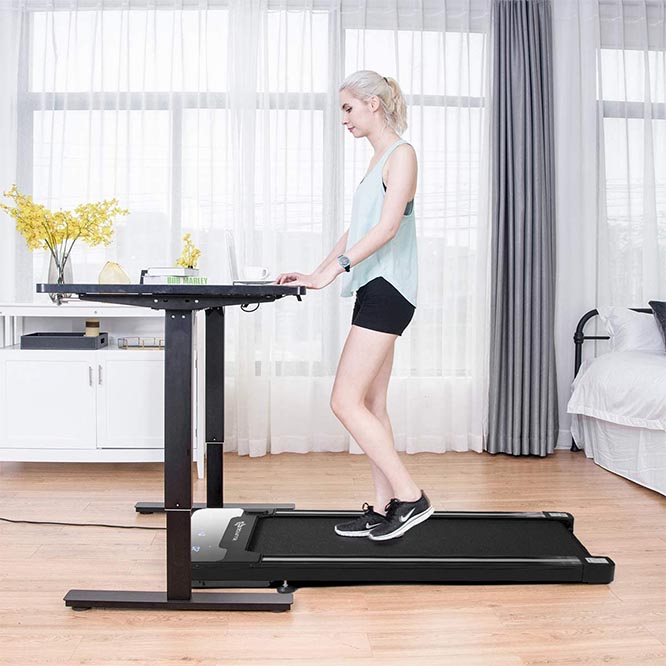 The walking area of 17 x 41 inches is large enough for most people, without taking up too much space. As with the last two treadmills, there are also rails on the sides, where you can safely stand if needed. The speed can be adjusted anywhere from 0.5 to 4 miles per hour, a surprisingly wide range. You can walk very slowly or very briskly, depending on your preferences. The belt has a slight incline of less than five degrees, and is not adjustable.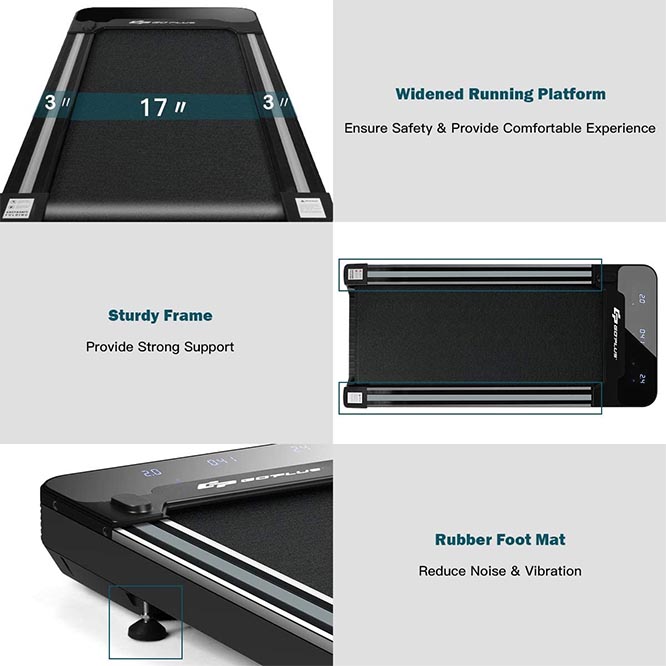 The LCD display on the front is easy to read, with large numbers showing speed, time, distance, and calories. However, this screen is also a touchscreen display. As a result, you have more flexibility to control the treadmill. If you don't want to use the remote, or if the remote got lost, you still have a way to work the controls.
Final Verdict
So, which one of these standing desk treadmills is the right choice for you? The Citysports Under-Desk Treadmill is the quietest of the bunch, with its oversized motor. It also has the largest belt, which makes it a good choice for taller individuals. That said, it doesn't incline, which limits your workout intensity.
The Egofit Walker Plus is a strong contender due to its compact size, inclined belt, and app controls. Not only that, but it's surprisingly sturdy, and the front support bar makes it feel more like a full-sized treadmill. On the downside, the walking area is very small, and will feel cramped if your north of six feet tall.
The Goplus Under Desk Treadmill is a great choice if you need an ultra-slim treadmill. At only six inches thick, it's the skinniest of the bunch. It also has the widest speed range, as well as a nifty touchscreen display. Then again, the 220-pound weight limit is perilously low for many people.
Meet Derek, "TechGuru," a 34-year-old technology enthusiast with a deep passion for tech innovations. With extensive experience, he specializes in gaming hardware and software, and has expertise in gadgets, custom PCs, and audio.
Besides writing about tech and reviewing new products, Derek enjoys traveling, hiking, and photography. Committed to keeping up with the latest industry trends, he aims to guide readers in making informed tech decisions.