Lockly Flex Touch
Design & aesthetics
9.0/10
Connectivity & Extras
8.0/10
Pros
Supports up to 99 users.
High-quality, corrosion-resistant finish.
Can open with fingerprints, app, or key.
Can be synced with other Lockly locks.
Cons
No keypad entry.
Some features require an optional wireless dongle.
Few things are more important than the safety of your home. And fewer things are more essential to that safety than a good quality deadbolt. But locks have come a long way over the years. In ancient and medieval times, only the very wealthy could even afford to own a lock. The craftsmanship required was simply too expensive for the average person to afford. Later on, with the coming of the industrial revolution, mass-produced locks became more affordable. Nowadays, you wouldn't even think of living somewhere without a lock on the front door. Even the idea is simply laughable.
But for all of their ubiquity, traditional deadbolts use the same technology they used in the 1800s. They're simple mechanical devices, and you need a physical key to open them. But what if you lose your key? Then you've got to call a locksmith, wait around for hours, and pay a hefty fee. On the flip side, a key can be lost, stolen, or copied. They represent a weak spot in your home's security. With a biometric lock, you don't have to worry about those problems. As long as you've remembered to bring your thumbs, you can get into your house. You can also add all your family members' fingerprints, so everyone can have access.
We're about to review the Lockly Flex Touch. This is a deadbolt that combines a traditional mechanical lock with a biometric lock. It also has a companion app, so you can control your doors remotely. But those are just a couple of basic things you need to know. To truly understand how this lock works, we'll need to get under its skin. We'll talk about the physical design, and how it's installed. We'll talk about the performance, and the effectiveness of the biometric function. Then we'll dig into the smartphone app, and your different connectivity options. After we've looked at all those features, we'll have a complete picture of what we're looking at. Let's begin!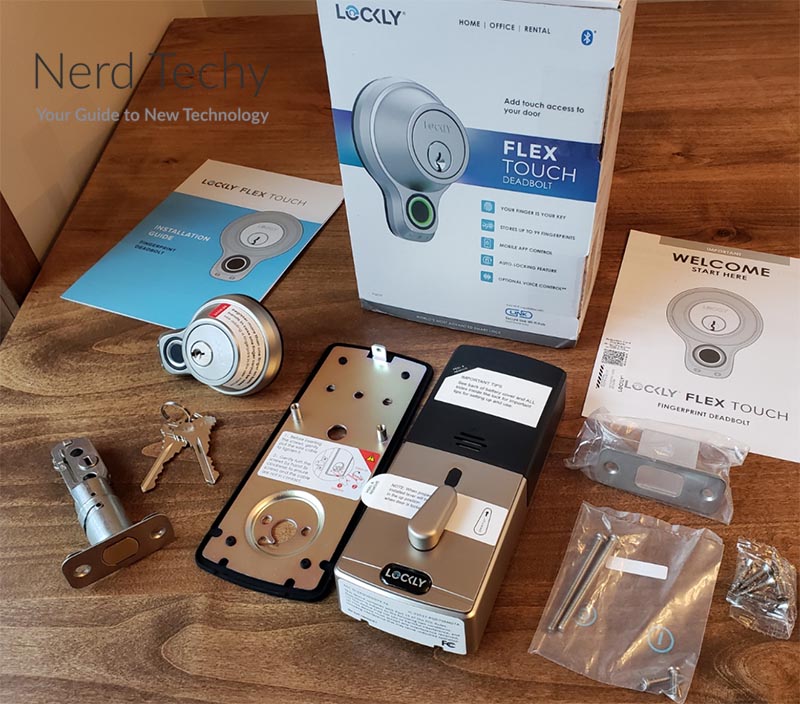 Design & Aesthetics
The first thing we noticed about the Lockly Flex Touch was its understated aesthetic. A lot of smart door locks are big and clunky, and mar the appearance of a nice wood door. This one is barely larger than a traditional deadbolt, with just a small thumbprint reader underneath. It won't look out of place, regardless of the type of door you're using it on. The diameter of the main lock is 2.6 inches, which is within the standard size range. The total height, including the thumbprint reader, is 3.63 inches. Just beneath the reader, there's a set of backup battery contacts. These allow you to use a 9-volt battery to open the door in the event that the batteries are dead.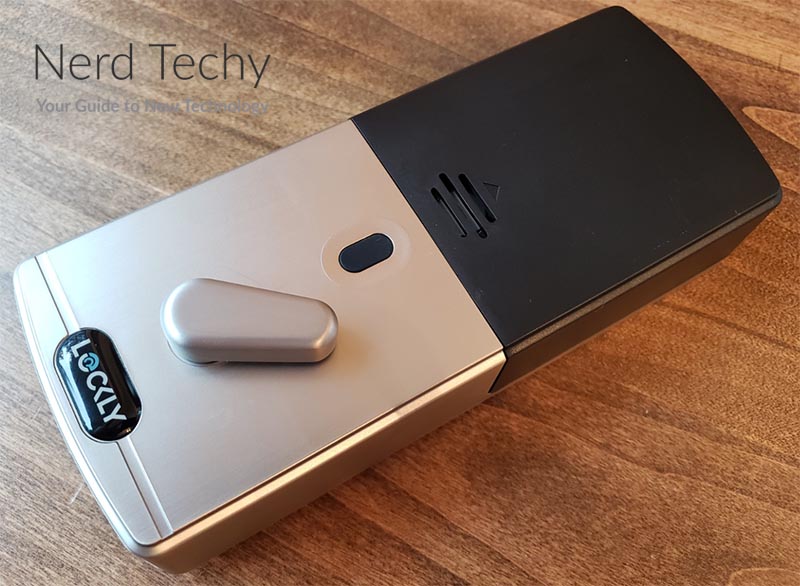 The lock is constructed from a zinc alloy, which is exceptionally tough and durable. It can stand up to corrosion better than most stainless steels, which is essential on an outdoor fixture. It's also attractive, with a brushed satin finish that will pair well with most other décor.
The inside half of the lock is significantly bigger and beefier. This is thanks in large part to the black plastic battery housing, which occupies the top half of the unit. The bottom half is constructed from the same zinc alloy as the bottom half of the lock. Here, you'll find a simple rotating latch, which can be turned to open and close the deadbolt. There's also a little Lockly logo underneath. The total size of this part of the lock is 3.1 inches wide and 7.4 inches high, including the battery housing.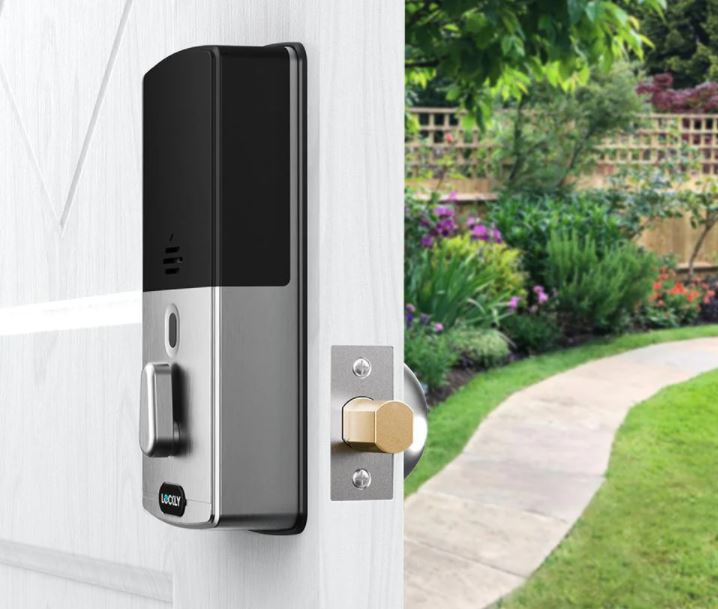 Another thing we liked about the Flex Touch is how easy it is to install. It's compatible with doors from 1.38 to 2 inches thick, which is any standard modern door. Because it's just a lock and not a handle, it can be used on both right- and left-swing doors. The internal mechanism can easily be positioned either way during installation. Assuming your door is pre-drilled, you won't need any special tools for installation. All you need is a Philips screwdriver and about 15 minutes of time. As a result, this is one of the easiest-installing smart locks we've seen. Of course, you'll need to set up the biometric function, but we'll discuss that more in a little bit.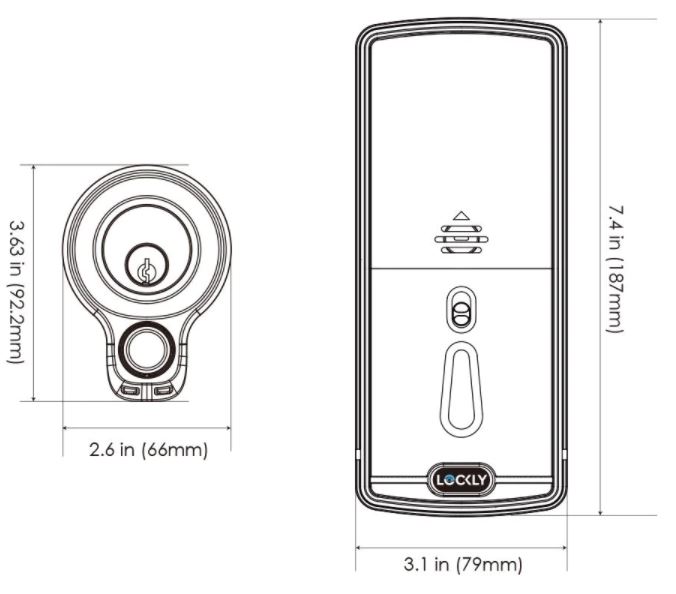 All of this is covered by a comprehensive warranty. The electronics are protected for two years, which is pretty good. Most electronics either fail in the first 18 months, or last a decade or more. The mechanical parts and the finish are guaranteed for five years. If for some reason the lock fails or rusts, you'll get a free replacement or a refund.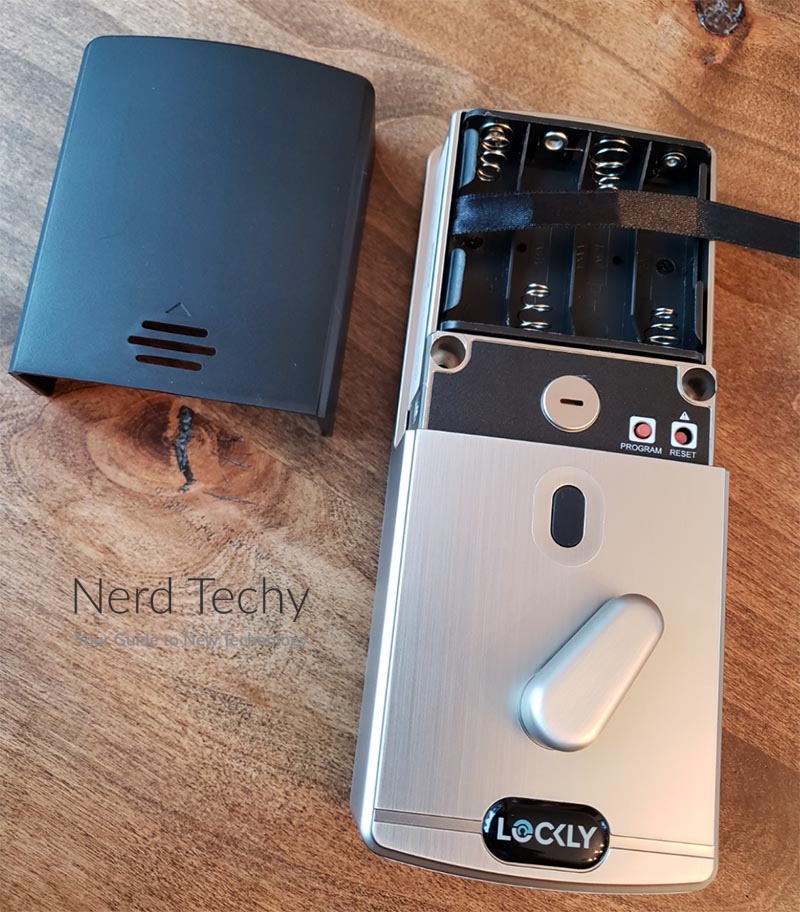 One thing the Flex Touch doesn't have is a built-in camera. If you want a smart lock with a doorbell, check out the Lockly Vision instead. It has otherwise-similar capabilities, as well as a numeric combination keypad. On the downside, it can be a headache to install.
Lock Performance
So, we've got an attractive, easy to install deadbolt. But how well does it perform? To begin with, we had no issues with the mechanical key itself. It's easy enough to use, and that's all there is to it. The package includes a backup key, so you can give one to your partner or keep it as a spare. There's really not much to say; it's a lock. You put the key in it, you turn the key, and it works. That's all there is to it.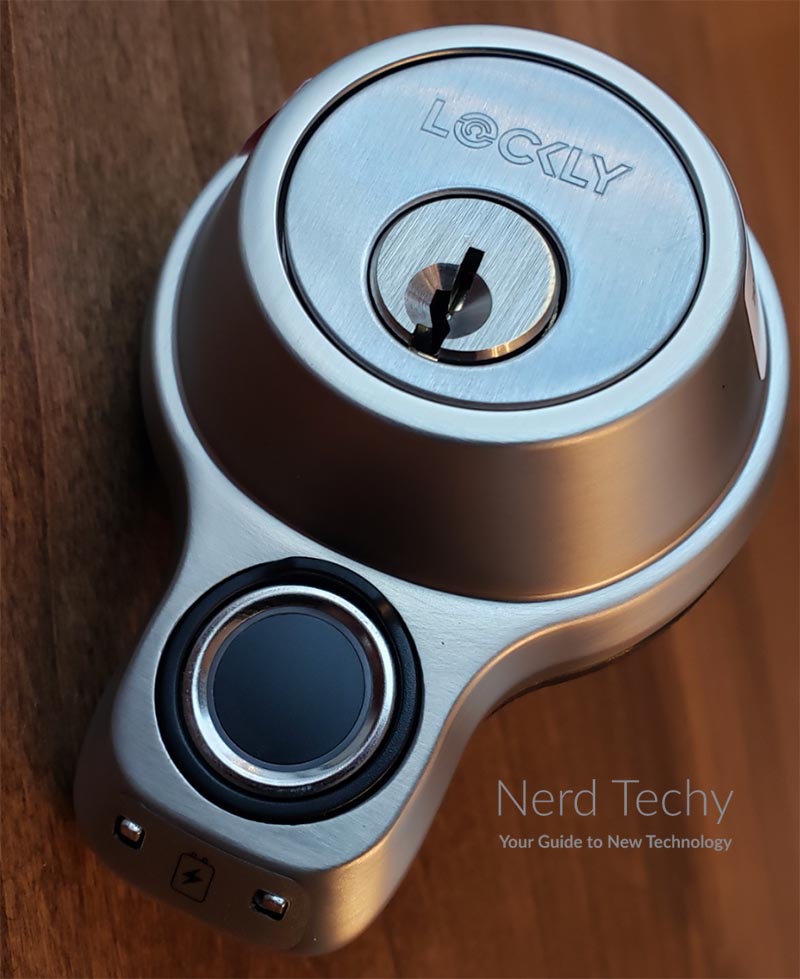 Most people are probably more interested in the fingerprint-reading function. This works very well, and it's pretty straightforward. It's highly secure, with a specialized sensor that won't trigger from a picture of a fingerprint. This can get a bit finnicky at times, and you might have to touch the fingerprint reader more than once. But that's a good thing, since it means the system is very secure.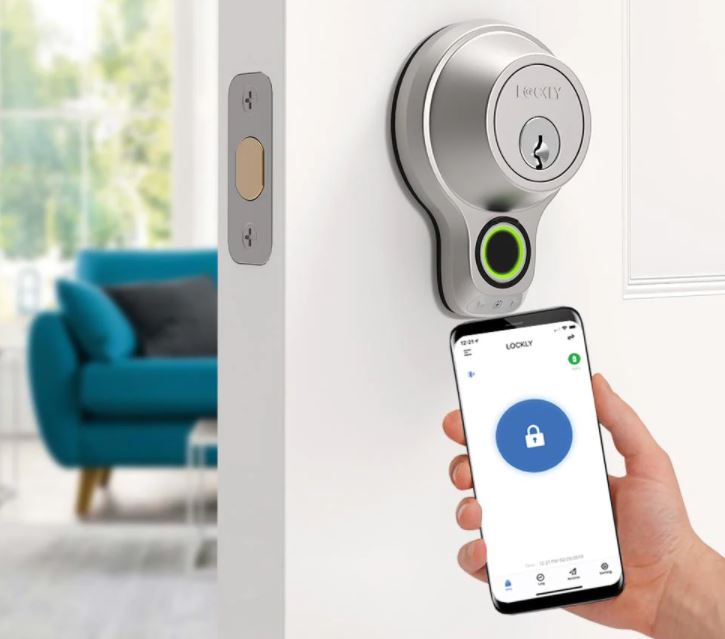 To set up your fingerprints, you'll first need to install the Lockly app on your smartphone. Next, you need to pair with the lock via Bluetooth. You can't do this via WiFi, only Bluetooth. Once you've connected, you can use the app to add fingerprints to the lock's database. You can add up to a total of 99 fingerprints, so feel free to go crazy. Add all your fingers if you want, for more versatility. You can add all of your family members, and other people who you want to give access. Once a fingerprint has been added to the database, you won't have to pair with the lock every time. It will be stored locally inside the lock.
For power, the Flex Touch uses four AA batteries, which are included in the package. These are rated to last for about a year, but keep in mind that this is highly variable. They'll last a lot longer on doors that don't get a lot of use. If you have a large family that's constantly going in and out, they'll last significantly shorter. Another thing that could affect performance is how often you use the fingerprint reader. When you use the lock electronically, it uses the batteries to turn the cylinder. When you're using the key or the interior latch, no power is drawn from the system. Regardless, you're looking at good performance, with keyed and 9-volt backup options.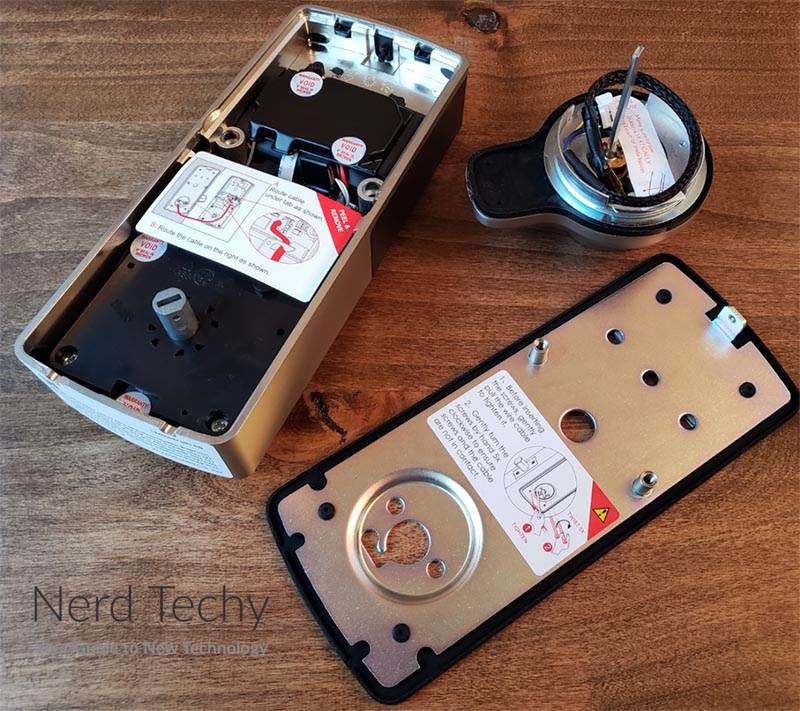 One thing you don't have on the Flex Touch is any kind of numeric keypad. If that's what you need, take a look at the Lockly Secure Pro. Its numeric keypad allows you to create temporary codes for friends and contractors. It also has a physical cover to protect the lock cylinder, but it's pricier and harder to install.
Connectivity
We've already talked about using the Lockly app to add fingerprints to your lock. However, it also has a number of extra features you can use from anywhere in the world. To use these features, you have to order the Lockly WiFi dongle, which is sold separately. The dongle is just a little box that plugs into a nearby power outlet. It pairs with your lock via Bluetooth, and acts as a bridge to your home's WiFi network.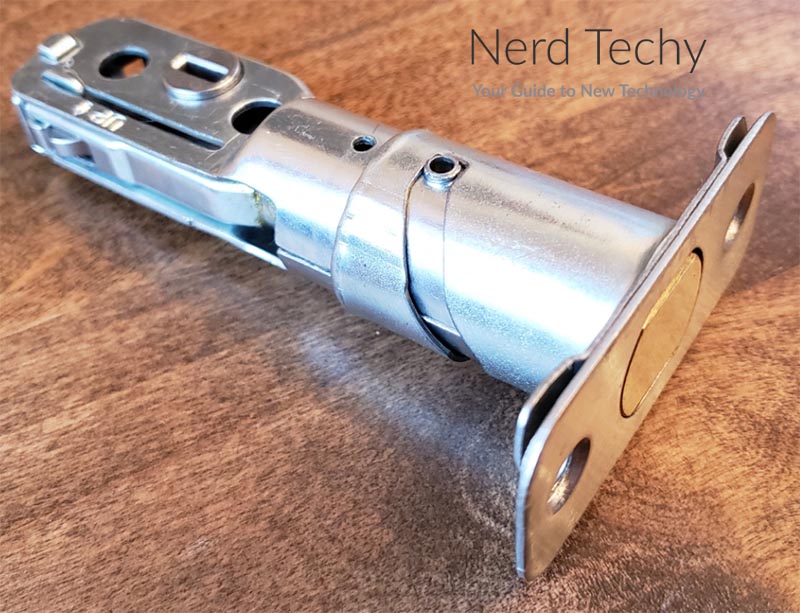 Once the lock is online, you'll be able to remotely lock and unlock it remotely via the app. This can be useful if you needed to let someone in, but you're running late. They can call you when they get to your house, and you can let them in. You can also remotely view the lock's status. If you're not sure whether you remembered to lock your door, now you can check in any time. You'll also get a push alert if your lock's battery is starting to run low.
One really cool feature is that the Flex Touch can be synchronized with other Lockly locks. This is yet another feature that only works over WiFi. However, you can lock and unlock all your doors at once by pushing a single button. This makes it easy to secure your entire home on your way out the door.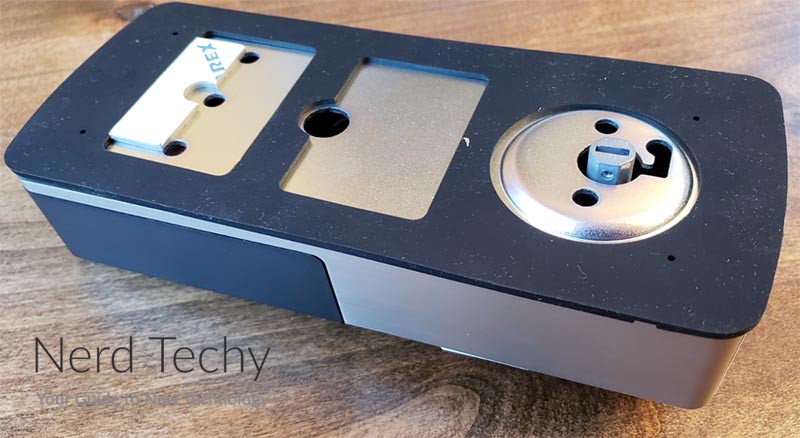 Of course, if you're looking primarily for online features, you might want a lock that's more geared towards that. If that's what you want, consider the Lockly Duo instead. It has many similar features, as well as a numeric keypad. It also includes the WiFi dongle, but it costs more, and the fingerprint reader is awkwardly-positioned for left-handers.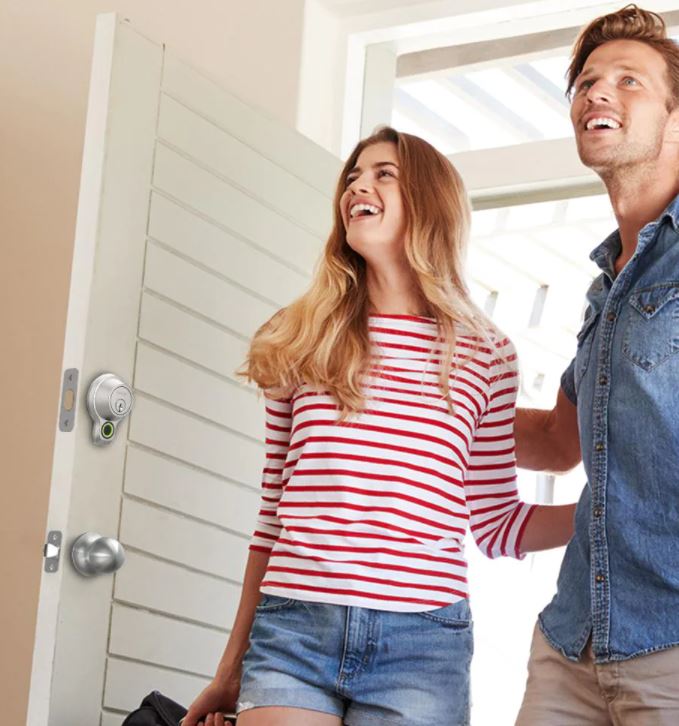 Final Verdict
The Lockly Flex Touch is an understated, yet powerful little smart lock. With its biometric function, you can store up to 99 fingerprints, so there's capacity for the whole family. And with the WiFi dongle, you can access many more smart features. There were some minor issues. Because of the small profile, there's nowhere to locate a combination keypad. And without the dongle, you don't get any online features. But if you want a fingerprint-activated deadbolt that works every time, you won't be disappointed.