Merach M1S
Pros
Exceptionally compact and lightweight.
High-quality silicone massage heads.
Rugged aluminum construction.
Short stroke length.
Quite powerful for its size.
Cons
Low stall force.
Battery life is only so-so.
No carrying pouch included.
No matter what your lifestyle, aches, pains, and stiff muscles are part of the game. Most often, people think of stiffness, pain, and fatigue in terms of physical activity. This makes sense, on the face of it. If you lift weights, for example, you're going to be sore the next morning.
If you spend hours riding a bicycle and you're not used to it, your legs will probably be sore. But paradoxically, stiffness and pain can also be caused by long periods of inactivity.
Let's say you work at a desk. If you're holding your back and neck in the same position at all times, they can get just as stiff. In other words, pretty much everybody needs some kind of muscle relief.
One of the best ways to do that is with a massage. But this isn't always practical for all people. Depending on where you live, there might not be a massage parlor nearby. Furthermore, professional massages can be expensive.
Instead, a lot of people take advantage of massage beds at gyms and spas. This can be incredibly relaxing, but it's still not ideal for everybody. You still have to drive somewhere, which can put a dent in your busy schedule. If you want to get a massage anytime, anywhere, a portable massage device is the best option. You can use it before bed, first thing in the morning, or at the office.
Merach M1S Mini Massage Gun
We're about to review the Merach M1S Mini Massage Gun. This is a compact massage gun that can fit in your coat pocket.
It comes with high-quality silicone attachments that are much gentler than many massage guns' hard plastic attachments. Of course, those are only a couple of features on a fairly complex machine. We'll need to look a bit closer to get a real feel for it.
We'll discuss the battery capacity and the quality of the construction. Additionally, we'll talk about the controls and settings. We'll also talk about each of the attachments, and what they're capable of. After that, we'll have a more complete picture of what we're looking at. Let's begin!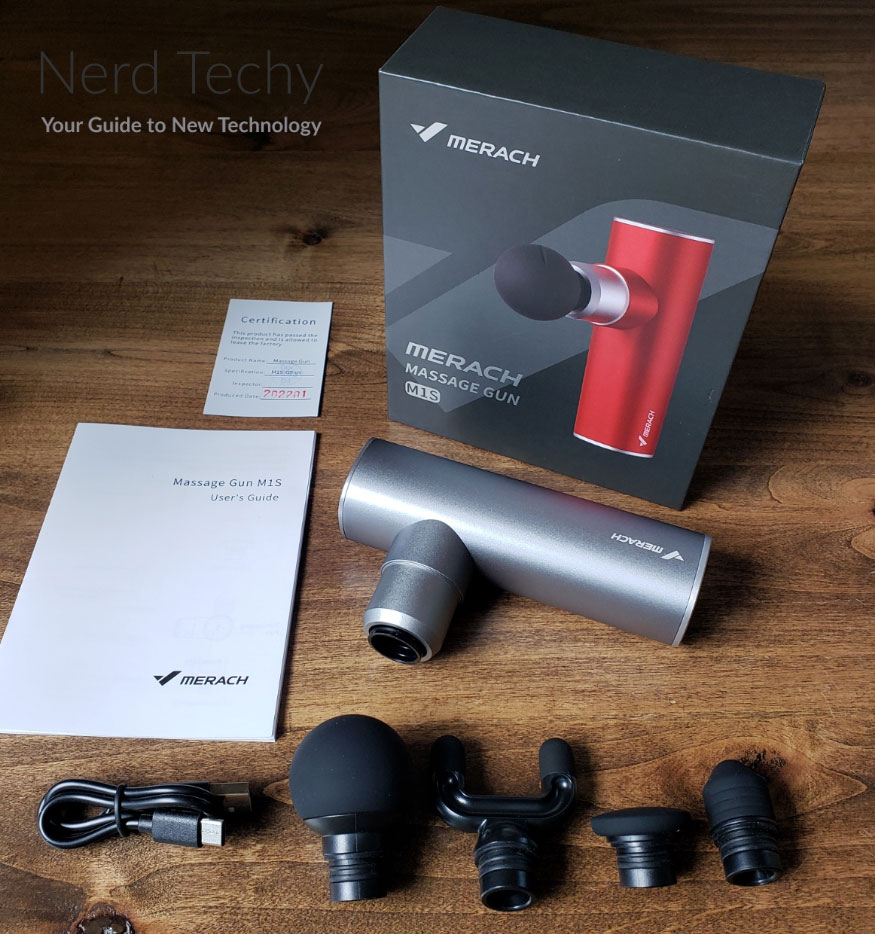 Overall Design
The Merach M1S Mini Massage Gun is a very well-designed piece of equipment. Most massagers are made out of plastic, which is normally tough enough for the job. But this one has an aircraft-grade aluminum housing that's exceptionally durable. The housing has a matte finish, and is available in grey, green, or red.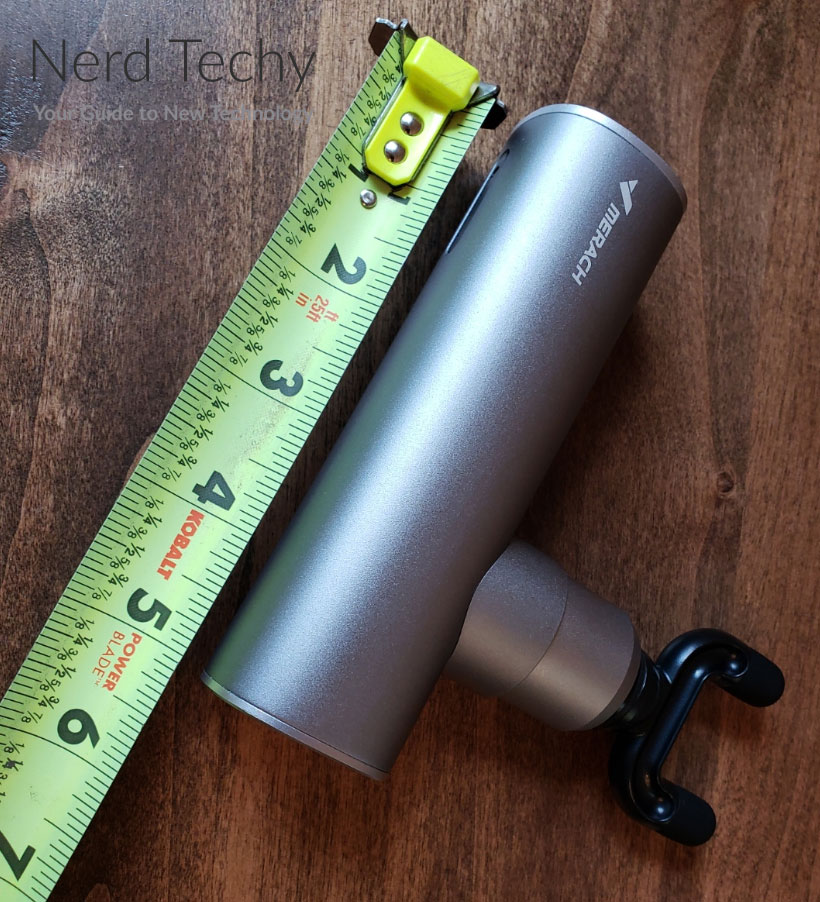 The handle is vertical, with a total length of 6.2 inches. About 2/3 of the way up, there's a 90-degree extension at the side. With the longest massage tip attached, the total width is 5.04 inches. And at 1.93 inches thick, the handle is just the right size for holding on to. The massager tips the scales at 0.85-pound, which makes it light enough to carry anywhere.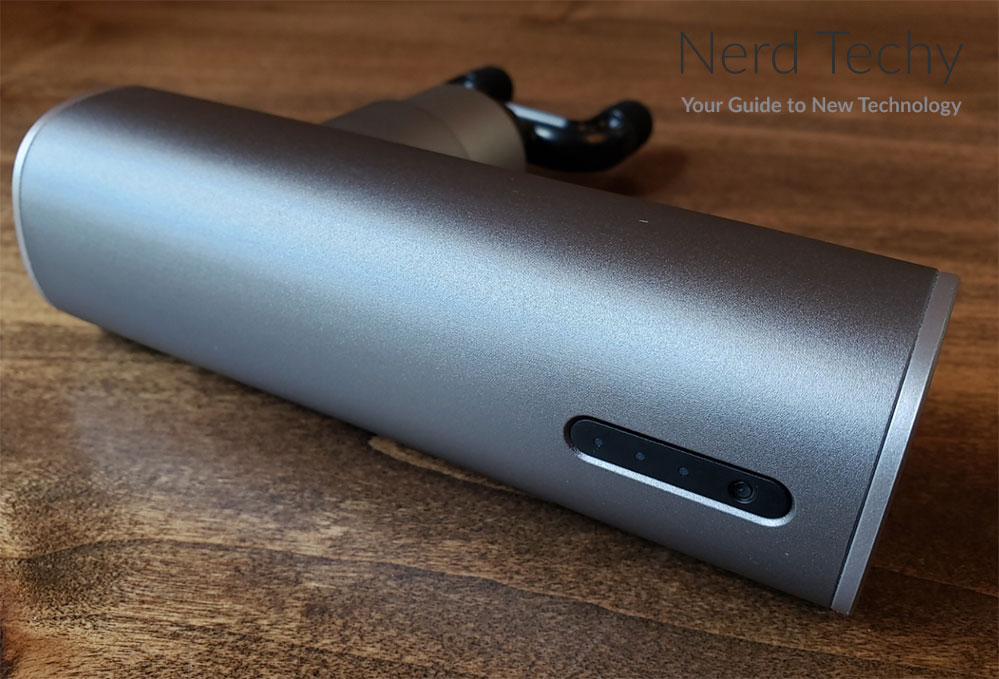 The controls are located on the back of the handle, and are meant to be operated with your thumb. There's a single button which turns the unit on, and cycles through the power settings. Above it is a row of three indicator LEDs, which let you know your current setting.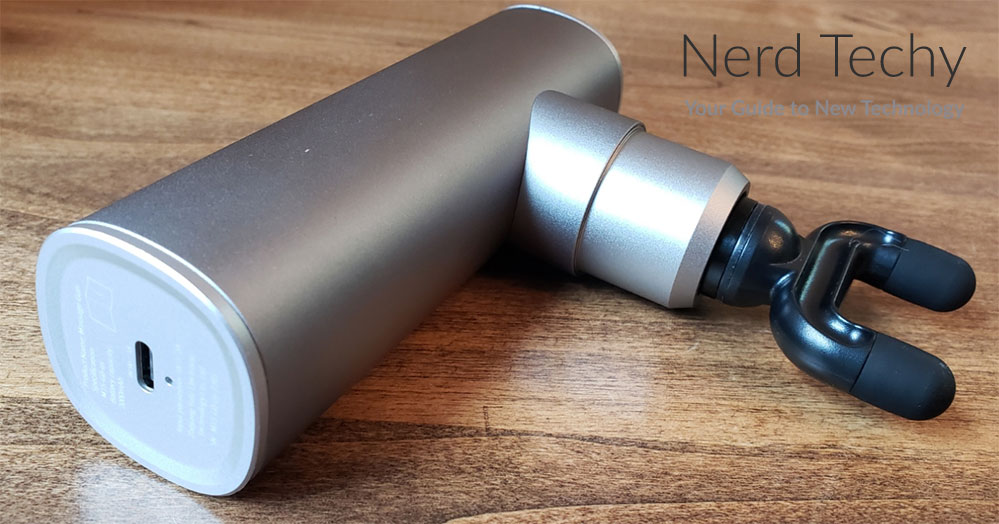 All in all, this is a pretty slick design. But what if you want a more traditional, plastic massager? In that case, the Bob and Brad X6 Pro is a solid choice. It has a comfortable rubberized grip that's easy to hold onto. It also comes with one titanium massage head, but all the others are ordinary hard plastic.
Merach guarantees the M1S for a period of 12 months from the date of purchase. If there are any manufacturer's defects, you'll get a replacement or a refund. Moreover, they offer a 30-day, no-questions-asked return policy. If it turns out that the massager isn't to your liking, just send it back.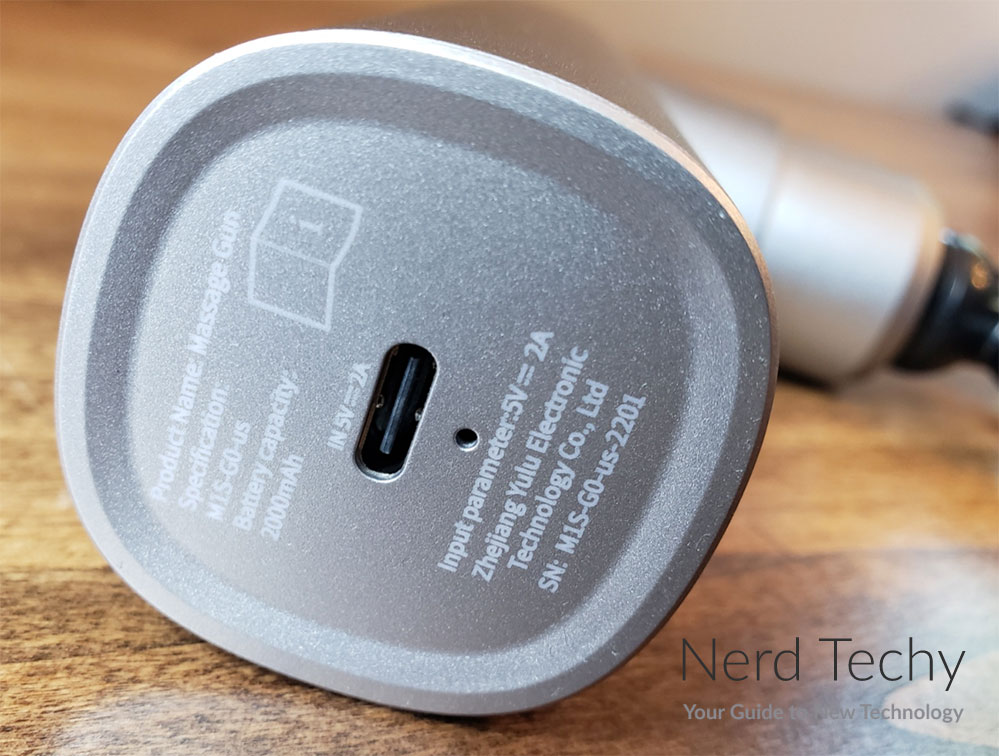 Controls and Operation
This massager has three possible motor speeds: 1,500, 2,500, and 3,500 RPM. That's a good range of speeds, so you can get a more soothing massage or a more aggressive one. Even at the highest setting, it's fairly quiet. The motor produces a maximum of 40dB of volume, which is barely louder than a whisper.
The stroke length on the M1S is 7.5mm. That's the total distance the massage head moves, from the most retracted to the most extended. This is great for shallow to moderate depth, and it's useful for many areas of the body. However, it won't get deep into tissues in your thigh or other areas where you need an ultra-deep massage.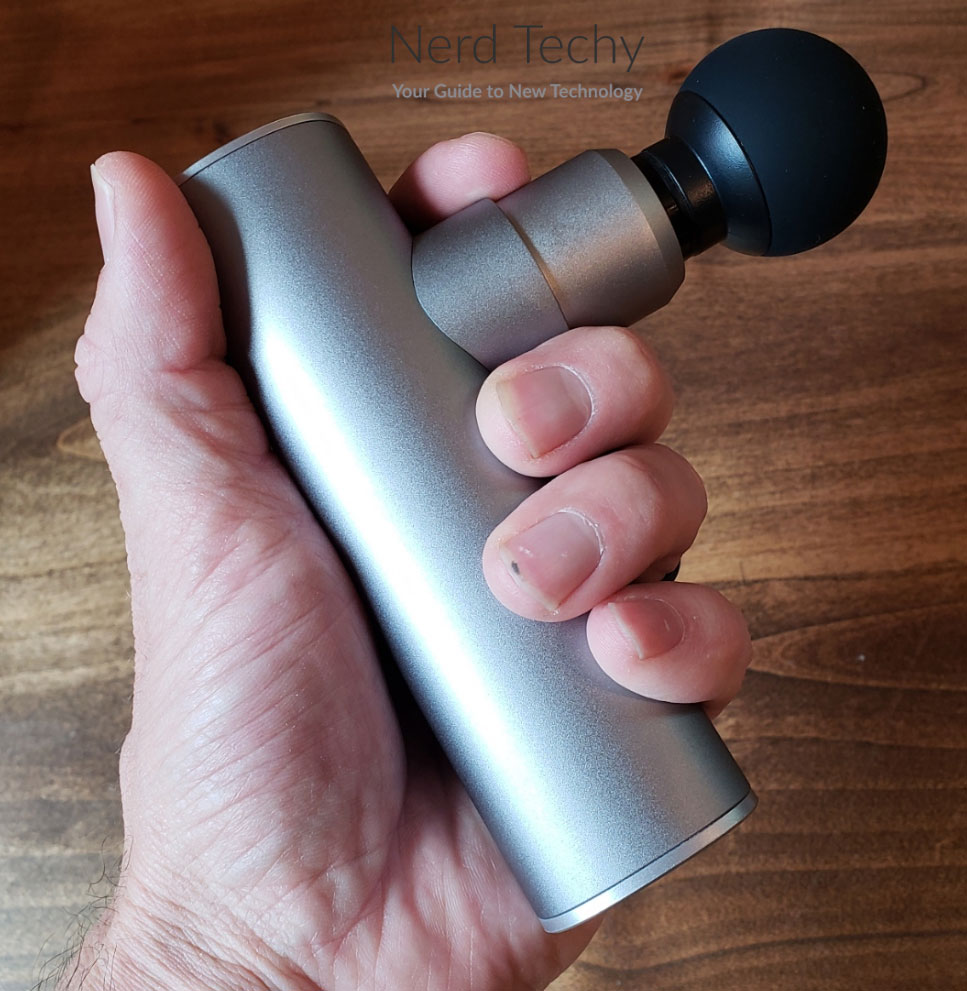 The stall force, meanwhile, is 23 pounds. This is the amount of pressure you can exert on the massager before the motor stalls out. 23 pounds isn't actually all that much, although it's still a good amount of pressure. Then again, you can only expect so much power from a motor of this size.
Suppose you want a massager with a longer stroke length and a higher stall force? If that's what you need, consider the Urikar AT1. It has an ultra-long 16mm stroke for reaching deep tissues, along with an impressive 65-pound stall force. On the downside, it's fairly big and heavy to carry around.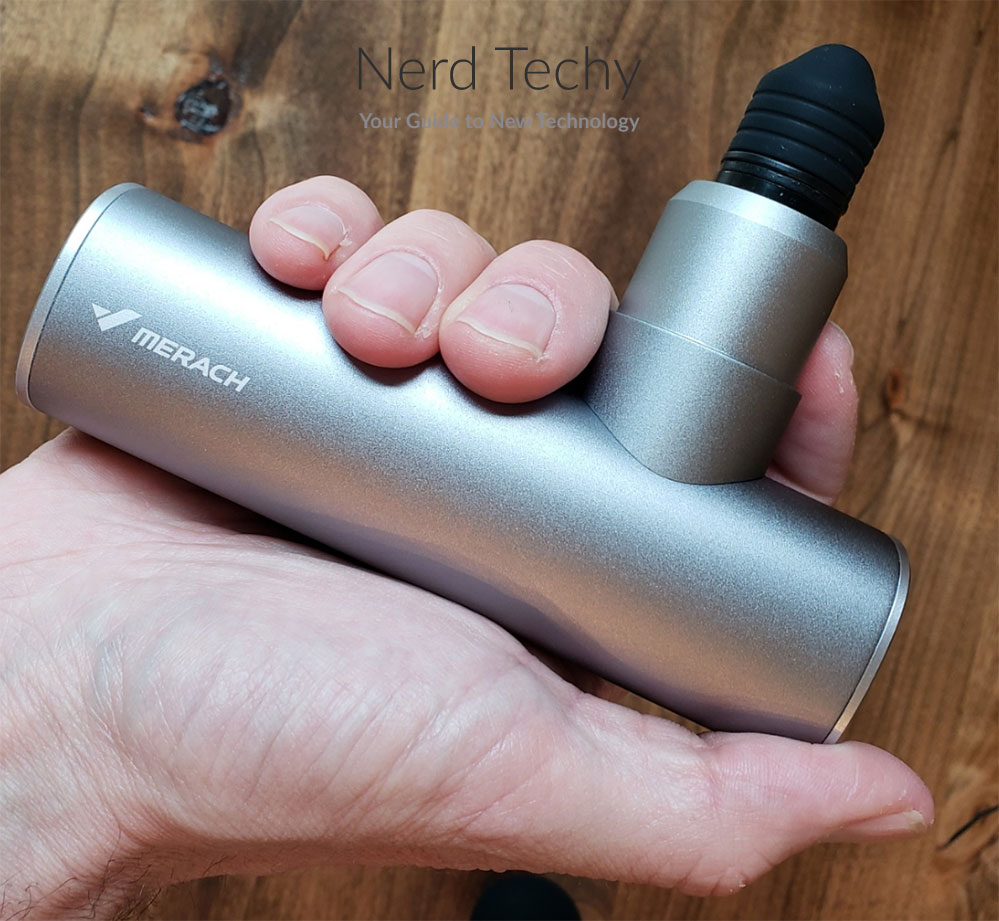 Massage Attachments
The Merach M1S ships with four different massage heads, which are used for different purposes. All of them are made from silicone, not hard plastic. If you mistakenly jam one into a bone, it's not going to feel like you're undergoing some kind of torture.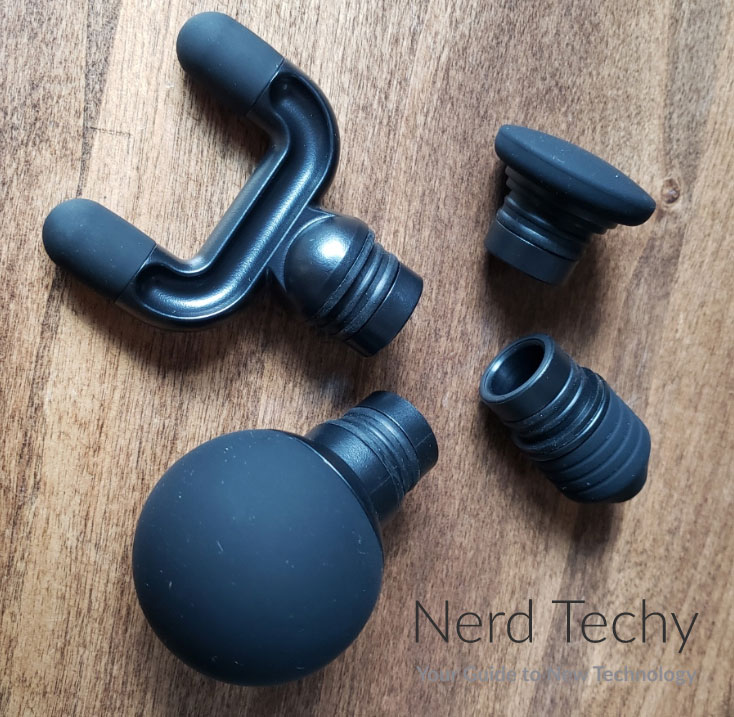 The first attachment is ball-shaped, and it's the one you'll probably use the most. It provides a reasonable amount of precision, but the spherical shape somewhat blunts the impact. This head can be used almost anywhere on your body, with any speed setting. Think of it as a sort of Jack of all trades.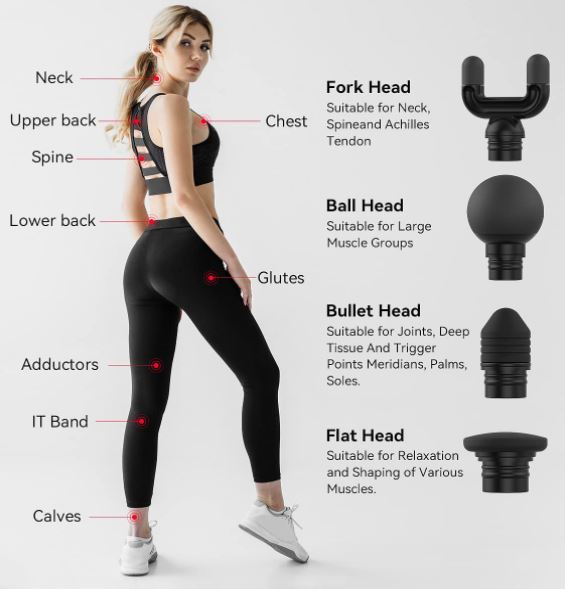 The next attachment is shaped kind of like a bullet. It has a cylindrical base that tapers to a point at the tip. This is designed for a more precise massage, where you want to pinpoint a particular spot. It's great for massaging soft tissues in your joints. Moreover, it's an excellent way to break down scar tissue if you're recovering from an injury.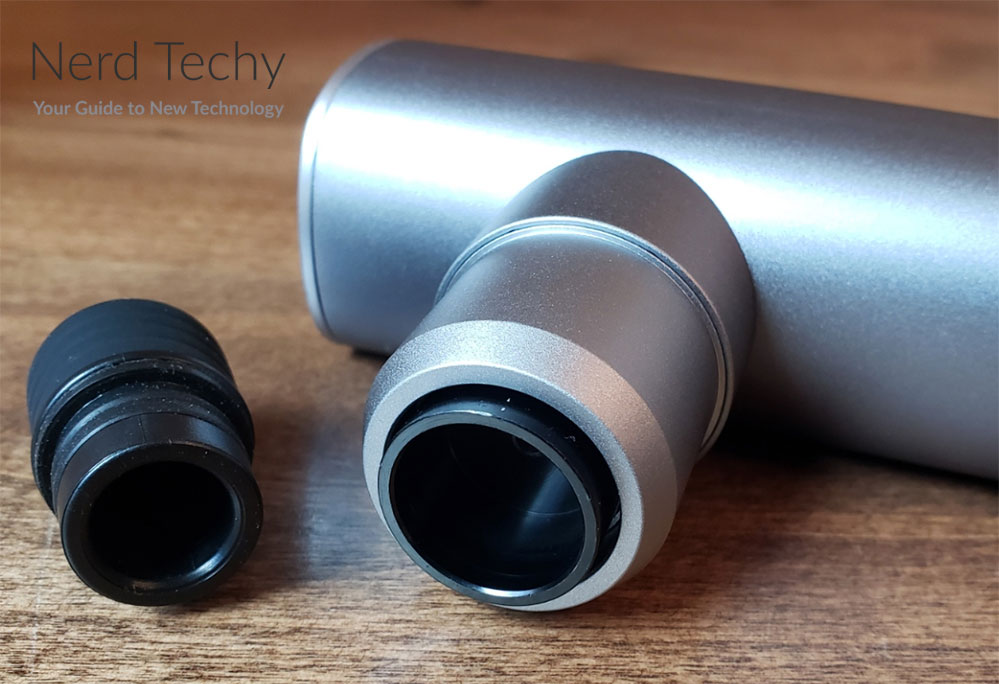 The third attachment is the exact opposite. It has a nearly-flat face, which distributes the impact over a larger area. You won't get as much penetration as the other tips. But you'll get a much gentler massage than with any of the others. If you're massaging a very sensitive area, this is the head you'll want to use.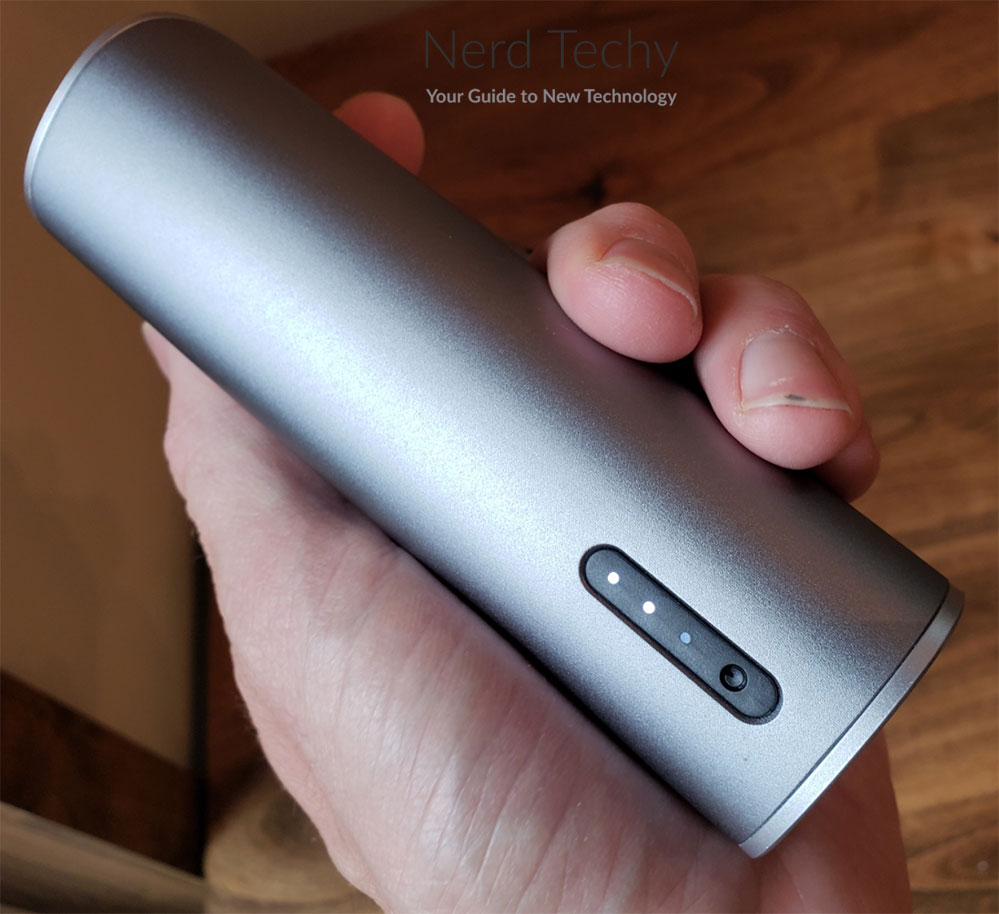 The last attachment is a bit of an oddball. It has a forked shape, with two separate tips that spread to either side. This tip is specialized for massaging your back. The two tips sit to either side of your spine, which relaxes all the muscles that connect to your vertebrae. If you're experiencing back pain, this attachment provides a lot of relief.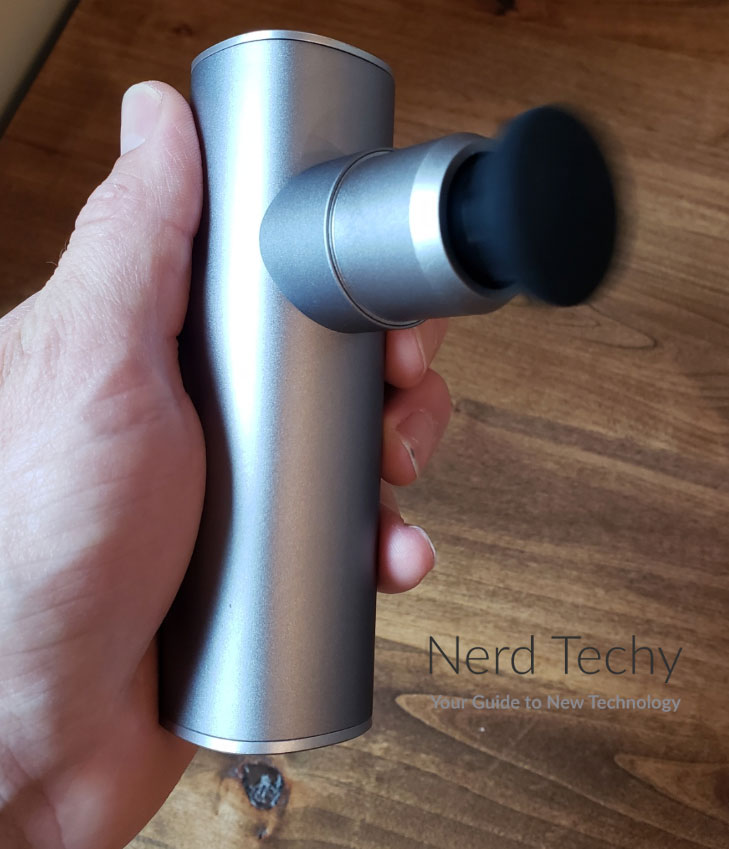 Battery and Charging
The M1S runs on an internal rechargeable battery. This battery has 2,500mAh of capacity, which is enough to work for up to 8 hours. That's assuming you're running on the lowest power setting, which isn't always the case. At higher settings, you'll get considerably less use out of it. Even so, you're looking at more charge than you'll ever need to use in a day, or even several days.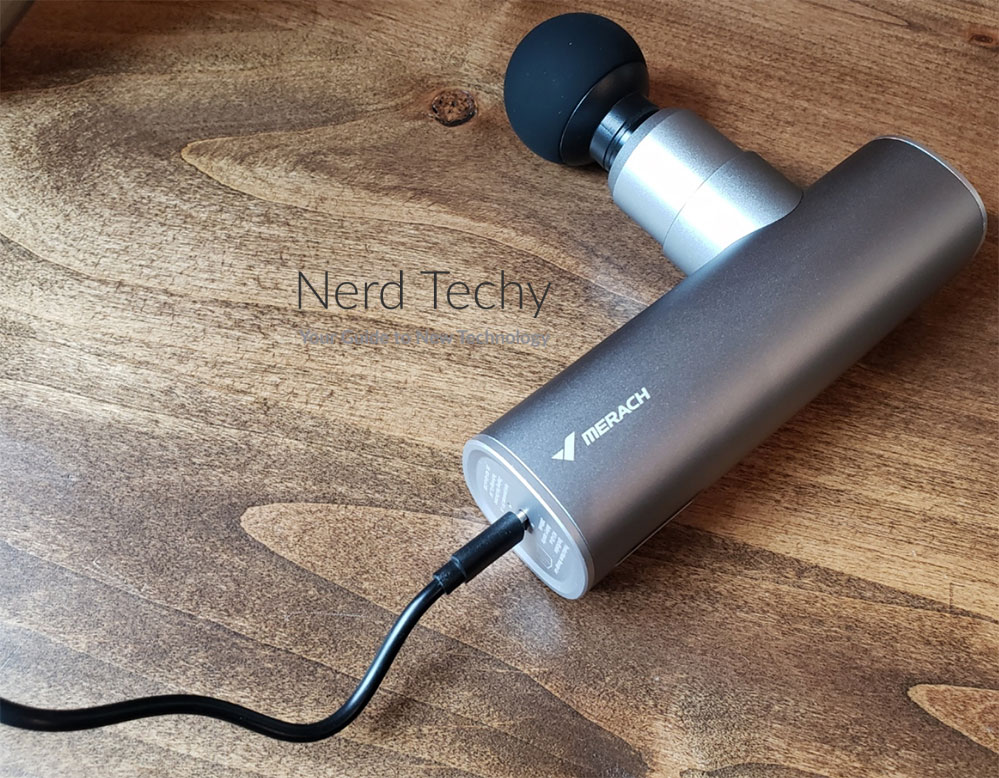 When it does come time to charge, simply connect it to any USB power source. There's a Type-A to Type-C cable included in the package, so you don't need to buy any aftermarket accessories. When plugged into a standard USB port, the battery will fully charge in about 2 hours.
If you need a longer-lasting battery, there are more options. Take the Saluko Percussion Massage Gun, for example. The advertised battery life is less, at 5 hours. But that estimate is based on operation at medium speed, so you'll actually get a bit longer life. Then again, the Saluko gun is fairly large, and not nearly as portable as the M1S.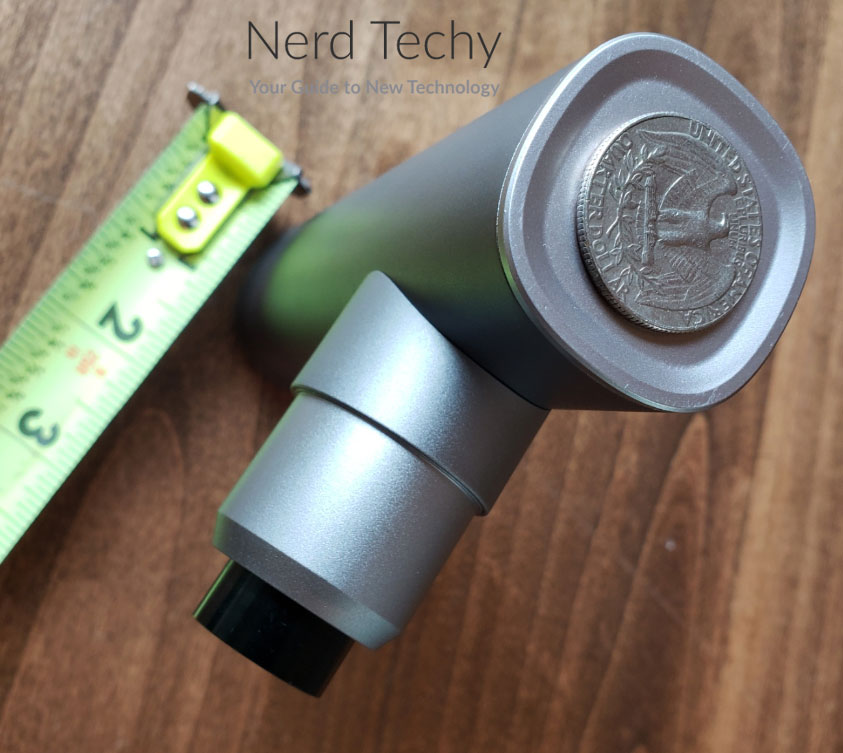 Benefits of Percussion Massage
Before we wrap up, let's talk about why you might want a percussion massager. In most cases, when you think of a massager, people typically think of a vibrating or oscillating massager. These massagers agitate the skin, the muscles, and the other tissues underneath.
A percussion massager, on the other hand, doesn't move from side to side. It travels up and down, and pushes against your body. This has a similar effect, but it's not exactly the same. Neither design is objectively better than the other, but they're useful for different things.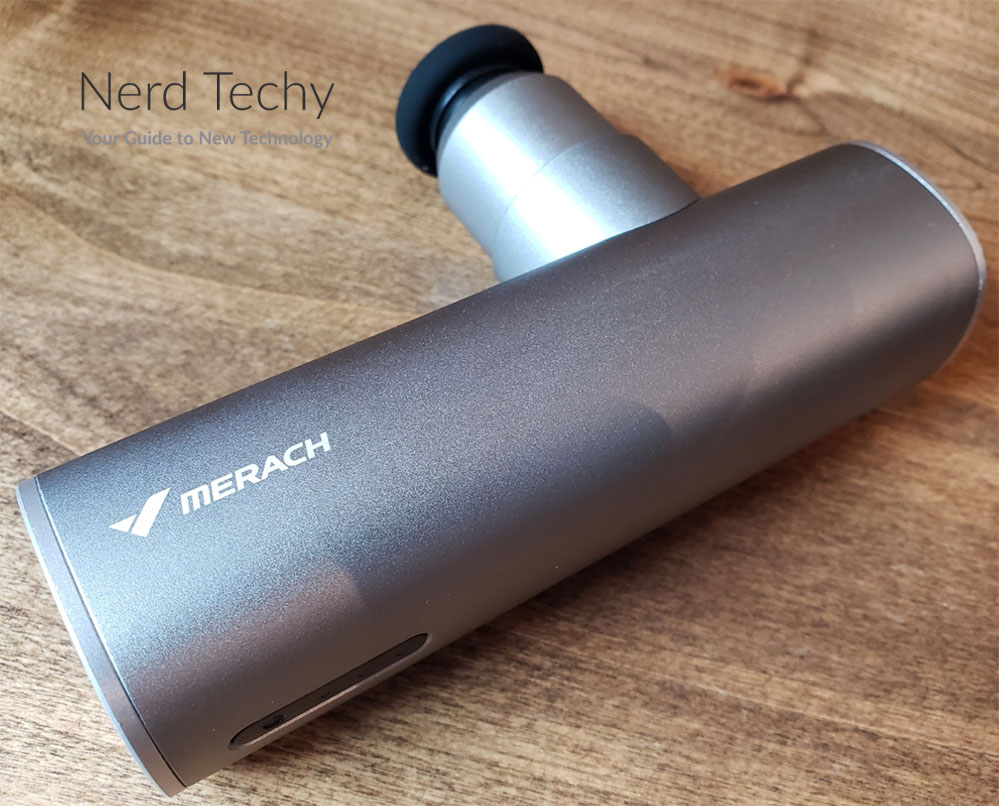 A vibrating massager works on the same principles as a Swedish massage. It vigorously agitates the upper layers of tissue, and can be used on your whole body at once. By contrast, a percussion massager is more focused. This works more like a shiatsu massage, targeting a particular spot on your body. It's designed to massage deep tissue and break up scar tissue. These massagers can be used to treat deep bruises, and to work out knots that are stuck deep in your muscles.
In addition, percussion massagers encourage blood flow to a particular area. This brings more nutrients and oxygen into your tissues, which can promote and speed healing. As a result of this, these massagers are very popular with physical therapists. They're great for use in the office, and patients can also use them at home. That's a benefit you won't really get from an ordinary vibrating massager.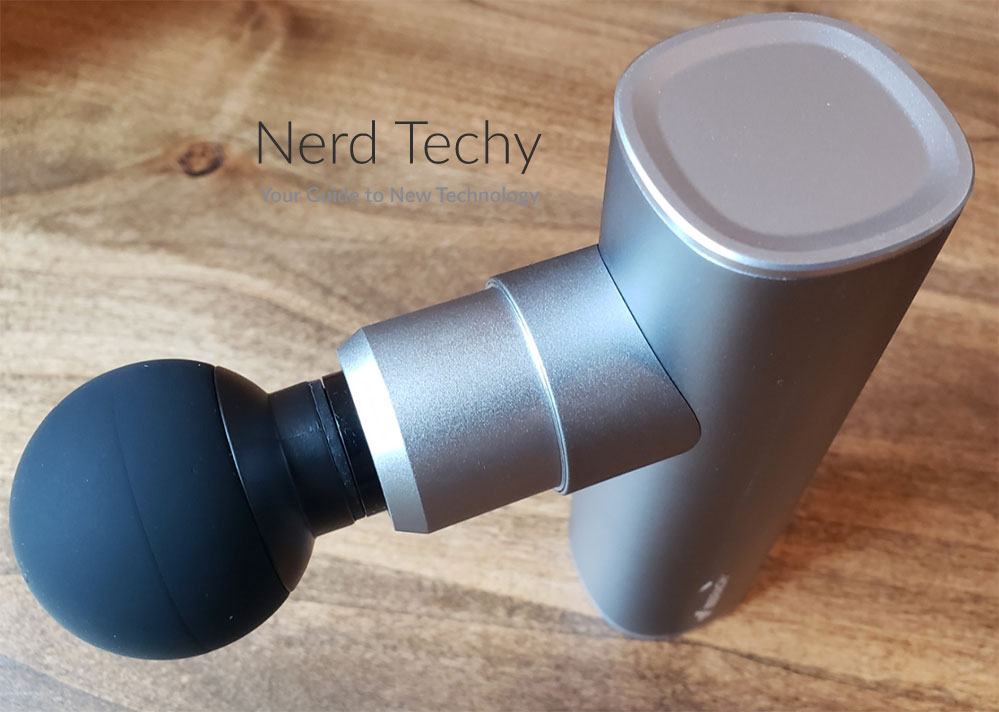 Final Verdict
As you can see, the Merach M1S Mini Massage Gun is a well-designed little machine. To begin with, it's made from anodized aluminum, so it's a lot tougher than most other popular massagers.
The stall force and stroke length leave something to be desired, but that's par for the course on a smaller machine. Meanwhile, you get silicone massage tips, which are considerably gentler than most comparable products. And to top it all off, you get plenty of battery life.