Rozi R7
Pros
Self-emptying dust hopper works very well.
Exceptional battery performance.
Stores up to 3 different floor plans.
5-layer HEPA filter purifies the air as it cleans.
Cons
Relatively thick design.
Roller doesn't dig into deep pile carpets.
Glossy exterior attracts fingerprints.
When you think of the word "technology," what comes to mind? It's probably something exciting. Maybe you're thinking of the latest smartphones from Apple or Samsung. Maybe you're thinking of a video game you're looking forward to.
Whatever it is, you're probably not thinking about a vacuum cleaner. After all, vacuums aren't exciting. They're mundane tools that we use to take care of our everyday chores. But sometimes mundane technology can be the best technology. A good vacuum can save you a lot of time and energy. You can then spend that time and energy on something you enjoy.
A robot vacuum is the most extreme example of this. It literally cleans your floor for you, while you're working, cooking, or even just relaxing. All you have to do is empty it from time to time.
Of course, there are a wide variety of robot vacs. Early models were made only for light cleaning, and they weren't very smart. They'd bump into walls and furniture, and run around in a random pattern. But the technology has come a long way since the original Roomba. Modern robot vacuums will map your floor plan and vacuum in a regular pattern. They also have more powerful motors at the same compact size.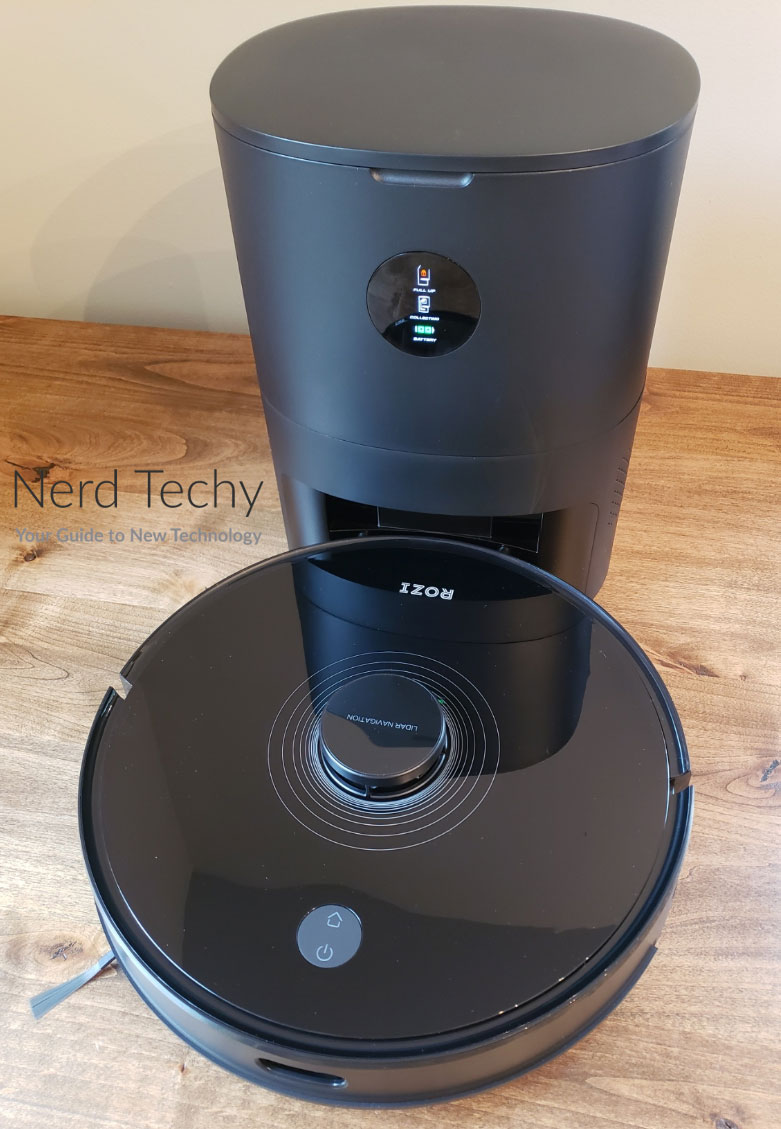 Rozi R7
We're about to review the Rozi R7 Self-Emptying Robot Vacuum and Mop Combo. The most attractive feature of this little machine is in the name – it's self-emptying! The base station has a built in vacuum that sucks all the dirt out of the internal hopper. It also has a battery that can last for more than four hours.
Of course, there's more to a good vacuum than an easy-empty hopper and a long-lasting battery. To determine how good the R7 really is, we'll have to look a lot deeper. We'll have to look at the build and overall design. We'll have to talk about the software and mapping functions. And of course, we'll have to talk about how much suction power you're getting. Let's take a closer look, and see how this vacuum stacks up!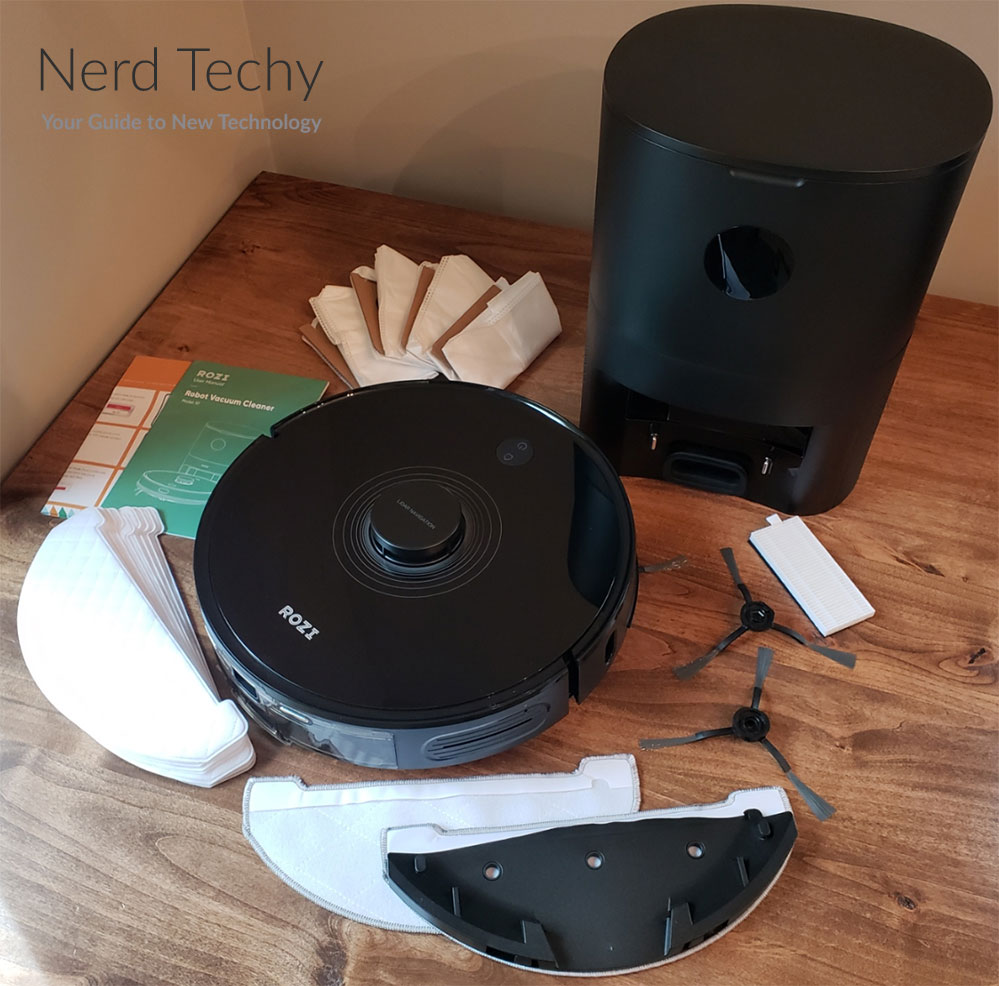 Overall Design
The Rozi R7 Self-Emptying Robot Vacuum and Mop Combo has a familiar circular design. The housing is all black, with a matte finish on the main housing and a high-gloss top plate. It's visually appealing, with sensors at the front and sides and an outflow vent at the back.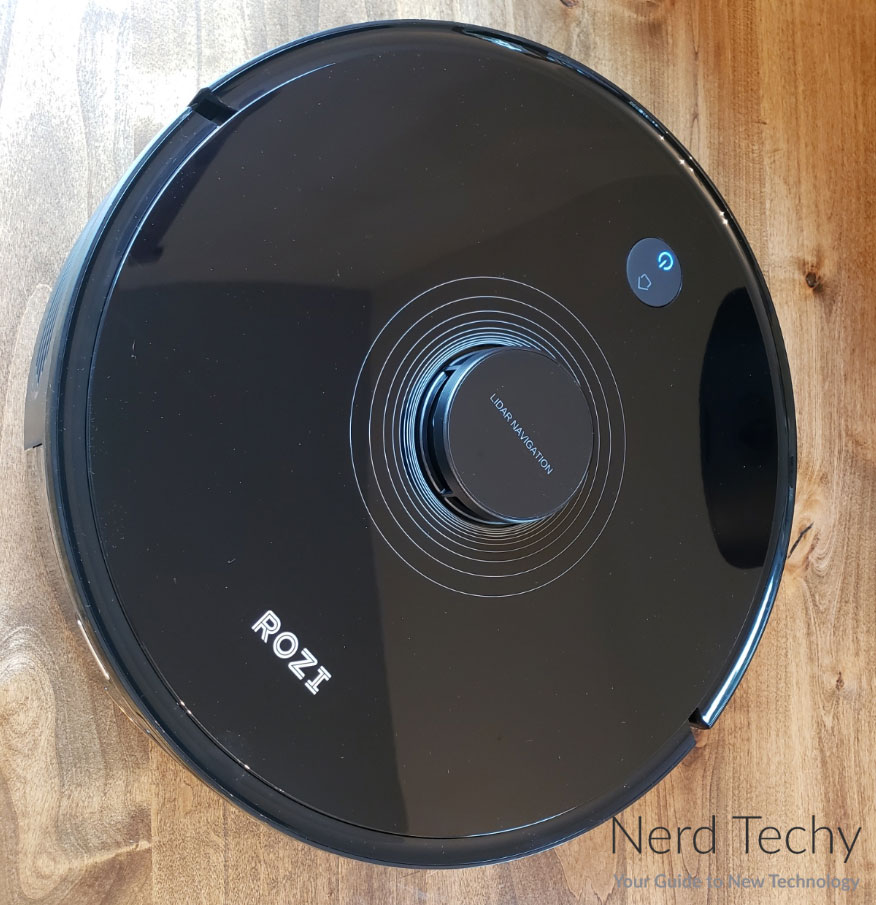 Also on the back is a semi-transparent window where you can see the level in the water tank. The outer edge looks a little bit like a bumper, and it does provide some measure of protection. Not that you have to worry about this vacuum running into anything. But if you accidentally kick it, it's not likely to get damaged.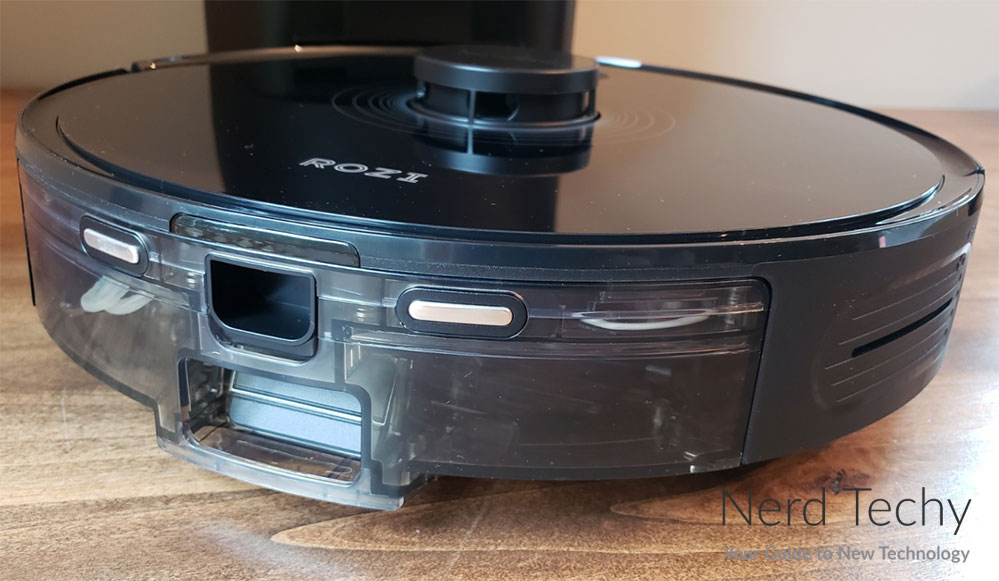 The top panel has a little tower in the center. It looks like a shorter version of one of those little table things that come in a pizza box. This houses the main LIDAR sensor, which enables extremely advanced navigation. That's a great feature, and we'll talk about it more shortly.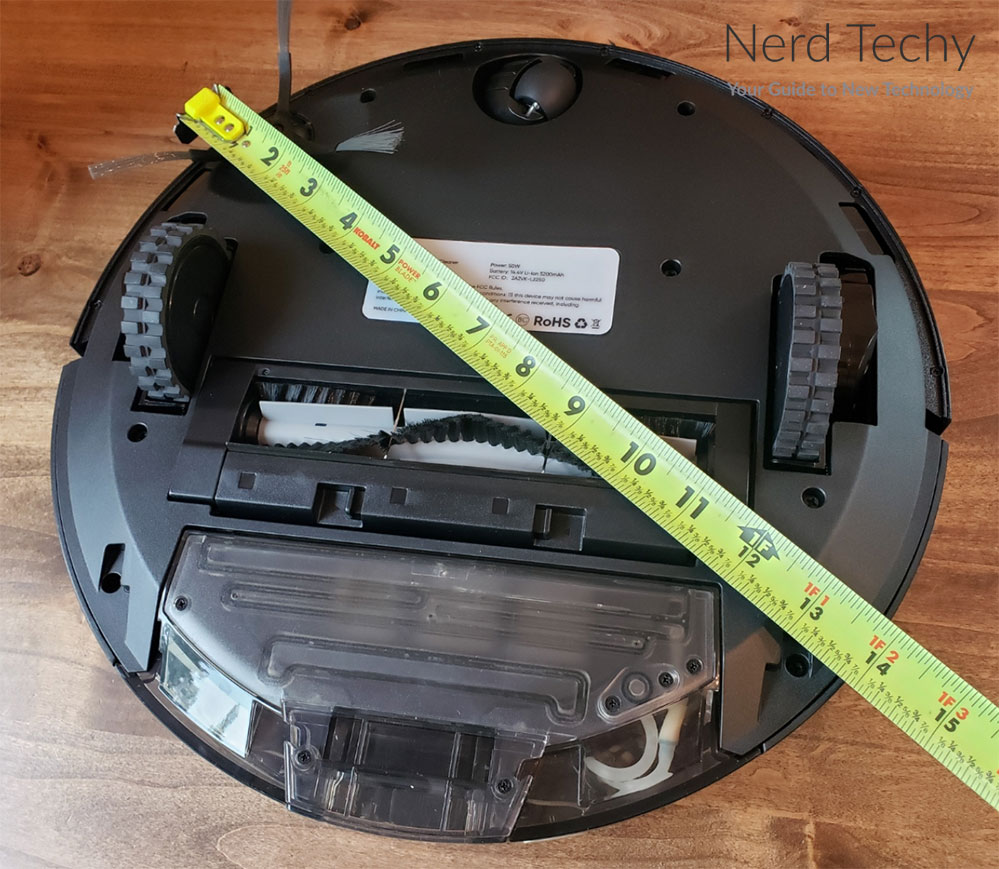 However, the tower also makes the vacuum fairly tall, at 3.85 inches. This means it won't fit under low-standing sofas that some under robot vacs will get under. This may or may not be a concern, depending on your needs.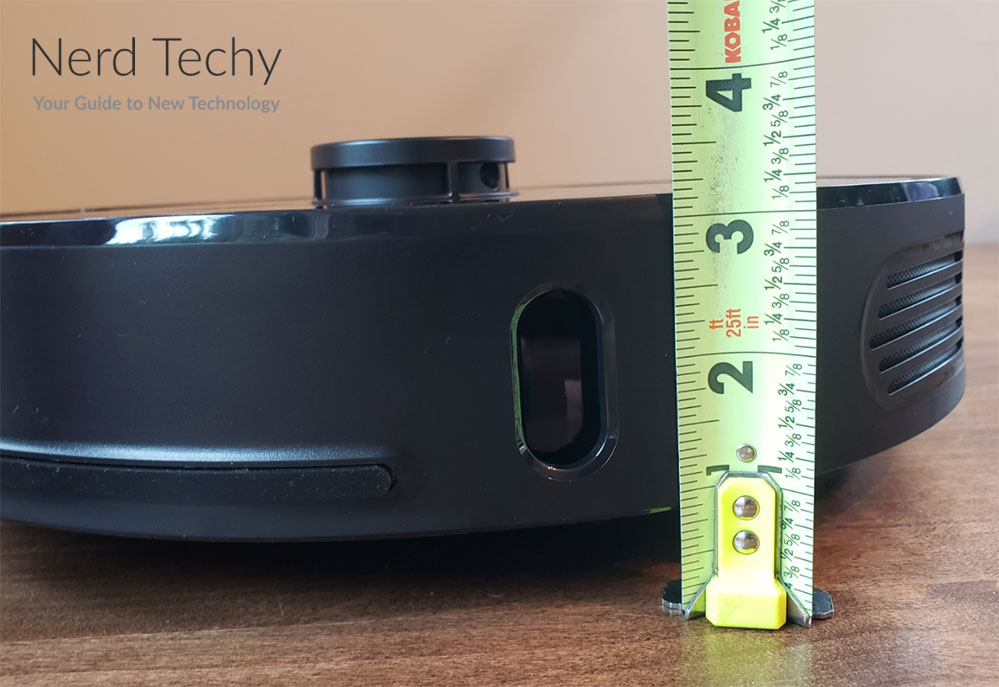 Forward of the sensor, you'll notice a pair of half-circle buttons that sit together to form a full circle. The front button has a power symbol, and is used to initiate a cleaning cycle. The rear button has a home symbol, and it sends the vacuum back to its charging base. The base station itself is a beefy cylinder with a little slot in the bottom. This slot is the charging bay, where the vacuum sits when it's not in use.
The entire kit is protected by Rozi's 12-month manufacturer's warranty. If your vacuum fails due to a manufacturer's defect, you'll be fully protected.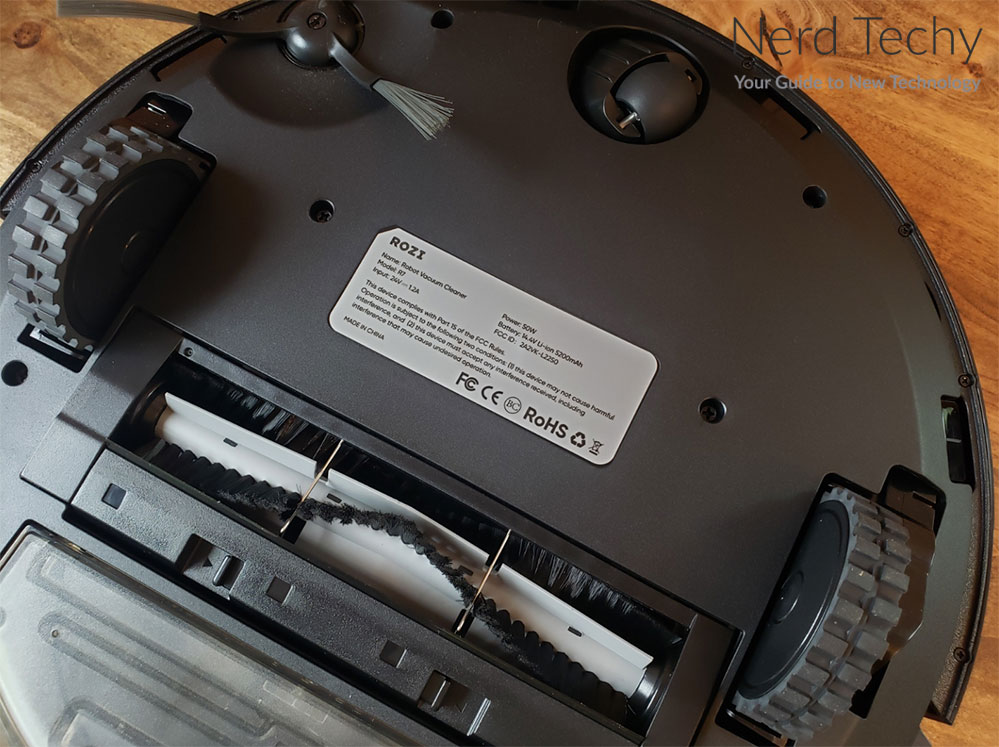 Drive and Brushes
Turn the R7 over, and you'll see that there are a lot of parts on the bottom. At the front, there's a small wheel that's seated in its own little sub-housing. This sub-housing is motorized, so the wheel can swivel. The software controls this motor, and uses the front wheel to steer the vacuum around.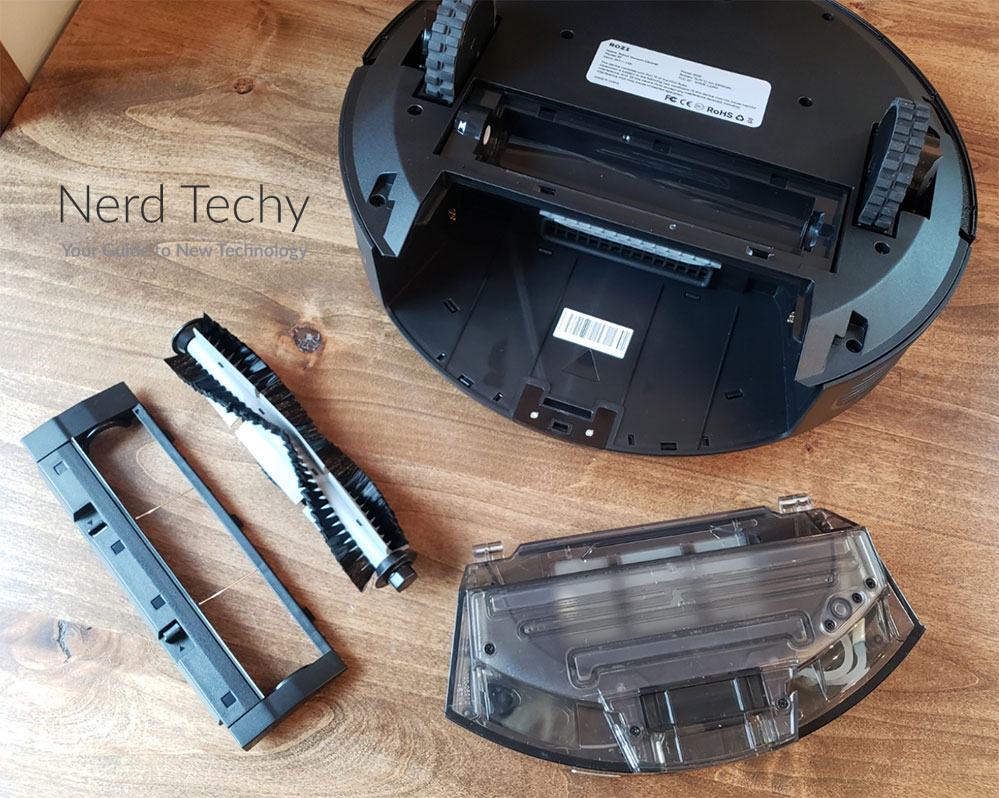 The actual drive wheels are located just behind the midpoint of the body. They're big and fat, with a deep tread. This combination allows them to climb even large transitions, up to 0.8-inch. Even a large ¾-inch transition will present no obstacles. You can even run across the edge of a carpet or transition, with the vacuum angled at up to 15 degrees.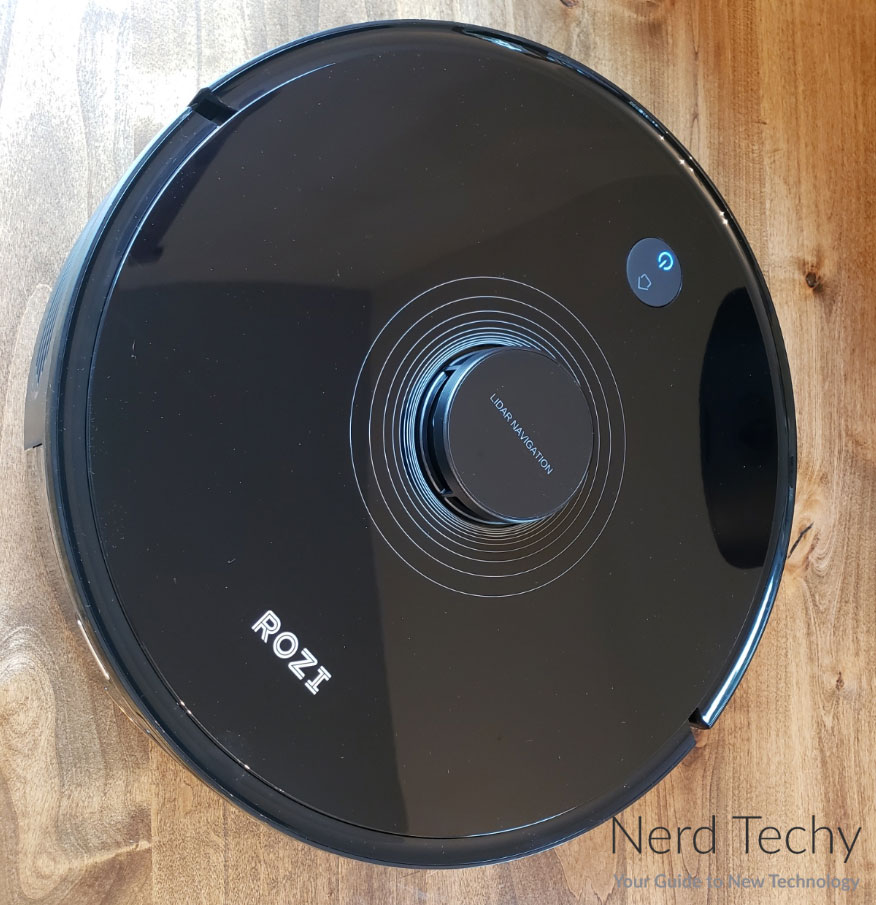 For cleaning, there's a helicopter-style brush at the front right of the housing. This is designed to get up close to walls and sweep debris into the main roller. The roller itself is located at the center of the vacuum. However, it's not a traditional roller with bristles. Instead, it has a set of spiral-shaped rubber fins that drag over the surface. This has advantages and disadvantages. On the one hand, it won't dig down deep into carpets and pull out debris. On the other hand, it's exceptionally efficient at cleaning solid floors.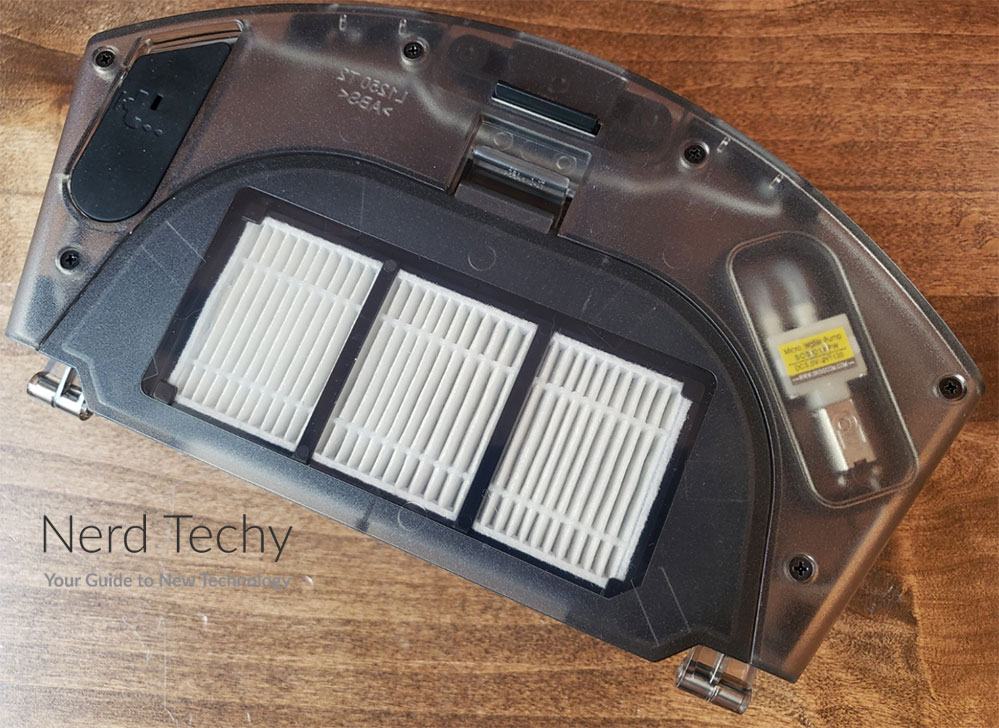 Behind the main brush, there's a microfiber mopping pad, which follows along at the back of the unit. This mopping pad is removable and machine-washable. When it gets dirty, it's easy to clean and re-use.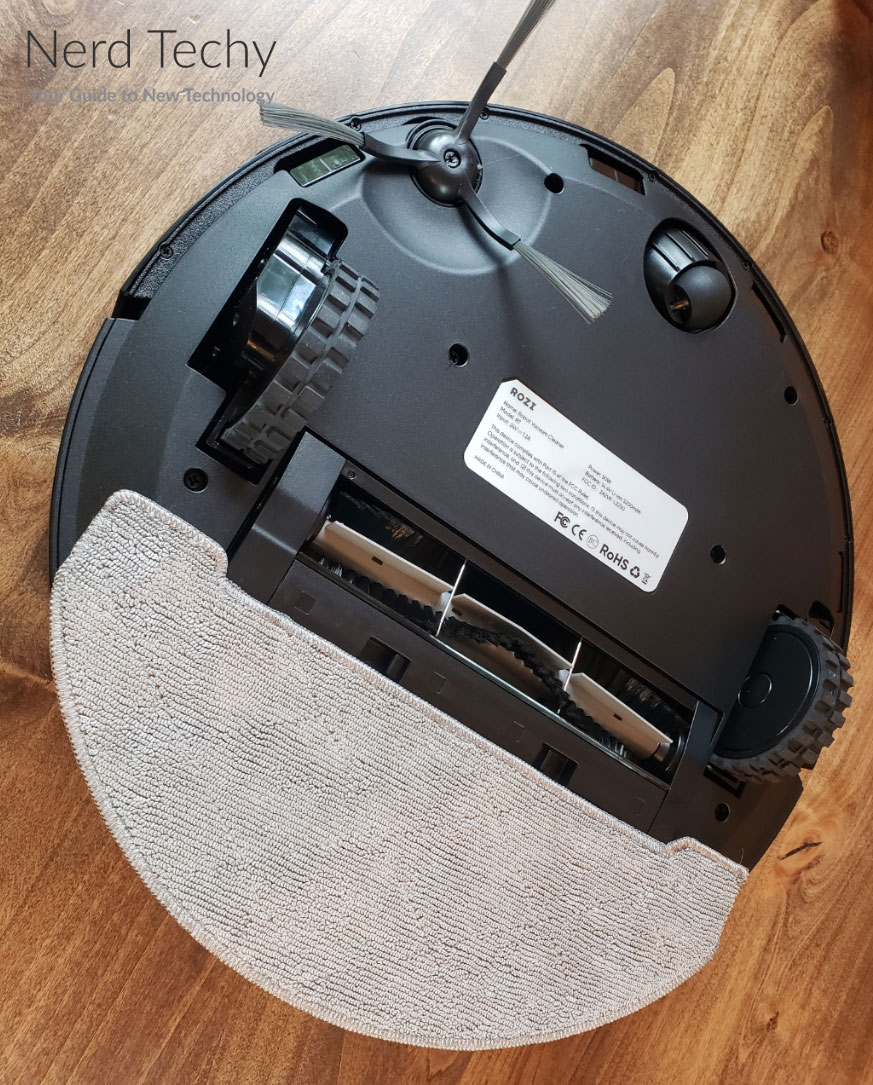 If you're looking for different cleaning capabilities, there are plenty of options. The Trifo Ollie is a good example. It has an interchangeable main roller and pet hair attachment. The pet hair attachment is brushless, so you don't have to worry about fur getting tangled. However, there's no alert for a full dust bin.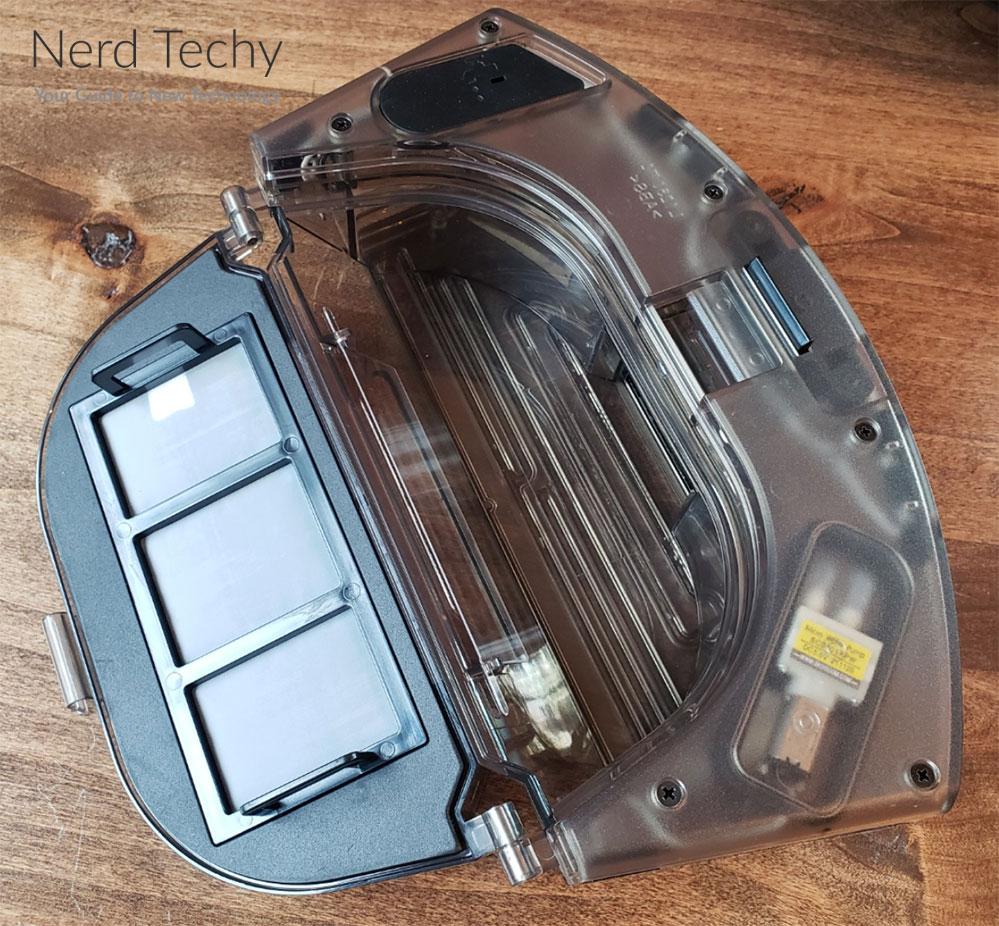 Vacuum Performance
The Rozi R7's motor provides up to 3,000 Pascals (Pa) of suction. There are actually four suction levels, which you can set through the app. Or, you can let the intelligent auto-boost function go to work. It will run at lower suction levels on a hard floor, and turn up to the maximum on carpet. For reference, the average robot vacuum these days has around 2,600Pa of suction.
The water tank has a capacity of 250ml, which is enough to clean a moderately-sized floor without refilling. Exactly how much area will depend on your settings. There are three different spray levels, which will get you considerably different amounts of coverage. For everyday cleaning, the lowest setting is fine. The highest setting is only really necessary when you're cleaning a very heavily-soiled floor.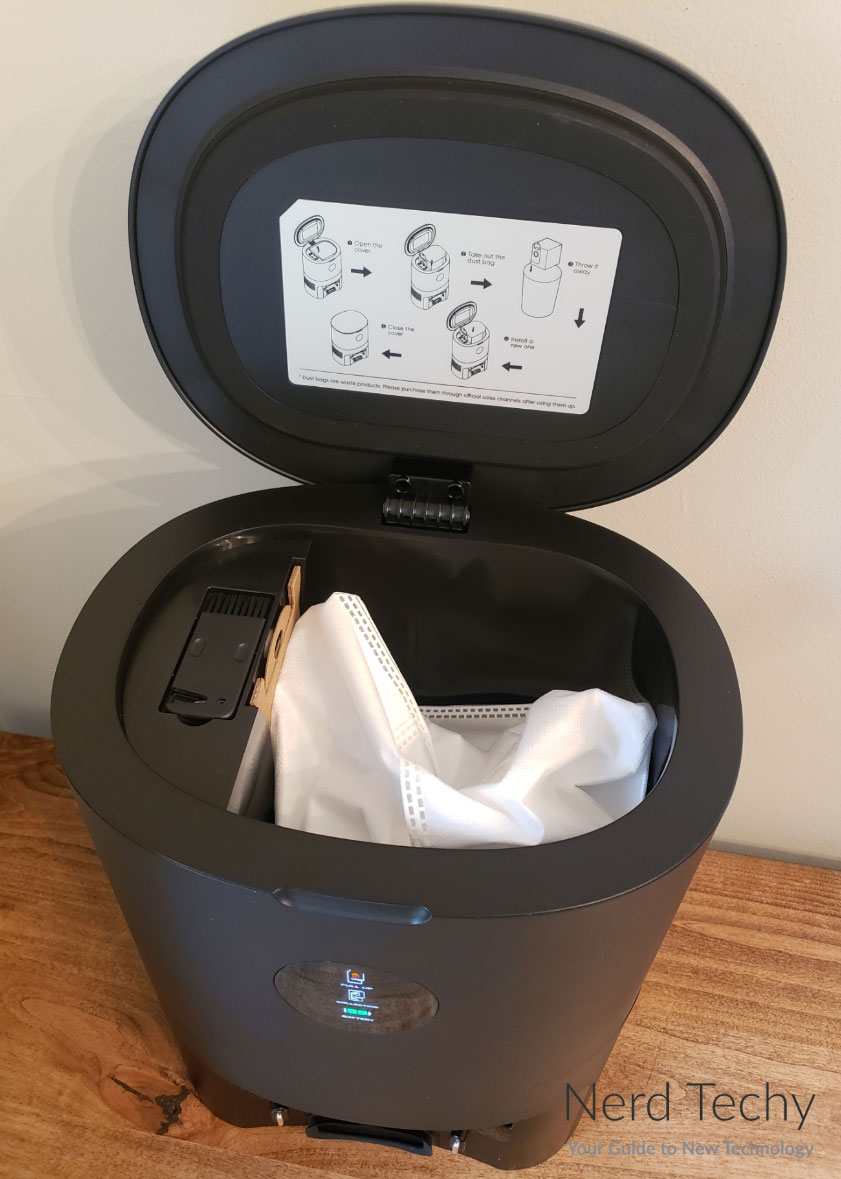 As we mentioned at the outset, this vacuum is self-emptying. Whenever it returns to the base, a motor inside the base kicks in. This sucks out all the dirt and debris, and puts it into an internal dust bag. The bag has 3 liters of capacity, which is quite considerable. For most people, this is enough for a month or more of cleaning. The bag can be tough to dump out, but that's not really an issue. It's a standard design, and you can buy replacements anywhere you can buy vacuum bags.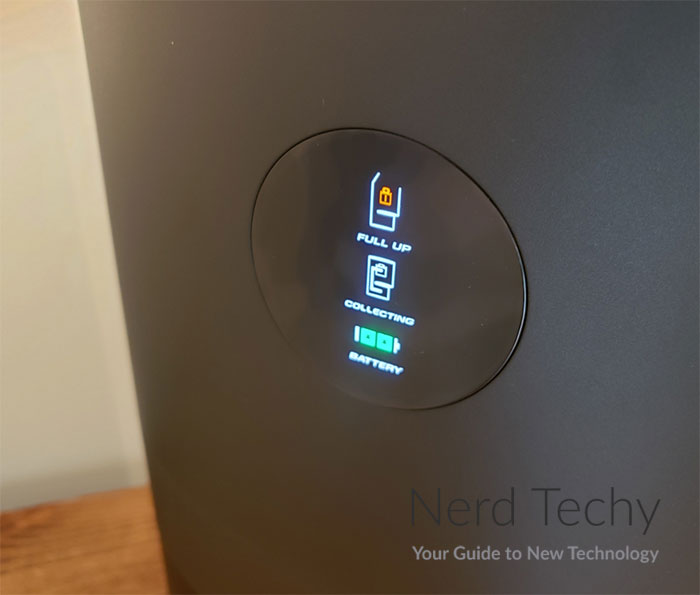 Battery and Extras
The internal lithium battery has a capacity of 5,200mAh. That's enough for up to 260 minutes of operation, depending on your settings. In practice, you'll probably get a little bit less, because you won't be running on low suction all the time. Even so, this is an incredible amount of battery life, far better than most comparable vacuums.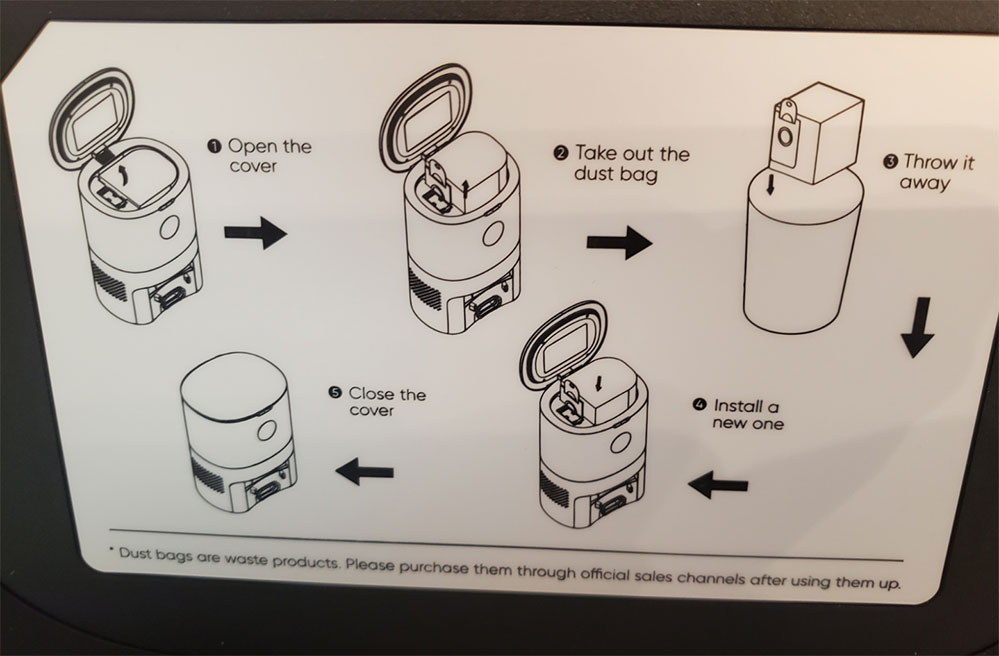 In addition to this, the R7 has a 5-layer HEPA filter built into it. This is way more powerful than your average vacuum filter. Not only does it remove any visible debris, but it also filters out tiny microscopic particles. The air that blows out the back of the vacuum is as clean as the air from an air purifier.
These are all great features. But as we discussed, this robot vac doesn't do as well on carpet as it does on hardwood. If you're primarily trying to clean carpets, consider the Yeedi Vac 2 Pro, instead. It works on any floor, and it's compatible with Yeedi's self-emptying base station. That said, it doesn't have nearly as much battery life as the R7.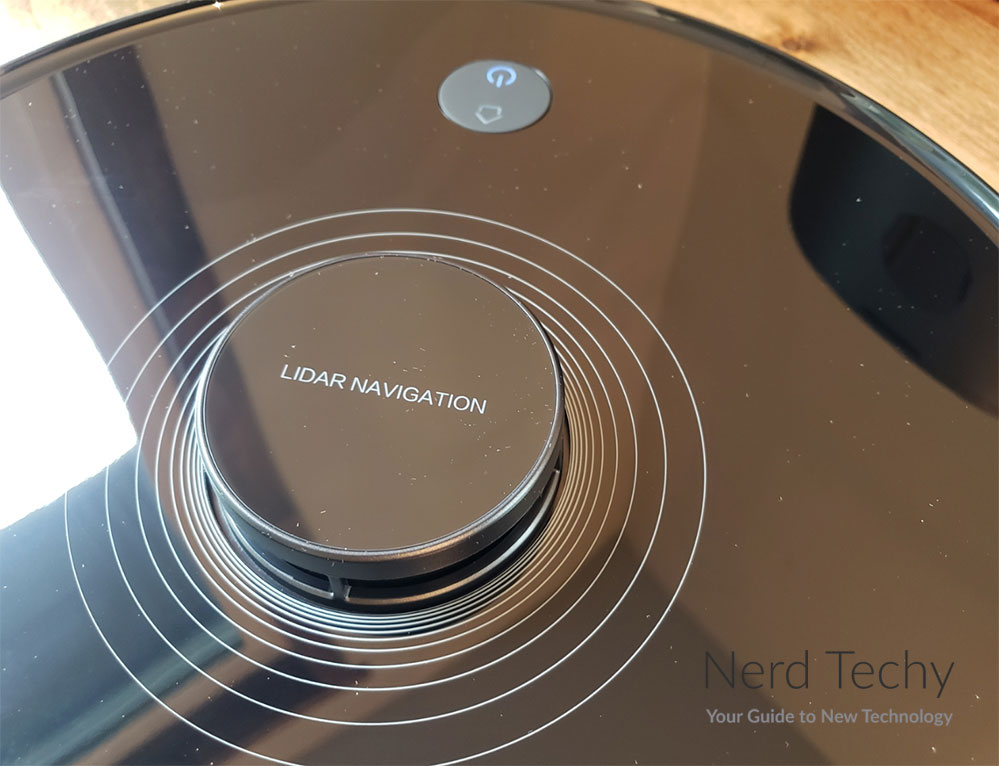 Setup and Everyday Use
If you want to unlock the R7's most powerful features, you'll need to install Yeedi's smartphone app. It's free to download, and installs in around a minute. You can then pair to your vacuum via Bluetooth, and connect it to your home's WiFi network. This allows you to control your vacuum at any time, from anywhere in the world.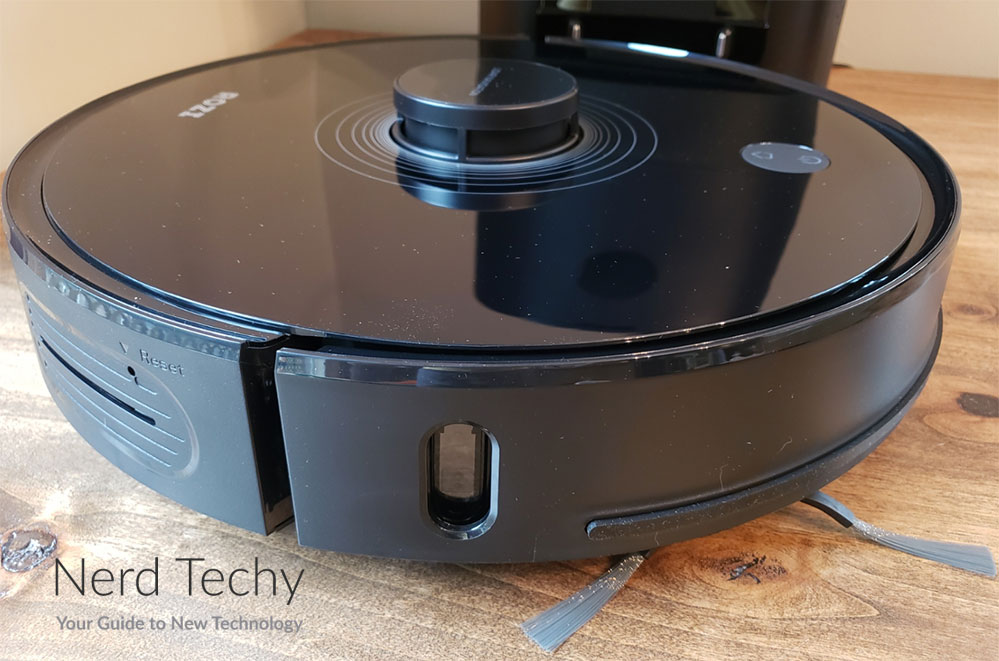 When you run the vacuum the first time, there won't be many features available. It will simply roam around, mapping your house. After that, you can bring up that virtual map on your phone screen. You can select individual rooms to clean, and program no-go zones for the vacuum to avoid. Along the same lines, you can schedule cleanings on a daily or weekly basis. You can even schedule separate cleaning times for separate rooms.
The app can store up to three floor plans, so you can use the vac in a multi-level home. You have to switch floor plans manually, but that's easy enough to you. You can also set up voice commands through Amazon Alexa or Google Assistant.
That's more floor plans than most people will ever need. But if you do need more, take a look at the Shellbot SL60. It has a similar design to the R7 in many respects, although there's no self-emptying function. However, it allows you to store up to five floor plans.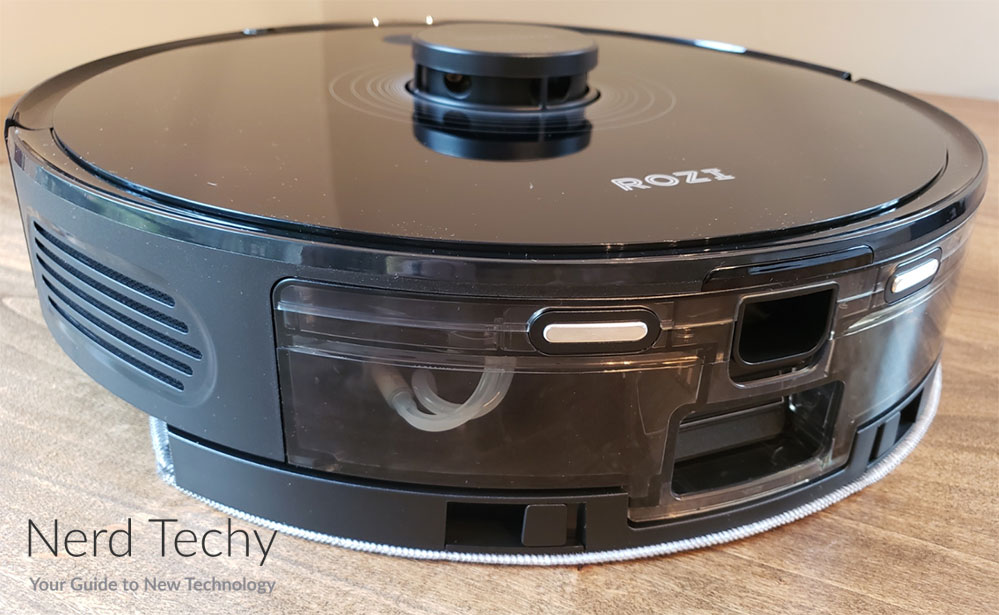 Final Verdict
The Rozi R7 Self-Emptying Robot Vacuum and Mop Combo is a powerful cleaning device. The app is very well designed, and you can create a truly customized cleaning plan. And with the self-emptying base station, getting rid of your old dirt is a breeze. All in all, we were very pleased.