Trifo Ollie
Pros
AI obstacle avoidance works well.
Powerful suction.
Several smart mapping functions.
Interchangeable main roller and pet hair attachment.
Built-in air purifier.
Cons
Relatively thick design.
No full bin alert.
When it comes to exciting new technology, vacuum cleaners are at the bottom of many people's list. They just don't have the shine of a brand new smartphone or game console. That's fair enough, but it's also unfortunate. Sometimes, the most exciting devices are labor-saving devices. The more time you save on daily household chores, the more time you have to do other things.
Now, think about how much time you spend running your vacuum. Instead of doing that, you could have a robot vacuum doing the job for you. Then you're free to cook, play video games, or do anything else you do around the house.
But not all robot vacuums are equally worth owning. To find the right one, you've got to think about all the various factors that make up a good vacuum. To begin with you'll want to make sure you're getting enough suction for your needs. Many robot vacuums are underpowered, and can't clean deep pile carpets or heavy messes.
There's also a vast difference in terms of how "smart" they are. Old-school robot vacuums just ran around randomly and bumped into your walls. A good modern robot vac should map your house, and intelligently avoid any obstacles.
Trifo Ollie
We're about to review the Trifo Ollie AI Robot Vacuum. This is a powerful little vacuum with a special trick up its sleeve. In addition to the main roller brush, there's a brushless, tangle-free pet hair attachment.
That's great news for pet owners who are sick of their vacuums constantly getting clogged. Like their previous vacuums, Trifo has launched the Ollie as an Indiegogo campaign. As of April 29th, 2022, they've absolutely smashed their initial goal, with more than 280% so far.
But should you order your own, or should you give it a hard pass? To find out, we're going to have to dig a little bit deeper into its design and features. We'll look at how it's put together, and what it's capable of cleaning. We'll talk about the battery power, and how the app works. After we've gone over all those things, we'll have a better picture of what we're looking at.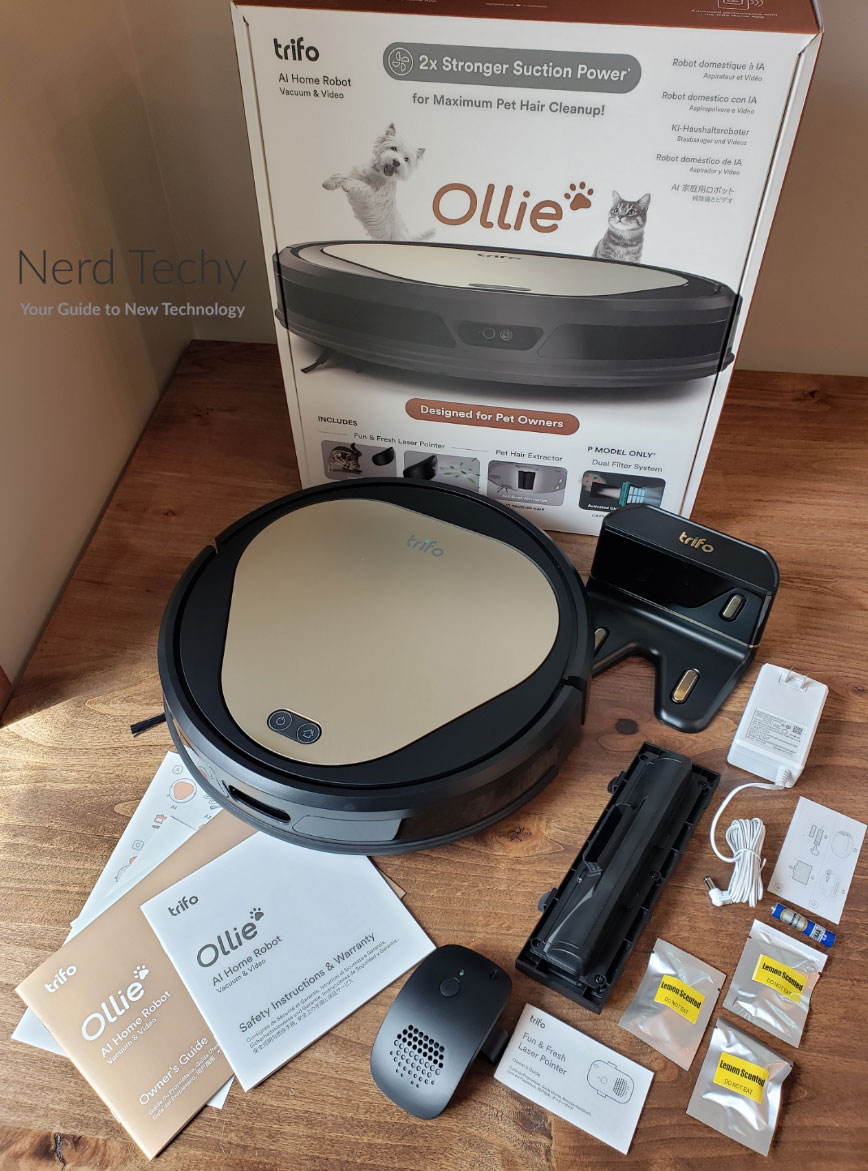 Overall Design
The Trifo Ollie AI Robot Vacuum has a similar round shape to most robot vacuums. It's constructed mostly from a black plastic, with an easy-to-clean matte finish. It doesn't attract dust or collect fingerprints, and it's reasonably durable.
Around the outside edges, there's a separate outer ring, which serves as a bumper. If you accidentally kick the vacuum, it won't easily get damaged. The front also houses a set of sensors to help the vacuum navigate. Right in the center, there's a camera, which we'll discuss more in a little bit.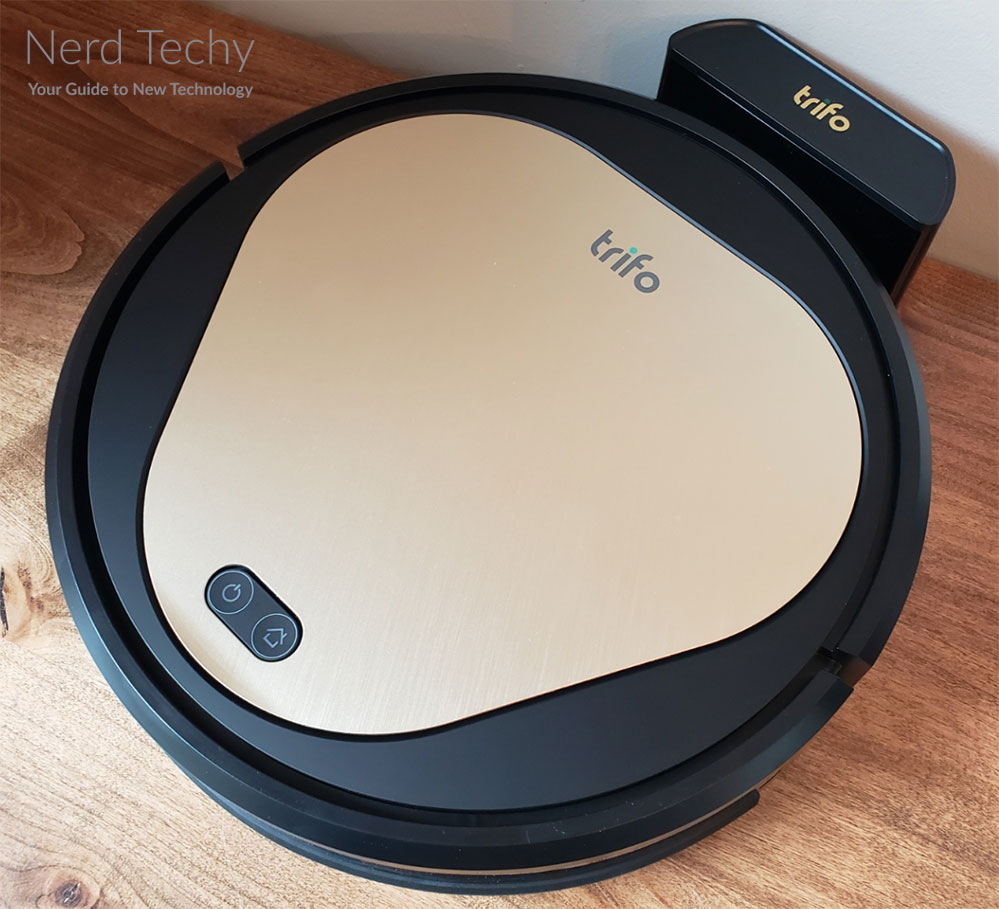 On the top of the housing, there's a roughly triangular copper-tone panel, with the word "Trifo" in the back. At the front of the triangle, there's a little cutout where you can see a pair of soft touch buttons. The power button activates the vacuum, and starts a new cleaning cycle. The home button sends the vacuum back to its charging base.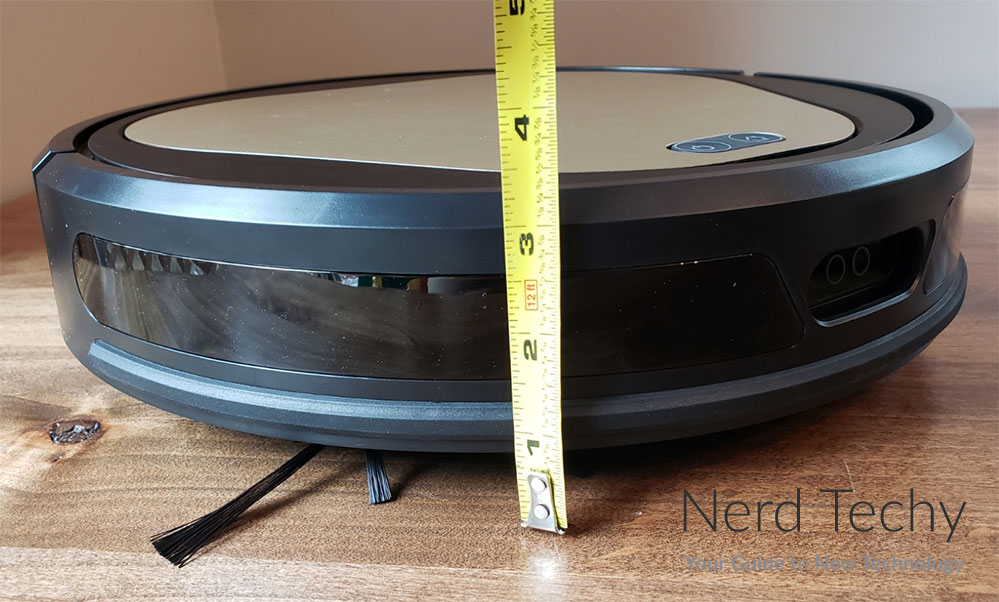 One downside of the Ollie is its thickness. At 3.35 inches, it won't fit under some lower furniture. Even so, it does a great job of getting around the house, and can get into most spaces. On the bottom, there's a pair of fat, beefy wheels that can get across almost any transition. It can navigate a transition up to 0.78-inch tall, which is taller than most. It's unusual to see a transition more than ¾-inch thick, so you'll be well covered under almost any circumstances.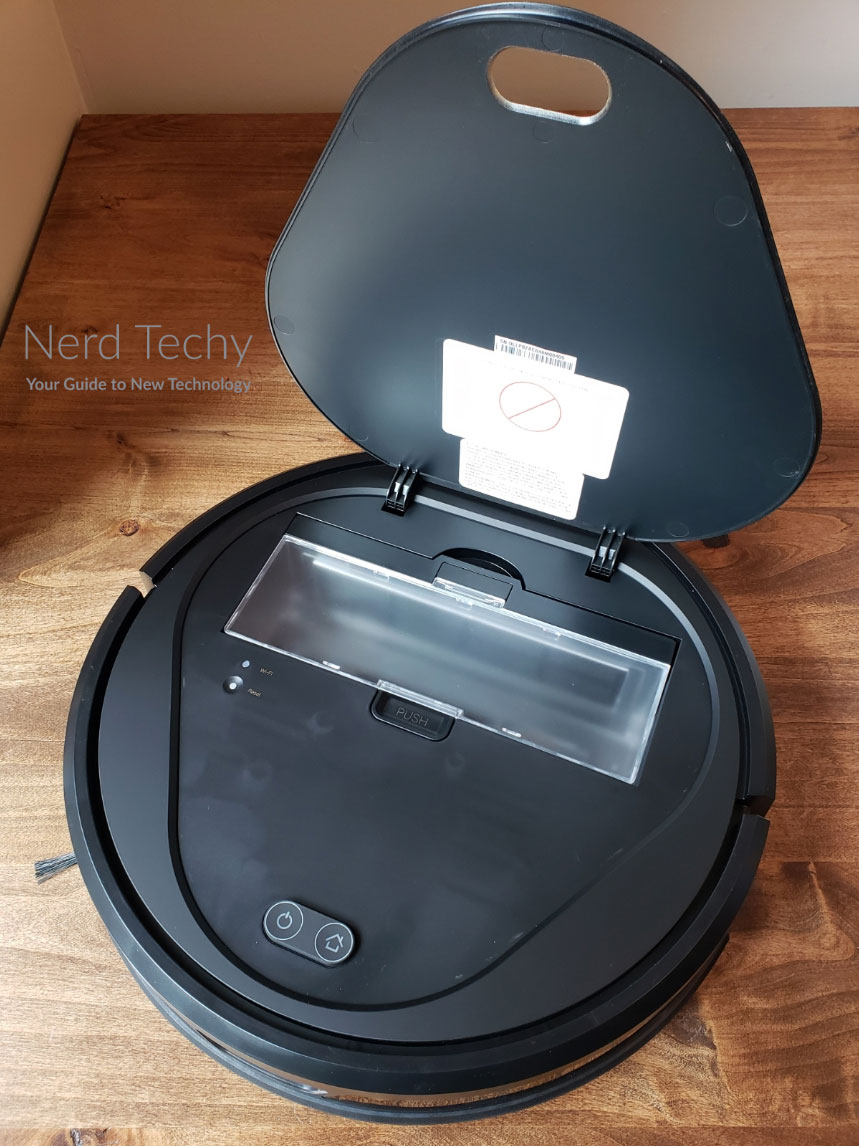 At the bottom front of the housing, there's a circular horizontal brush that sweeps out to the side. This brings dust and debris towards the main roller, improving your efficiency. The main roller, meanwhile, does a good job of digging down into carpets to capture trapped dirt. But rollers have a tendency to get tangled, particularly when you're dealing with a lot of hair.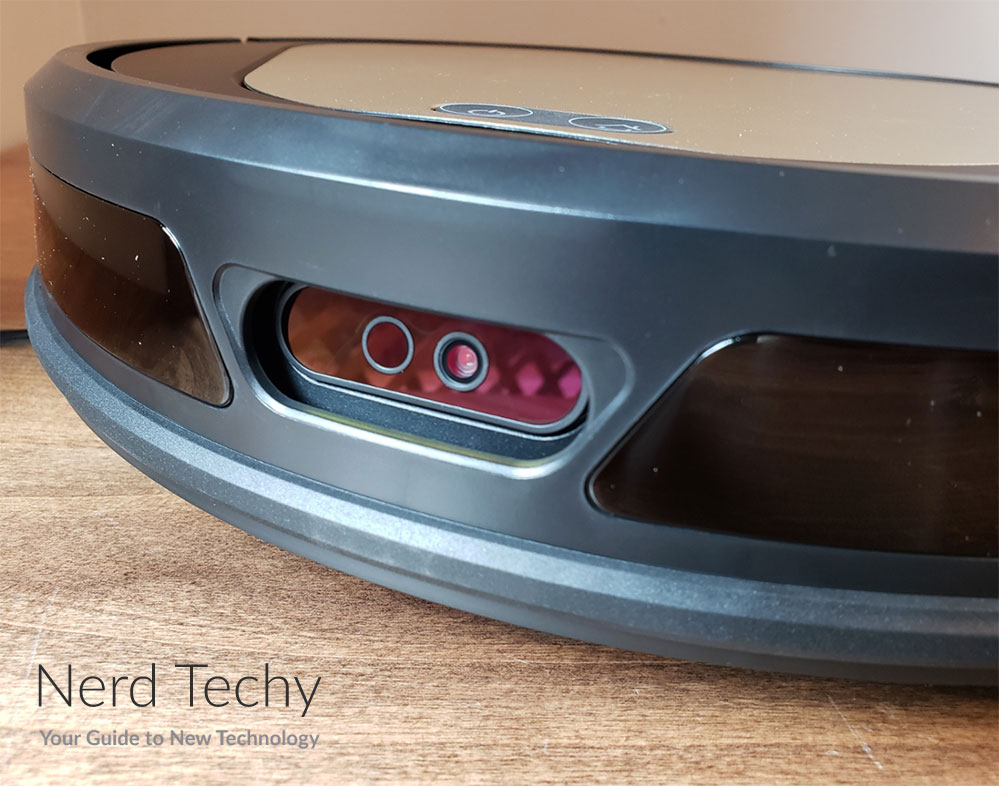 To prevent this, the roller is removable. You can then install a special brushless insert, which is basically a wide, narrow opening. This won't dig into carpets, but it will suck up hair and pet fur like nobody's business.
Along with the vacuum, you get a charging base. This base is made from a similar black plastic to the main vacuum housing, and it has a low profile. It sits very close to the wall, so your vacuum doesn't stick out too far. There's a little platform that sticks out slightly farther, where your vacuum sits while it's charging. Plug the charging station into a wall outlet, and you'll be ready to get started.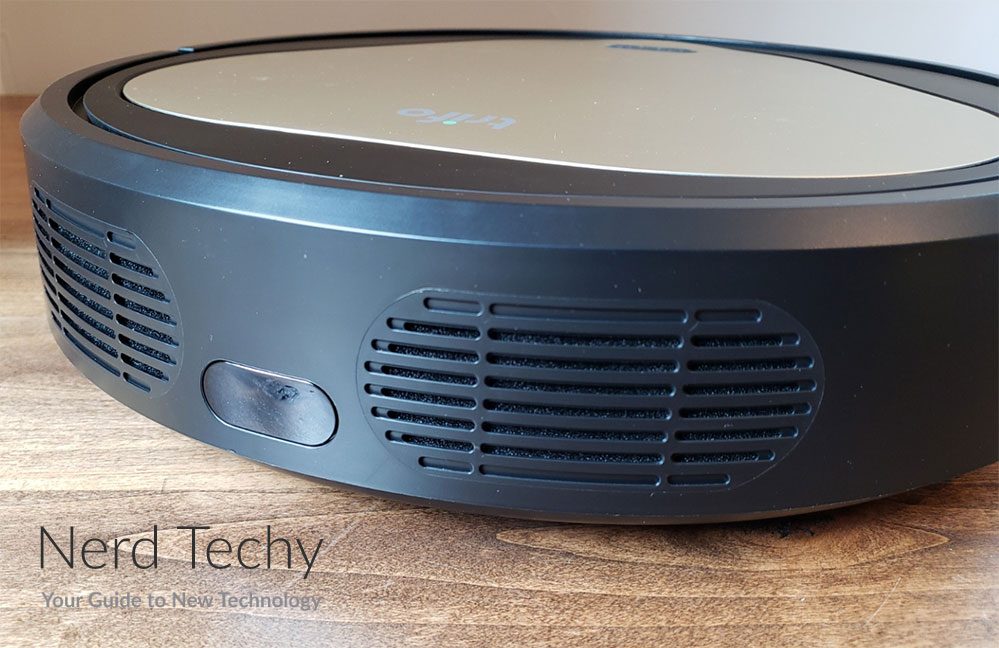 As an added bonus, the kit includes a little laser pointer for entertaining your pet. We suppose this could be useful to keep your cat distracted while you're vacuuming. It's a little bit gimmicky, but it's a fun perk. Everything is covered by a 12-month manufacturer's warranty. If anything fails in that time period, you'll receive a free repair.
If you're looking for even more features, there are plenty of well-engineered vacuums out there. One of these is the Yeedi Vac Station. It has a big, canister-shaped base station, and a self-emptying dust hopper. It's equally as powerful as the Ollie, but the design is fairly big and bulky.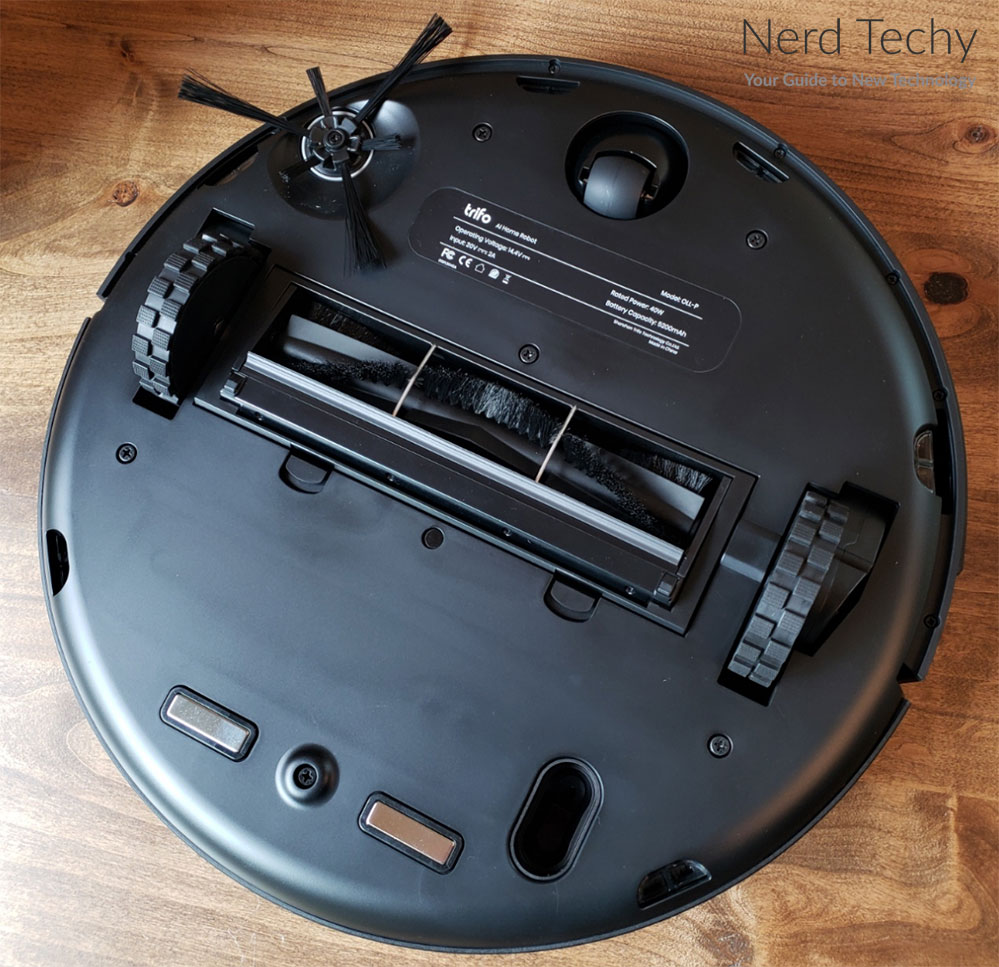 Use code "CV23AMWG" for a 10% discount when you purchase the Trifo Ollie on Amazon.
Vacuum Performance
The main measure of any vacuum's performance is the amount of suction. The more suction you have, the larger debris you'll be able to capture. The Trifo Ollie's motor provides 4,000 Pascals (Pa) of suction. This is on the high end for a robot vacuum, and it means you'll be able to clean up almost any debris. You can also vacuum deep pile carpet, which many robot vacuums aren't able to handle.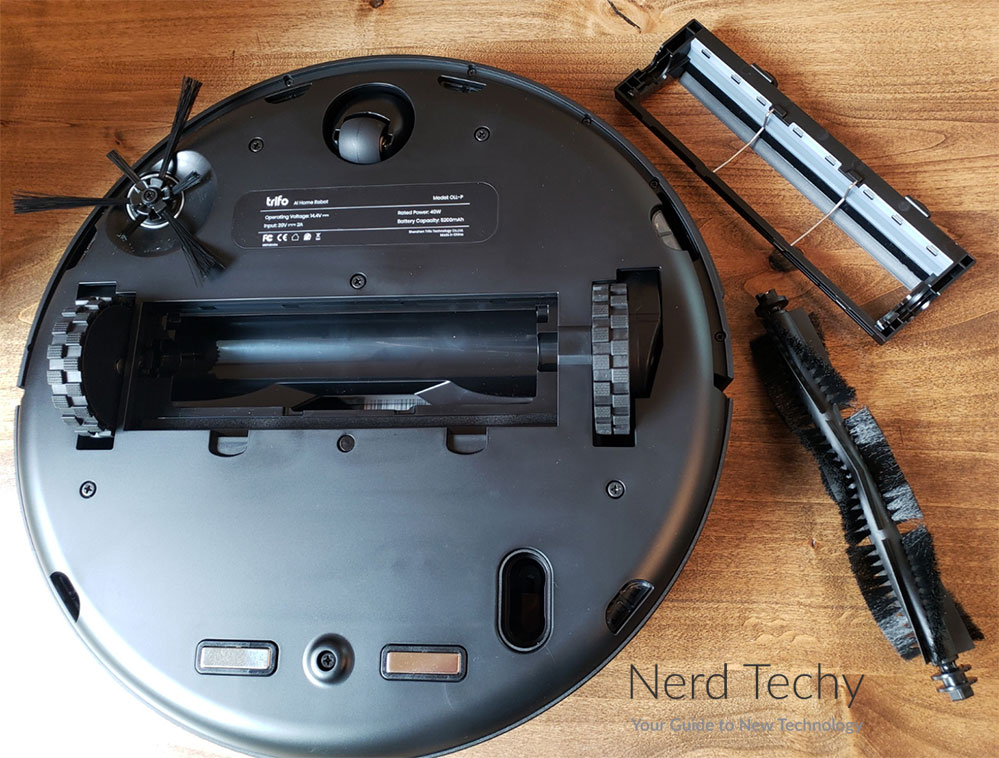 The internal battery has a capacity of 5,200mAh. This is sufficient to run the motor for around two hours. As with any battery-powered device, a lot depends on how hard you're pushing it. If the motor is getting a lot of resistance, it's going to draw more power.
Conversely, if you're just sweeping up a lightly-soiled hardwood floor, you'll get better performance. But assuming you get average performance, you'll be able to cover a little under 1,300 square feet. If your floor plan is even larger, you don't have to worry. The vacuum will automatically return to its charging base when the battery gets low. When it's fully charged, it will get right back to work.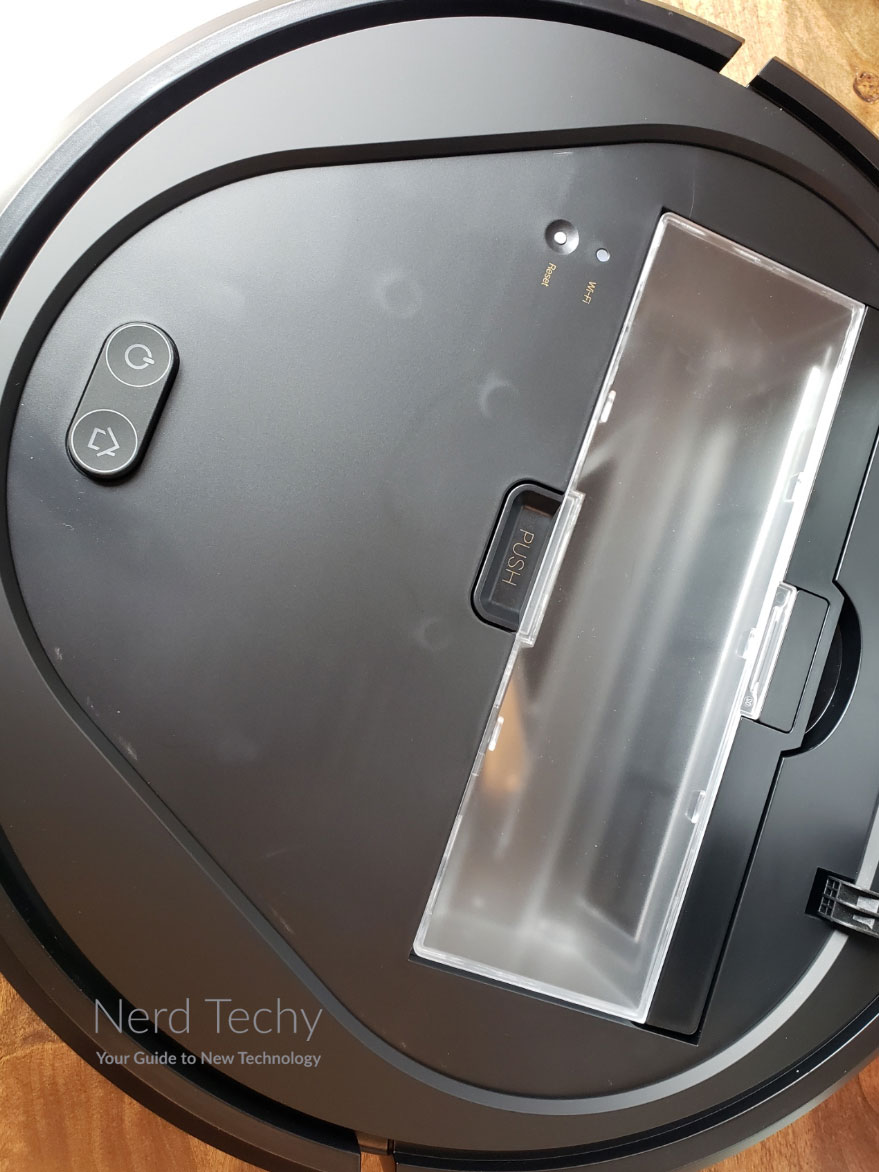 When the dust bin gets full, the Ollie will return to base and wait to be emptied. Unfortunately, there's no audible alert. You'll have to check it now and then to make sure the hopper hasn't filled up. To do this, simply list up on the front of the copper-tone top panel. This will reveal the 600ml hopper, which is bigger than many robot vacs.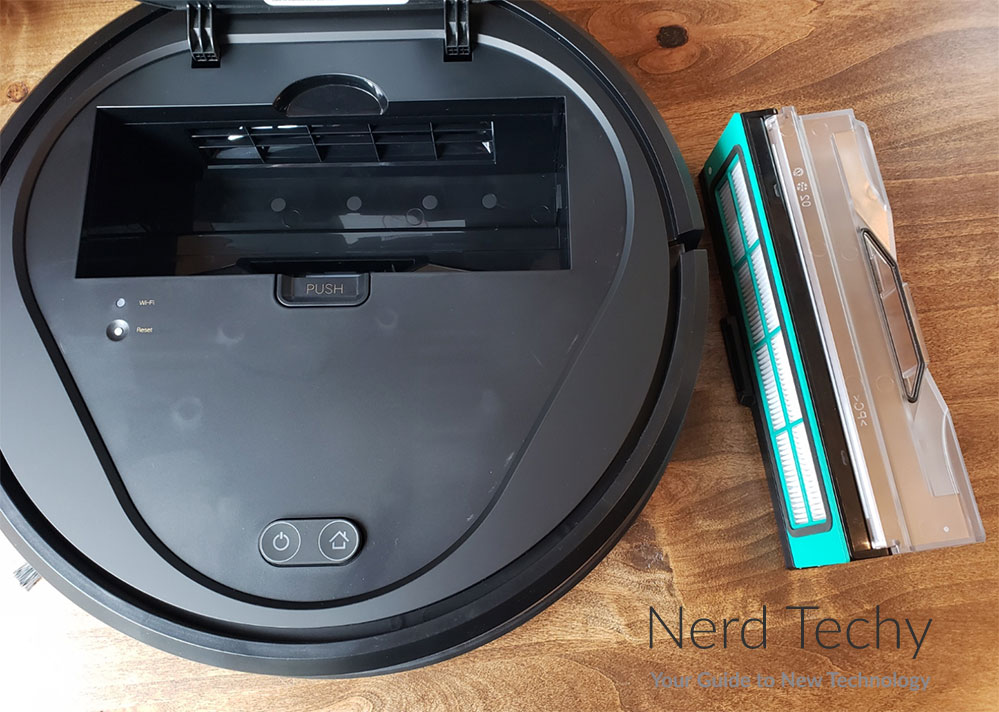 Near the hopper, you'll see a built-in two-part filter that allows the vacuum to function as an air purifier. The first portion is an accordion-shaped HEPA filter, which removes most particles down to a few millionths of a millimeter.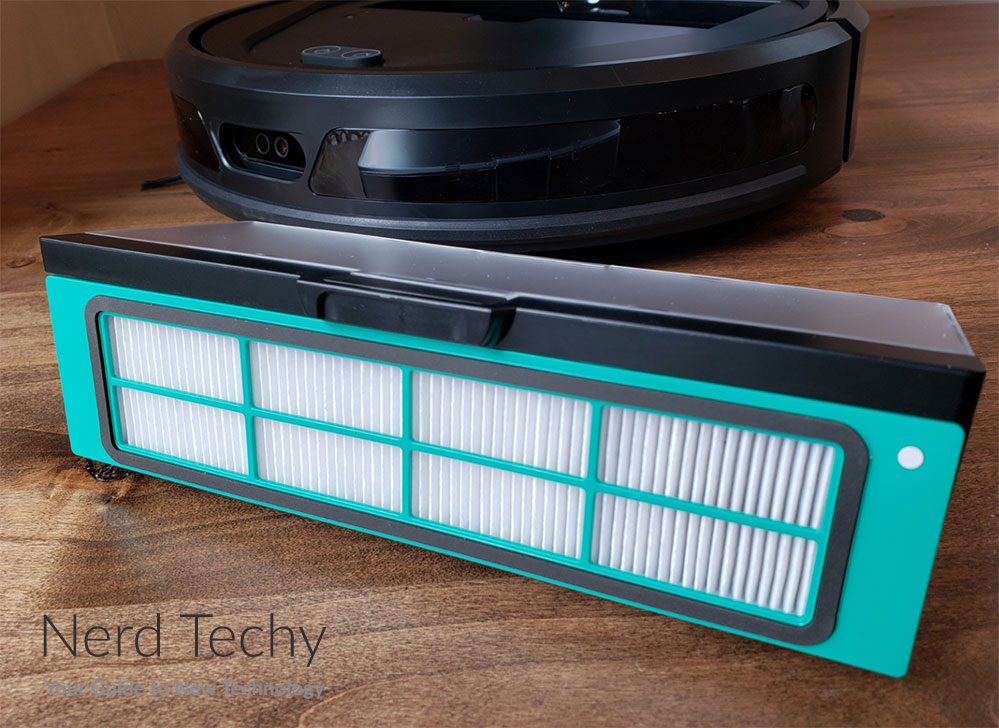 The second portion is a charcoal filter. This doesn't absorb any particles. However, it removes odors from pets, foods, and other sources. It seems to work pretty well altogether, although this is more of a bonus feature. It's simply not moving as much air as a standard air purifier.
As we mentioned, Trifo makes a lot of different vacuums. One of our favorites is the Trifo Lucy, which is capable of identifying and avoiding even very small objects. However, it's not able to cross transitions as high as the Ollie can.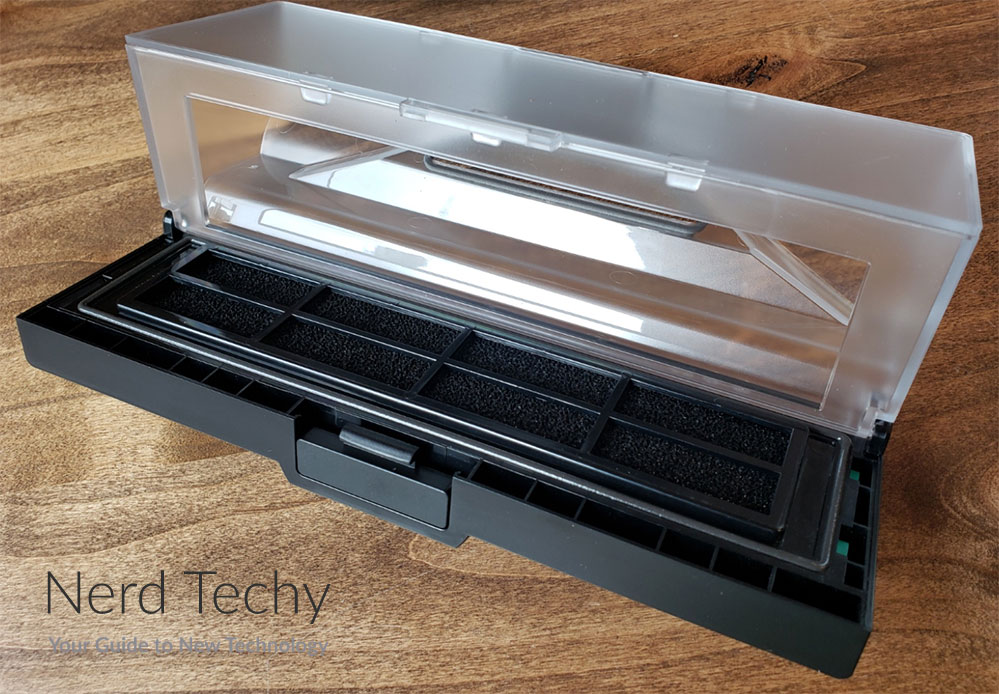 Setup and Everyday Use
The Trifo Ollie navigates with a few different method. To begin with, there's the 1080p camera on the front. There's also a built-in depth sensor which detects the distance to various objects. This makes it easy for the vacuum to maneuver around your house.
The first time you operate it, it might look like it's not very "smart." It will roam around the room, apparently at random, but it's actually making a map. Once it's cleaned your house for the first time, it will have a built-in diagram of your floor plan. From then on, it will run in a zig-zag pattern, the way you'd run an ordinary vacuum.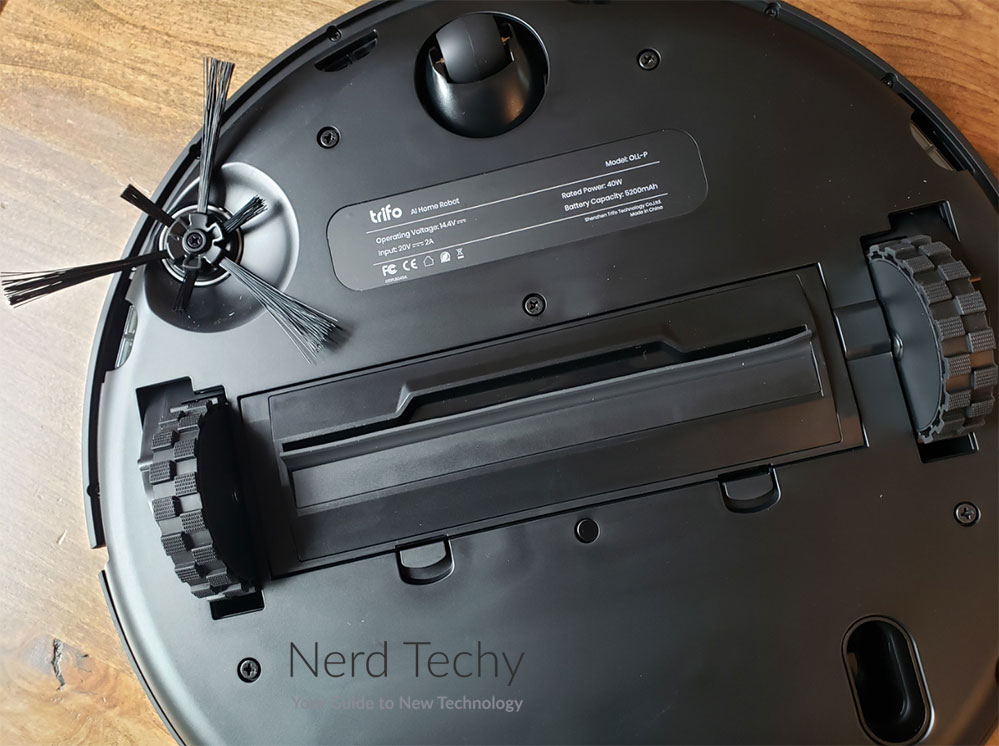 To get the most out of this vacuum, you'll want to install Trifo's app on your smartphone. From there, you can schedule cleanings for specific times and days of the week. You can also bring up the vacuum's internal map and make changes. For example, you can select individual rooms and name them. Then, you can schedule separate cleanings for individual rooms whenever it's convenient.
Use code "CV23AMWG" for a 10% discount when you purchase the Trifo Ollie on Amazon.
You can also set no-go zones. If you don't want your vacuum to go over a particular surface, it doesn't have to. This is a great way to avoid small floor mats that might otherwise get sucked into the roller. When the vacuum is connected to your router, you'll also be able to use Alexa and Google Assistant commands.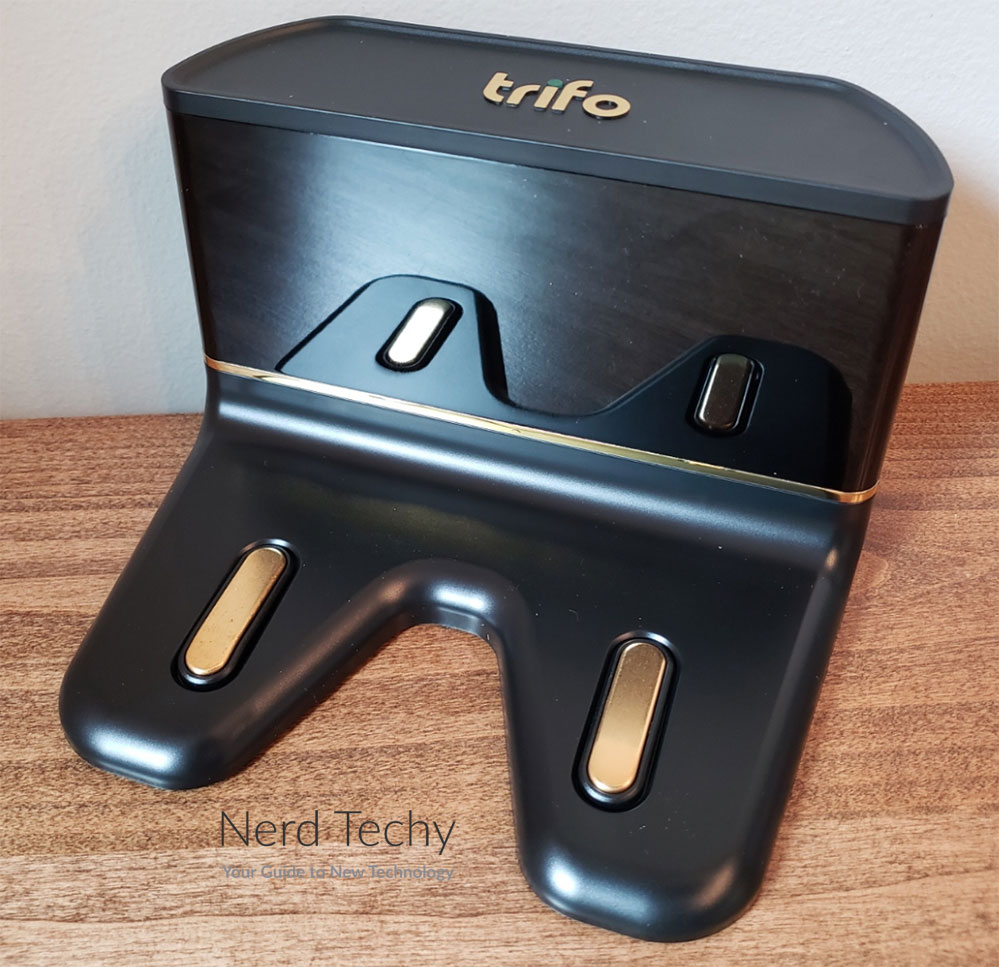 If that's not enough, the 1080p camera can also double as a pet camera. You can view a live feed through the app at any time, and see what your pet is up to. This is yet another bonus feature, but it's still worth taking into consideration.
Another interesting robot vacuum is the Trifo Emma. It actually has an in-app locating function. Tap a button, and the vacuum will beep. It also has an ultra-slim profile, so it can fit under almost any furniture. That said, the suction isn't as powerful as the Ollie's.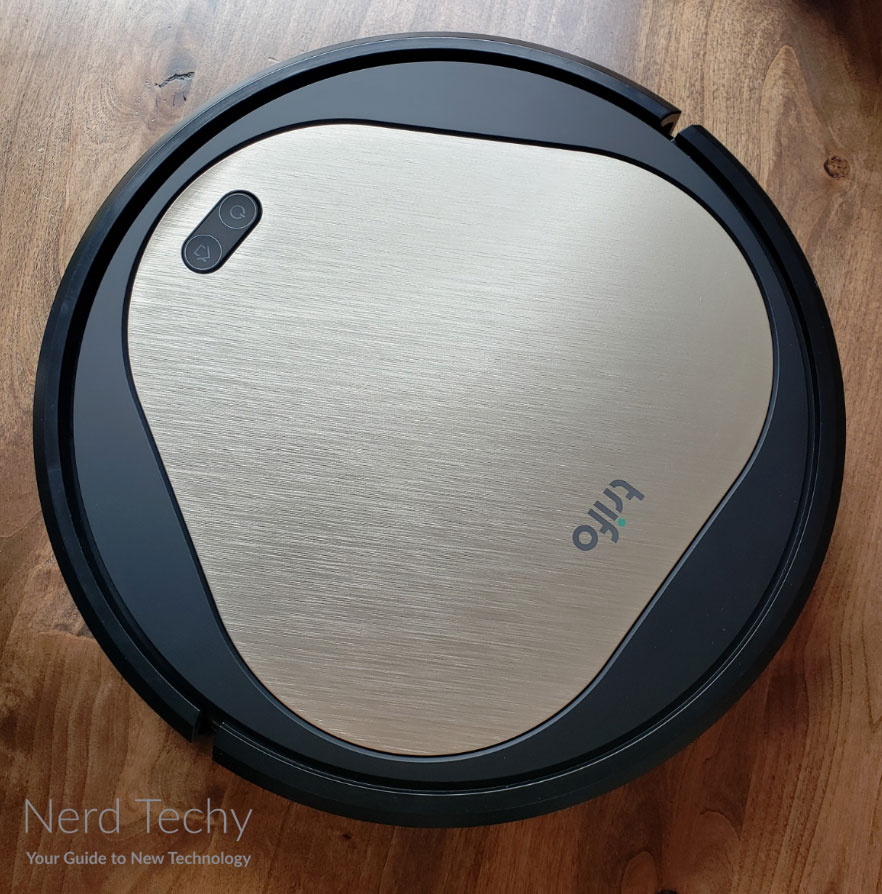 Final Verdict
The Trifo Ollie AI Robot Vacuum is one of the more full-featured robot vacs on today's market. Its 4,000Pa of suction is sufficient for most cleaning tasks. And with plenty of smart features, it's easy to customize your cleaning routine. Combine that with a nifty pet hair attachment, and you've got a clear winner.
Meet Derek, "TechGuru," a 34-year-old technology enthusiast with a deep passion for tech innovations. With extensive experience, he specializes in gaming hardware and software, and has expertise in gadgets, custom PCs, and audio.
Besides writing about tech and reviewing new products, Derek enjoys traveling, hiking, and photography. Committed to keeping up with the latest industry trends, he aims to guide readers in making informed tech decisions.