Trifo Lucy
Pros
Powerful suction.
Innovative dual-camera visual navigation system.
Can recognize and avoid objects as short as one inch.
Doubles as a security camera.
Long-lasting battery.
Cons
No full bin alert.
Sometimes hangs on carpet edges.
When you think of the greatest inventions in human history, what do you think of? The wheel? The plough? The steam engine? The personal computer? All of these inventions would be legitimate candidates, and they all have one thing in common. They help you save time. Take a task as simple as digging a drainage ditch. Without technology, you'd need a small army of men with shovels to achieve the task. Today, one worker with a backhoe can do the same amount of work in a single shift. The same can be said for home technologies like the dishwasher and the vacuum cleaner. The robot vacuum was just a natural continuation of the time-saving trend.
If it's been a while since you've shopped for a robot vacuum, you may have some misconceptions. Things have come a long way in the 21 years since the original iRobot Roomba was first released. Old-school robot vacuums just kind of wandered around randomly. They frequently bumped into furniture, and they'd cover some parts of the floor more heavily than others. To be fair, they still saved a lot of work, and their sales reflected that fact. But modern robot vacuums are far more capable. They have intelligent mapping capabilities, and can be programmed in many different ways.
Today, we'll be reviewing the Trifo "Lucy" Pet Edition, AI Robot Vacuum Cleaner. This is one of the more advanced robot vacuums on the market, and it has a built-in 1080p camera. As a bonus, the camera isn't just used for mapping out your house. It actually works as a security camera, complete with remote monitoring capability. But to find out how well this vacuum really works, we'll have to take a much closer look. To begin with, we'll have to talk about the general build, and how it's engineered. Next, we'll have to talk about the vacuum motor, and the suction it provides. We'll discuss the battery, the app features, and how you operate the machine. After that, we'll finally have a complete picture. Let's dig in!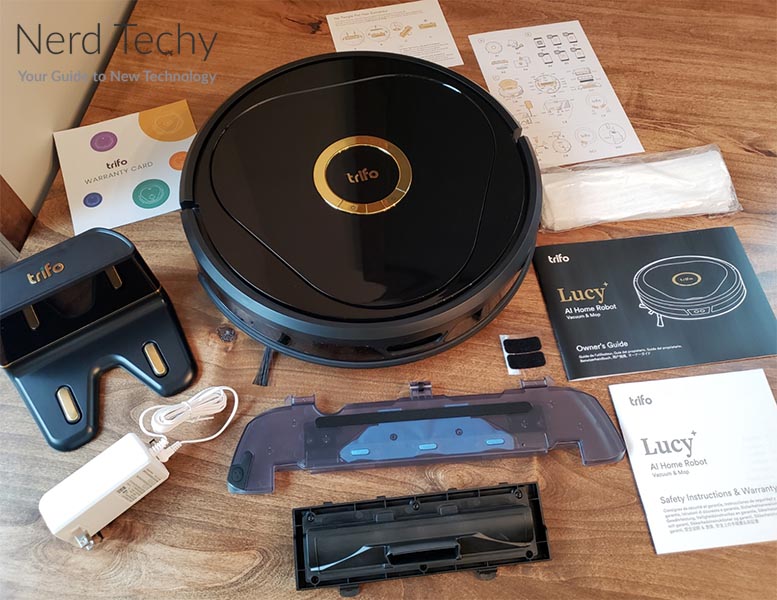 Overall Design
Like most robot vacuums, the Trifo Lucy has a disc-shaped form factor. The housing is a glossy black plastic, which is both attractive and easy to keep clean. It has a diameter of 14.2 inches, which is larger than most of the robot vacs on the market. This allows it to cover more area more efficiently than a vacuum with a narrower design. But despite this wide diameter, the vacuum is only 3.3 inches thick. That's around average, and it's enough to fit under many kinds of furniture.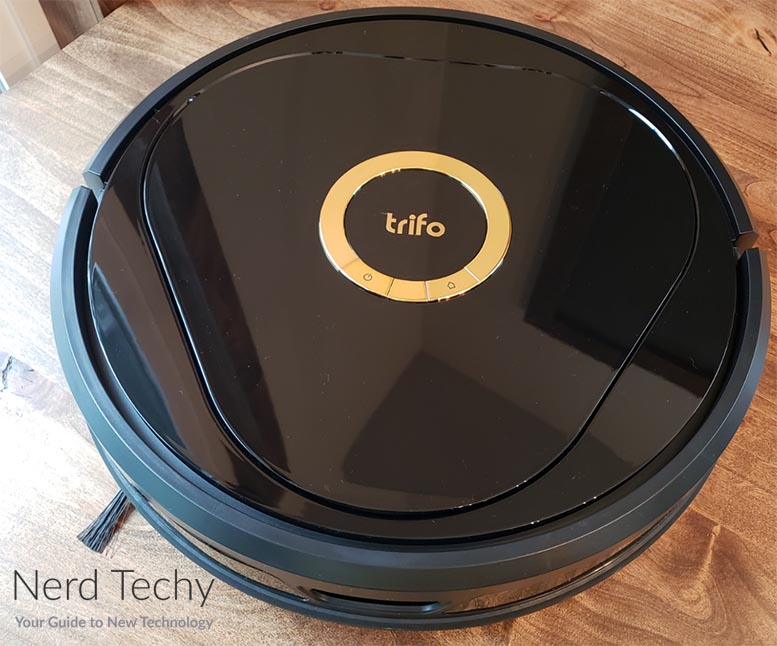 The sides of the housing are slightly isolated from the rest of the unit, and look like little bumpers. It's true that older robot vacs had bumpers on the sides, to help protect them. But this "bumper" simply houses the Lucy's camera, which is clearly visible on the front of the unit. This is essential for navigation, which we'll discuss more in a minute. The back of the housing is vented, which is where the air blows out during operation.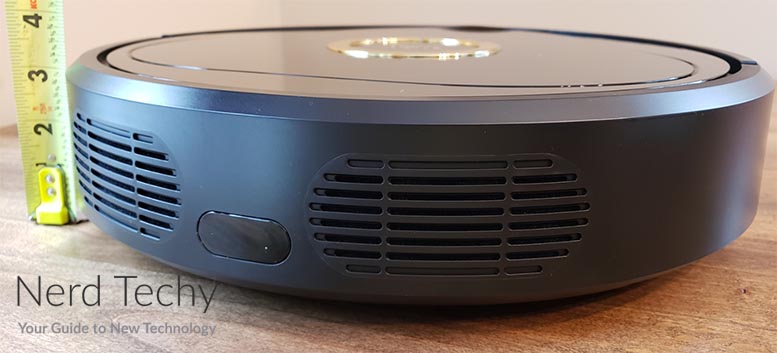 On the top of the vacuum housing, there's a large, guitar pick-shaped groove that opens up to expose the dust bin. Right in the center, there's a gold-colored ring, with the power and home buttons set into it. The first can be pressed to begin a cleaning cycle. The home button, on the other hand, returns the Lucy to its base station. There are plenty of other functions, but they're all controlled through the app, which we'll discuss later. In the middle of the gold ring is the word "trifo," printed in matching gold lettering.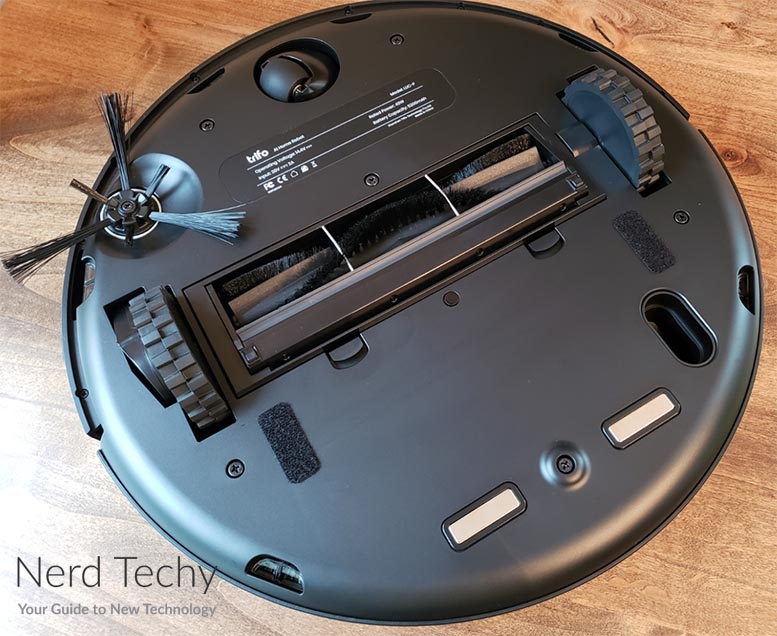 The bottom of the vacuum is where the action is at. In the middle, there's a wide roller brush, with stiff nylon bristles. These do a great job of digging down into carpets, and pulling dust and dirt up into the vacuum's opening. To the front, there are a pair of additional brushes, located to the left and right. These swirl horizontally, and sweep dirt towards the center of the vacuum. There's not much point to this on carpets, but it makes a big difference when you're cleaning a solid floor.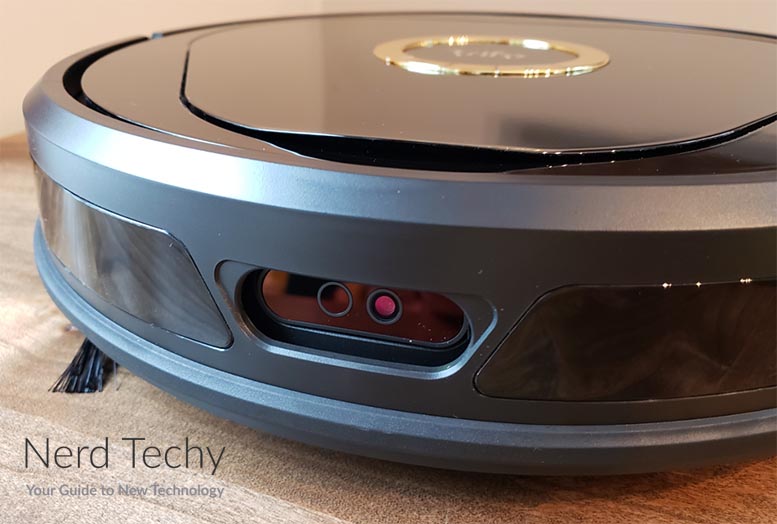 Just behind the main roller brush, you'll see the two primary drive wheels. These are big and rubbery, and are reasonably good at crossing transitions. The only minor complaint is that they can sometimes hang on the edge of area rugs. At the front center of the vacuum, there's an additional, smaller wheel, in its own motorized mini housing. This wheel doesn't drive the vacuum, but it rotates to steer it wherever it needs to go.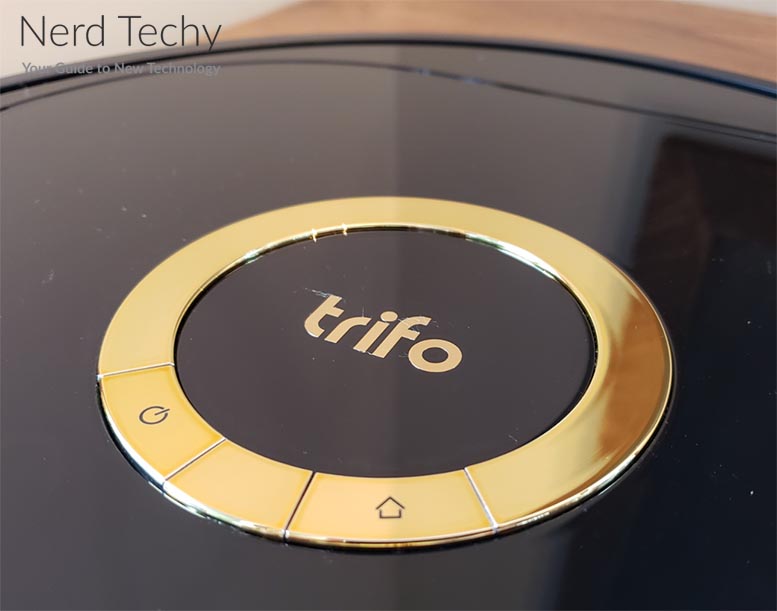 Our favorite feature has to be the brushless pet hair extractor. It's an extra attachment that you can "switch-out" from the regular roller brush that excels in environments where there's an excess of pet hair. In fact, by replacing the standard roller brush with the included pet hair extractor, it adds 33% more suction power. Because of this, pet hair is picked up much more effectively. It's a simple addition, but an incredibly useful one at that.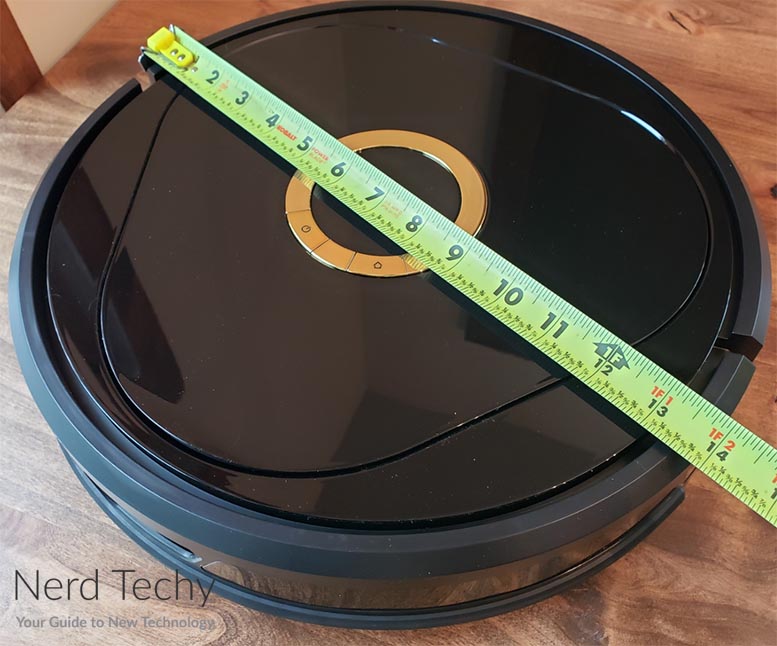 Along with the Lucy vacuum itself, the kit comes with a small base station. This station is made from black plastic, and matches the main vacuum housing. It's designed to sit tight against the wall, so it won't present a tripping hazard. This makes placement less of an issue, although the vacuum itself will still stick out much further than the base. The main concern, though, is electrical access. You'll need to put the base at least reasonably close to a power outlet, so it can be plugged in.
Vacuum Performance
The Trifo Lucy Pet edition has a maximum suction power of 4,000 Pascals (Pa). This is much more suction than your average robot vacuum, which is around 2,700Pa. As a result, you're looking at an exceptional amount of power. This is still not the same amount of suction you'll get from a corded vacuum, or even a battery-powered upright. But it's enough for everyday cleaning anywhere in your house, even on deep pile carpet. On shallow pile carpet or bare floors, you'll be able to clean up just about anything. The suction power will adjust automatically, as needed. It will suck harder when it encounters resistance, and not as hard when there's no resistance. This helps to save battery life.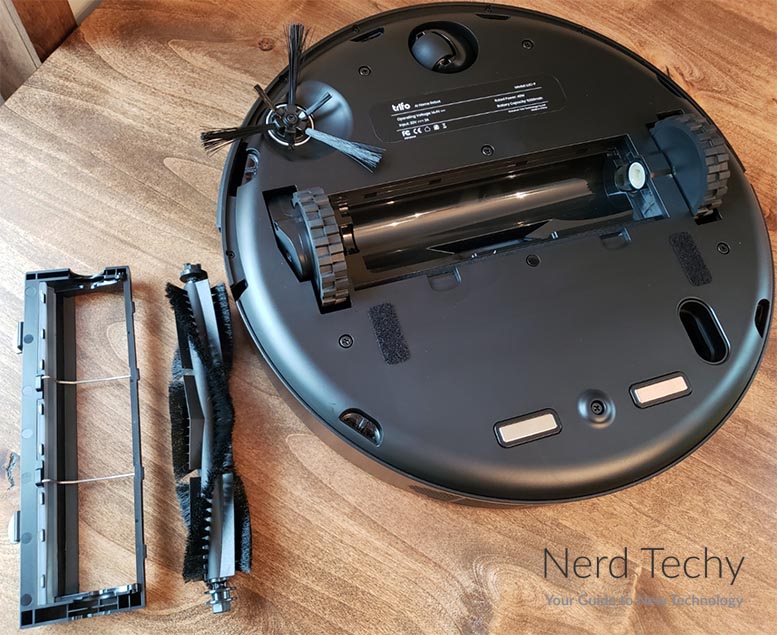 The 5,200mAh internal battery is designed for around 2 hours of operation. This is a good rough estimate, but there are many factors at play. If you have a lot of carpet and heavily-soiled areas, the vacuum will be running at full power more often. As a result, the battery life will suffer. On the other hand, if your house is entirely bare floors, it's liable to last longer. Assuming an average runtime, you'll be able to clean around 2,700 square feet. That's far more floor space than most people have on a single level. Unless you have a very large home, you'll never have to worry about battery life.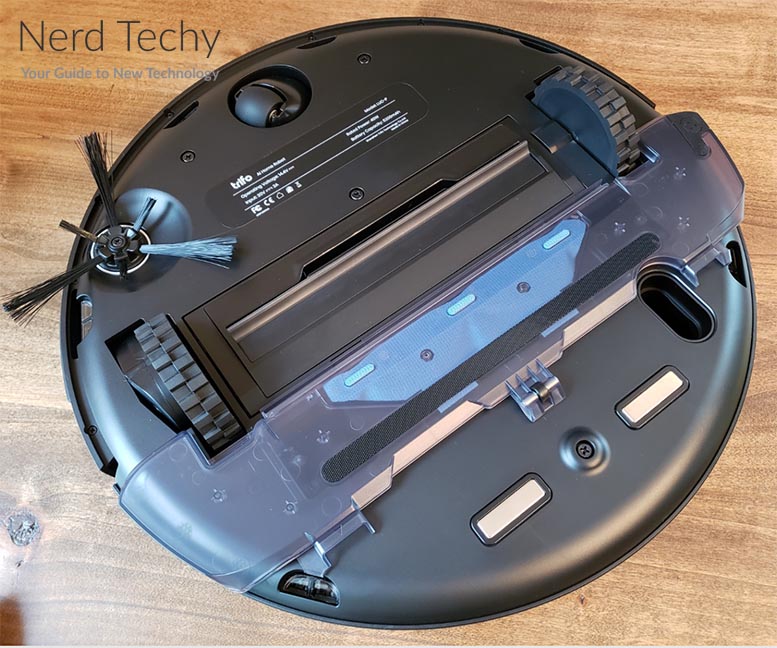 If your battery does happen to die during a cleaning, don't worry. The Lucy will sense that the battery is low, and automatically return to base to recharge. Once it's fully charged, it will pick right back up working where it left off. In addition to plenty of battery life, you also get a large, 600ML dust bin. This is sufficient for a few cleanings. As long as you empty it every few days, you'll be just fine. On the downside, you don't get any alerts when the bin is full. You'll need to stay on top of things if you don't want your vacuum to stop cleaning.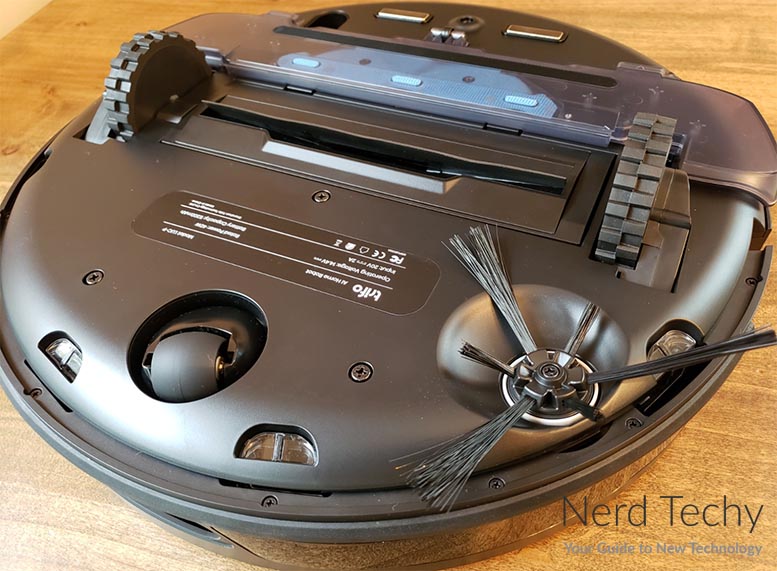 Setup & Everyday Use
To get the Trifo Lucy set up, you'll first need to allow it to map your home. During the first cleaning cycle, it will move slowly, and seemingly at random. This is perfectly normal, because the vacuum is building its map. It does this via an advanced 1080p camera, which uses a time-of-flight (ToF) sensor. Without going too far into the weeds, a ToF sensor is used to measure the distance to objects. The camera also captures video in full color, so it can easily recognize different objects. As a result, the Lucy is able to build an ultra high-resolution map of your home, down to the smallest detail.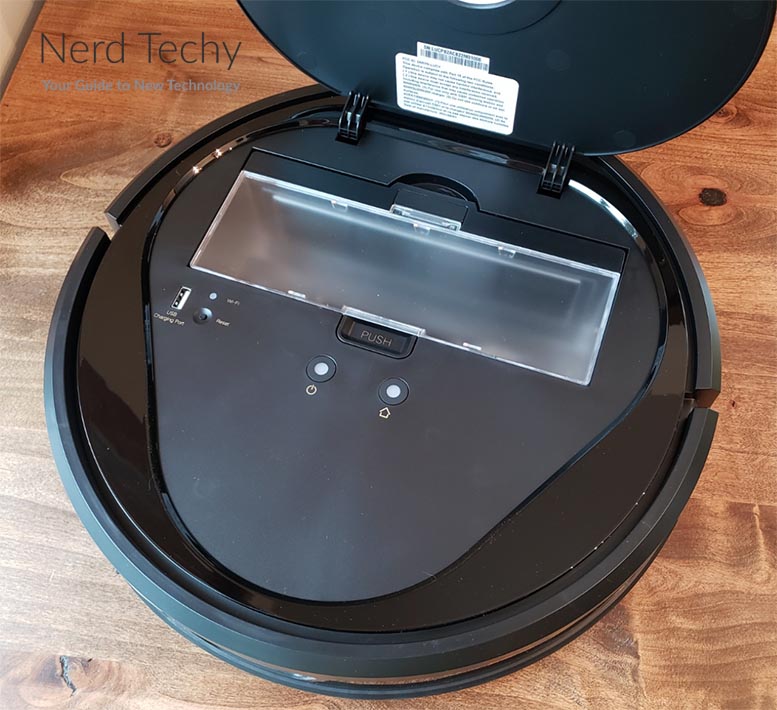 This powerful scanning capability is also on display when the Lucy is in operation. A lot of robot vacuums build good maps, but struggle when there are changes in the environment. This vacuum, on the other hand, is constantly looking ahead, using its full HD camera. This allows it to detect and avoid objects as small as one inch. It will easily avoid children and pets, as well as smaller obstacles like shoes and toys.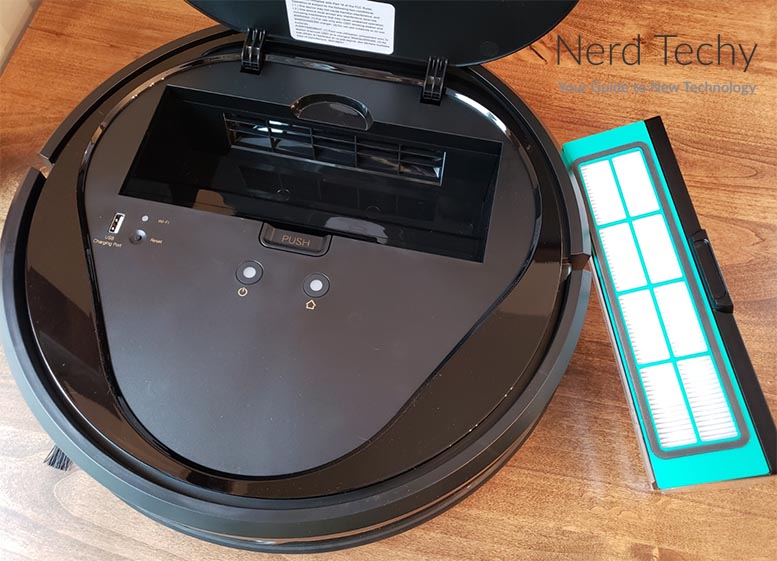 Besides simple, push-button cleaning, you can get a lot more out of the Lucy by using the companion app. This app is free on Apple and Google Play, and installs in just a few minutes. You'll be able to connect to the vacuum at first via WiFi. After that, you'll be able to communicate with your robot vac from anywhere in the world (through your smartphone). You'll also be able to set up voice commands via Amazon-Alexa and Google Assistant. Not only that, but you'll also receive over-the-air firmware updates every month. This will allow for continued improvements in performance as time goes on.
Within the app, you can divide your home into virtual rooms. You can assign names to each room, set no-go zones, and choose specific areas to clean. You can run the vacuum on a schedule, and even clean different rooms on different days.
One of the biggest attractions, though, is the security camera function. The built-in camera captures video in full color, both by day and by night. Through the app, you can check in whenever you want, and see what the camera sees. You can even remotely control the Lucy, and drive it around like a little camera drone. And with the built-in speakers and microphone, you can engage in two-way voice communication.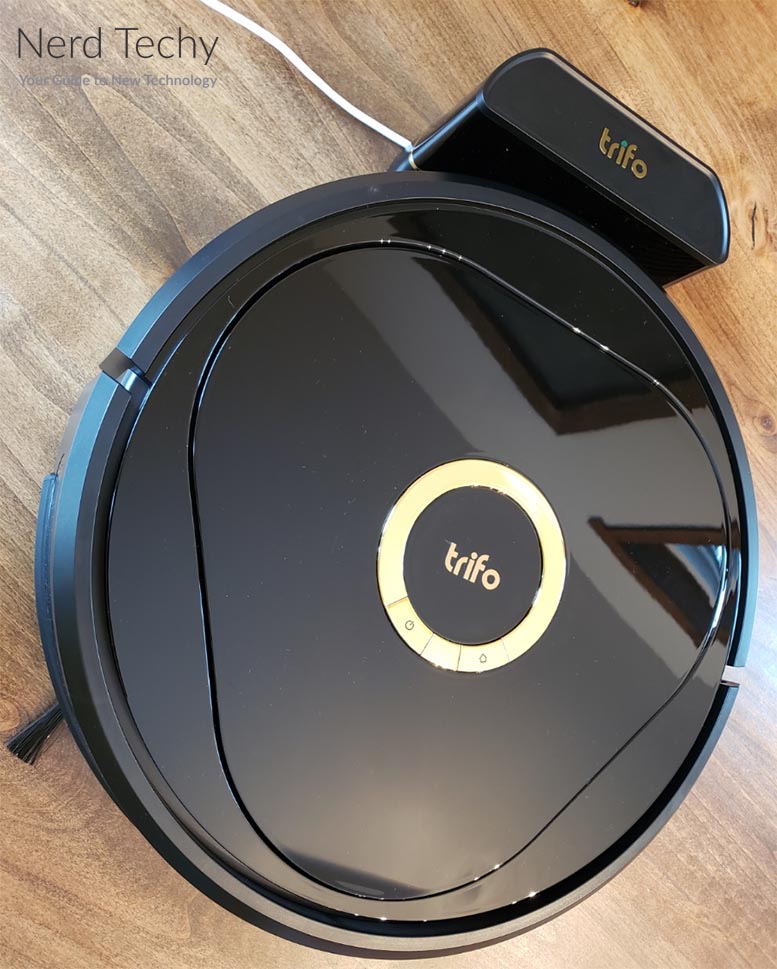 Final Verdict
The Trifo Lucy Pet Edition Robot Vacuum is one of the more robust robot vacs on the market. With its powerful motor and advanced AI, it cleans your home efficiently and effectively. And with its 1080p camera, it doesn't just map your home; it also improves your home's security.
Meet Derek, "TechGuru," a 34-year-old technology enthusiast with a deep passion for tech innovations. With extensive experience, he specializes in gaming hardware and software, and has expertise in gadgets, custom PCs, and audio.
Besides writing about tech and reviewing new products, Derek enjoys traveling, hiking, and photography. Committed to keeping up with the latest industry trends, he aims to guide readers in making informed tech decisions.