Trifo Emma
Pros
Effective, easy-to-use app.
Voice alerts and locating function.
Reasonably powerful suction.
Thin design can still cross large transitions.
Fairly affordable, given the features.
Cons
Cannot designate no-go zones.
Only works on 2.4GHz WiFi networks.
When it comes to brand new technology, some devices are more exciting than others. When a new smartphone or game system comes out, people are all talking about it. This is easy to understand, because those devices are so central to our lives. Think about how many times a day you pull out your smartphone. Whether you're gaming, banking, or communicating, you get a lot of use out of that one little device. But entertainment and communications aren't the be-all and end-all of technology. Just as often, the most important technologies are the ones that save us time. Vacuum cleaners are a good example.
Of course, a good vacuum will clean an area more easily and efficiently than one of inferior quality. But robot vacuums will do the job entirely on their own. Once you've completed the initial setup, they require minimal attention or involvement on your part. This can save you a boatload of time, and get you out of a tedious household chore. But if you haven't shopped for robot vacuums in a while, you might have some misconceptions. Early robot vacuums were inefficient, and ran around randomly. They'd over-clean some areas, miss spots, and bump into your furniture. Modern robot vacuums, on the other hand, are a little bit more sophisticated.
We're about to review the Trifo Emma Robot Vacuum Cleaner. This is a slick robot vac with an easy-to-use app and a motor that's a little more powerful than average. It has a respectable battery life, and an oversized dust hopper that can go for longer between refills. It also has some neat voice alerts, and a convenient locating function so it doesn't get lost. But there's a lot more that goes into producing a quality robot vacuum. To truly evaluate this vacuum, we'll need to work from the ground up, starting with the physical design. We'll have to look at the quality of the materials, and how they're put together. We'll need to talk about the battery life, and how much suction you're getting. And of course, we'll have to go over all of the app features. Let's get started, and see what we learn!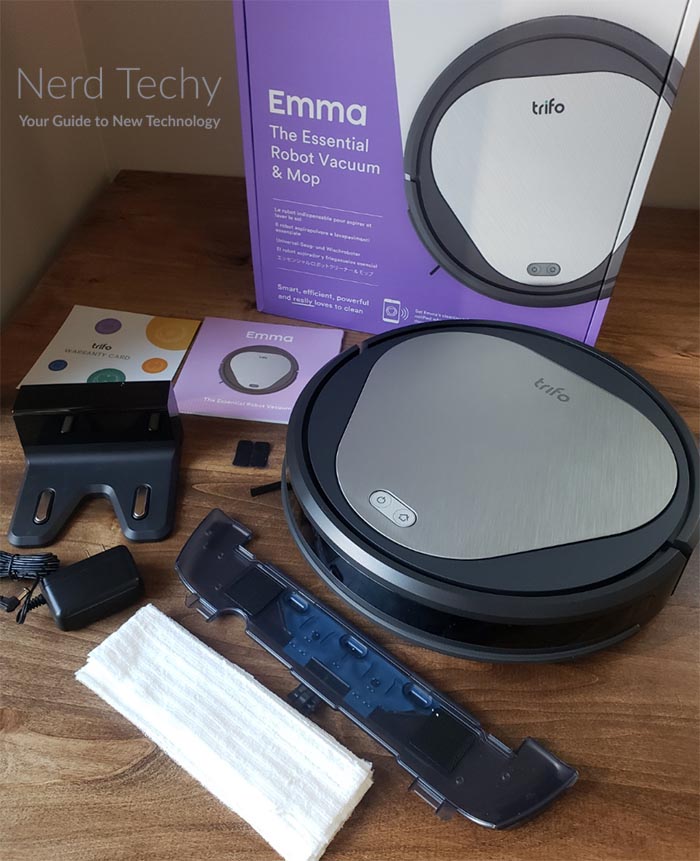 Overall Design
The Trifo Emma Robot Vacuum Cleaner has a disc-shaped design, just like most robot vacuums. It has a black plastic housing, with a high-gloss finish that's easy to keep clean. The top panel has a guitar pick-shaped grey inset, which is mostly cosmetic. But towards the front, there are a pair of simple control buttons. The first has a power icon on it, and is used to initiate a cleaning cycle. The second has a house icon on it, and is used to return the vacuum to its base. Other than that, all the controls are performed through the app. We'll talk about that more in a moment.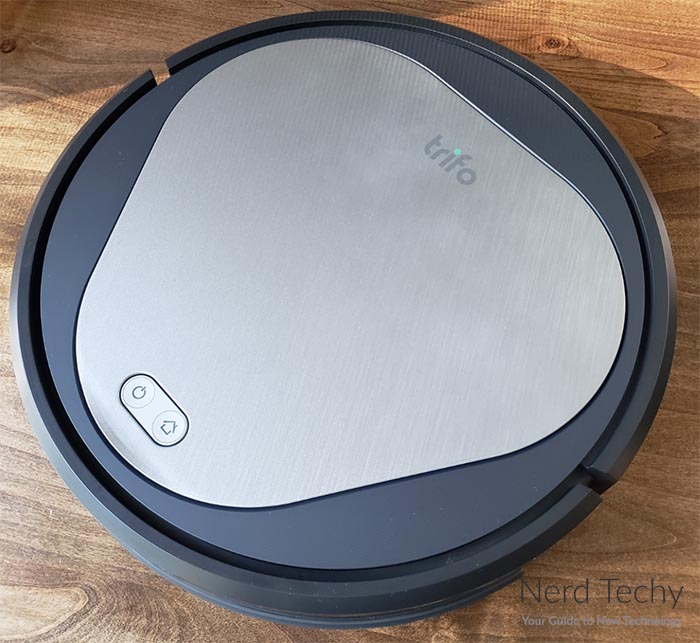 The outer edge of the housing is built like a bumper, although it doesn't actually serve that function. That said, there is some functionality built into this area. There are 2 collision sensors on the bumper to avoid violent collisions and enable Emma to remember the collision position so that it's able to avoid the obstacles the next time it cleans.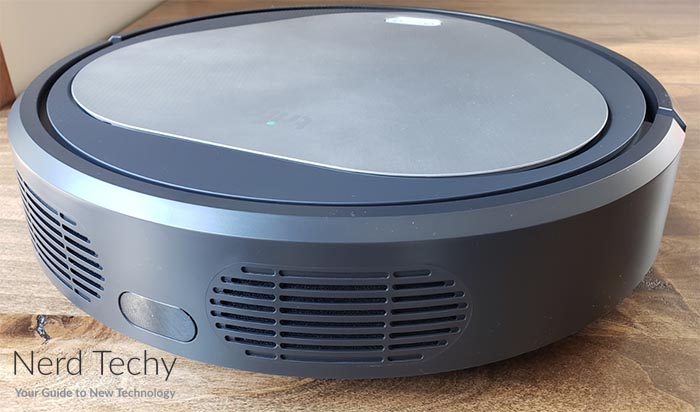 In the back, there are a pair of vents, which serve as the air outflow for the motor. The leading edge is almost entirely occupied by a wide, tall sensor. This is used to aid with navigation, so Emma can detect and avoid objects. One thing we very much appreciated is the economy of the design. At 3.34 inches thick, this little vacuum can fit under a lot of furniture. If you have shelves or sofas that sit a few inches off the floor, you'll easily be able to clean underneath.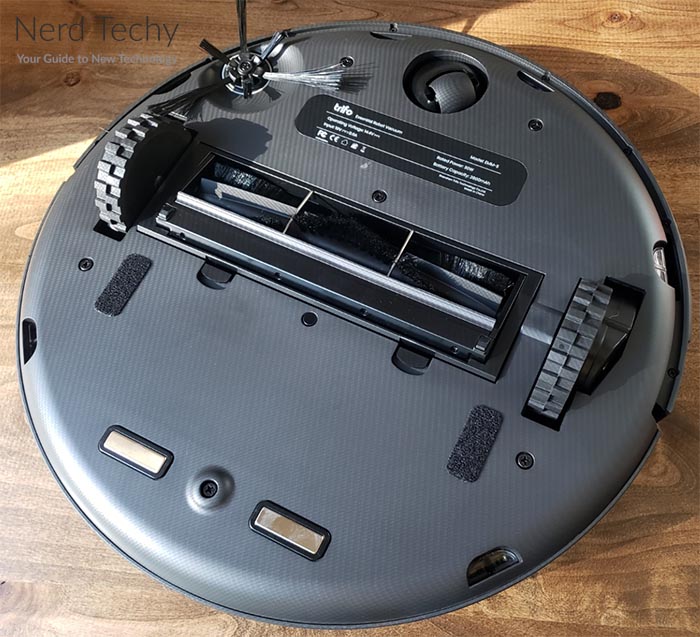 Despite the slim profile, Emma is able to maneuver over surprisingly large obstacles. The main drive wheels are big and beefy, and can cross up to an 0.8-inch transition. Most household transitions are 0.75 inches or less, so you'll rarely have to worry about any issues with navigation. This navigation is provided by a smaller wheel towards the front of the housing. The navigation wheel is mounted in its own sub-housing, which is motorized. It can swivel 360 degrees, and in that way, it can point the vacuum in the right direction.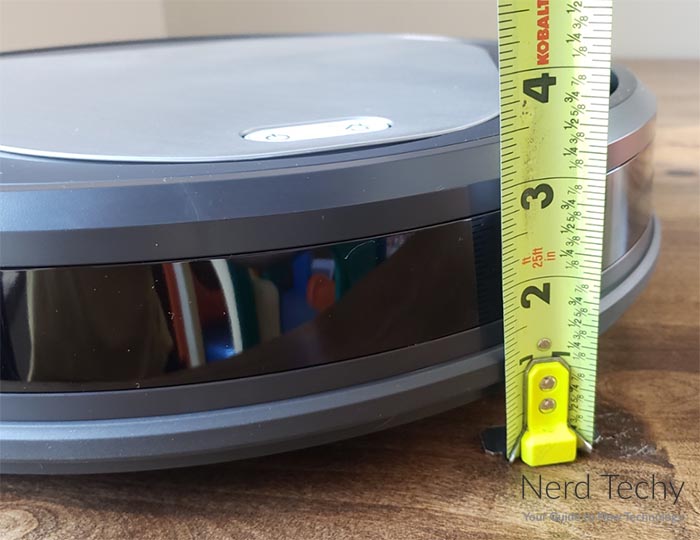 Between the two main wheels is the main roller brush. It's divided into three sections to help prevent tangling, and it's nice and stiff to penetrate carpets. It's also fairly wide, with a cleaning path of nine inches. This is wide as robot vacuums go, and it allows for much more efficient cleaning than a narrower brush. Simply put, you're covering more floor space with each pass. There are also a set of horizontal brushes to the sides. These are designed for solid floors, and sweep out like helicopter blades to bring debris towards the center. In effect, you're widening the coverage area, and hitting some spots more than once.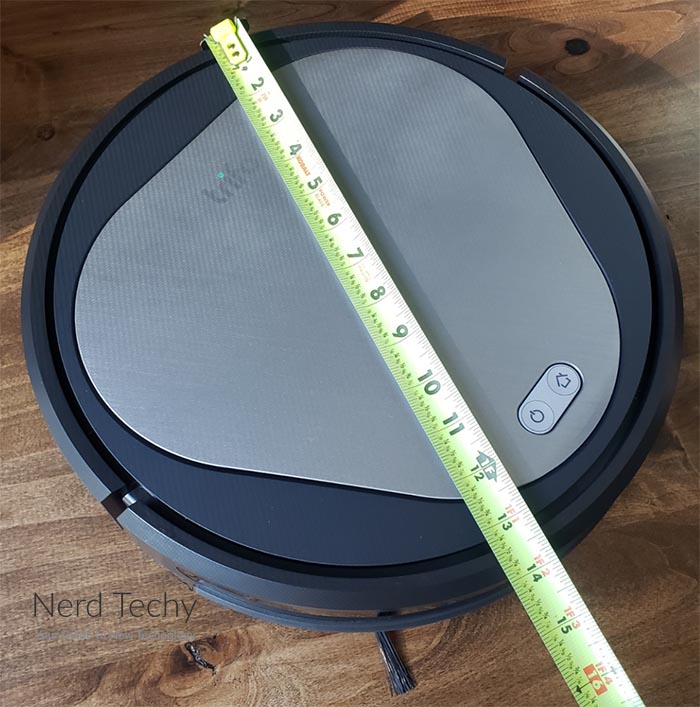 Along with the robot vacuum itself, you also get a charging station. This is a little black block that sits on your floor, up against a wall. Out from the front bottom, a little platform extends, with charging contacts on the top. This is where the vacuum will sit whenever it's not in use. Choose your location carefully. You don't want it in a high-traffic area, but you also want to be near a power outlet.
Use code "HVHQONAL" for a steep discount when you order the Trifo Emma from Amazon. Order directly from Trifo's website where you can use discount code "EMMA4Pet".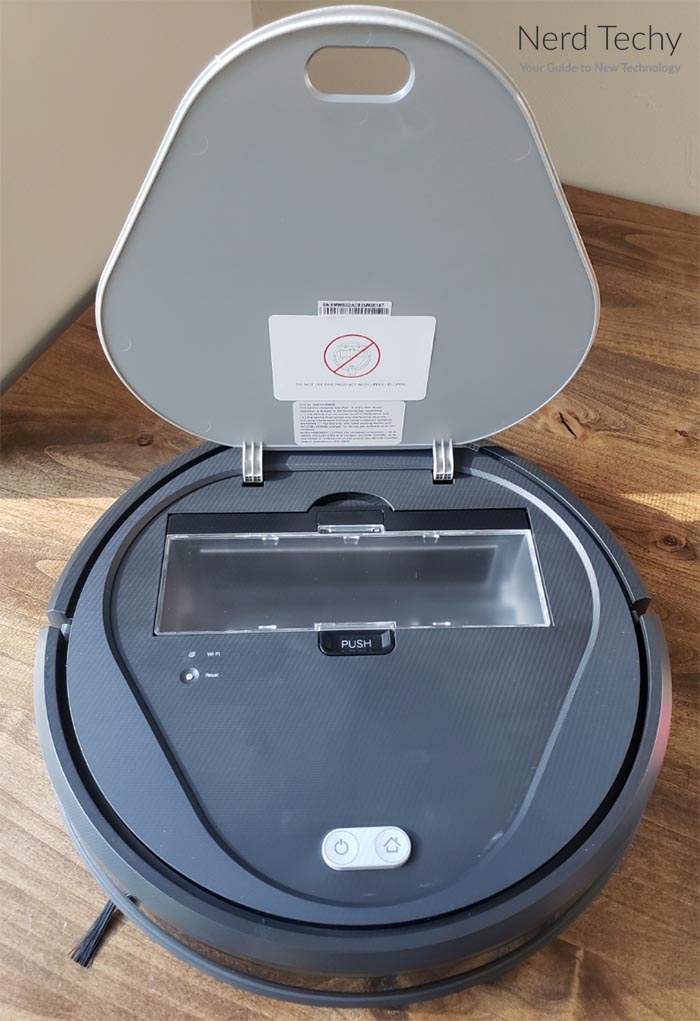 Vacuum Performance
Much of the quality of any robot vacuum is going to come down to the suction power. With an under-powered motor, even the best-designed vacuum is going to come up short. Thankfully, that's not a problem here. Emma's motor has a maximum suction level of 3,000 Pascals (Pa). The average robot vacuum pulls at about 2,700Pa, so you're looking at about a 10 percent boost. This vacuum will work on almost any surface, although not for heavily-soiled deep pile carpets. You can pick up debris like rice and dried beans, as well as pet hair, dust, and everyday dirt.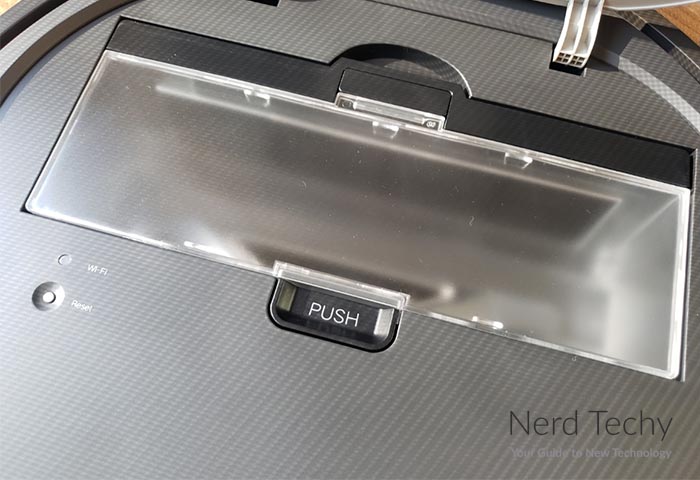 If you do need more suction, Trifo manufactures another option: the Emma pet version. There are a couple of upgrades between the regular version and the pet version. To begin with, the pet version is significantly more powerful, with a maximum suction power of 4,000Pa. This allows you to use it on deep pile carpets, as well as making it more effective overall. In addition to that, the brush and vacuum opening are specifically designed to deal with pet hair. In fact, the Pet edition even comes with an extra brushless Pet Hair Extractor, featuring an anti-knotting function. This means fewer tangles and less clogging, so you don't have to interact with the vacuum as often.
The internal rechargeable battery has a capacity of 2,600mAh. This equates to around 110 minutes of use, but a lot depends on how the vacuum is being used. Because the motor speed is adjustable, you'll get more or less depending on what speed you're on. But if you're cleaning an ordinary balance of carpet and bare surfaces, 110 minutes is pretty accurate. That's more than enough to clean most homes, and to cover most floor plans.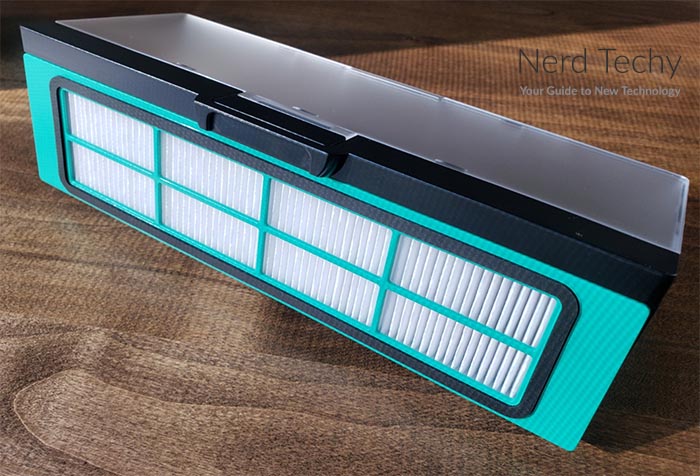 But what if your house is on the large side? In that case, you don't have to worry about the vacuum skipping certain areas. Instead, when the battery is low, it will automatically return to base. Once it's fully charged, it will go back out and pick up cleaning where it left off.
One other thing to note about Emma is that it has a very large dust bin, with a capacity of 600ml. By comparison, dust bins tend to fall in the 400ml range. This is a lot of space, and enough for several cleanings, depending on the size of the floor plan. The bin is mostly transparent, with a black lid that opens all the way to create a large opening. This makes it easy to dump out, and you don't have to worry about debris clumping and clogging the opening.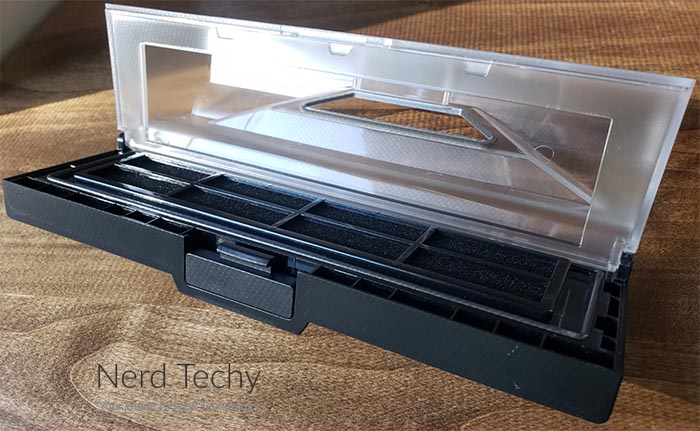 Setup and Everyday Use
As we already mentioned, modern robot vacuums offer a lot more in the way of performance than older ones. The Trifo Emma takes advantage of modern technology to push the vacuum's performance to the limit. To begin with, you have the sensor bar on the front of the housing. When Emma first runs, it will seem to be operating randomly. But what it's doing is using the sensor to build a map of your house. That way, it knows where it needs to clean, and can decide on the most efficient route. Even after building a map, the sensor bar will still remain active. That way, it can avoid furniture, pets, and other movable objects.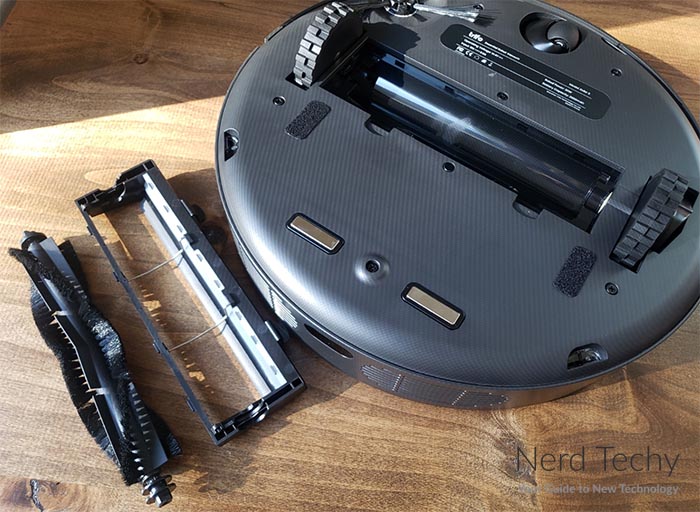 The main sensor is assisted by a set of six anti-drop sensors, which are located on the bottom of the housing. These look out for any drops such as steps or balcony edges. That way, you don't have to worry about the vacuum from driving over an edge. As an added bonus, the AI will give voice announcements if the vacuum is in trouble. You'll hear an alert if Emma gets stuck, or if there's a jam or another issue.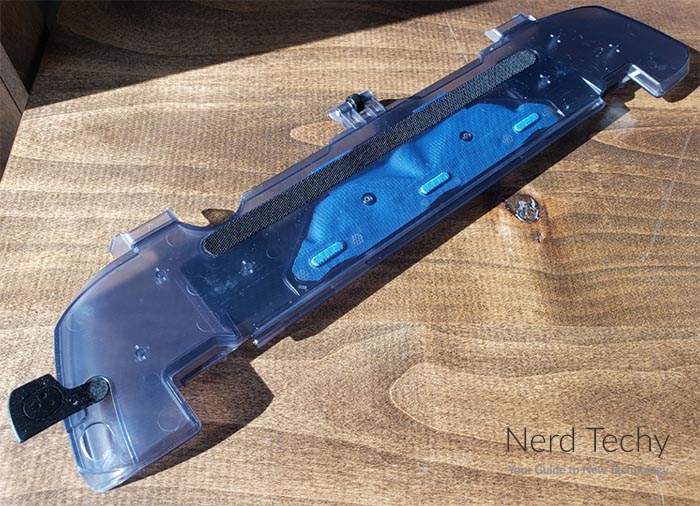 The smartphone app is easy to install, and easy to pair with your particular vacuum. Once it's installed, you'll be able to take advantage of several other useful features. You can view the map of your house, and see your vacuum's location. Additionally, you can set the vacuum to run on a schedule, so it operates when it's most convenient for you. You can adjust the suction, depending on the types of surfaces you're cleaning. You can even pair with Alexa or Google Assistant. Just keep in mind that Emma requires a 2.4GHz WiFi band to connect.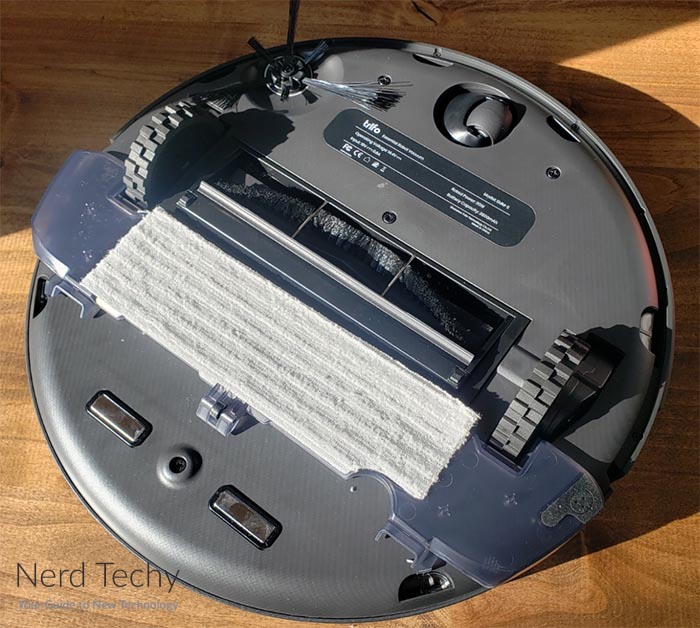 Final Verdict
So, is the Trifo Emma Robot Vacuum Cleaner worth your time and money? For the most part, it's very well designed. It has a slim profile, but can still navigate large transitions. It has plenty of suction, and a large dust bin. And the app and navigation features are pretty well put together. All in all, we were very pleased with what we saw. Don't forget to use the coupon code "HVHQONAL" on Amazon for a generous discount. Emma is also available directly from Trifo's website where you can use discount code "EMMA4Pet".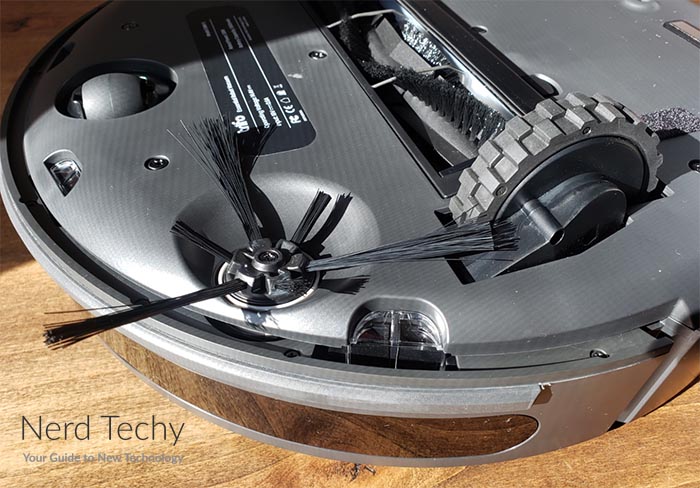 A few weeks ago, we looked at the Trifo "Lucy" Pet Edition. If you feel that you need something a bit more robust, well-featured and more powerful, we recommend taking a look at it. Sure, it's a bit more expensive, but you're getting more advanced technology which ultimately means more efficient cleaning.