Whether you're making a stuffed animal or just giving out a gag gift, a sound button can be a great solution. You create a short recording, and your recipient can replay it any time they press the button. You can also use them for hobbies and crafts, like railroad sets and tabletop gaming. To be clear, while some of these buttons can be concealed, they're not meant for monitoring. If that's what you need, you'll want to use a hidden "spy" recorder instead. These are little sound buttons, capable of recording only a few seconds worth of audio. They're simply not capable of recording for hours on end.
We're about to review three of the best custom programmable (recordable) sound buttons available. We'll start out with the Talking Tiles Voice Recordable Sound Button. This is a customizable sound button that can be accented with photos, artwork, and more.
Next, we'll take a look at the VoiceGift 20 Second Mini-Me Voice Recorder. This is a compact recording button that's designed to fit inside stuffed animals and other soft objects.
Following that, we'll check out the Inventiv 30 Second Custom Recordable Talking Button. This is a playful, colorful button that's great for office gifts, fraternities, or just about anyone.
We'll finish by evaluating the MultiPlay Push Button Recordable Sound Chip. This is a tiny button with a circuit board attached, and capacity for multiple recordings.
We're going to take a close look at all four of these sound buttons. We'll talk about the battery performance, the method of operation, and the aesthetics. After considering these and other factors, we'll be well equipped to render our final verdict. Let's get started!
Recordable Sound Button Buying Guide
So, what is it that makes one recordable sound button better than another? There are many possible factors, but our concerns fall loosely into three categories. These are the look and feel, the battery performance, and the recording capability. Before we look at any particular button, let's take a minute to discuss these basics.
Look and Feel
A recordable sound button can serve a number of functions, and the look and feel can be a major limiting factor. For example, some buttons are big and beefy. As a result, they're easy to press, even for small children and people with conditions that affect their dexterity. Other buttons are smaller, designed to be put into a stuffed animal, or integrated into a larger device. Depending on your application, you're going to want to look for a different form factor.
Another related concern is the aesthetic. This isn't an issue for a concealed button. But if the button is meant to be used on its own, the physical appearance can be important. Do you want something playful or sentimental? Formal or casual? The nature of the recording will dictate the design you choose.
Battery Performance
Different sound buttons will require different kinds of batteries. Many use simple, off-the-shelf batteries that you can buy from any hardware store. Alternatively, others use rechargeable batteries, and you plug them into a USB outlet when they're drained. A rechargeable battery can be helpful, since you won't have to open the housing. Then again, most buttons that take off-the-shelf batteries are designed with replacement in mind.
Sound button battery life can be hard to measure, because it depends how much you're using the button. If you're pressing the button day in and day out, you'll get less battery life. If it's sitting idle, you'll get more battery life. Keep in mind that most buttons will slowly drain the battery if the switch is left in the "on" position. In most cases, you'll want to shut the button off whenever it's not in use, to save battery life.
Storage and Recording Capability
The last factor you need to consider is how your audio is recorded and stored. In most cases, a programmable button will simply have its own built-in mic. You turn on the record function, and record your audio directly into the mic. This is convenient when you're making a simple voice recording, since you don't need any other equipment. That said, you might want your button to play pre-recorded music or sound effects. In that case, you'll want a button that allows you to upload audio files via USB.
Along with the type of recording method, the storage capacity is just as important. In many cases, you'll only get a few seconds of recording time. This is just fine if you're only making a very short recording. And given the nature of sound buttons, that's all you're normally going to need. On the other hand, you may want to record a longer message, or use multiple sound effects. There are some buttons with more storage, as long as a few minutes. But no matter how you cut it, you're not going to get huge amounts of storage. That's not what sound buttons are designed for.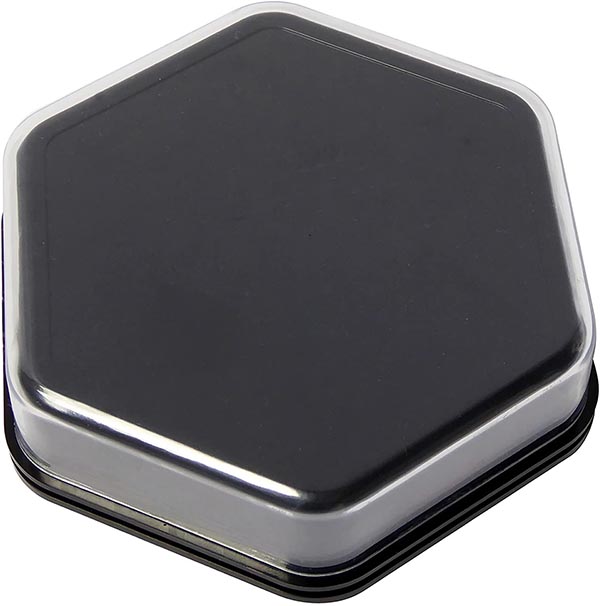 Talking Tiles Voice Recordable Sound Button
The Talking Tiles Voice Recordable Sound Button is a black hexagonal button, with a clean matte finish. It has a width of 3.94 inches from corner to corner, or 3.54 inches from edge to edge. And at just under an inch thick, it's reasonably chunky. The main visual feature, though, is the removable transparent plastic cover. This allows you to insert photographs and other visual artworks. You can even insert a written note to go along with your recorded message.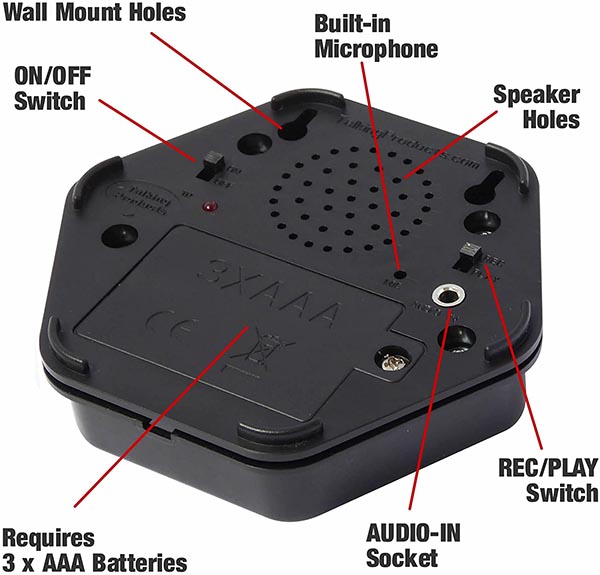 The bottom side of the housing is flat, with little feet at the corners so it can sit on a tabletop. On the back, you'll find the battery compartment, where you'll insert three AAA batteries. The battery cover is secure and easy to open, with a Philips head screw at one end. There's also a set of switches to control the button's function. There's an on/off switch, and a separate switch to change between play and record modes. At one end, there's even a pair of wall hanging slots, so you can mount the button anywhere you like.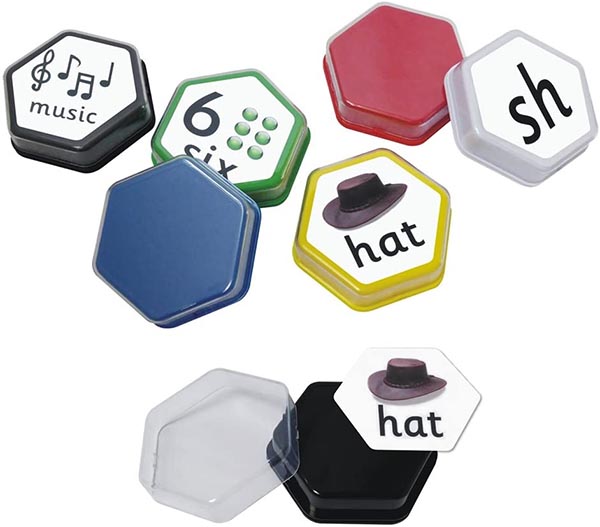 In the recording mode, you can capture up to 80 seconds of audio. Just press the button to start recording, and press it again to stop. The microphone is built into the back of the housing, and it works reasonably well for the price. As an alternative, you can use a 3.5mm aux cable to capture audio from any source. You can connect to your phone, computer, or other device, play a pre-recorded file, and it will be captured. There's no limit to how many times you can re-record. In play mode, pressing the button will cause the recorded audio to play back. That's all there really is to it!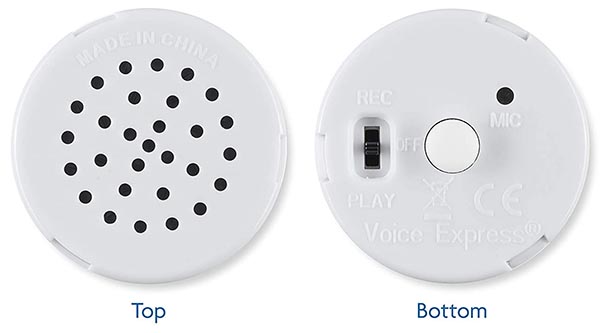 VoiceGift 20 Second Mini-Me Voice Recorder
The VoiceGift Mini-Me Voice Recorder is a small white plastic sound button. The top surface functions as a speaker, with the controls and mic on the back. There's a single switch, with three different positions: play, off, and record. The diameter of 1.7 inches is fairly small, as is the thickness of 0.75 inches.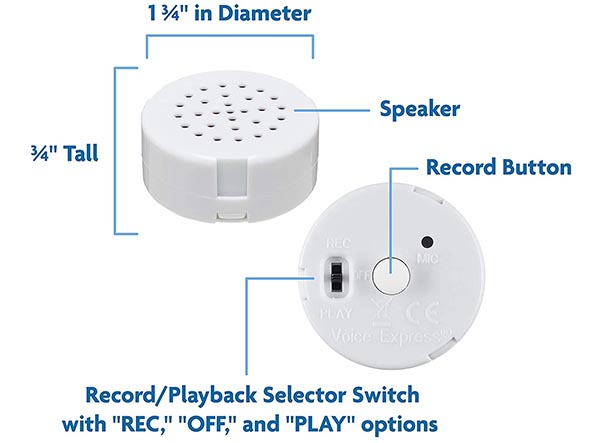 As a result, it's very well suited for stuffed animals, dolls, and other toys. In fact, that's all it's really good for. It's not very attractive, which is only not a concern when the button is hidden. It's also well priced; in addition to a 1- and 2-pack, it's also available in a heavily-discounted 50-pack.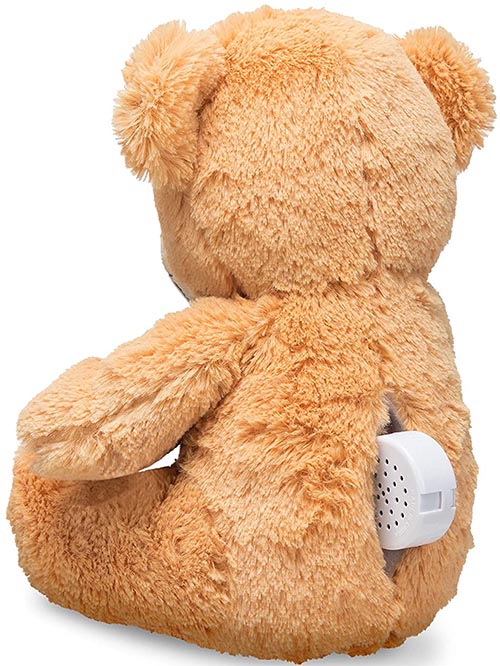 This recorder has a memory capacity of 20 seconds, which is relatively short. That said, it's designed to use as little power as possible. Unlike most other buttons, it doesn't draw any vampire power when it's left on. The only time power is drawn is when the button is actually pressed. This allows for plenty of battery life, potentially several years. To get to the batteries, you need to press the three tabs on the sides of the casing. Once they're released, the case will come apart, and you'll see a pair of tiny watch batteries. Replace them, and the case will easily snap back together.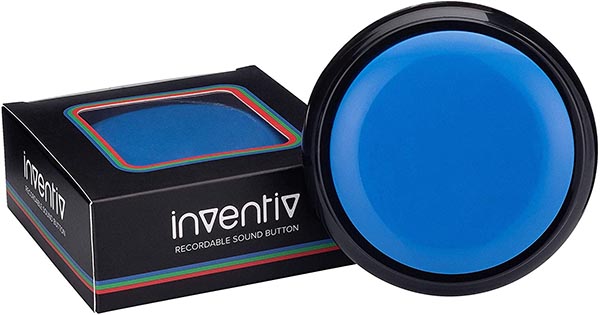 Inventiv 30 Second Custom Recordable Talking Button
The Inventiv 30 Second Custom Recordable Talking Button is large and beefy, like the Talking Tiles button. It's available in blue, red, or green, with a black plastic housing.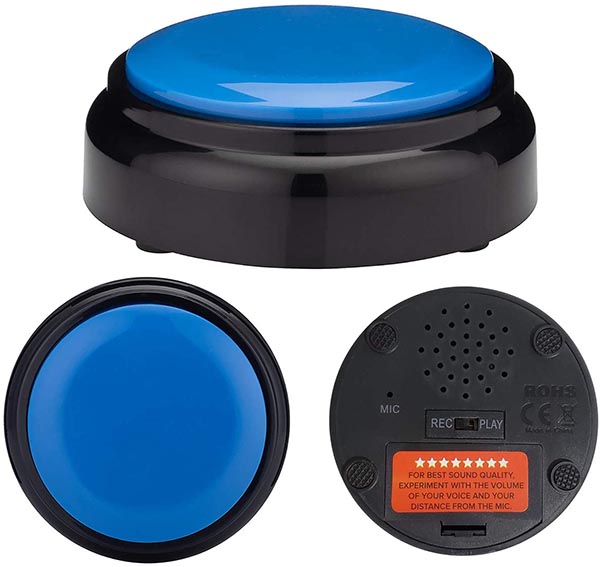 The overall size is 3.7 inches in diameter, with a thickness of 1.5 inches. There's a single switch on the back, with record and play settings, but no off option. Then again, it takes a pair of AAA batteries, which are easy to find and replace.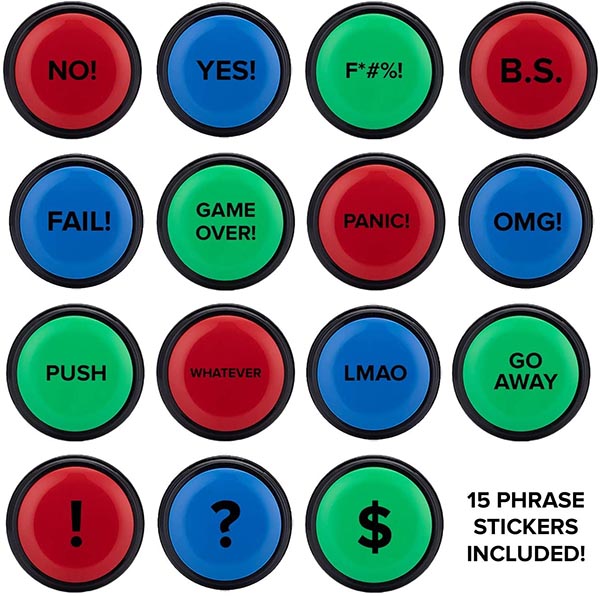 The main visual feature, though, is the set of stickers that come with the kit. These are transparent stickers with snatches of text, which use can use to decorate the top of the button. There are 15 stickers in total, with things like "No!", "Yes!", and "Push". Most are meant to be humorous, like the "Panic!," "Go Away," and even a saucy "F*#%!" The mic is built-in to the back, and it has enough storage space for 30 seconds of recording.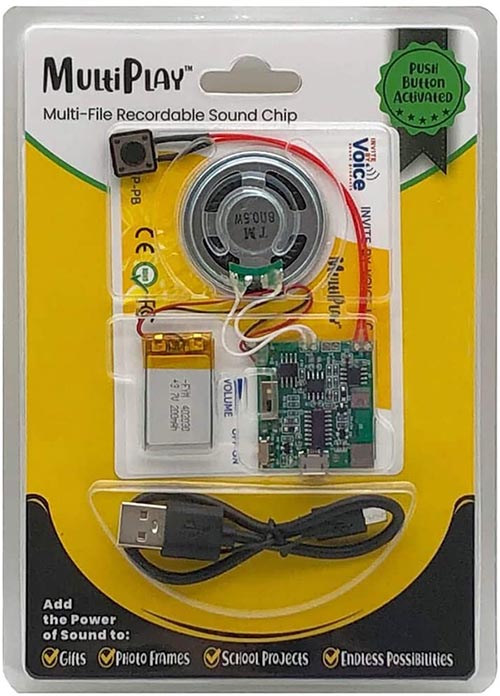 MultiPlay Push Button Recordable Sound Chip
The MultiPlay Push Button Recordable Sound Chip is a different animal altogether. The button itself is a tiny rubber nub, which is meant to be built into a larger device. As the name implies, the main component is actually a circuit board. This circuit board measures 3.75 x 3.25 inches, with a thickness of only a quarter inch. The button is attached by a short tether cable. The circuit board itself is home to the battery as well as the speaker. It also has a self-adhesive backing, with a peel-and-stick design that makes it easy to install.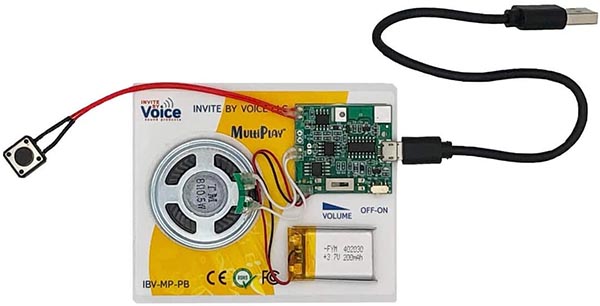 Unlike the other buttons on our list, there's no built-in speaker on the MultiPlay. Instead, you add all of your audio files via USB, and a Micro USB to USB adapter is included in the package. Once you connect to your PC, the chip will appear like a thumb drive. Then all you have to do is drag and drop your files, and they'll be ready for playback. The same USB cable can be used to recharge the 200mAh rechargeable battery. Alternatively, you can leave the cable plugged into a power supply at all times. That way, you'll never have to worry about running out of juice.
The word MultiPlay refers to this gadget's ability to replay more than one audio file. You can upload as many as you like, up to the maximum of 2MB, or about 120 seconds total. If there are multiple files, they will simply cycle through. Each time you press the button, the next sound in the sequence will be replayed.
Final Verdict
So, which one of these recordable sound buttons is going to be the right choice for you? Let's quickly go over each one. We started out by reviewing the Talking Tiles Voice Recordable Sound Button. This button is easy to use, and you can record either via mic or via an auxiliary cable. The removable transparent top is a nice added touch, since you can customize the look as well as the sound.
The VoiceGift Mini-Me Voice Recorder is designed specifically for going inside stuffed animals. It's not anything impressive to look at, but it's very easy to use. We appreciated the compact design, as well as the long-lasting battery life.
The Inventiv 30 Second Custom Recordable Talking Button is a larger button, which is meant to be a standalone novelty. You can make up to a 30-second recording, and the colorful design is reasonably attractive. The best feature, though, is the set of amusing, sarcastic transparent stickers.
The MultiPlay Push Button Recordable Sound Chip is an ideal choice for hobbyists. You can install it in a railroad set, a game board, or in all kinds of other devices. It's a great way to incorporate not just one, but many audio effects into your favorite hobby.
Meet Derek, "TechGuru," a 34-year-old technology enthusiast with a deep passion for tech innovations. With extensive experience, he specializes in gaming hardware and software, and has expertise in gadgets, custom PCs, and audio.
Besides writing about tech and reviewing new products, Derek enjoys traveling, hiking, and photography. Committed to keeping up with the latest industry trends, he aims to guide readers in making informed tech decisions.