Yeedi Vac 2 Pro
Pros
Can clean almost any type of surface.
Advanced visual navigation system.
Long-lasting battery.
Compatible with Yeedi's self-emptying base station.
Relatively quiet operation.
Cons
Suction power is only so-so.
Cannot cross ¾-inch transitions.
Somewhat expensive.
If you like to keep an eye on the latest gadgets, it's easy to put a lot of focus on a small handful of devices. When there's so much as a rumor about a new iPhone, the tech blogosphere loses its collective mind. To some extent, this is to be expected.
People get excited about a new iPhone because there's always going to be some splashy feature. The same goes for new tablets and game systems. You're invariably looking at some "fun" element that attracts people's attention. A vacuum cleaner, by comparison, isn't exactly what most people consider fun. But a good robot vacuum is still an exciting buy.
Think about the time you spend cleaning your house. That's time you could be spending doing something you enjoy. You could be working on a hobby, playing a game, or taking a walk. The better your vacuum, the more time it's going to save you.
This is particularly true for a robot vacuum, which is designed to take over your floor cleaning entirely. If it's well-designed, all you'll have to do is empty the hopper every few cleanings. It also helps if it can perform other tasks, such as mopping your floor. The more versatile your robot vacuum, the more time it's ultimately going to save you.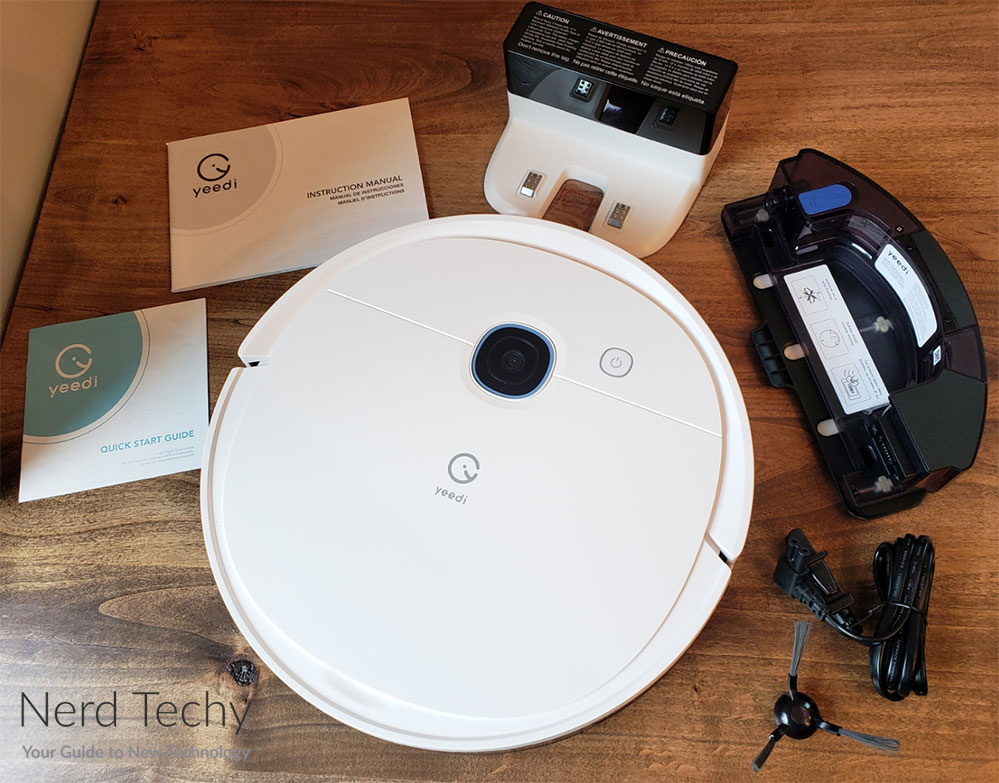 Yeedi Vac 2 Pro
With that in mind, we're going to review the Yeedi Vac 2 Pro. This is a brand-new robotic vacuum, which will be available to the public later in May. It has an oscillating mop, which can scrub away caked-on dirt and debris. And it comes with a full suite of app controls so you can fully customize the cleaning process.
But these are just the basic features of a complex machine. To truly understand how well this vacuum performs, we'll have to take a deeper dive. We'll begin by looking at the physical design, and how it's constructed. We'll talk about the suction power, and how the mopping function works. In addition, we'll discuss the battery performance, the mapping function, and the smartphone app. After we've examined all of those things, we'll be ready to deliver our verdict. Let's get right into it!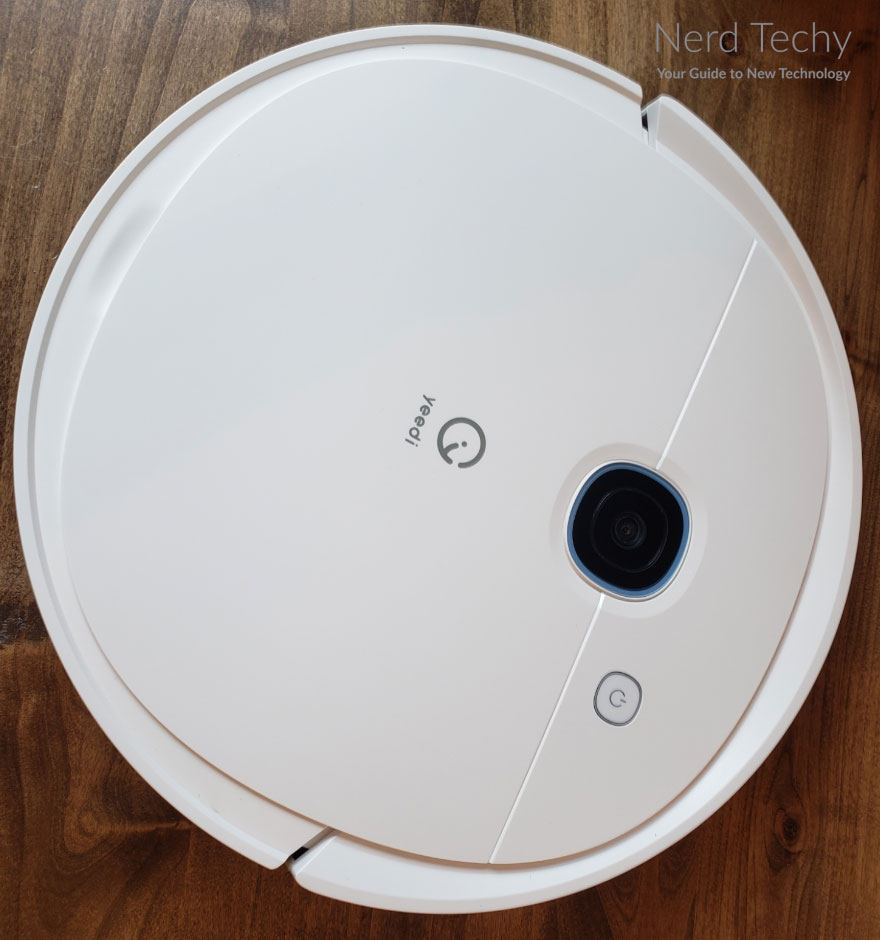 Overall Design
The Yeedi Vac 2 Pro is a disc-shaped vacuum with a diameter of 13.7 inches. That's about the size of a dinner plate. At 3 inches thick, it's neither excessively fat nor noticeably slim. It will fit under most furniture, including many sofas, without any issues.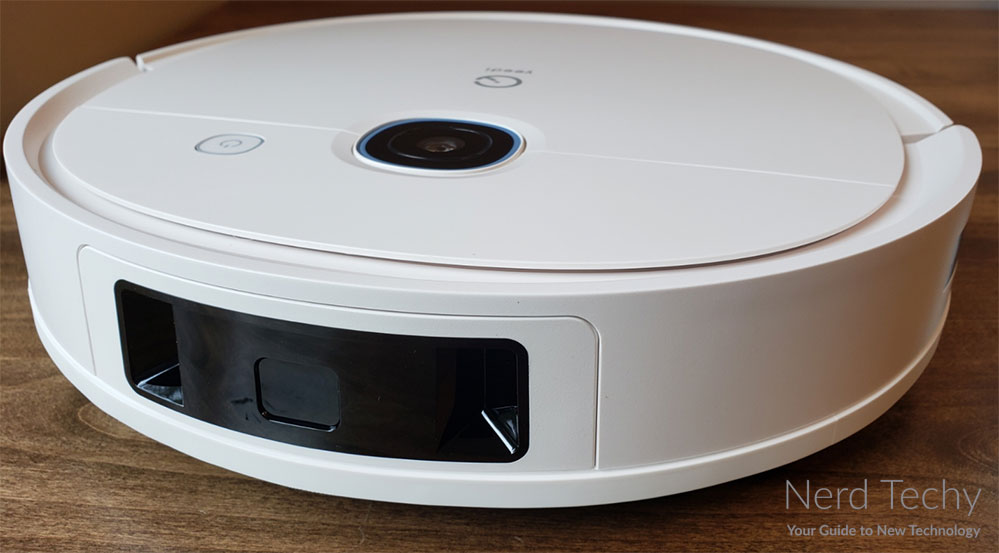 The housing is mostly white, with a matte plastic finish that wipes clean easily. On the top, there's a little black sub-housing, where you'll see one of the navigation cameras. Next to this is a power button, which is used to start a new cleaning cycle. The rest of the controls are accessed through the app, which we'll discuss more in a little bit.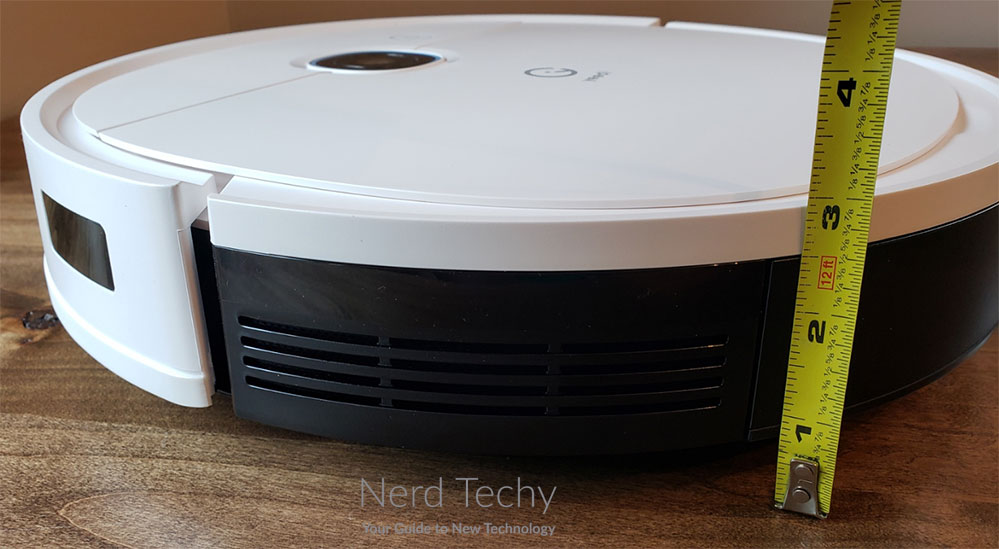 In the front of the housing, there's an additional black panel, where you'll see a camera and other sensors. These allow the Vac 2 Pro to keep tabs on its environment and navigate around obstacles. The back portion of the housing is all-black, although the rear portion is translucent. This lets you see into the dust hopper, so you'll know when it's about to get full.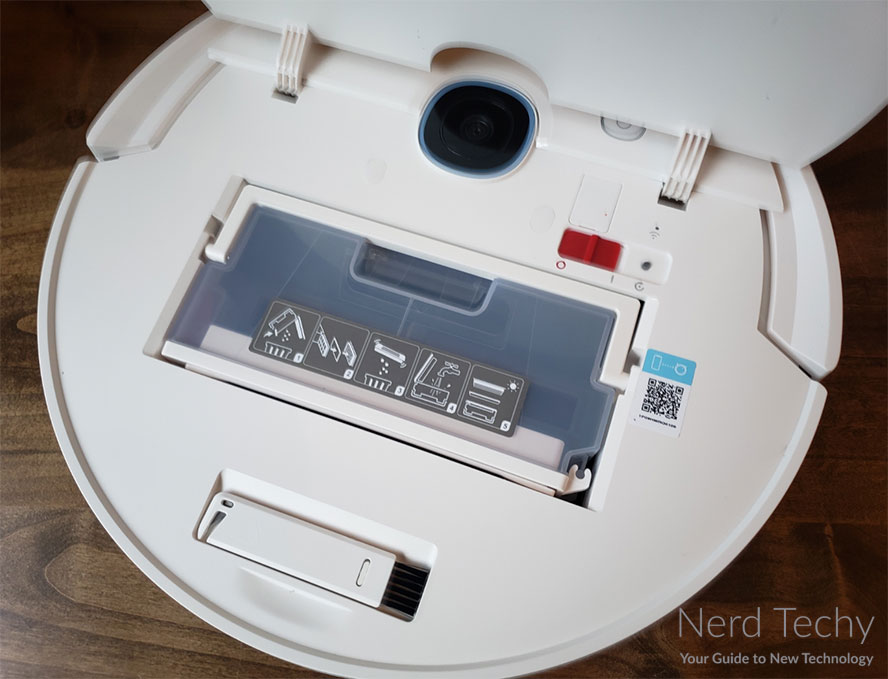 As you might expect, most of the interesting design features are located on the bottom of the vacuum. At the front end of the bottom, there's a small caster in its own motorized housing. This little wheel doesn't provide any power, but it steers the vacuum around.
Just behind it and to the right, there's a flat brush that spins horizontally, like a helicopter blade. This brush is mostly meant for solid floors, where it sweeps dirt in towards the main roller brush. The main brush itself is pretty much directly in the center of the housing, and it has a spiral design. It's made to be most effective on floors and shallow carpets, not to dig down into deep pile carpets.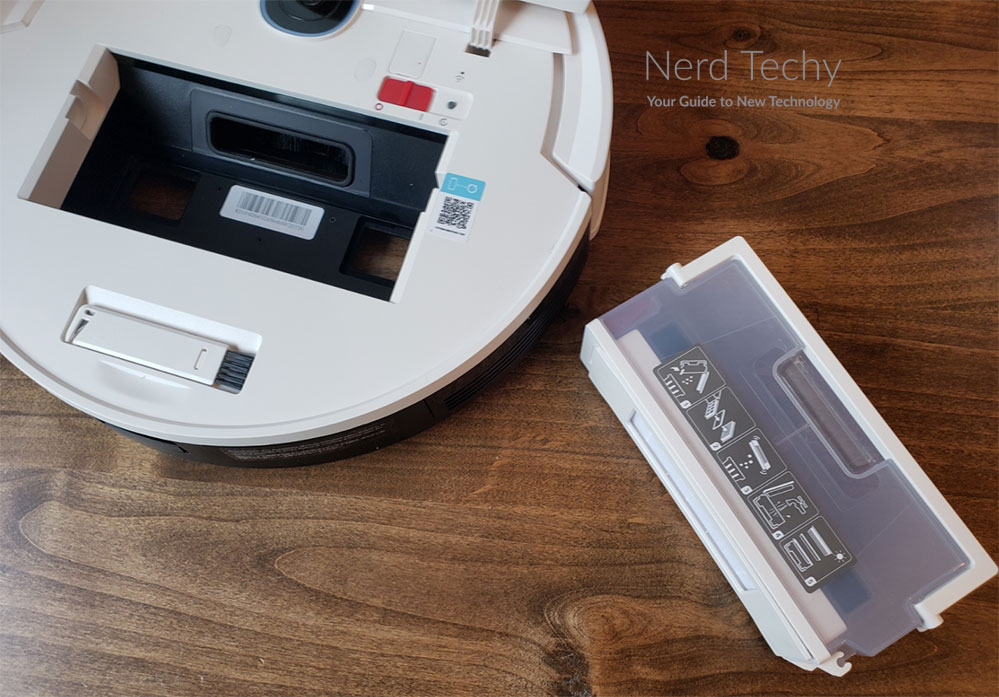 To the sides of the main roller and slightly behind it, you'll notice a pair of big, rubbery wheels. These are the main drive wheels, and they're nice and chunky to provide plenty of traction. They're capable of crossing a 0.62-inch transition, which includes most common transitions. However, if you have a larger, ¾-inch transition, the Vac 2 Pro won't be able to cross it.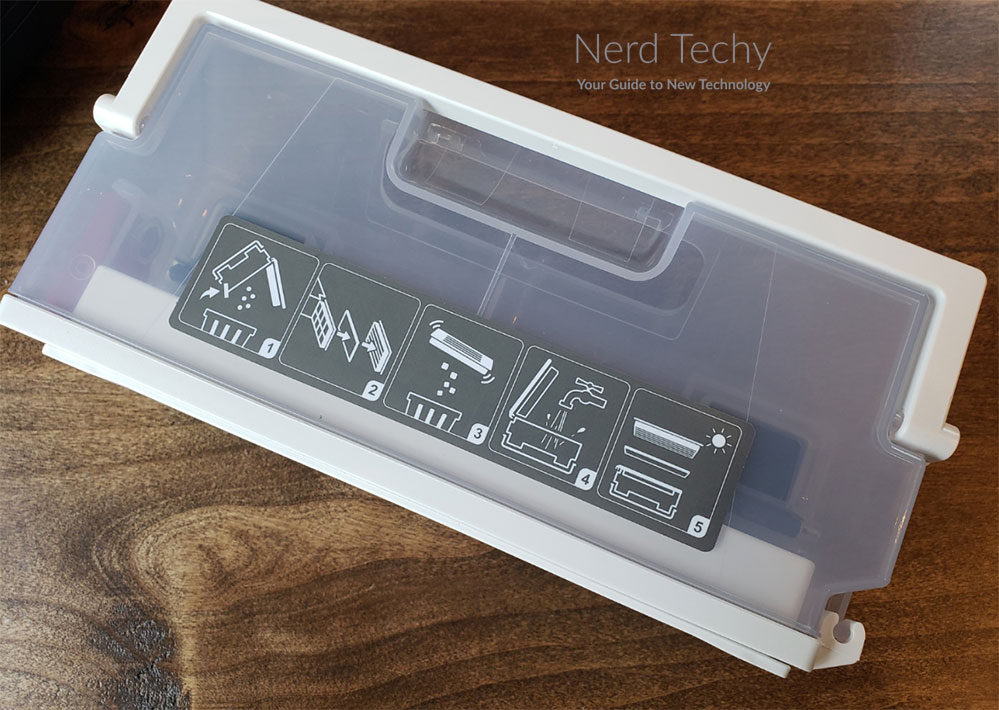 This vacuum arrives with the dust bin already installed in place. However, it also ships with a mopping pad and attached reservoir. To put the machine into mopping mode, you remove the standard hopper and install the mopping apparatus. It takes just a few seconds to switch back and forth, so it's easy to do both jobs in an afternoon.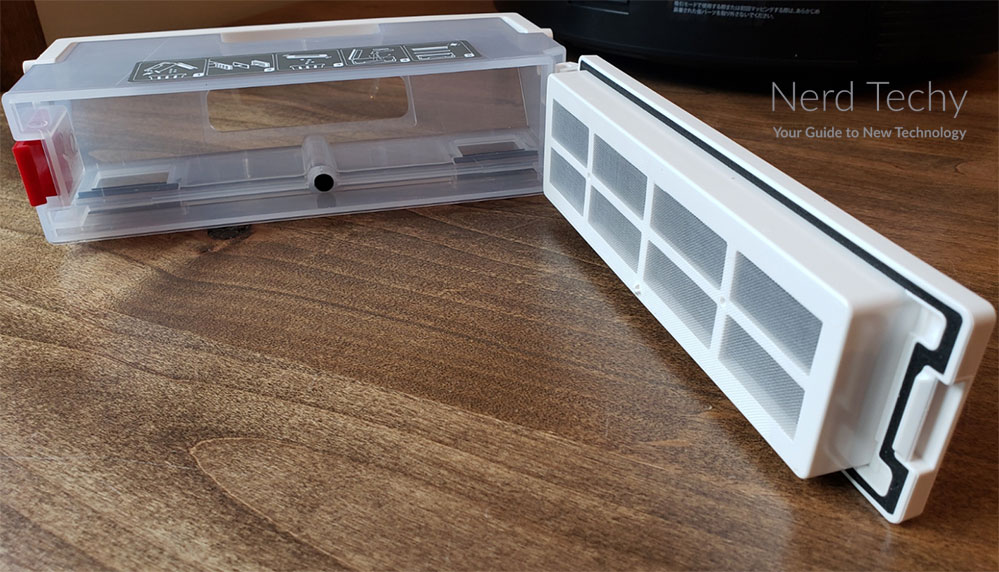 Along with the vacuum, you get a charging base. This base has an attractive two-tone black-and-white design, and it plugs into a nearby wall outlet. When the vacuum is not in use, it returns automatically to the base, and the battery is charged. This ensures that you'll always have a battery charged and ready to go for the next cleaning cycle. Everything in the kit is covered by a 24-month warranty, better than the industry average. You don't have to worry about manufacturer defects and premature failures.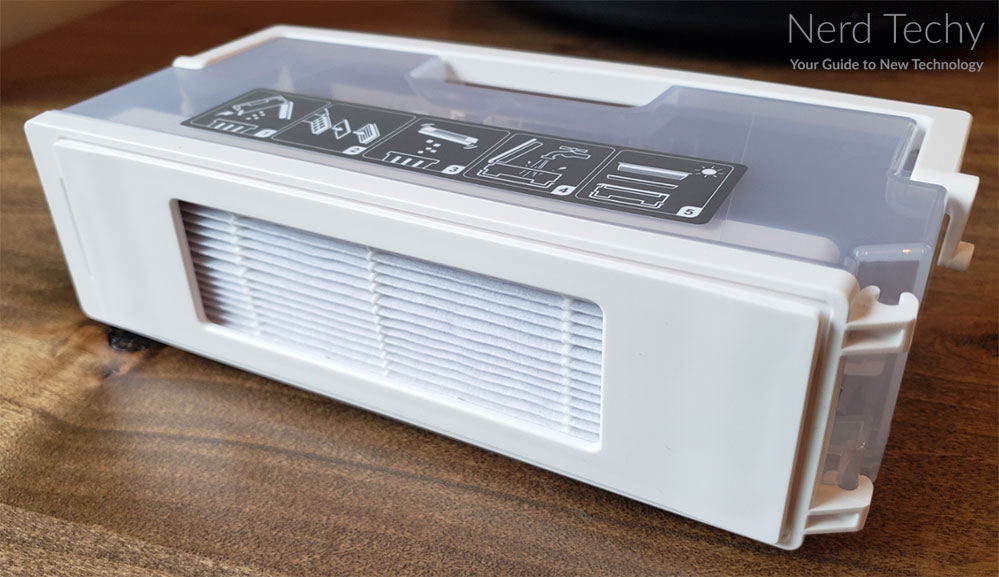 If you're looking for an alternative option, check out the Yeedi Vac. It's similar to the Vac 2 Pro in many respects, but it also boasts a large, oversized dust bin. Then again, the controls are far more limited, without the advanced app features.
Vacuum Performance
The Yeedi Vac 2 Pro has four different suction levels. These range from a very light 200Pa (Pascals), to a more robust 3,000Pa. That's only marginally better than the average robot vacuum, and motors get more powerful every year. Still, you're looking at enough suction for floors and short-pile carpets. You can do everyday cleaning on a deep-pile carpet, but you won't be able to do any deep cleaning.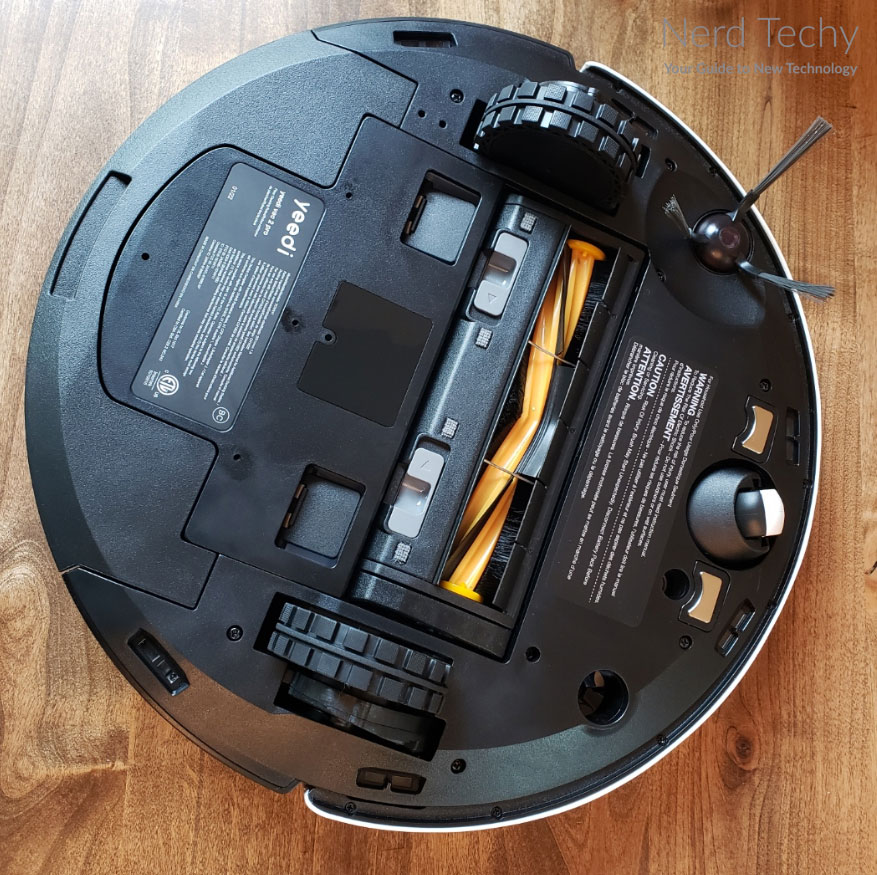 By default, the vacuum will run on lower power when it's not feeling much resistance. When it feels more resistance, the motor will automatically ramp up. There's also a built-in carpet detector. This does two things. When you're vacuuming, it switches your motor up to a higher speed. When you're mopping, it will navigate around the carpet altogether. That way, you're not scrubbing at your carpet or getting it wet.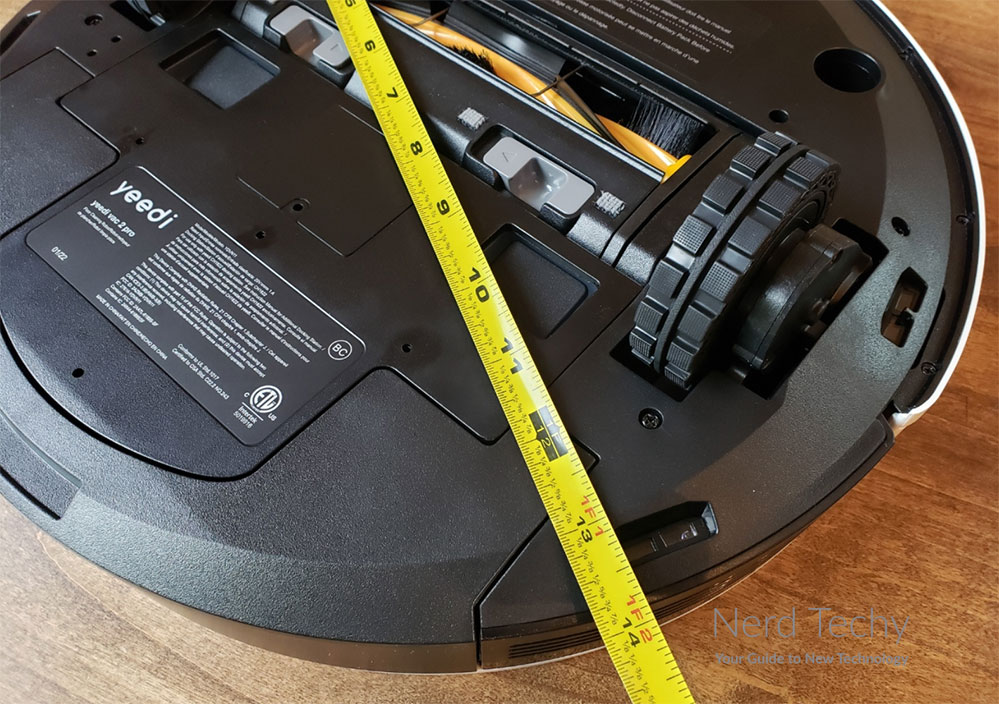 The mopping pad itself is surprisingly effective. When it's active, it oscillates rapidly, so it's scrubbing at your floor, not just being dragged. At the same time, the included microfiber pads are very gentle. They won't scratch the finish on your tile or hardwood like an abrasive pad would. And when they're dirty, they're machine-washable. This makes them easy to reuse again and again, virtually as many times as you want.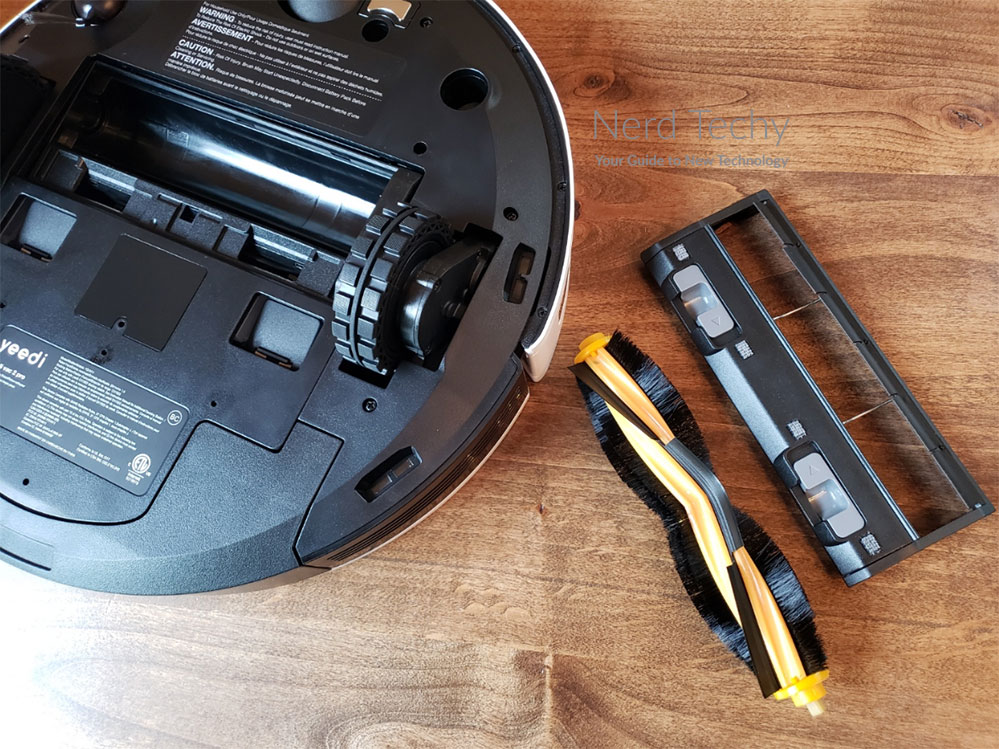 The Vac 2 Pro's internal battery has a capacity of 5,200mAh. This is enough for around 3½ to 4 hours, depending on how you're using the vacuum. Keep in mind that this is a very rough number, and a lot of variables come into play. After you've run a few cleaning cycles, you'll get a sense for how long the vacuum will run in your home.
Charging the battery takes around 6½ hours, which seems a bit long. But even so, you're talking about one of the longest-lasting robot vacuums we've seen. Unless your house is unusually large, you'll get clean without the need to recharge mid-cycle.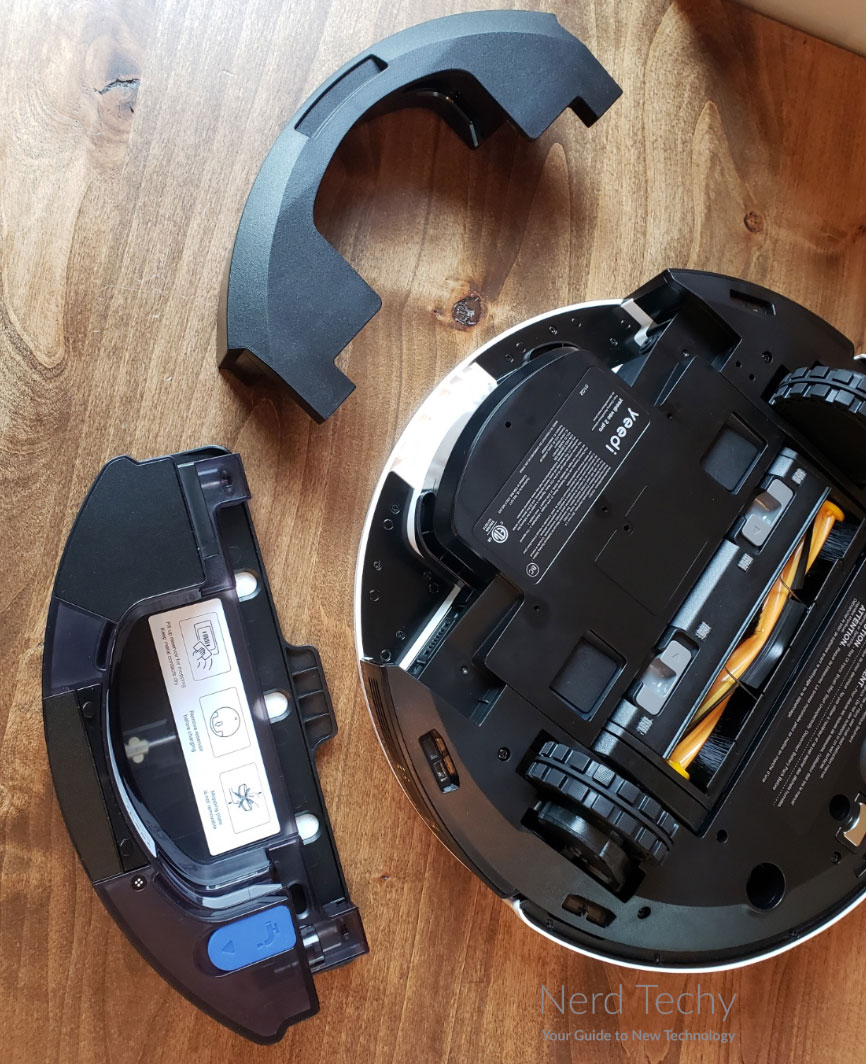 If you don't need the mopping function, consider the Yeedi K650 instead. It has similar vacuum suction, albeit without any mopping feature. But it also has a built-in HEPA filter, which removes almost all particulates from the air exhaust.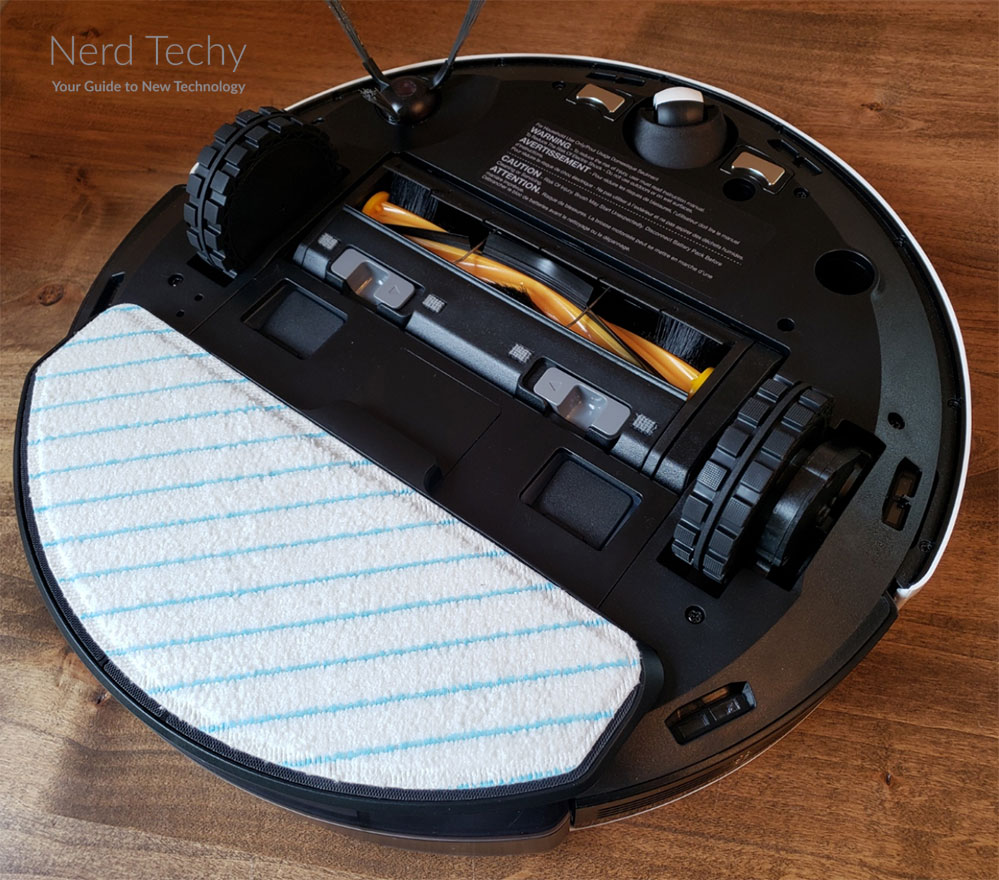 Setup and Everyday Use
The Vac 2 Pro utilizes a navigation method called "simultaneous location and mapping" (SLAM). This system uses a visual camera input to build a model of the surrounding area. In a nutshell, it lets the vacuum understand its environment visually – the same way people do. As it builds a map, it keeps track of its own location. It can even navigate objects in real time. If you drop your phone on the floor in front of it, it will see the phone and go around it.
When you first run the vacuum, it will not run very efficiently, because it's building a map of your home. For future cleaning cycles, the pathing will be very efficient, and the floor will get cleaned much faster. Just press the power button to start a cleaning cycle any time you like. Empty out the dust hopper every few times, and let the Vac 2 Pro take care of the rest.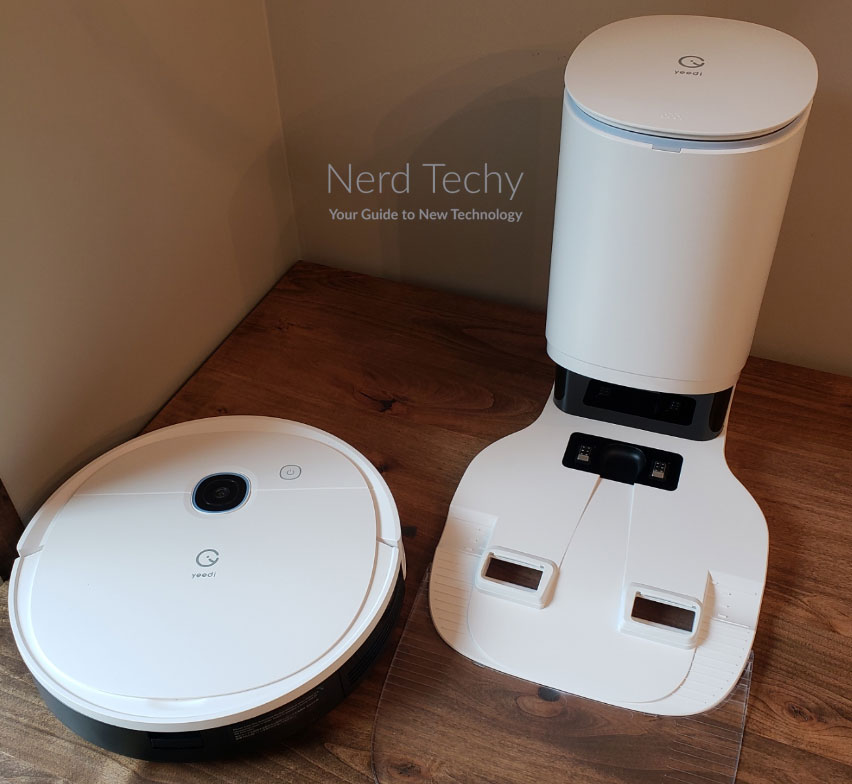 If you want even more hands-off operation, it's compatible with the Yeedi self-emptying station. This station is the one used by the Yeedi Vac Station, and it sucks your dust into a 2.5-liter dust bag. Instead of emptying a hopper once a week, you can empty the bag once a month, or even less.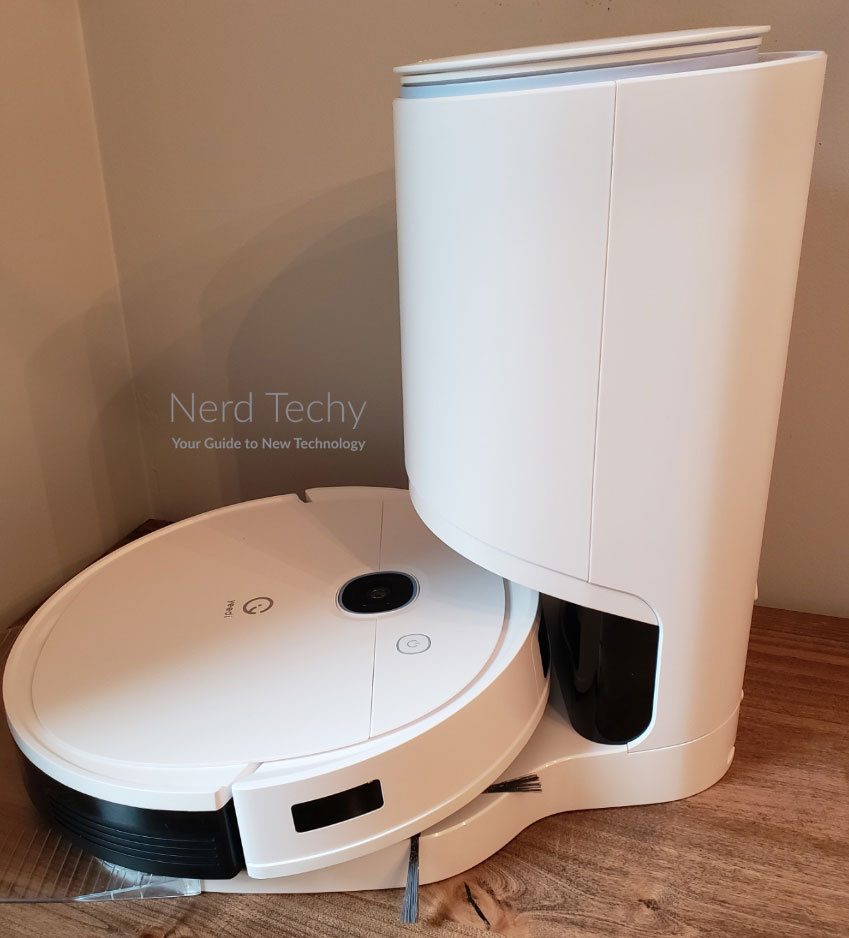 To get the most out of the vacuum, though, you'll want to install the smartphone app. The app is free on Android and iOS, and it installs in only a few minutes. Inside the app, you can create custom cleaning schedules on a daily or weekly basis. You can manually adjust the motor intensity and water flow level.
Bring up the map, and you can mark off individual rooms, and set them to clean separately. Or, set a no-go zone to skip an entire room or area. You can even set the Vac 2 Pro to vacuum or mop the same area twice in a row. This is great for high-traffic areas like entryways.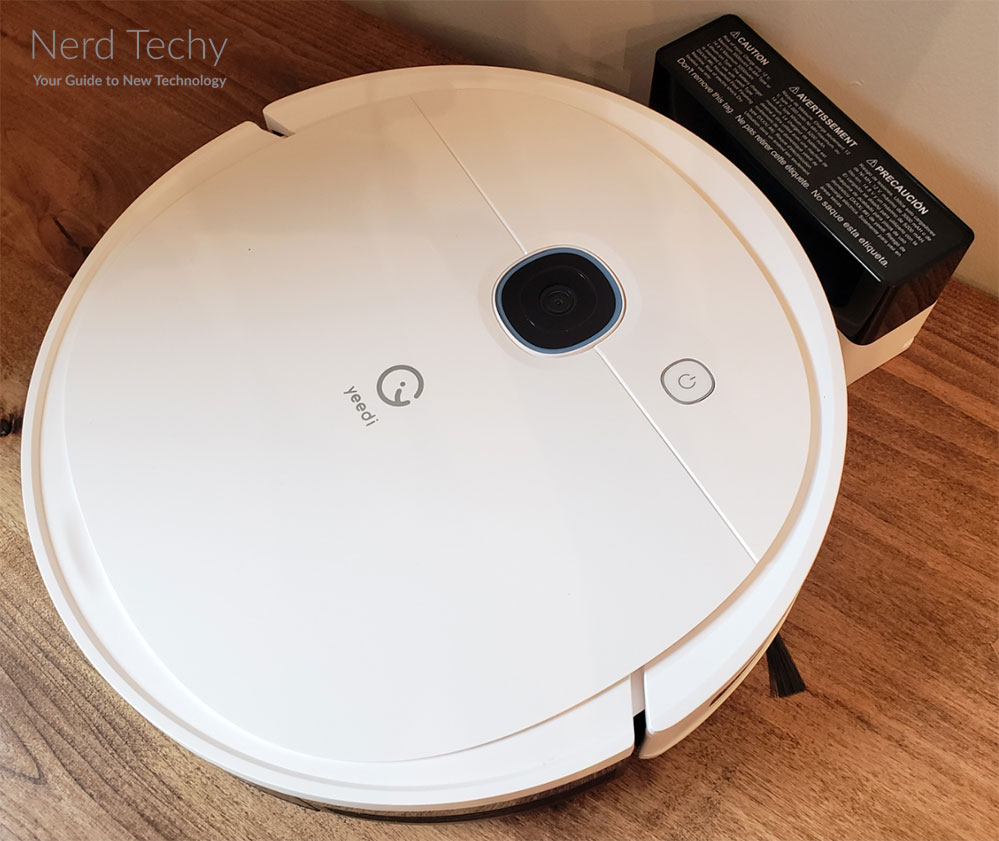 Final Verdict
The Yeedi Vac 2 Pro is one of the more full-featured robot vacuums on the market. It's not ideal for deep pile carpets. However, it's great for cleaning just about anything else, especially solid floors. The navigation system is intelligent and reliable, and the controls are straightforward. And with up to four hours of battery life, it can tackle even the largest floor plans.
Meet Derek, "TechGuru," a 34-year-old technology enthusiast with a deep passion for tech innovations. With extensive experience, he specializes in gaming hardware and software, and has expertise in gadgets, custom PCs, and audio.
Besides writing about tech and reviewing new products, Derek enjoys traveling, hiking, and photography. Committed to keeping up with the latest industry trends, he aims to guide readers in making informed tech decisions.