If you haven't heard, Starlink is now available to use while traveling. For most users, roaming is now enabled, which lets you use your dish and router while on the road.
Even if you're hundreds of miles from your service address, roaming allows you to setup and configure your Starlink service wherever you'd like. Whether you're a full time RV camper or an occasional weekend warrior, this opens up a whole new realm of possibilities.
Simply put, if you'd like to use Starlink while you travel, you're going to need to get used to frequently setting up the hardware, and taking it down just as often. That said, you're going to want a safe and dependable storage solution.
While you could simply use the cardboard box that the dish and router shipped in, this isn't always ideal. Needless to say, it isn't well-padded. Over time, it'll surely break down and become flimsy. In addition, it's not even slightly water-resistant. And if you're an experienced traveler or full time RVer, you know even just a little bit of water resistance goes a long way.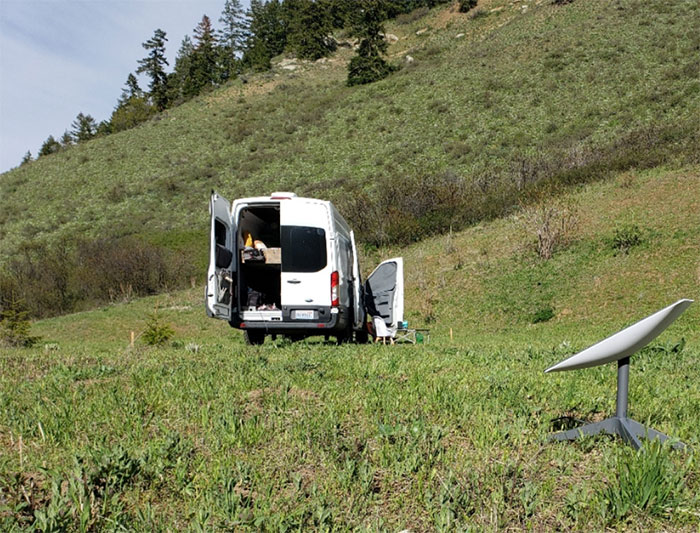 Best Starlink Dish & Router Storage Case
Opting for a hard-case is a smart idea. Sure, it'll add a bit of an expense, but in the long run, a dedicated storage case for your Starlink is nearly essential while traveling. Since we published our article on the best Starlink dish mounts, we've received several inquiries regarding which storage cases are best for the equipment.
Today we're going to explore our options. Over the past week, we've spent hours researching and testing the best solutions for Starlink dish and router storage cases for travel. Thankfully, we've found several excellent options that are all readily available. Let's get right into it!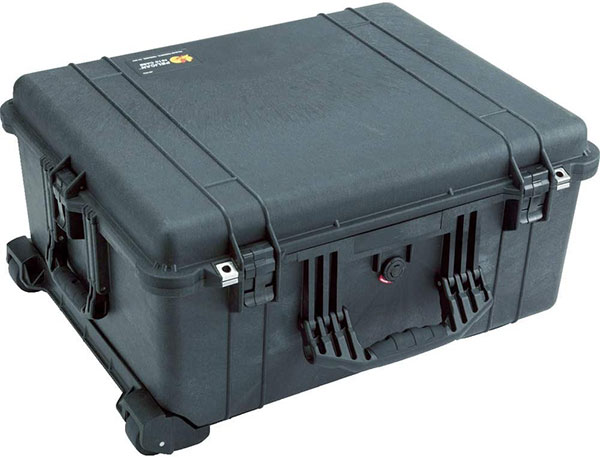 Best Overall: Pelican 1610 Case (with foam)
As a top of the line option, the Pelican 1610 Case is the best choice, in our opinion. Although it's quite expensive, it's clearly the best designed and manufactured storage case for the Starlink equipment. It comes included with a block of foam that's fully customizable to the exact shape of the dish, router and cables. In addition, the lid has an overabundance of foam padding to ensure the hardware is fully encased in a soft, overly padded enclosure.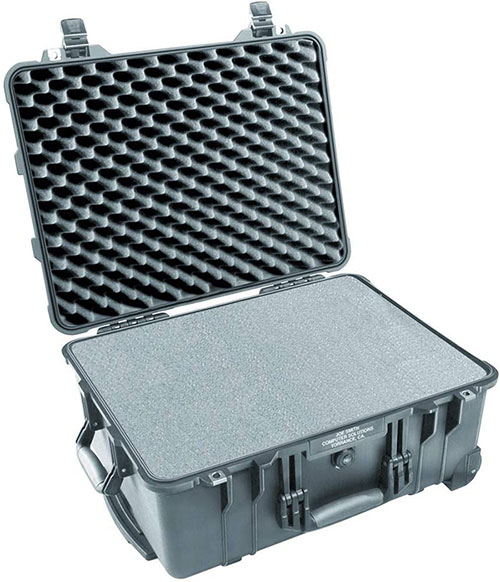 With the outer dimensions measuring 24.83 x 11.88 x 19.69 inches, it's moderately compact without taking up too much space. While the interior dimensions are said to be 21.78 x 16.69 x 10.62 inches, it actually fits the Starlink equipment just right with a tight but snug fit. Although the tripod base measures 22 inches from tip to tip, it actually fits perfectly from edge to edge at a slight angle.
Design & Build Quality
While the Pelican 1610 is also available without foam, we highly recommend using the case with foam. The inner foam comes as a complete block but is perforated in several small blocks. The first thing you'll need to do is shape it to the precise size of the equipment. Luckily, the foam is divided into several layers and is easily "picked and plucked" so you can create perfect voids for the router, dish and cables.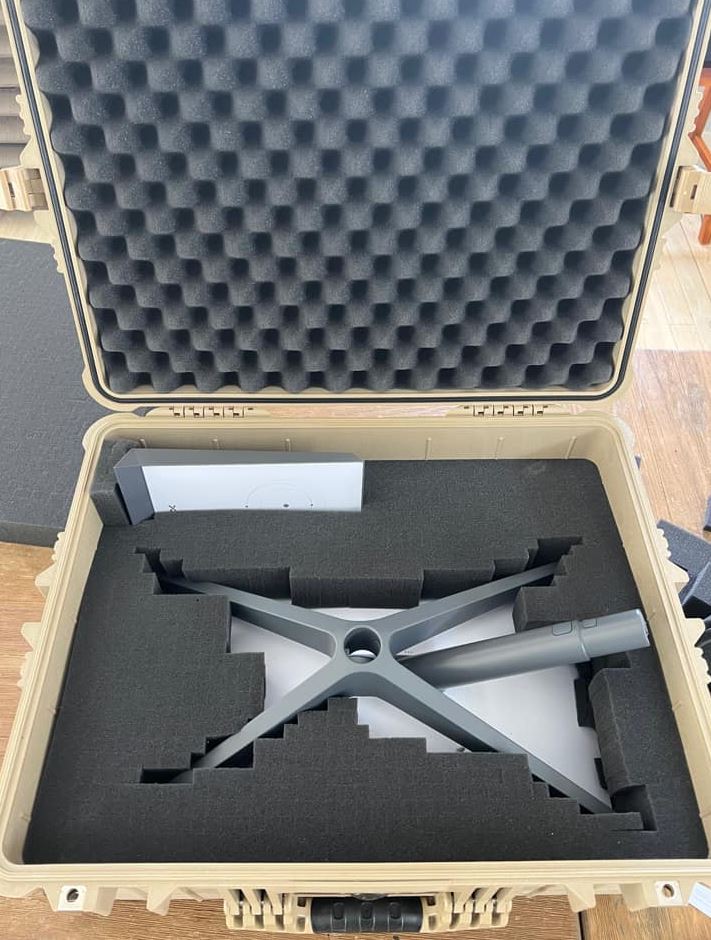 The best part of the Pelican case is the ruggedness that it offers. Simply put, the thing is built like a tank. Comprised of a thick, black polypropylene material, it's considered military grade. In fact, it even provides a watertight seal with the use of a polymer o-ring and a tongue and groove fit between the lid and the lower compartment.
While you're likely not going to throw it in a lake or toss it down a hill, it's built to withstand almost anything. Additionally, there's even two stainless steel reinforced padlock protectors for locking it up when necessary. Lastly, it's worth mentioning that the Pelican 1610 has its very own purge valve. This automatically equalizes the internal pressure and assures that water stays out. This features is ideal for those who find themselves traveling between high and low elevations.
Pros
Incredibly durable with a thick, rugged exterior.
Pluck and pull foam is easy to customize.
Steel reinforced padlock holes.
Completely waterproof with an air-tight seal and purge valve.
The best, most heavy duty option available.
Cons
Relatively expensive.
A bit heavy and bulky for some scenarios.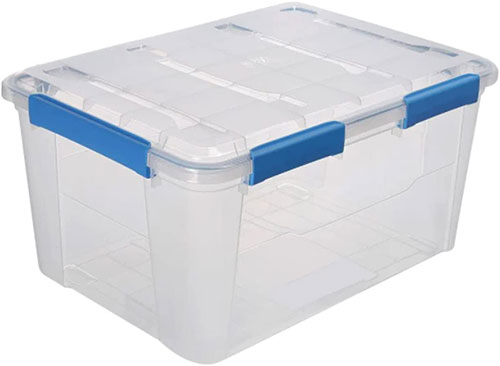 Best Runner-Up: Ezy Storage Waterproof Plastic Storage Tote
The Ezy Waterproof Plastic Storage Tote is a much less expensive alternative to the Pelican case. The 75-liter size measures 25.98 x 18.5 x 13.15 inches on the outside, with just enough room inside for the Starlink dish, router and accessories.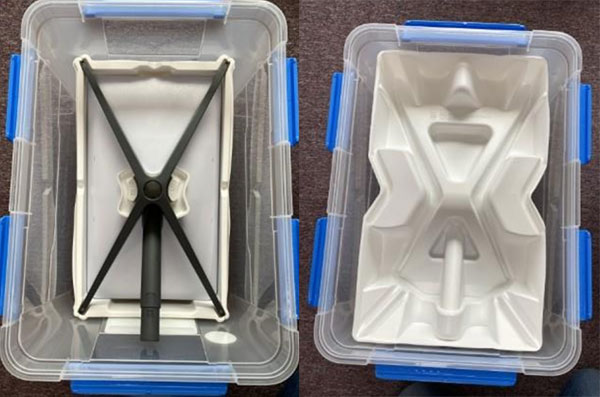 Although it doesn't come with any internal padding or foam, using the original plastic insert from the Starlink box is ideal. Hopefully you have this saved, as it offers a simple yet effective way for this storage container to work perfectly.
Simply place it in the container exactly as you would with the original cardboard box it came shipped in, and you're good to go. There's even a little bit of extra space to add other equipment. However, we highly recommend adding some extra bubble wrap or padding to fill this void.
Design & Build Quality
The Ezy Storage Tote looks like a standard plastic storage bin, but it's actually made much better than your typical version. In fact, it comes with a lid that provides an airtight seal, making it IP67 rated.
This rating means the entire box is able to be fully submerged in water of up to 1 meter deep. Ultimately, this means that you can keep it outside or in an area that may have some moisture, and never need to worry about your Starlink equipment that's placed inside.

Around the top perimeter, there's six individual latches that tightly snap-down the lid. The lid itself has its own rubber gasket that creates the perfect air-tight seal. While the plastic isn't quite as "tough" as the Pelican, it's relatively heavy duty. In fact, we found it to be a bit thicker than your standard storage tote.
In addition, the exterior side of the lid has an indentation that creates a stable surface for an additional Ezy tote to be placed. Realistically, this means you can use multiple bins to stack in a neat and efficient manner for any extra gear you may need to bring along. However, they'll need to be of the same brand for this to work as well as it should.
Pros
Made from heavy duty plastic.
Much less expensive than the Pelican case.
Six sturdy latches create a strong seal between the lid and tote.
Offers an IP67 airtight and watertight seal.
Clear so you can see what's inside the container.
Cons
Has a little bit of extra space; must place padding or bubble wrap for a snug fit.
Not quite as "bombproof" as the Pelican case.
Difficult to stack other brand totes on top.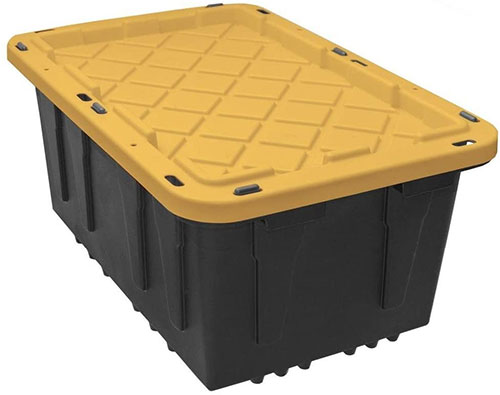 Best Alternative: HDX 17 Gal. Storage Tote
For those who want a simple and inexpensive option, we highly recommend checking out the HDX 17 Gal. Storage Tote. Although it's not quite as rugged and tightly sealed as the Pelican 1610 or Ezy tote, it offers a good fit without any gap on either side.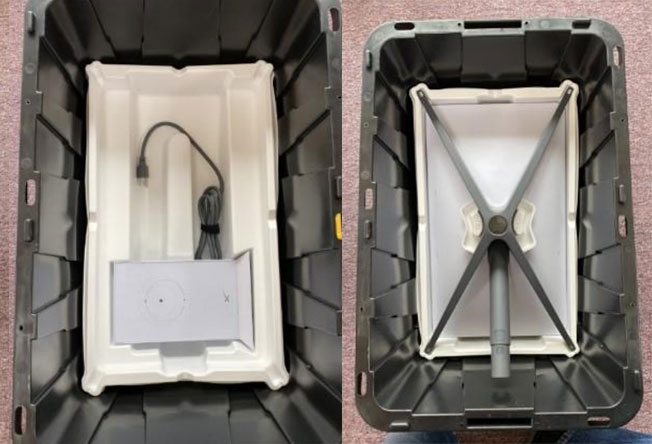 Using the original plastic insert that originally shipped with your Starlink equipment, you can simply drop it in. While it may need a nudge to push down to the bottom of the tote, it provides a relatively tight fit. In fact, extra padding is not entirely necessary. Externally measuring 27 x 18 x 12.5 inches, it provides an excellent fit for the dish and router, but there isn't much remaining space for the cables.
Design & Build Quality
The material used in the composition of the HDX storage tote is fairly rugged. The thick black plastic is excellent for keeping out UV rays, but it'll heat up quickly if left out in the sun for too long. In fact, the plastic seems to be even thicker than the Ezy tote, although it doesn't provide an air/water tight seal around the edge of the lid.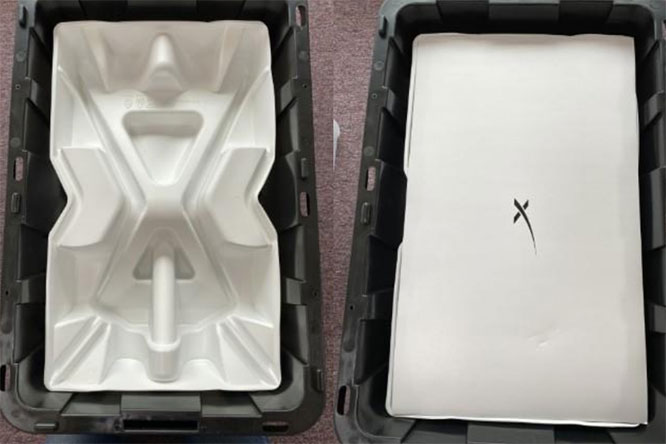 The lid snaps on with ease and secures firmly around the entire edge. While there isn't a rubber gasket to keep out water and moisture, the lid is indented so stacking additional totes is very easy. When shut, it forms a grove that perfectly nests the base of another HDX tote.
Around the perimeter of the lid are several holes that match-up with the tote. Here, you're able to add a padlock or strap to keep it securely shut. While this isn't entirely necessary, it's a great way to add an extra bit of security.
Pros
Relatively inexpensive and well-built.
Fits the Starlink dish and router snug, without any extra wiggle room.
Lid snaps on nicely and provides holes for padlocks.
Able to securely stack multiple totes on top of each lid.
Thicker, stronger plastic than the Ezy tote.
Cons
Does not fit cables or anything extra.
Not fully sealed for water, dust and moisture.
Final Thoughts
As you can see, there are a few great options that work nicely as storage containers for the Starlink equipment. Whether you're a full time RVer or a weekend warrior, having a dedicated solution for protecting your Starlink dish, router and accessories is vital. After all, the equipment is fairly expensive and nearly impossible to replace if you were to accidently damage it.
Clearly, the Pelican 1610 Case is the best of the best when it comes to overall protection. It provides the best possible protection while encasing everything in a fully waterproof enclosure. The Pelican case is built so well, in fact, that you could probably drop it off the roof of your RV with the Starlink equipment inside, and it'll be just fine. While we wouldn't recommend intentionally testing the ruggedness of it, it's obviously the ideal solution. However, the Pelican case, whether you buy it with or without the foam insert, is quite expensive.
If you don't want to spend over $200 on a case, we recommend checking out the Ezy Storage Tote. It's IP67 waterproof, meaning you can submerge the entire case up to 1 meter of water without worry of water ingress. By providing an airtight seal, your Starlink equipment will stay dry and dust free whether you keep the case inside your RV or outside in the elements. Sure, it may not be as bombproof as the Pelican, but it's a great option, nonetheless.
Moving on, we also examined the HDX 17 Gal. Storage Tote. It's even less expensive than the Ezy tote and is equally well-made. However, it doesn't provide a water/air tight seal. While this may not be a deal breaker for most, it's not going to keep out moisture like the Pelican or Ezy tote will. However, the thick plastic it's comprised of is worth mentioning. It's strong, rugged and has a stackable design that can nest multiple HDX totes on top of each other.