SwitchBot Bot
Pros
Can automate almost any button or switch.
Impressive battery life.
Easy to use and configure.
Optional hub and remote offer more features.
Available in white or black.
Cons
Hard tip might damage delicate buttons.
Can push itself off the mounting surface if not mounted properly .
Does not work with North American toggle switches.
The modern world is full of electronic devices, from air purifiers to espresso machines. As smart IoT devices become more and more common, we're expecting a lot more of them. We like to be able to activate our devices remotely, and control them through an app. But not every device is capable of these kinds of controls.
Do you really want to replace every gadget and gizmo in your home, just to use smart controls? That's simply not practical. In addition, you might be a fan of a particular appliance for other reasons. If it doesn't have any smart controls, you're looking at a trade-off.
The SwitchBot Bot is the solution to those problems. This is a little battery-powered block with a servo-operated arm to push buttons and switches. It's designed to be operated and programmed via Bluetooth. And with the optional hub, you can control it from anywhere in the world.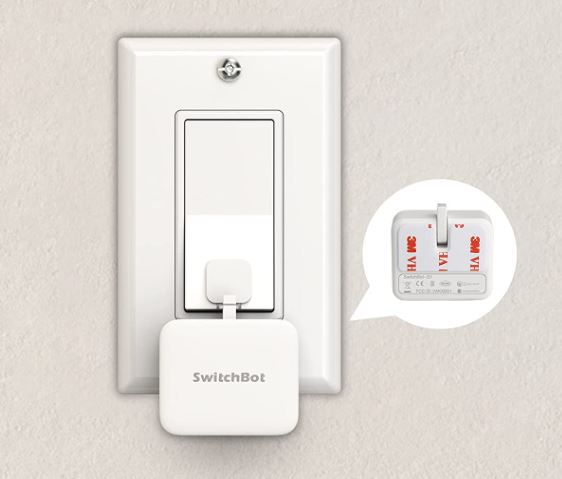 But how well does it perform, and what is it capable of? To find out, we're going to have to look a little bit closer at the design. We'll have to talk about how it's put together, and how you mount it in place. We'll need to dig into the app controls, and see how it's programmed. Additionally, we'll discuss the battery life, as well as the accessories and optional add-ons.
What is the SwitchBot Bot?
The SwitchBot Bot has a square-shaped housing that comes in black or white plastic. The material seems reasonably durable, but it's partially translucent. This is necessary in order for the infrared signals to penetrate.
However, it also makes it look somewhat cheaper than it is. It's mostly plain, although it does have the word "SwitchBot" printed in grey on the top. The overall size is 1.67 inches wide, 1.44 inches high, and 0.94-inch thick. At only 1.38 ounces, it's lightweight enough to mount almost anywhere. You don't have to worry about it adding too much weight and throwing anything off balance. There's a single button at the back of the housing, which is used for pairing and resetting the device.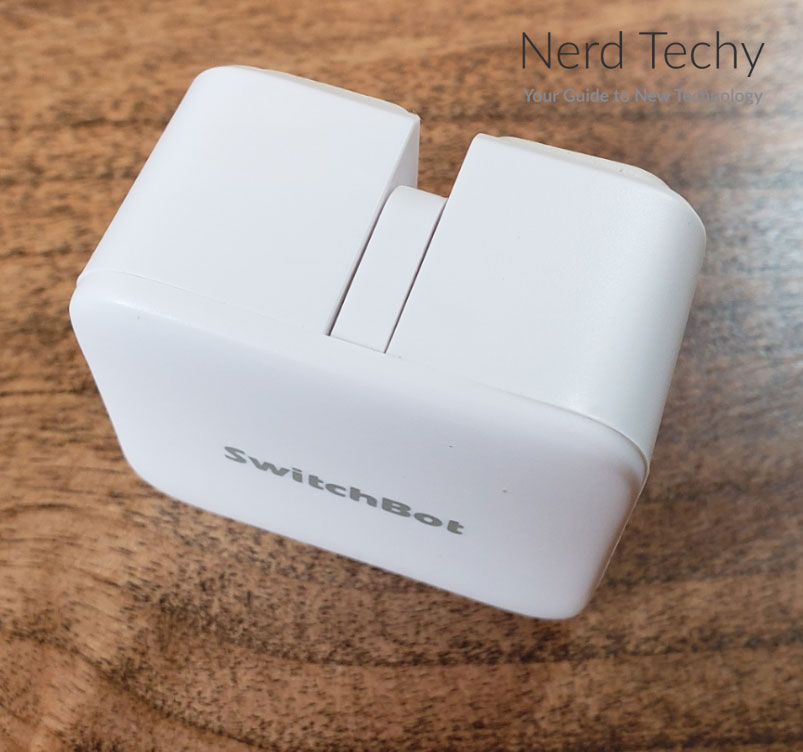 At the front end, there's a rectangular flipper that presses your switches and buttons. This is made from very hard plastic, so it won't be easily damaged. However, you'll need to engage in some finesse when you're mounting it.
There's an adhesive pad included with the kit, which makes this easy, at least in theory. The issue is that the flipper has a 135-degree range of motion. 45 degrees of this are below the plane of the mounting surface. This design is purposeful, and it's done to ensure that you can actuate recessed or concave buttons.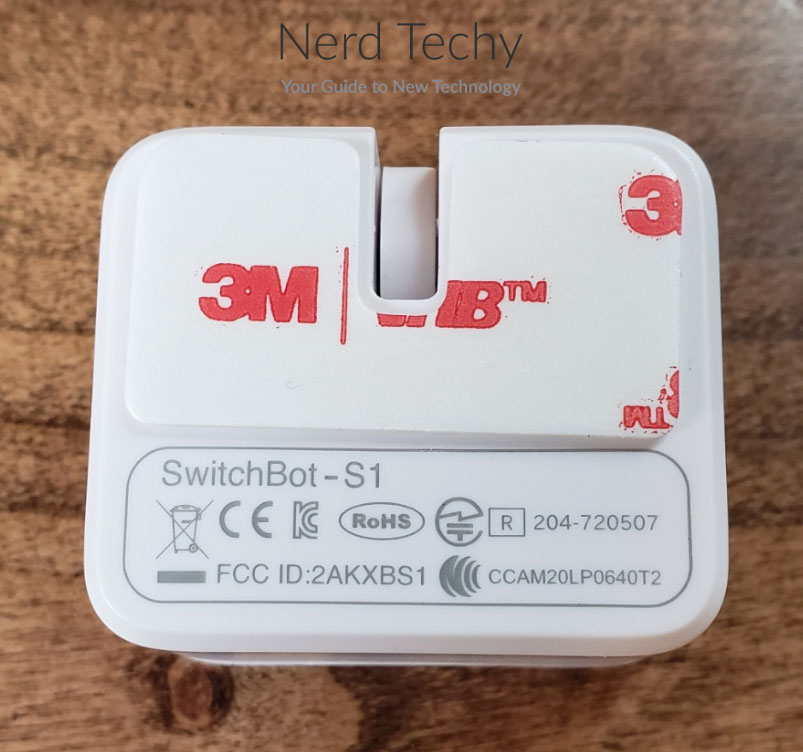 But when the button is raised, flat, or convex, the flipper will try to press it down too far. The servo won't stop trying to press until it's completed its full range of motion. And since it moves with 20 ounces of force, it's enough to loosen the adhesive. As a result, the Bot can become partially detached, or even fall off altogether. The solution to this is to put some kind of spacer towards the business end of the machine. A little piece of cardboard, or even some paper, can do the trick.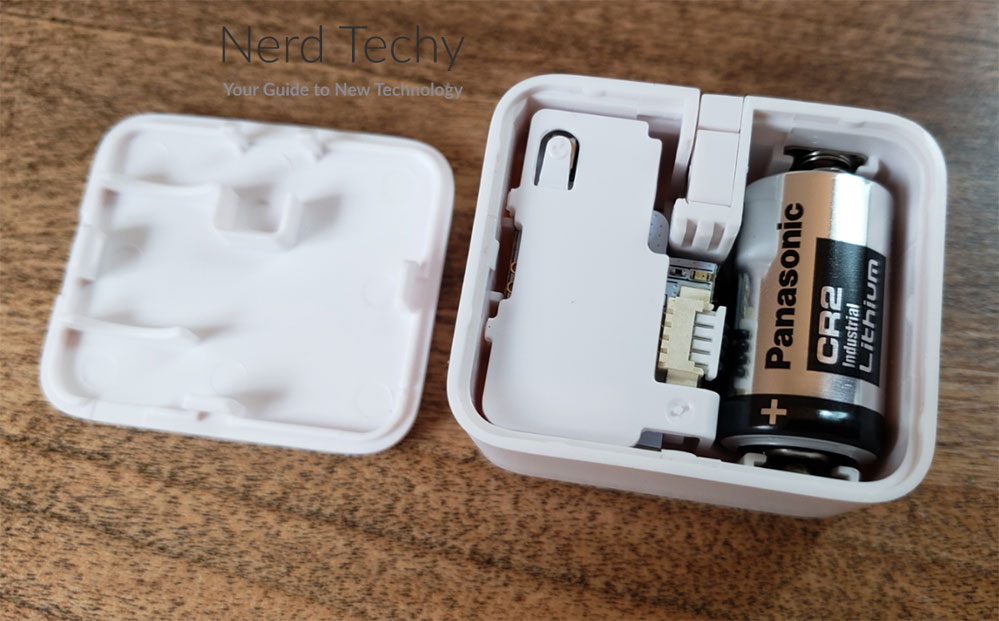 The SwitchBot Bot is not just designed for buttons. It's equally adept at operating switches. The package includes a pair of special adhesive pads with little loops of fishing-line type material. You attach the adhesive to the surface of the switch.
The loop, meanwhile, goes into a little T-shaped slot in the front of the Bot's flipper. When the flipper moves to the up position, it pulls on the loop, which pulls the switch up. As a result, it's more than capable of controlling things like light switches. In fact, there's a little screw slot on the back for attaching it to a switch plate. If you have a paddle-style switch, the Bot will be in the perfect position.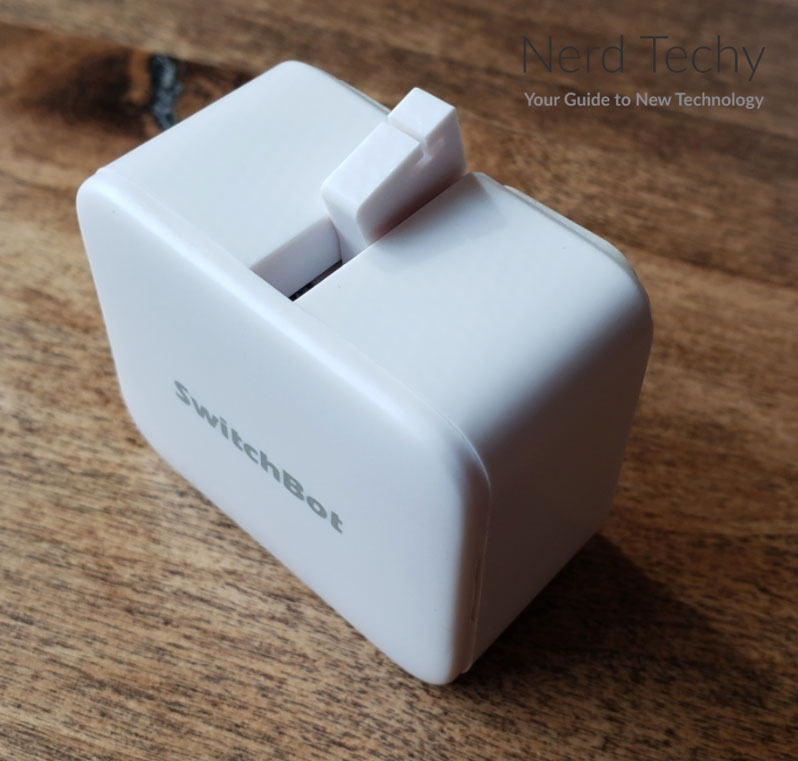 If you're looking specifically for a light switch, you may want to think about some alternative options. Not long ago, we took a look at some of the best automated light switches with built-in timer controls. These have arrays of buttons that let you to program your room lights in advance.
Connectivity & Battery
Now that we've talked about the physical design and construction, let's get into the fun stuff. How do you actually operate the SwitchBot Bot?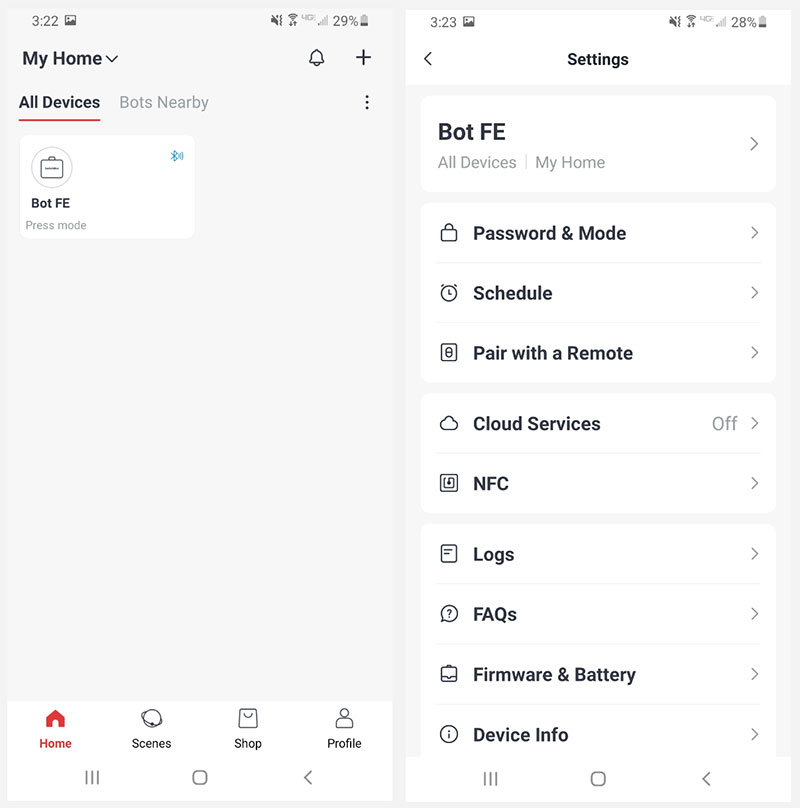 To begin with, you'll need to install the smartphone app. It's free on Android and iOS, and it takes just a few minutes to install. Next, you have to pair the phone with the Bot. Hold down the Bot's pairing button, and it will appear in the app in just a moment.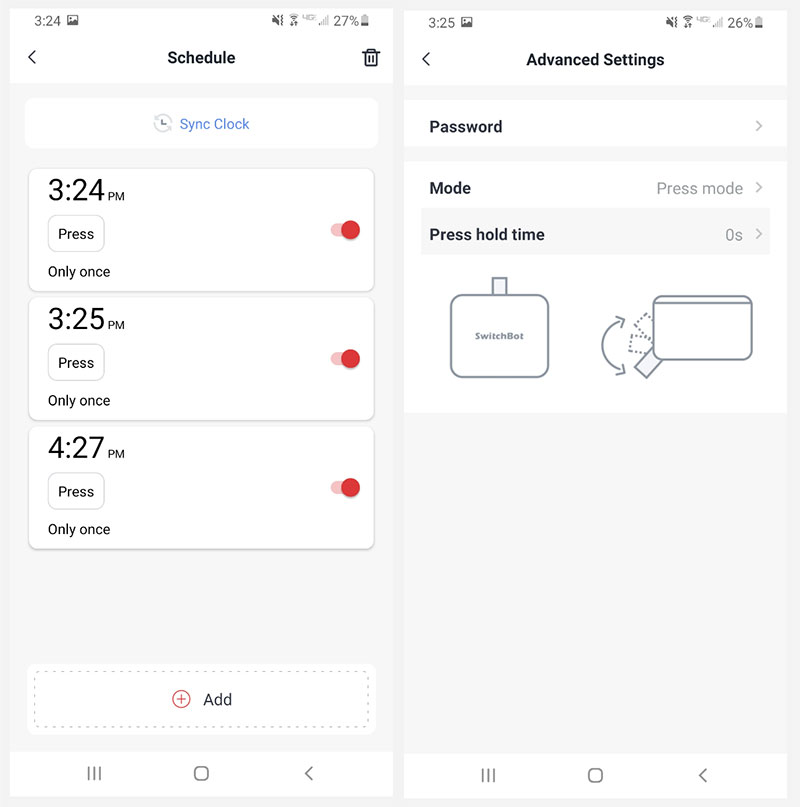 Before you go any further, make sure to drag the Bot into the box that says "Home." If you don't do that, any settings you change won't be saved. You only have to do this one time. From then on, when you pair any particular Bot unit, it will already be part of your home.
Once that's done, you'll be able to set a schedule for your switch or button. You can set it for any time of day you want, as many times as you want, on any day of the week. In button mode, the flapper will move down every time it's programmed to activate. In switch mode, it will alternate between moving down and moving up. As a result, you can have complete control over just about any button or switch.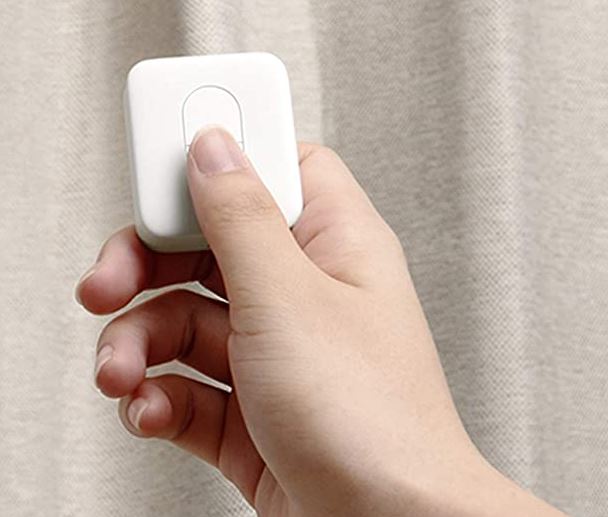 As an alternative method, you can order the add-on infrared remote. The remote is a simple handheld plastic device, with two buttons. One will move the flapper down, and the other will move the flapper up. This remote works via infrared, which means it works via line-of-sight only. Even so, it's a great tool to keep on your nightstand or kitchen counter.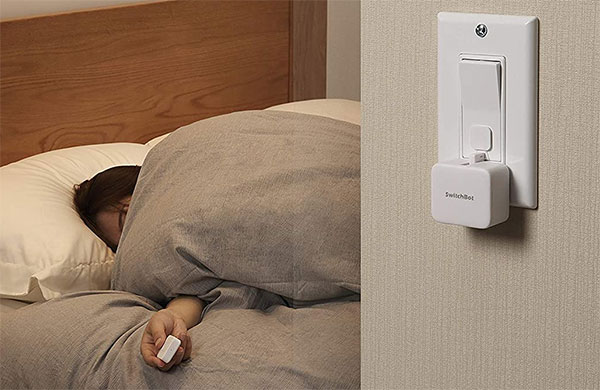 As an added bonus, the remote is compatible with the SwitchBot Curtain. This is a device that mounts on your curtain rods, and opens and closes them on a schedule. And like the Bot, it can be programmed and scheduled via an app. It goes without saying that these two devices make an excellent pair.
The SwitchBot Bot is battery-powered, with a robust internal battery. SwitchBot advertises a 600-day battery life, but that's an approximation. The actual battery life is going to depend on how often the switch is activated. The busier it is, the faster it's going to chew through its reserves. Conversely, it can last a very long time if it's only used occasionally.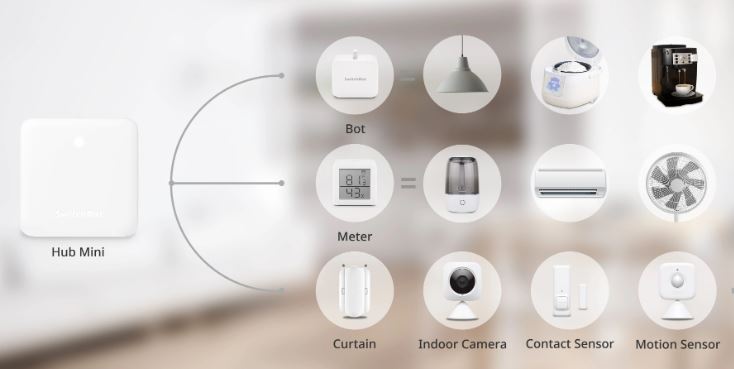 SwitchBot Hub Mini
So far, we've talked about the things you can do with the app from inside your house. This allows you to run your devices on a schedule, but that's about it. To unlock the SwitchBot Bot's full potential, you'll want to use the optional SwitchBot Hub Mini, which is sold separately.
This hub connects to the internet via WiFi, and then to your Bot via Bluetooth. When everything is paired up, you can log into the app and control you devices from anywhere in the world. For example, if you have a motorized pet feeder, you can feed your pet manually from your favorite vacation spot.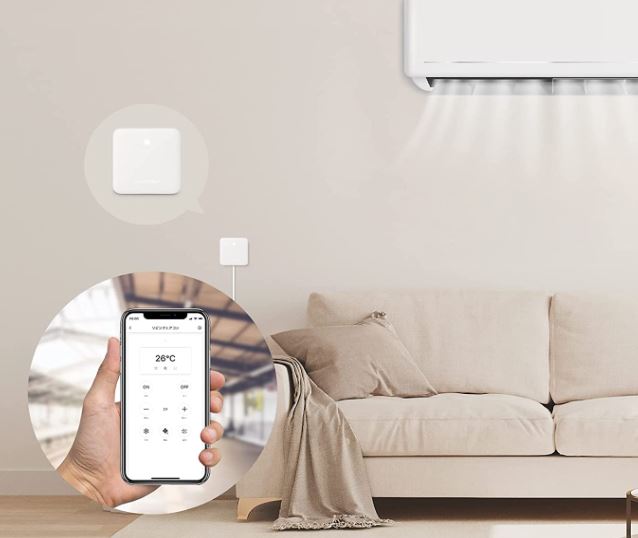 By using the hub, you also get to take advantage of a number of features that require a WiFi connection. The feature most people would use most often will be the voice commands. When you're connected to the internet, you'll be able to use Alexa, Siri, and Google Assistant. Just tell Siri to turn on your espresso machine, or tell Google Assistant you want to turn on the lights.
With if this then that (IFTT) support, you can get even more out of the Bot. This is a little bit more advanced, but you can set the switch to activate based on all kinds of conditions. For example, let's say you want to trigger a light with a light sensor, but the light isn't designed for that. You can set the Bot over the switch, and set up a WiFi-connected light sensor. You could then use some IFTT commands to pair the sensor with the Bot. Then, you could activate the switch based on information from the sensor.
If you're installing a brand new light switch, you may want one that's already made for Wifi controls. The EcoBee Switch+ is a paddle-style light switch that has a built-in speaker and LED light. It also has a companion app that allows you to set up a timer or activate it remotely.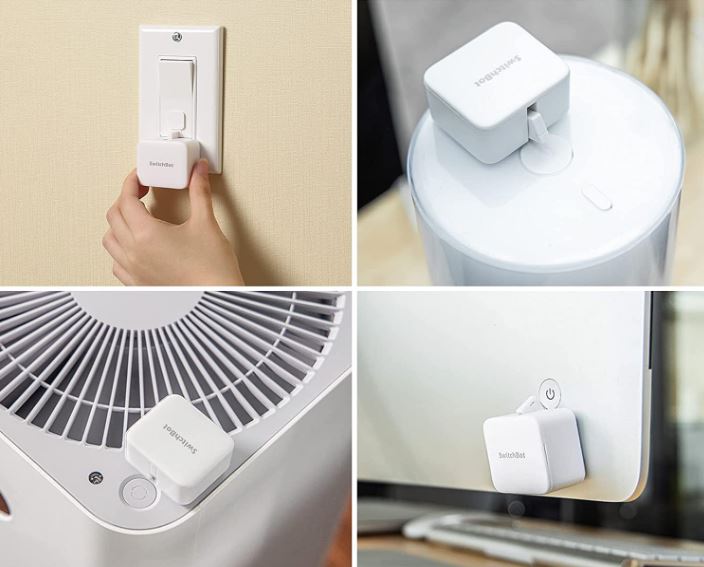 Final Verdict
The SwitchBot Bot is a unique little device that's used to control other devices. If you need to press a button or flip a switch remotely, it's the right tool for the job. It's relatively easy to set up, as long as you fully understand how it works.
The app is free and easy to download, and the Bluetooth pairing is straightforward. With the remote and the hub mini, you get even more functionality. Not only can you set a timer, but you can take advantage of voice controls and more. That's a lot of upside with no significant drawbacks.