Shellbot SL60
Pros
Powerful suction and mopping performance.
Long-lasting battery.
Maps up to five floor plans.
Advanced mapping functions.
Avoids obstacles with ease.
Cons
Relatively thick design.
Small dust hopper/water tank.
Somewhat expensive.
If you're like most people, it can be tough to keep track of all the latest technology. There are so many new gadgets on the market each year that it can be impossible to keep up. Instead, our attention tends to be occupied by the most hyped-up devices.
Take new game consoles, for instance. If you're a gamer, you might be able to list your system's specs off the top of your head. It's not hard to understand why this is the case. We all have limited time and attention, so we tend to focus on the most exciting things. At the same time, things like robot vacuums can slip to the cracks.
But when it comes time to actually buy one, it's important to evaluate your options. This is especially true if you haven't purchased a robot vacuum in a while. Old-school robot vacuums, like the original Roomba, were basically toys compared to modern offerings.
Since the early 2000s, some things have changed. For one thing, the software has gotten a lot more advanced. Instead of randomly wandering around, a modern robot vacuum should move in an efficient pattern. Not only that, but small electric motors have gotten more powerful, and modern batteries last longer. So today's vacuums are smarter, stronger, and longer-lasting.
Shellbot SL60
We're about to review the Shellbot SL60 LiDAR Robot Vacuum and Mop Combo. This is a dual-function vacuum and mop that can clean carpets and solid floors alike. It has powerful mapping software, and an easy-to-use app. But these are just some of the things we'll need to think about.
For one thing, we'll have to talk about the physical design and construction. For another thing, we'll need to discuss the motor power, as well as the potential battery life. And of course, we'll have to talk about the mapping and scheduling functions. When we've considered all of these factors, we'll be able to make a fair judgement. Let's get started!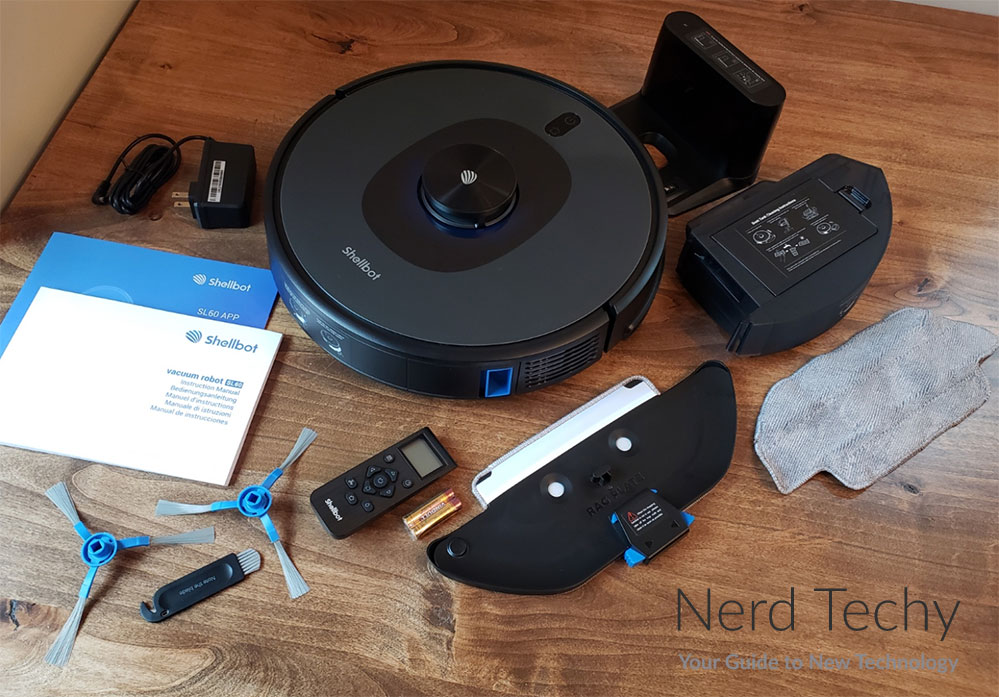 Overall Design
Like most robotic vacuums, the Shellbot SL60 has a round, disc-shaped profile. The housing is molded from a matte black plastic, which doesn't collect fingerprints or dust. It's fairly wide, with a diameter of 13.78 inches. As a result, it can cover a reasonably wide strip at a single pass. That said, the housing is also fairly thick, at 3.72 inches. A lot of this is due to the small LiDAR sensor tower at the top center. Regardless, you won't be able to fit under a lot of furniture. Many people prefer a slimmer profile that can fit under sofas and in other awkward spaces.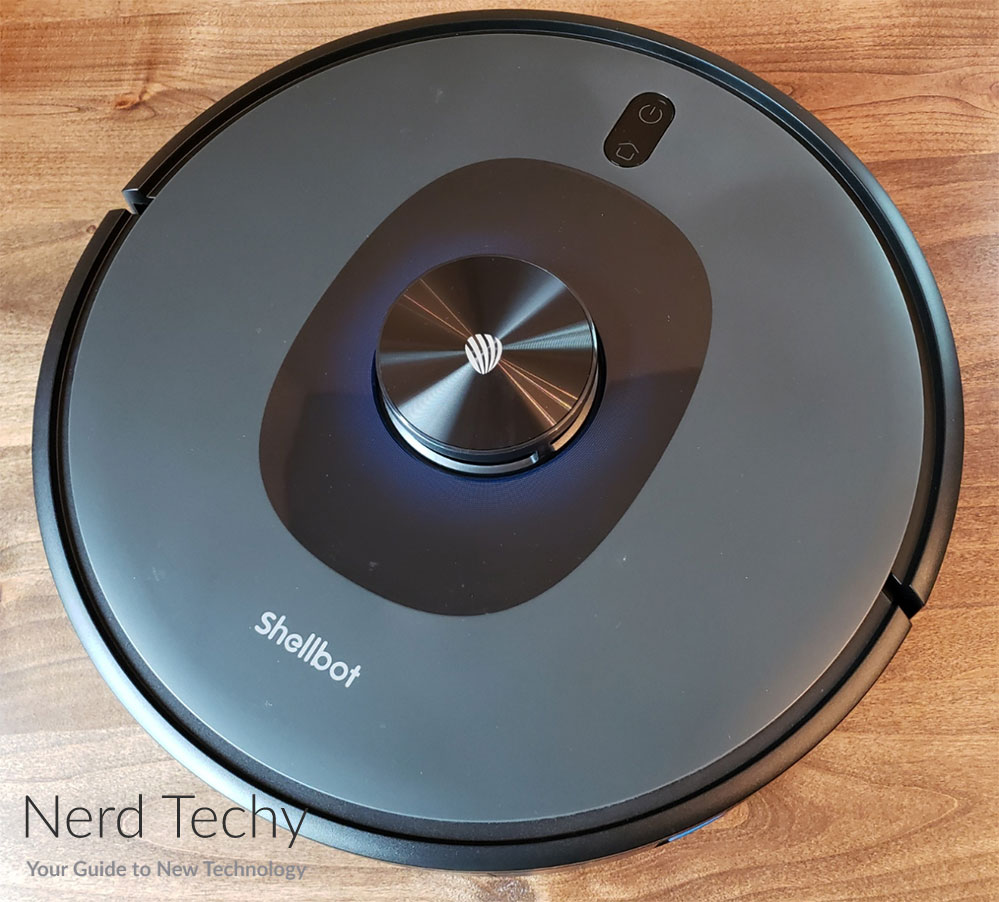 The top of the housing is smooth, except for the sensor tower we already mentioned. The word "Shellbot" is printed in white towards the back, with a white shell logo on top of the sensor. At the front, you'll see a pair of buttons: one with a power symbol, and another with a home symbol. The power button will initiate a cleaning cycle, while the home button returns the vacuum to its base.
There are additional controls on the handheld remote. Using the rubber buttons, you can adjust the motor strength or mopping water level, among other things. For even more functionality, you can use the smartphone app, which we'll discuss more later on.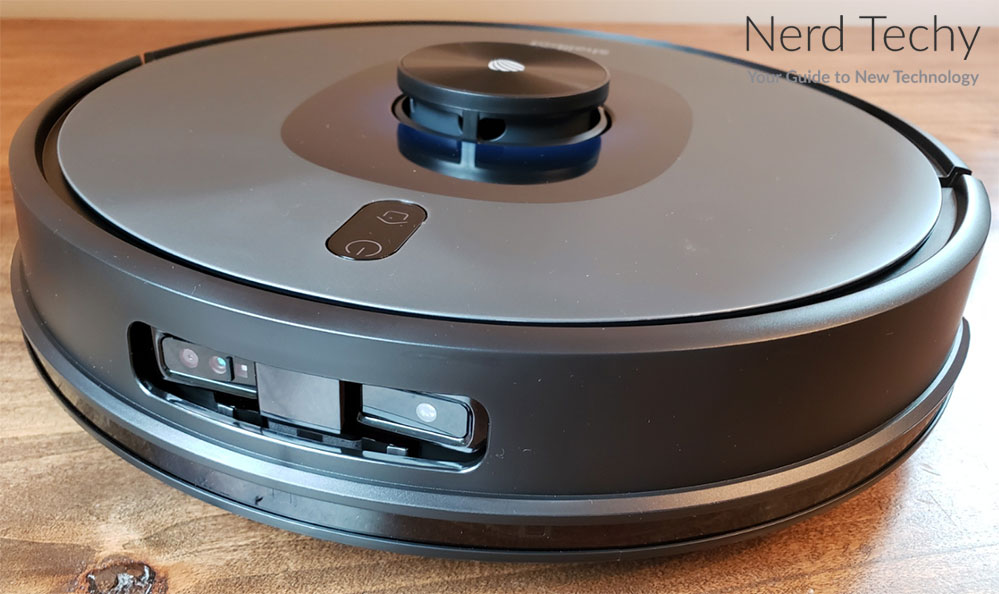 The sides of the housing are bulked out slightly by bumper strip. This strip isn't necessary to protect your furniture – the vacuum will avoid furniture with ease. However, it can help protect the vacuum itself in the event that you accidentally kick it. At the back, there's a translucent window where you can actually see through into an internal compartment. Depending on the configuration, this will be the vacuum dust hopper or the mopping water reservoir.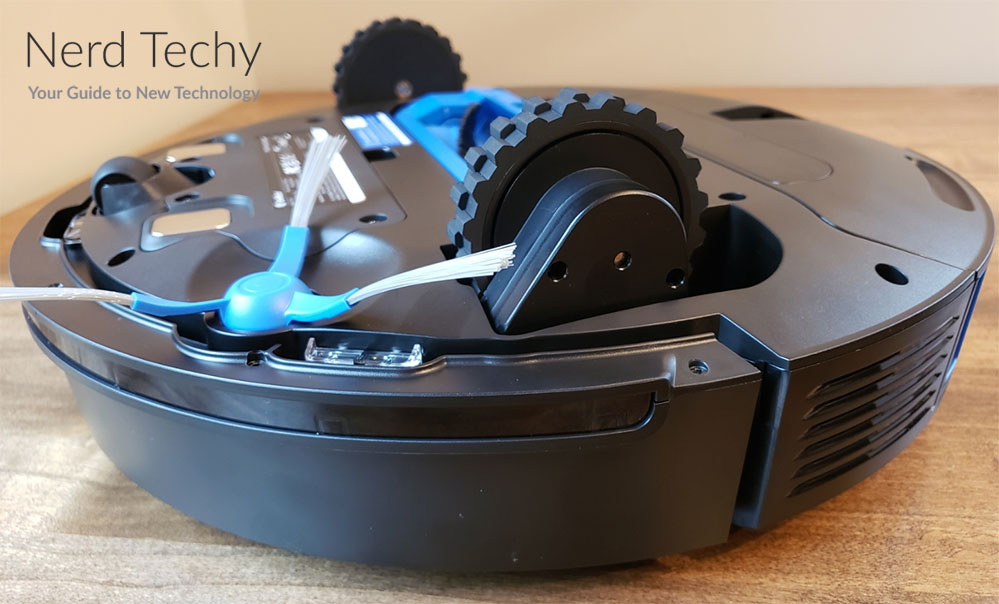 The rest of the notable physical features are located on the bottom. At the very front, there's a small motorized wheel, which can swivel to point in any direction. This is used to steer the vacuum. To the right of this, there's a wide horizontal brush. This brush is designed to improve the vacuum's performance on solid flooring. It sweeps dirt in from the side towards the main brush, so you get better cleaning efficiency. There's even an extra side brush included in the package, for when it inevitably wears out.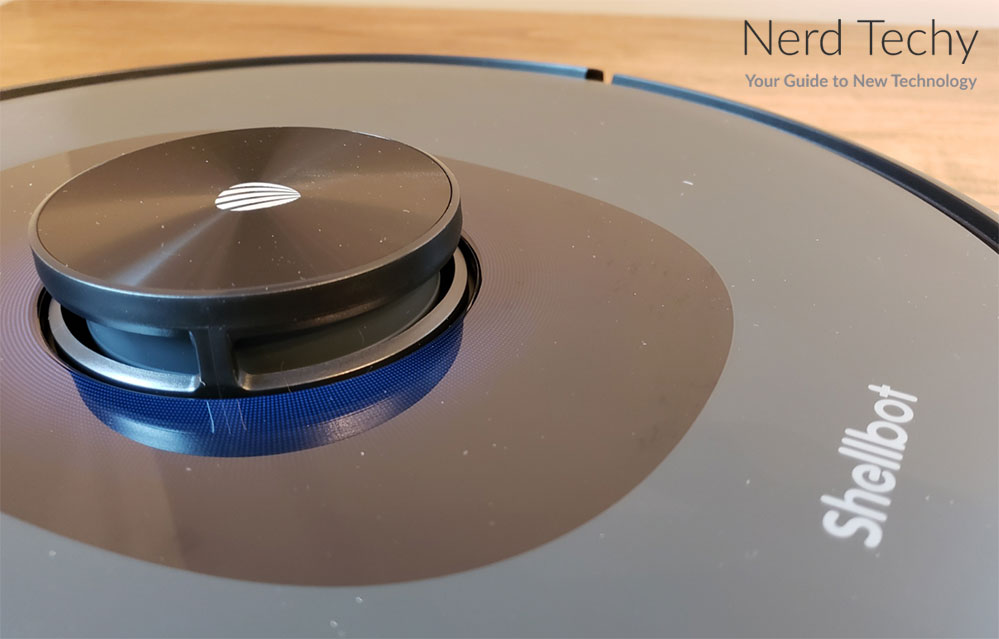 At the center of the housing, you'll see the main roller brush. This brush is spiral-shaped, with long bristles that can reach down into deep pile carpets. To the sides, there's a pair of large plastic wheels with thick, hard treads. These are the main drive wheels that propel the vacuum around. They're capable of crossing most floor transitions, at a height of up to 0.71-inch. However, the Shellbot SL60 will struggle with ¾-inch and larger transitions. The mopping pad trails behind at the back of the housing, assuming you're using it in mopping mode.
Inside the package, you'll also find a charging station. This station is made from a similar black plastic to the main housing, and sits close against your wall. At the front, there's a little platform with the charging contacts, where your vacuum sits to charge. Plug it into a nearby power outlet, and it's ready to get to work.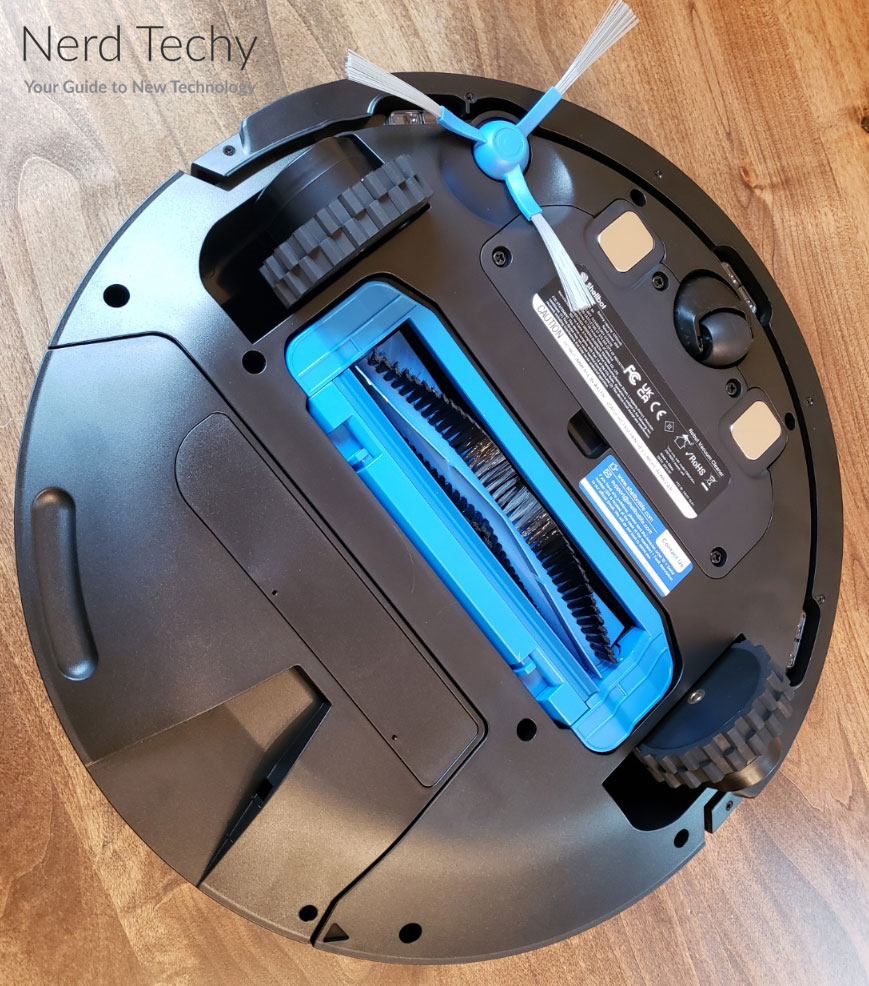 Vacuum Performance
The Shellbot SL60 works in two distinct modes: a vacuum mode and a mopping mode. For this reason, the dust collector has a modular design. The hopper pops out, and a water reservoir and mopping pad pop easily into its place. This allows you to switch between modes in less than a minute. It's very convenient, but unfortunately, the hopper and reservoir are both fairly small. If you have a pet that sheds a lot, you'll find yourself emptying it frequently.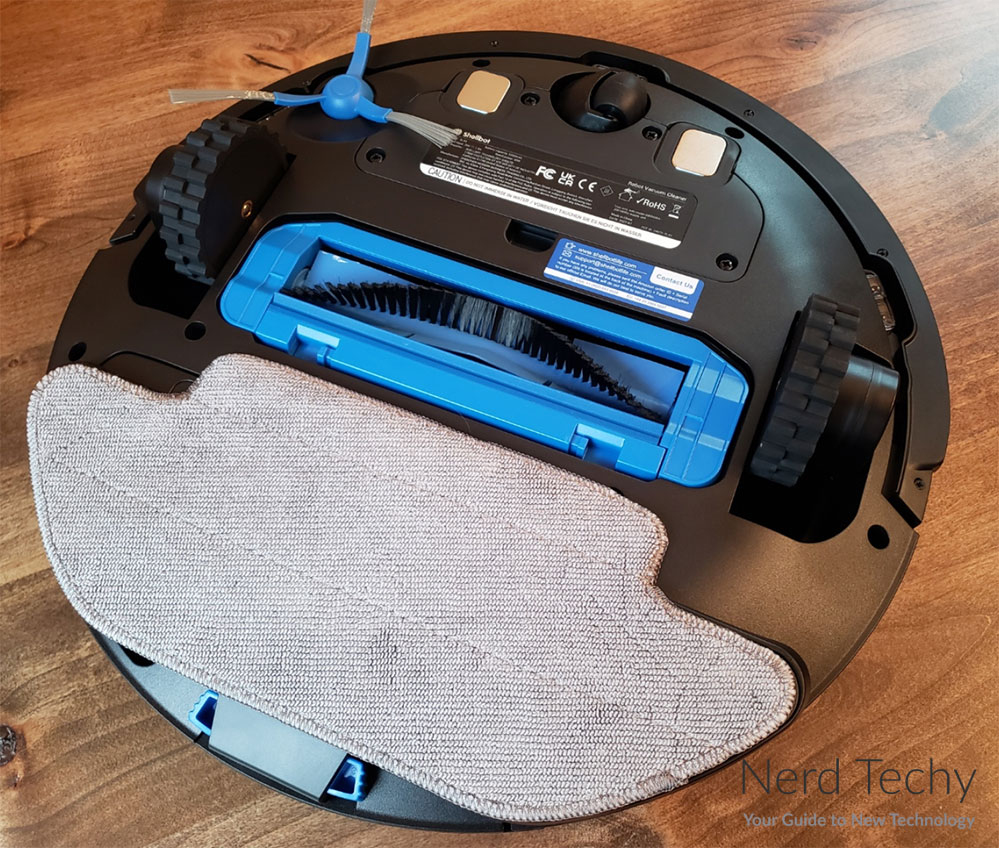 In that case, you might want to consider a robot vacuum with more capacity. The Trifo Ollie is an excellent example. It has a large, 600ml hopper, which you can access conveniently through a panel on the top. It also spots a built-in air purifier, but the design is fairly fat, a lot like the Shellbot's.
In vacuuming mode, the LiDAR vacuum has four power settings. It can be set to 800, 1,600, 3,000, or 4,000 Pascals (Pa). These days, a typical robot vacuum will provide around 2,500-3,000Pa of suction. So you're looking at a decent amount of power, enough to clean almost any mess.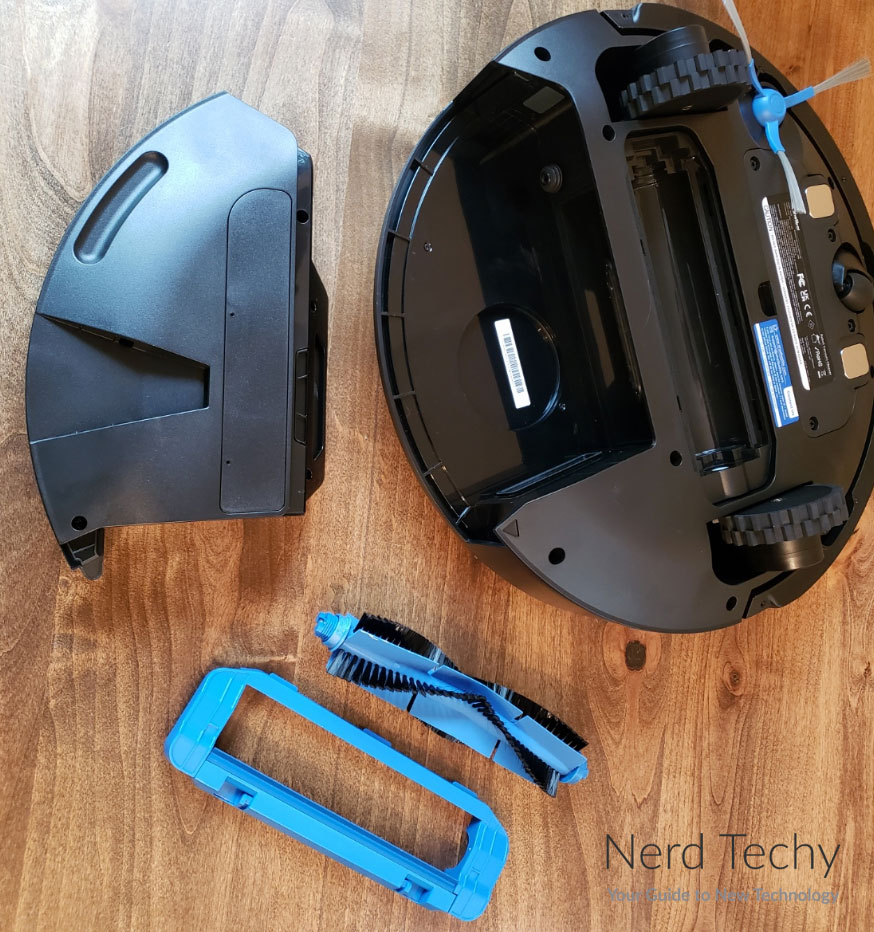 You can also clean deep pile carpets, which a lot of robot vacuums can't handle. Along the same lines, there are three water spraying levels for the mopping mode. The more water you use, the more effective the mop pad will be. On the other hand, more water also means exhausting your water reservoir more quickly.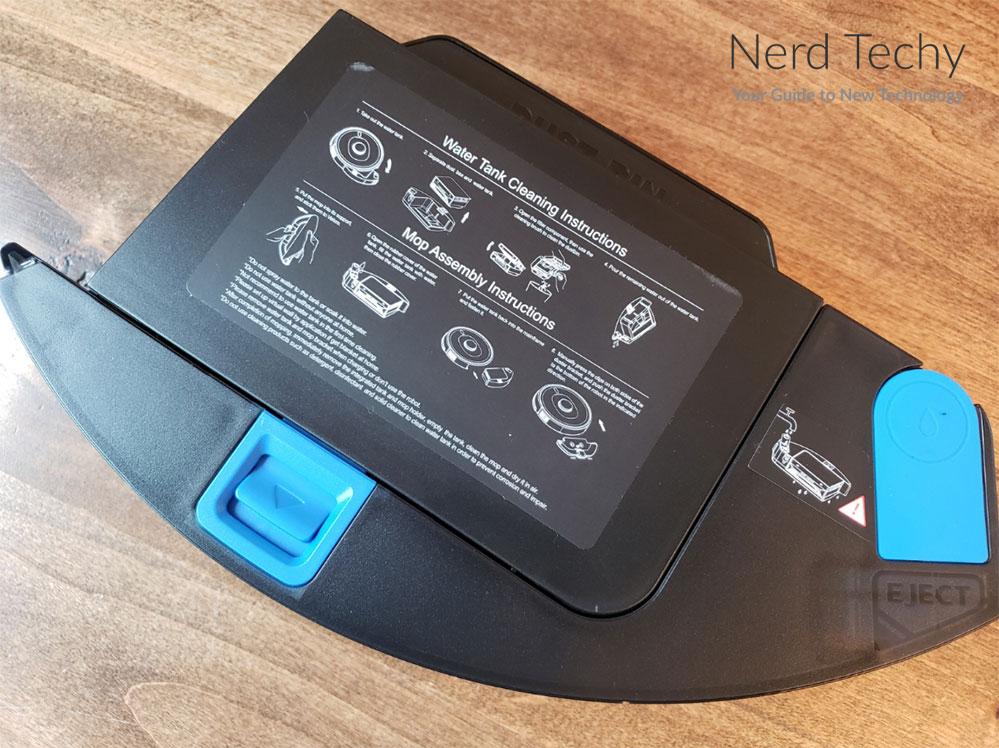 The internal rechargeable battery has a capacity of 5,200mAh. This is enough for a little over three hours of continuous use. In practice, a lot depends on your power setting. If you're constantly running the vacuum at maximum suction, you'll get considerably shorter battery life.
Conversely, you'll get better performance if you're just cleaning solid floors on the lowest power setting. Either way, you don't have to worry about your cleaning cycle cutting off prematurely. When the battery is low, the Shellbot vacuum will automatically return to base. After it's recharged, it will pick up right where it left off in the cleaning process.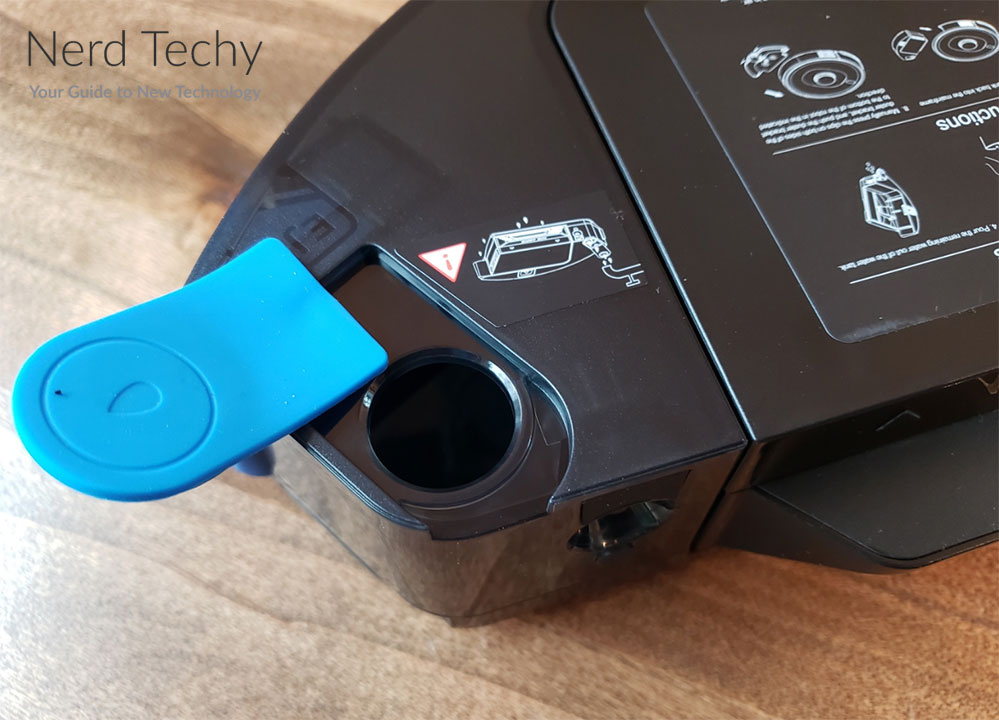 With all of this being said, there are situations where you might want a more powerful vacuum. In that case, check out the Dreametech P10 Pro. It provides up to 22,000Pa of suction, which is exceptional for a battery-powered vacuum. It also comes with several useful attachments, but it's not robotic; you have to use it by hand.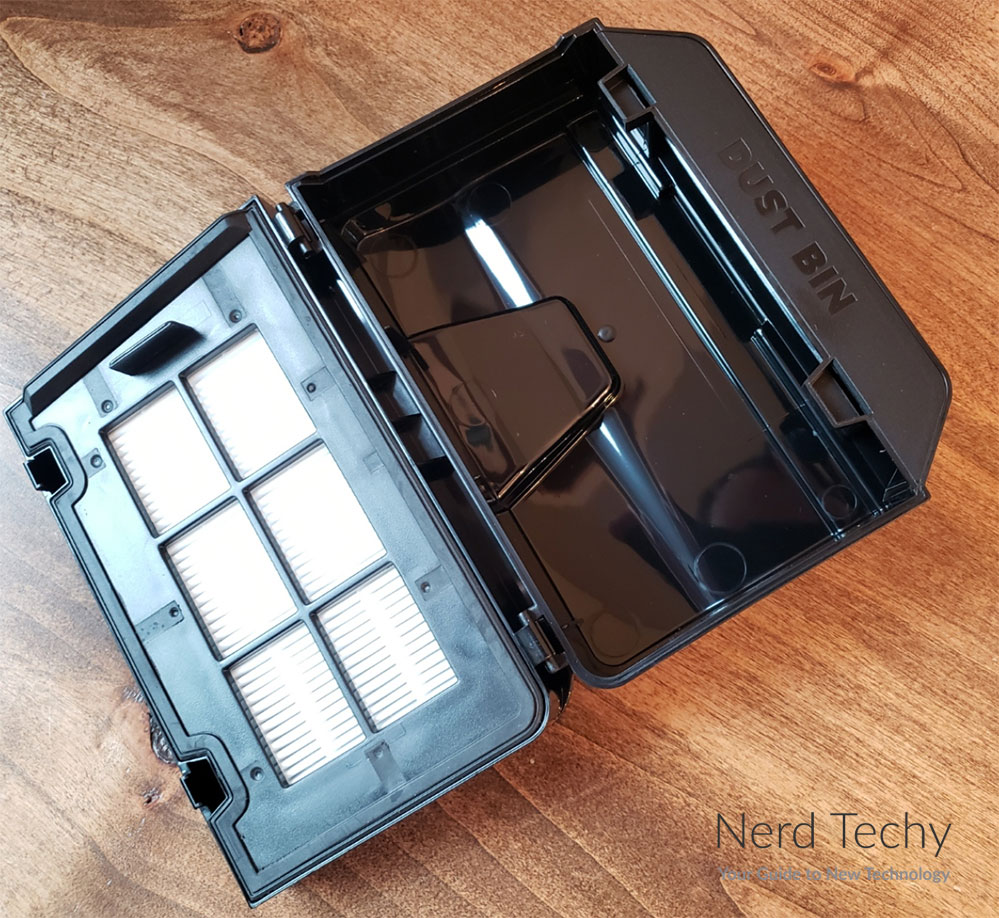 Setup and Everyday Use
To use the Shellbot SL60, you'll first have to get it acquainted with your house. Set it in the charging station, and let it fully charge. Next, hit the power button, and let it get to work. It will seem to move erratically at first, while it maps out your floor plan. Once it has a good map, it will move in an efficient pattern. From there on out, that's all you'll need to do to run a regular cleaning cycle.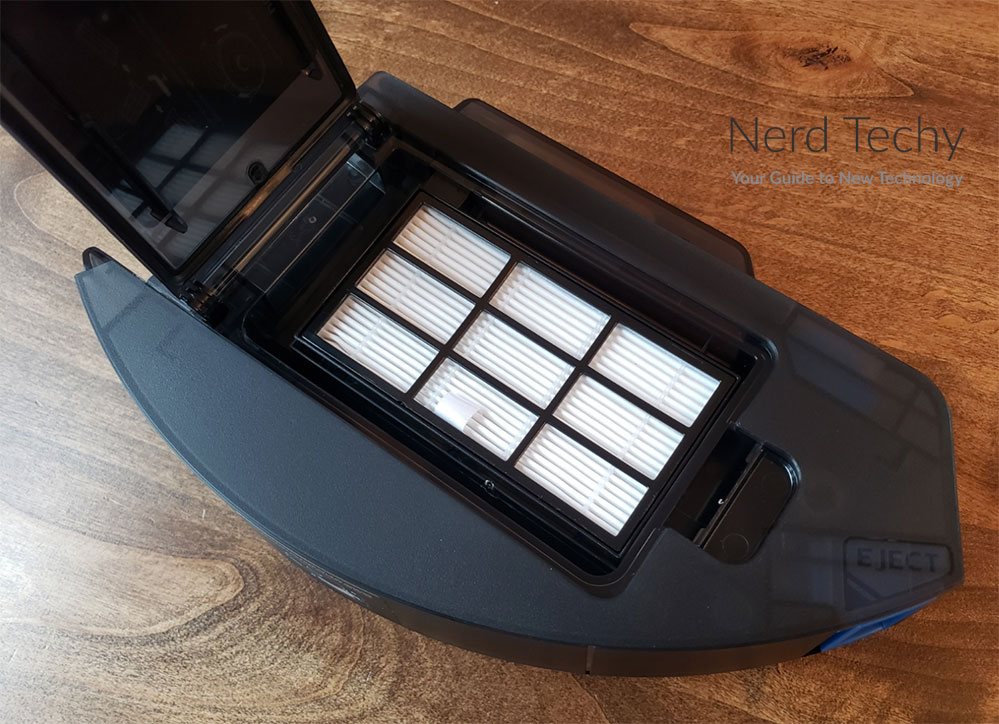 Of course, you'll get significantly more out of this vacuum if you use the companion app. The app is free to download, and sets up in just a few minutes. Within the app, you'll be able to take advantage of advanced controls. You'll also be able to take advantage of over-the-air firmware updates for the vacuum. If Shellbot makes any improvements in the future, you'll get the full benefit.
The Shellbot's app can remember up to five different floor plans. If you want to clean multiple floors or multiple homes, you'll be able to. Just make sure to switch plans in the app when you move the vacuum. Inside of a map, you can schedule cleaning cycles, either for the whole floor plan or for specific rooms.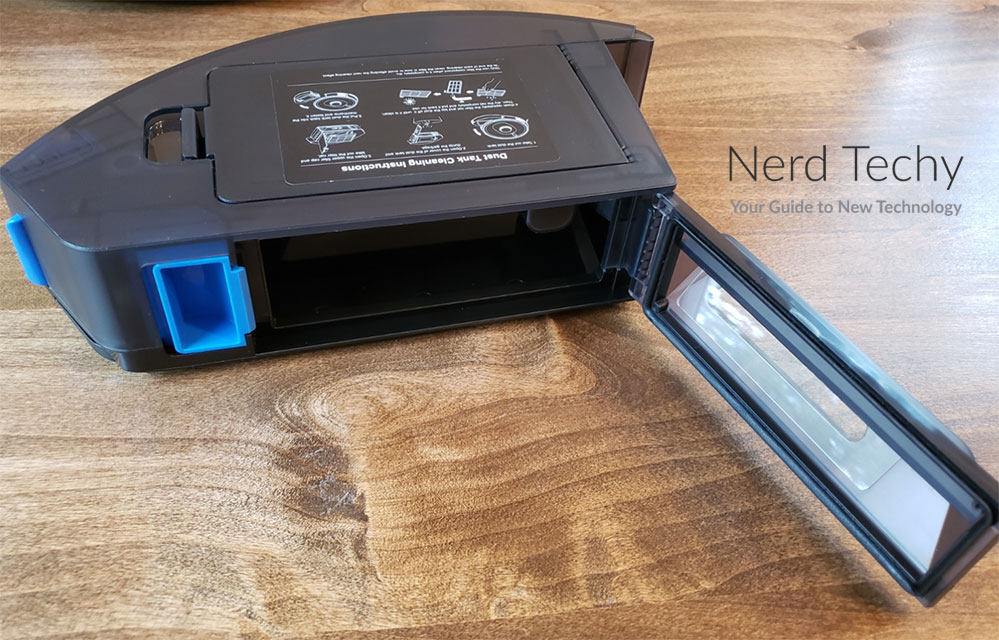 You can designate no-go zones to avoid floor mats and other similar obstacles. You can even specify no-mop zones for carpets. These will remain dry during a mop cycle, but will still be covered when you're vacuuming. If that's not enough, you can set up voice controls through Alexa or Google Assistant. That way, you can run a cleaning cycle or change your settings with simple voice commands.
One thing the SL60 won't do is empty itself. If that's what you want, take a look at the Yeedi Vac 2 Pro. It's compatible with Yeedi's self-emptying base station, and it boasts an ultra-quiet motor. Then again, it doesn't offer as much suction as the Shellbot.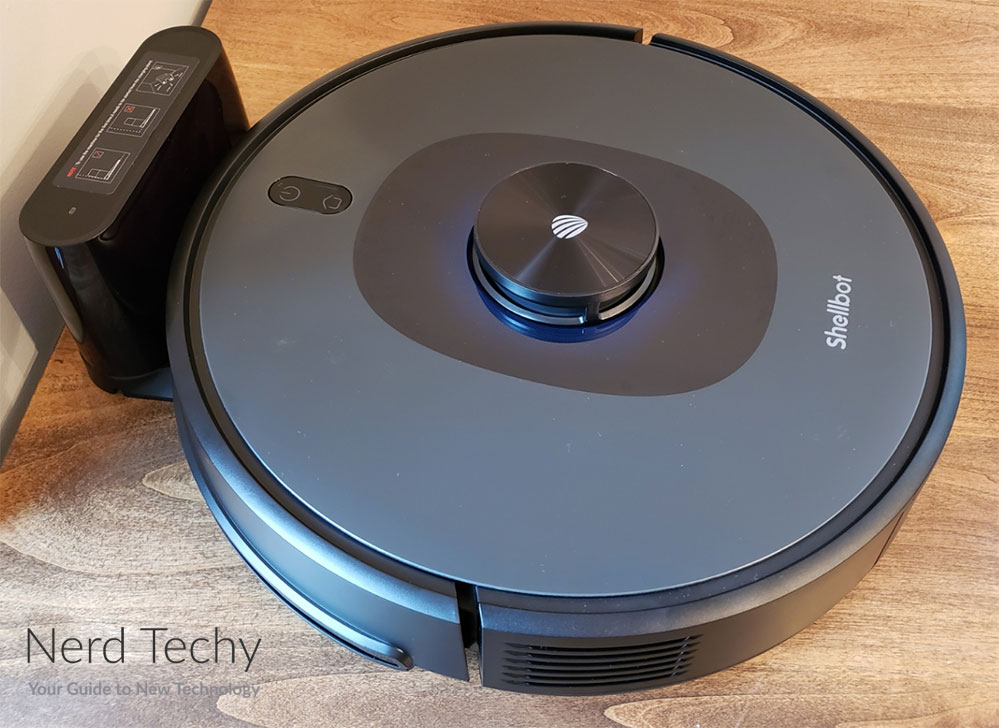 Final Verdict
The Shellbot SL60 LiDAR Robot Vacuum and Mop Combo is a versatile little cleaning device. The mapping features offer lots of flexibility for cleaning any type of floor plan. Meanwhile, a physical remote makes operation simple for those who prefer not to use an app. And with 4,000Pa of maximum suction and a powerful roller, you can even clean deep pile carpets. All in all, it's tough to go wrong with this robot vac.