AllJoy G1 Eye Massager
Pros
Multiple easy-to-use massage modes.
Combines heat, vibration, pressure, and music.
Long-lasting battery with quick re-charge times.
Portable, collapsible design.
Carrying pouch included.
Cons
Only useful for your eyes and forehead.
Only available in a white color scheme.
At first glance, today's average office worker has one of the healthiest workplaces in history. Sure, you're not getting exercise, like someone who's doing manual labor. But you're also not exposed to many workplace hazards. There are no forklifts zooming around your cubicle, and your risk of serious injury is near-zero.
But under the surface, the modern workplace isn't all it's cracked up to be. For one thing, you can develop repetitive stress injury from sitting in one position all day. You can end up with injuries like carpal tunnel syndrome and other chronic pain. For another thing, you're likely staring at a screen all day.
Screens are wonderful things. They're a portal to all of our software, and our literal window to the internet. But human eyes aren't made to be staring at the same focal distance all the time. In the real world, our eyes have to constantly switch between focusing on objects at different distances.
Our eyes are also meant to be moving around, not fixed in place for long periods. The combination of these factors works on your eyes just as sitting in a chair works on your body. All of those little muscles become stiff, and they don't work as well. At the end of the day, you can have a major headache just from staring at your monitor.
AllJoy Eye Massager G1
That's why we decided to review the AllJoy Eye Massager G1. This is a wearable device that's designed to gently massage the area around your eyes. It helps relieve the stress from office work, as well as providing more general relief.
For example, it can be used to treat many tension headaches, and even to help manage migraines. But is it really worth your time and investment? To answer that question, we'll have to take a much closer look at how this little machine functions. We'll talk about the design and engineering, and how comfortable it is to wear. We'll discuss the battery life, and dig into any bonus features it offers. And of course, we'll take a long, hard look at the massage function and controls. Let's get started, and see what we learn!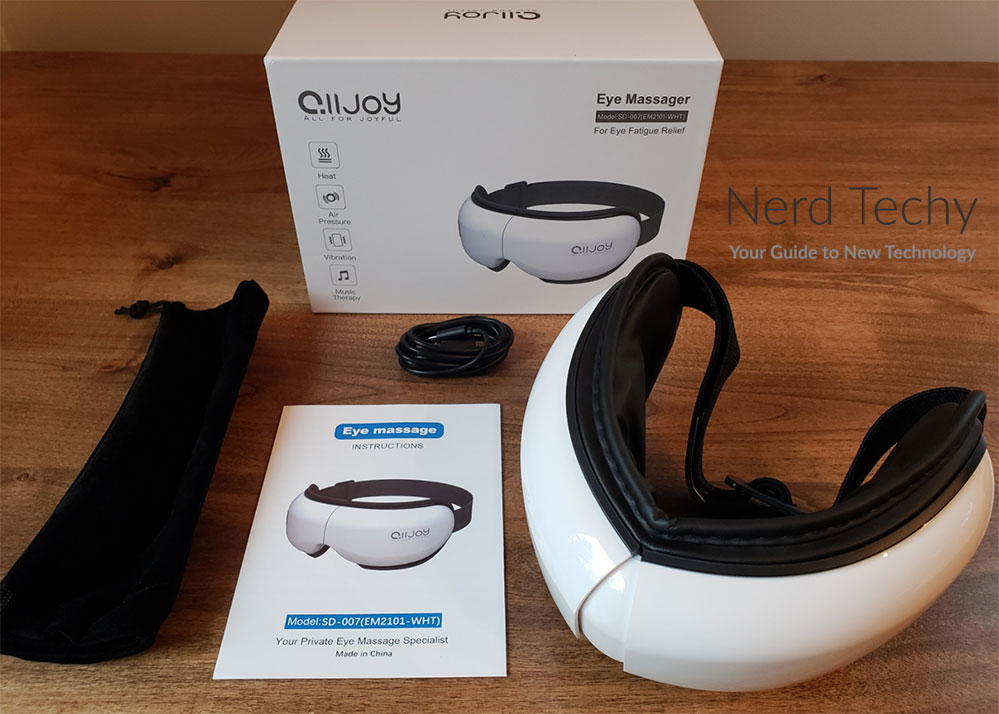 Overall Design
At first glance, the AllJoy Eye Massager G1 looks like a virtual reality headset. The outer shell is made from white plastic, with an attractive glossy finish and a high-tech vibe. It's shaped like fat sunglasses, with large side panels over each eye, and a smaller panel over your nose. The entire surface is rounded and smooth, so there aren't any sharp edges to catch your fingers. In total, it's just under eight inches wide, about 5 ½ inches high, and a bit over 4 inches thick.
This thickness doesn't just encompass the outer plastic shell. It also includes the nylon faux leather padding on the inside. This padding is thick and forgiving, and extends beyond the edge of the plastic. As a result, none of the plastic will ever be digging into your face.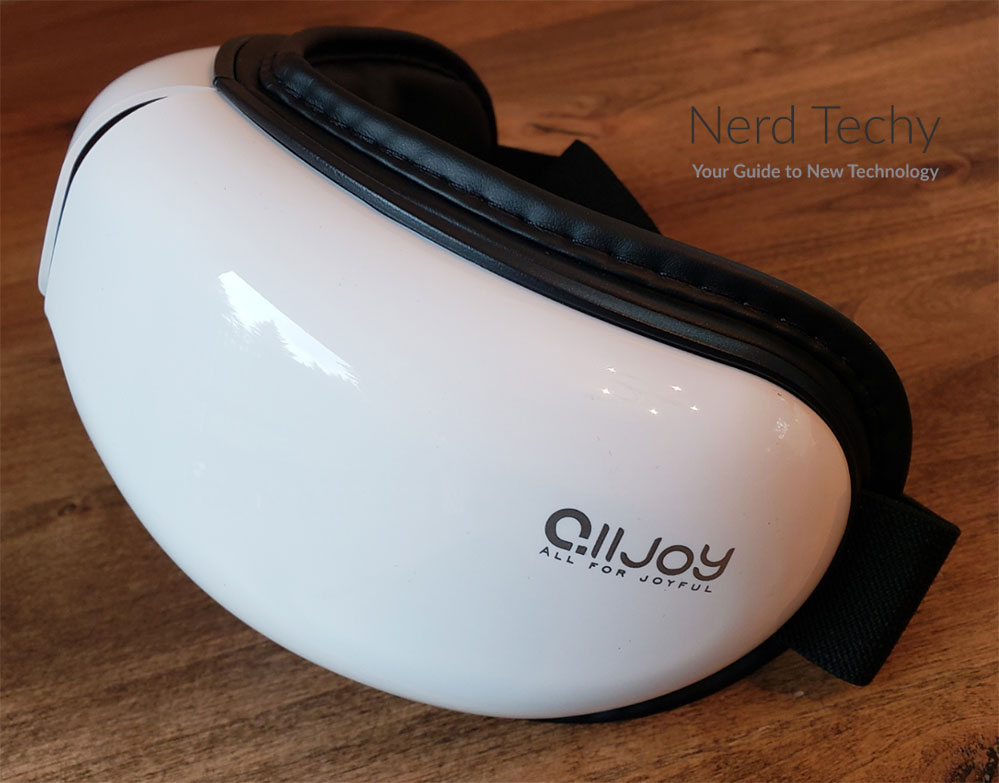 Meanwhile, the material is both breathable and easy to wipe down. You don't have to worry about sweat, stains, and other grime. Meanwhile, the fit is more or less universal. The nylon strap sports a little plastic clip that can be used to adjust the size to fit almost any head. And at only 7.05 ounces, the entire massager weighs less than your average smartphone.
The massager body is hinged at the center, where it crosses over the nose. This has a couple of benefits. To begin with, it allows the massager to flex to conform better to your face. Whether your face is wide or narrow, you'll find that the fit is very comfortable.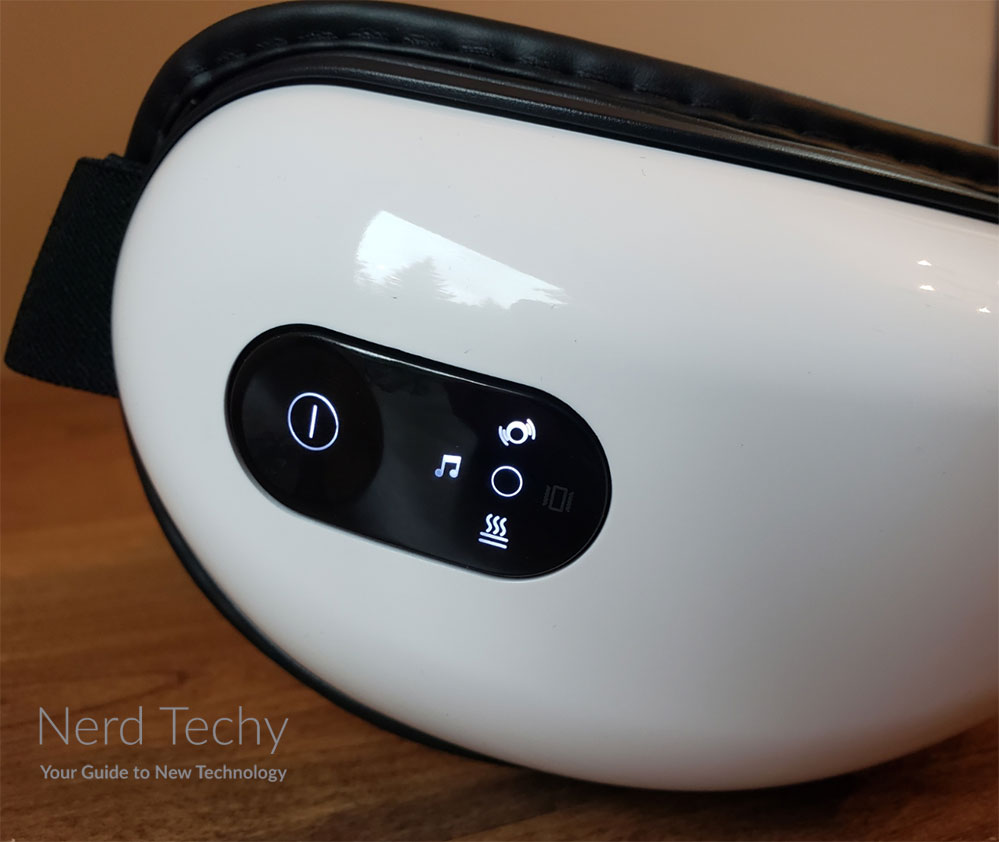 Not only that, but the housing can be folded completely in half. This makes it more portable, so you can pack it in your luggage or take it to the office. That said, AllJoy includes a simple carrying case with a drawstring. It's not padded or overly protective, but offers a safe place to store it while on the go or while it's simply not in use.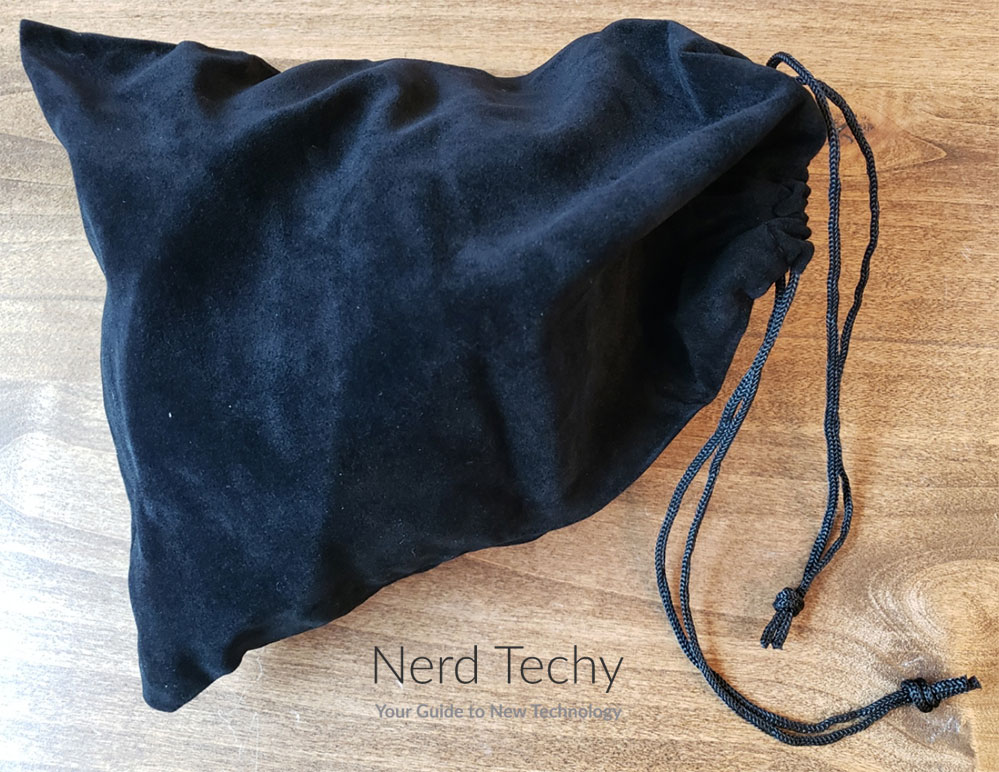 The controls are located on a soft-touch panel over your right eye. The panel is a black oval, and it's recessed, so it's easy to find with your fingers. On one side, there's a large, concave button that turns the power on and off.
On the other side, there are smaller buttons. These control the vibration, music, heat, and air pressure, and allow you to choose from different presets. It can take a few uses to get the hang of which button does what. That's not because they're at all confusing – they're pretty straightforward. It's just the nature of operating buttons when there's a massager covering both your eyes.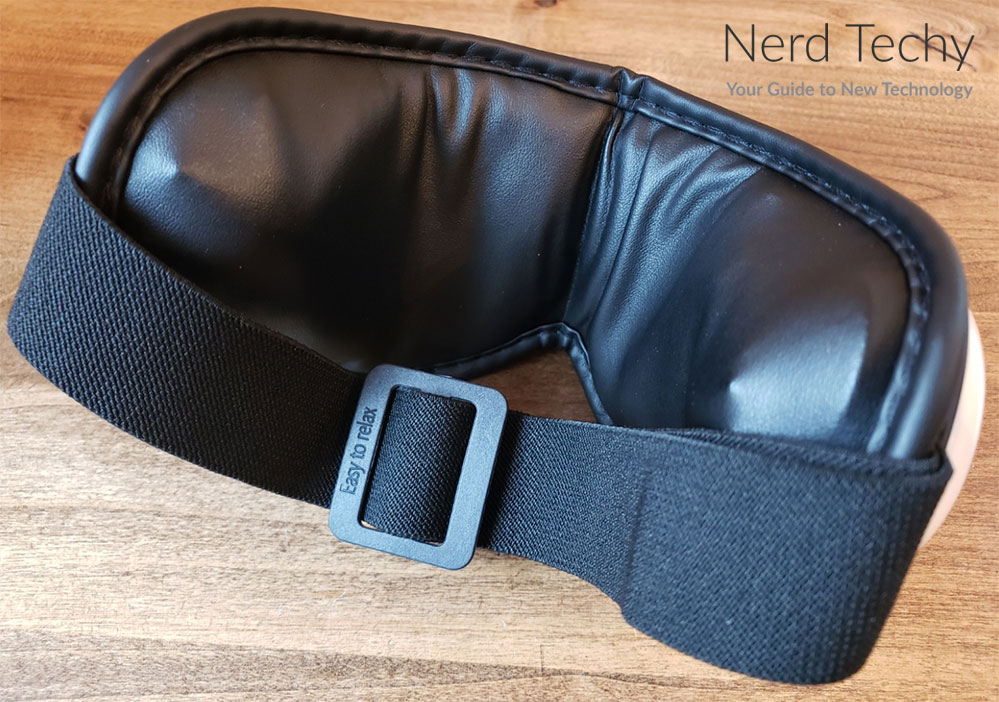 The G1 is covered by AllJoy's 24-month manufacturer's warranty. If there are any manufacturer's defects, you'll be fully protected. Depending on the situation, you'll either receive a refund or a free replacement massager.
As cool as this massager is, you may want to consider more than one option. In that case, check out our review of the Bob and Brad Eye Massager. It's similar in many respects, but with some important differences. For example, the padding is thicker and heavier, and there are two layers. But it's also relatively loud.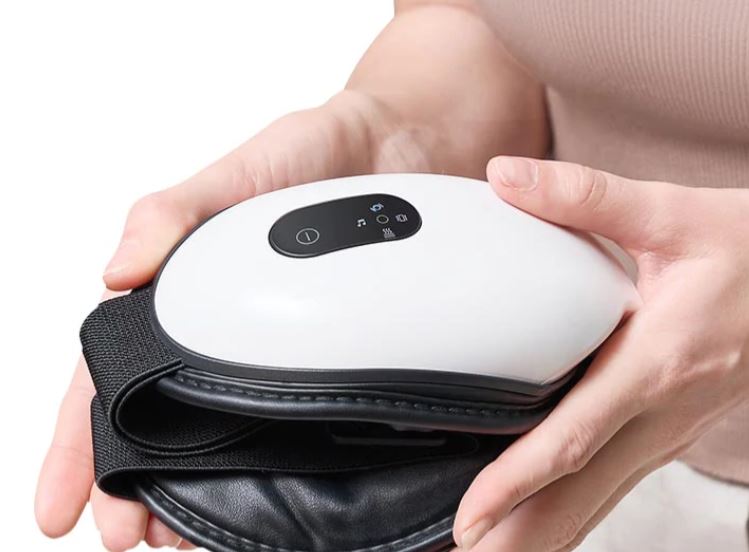 Battery and Extras
Like any electronic device, the AllJoy Eye Massager G1 requires a source of power. The internal battery has enough capacity to run for up to an hour and 45 minutes per charge. This is more of a rough approximation than a hard and fast rule.
As we'll see, there are many different settings you can use, and these will affect the battery life. The more features you're using, the faster your battery will drain. On the other hand, if you're only using a single function, such as the air massage, it will last longer. It all depends on exactly how you're using it. A more general rule is that you can use it around five to seven times between charges.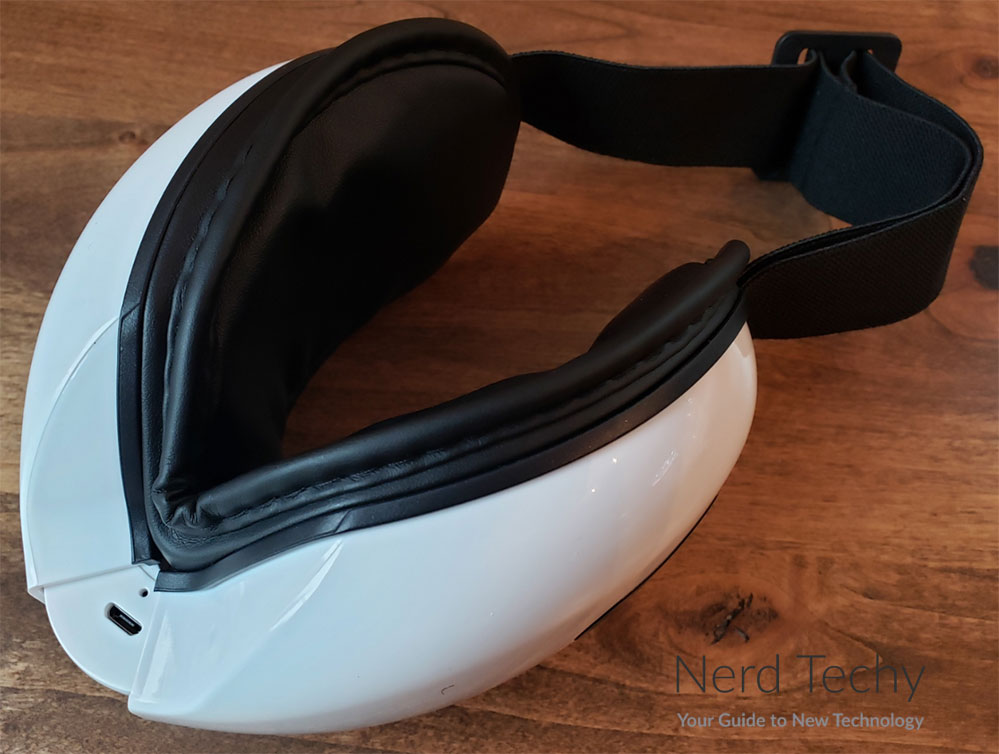 When it comes time to charge the battery, it's easy to do. There's a USB cable included in the kit, and you can charge it from any USB power source. A dead battery will fully charge in around two hours, which isn't half bad. Unless you're entirely neglecting it, you shouldn't ever run out of juice altogether.
To help you out even more, AllJoy has designed their massager with a 15-minute auto-shutoff feature. This means it won't run dead if you fall asleep while you're wearing it. Pressing the power button again will start your massage back up right where you left off.
We'll talk about the massage functions in a moment, but there's one bonus feature you might not expect. In addition to working as a massager, the G1 also functions as a stereo Bluetooth speaker. To be fair, it covers your eyes, so you wouldn't use it for listening on a standalone basis.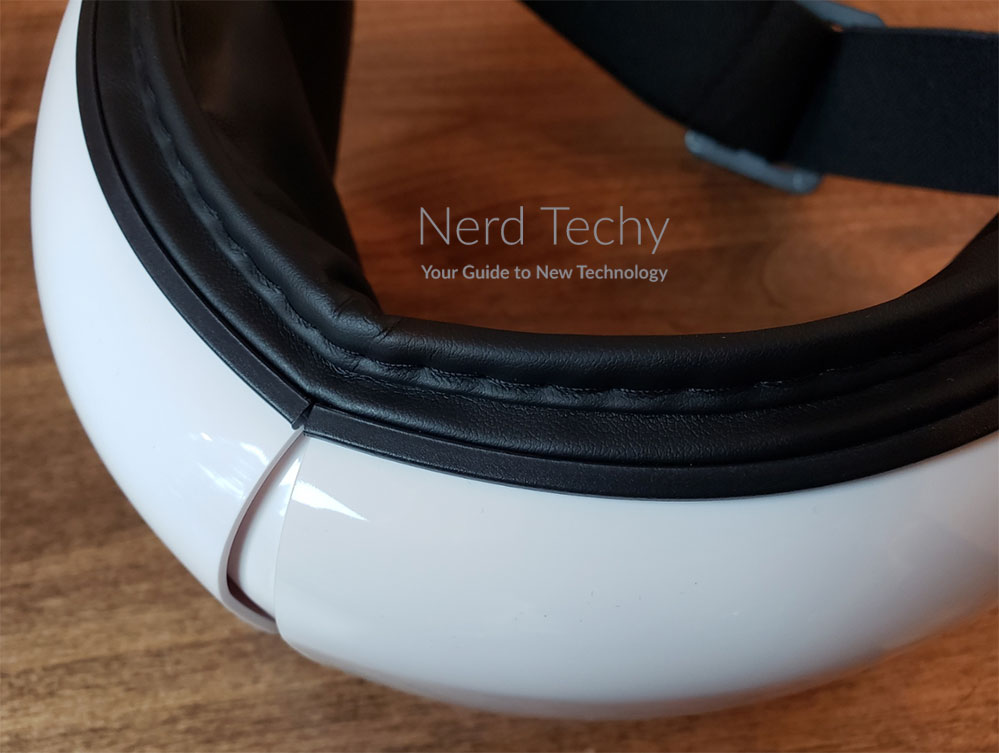 However, some nice soothing music is a great way to accompany a massage. The audio quality is actually surprisingly good. You should limit your expectations here – the speakers are a secondary function, after all. But for pure atmosphere the sound is good enough. The speakers don't rattle or hiss, which is the most important thing for this application. Your pleasant music needs to actually sound pleasant, and it does.
The G1 massager is a useful device for massaging around your eyes and relieving stress. But it's only really useful on that area of the body, and it doesn't provide any healing functions. If you want to break down scar tissue and promote healing anywhere on your body, you need might need a cold laser therapy device.
Control and Use
So far, we've talked a lot about the design and the batteries. But what about the massage function? To begin with, there are not one, but two separate massage functions.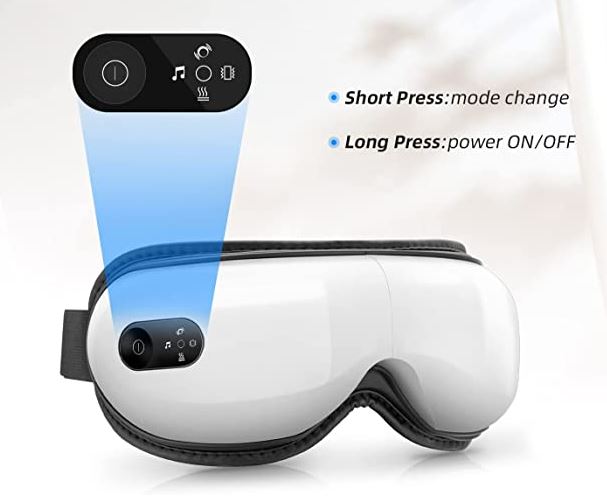 To begin with, there's an air pressure massage. The padding inflates, and applies gentle, soothing pressure to your eyes and the surrounding area. By pressing the button, you can choose between a higher air pressure or a lower one. Along with this, you can activate a vibrating massage function, or leave that off.
Using a separate control, you can activate or deactivate the heater. This heater warms the padding to a consistent 107 degrees Fahrenheit. That's a pleasant temperature that will help you relax your muscles, without becoming unpleasantly warm.
If you don't want to fiddle with all the individual functions, you can choose from five preset modes. First, there's the Relax mode. This provides an air pressure massage, while playing Bluetooth music.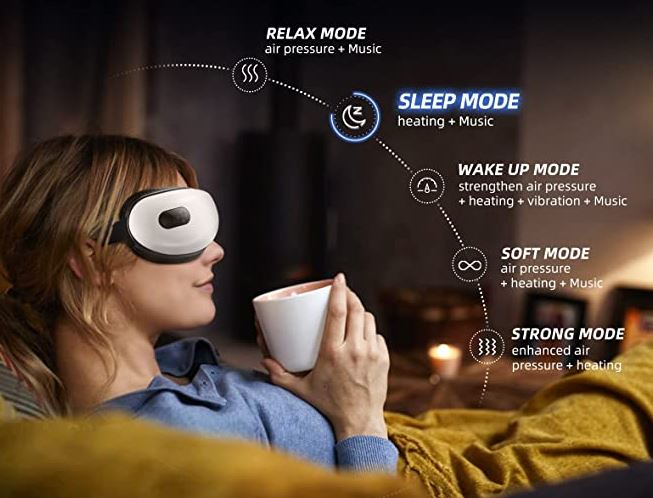 Next, there's the Sleep mode. This turns on the heater and music, without any massage function. Third, there's the opposite of Sleep mode: Wake-up mode. This provides a higher air pressure massage, along with vibration, heat, and music. The Soft mode turns on a lower air pressure, heating, and music. The Strong mode activates a high air pressure and heat.
For the ultimate in relaxation, don't limit yourself to just an eye massager. The Etekcity Smart Foot Massager makes an excellent companion. With twice the massaging power, you'll be able to relax that much faster.
A final word of warning before we wrap up. You shouldn't use any kind of eye massager if you've had eye surgery. If you have cataracts, glaucoma, or certain retinal diseases, it could actually make those things worse. AllJoy has prominent warnings in all of their advertising and documentation. But it's something you should be aware of if you suffer from any of those conditions.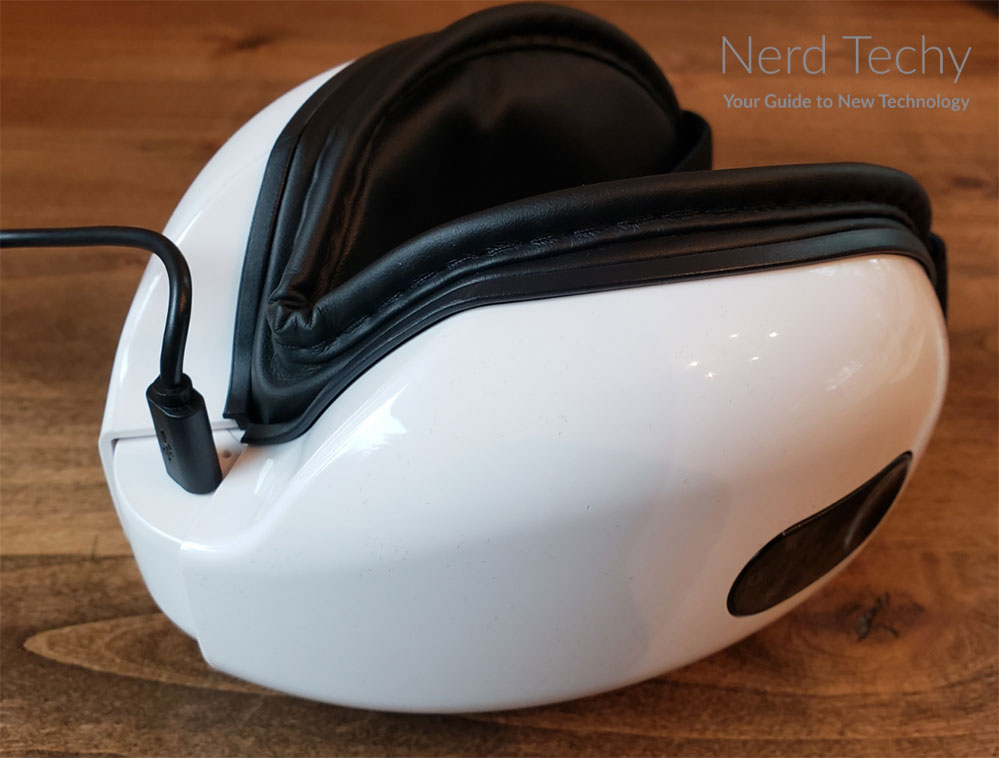 Final Verdict
The AllJoy Eye Massager G1 is a powerful relaxation device for home, the office, or on the go. With multiple massage functions, heating, and music modes, you can customize your massage routine. And with plenty of battery life, you don't have to worry about it running out of juice. It's easy to clean and easy to charge, with a straightforward control scheme. There's a lot to like about this machine.
Meet Derek, "TechGuru," a 34-year-old technology enthusiast with a deep passion for tech innovations. With extensive experience, he specializes in gaming hardware and software, and has expertise in gadgets, custom PCs, and audio.
Besides writing about tech and reviewing new products, Derek enjoys traveling, hiking, and photography. Committed to keeping up with the latest industry trends, he aims to guide readers in making informed tech decisions.