Navigating the rapidly growing world of cold therapy laser devices can be overwhelming, with each product offering a distinct combination of features, capabilities, and applications. For anyone seeking relief from musculoskeletal pain or seeking to enhance their recovery, these devices provide non-invasive, safe, and highly effective solutions.
To aid you in your search, we're sharing our four top picks and how they stack up to one another. Here's a quick overview of our reviews:
Let's take a closer look at these cold therapy laser devices, assessing their unique strengths, potential drawbacks, and overall performance. Let our reviews guide your buying decision and help you choose the best option for your needs.
Best Overall: TerraQuant TQ Solo Ultimate Cold Laser System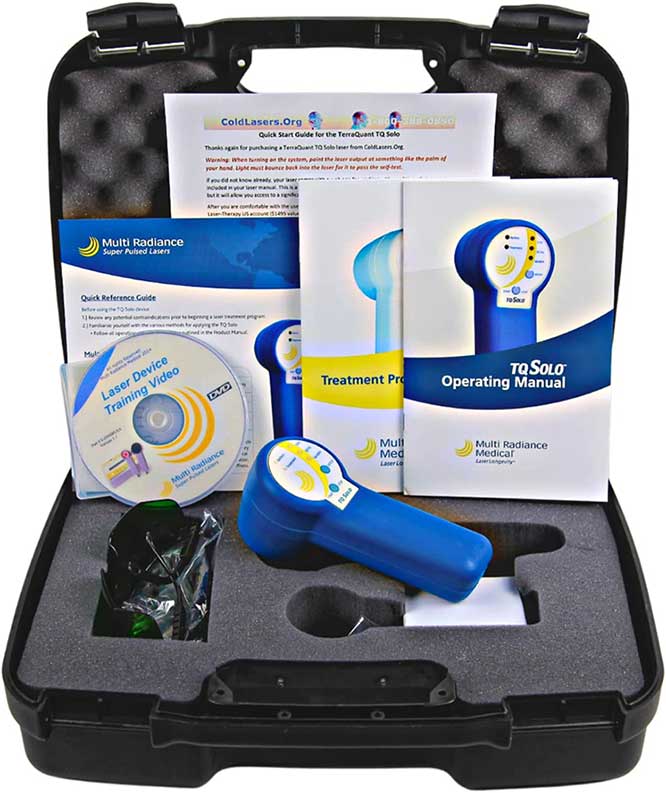 Key features:
Peak power of 15,000mW at 905nm
Three distinct wavelengths
Optional accessories for flexibility
Laser-Therapy.US protocol library
The TerraQuant TQ Solo Ultimate Cold Laser System offers impressive capabilities for therapeutic cold laser treatment. Its 15,000mW peak power at 905nm is a major feature, providing potent treatment that surpasses competitor models by over 15,000 times.
Power and dosage are vital to effective treatment, making the TQ Solo an undeniable front-runner in its category. It isn't solely reliant on power, however. It is the blend of three distinct wavelengths that provides its versatility in therapy. The wavelengths include 60mW at 875 nm (infrared LED) and 7.5mW at 660 nm (red LED), offering a well-rounded treatment protocol that can be dynamically adapted.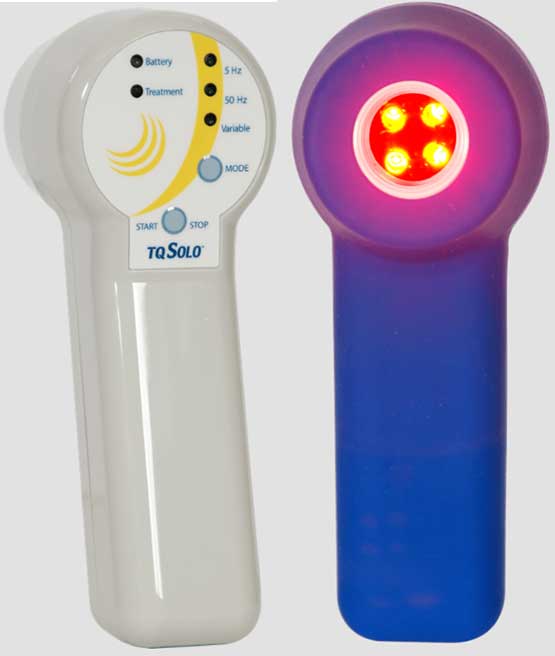 Flexibility in use sets the TQ Solo apart. With an optional light pipe adapter, it serves for acupoint and trigger point therapy. Alternatively, the optional stand allows for hands-free treatments, offering flexibility to adapt to diverse treatment requirements. Its 4 x 2 x 3-inch dimensions and 9-ounce weight make this one a portable companion for those needing regular therapy. It packs power and versatility into a compact design, with a hard case for convenient and safe transport.
The icing on the cake for the TQ Solo is the protocol library from Laser-Therapy.US. This dynamically adaptive tool customizes the treatment plan to patient size, skin color, and therapy goal, supplemented with high-resolution graphics. This ensures you're never lost when setting up or managing a treatment session. This system includes a 2-year warranty from Multi Radiance concierge service for any issues or training needs and a membership to Laser-Therapy.US, which only sweetens the deal.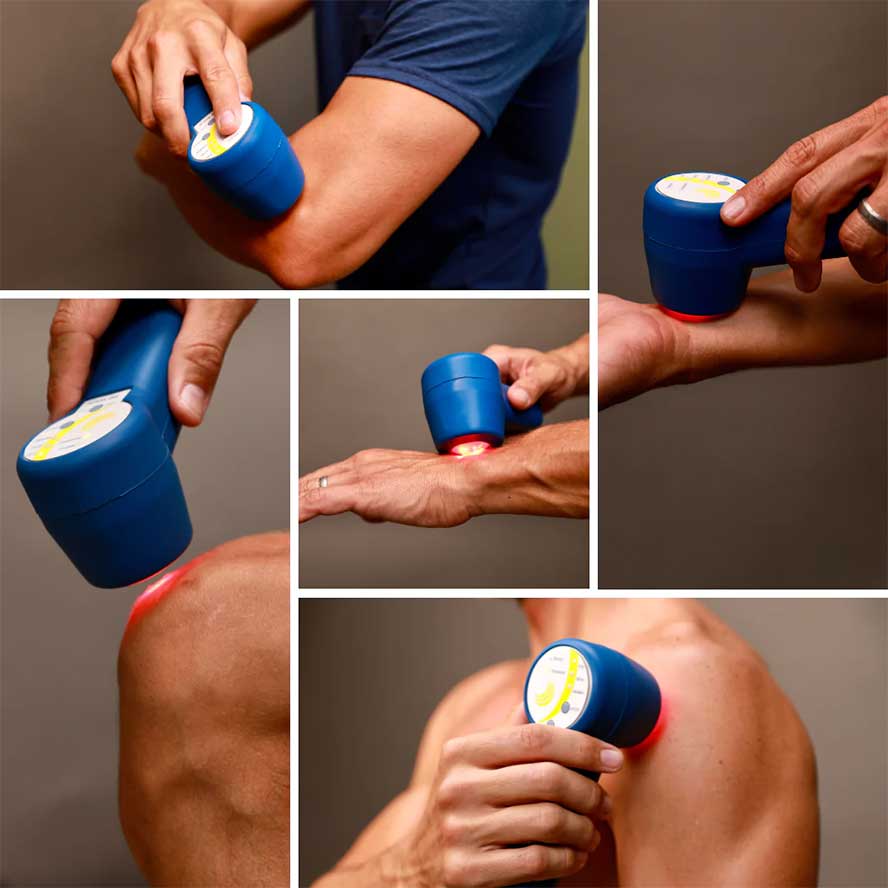 Compared to other devices on this list, the TQ Solo offers three distinct wavelengths, which increases the versatility of its therapeutic application. It also surpasses others on the list by offering a range of optional accessories that improve its flexibility in treatment. One area where it falls short, however, is the cost and learning curve associated with the protocol tool. This puts it at a disadvantage compared to the other more affordable and easier-to-use entries on this list, such as the IASO ULTRA and the YJT Cold Laser Therapy Device.
What we liked:
Exceeds competitor power significantly
High-resolution dynamic protocol tool
Portable with hard case
Includes concierge service
What we didn't like:
It's expensive
Learning curve for protocol tool
Best Runner-Up: IASO Ultra Cold Laser Therapy Device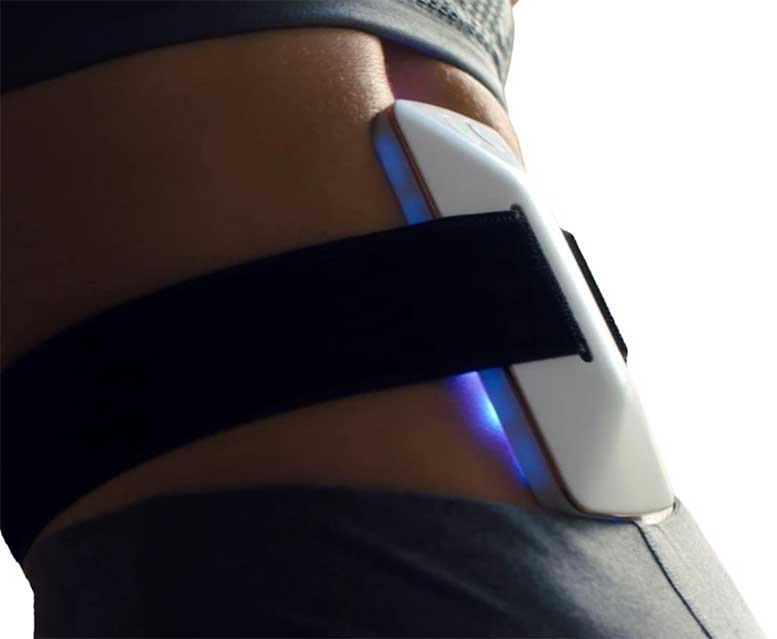 Key features:
Comprehensive photobiomodulation therapy
Cold Laser, Blue LED, Heat, Vibration therapies
Hands-free and cordless operation
Easy cycling through three modes
The IASO ULTRA is a comprehensive photobiomodulation therapy device that delivers a versatile, hands-free, and cordless solution for pain relief and sports recovery. Boasting a multi-functional approach, it combines Cold Laser Therapy, Blue LED Therapy, Heat Therapy, and Vibration Therapy into a single, easy-to-use unit. We conducted testing for knee pain and joint strain. After using it for a week, about 30 minutes each day, we noticed improvement in the form of less discomfort and more mobility, indicating that the device worked as promised.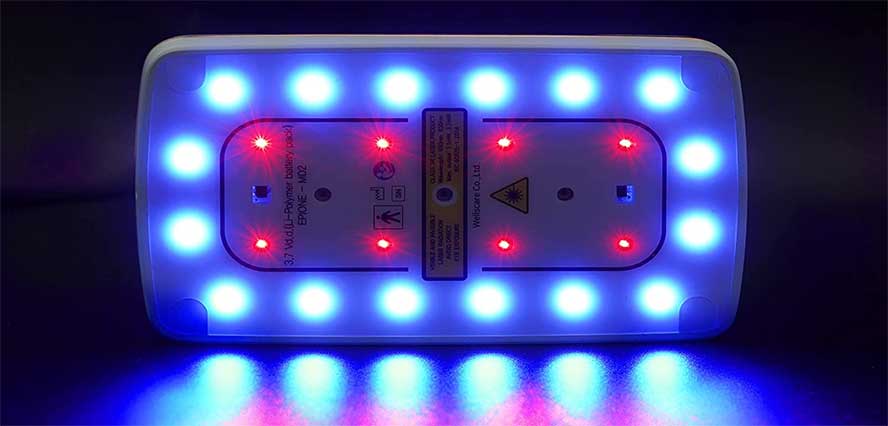 It's designed to be comfortably worn on different parts of the body, with a focus on commonly painful areas like the lower back, shoulders, and legs. Cycling through the three distinct modes is accomplished with the push of a button, making this one intuitive and user-friendly.
This all-inclusive package includes the device itself, three Velcro bands, a USB charging cable, and a remote controller. It weighs 1.94 pounds and measures 9.8 x 7.8 x 4.8 inches, so it's portable and manageable for everyday use. With a one-year warranty included, it promises not just convenience but also reliability and peace of mind.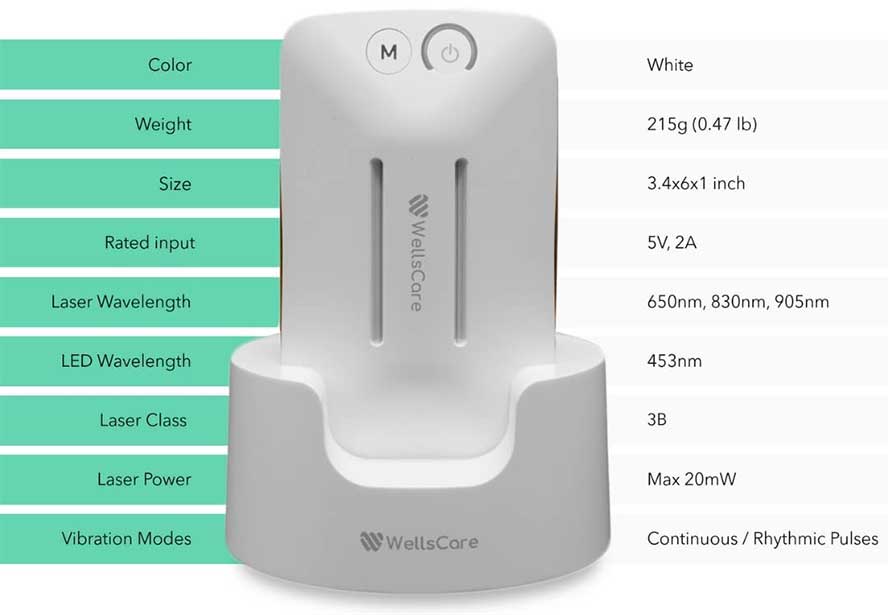 By comparison, the IASO Ultra offers a multifaceted approach to therapy that combines four different types of therapies. It's an effective, comprehensive solution for a variety of needs. Although it does not appear to be as powerful as the TerraQuant TQ Solo, it excels in its versatility, ease of use, and hands-free operation.
Despite the need for consistent usage to achieve optimal results and variability in effectiveness depending on individual conditions, the IASO Ultra stands out for its intuitive and user-friendly design, which makes it easier to handle than some of the other devices on this list, like TerraQuant's TQ Solo.
What we liked:
Eases musculoskeletal pain effectively
Highly versatile for different body parts
Intuitive and user-friendly device
Provides medical-grade treatment at home
What we didn't like:
Requires consistent usage for optimal results
Effectiveness varies depending on individual conditions
Best Budget: YJT Cold Laser Therapy Device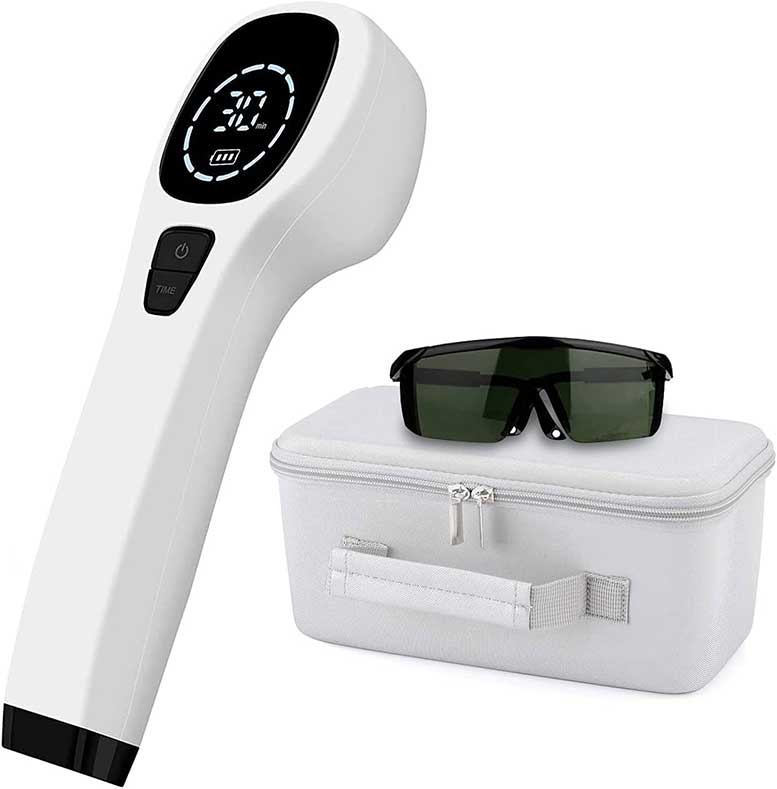 Key features:
Handheld, portable, and convenient
Long-lasting 2600mAh lithium battery
Dual-wavelength infrared light
Includes LCD display and carrying pouch
Our final pick goes to YJT's Cold Laser Therapy Device. This state-of-the-art gadget works well at alleviating joint and muscle pain. Its sleek white exterior houses cutting-edge technology that has proved beneficial to both humans and pets alike. It boasts an infrared light with 12x650nm and 2x808nm wavelengths. Its portable size of 10.47 x 5.63 x 5.2 inches and weight of 1.85 pounds make it suitable for home use, offering convenience that outperforms bulky, traditional therapy machines. Equipped with a robust 2600mAh lithium battery, the device is fully charged within two hours and delivers a generous four days of therapeutic benefits.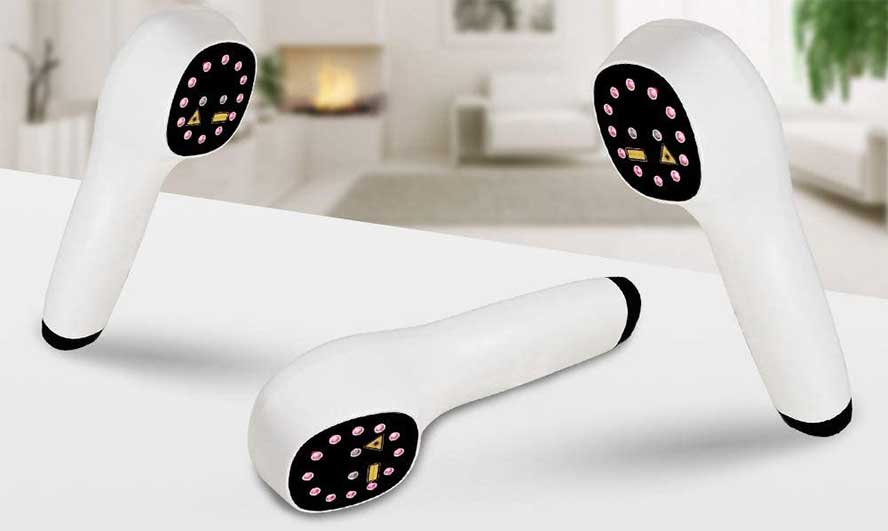 Activation is simple, requiring a three-second hold on the power button followed by a single press to start the treatment. On testing, we found that it released a mild warmth, suggestive of its potential pain-relieving effects. For instance, when used to address wrist pain, over a week of consistent use saw a reduction of pain and a return of flexibility. The cold laser therapy also demonstrated an unexpected cosmetic effect, with some age spots becoming less noticeable after treatment. Similarly, when used on a dog showing signs of discomfort, the device provided visible relief, relaxing the pet noticeably.
It's worth noting that what worked on some pain sites didn't work on others. We suspect this might be the case for most users. We appreciate the included built-in LCD display, as it makes it easy to track the remaining battery life and manage the treatment's timed modes. Overall, YJT's Cold Laser Therapy Device presents a compact, efficient solution for pain relief. Its versatility and convenience make it a powerful at-home therapy option, effectively bringing relief from physical ailments to the comfort of your living room.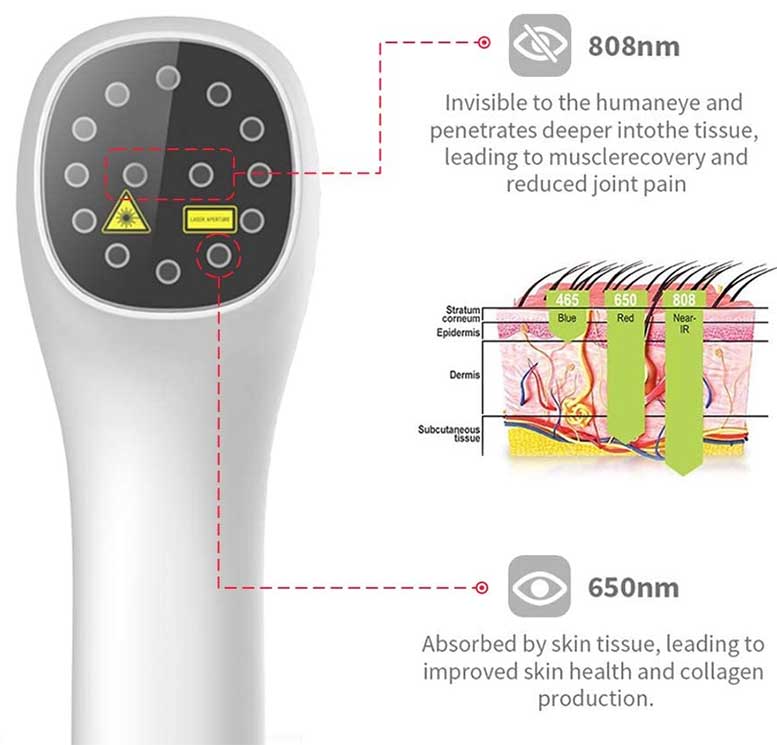 As a budget-friendly option, the YJT's Cold Laser Therapy Device is an ideal choice for those looking for affordability without sacrificing functionality. Its handheld, portable design and long-lasting battery life make it competitive compared to the more expensive TerraQuant TQ Solo, which require more frequent recharging. However, the lack of instructions could make this device initially more challenging to use than the other entries, and its effectiveness seems to vary between users, similar to the variability noted with the IASO Ultra.
What we liked:
Effective for joint and muscle pain
Easy to use and charge
Battery life lasts up to four days
Useful for pets and humans alike
What we didn't like:
No instructions; requires learning curve
Inconsistent results
Cold Therapy Laser Device FAQs
What is a Cold Therapy Laser Device and how does it work?
It uses low-intensity light to stimulate healing and reduce inflammation in the body. The device emits specific wavelengths of light that penetrate the skin and underlying tissues, promoting cellular regeneration and reducing pain and swelling.
What conditions can a Cold Therapy Laser Device treat?
Cold Therapy Laser Devices can treat a variety of conditions, including musculoskeletal pain, joint pain from arthritis, neck and back pain, wound healing, and sports injuries. They can also aid in nerve regeneration and can help with conditions such as carpal tunnel syndrome.
Are Cold Therapy Laser Devices safe to use?
Cold Therapy Laser Devices are generally considered safe when used correctly. They do not generate heat or cause tissue damage, and there are typically minimal side effects. However, it is recommended to avoid direct eye exposure to the laser beam. You should always follow the device manufacturer's instructions and consult a healthcare professional if you have any concerns.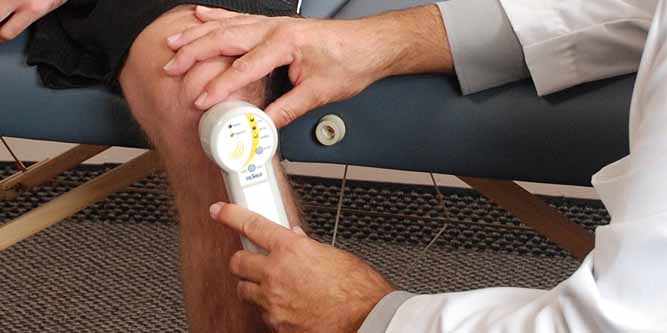 Final Verdict: Which Should You Pick?
In assessing the best cold therapy laser devices, we found that the TerraQuant TQ Solo Ultimate Cold Laser System provides the most powerful and versatile treatment, despite its relatively high price and the learning curve associated with its dynamic protocol tool.
For those seeking a comprehensive, multi-modal therapy approach, the IASO Ultra delivers with its combination of Cold Laser, Blue LED, Heat, and Vibration therapies. While it requires consistent usage for optimal results, its versatility and intuitive design make it an excellent option for different types of pain relief.
Finally, if you prefer a more budget-friendly option that doesn't compromise performance, the YJT Cold Laser Therapy Device stands out. Its portable design and extended battery life make it an ideal choice for home use.
Each of these devices has unique strengths, and the best choice will depend on your specific needs, budget, and personal preferences.