Yamiry Smart Door Lock
Design & Aesthetics
9.0/10
Connectivity & Extras
7.5/10
Pros
Offers 5 ways to open your door.
Supports up to 200 fingerprints, 200 codes, and 200 access cards.
USB port for emergency access.
Very easy installation and configuration.
Cons
Online features require a separate WiFi gateway.
Auto-lock feature may be annoying for some.
Home is where the heart is, or at least that's how the saying goes. It's where you sleep at night, and it's where your family sleeps. No matter what you're dealing with out in the world, it's a place of security and comfort. At least, it's supposed to be. To make sure it really is that way, you have to actually take steps to make it safe.
One of the most important things you can do is to make sure you have a good quality lock. After all, your front door lock is the main way you have of keeping unwanted people out. More than just about any other security feature, you want to make sure your lock is as robust as possible.
That said, modern locks have come a long way from what they used to be. Not that long ago, a deadbolt was pretty straightforward. You had the bolt running out the side, and a lock cylinder in the center.
To open or close the lock, you inserted a key and turned it. This is still a standard design, and it's pretty popular. But with the power of modern technology, smart door locks have a whole lot more to offer. With electronic features, you can open your lock without the need for a mechanical key. Biometric measures, keypads, and fobs are all easier to use than an ordinary key.
Yamiry Biometric Smart Door Lock
Now, we're going to review the Yamiry Biometric Smart Door Lock. This is a powerful smart lock with multiple opening methods. You can use a fingerprint, a key fob, a numeric code, an app, or a physical key. It's also very easy to install, and the handle can even be reversed for left- and right-hand swing installations.
Of course, these are just a couple of the features we should look for on a quality smart lock. We'll have to look at the physical design and the overall aesthetic. We'll need to look at how effective the lock is, and how well the battery performs. If that's not enough, we'll have to talk about the connectivity, and how you use the app. When we've factored in all of those things, we'll be able to deliver a verdict. Let's get started!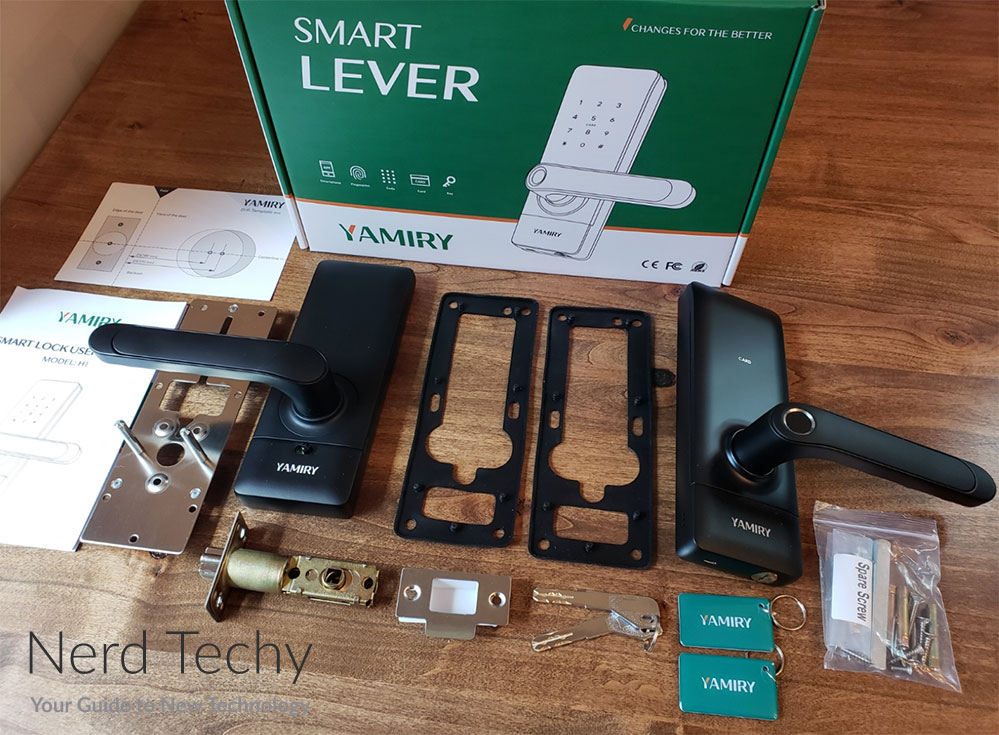 Design & Aesthetics
The Yamiry Biometric Smart Door Lock consists of two plates: an interior and an exterior one. Both plates are tall, slim, and rectangular, at 7.48 inches high and 2.75 inches wide. And at only three quarters of an inch thick, they don't stick out too far. They also have rounded corners and edges, which gives the lock a nice, clean look.
There are two different color schemes to choose from, depending on your preferences. The first is a simple blacked-out aluminum, with a smooth matte finish. The second has silver highlights at the bottom of the exterior plate and at the tips of the handles.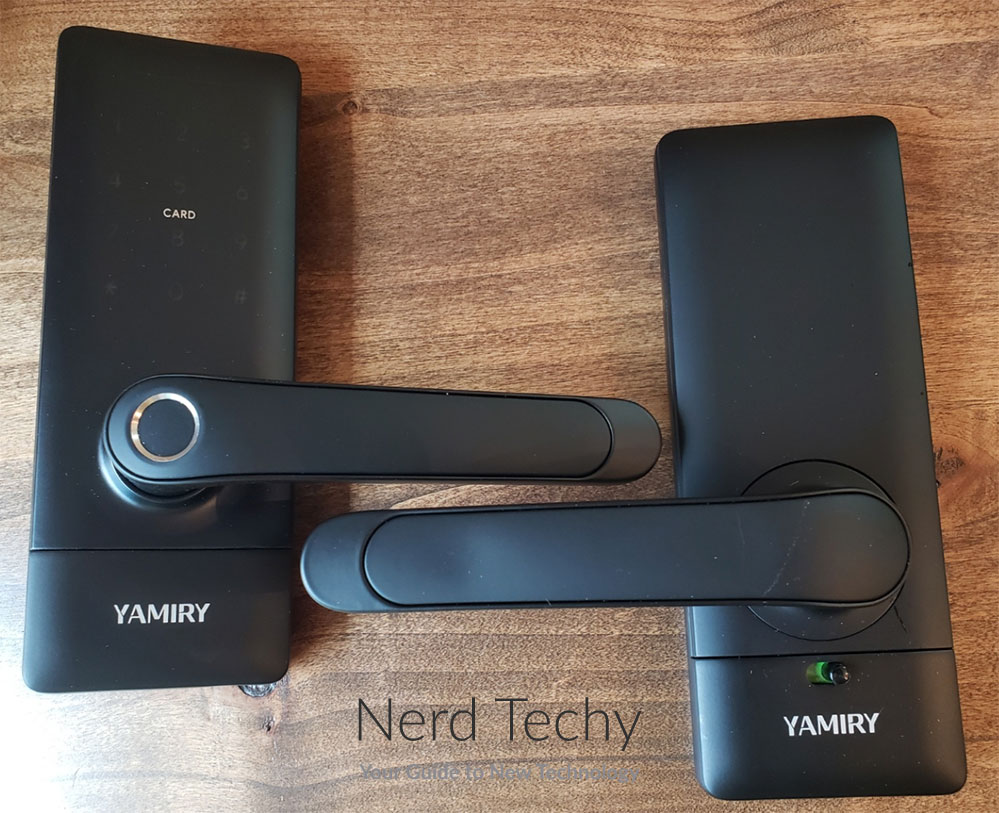 The outside plate sports a 10-digit keypad at the top, plus "*" and "#" signs. The buttons are touch-sensitive, with white characters that show up well against the black surface. The handle is directly underneath, with the thumbprint reader positioned right on the front. On the bottom part of the plate, facing the ground, there's a mechanical keyhole, as well as a USB port.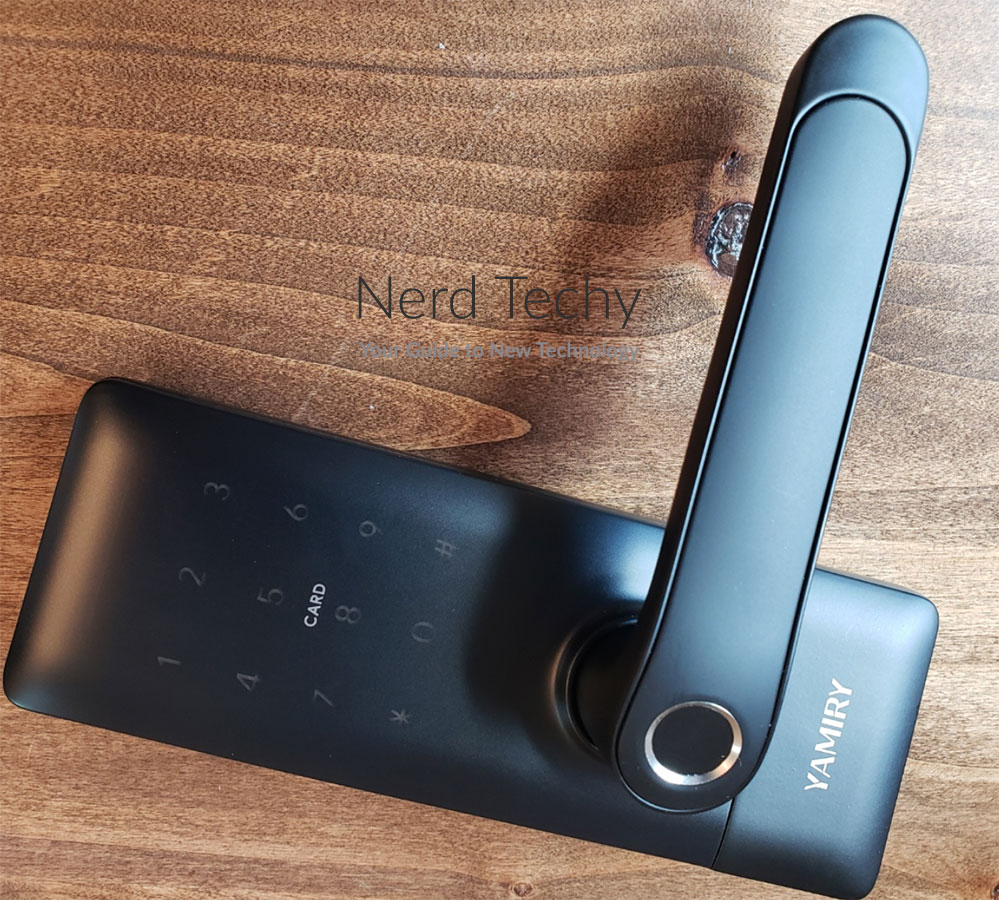 The inside plate has a similar design, with a square plate and a handle. The top half is entirely bare, which gives it a nice clean look. The face of the top portion slides out easily to reveal the internal battery compartment.
This is a beautiful design, and it's well-suited for many homes. But what if you want something even simpler? In that case, consider the Lockly Flex Touch. It has a smaller design, and looks almost exactly like a traditional deadbolt. There's a small fingerprint reader under the main cylinder, but fewer opening options.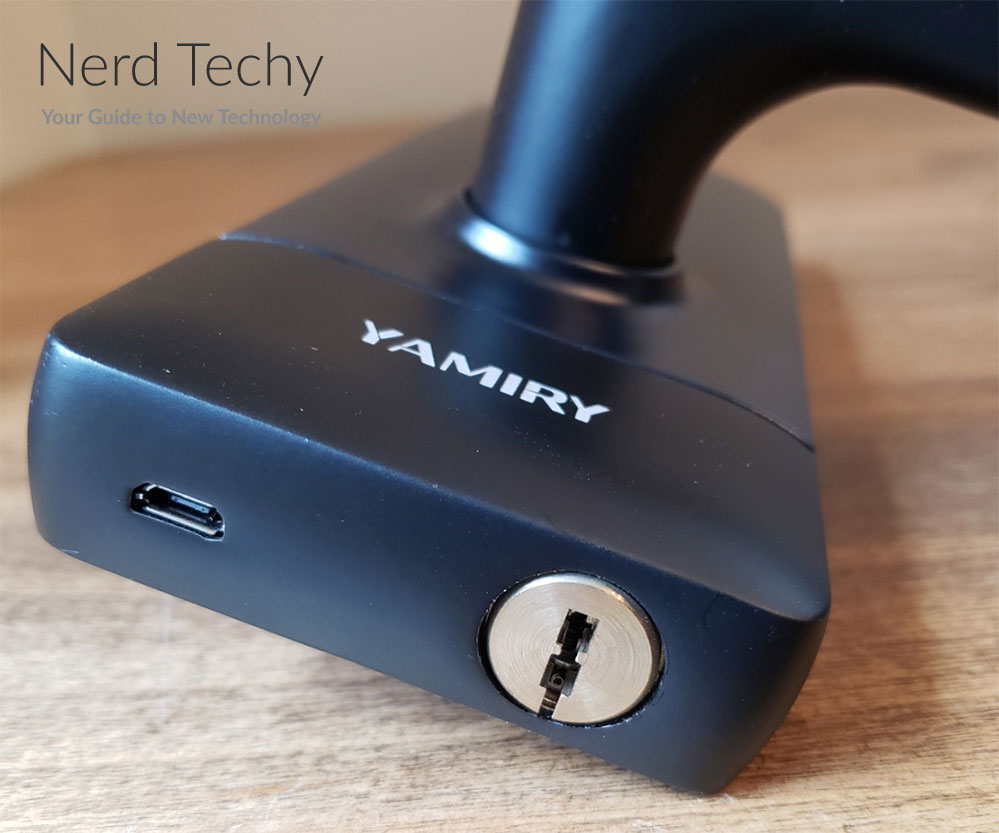 Installation & Location
Installing the Yamiry lock is pretty straightforward. Assuming your door is already pre-drilled, all you need to do is use a screwdriver. Uninstall your old lock, then screw this one back into place. During the process, you can reverse the handle, so it can be installed left- or right-handed. Moreover, it fits doors between 1-3/8 and 2 1/8-inch thick.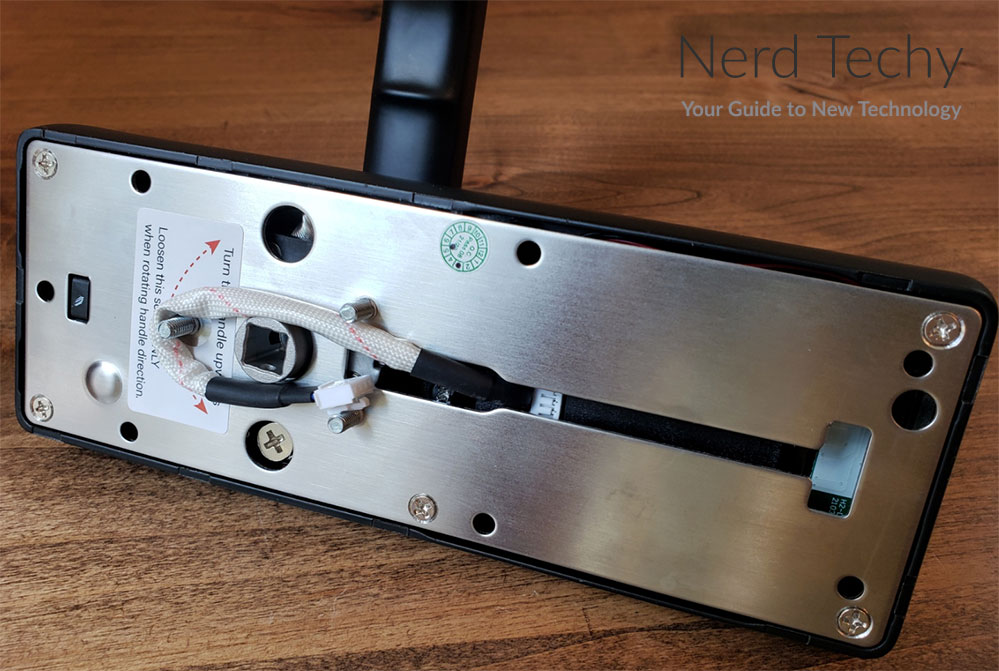 This lock has a weather-resistance rating of IP66. The first "6" indicates the highest possible level of dust-resistance. If you wanted to use it on Mars, you could. The second "6" indicates a high level of water-resistance. It's not submersion-proof, but it doesn't need to be. And short of full submersion, it can withstand large quantities of water. When the outside lock gets dirty, you can even spray it down with your hose's jet setting.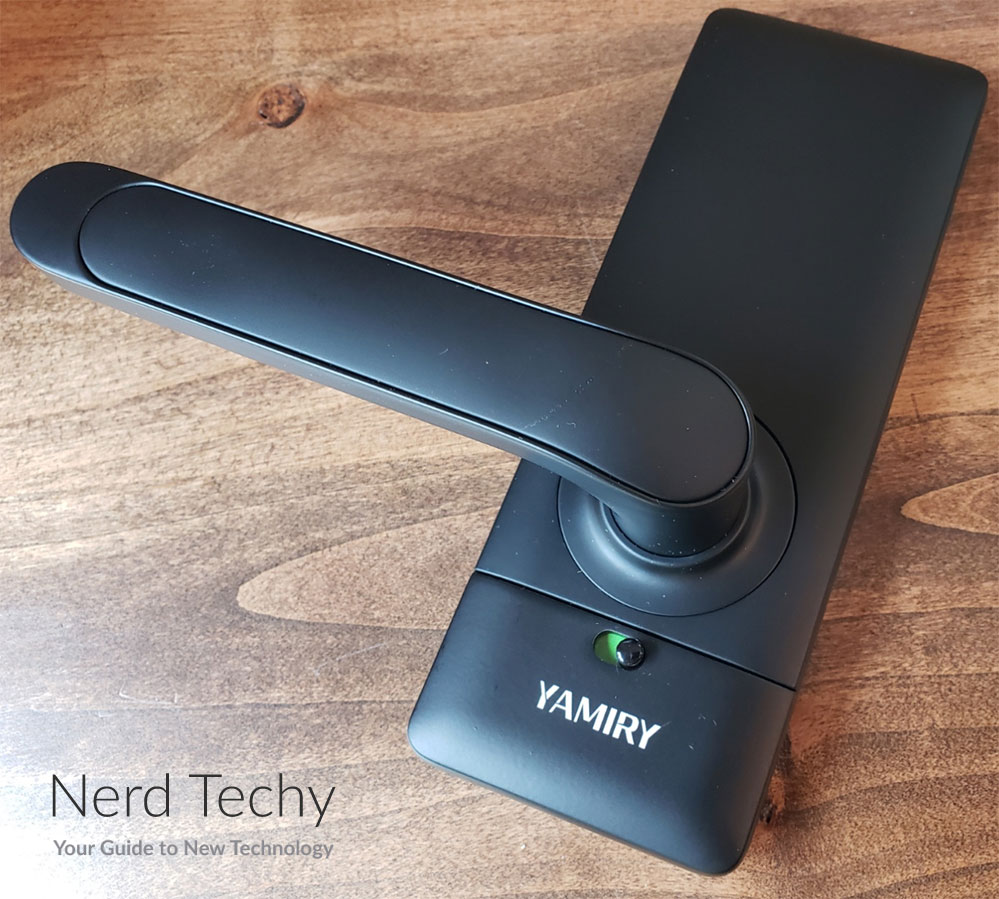 Yamiry backs this lock with a 1-year warranty. That's not incredibly long, but you'll know by then whether or not there are any defects. Electronics tend to fail within the first year or last for decades. And if you decide you don't like it, you can simply send it back. There's a 30-day money-back guarantee.
Lock Performance
As we mentioned, there are five ways of opening your door. Let's talk about each of those options.
First off, there's a biometric fingerprint lock. This works very well, and almost always opens the first time you touch it. It's by far the easiest way to unlock your door, and you can add up to 200 fingerprints. If you're only storing one thumbprint, 200 people could theoretically use this lock.
Second, there's the keypad option. Codes are easy to program, and you can program up to 200 of them. Codes aren't quite as convenient as a thumbprint, but they have a major advantage. A person needs to be physically present in order to program a thumbprint. On the other hand, you can simply tell someone an access code.
The third option is to scan a keycard. There are four of these included in the package, and all of them will work right out of the box. As an added bonus, you can program even more. If you guessed that you can program up to 200, you're 100% correct.
Fourth, you can unlock the door via the smartphone app. This isn't quite as convenient, but you can do it from further away. If you're in your kitchen and there's a knock at the door, the app may be an easier method.
Finally, you can use a physical key. Two of these are included in the package.
We should point out that there's a non-fingerprint version available. Other than the fact that there are no biometrics, it's identical to the standard version. It's also a few dollars cheaper.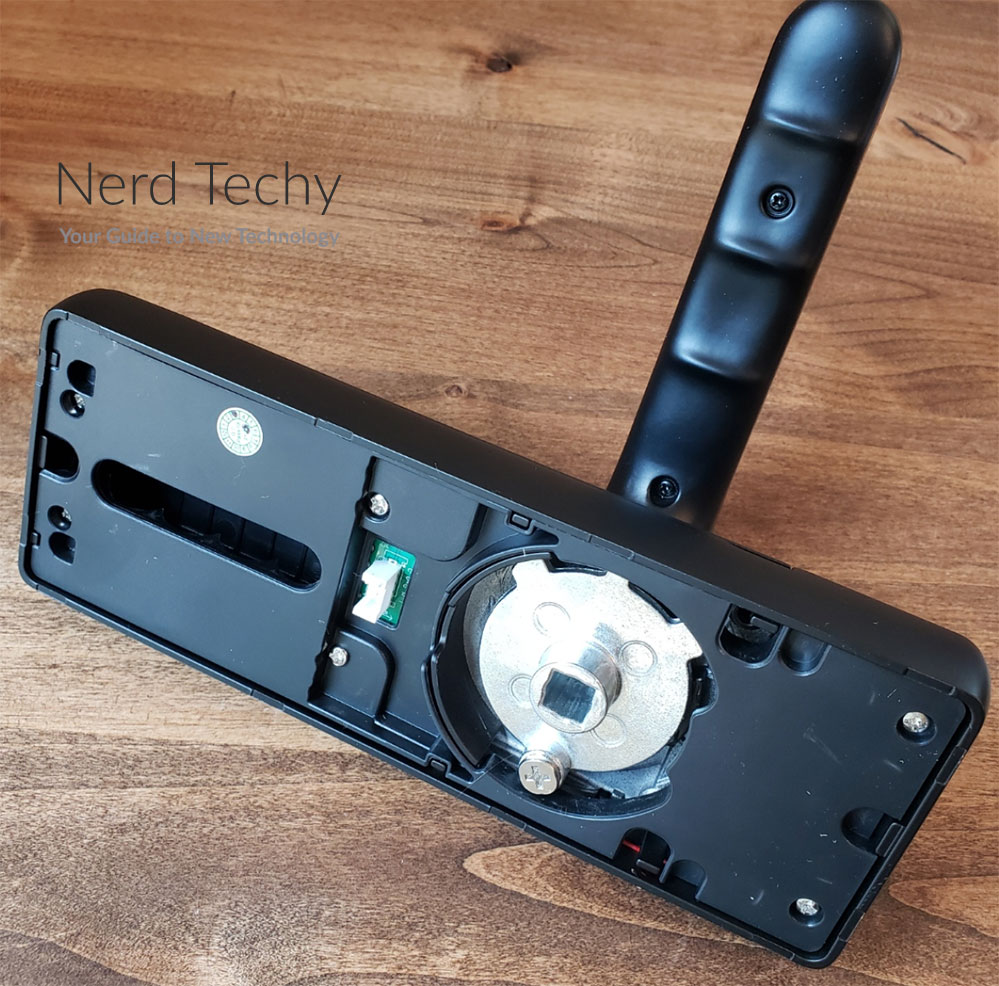 Battery Performance
The Yamiry biometric lock comes with a set of four AA batteries, which can last up to a year. Obviously, the exact battery life will depend on how often you're using the lock. A light on the front will illuminate when they're starting to get low. If you forget to replace them, you can still get temporary access. Just plug a power bank into the USB port on the bottom.
Of course, there are plenty of alternative smart locks to choose from. Take the SECURAM Touch, for example. It has a round design, with a keypad and generally similar functionality. There's no fingerprint function, but it has a truly unique aesthetic.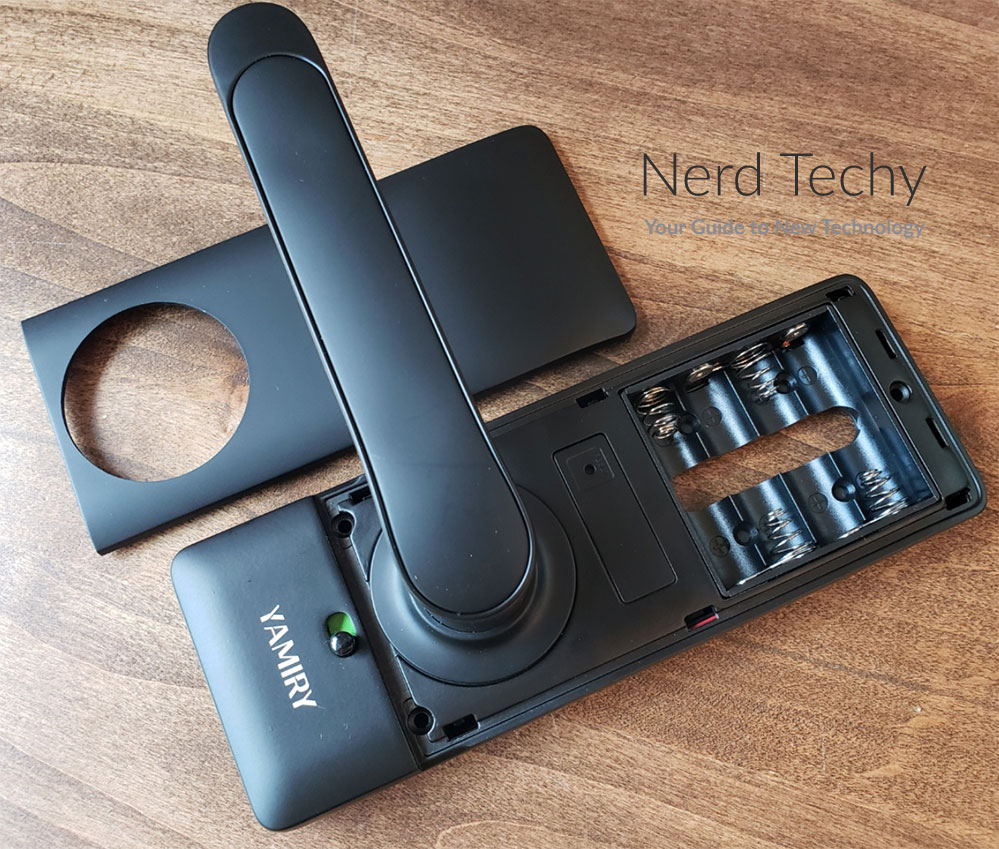 Connectivity and App Controls
To get the most out of your lock, you'll need to install the Yamiry app. This enables additional functions. For one thing, you'll be able to lock and unlock your door from anywhere within Bluetooth range. You'll also be able to change your lock settings and change your codes. You'll also be able to program additional key cards this way.
For remote access, you'll need to purchase the WiFi gateway, which is sold separately. It forms a bridge between your lock and your router, allowing it to connect to the internet. This lets you access your lock and control it from anywhere in the world.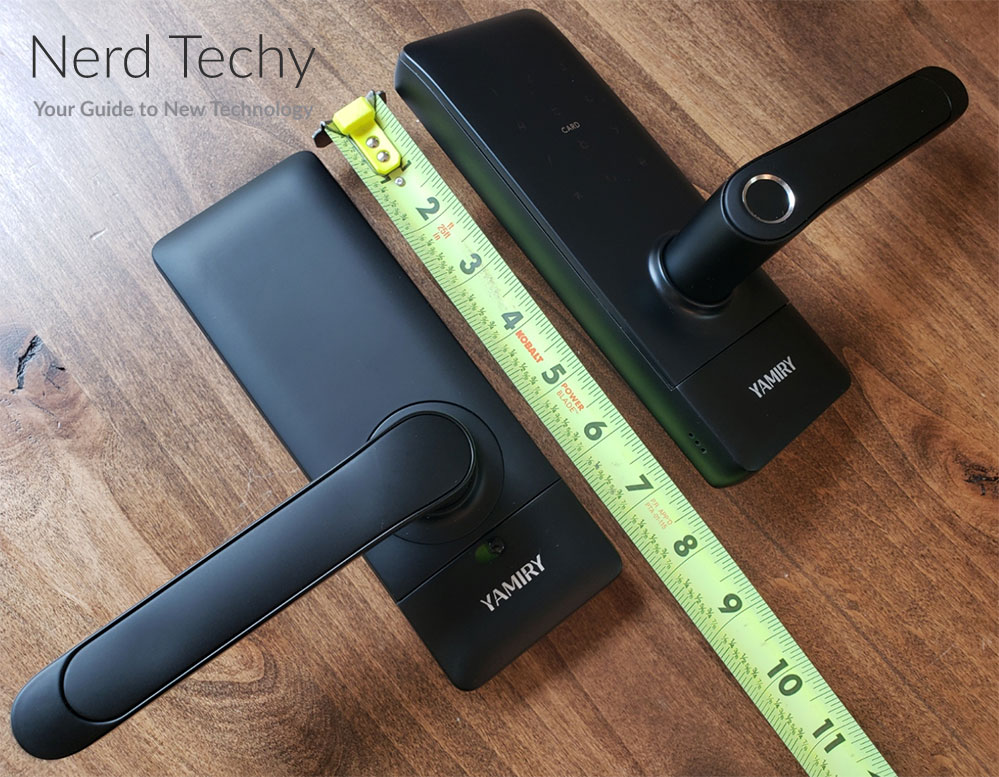 Perhaps the most notable feature is that you can create temporary passcodes for your friends. You can technically do this via Bluetooth, but doing it remotely opens up more possibilities. In addition, the Yamiry lock supports Amazon Alexa and Google Home voice controls.
Not only that, but there's a web portal you can access from your computer via a browser. You can do anything you can do through the app, as well as look up detailed logs. The logs will show when the door was locked an unlocked, and what locking method was used.
If you like the online features but don't want to mess with a hub, the SECURAM EOS is a great choice. This lock has similar functionality to the Yamiry, although there's no card access. It can link directly with your router, so you can get online without any ancillary components.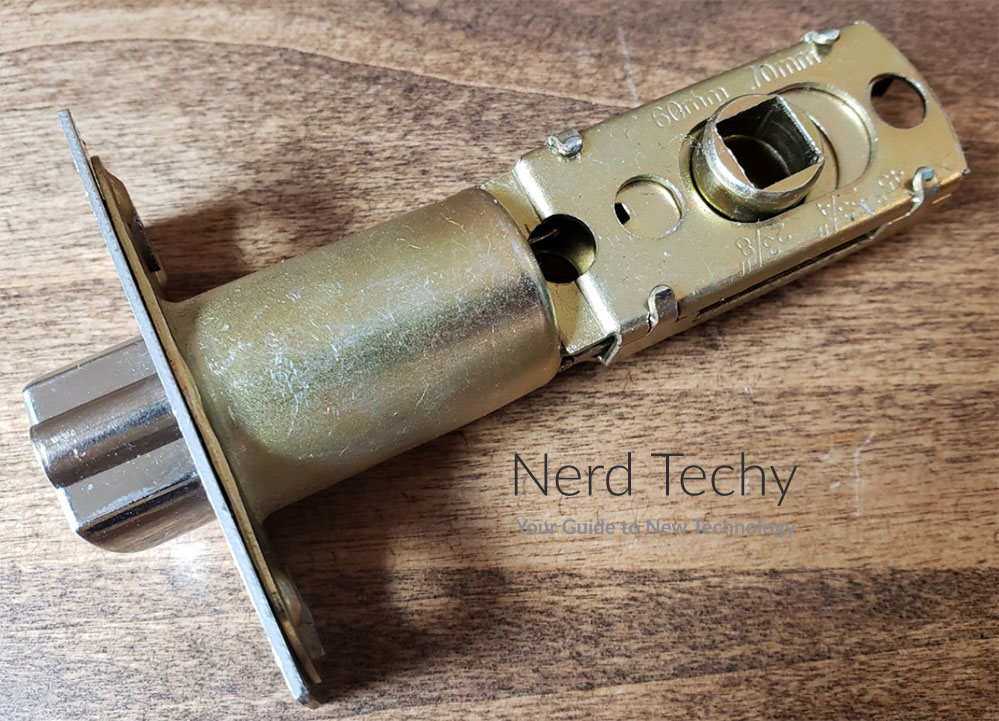 Extra Features
Before we wrap up, there are a couple of cool extra features to look at. To begin with, there's a sliding toggle switch under the inside door handle. This switch activates privacy mode, which almost completely deactivates the lock. The door cannot be opened electronically from the outside without the administrator's credentials. It can still be opened with the physical key, though.
In addition, there's an automatic locking feature. When you close your door, the deadbolt will automatically snap into place. This is a nice security feature, especially if you tend to forget things like locking your door. However, it's a bit frustrating if you actually want to leave the door unlocked. You may be relaxing with friends on your front porch, for example. In that case, you'll need to use the app to disable the auto-lock feature.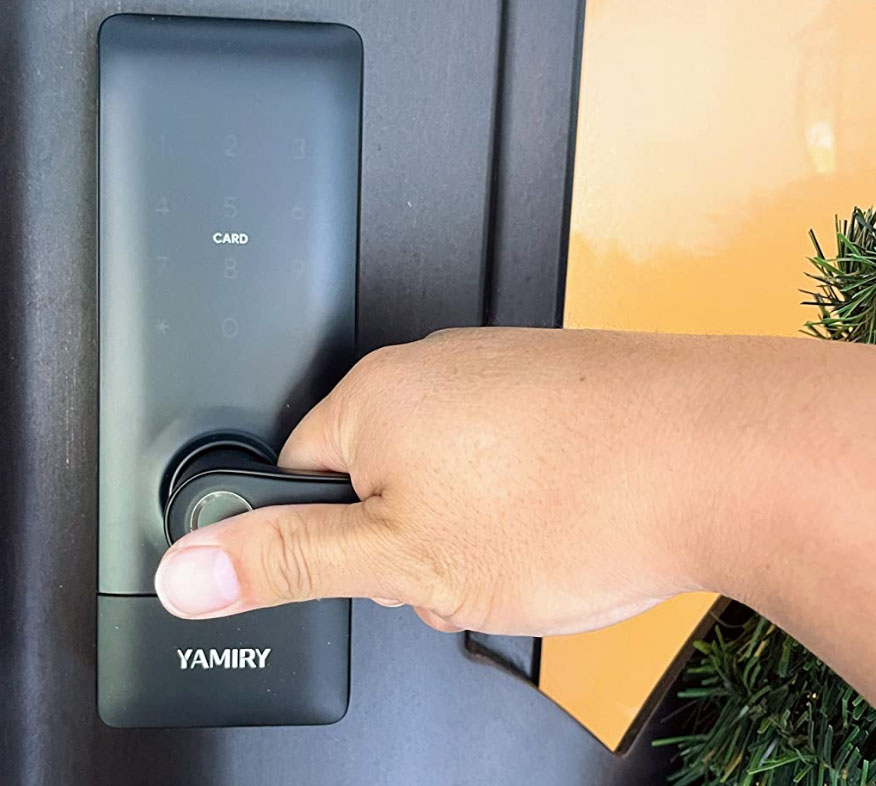 Final Verdict
The Yamiry Biometric Smart Door Lock is one of the most fully-functional locks that money can buy. With five locking and unlocking methods, you'll have plenty of flexibility. Not only that, but the 200-user support makes it suitable for businesses as well as homes. There's a lot to like here, and not much to complain about.
Also, be sure to checkout Yamiry's official Facebook and Instagram for exclusive promotions and manufacturer insights.