SECURAM EOS
Design & Aesthetics
9.0/10
Connectivity & Extras
8.0/10
Pros
Durable construction.
Opens via fingerprint, code, app, or physical key.
Easy to install and configure
Supports voice commands.
Available in either black or silver.
Cons
Relatively small number of fingerprints can be registered.
WiFi connection can get finicky.
In their most basic form, locks have been around forever. You can go back to the renaissance era, and find some absolutely stunning locks. But until very recently, a good lock was a luxury of the very rich. The craftsmanship required to make a lock without mass-production was simply too expensive. But with the coming of the industrial revolution, locks became widespread. Nowadays, we put padlocks on bicycles, storage lockers, and gates that are short enough to jump over. And if someone told you they didn't have a lock on their front door, you'd assume they were crazy.
Nowadays, we've taken lock technology even further. With smart locks, you get the benefit of a mechanical deadbolt, complete with electronic functions. But there's a wide difference between different types of smart lock. For example, some work via WiFi, while others only work via Bluetooth. Some have fingerprint locks or keypads, while others do not. The apps have different capabilities, with different numbers of users and access. The quality of the deadbolt itself may vary, depending on the material it's made from. And of course, there are the same aesthetic concerns you have with a "dumb" lock. So when you're choosing a new smart lock, it pays to do your research and choose carefully.
We're about to review the SECURAM EOS Wi-Fi Smart Lock. This lock comes with four different unlocking options, including a fingerprint sensor and keyboard. It's easy to install, and the app comes with a number of powerful features. But to really understand this lock, we're going to need to look a lot closer than that. We'll have to talk about the overall look and feel, and how the lock is assembled. We'll have to dig into the various opening options, and understand how each one works. Last but not least, we'll also have to look at how you set the lock up, and how you use the app. After that, we'll know everything we need to know to render a fair verdict. Let's get started!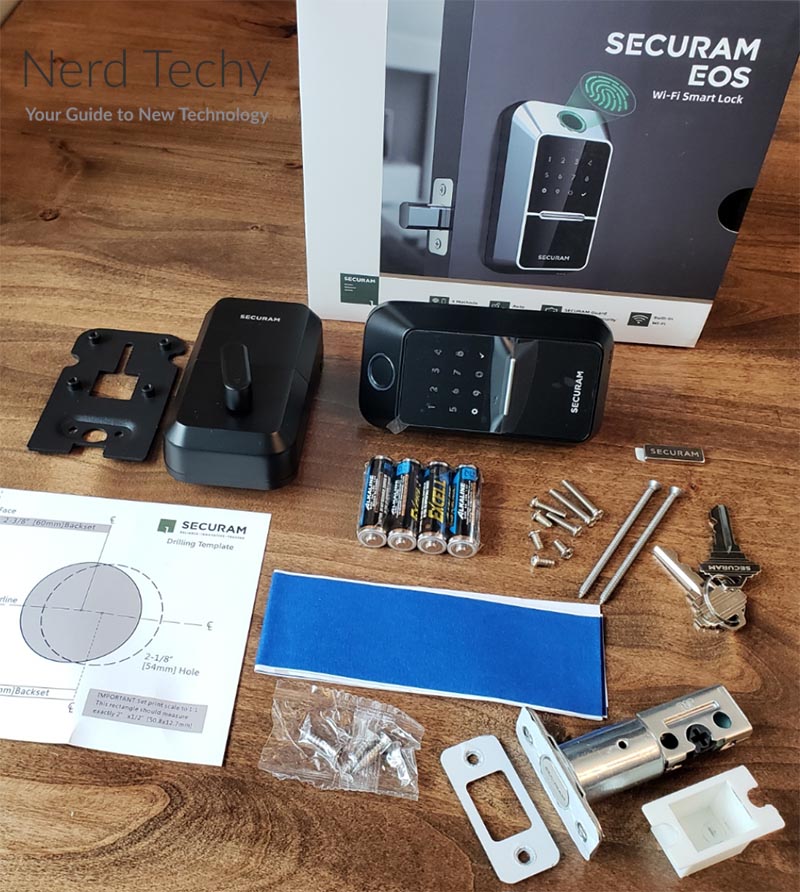 Design & Aesthetics
The SECURAM EOS Wi-Fi Smart Lock has a beautiful black finish that meshes with most contemporary aesthetics. The housing is constructed from a zinc alloy, with a milled finish that leaves it looking slick and smooth. This material is very durable, and stands up to rain and other elements. That said, you probably want an even tougher material for the internal locking mechanism. Thankfully, the deadbolt and other mechanical parts are made from stainless steel. This steel is exceptionally hard, so your home is as well-protected as possible.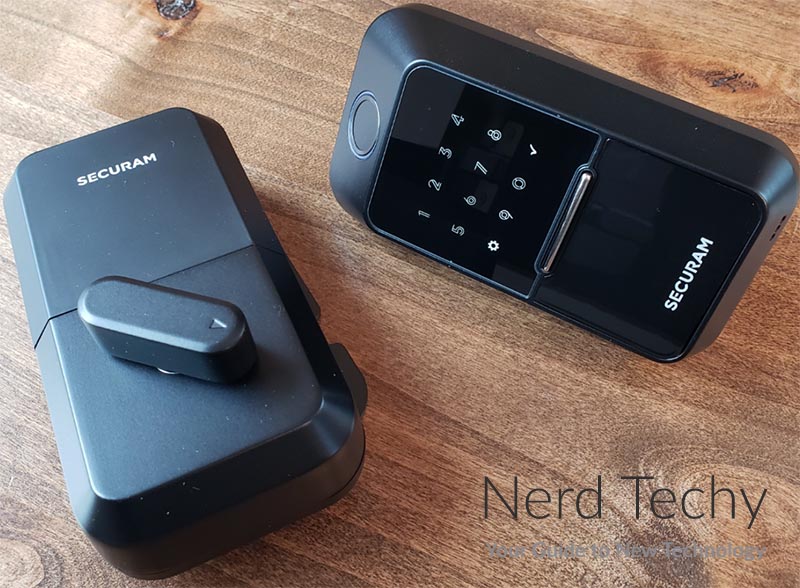 Like any lock, the EOS has an interior and an exterior component. The exterior component measures 3.19 inches high, 2.44 inches wide, and 1.93 inches thick. It's rectangular in shape, but not blocky. The front surface is smaller than the base plate, with sloped sides that flare out to meet it. The top flare is particularly broad, and there's room on top for the round fingerprint reader. Just beneath that, the top surface of the lock is occupied by a 9-digit keypad with additional control buttons. Separated by a silver stripe, there's a flat panel underneath. The stripe actually functions as a release, and the flat panel can be removed. This reveals a physical keyhole, along with the emergency battery bypass.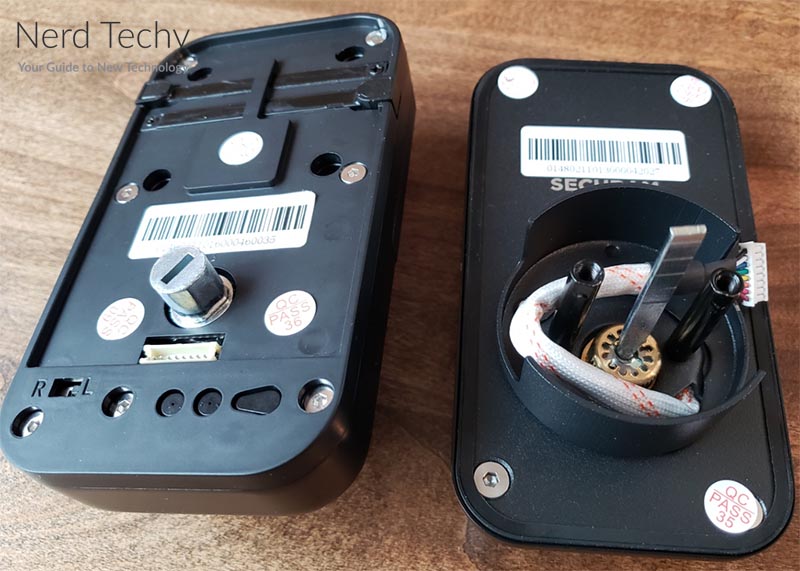 The interior portion of the lock has a noticeably larger profile. It measures 3.52 inches high, 3.14 inches wide, and 2.4 inches thick. It's also significantly blockier, with much smaller slopes on the sides. Near the bottom, there's a simple deadbolt latch. It's an oval lug that's easy to turn, and it works the deadbolt like any other latch. Above this, the top portion of the inner housing can be popped off. Underneath, there's a battery compartment, which accepts four AA batteries. Both the interior and exterior portions have a silver "SECURAM" imprint, but they're otherwise unmarked.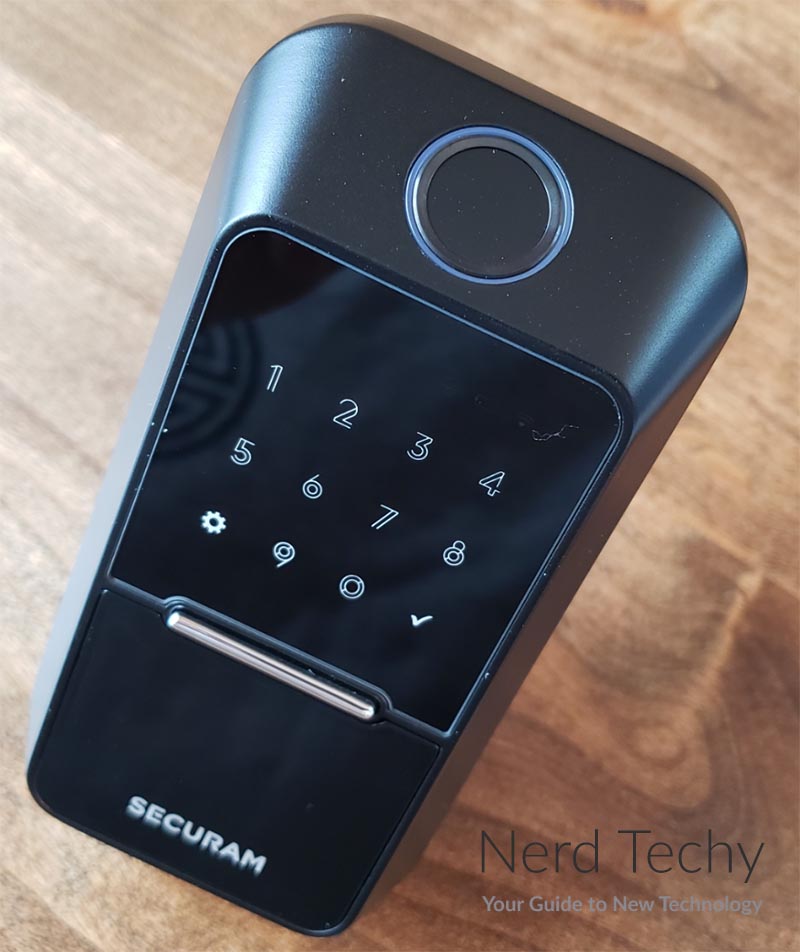 One thing you won't find on the EOS is a door handle. This is a deadbolt only. That said, there are plenty of smart locks with integrated door handles. Take the Lockly Duo, for example. It has a broad, easy-to-use handle, and can be installed in two-hole pre-drilled doors. On the downside, the design can be awkward for left-handers.
The SECURAM EOS is designed to install on doors with a thickness of 1 3/8 inches to 1 ¾ inches. It also supports a backset of 2 3/8 inches or 2 ¾ inches. That might sound confusing, so let's make it simple. This lock is compatible with any standard-sized American door. If your door is a custom build, you'll want to measure and make sure.
Provided the door is pre-drilled, installation takes only minutes, and you only need a screwdriver. Even if it's not pre-drilled, you'll get a drilling template in the package. This makes it easy for even a novice to get the hole placement right. First, you insert the bolt mechanism into the middle of the door. Next, you mount the outside part of the housing, with the connecting rod in a vertical position. You then connect the small ribbon cable from the outside plate to the inside place. Screw the inside plate into position, and you're all ready to go. Compared to a lot of smart locks, this is very straightforward.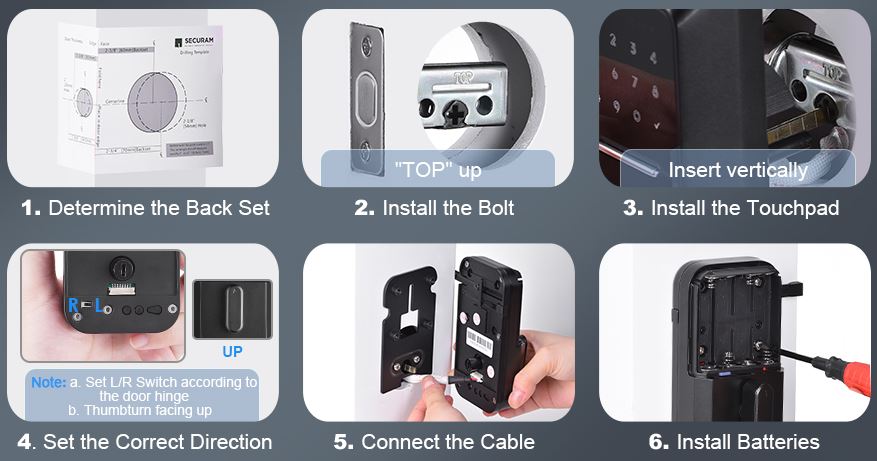 This lock is protected by SECURAM's 12-month manufacturer's warranty. If there are any defects in materials or workmanship, you'll be fully protected. You can either receive a full refund, or a free replacement.
Lock Performance
At the end of the day, any lock is only as good as the amount of security it provides. So, how do you use the SECURAM lock? First things first, let's talk about the fingerprint reader. Including the administrator, you can add up to nine users via the app. Each user, in turn, can register up to two fingerprints. In most cases, this is more than you'll ever need. We should point out, though, that many smart locks allow a lot more fingerprints. It's not memory-intensive, and 99 fingerprints is not at all uncommon. Regardless, the reader works well, with few false negatives and no false positives.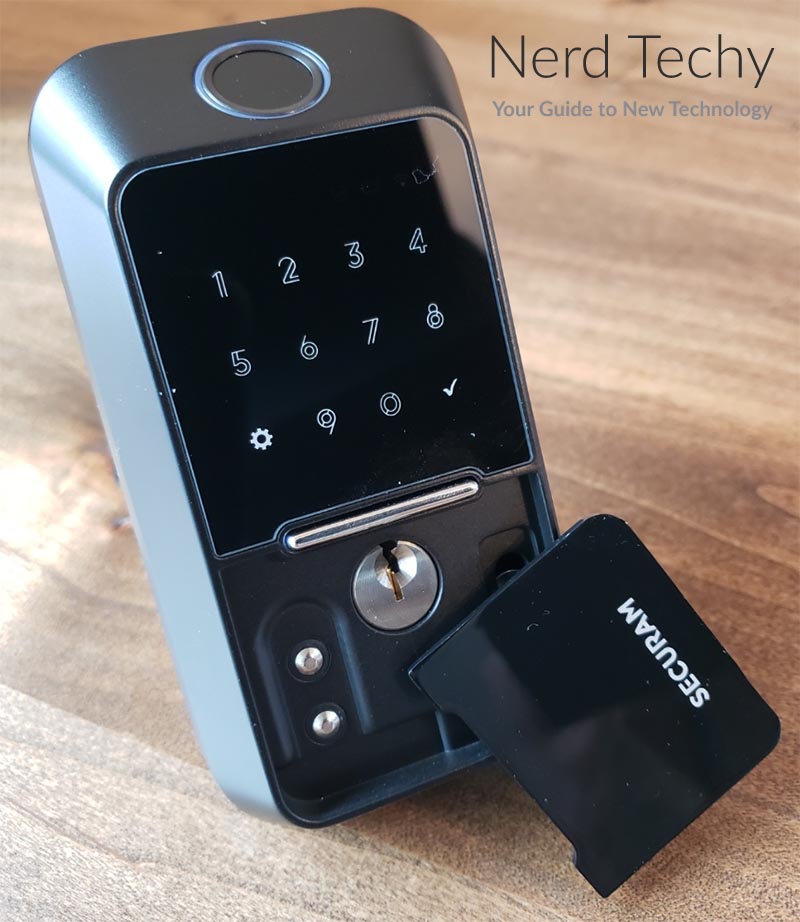 Alternatively, you can use the keypad. Each user can enter their own unique code, with a minimum of four digits. In addition to ordinary users, you can also generate temporary passcodes for visitors. Using the app, you can create a one-time code in seconds, and text it to the person who needs it. This is a great way to let in friends, contractors, and cleaning people, without giving them a permanent key. This function is inherently secure, as long as no one sees you enter your code. But just in case, the keypad will lock out after five incorrect attempts. At that point, you'll have to wait five minutes or try again.
If you like the idea of easy guest access, take a look at the SECURAM Touch. It's similar in many respects. However, guest codes can be temporary or permanent. And if you want a little privacy, there's a switch on the inside to disable guest access. On the downside, the Touch requires a WiFi hub, which can make it harder to stay online.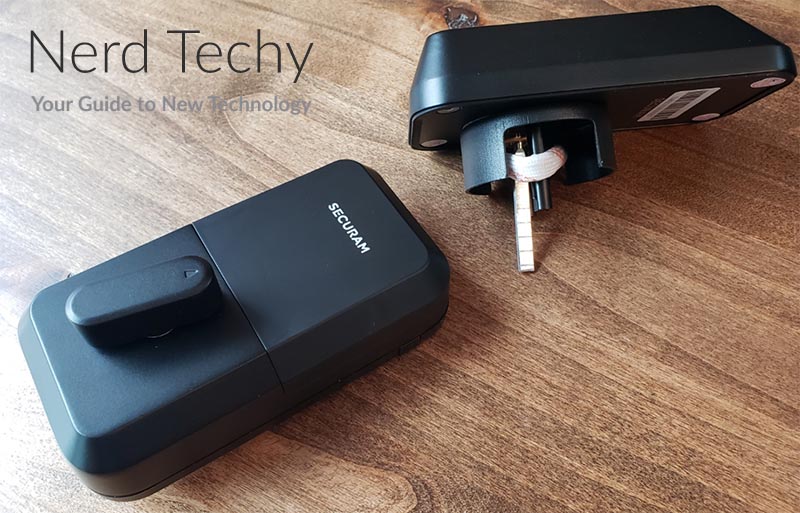 If you're having an issue with the electrical lock options, there's a reliable alternative; the physical key. Sure, it's not as exciting as any of the smart functions, but it still works just fine. The kit comes with two options, and they're cut from a common blank. This means it's easy to make copies if you want to.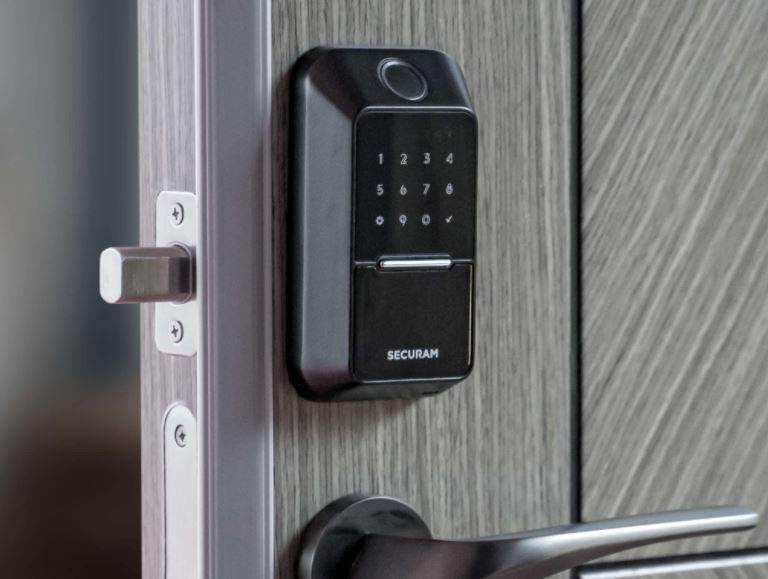 Another concern with smart locks is battery life. This will depend largely on how much you use the lock, but batteries also drain naturally over time. SECURAM tested the EOS at 10 unlockings per day, and it's rated for six months of use. In practice, you can expect a maximum of around a year, due to the batteries' natural drain rate. That said, you shouldn't get caught by surprise. There's a battery meter on the control pad, so you always know how much charge you have. You'll also get a push alert in the app when your battery is low. But if worst comes to worst, you can use the emergency battery contacts next to the keyhole. Just touch a 9-volt battery to them, and you'll have power.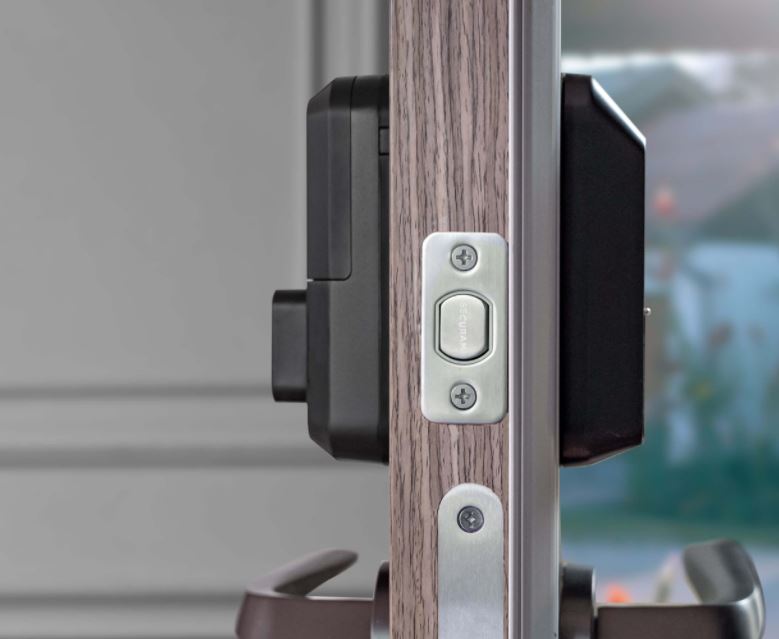 Connectivity & Extras
The SECURAM EOS has a built-in WiFi card, so it can connect directly to the internet. You don't need any external fobs or hubs. The connection is very secure, with 128-bit encryption. On the downside, the initial pairing process can get tricky. Thankfully, SECURAM has excellent 24/7 customer service. If you're having trouble with the initial setup, they can walk you through it in just a few minutes.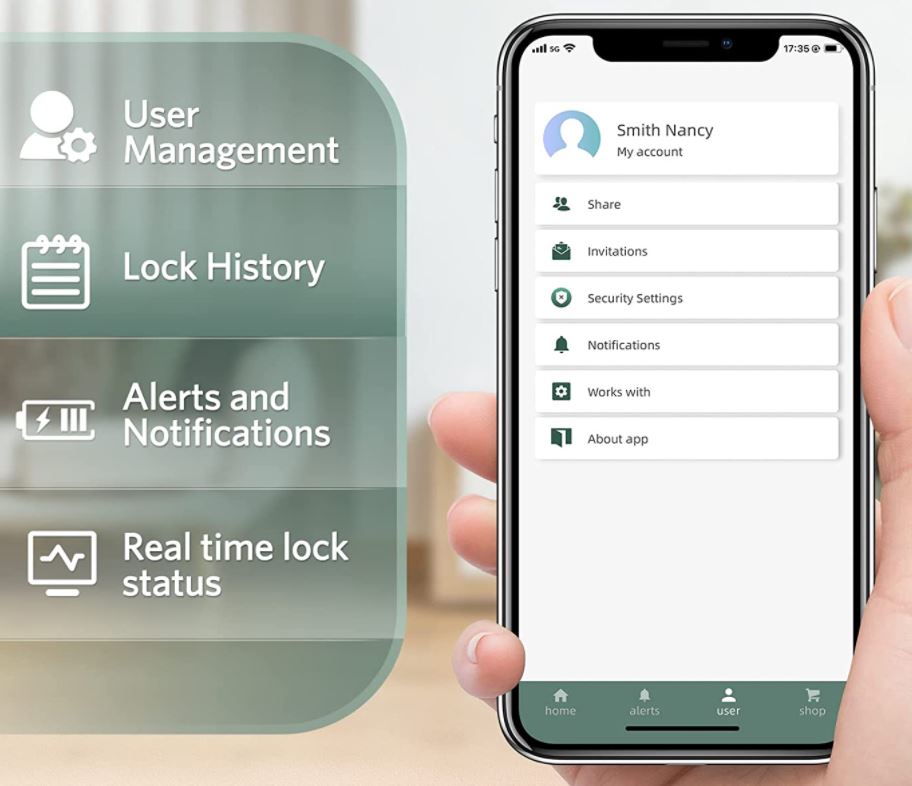 Once you've paired your lock with your phone via the SECURAM Guard app, you'll gain several useful capabilities. To begin with, you'll be able to remotely lock and unlock your door from anywhere in the world. You'll also have access to a log. Every time the lock is locked or unlocked, it will make an entry. This lets you keep track of when your door is being used. If you want, you can even enable push alerts to your phone when the lock is used. You can also set up voice commands via Amazon Alexa and Google Home. That way, you can unlock your door from anywhere in your house, even if your hands are full.
Another thing you'll be able to do is adjust the auto-locking function. You can either have the lock close after a timer, or automatically re-lock whenever the door is closed. With this feature, you won't have to worry about forgetting to lock your door.
If you want even more online features, check out the Lockly Vision. It's not just a lock; it actually doubles as a doorbell camera and security app. On the other hand, it's a bit pricey, and the installation is more complicated.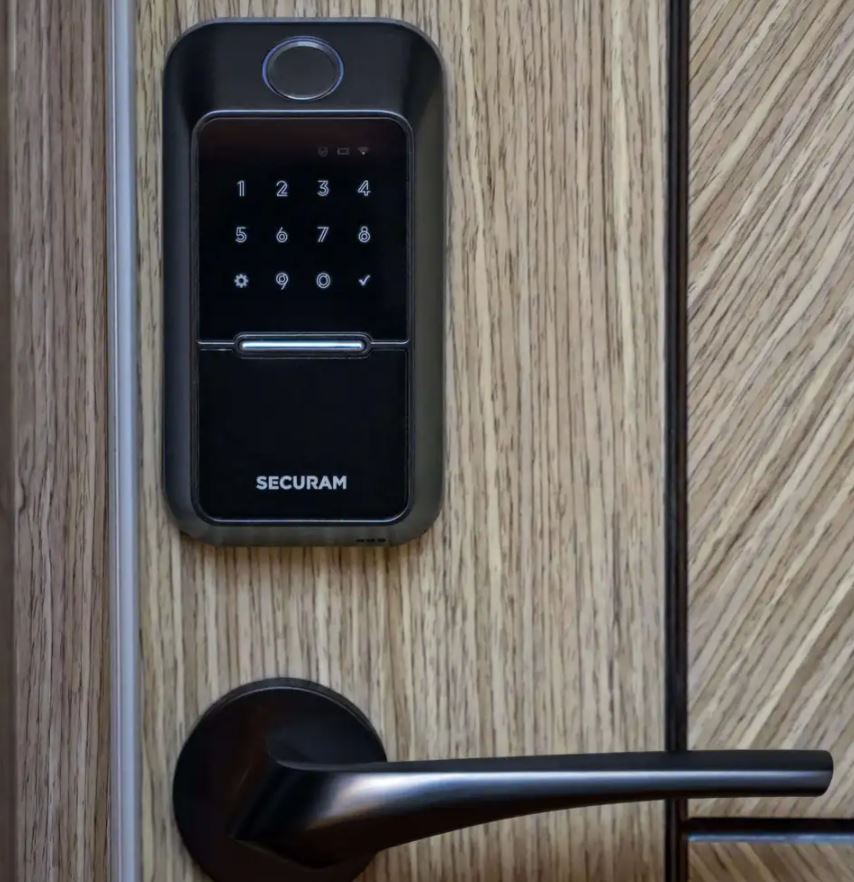 Final Verdict
So, is the SECURAM EOS Wi-Fi Smart Lock worth your investment? Absolutely! The setup can be a bit tricky, but once it's installed, you'll have one of the most powerful locks available. With fingerprint, keypad, keyed and app options, you can unlock your door in many ways. And with its easy-to-use app, you'll get plenty of bonus features. For the most part, we were very happy with this lock.
Meet Derek, "TechGuru," a 34-year-old technology enthusiast with a deep passion for tech innovations. With extensive experience, he specializes in gaming hardware and software, and has expertise in gadgets, custom PCs, and audio.
Besides writing about tech and reviewing new products, Derek enjoys traveling, hiking, and photography. Committed to keeping up with the latest industry trends, he aims to guide readers in making informed tech decisions.