Yeedi Vac Max
Design & Aesthetics
9.0/10
Connectivity & Extras
7.5/10
Pros
Able to vacuum and mop simultaneously.
Impressive battery life and quick charge times.
Auto-detects carpets and adjusts appropriately.
Built-in HEPA filter cleans air as it vacuums.
Cons
Can only climb a 0.35-inch obstacle.
App setup can be finicky.
If you're trying to keep up with the latest technology, it's easy to spend a lot of focus on flashier products. Take the latest smartphones, for instance. Even if you aren't interested, the news and reviews are pretty much unavoidable.
The same goes for other big news items like game consoles. But there are many humbler types of technology that are just as useful – perhaps more so. The vacuum cleaner is a good example. Unless you're a sucker for punishment, you probably don't get excited about using one. At the same time, it's a necessity, and a better vacuum cleaner will save you time and effort.
If you're looking for the ultimate in convenience, it's tough to go wrong with a robot vacuum. Other than emptying a dust hopper, there's no effort involved at all. Unless you need to do some serious deep cleaning, your needs will be more than met.
But if you haven't looked for robot vacs in a while, you may be seriously underestimating them! Old-school robotic vacuums ran around more or less randomly, and weren't very efficient. Modern vacuums, on the other hand, are a lot more capable. They have mapping capabilities, and can run in a zig-zag pattern, the same way you'd vacuum manually.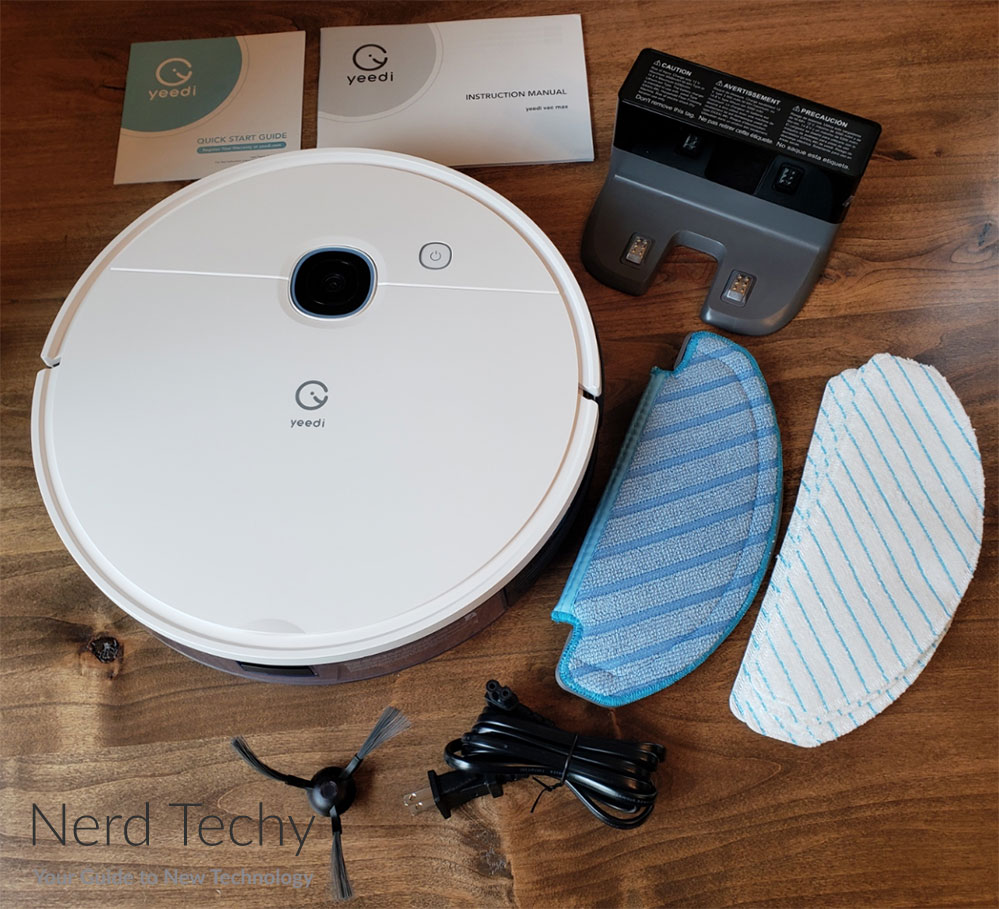 Yeedi Vac Max
Today, we're going to review the Yeedi Vac Max. This is a combination robot vacuum and mop that can clean almost any kind of floor. It also has a powerful battery pack that can keep it running for over three hours. But those are just a couple of the features you need to consider when you're choosing a new robot vac.
To find out whether it's worth your while, we'll need to look deeper into the details. We'll have to take a look at the physical construction, and how it's put together. We'll need to consider the navigation capabilities, and the brushes themselves. And of course, we'll have to discuss the actual suction power. At that point, we'll know enough to make an accurate judgement. Let's begin!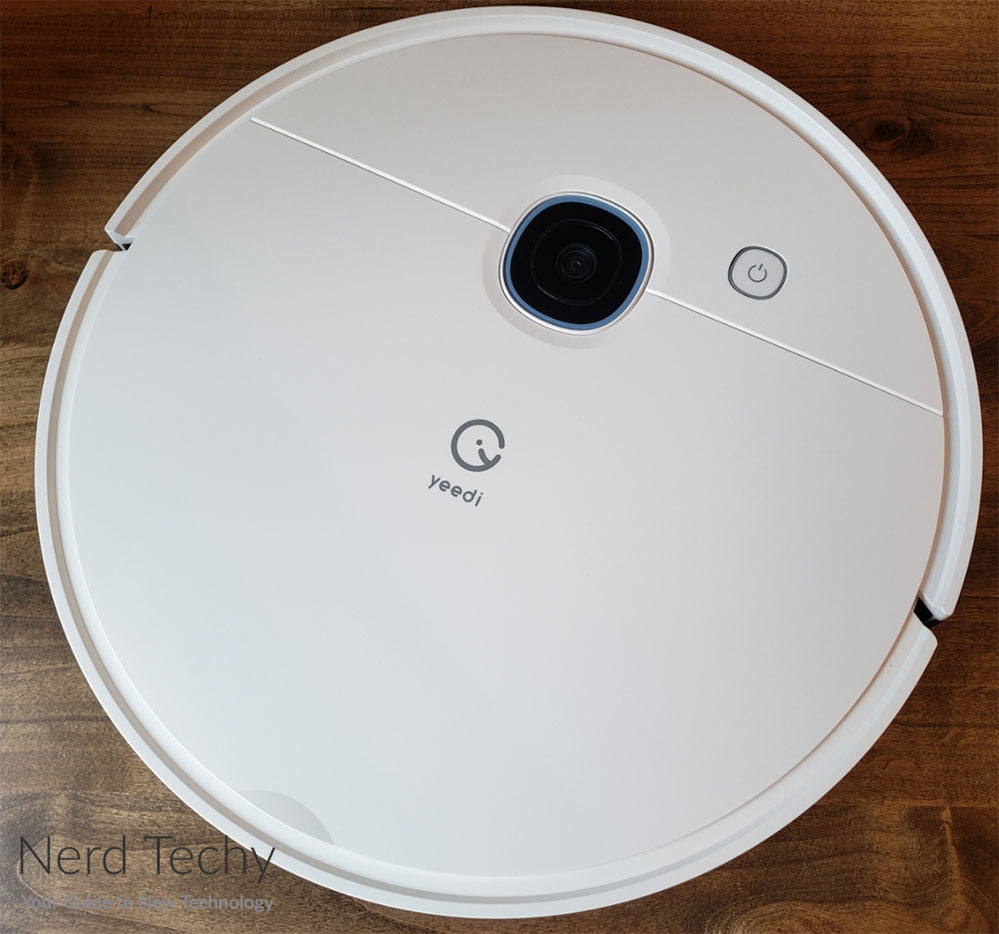 Overall Design
The Yeedi Vac Max has a similar circular shape to most other robot vacuums. It measures 13.8 inches in diameter, around the size of a large dinner plate. At 3 inches thick, it has a reasonably-low profile, and can fit under most furniture. It won't fit under a low sofa, but higher-standing furniture poses no obstacle whatsoever.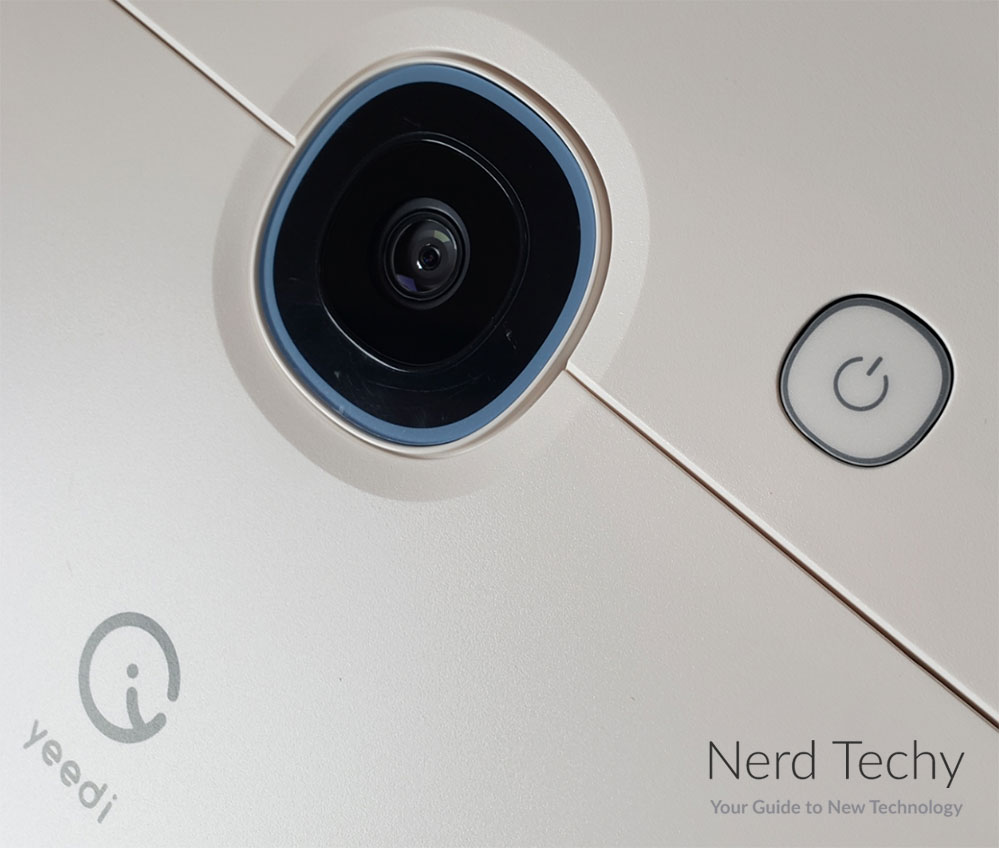 The plastic shell has a two-tone design, with a white top plate and a black lower portion. On the top, near the front, there's a square-ish black lens housing. This encloses the optical sensor, which we'll discuss later in more detail. A bit to the front and side of that, there's a white power button. This can be used to initiate a cleaning cycle.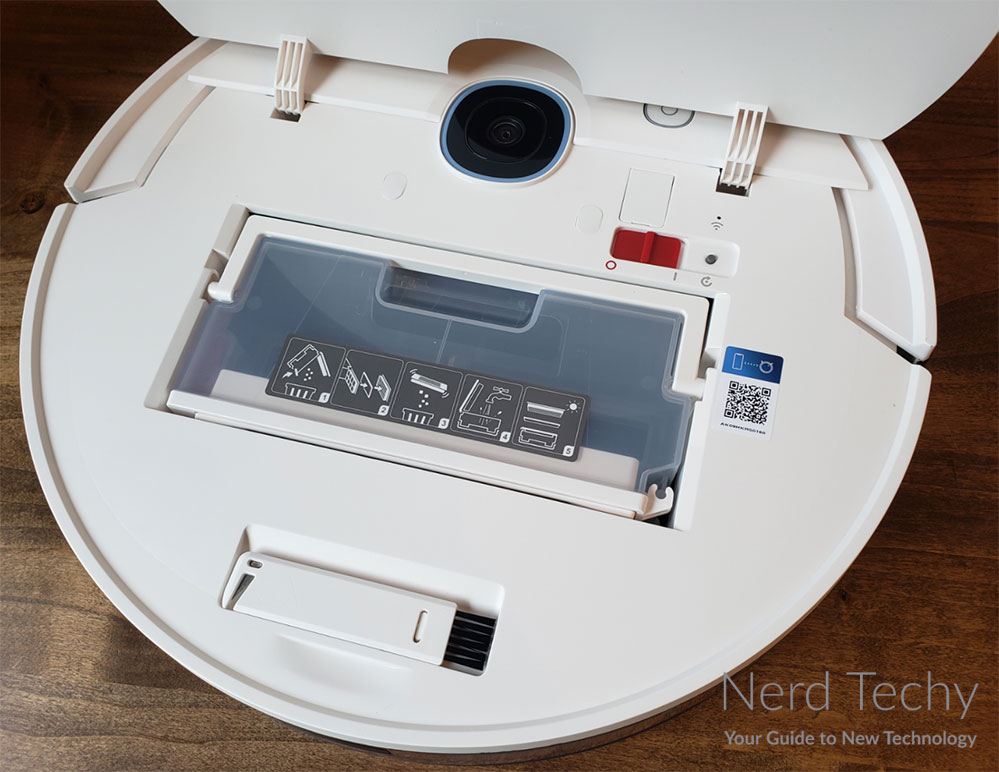 There are additional sensors visible on the front of the housing, as a slightly darker, shinier black bar. Inside the front portion, there's a 450ml dust bin. This is slightly smaller than your average dust bin, but not by a whole lot. In the front, there's a removable 240ml water reservoir. This reservoir is semi-transparent, so you can monitor the water level from outside.
If you need a larger dust bin, there are certainly plenty of options. The Yeedi K650 is an excellent example. It has a monster 600ml dust bin that can perform through even the most demanding cleaning. On the downside, it has less suction power than the Vac Max, and the app controls are somewhat limited.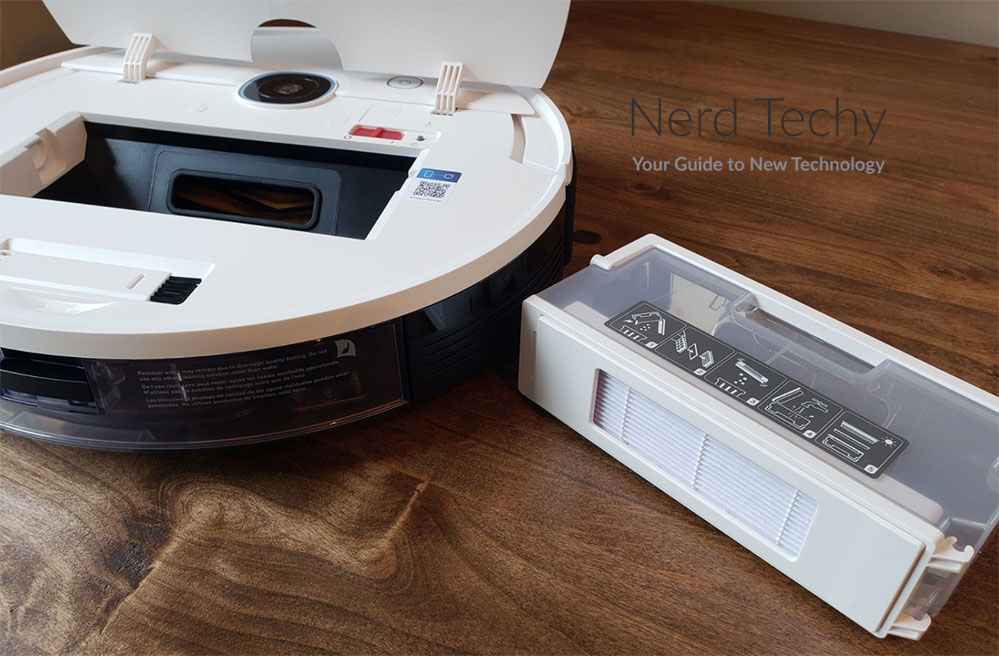 Drive, Brushes, and Base Unit
The bottom of the Yeedi Vac Max is where you'll find the most interesting physical features. Near the front, there's a small wheel, which can rotate around in a circle. This wheel isn't used to provide power, but it is motorized. As it rotates, it steers the vacuum around.
Slightly behind this wheel, towards the right, is a horizontal brush. This brush spins in a circle, and reaches further than the outside of the main vacuum housing. Its function is to bring dirt in from the side and bring it into the main roller. This is more effective on solid floors than it is on carpets.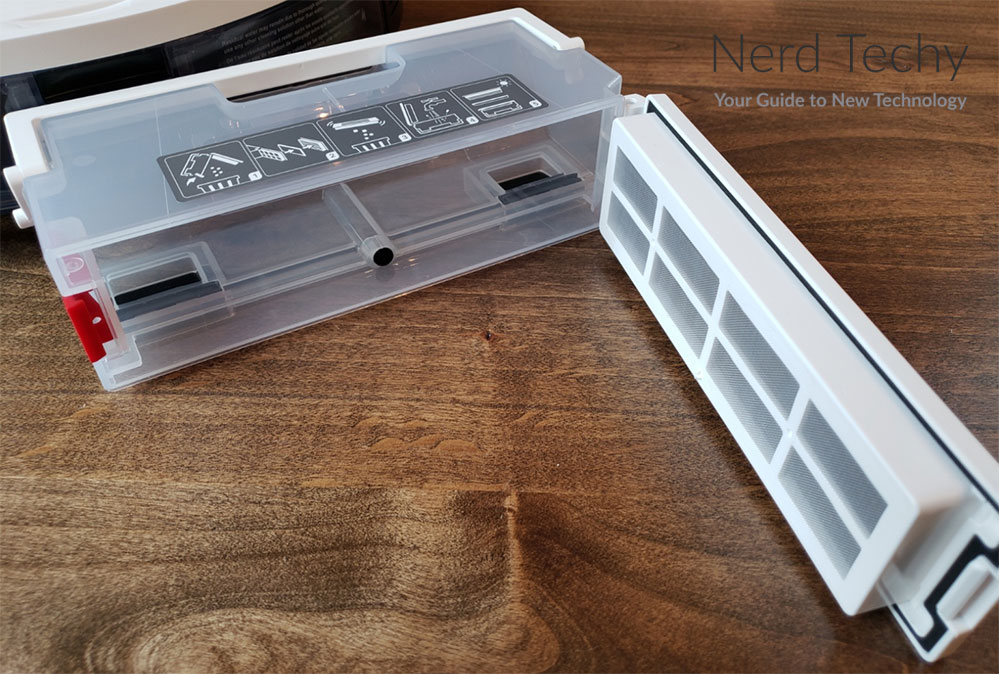 The main roller brush is located more or less at the vacuum's centerline. It has a spiral formation, with alternating bristles and silicone flaps. This provides a good balance of performance between solid floors and carpets. A mopping pad trails behind this, although it can be removed if you're not using the mopping function.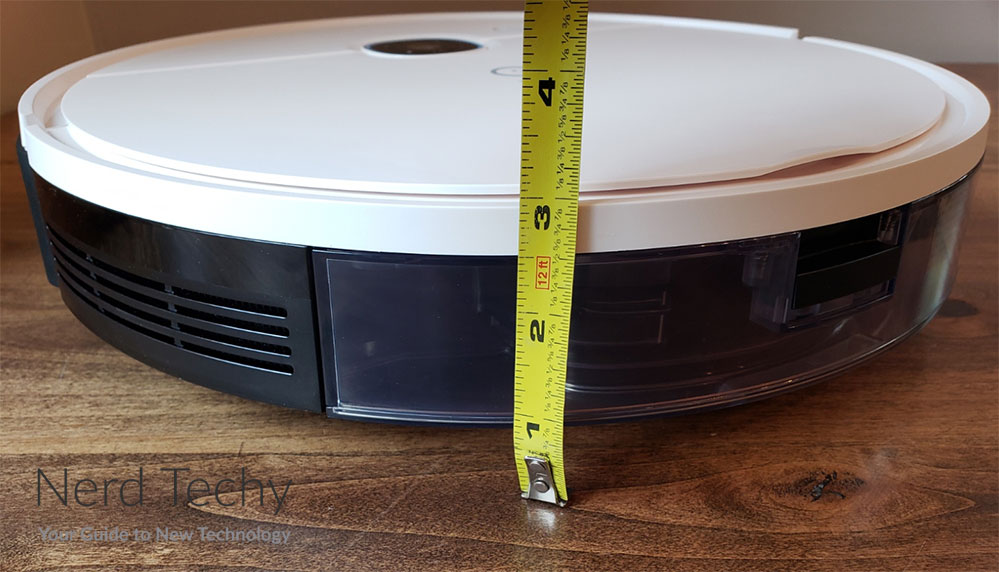 To either side of the roller brush, there's a pair of rubber wheels, with deep, chunky treads. These are the main drive wheels that are used to propel the vacuum. They're big enough to cross a transition with a height of up to 0.35 inch, which isn't that impressive. Many ordinary household transitions are half an inch or even ¾-inch. So it's not ideal if you have transitions high enough to stub your toe on.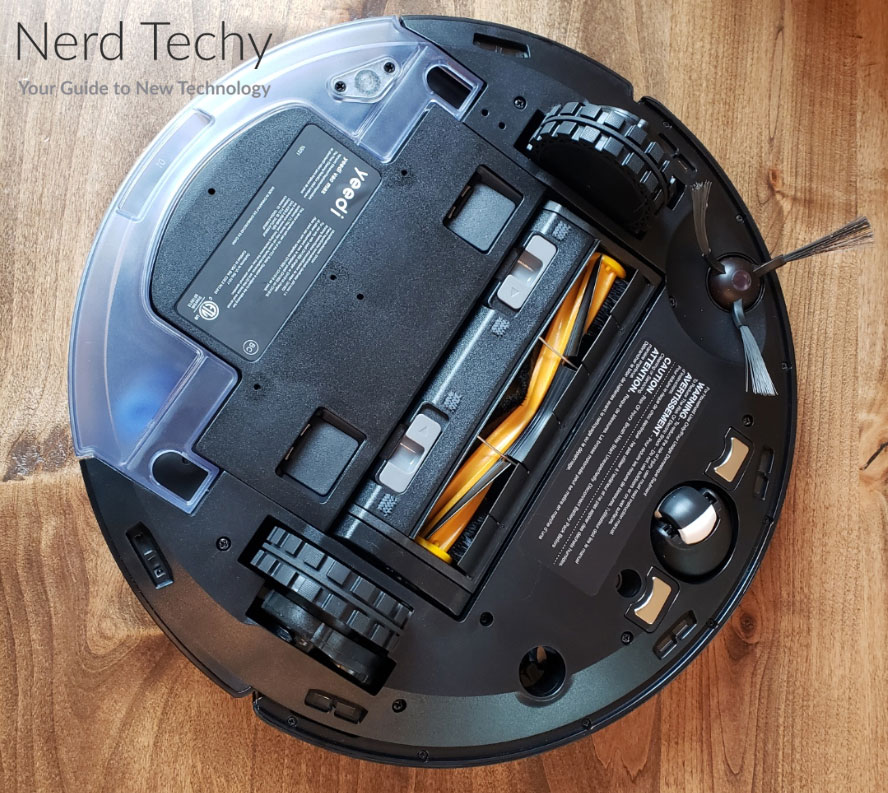 The Vac Max comes with a little base unit, which sits tight against your wall. When the vacuum is not in use, it sits in the base unit and charges. You'll have to position it reasonably close to a power outlet in order for it to plug in. It should also be somewhere without a lot of foot traffic, so it's less likely to get kicked.
On the off chance that the vacuum prematurely fails on its own, you'll be protected. Yeedi backs it with a 12-month manufacturer's warranty. They also offer a 30-day return window, so you can try it before you're fully committed.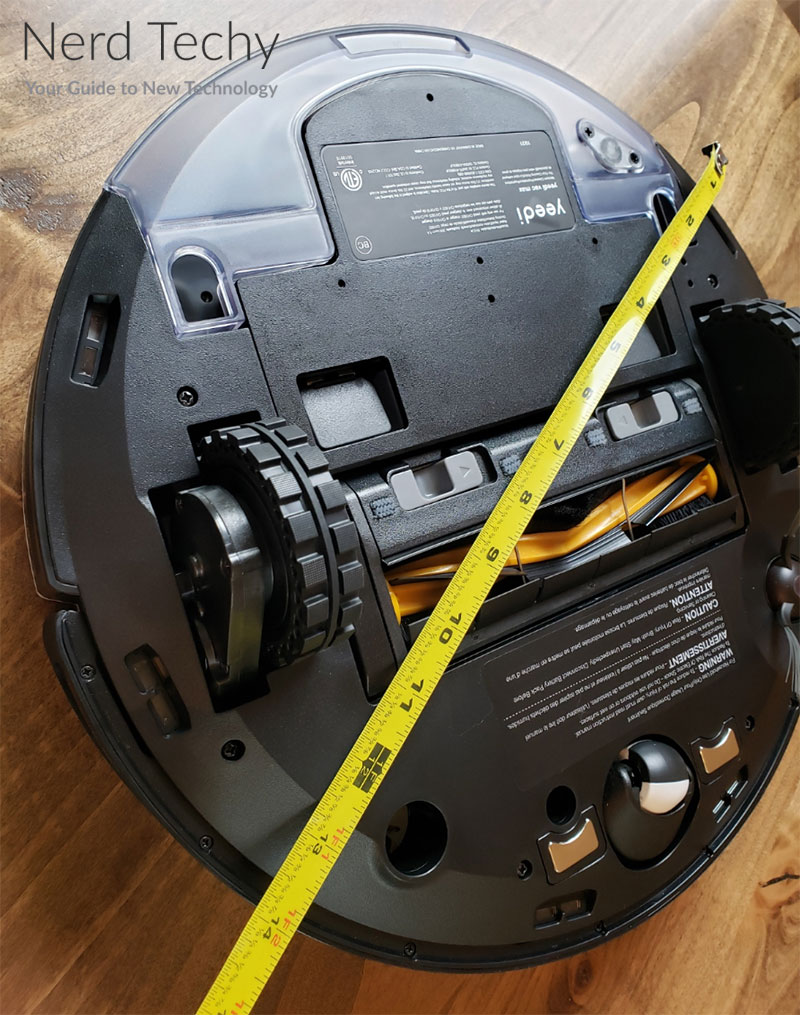 Vacuum Performance
The Yeedi Vac Max is a 2-in-1 robot vacuum and mop. Depending on your settings, it can vacuum, mop, or perform both functions at the same time.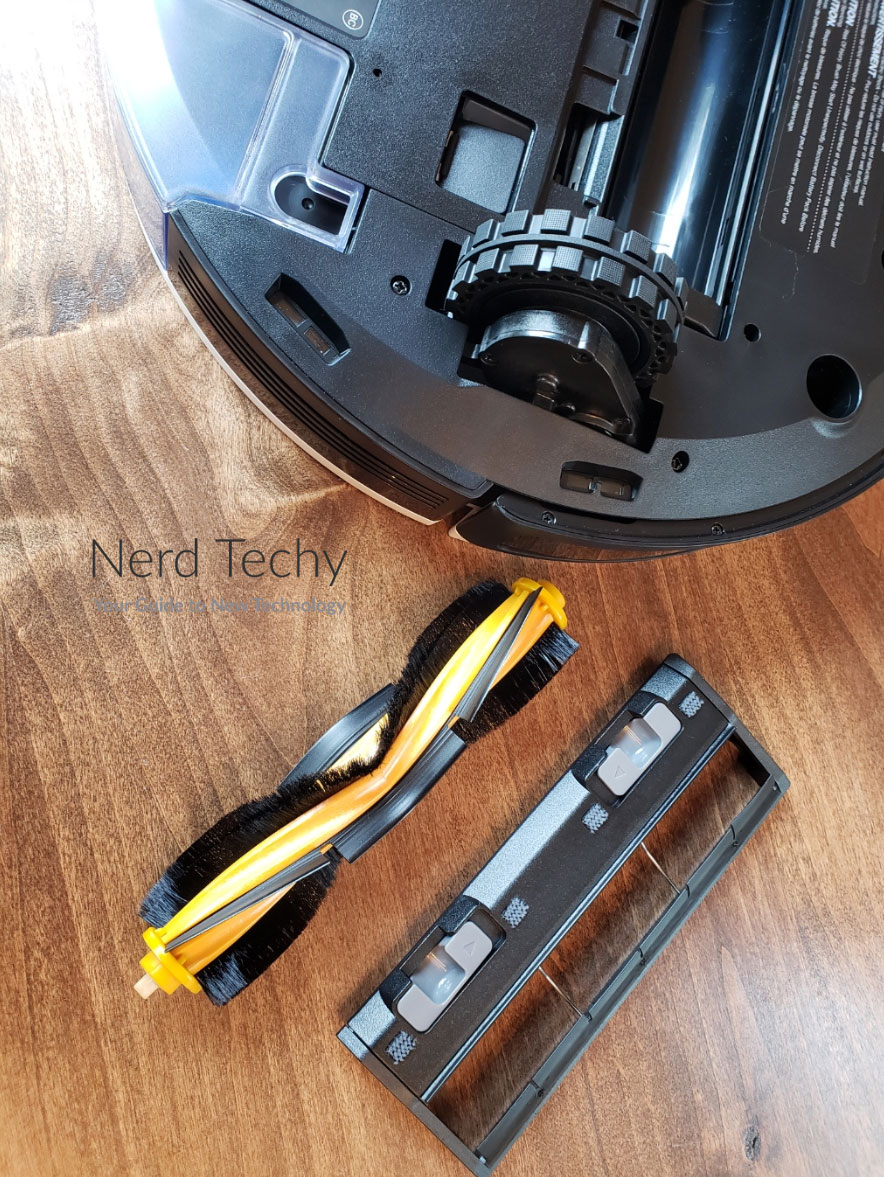 The vacuum function itself has three different levels: 600, 1,500, and 3,000 Pascals (Pa). The average modern robot vac has around 2,600Pa of suction, so you're getting reasonable power. You can freely adjust the suction level from within the app. Alternatively, you can let it automatically adjust depending on the situation. In this mode, it will turn down on solid floors, but the power will ramp up as it traverses a carpet.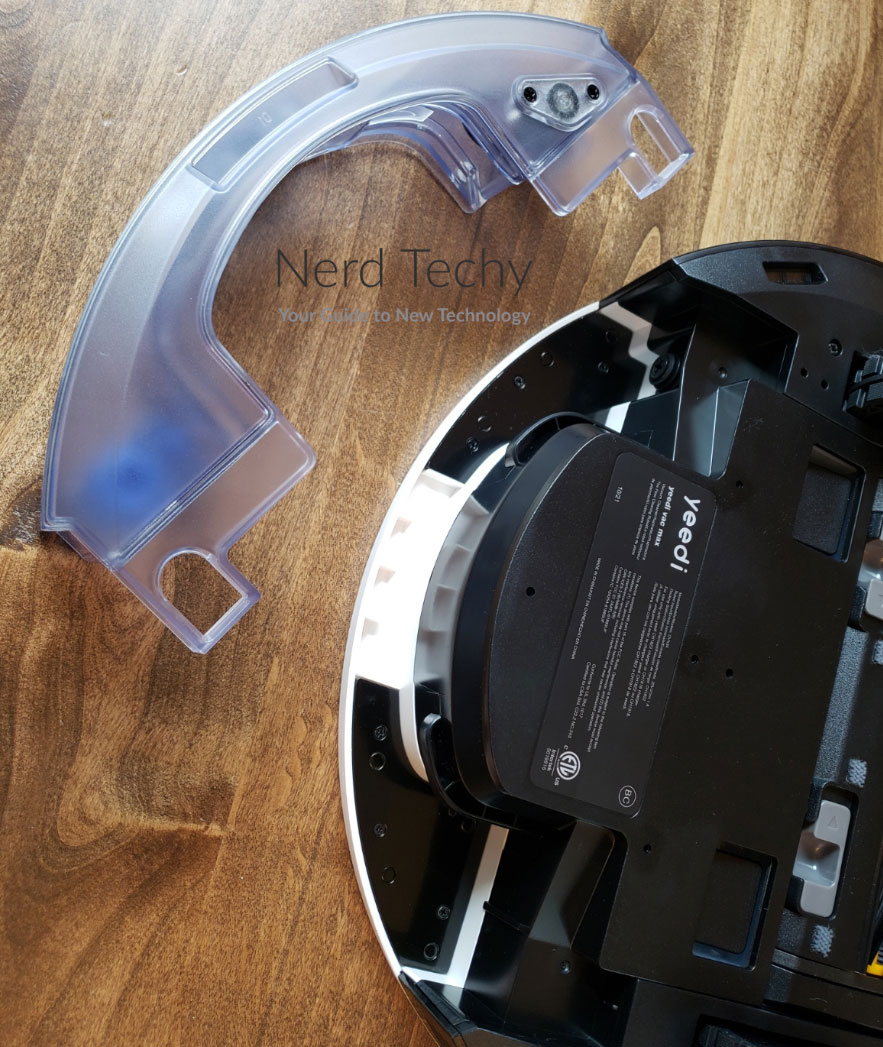 The mopping function is also adjustable, with three different spraying settings. The higher the setting, the more water will be sprayed out. Better yet, when the mop is running, the Vac Max will automatically avoid carpets. That way, you don't have to worry about getting your carpet all wet. The kit includes four microfiber mopping pads, which are removable and machine-washable.
Battery and Extras
The internal battery has a capacity of 5,200mAh. That's enough for up to 200 minutes of operation on a single charge. Your actual performance will vary, depending your vacuum settings. The higher the suction, for instance, the shorter the battery life. But no matter how you cut it, you're getting enough power to clean a very large floor plan.
If your house is too big to cover in one go, that's not a problem. The vacuum will automatically return to its base unit and recharge. After 4 to 5 hours, it will be fully charged, and pick up where it left off.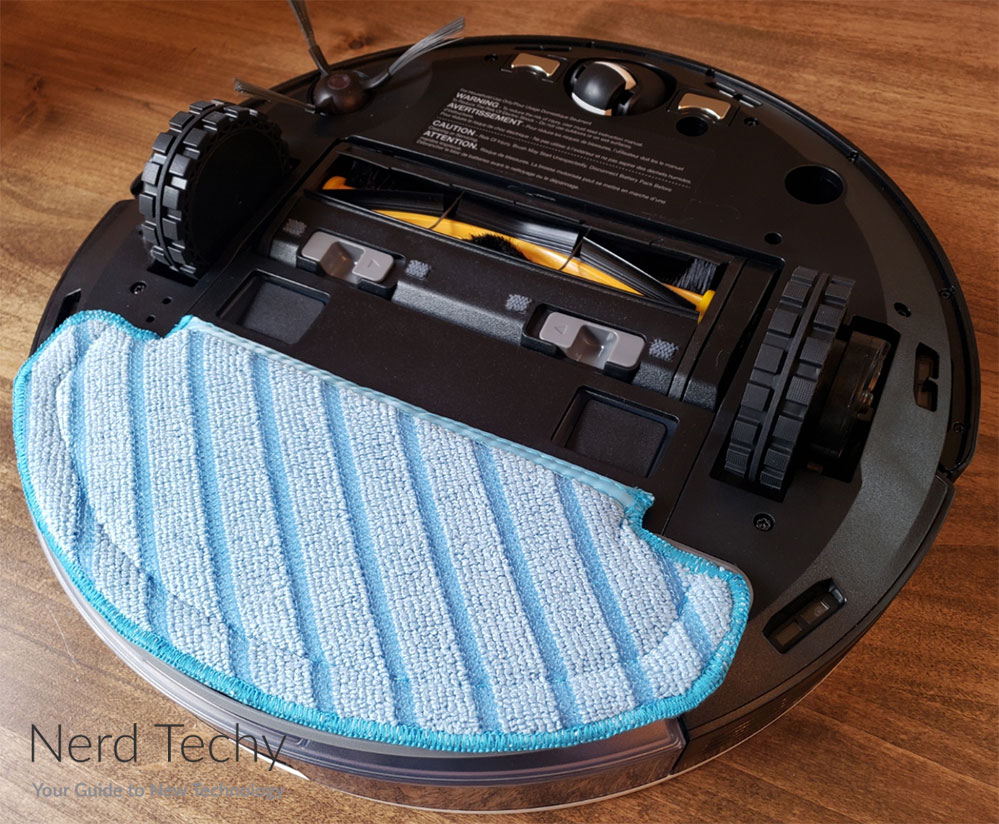 That said, if the dust hopper gets full, you'll have to empty it yourself. If you don't want to have to bother with that, consider the Yeedi Vac Station. It's a powerful robot vacuum with a self-emptying base station that has a built-in 2.5-liter dust bag. This allows it to self-empty, but it also makes it pretty expensive.
The Vac Max doesn't just clean your floor. It also has a built-in HEPA filter that removes almost all particulates from the air. This ensures that you're not putting dirty air back out into the room.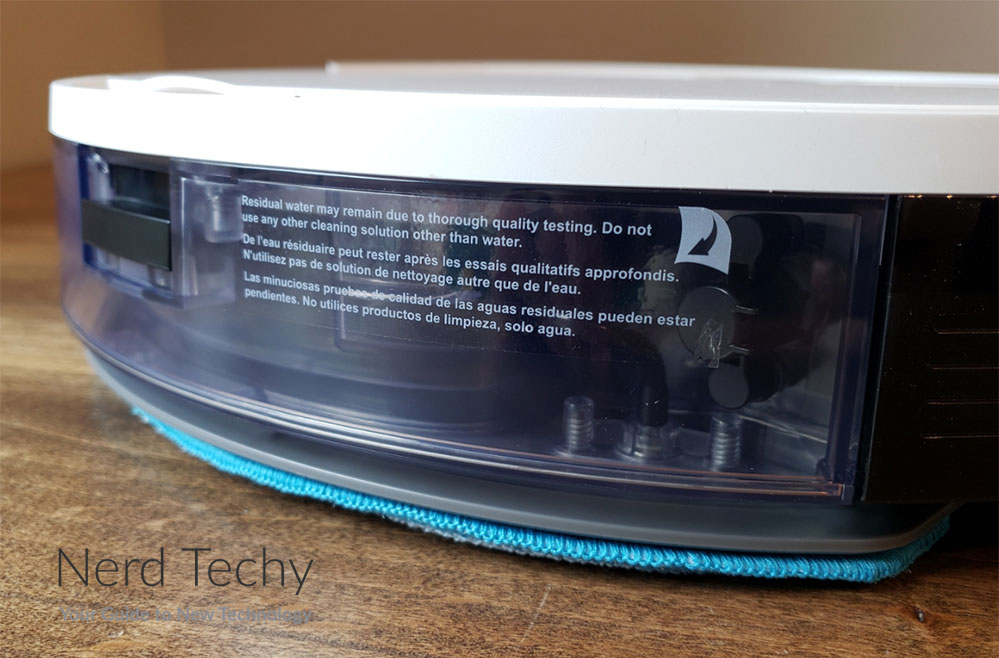 Setup and Everyday Use
The Yeedi Vac Max will use its sensors to automatically map out your floor. The first time it runs, it may seem to move randomly. But after the visual sensor has fully mapped out your house, it will run in a zig-zag pattern. That said, to get any kind of real control of the vac, you'll have to install the smartphone app.
Setting up the app, particularly setting your password, can be a little frustrating. You'll also need to pair it with your vacuum via WiFi. But once it's set up, you'll be able to customize your cleaning routine. We already discussed changing the spray and suction settings, but there's a bit more to it than that.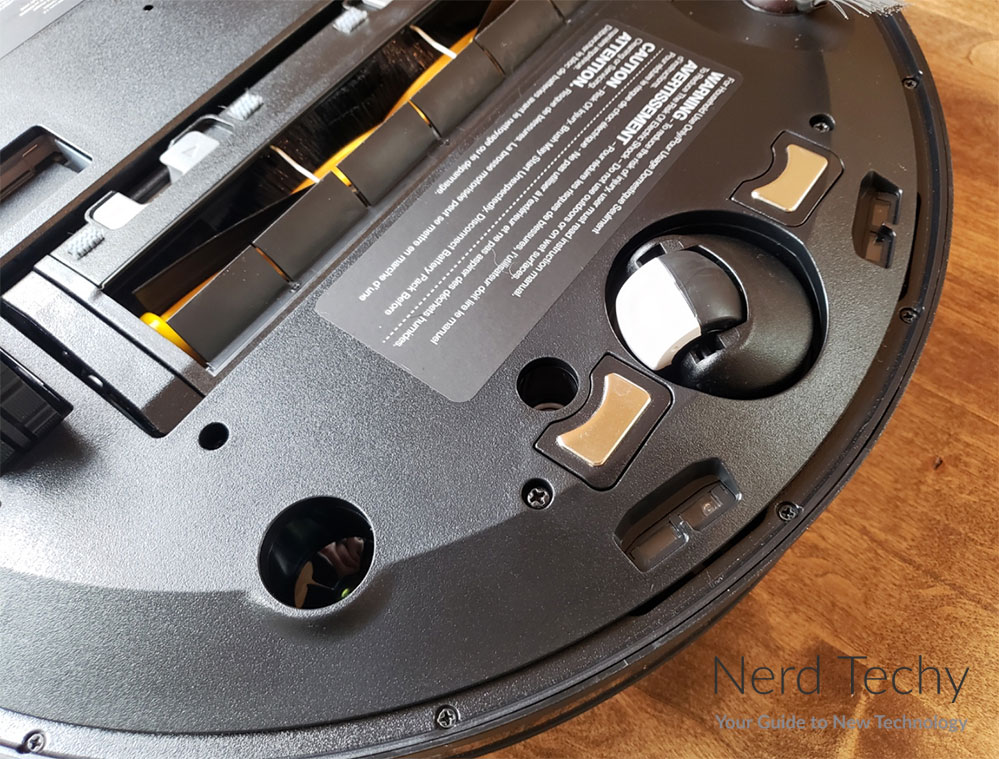 You can view a virtual map of your home, and set a cleaning schedule. You can also schedule daily or weekly cleanings. In addition, you can clean the whole house at once, or clean different rooms at different times. You can also set no-go zones, where the vacuum will avoid cleaning.
All of these are great features. However, the app doesn't allow you to create virtual rooms. It also sometimes fails to identify doorways, so two rooms get lumped into one. If this happens, you won't be able to clean those rooms separately from each-other.
If you want more advanced mapping features, consider the Yeedi Vac 2 Pro. It allows you to do many things the Vac Max doesn't, and you have more control over the vacuum. It's also extremely quiet, although it costs a bit more than the Vac Max.
Along with using the app, you can also set up voice commands to control your vacuum. This is done through the app, and it takes just a minute to configure. It's compatible with both Amazon Alexa and Google Assistant. Whichever voice assistant you prefer, you'll be able to use it.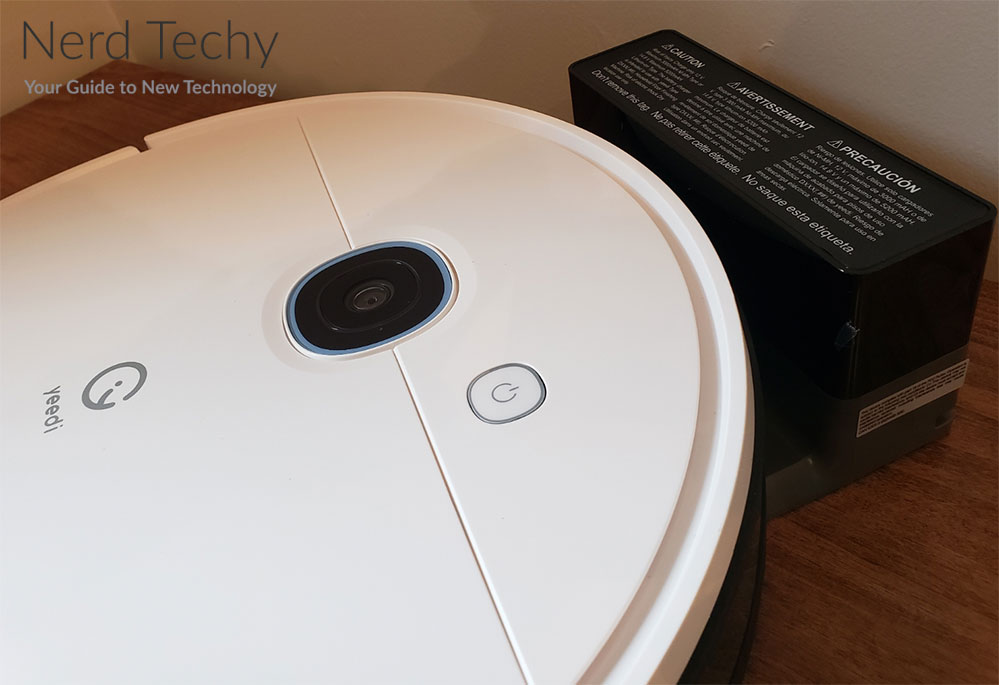 Final Verdict
The Yeedi Vac Max is a full-featured robot vacuum with a powerful mopping function. The app is a bit finicky, but it allows a reasonable amount of control over your cleaning. It has one of the longest-lasting batteries on the market, with a very well-designed roller brush. All in all, you're looking at a fairly well-engineered machine. Also, be sure to checkout the Yeedi Vac Max on the official website or on Walmart's website.
Meet Derek, "TechGuru," a 34-year-old technology enthusiast with a deep passion for tech innovations. With extensive experience, he specializes in gaming hardware and software, and has expertise in gadgets, custom PCs, and audio.
Besides writing about tech and reviewing new products, Derek enjoys traveling, hiking, and photography. Committed to keeping up with the latest industry trends, he aims to guide readers in making informed tech decisions.