ELAMOR M15
Design & Aesthetics
9.0/10
Connectivity & Extras
7.0/10
Pros
Set up to 50 user codes.
Keyed backup.
Locks automatically after use.
Easy to set up and install.
Well-built with high quality materials.
Cons
No wireless connectivity.
No biometric or voice controls.
Only available in two color schemes.
When it comes to your home's security, your front door lock is the most powerful line of defense. These days, you'd have to be particularly naïve to leave your door unlocked all the time. But this is actually a relatively new development. It's only since the mid-1800s that ordinary people have had access to high-quality locks.
Before the industrial revolution, there was no way to mass-produce intricate machines like locks. You can still find some amazing handmade locks, which were created by master craftsmen. But those locks were used by royalty, the nobility, and the very wealthy. Even then, most older locks were easy to pick if you knew what you were doing.
Fast forward to today, and a basic door lock is better than anything you'd find 200 years ago. But they still share a common weakness: the physical key. For one thing, you may lose your key, and be forced to call a locksmith. For another thing, you may not always want to lend one out. Keys, after all, can be copied.
The friendly handyman you give a key to might have a less-than-trustworthy assistant. And that assistant might decide to make their own copy, and use it to burglarize your house. An electronic lock, on the other hand, is more flexible. You can grant temporary access to individual people, like contractors and cleaners. When a person no longer needs access to your house, all you have to do is revoke their credentials.
ELAMOR M15 Keyless Entry Door Lock
Today, we'll be reviewing the ELAMOR M15 Keyless Entry Door Lock. This lock comes in a bronze or a nickel finish, with both keyed and number pad functions. It's battery-powered, with about a year of battery life. And with its zinc alloy bolt and inner workings, it's extraordinarily difficult to damage.
Of course, those are only a few of the things we need to look at. We'll have to talk about installation, and what kind of doors it can be used with. We'll have to talk about programming the key codes, and sharing them with friends and family. In addition, we'll also have to discuss any relevant bonus features we run into. After that, we'll have enough information to deliver a fair verdict. Let's begin!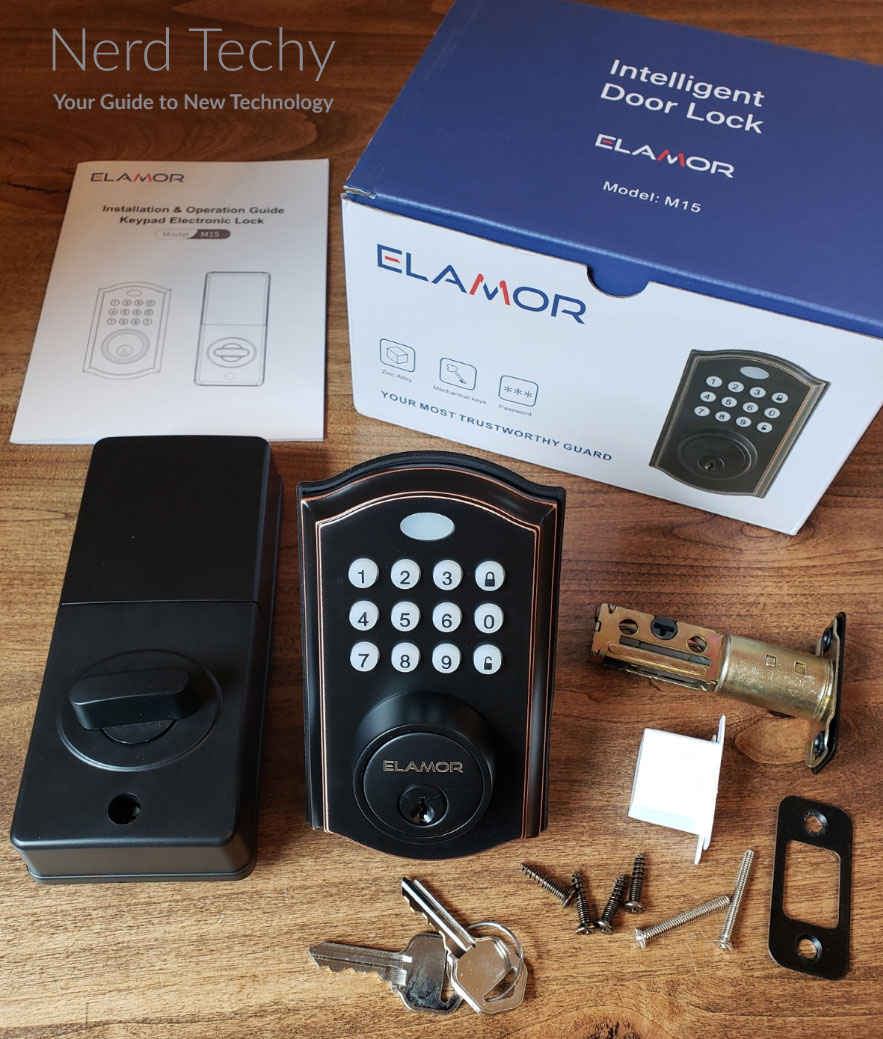 Design & Aesthetics
The ELAMOR M15 Keyless Entry Door Lock has a two-part design, like all deadbolts. The inside plate is rectangular, with a height of 7.52 inches and a width of 4.45 inches. The outside plate is a bit more ornate, with a curvy, ridged design that has a Victorian-era aesthetic.
The kit also includes a striker plate and some other part, but these are the bulk of the design. You can choose between two different finishes. The first is an attractive oil-rubbed bronze with highlights around the edges. The second is a more conservative smooth nickel, with a silvery finish. Both have an outer black border on the exterior plate, although it's more noticeable on the nickel.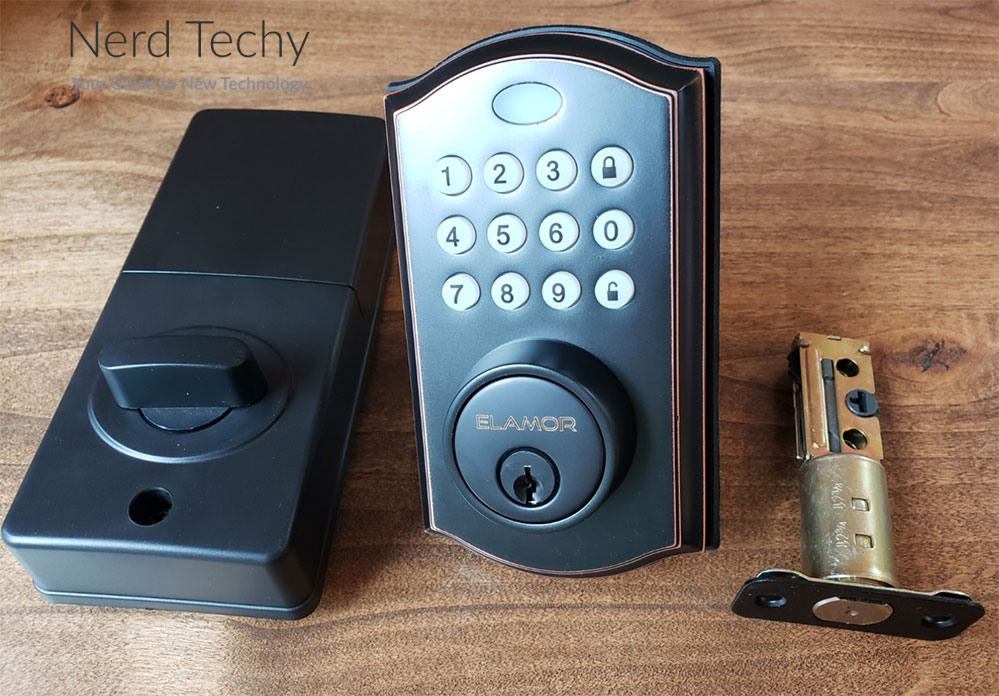 The exterior portion of the lock has a battery indicator light at the top. Underneath, the bulk of the plate is occupied by a 10-digit keypad. The keys are semi-transparent white, and they light up as you press them. This makes it easy to tell when a key has activated, despite the lack of tactile feedback.
In the keypad, there's also a pair of lock and unlock buttons. To use the lock, all you have to do is enter your personal code, then hit the appropriate locking button. Under the keypad, there's a traditional keyhole, with the word "ELAMOR" etched into the metal above it.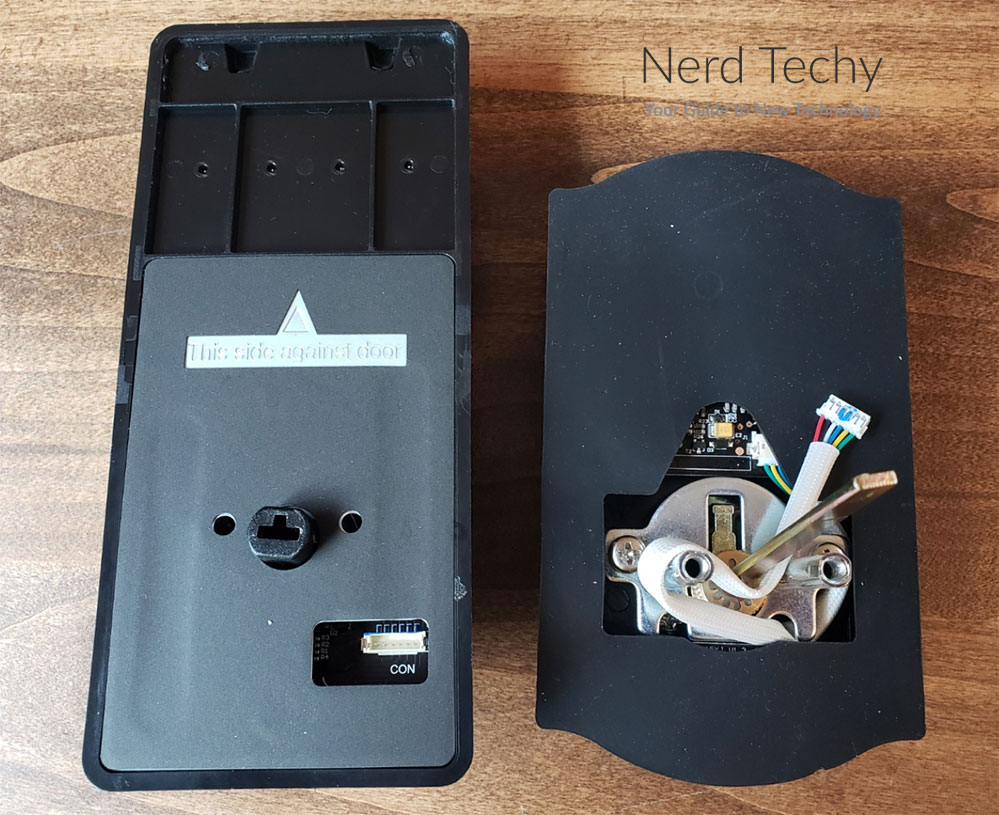 The interior part of the lock is far simpler. The top portion – the bulk of the lock – is just a flat panel. However, you can slide it up and remove it to reveal the battery compartment. This allows you to install the four AA batteries, and to replace them as needed.
Beneath the battery compartment is a simple deadbolt toggle. You twist it to lock or unlock, just as you do with a traditional deadbolt. That's all there is to it, at least on the outside.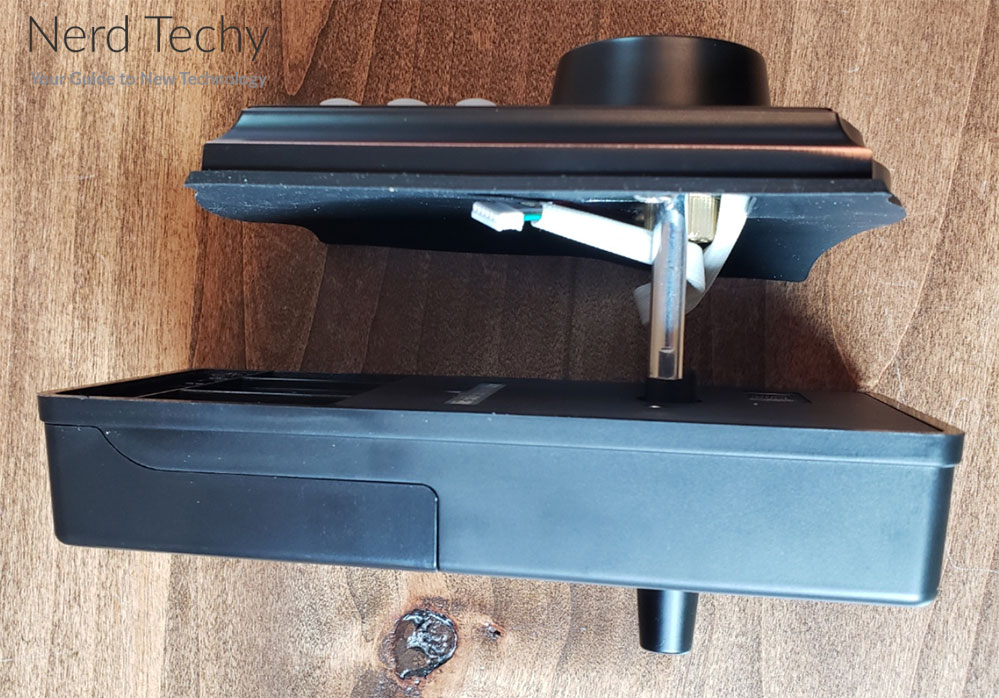 One thing we appreciated about the M15 is how easy it is to install. Assuming your door is already drilled out, the only tool you're going to need is a screwdriver. If you're using a brand new slab with no hole, things get a lot more complicated in a hurry.
But replacing an existing deadbolt is about as simple as it gets. Even including the time it takes to remove the old deadbolt, it should only take a few minutes. As far as compatibility goes, you can install it on a door with a 2-3/8" to 2-3/4" backset. This includes most doors, and the backset is easy to adjust.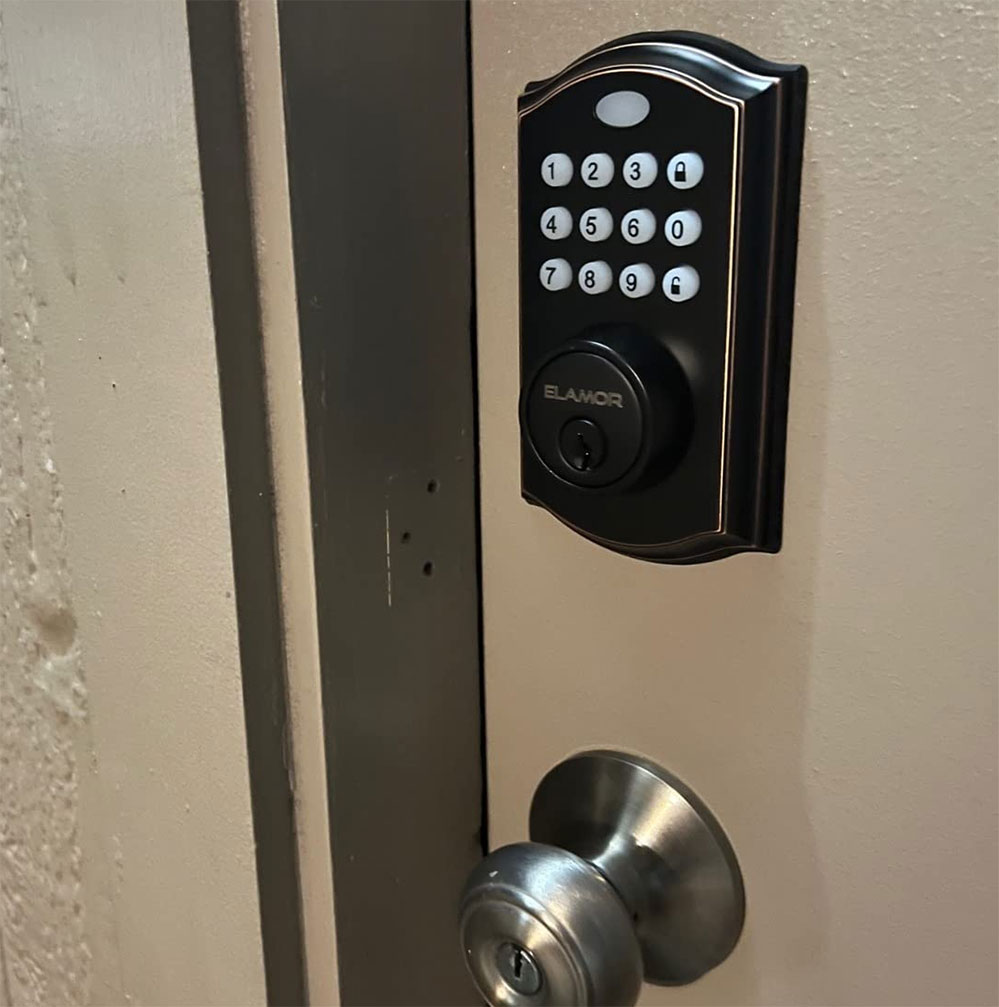 This lock has a weather-resistance rating of IP54. The 5 indicates the second-highest possible level of dust-resistance. Even if you're in a dry area that's prone to dust storms, you don't have to worry about physical damage. The 4, meanwhile, indicates that the lock is splash-resistant. It will be able to withstand rain and stormy weather without any issues.
That said, it can't stand up to a constant stream of water. If your door is completely exposed and water frequently runs down the front, you could have issues. But even a tiny bit of J-channel over the door will provide enough protection to avoid that scenario. And if you've got a storm door, there's no risk whatsoever.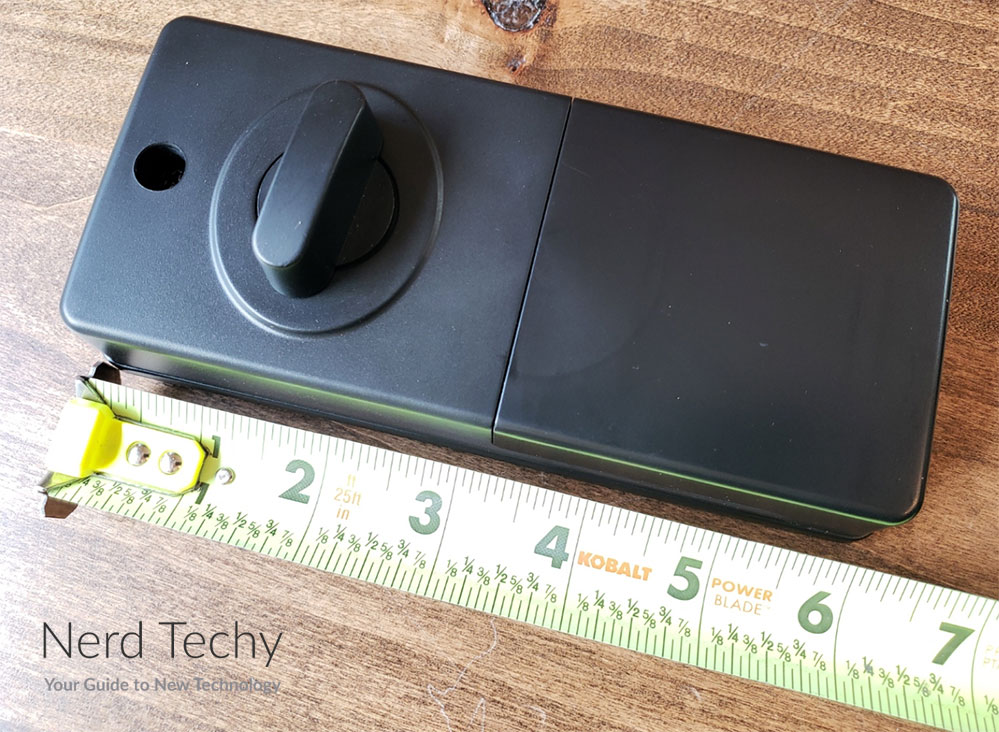 Along with the lock, you get two sets of screws for installation. The wood screws are nice and sharp, so you can drive them in with a manual screwdriver. Of course, an electric screwdriver will be even better! The kit also includes a pair of keys, like almost any deadbolt you buy.
If you like the idea of an electric lock but dislike the M15's design, there are plenty of alternatives. The Lockly Flex Touch is a great example. It has a very compact design, and doesn't draw a lot of attention. There's a small thumbprint sensor underneath for biometric operation, which is extremely secure. On the other hand, there's no keypad, so you can't generate passcodes for multiple people.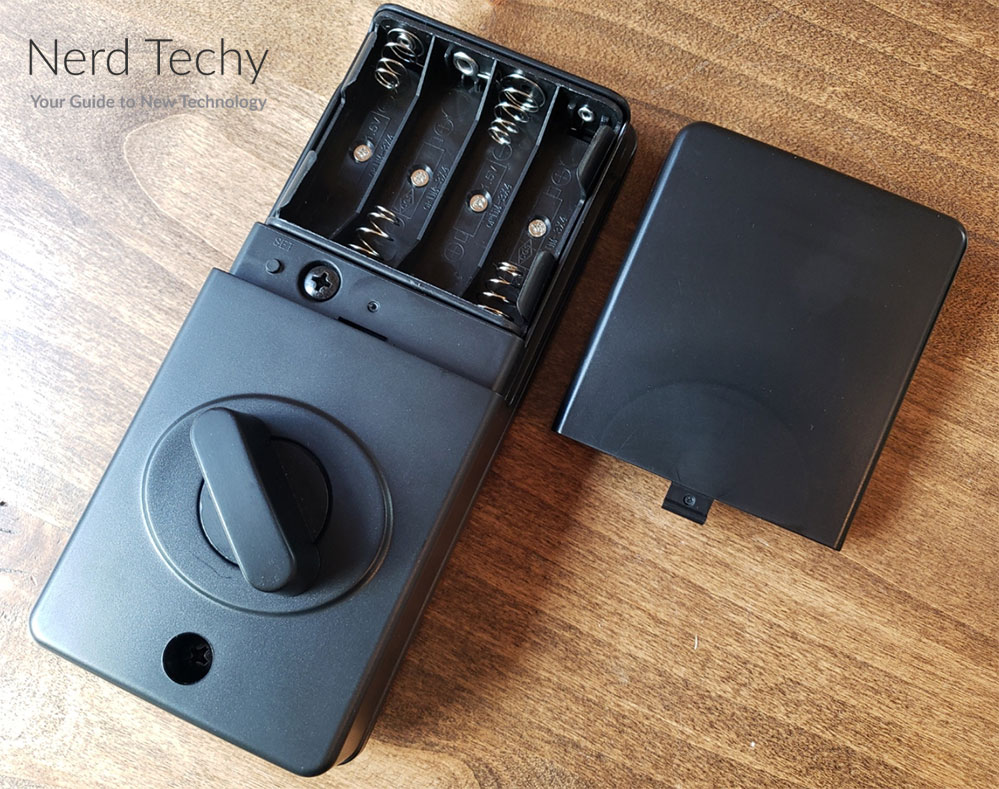 Lock Performance
The ELAMOR M15's lock cylinder is made from solid zinc. This is an extraordinarily hard metal that can withstand almost any kind of abuse. And not only is the lock virtually hacksaw-proof, it's virtually hack-proof. There's no WiFi or Bluetooth signal, so there's no way for someone to hack into your lock.
You can program this lock with up to 50 separate passcodes. This is probably more than you'll ever need, but it means this is more than just a home lock. You can use it on a door for a small business, and all the employees will be able to get access. It's also useful if you're having work done, since you can grant access to individual contractors.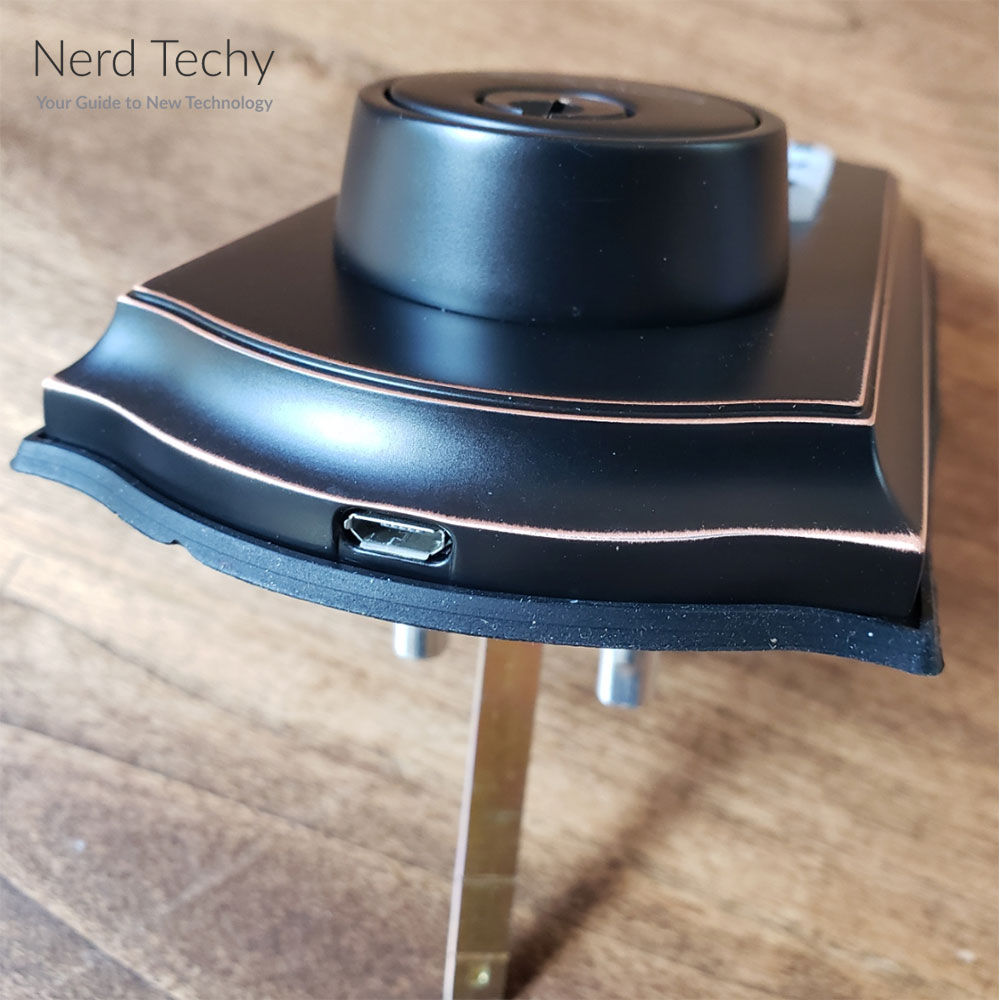 When you've opened the lock, it can be set to re-lock itself automatically. The time interval is adjustable between 3 and 30 seconds, which is quite the wide range. In practice, we wouldn't set it lower than 30. Less than that, and the lock can re-engage while the door is still open. It's not a huge deal; you just use the interior toggle to work the bolt and close the door. But it's less convenient than having the auto-lock function turned off to begin with.
The four AA batteries will last for around a year, give or take, depending on how often the lock is used. When the charge is starting to get low, the low battery light on the outside will illuminate as a warning. You'll still have a few weeks, so you'll have plenty of time to change the batteries. And if for some reason they die before you get around to it, the physical lock serves as a backup.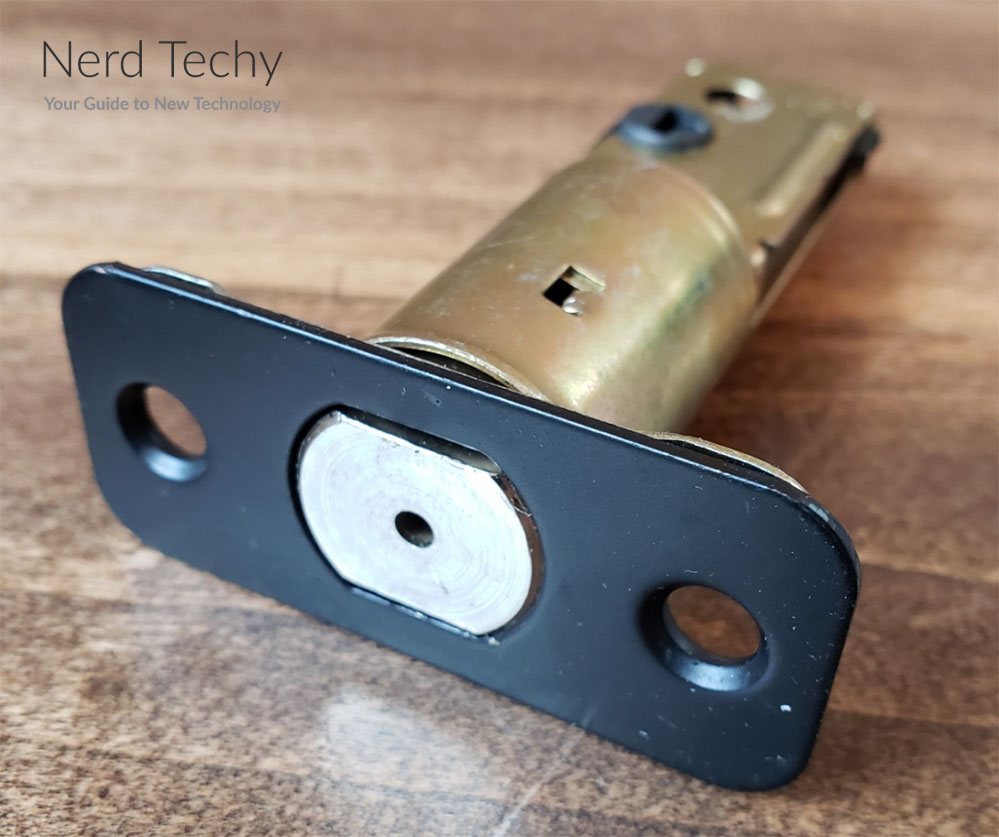 All of this is great, but what if you want more functionality? In that case, the SECURAM EOS is an excellent choice. It has a biometric lock as well as a keypad, so you can get into your house with only a thumbprint. There's also a powerful companion smartphone app, although the wireless connectivity can be hit or miss.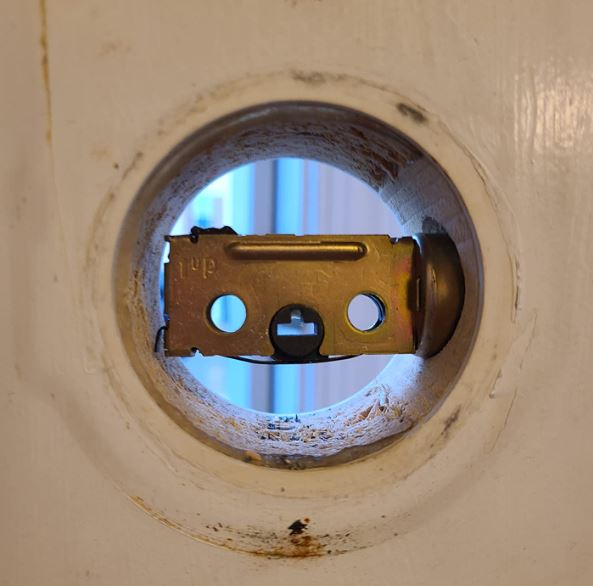 Connectivity & Extras
The ELAMORE M15 has no WiFi app, wireless connectivity, or Bluetooth. As we mentioned above, this is useful from a security perspective. But it can also be frustrating as a user. There's no way to add or delete codes remotely, or to unlock the door via an app.
Instead, you have to be physically present and program your codes manually. When you initially set up the lock, you'll first program a master code. In the future, this master code can be used to unlock the setting function, so you can set additional codes. The set and reset buttons are located behind the battery plate, on a little lip below the batteries.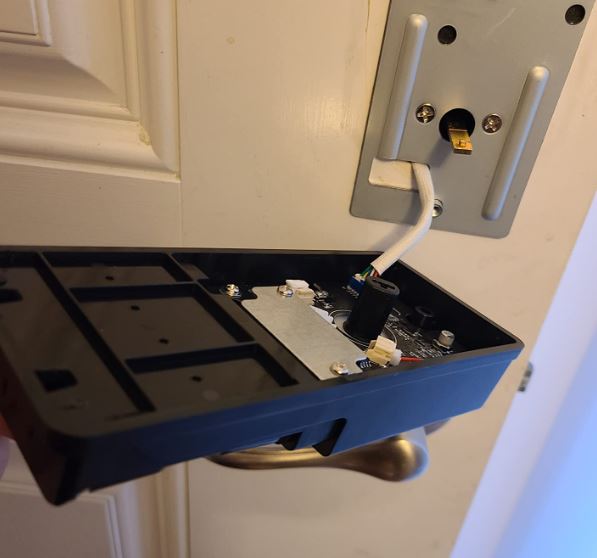 This lock has a lockout function and alarm to help deter thieves. If five incorrect codes are entered in a row, an alarm will sound. At the same time, the keypad will lock out for 90 seconds. This makes it impractical for someone to try and brute force their way to your password. And if you somehow entered five wrong codes yourself, you only have to wait 90 seconds.
With all of that being said, you might want a lock with more robust controls. If that's what you need, consider the SECURAM Touch. It connects via your WiFi network, and can be controlled remotely via an app. You can even use the app to set temporary and one-time passcodes. On the downside, you have to buy a separate wireless hub to get the lock online.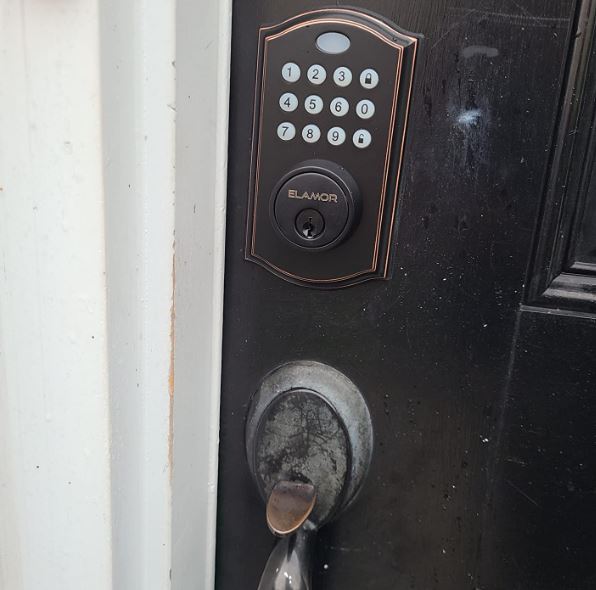 Final Verdict
The ELAMOR M15 Keyless Entry Door Lock is a unique deadbolt. It's one of the few that's fully electronic, but also has no online connection. Whether this is a good thing or a bad thing depends on how you intend to use it. Regardless, it's easy to install, easy to use, and provides you with plenty of passcodes.