If you look at the average living room, a lot has changed over the past few decades. When TVs first became widespread, they were big, bulky appliances. Forget about a slim, flat panel. These were full-sized cabinets, with wooden enclosures. With advances in technology, CRT TVs got smaller, and screens got bigger. By the 1990s, it wasn't unusual to see an entertainment center with a 27-inch TV. By the standards of today, that might seem downright quaint. But by the standards of 1995, it was a "big" screen.
Fundamentally, though, CRT screens were limited. They were deep and heavy, so they required an entertainment center, stand, or table. This meant you needed a dedicated piece of furniture in your room. It also meant, however, that you had shelving for all your other electronics. Over the last 20 years, flat screens have slowly replaced older CRTs. With a flat screen, you can mount your TV on the wall, eliminating the need for a stand. In many respects, this is good news. After all, you get more floor space. Who doesn't want more floor space?
The downside is that you suddenly have nowhere to put your other electronics. Your game console and Blu-Ray player are now homeless. Your set-top box can't actually sit on your set, and you've got nowhere else for it to go. The obvious solution is simply to keep an entertainment center, shelf, or table near your TV. This will give you somewhere to put your equipment while you're relaxing. But we live in the year 2020. Your TV can mount on your wall, and you want that floor space back.
If you install a wall mount for your cable box, Blu-Ray player, modem, or other device, you'll be all set. You can kiss goodbye to your entertainment center once and for all.
Of course, not all wall mounts are created equal. Some are high-quality, and others will easily fail under stress. If you're not careful, you could end up with a wall mount that drops your brand new game console. How do you know that you're getting a well-engineered piece of equipment? We're here to help you sort out the good from the bad.
Today, we're going to review three of the best electronics wall mounts on the market. We'll look at all their features, how they're installed, and what they can support. We'll start with the HumanCentric Cable Box Mount and Modem Mount.
This is a standard steel mount that comes in multiple sizes. Next, we'll review the HIDEit Uni-SW (Black) Mount. This is another steel mount, but it's adjustable to fit a wide variety of devices.
Finally, we'll look at the All-in Wonder Mount by Mount Genie. This is an innovative velcro mount that has no metal components. Which one of these wall mounts is the best? Let's take a closer look, and find out what they each have to offer!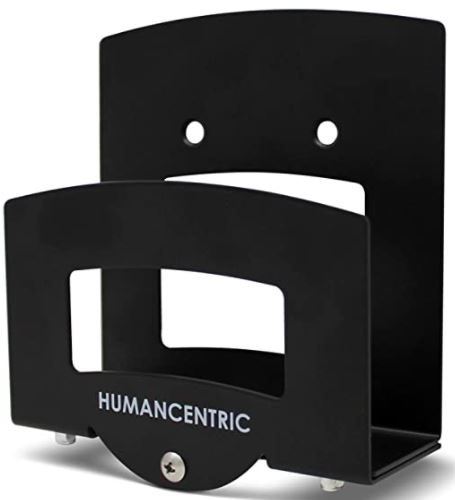 HumanCentric Cable Box Mount and Modem Mount
When you hear the words "wall mount", the HumanCentric Cable Box Mount and Modem Mount is what comes to mind. It's a simple rectangular bracket that supports your electronics.
Now, when you're looking at any wall mount, the first thing you need to think about is sizing. If the mount isn't the right size, it's not going to support your electronics. The HumanCentric mount is available in four different sizes. As a result, it can hold most electronics on today's market. The version we reviewed supports a length of 3.5 to 10 inches and a depth of 1.8 to 2.9 inches. This is sufficient for most modern set-top boxes. It will hold Comcast Xfinity boxes, AT&T U-Verse boxes, most Roku devices, and the majority of Blu-Ray players. It will even hold a Nintendo Wii. Just make sure to measure your device before you order. If you don't have the right size, you aren't going to have a secure mount.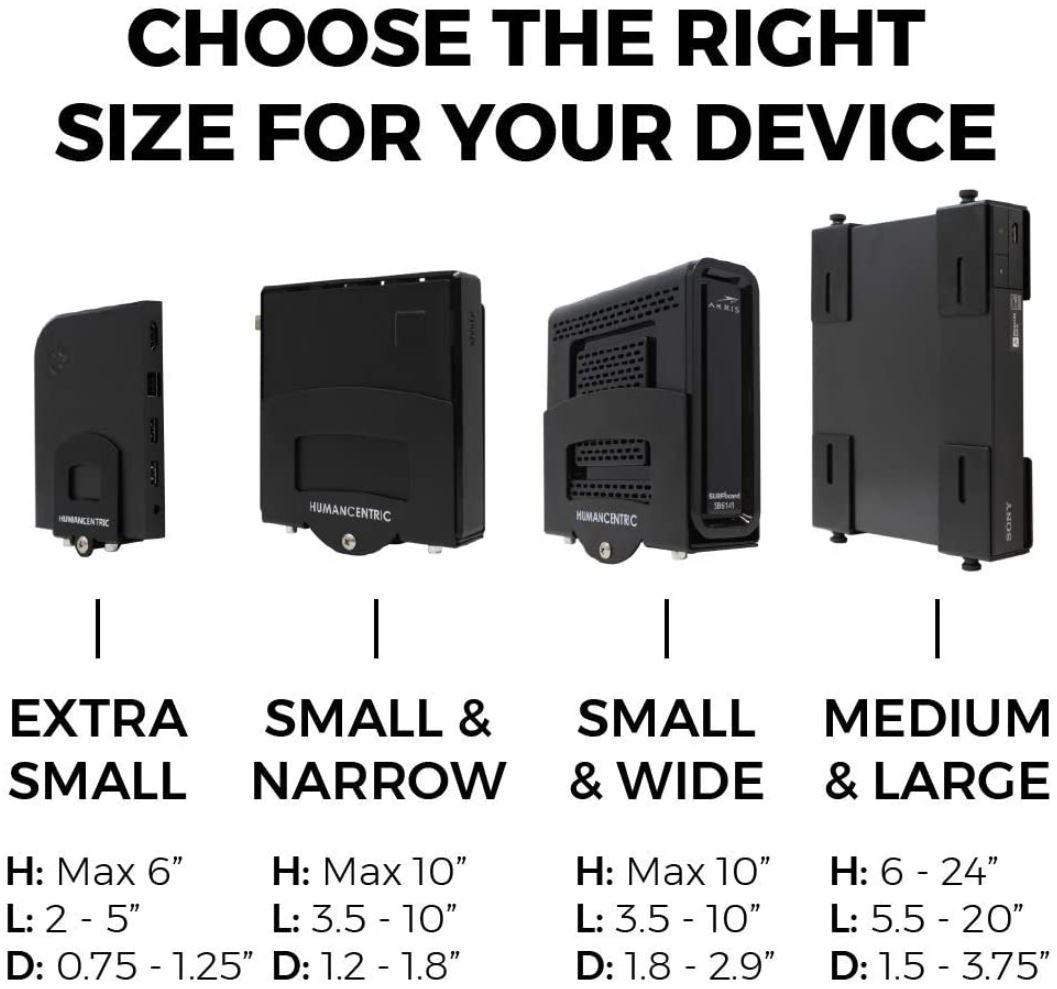 One thing we liked about the HumanCentric mount was its minimalist design. It's mostly open, which offers a couple of advantages. First, this design allows for easy cable access. This makes it easy to plug in all your devices. Second, it keeps most of your device exposed to the air. In theory, this means your cooling vents will be fully exposed. In practice, your results will vary depending on where your vents are located.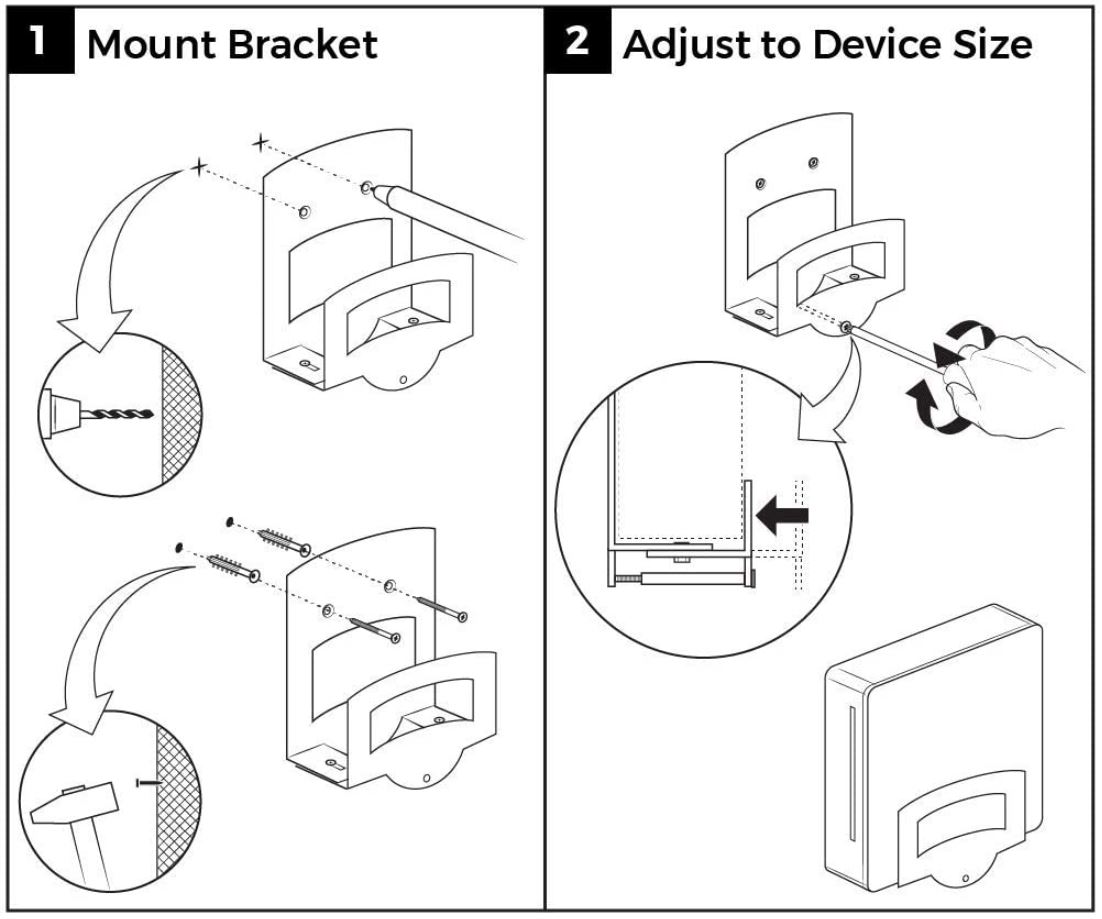 Regardless of your vent location, you'll appreciate the rugged steel construction. The HumanCentric Cable Box Mount is made of durable black steel, so it won't get damaged easily. It will also match most modern electronics, so your wall mount will be attractive as well as functional.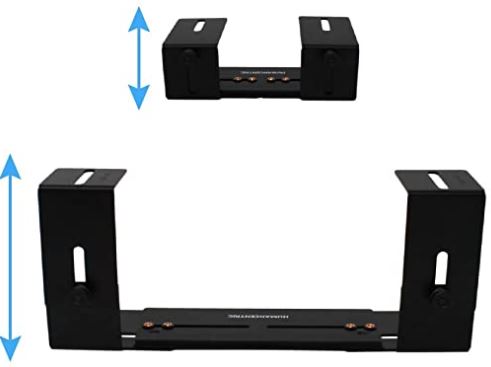 Installation and Mounting
The HumanCentric Cable Box Mount includes drywall screws and anchors. In other words, everything you need for mounting is already in the box. Just grab a Phillips screwdriver and you're good to go. We should point out that there's no weight rating on the anchors. This was a bit concerning, since it's an easy enough bit of data to provide. On the other hand, even the weakest screws and anchors are strong enough for home electronics.
The HumanCentric mount's slim, lightweight design makes it easy to position just about anywhere. Because there's no bulky frame or other hardware, you can even fit it behind your TV. This makes it a great choice for anyone who's trying to build a minimalist living room.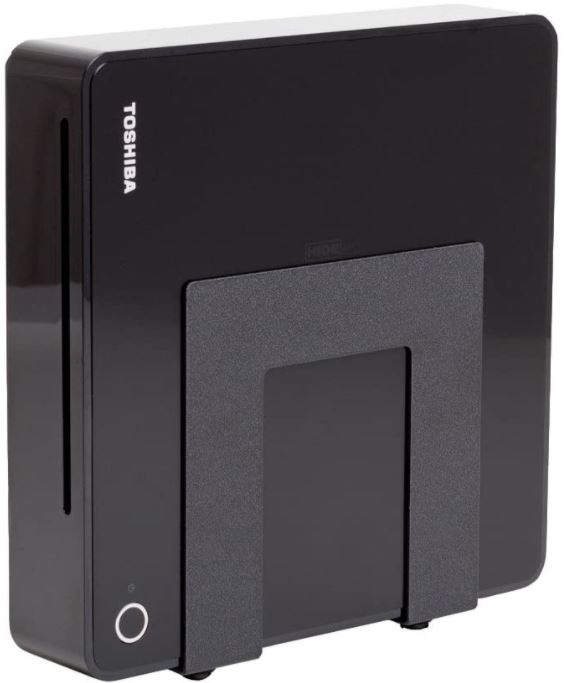 HIDEit Uni-SW (Black) Mount
HIDEit is a well-known manufacturer of wall mounts. We've previously reviewed their Nintendo Switch wall mount, and we liked what we saw. When we learned that they also made a more generalist wall mount, we were eager to get a closer look.
The HIDEit Uni-SW (Black) Mount is in most regards similar to the HumanCentric mount. This comes right down to the powder-coated black steel construction. 16-gauge construction ensures that you've got a rugged build, while a powder-coated finish resists rust. The frame is square rather than round. However, this is more or less irrelevant for practical purposes. The frame hugs so tight to your device that you won't have to worry about getting jabbed. More to the point, the frame has an open design with plenty of breathing room. With most electronics, your air vents and cords will be totally unobstructed.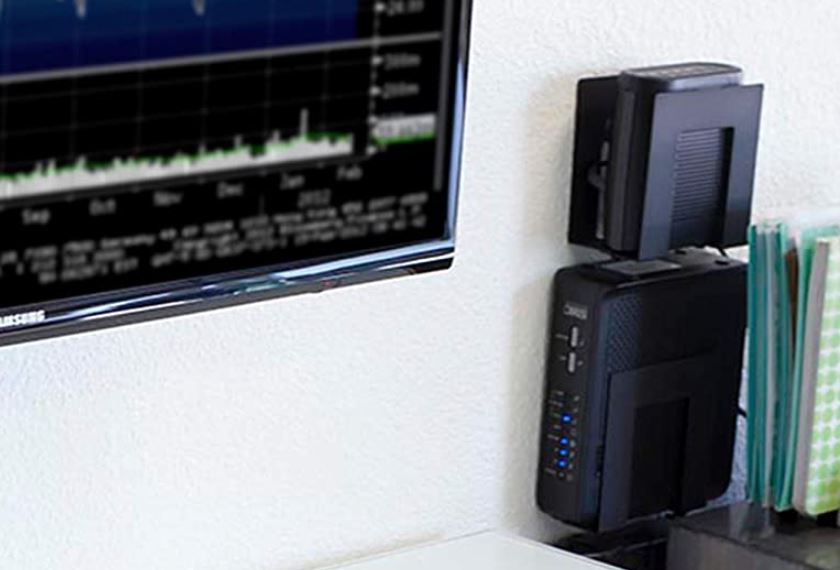 With regard to device size, you've got a bit of flexibility. The HIDEit mount can support a length of 4 to 10 inches and a depth of 1.76 to 2.7 inches. It can also support a height of up to 9 inches, although there's a bit of wiggle room there. In theory, any height of device would be acceptable. In practice, taller devices are more likely to tip. The most important thing to get right is the tension. Once you've got everything installed, make sure your electronics are securely clamped into place. Don't crank down so hard that you damage them, but make sure they don't wiggle. This will ensure that your electronics stay in place, and don't fall out.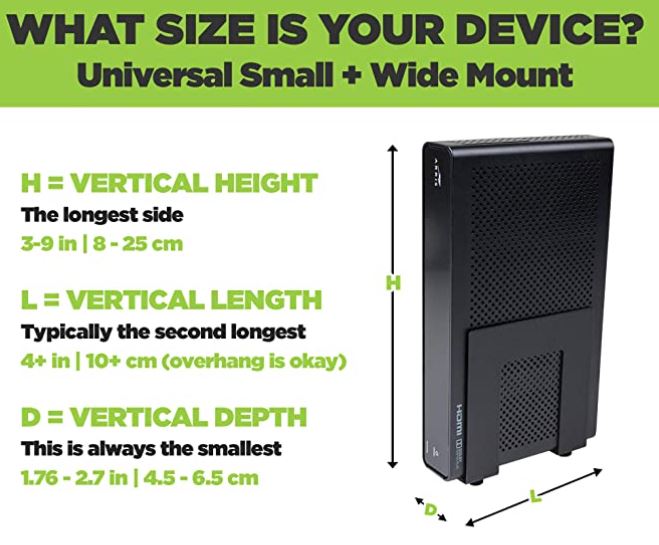 Installation and Mounting
The most striking feature of the Uni-SW's design is the way it mounts. It sits totally flush to the wall, without any gap in between. This makes placement easy, since your clearance will be as low as possible. If you want to mount your cable box or game console behind your TV, the Uni-SW is a solid choice.
When it comes to placement, you've got plenty of options. Stud mounting is secure, but it's totally optional. The kit also includes a set of drywall anchors, which are rated for 25 pounds each. Added together, this equates to a weight rating of 50 pounds. That's more than any set top box or game console, so weight is simply not a concern. There are also a pair of black thumbnuts included in the kit. These make frame adjustments a breeze, and they're also attractive. Even if your mount is visible to visitors, you won't have to worry about its appearance.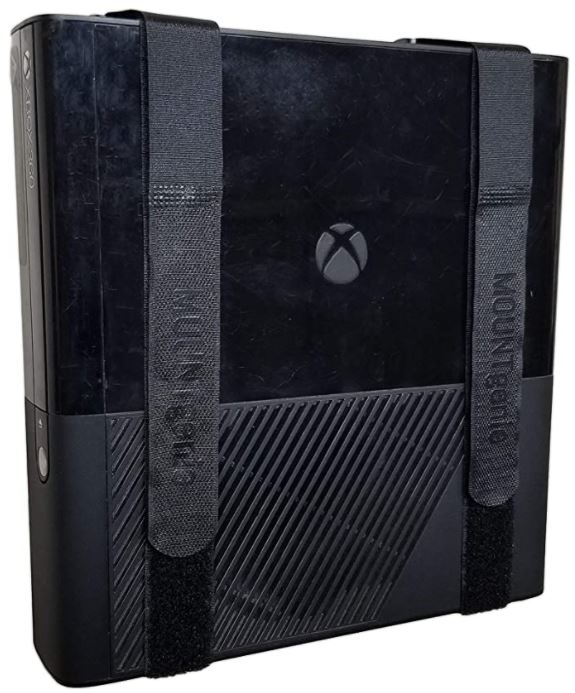 The All-in Wonder Mount by Mount Genie
The All-in Wonder Mount by Mount Genie is without a doubt the most unique mount on our list. Instead of being constructed from metal, this is a nylon and velcro mount. This might sound weird at first. A velcro electronics mount? Isn't that a bit flimsy?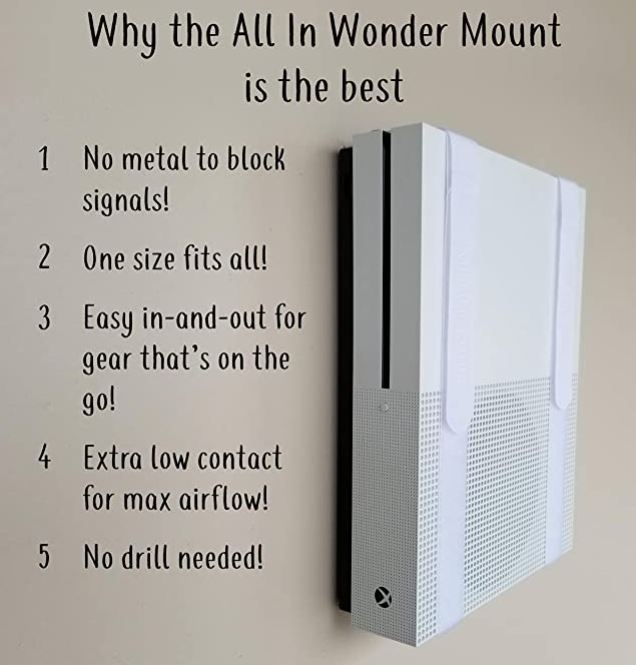 In theory, it would be. But the All-in Wonder Mount was developed specifically for medical and military contractors. These people need their devices to mount and unmount quickly, without any radio interference from metal parts. They also need their devices to be held securely. In other words, you can expect excellent, safe performance despite the appearance.
The All-in Wonder Mount comes in black or white, so it can match most modern devices. Whether you're installing a white Xbox One S or a black cable box, you're going to be fine. If you have multiple devices, you can mount them all. The All-in Wonder Mount ships in both a 1-pack or a 5-pack for any sized job.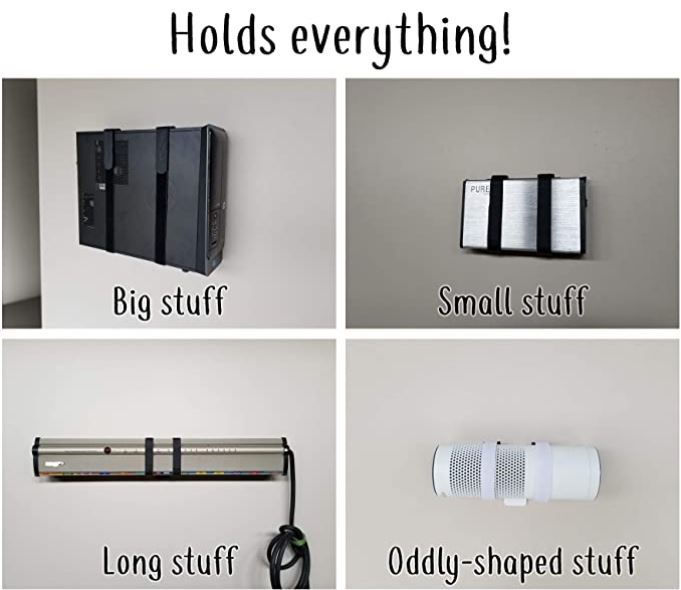 The kit includes a T-shaped nylon wall bracket and two sets of velcro straps. The nylon bracket screws into your wall, and the straps hold your device close to it. This design makes it easy to swap devices in and out as needed. For many people, this may not be a major benefit. But if you play a Nintendo Switch, you'll appreciate a mount that's only semi-permanent. The smaller set of straps will hold devices with a circumference of 10 to 18 inches. The larger set will go from 18 to 31 inches. This means you can install just about any device. Moreover, it makes your mount more versatile. If you switch to a different game console or cable box in the future, you'll still be good to go.
Installation and Mounting
The All-in Wonder Mount by Mount Genie includes all the mounting hardware you need. It comes with four screws as well as drywall anchors, with a total weight rating of 50 pounds. Stud mounting is not necessary, but you can go for it if you want to. For most people, drywall mounting is simpler, and gives you more options for placement.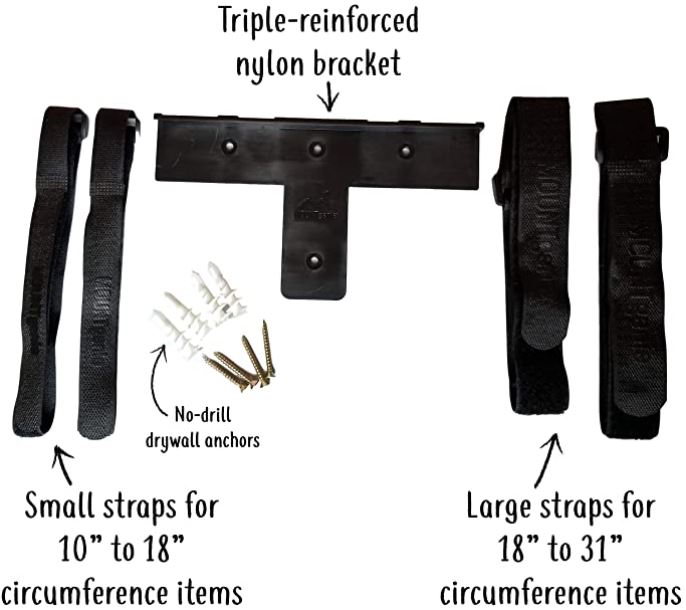 The metal-free design of the All-in Wonder Mount ensures that you get a clear signal from your remote. To be fair, the last two mounts we looked at are also designed for minimal interference. In most cases, you won't notice any difference. When you're sitting on the couch ten feet away, everything will work just fine. But there are edge cases. For instance, imagine you're using a headset with your game console. In that case, a metal frame will limit your ability to roam. A metal-free design, on the other hand, will allow you to push the limits of your Bluetooth connection.
Final Verdict
As you can see, these are all worthwhile wall mounts. That said, there are a few differences that are worth pointing out. We started out by looking at the HumanCentric Cable Box Mount and Modem Mount. If you're looking for a simple, straightforward mount, this is where it's at. It's constructed from steel, and it's reasonably adjustable. It also comes in four sizes, so you can support just about any device.
The HIDEit Uni-SW (Black) Mount has a similar metallic design, although it's square rather than curved. In most other respects, it's more or less the same. This includes the overall profile, which is designed to promote maximum airflow. The frame is easy to adjust, with nuts that can be tightened or loosened as needed. This means you get wider compatibility overall. On the other hand, you won't be able to mount very large or very small devices.
Last, we looked at the All-in Wonder Mount by Mount Genie. This is a unique option that's designed for quickly swapping devices. It's also very versatile, with support for a wide range of sizes. If you don't mind the look of velcro, there's a lot to like about this mount.