For several years, UGREEN has been a leader in the computer peripherals space.
As a manufacturer of budget-friendly hubs, docking stations, cables and adapters, they're at the forefront of innovation when it comes to connecting your portable devices.
UGREEN's mission is to make technology more accessible and enjoyable, and their products are designed to be reliable and user-friendly.
Their commitment to providing the best customer service and top-quality products has made them one of the leading companies in the industry.
With the new year of 2023, they've been offering deals on some of their latest products.
These include two multiport adapter hubs and the super-unique X-Kit. Each one offers a simple way to connect your laptop to your desktop workspace, but some may be more-ideal than others.
Today we're going to explore each one with a bit more detail. We'll offer a closer examination on all three of these options so you'll ultimately be able to determine which one is right for you. While they're all similar in their own ways, they differ greatly. Let's get started.
UGREEN 7-in-1 USB-C Hub
Now Priced at $34.99 – Discounted 40%
As their most affordable of the bunch, the UGREEN 7-in-1 USB-C Hub offers a wide range of ports that make it easy to expand your workspace.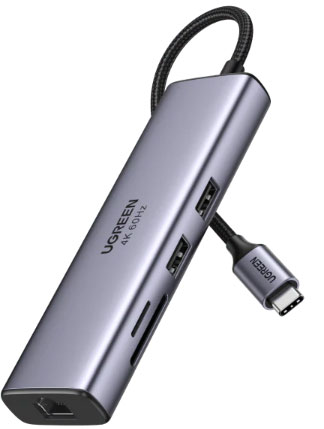 It has a super-sleek, aluminum body with an integrated USB-C cable on one end. On the direct opposite end is a Gigabit Ethernet port. The lengthiest side includes two USB 3.0 and an SD/TF card reader. The opposite side offers one USB-C 100W PD port and an HDMI port.
Most notably, the HDMI port allows full 4K resolution at 60Hz for pairing your laptop, iPad or other device with your favorite external monitor. However, if you want to take advantage of this, you'll need to make sure your device utilizes DisplayPort 1.4 and video transmission to reach a true 4K at 60Hz.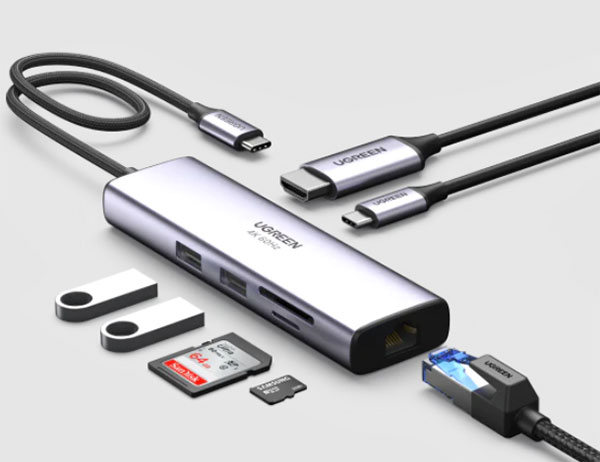 The Ethernet is a true Gigabit LAN port that offers wired speeds that excel virtually any wireless connection. Using it with your TV, laptop, tablet or smartphone's USB-C port opens up unreal transfer speeds, perfect for gaming, video conferencing and anything else that's high demand.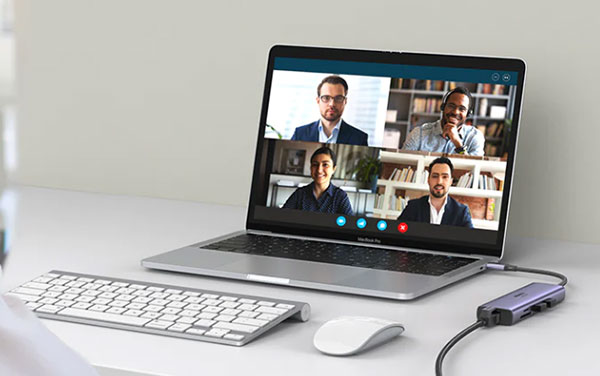 Another excellent feature is the USB-C port that supports up to 100W of power delivery. It's ideal for those who don't like spending waiting for their laptop to charge. But keep in mind, the cable you're using and the laptop you're charging must also support 100W PD USB-C to utilize its full potential.
UGREEN's 7-in-1 hub weighs-in at just 4.2 ounces and measures a measly 4.88″ long, 1.3 wide and 0.63″ thick. Needless to say, it's extremely portable, and both sleek and attractive in its overall design. As an entry-level multiport adapter, it's a fantastic choice.
UGREEN 10-in-1 USB-C Hub
Now Priced at $42.89 – Discounted 35%
If you're looking to take it a step further or if you simply need a few more ports, look no further than UGREEN's 10-in-1 USB-C Hub.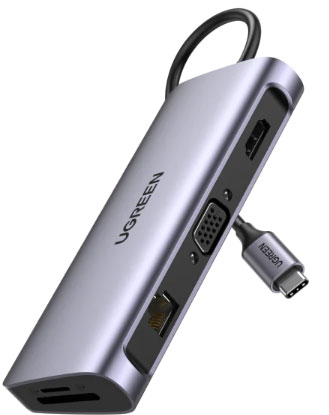 With a similar visual appearance as the aforementioned option, it goes a bit beyond by offering ports that you won't find in most other multiport adapters. One end of the hub has a built-in USB-C cable for connecting to your device with a USB-C 100W PD port right next to it. On the direct opposite end are the SD/TF card readers with the remaining ports on the lengthier sides. One of the longer sides includes the HDMI, VGA and Ethernet ports. The opposite includes three USB 3.0 ports in addition to an Auxiliary input for audio.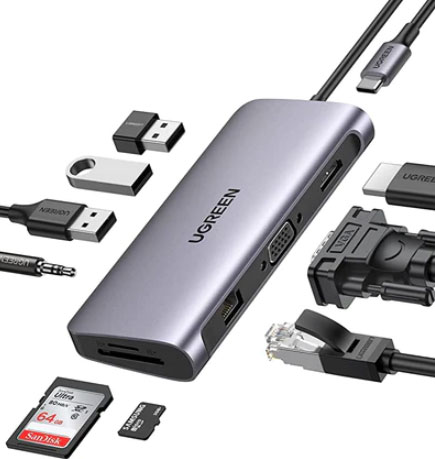 Just like UGREEN's 7-in-1 hub, the HDMI port is capable of 4K resolution at 30Hz. But if you're using an older monitor or TV, there's also a VGA port that you may end up using. Keep in mind, however, that the VGAA port only supports standard 1080p resolution at 60Hz. However, since it has two outputs for video, it supports dual monitor setups.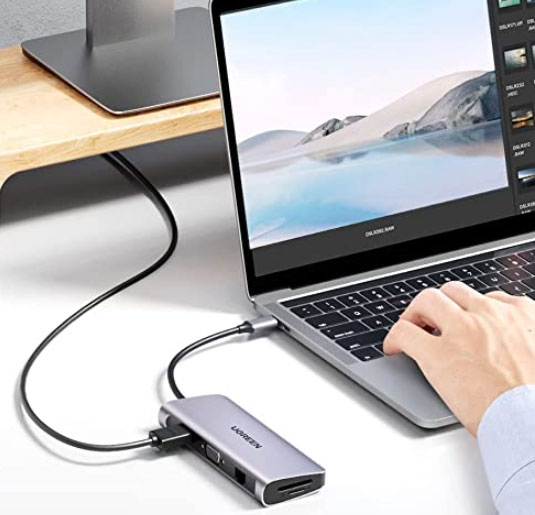 Weighing 4.6 ounces and measuring 4.84″ long, 2.05″ wide and 0.75″ thick, the 10-in-1 USB-C hub is only slightly larger than the 7-in-1 hub. It carries the same aluminum, uni-body design that most users will find very pleasing. It's smooth to the touch and matches the aesthetics of most modern Macs, tablets and laptop computers.
UGREEN X-Kit
Now Priced at $55.99 – Discounted 26%
If you're looking to take a step away from an ordinary multiport adapter, look no further than the UGREEN X-Kit. Aptly named with a unique X-design, it's an adjustable, foldable laptop stand that has a hub built right into it.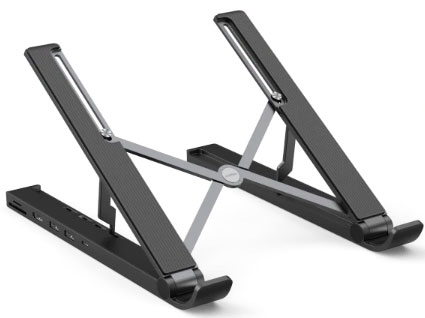 With a fully collapsible design, it expands into a tilted platform for your laptop to rest on. There are two hooks towards the front that keep it in position while it props up your keyboard and screen at four different angles to choose from.
As a result, users can create a personalized workspace that can improve posture and comfort simultaneously. And as a bonus, elevating your laptop can drastically improve airflow. Best of all, the entire surface that makes contact with your laptop is covered in a slip-proof, silicone material that keeps everything steady.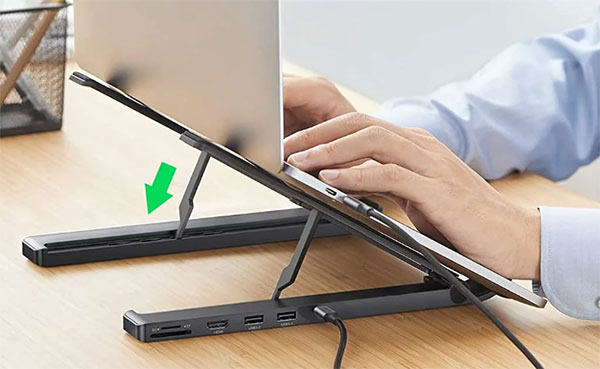 The lower arm that sits against the desk or table is where all of the ports are accessed. But it's important to note that this is a 5-in-1 hub, which offers a bit less than the two aforementioned options. There's a TF-SD card reader, one USB-C port, two USB 3.0 ports and one HDMI port.
Keep in mind that there's no USB-C power delivery feature to speak of. While there's also no Ethernet port like their 7-in-1 or 10-in-1 hubs, the HDMI port boasts the same 4K at 30Hz specs that supports true high definition viewing with virtually any external monitor.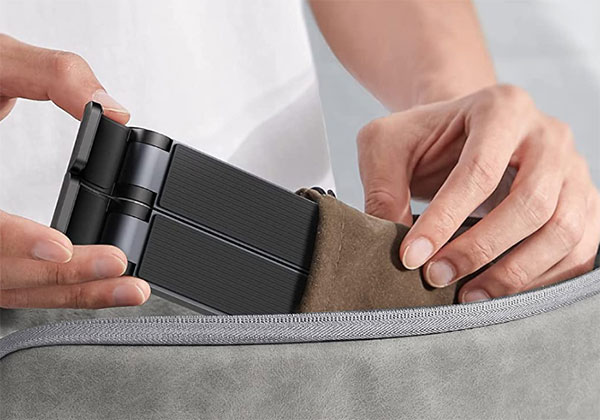 While the X-Kit isn't quite as space-saving in design like the others, its ability to double as a laptop stand is truly unique. Simply put, there's really nothing else like it. But thankfully, it's still relatively portable. Tipping the scale at 1.36lbs. and measuring 10.28″ long, 2.76″ wide and 1.85″ thick, it's easily stowable in any laptop bag or suitcase without taking up much space.
Final Thoughts
As you can see, these three offerings from UGREEN are quite enticing. Each one offers a simple way to connect to a wide range of external devices and peripherals with ease.
If you're looking for a way to expand your laptop, tablet, TV or Steam Deck, UGREEN seems to have a product for virtually any scenario. The main difference between the bunch is the amount and type of ports that they offer.
Thankfully, each of these hubs are plug-and-play compatible. In other words, there's no messy installation process to conduct. Simply plug it in and you're good to go. They're equally supported using virtually any modern day Operating System.
Best of all, UGREEN is running a promotion right now and all of these products are now heavily discounted with savings between 26% to 40% off their original retail prices. Their slick design, unique approach and quality craftsmanship make them an easy recommendation for anyone looking for a streamlined and simple way to boost both portability and productivity.