ICECO JP50 Pro
Controls & Interface
8.5/10
Pros
Very fast to reach cold temperatures.
Highly efficient Danfoss SECOP compressor.
Reversible lid opens from either side.
Alarm will go off if lid is left open.
Built-in handle and smooth rolling wheels.
Cons
A bit heavy and bulky.
Only one cooling zone.
Somewhat expensive.
For decades, traditional coolers have been the norm when it comes to keeping fresh food for days at a time. But as you may already know, there are many hassles that come along with them.
Not only do you have to constantly replenish ice, you need to drain them as ice melts. On top of that, you need to re-stock on fresh ice every day or two. Not to mention, you also need to be very mindful on where you keep your cooler. If it bakes in the sun, it can mean bad news for whatever's inside.
Luckily, portable refrigerator/freezers have been making waves over the past few years. Although they rely on electricity, they're typically highly efficient. Not only in terms of energy use, but cooling power as well.
Best of all, there's no ice to deal with, and no draining of melt-water to go along with it. But selecting the right portable fridge/freezer isn't as straightforward as it seems. Simply put, there are countless options to choose from, all from a wide range of sies and styles.
If you've been on the hunt for a perfect portable fridge/freezer, you've probably already heard of ICECO. They're an established brand that have been providing high-quality products for the past 15 years. Since that time, they've focused solely on essential food and beverage storage. Particularly, electrical-powered refrigerators and freezers.
One such model is the JP50 Pro. It's a heavy duty, seemingly well-built portable fridge/freezer combo with a whopping 50 liter (52.8 qt.) capacity and a laundry list of impressive features. Notably, built-in wheels, a reversible lid and integrated UV sterilizer.
But does it hold up to the hype? Is it worth the investment? Is it truly "cooler than a cooler" as the box says? We're here to find out. Today we're going to take a deep dive and explore the JP50 Pro and all it has to offer. Let's get right into it.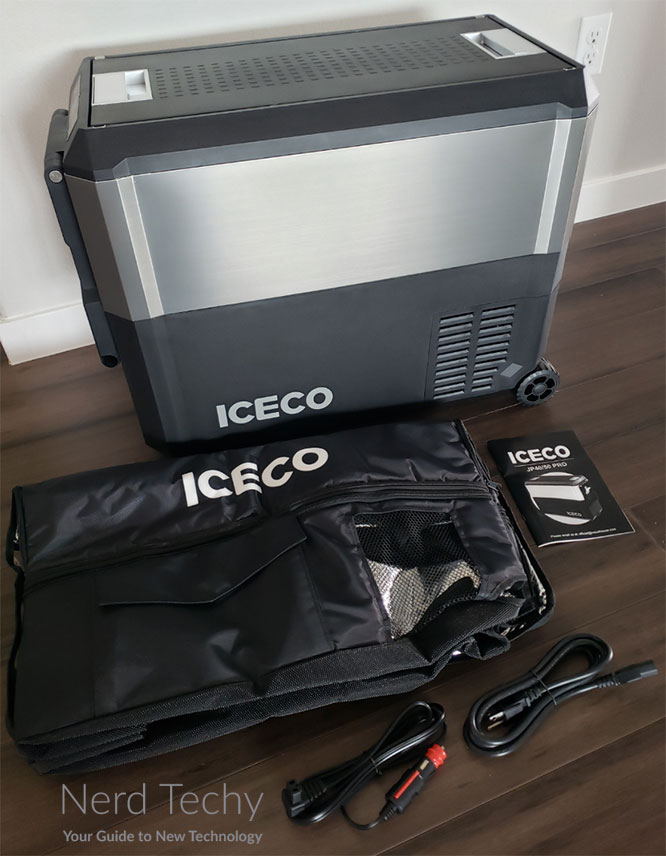 Overall Design
The ICECO JP50 Pro is built in a heavy duty fashion, comprised mostly of a high-grade ABS plastic with aluminum metal accents throughout. Right from unboxing, it's immediately apparent that lots of thought went into its high design. It doesn't only look sleek, it feels incredibly burly in all regards.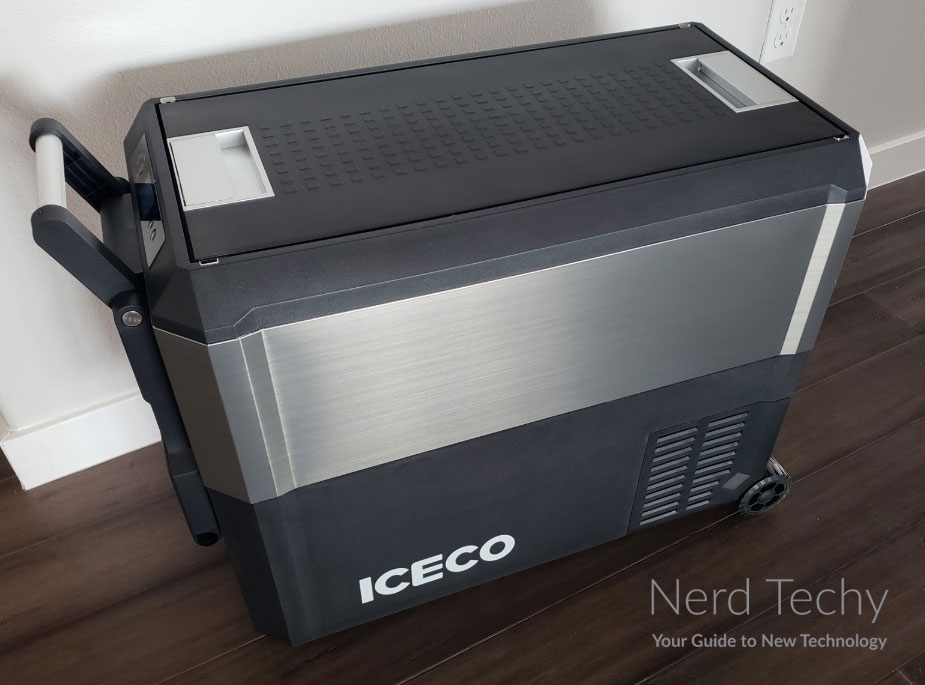 With an empty weight of 40.8 lbs. and measuring 28.5″ long, 13.8″ wide and 21″ tall, it's on the larger end of the spectrum when it comes to its size. This isn't to say it's the largest portable fridge/freezer out there, but it's definitely a bit bulky and heavy, especially when packed full of food.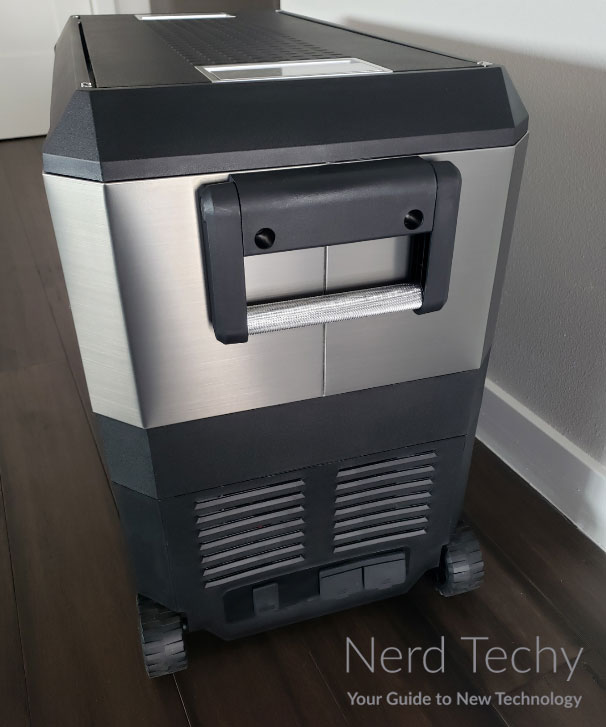 Luckily, however, ICECO integrated its own handle on one end with a set of two large-sized wheels on the other. This is in addition to two smaller handles on each end, making maneuverability quite easy, considering its size. We really love the feeling that each handle has. They're solid metal with a very grippy, hashed surface that's easy to hold onto.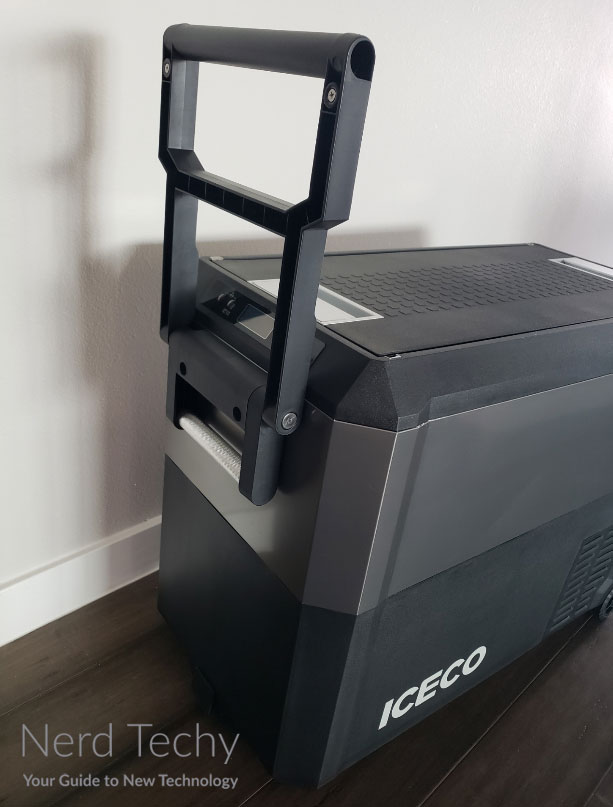 On the end opposite to the wheels, you'll notice a small screen with a selection of buttons. This is the control panel where all of the settings can be accessed. Here, you can set the temperature anywhere from -4 to 50 degrees Fahrenheit, making the internal environment either a fridge or freezer.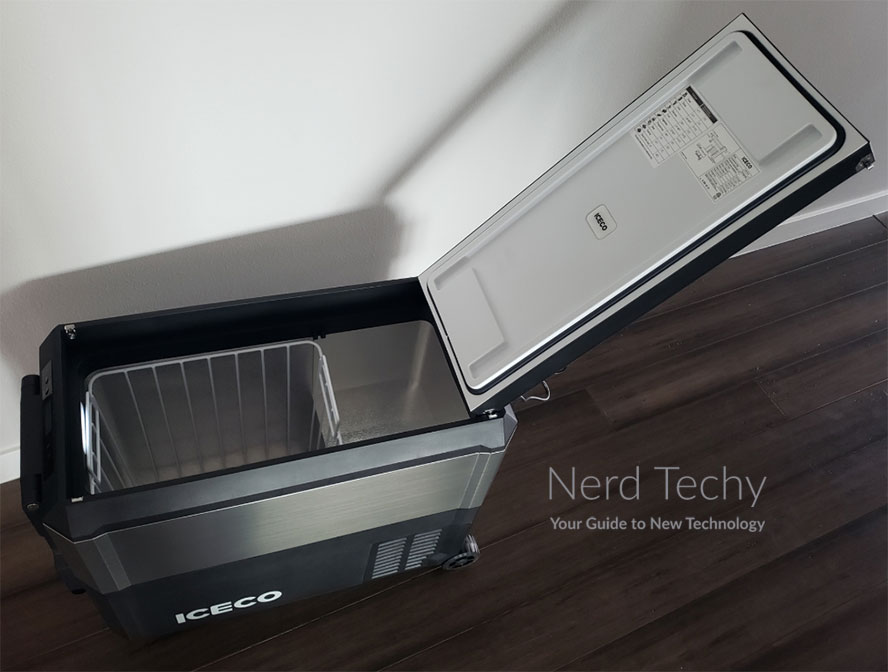 Lid and Internal Compartment
One unique characteristic of ICECO freezers is the inclusion of a fully reversible lid. On the top-side, there's a metal latch handle on each end. Grasping one of these latches will let the lid open from either side by pivoting a unique metal mechanism into the hinged-design. Opening up the lid feels smooth, lightweight and offers great accessibility into the large, singular inner compartment.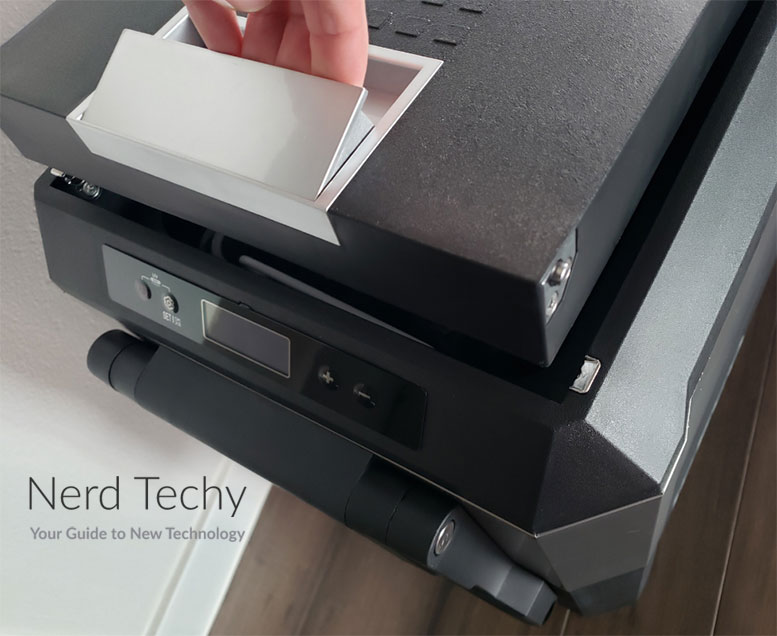 The compartment measures 9.5″ wide, 22.3″ long and 16.7″ at its deepest point. There's a small "step" on one side that protrudes 8.1″ tall and 8.2″ deep that's also worth mentioning. At 50 liters, there's enough space for up to 64 twelve ounce cans of soda pop. They've also included a wire basket that nests into an ideal position for easy access and removability for food contained within. It's great for better-organizing food within.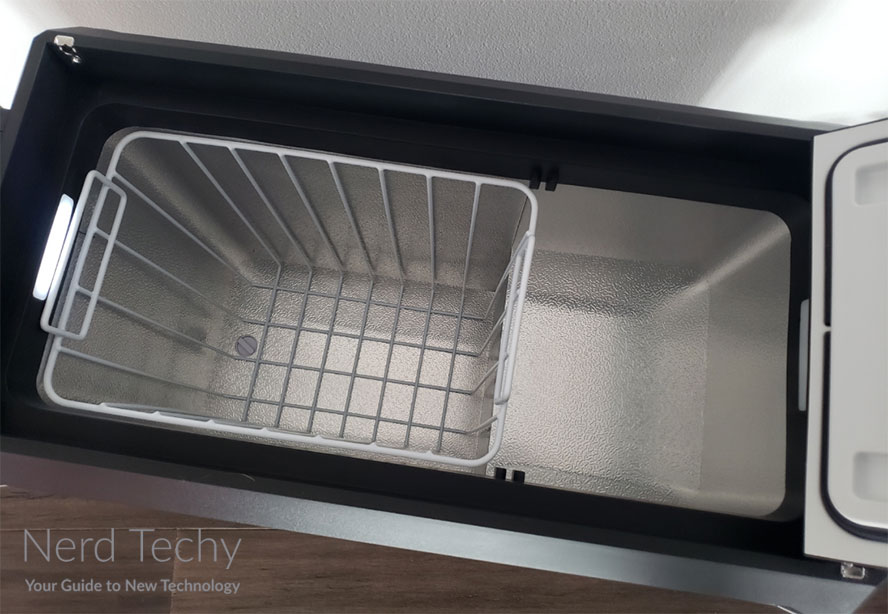 Once opened, you'll immediately notice an LED light on one end with a unique, purplish light on the other end. This is a UV light that promotes sterilization to keep smells and bacteria at bay. While it doesn't need to be used all the time, it can be activated or turned off whenever desired.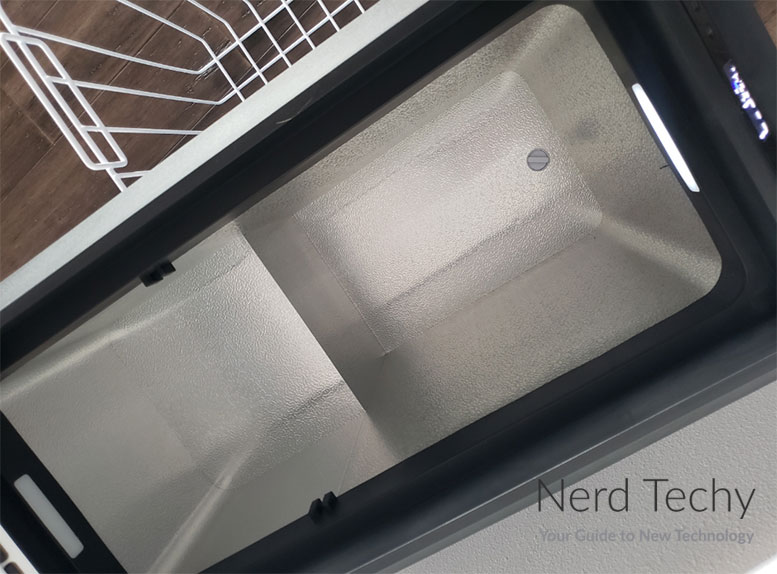 The inside is covered in a textured all-metal material that retains coolness for added efficiency. It's relatively smooth to the touch and tends to hold coolness extremely well.
The JP50 Pro only has one "zone" or compartment. As a result, you have the ability to use it as a freezer or a refrigerator, but not simultaneously as both. This is a slight drawback for some, since it may limit the use of it, depending on which specific food or beverage you'd like to bring with you.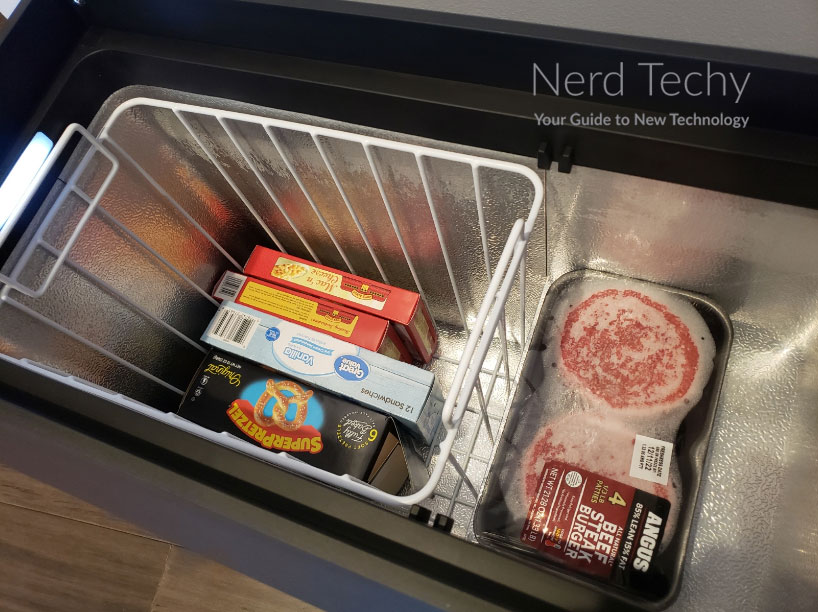 There's also a built-in alarm feature that will alert you if you accidently leave the lid open for more than one minute. This prevents the drastic mistake of leaving it open which could then cause all of your food to go bad.
Powering the JP50 Pro
Like most portable fridge/freezers, the JP50 Pro doesn't have a built-in power source. Ultimately, this means you need to plug it in to an AC or DC power source using the provided cables. In the box, ICECO includes a 12V car charger and an AC power cord for this.
On the same exterior side as as the wheels, you'll notice three rubber flaps. Lift them up to expose the AC/DC input as well as a USB port that can only be utilized while powered. Here, insert either power cable of your choice and plug it into a wall outlet, 12V car socket or virtually any portable power station.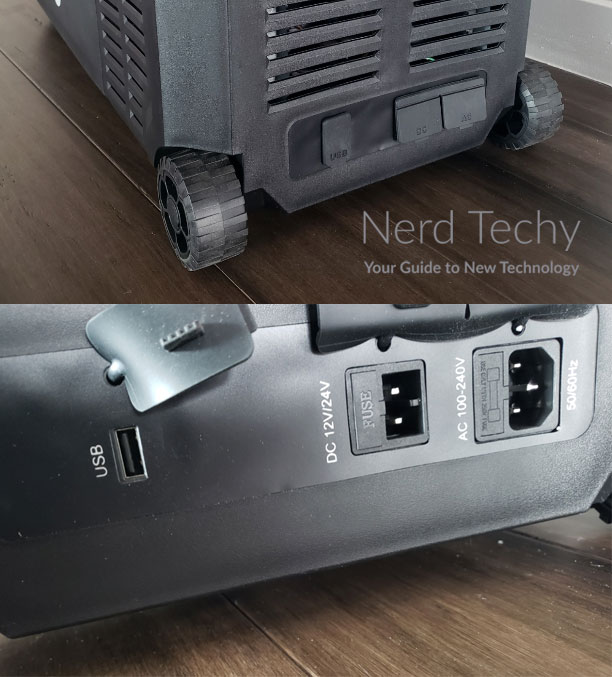 The JP50 Pro is extremely efficient and quick to cool once you plug it in and power it up. It pulls a maximum of 50W when the compressor is running. And once it reaches temperature, it only tends to "sip" power. What we mean by this is that the compressor doesn't need to operate 24/7.
Due to the incredible amount of insulation that ICECO includes in the exterior walls, it typically only consumes an average of 0.405 kWh per 24-hour period. This is, of course, dependent on a wide range of factors including what's inside and the ambient temperatures in whatever environment it's exposed to.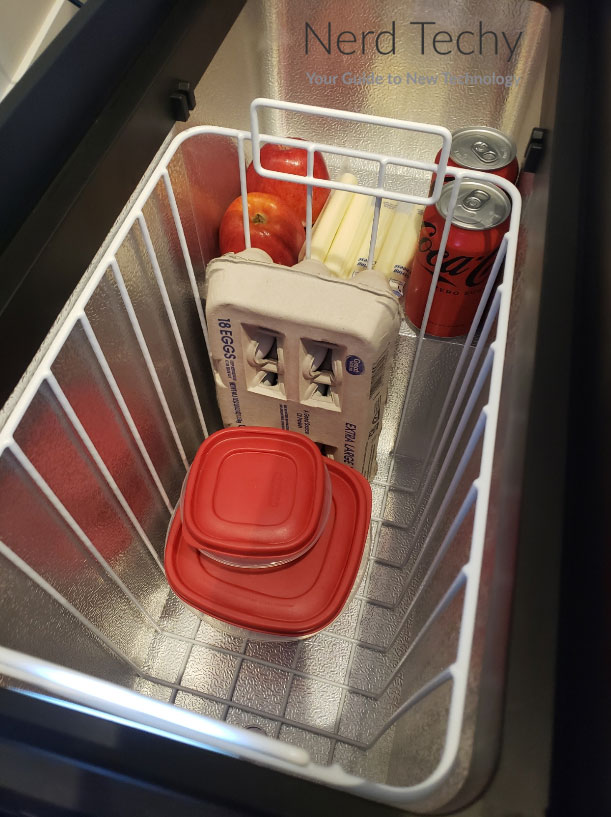 The integrated Danfoss SECOP compressor is the game changer here. Danfoss is well-known in the industry at providing some of the most well-made and high-quality compressors available. It seems to do a great job at quickly cooling while staying very quiet at the same time.
In fact, the compressor only makes a "hum" noise when while running which sounds very smooth without any ticking, vibration or other unwanted effects. Once it's turned on, within about 10-15 minutes, the JP50 Pro is ready to go and noticeably cold, regardless of if you have it set to a fridge or freezer temperature.
Control Panel Screen
The small screen that's located near the handle provides all you need in terms of settings and functionality. It's brightly lit with the voltage, current and set temperatures vividly displayed in a clear manner that's easy to understand.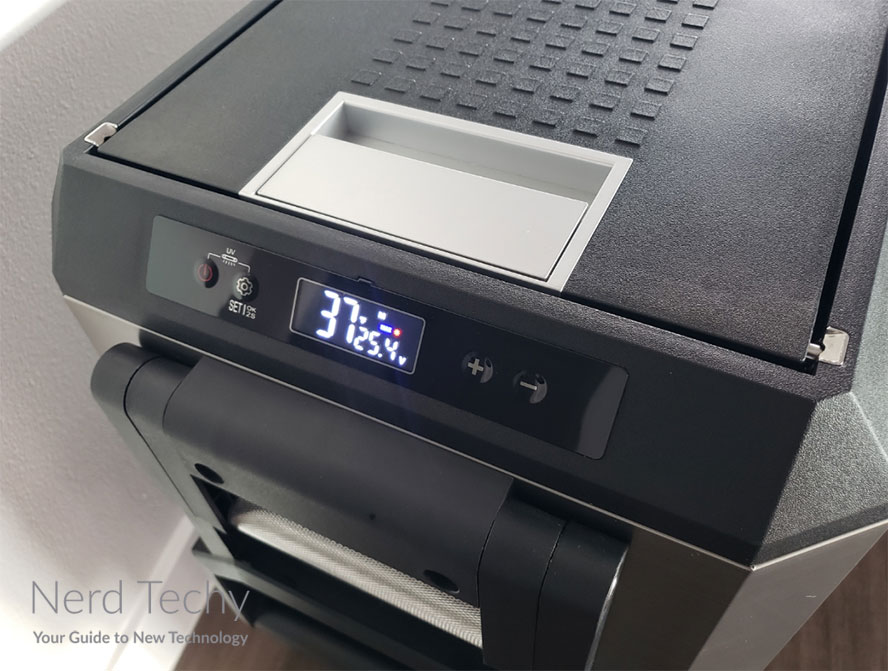 Overall, the JP50 Pro offers a fairly simple interface with four physical buttons with the screen centered. The leftmost button is the main power button. You need to press and hold to turn the entire unit on or off.
Next, is a small cog icon where you can access settings and/or select between two modes: max and eco. Max mode will work as hard as it can to cool as quickly as possible while eco mode will conserve power for long-term use. Simply put, max is the factory default as the standard cooling setting. Conversely, eco mode is ideal for those who rely on an off-grid energy source where power may be limited. It'll work smartly to use less energy with long term use.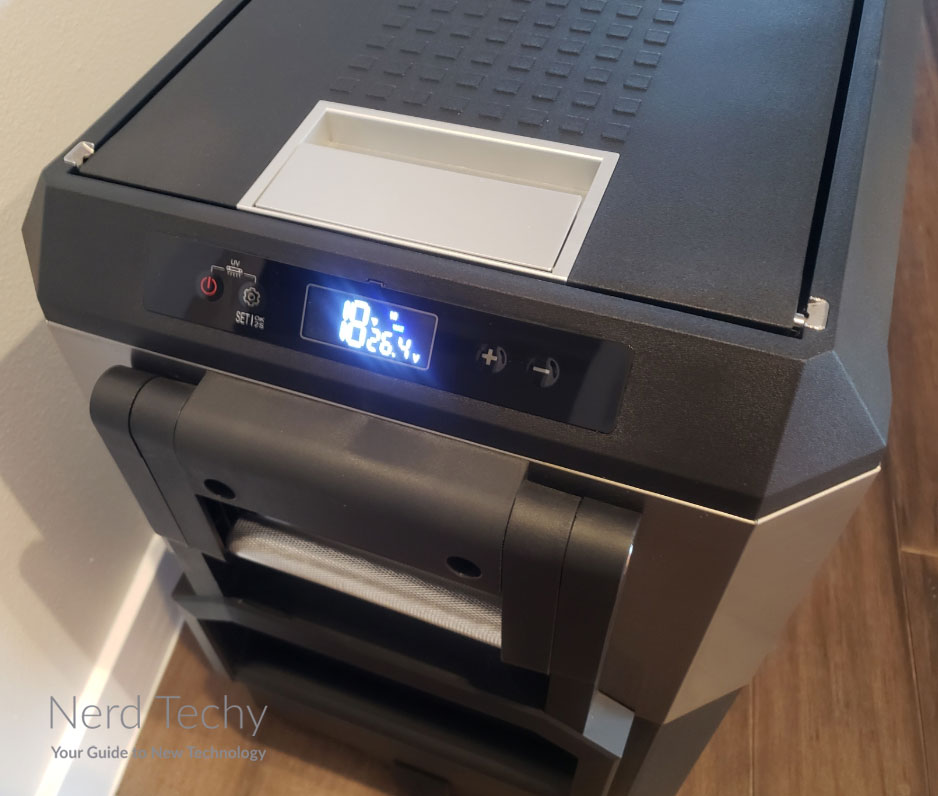 ICECO also integrated a useful battery protection feature that can be utilized if necessary. If activated, it'll show a series of 1, 2 or 3 bars that indicate low, medium or high levels of voltage protection. While some may never need it, this feature is ideal for those operating off of an external battery or power source that may need closer analyzing.
The two remaining buttons on the right side are straightforward. There's a plus and minus for adjusting the temperature to your preferred temp. As previously discussed, you can select between -4 and 50 degrees Fahrenheit, offering a range for either freezing or refrigerating whatever is inside.
Extras
As we previously mentioned, there's a UV light inside the cooling compartment. Users can opt to turn it on or off at anytime using the control screen interface. It emits a special wave of light that appears as a steady purple glow.
After ~30 minutes, the internal area and everything lit-up by the UV light will be sterilized. How effective is it? We're not truly warranted to say, but it seems to do the job quite well. While this isn't a feature that everyone may regularly take advantage of, it's something that puts it above and beyond other portable fridge/freezers in this price range.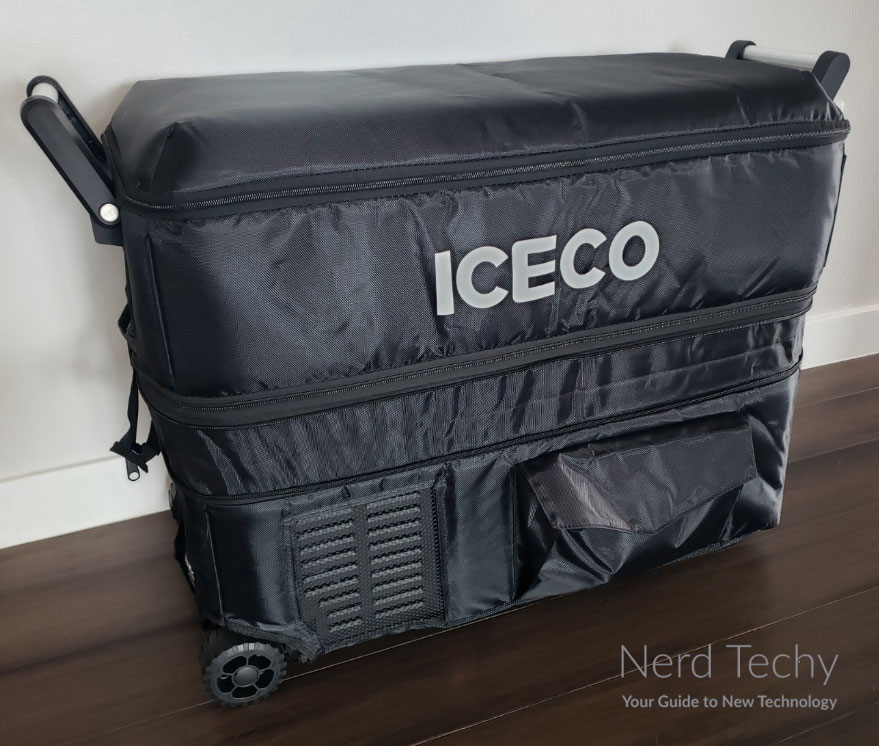 Another extra that's worth mentioning is the inclusion of a protective cover. The cover offers a layer of insulation with a thick, plush addition of inner polyester covered with silver mylar. Needless to say, it's quite a nice addition that normally costs $99.
Take note, however, that the cover works interchangeably with the JP40 model, so you'll need to be aware of the side zipper on it that fully opens it up so it fits properly on the larger JP50 Pro model. The exterior of the cover includes mesh near the vents with a side pocket for extra storage. This means it won't add any noticeable bulk or restrict the use of the wheels, handles and/or screen.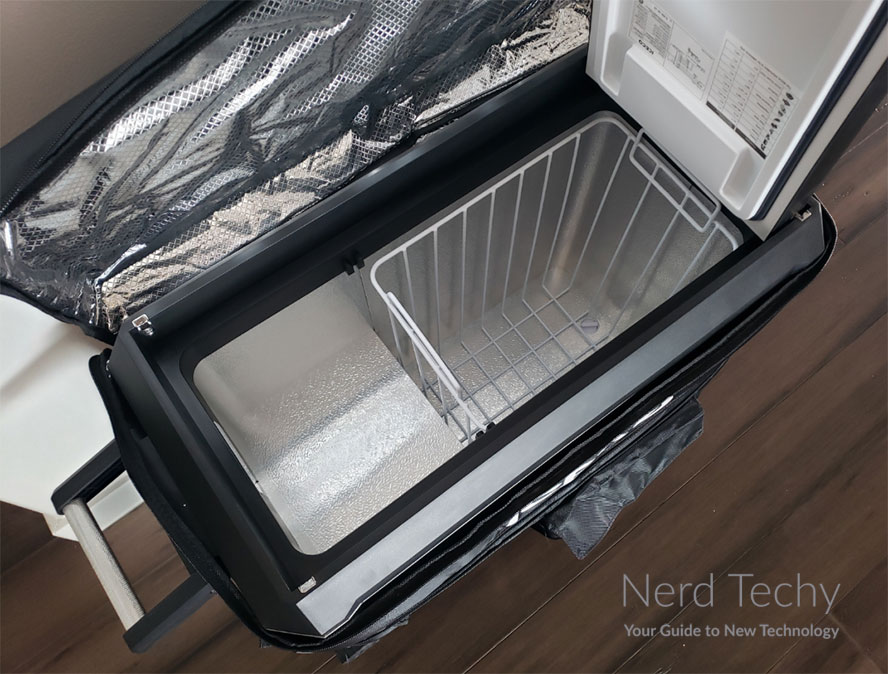 If these aren't enough, ICECO even sells their very own magnetic portable power station that can be attached to the exterior. It can power the fridge/freezer for 8-12 hours depending on a few different factors like usage and sun exposure.
In addition, you can also opt for their sliding mount mechanism. This provides a sliding platform to keep it in, so it can retract from a cabinet or storage area; ideal for RV or vanlife living.
Final Thoughts: Our Experience with the JP50 Pro
Overall, we feel that the ICECO JP50 Pro is a well-designed portable fridge/freezer that's built like a tank. Its enormous capacity and fantastic build quality is all very apparent when using it.
We love the fact that they used a combination of high quality, heavy duty plastic with metal accents throughout. Needless to say, it gives off a high-end feel that although is somewhat heavy, can take a serious beating with regular, full-time use.
The inclusion of a Danfoss SECOP compressor tells us that it's a high-end model. Danfoss is the industry standard when it comes to long term quality and reliability. In fact, there's even a 5-year warranty on the compressor, with a 1-year warranty provided for everything else.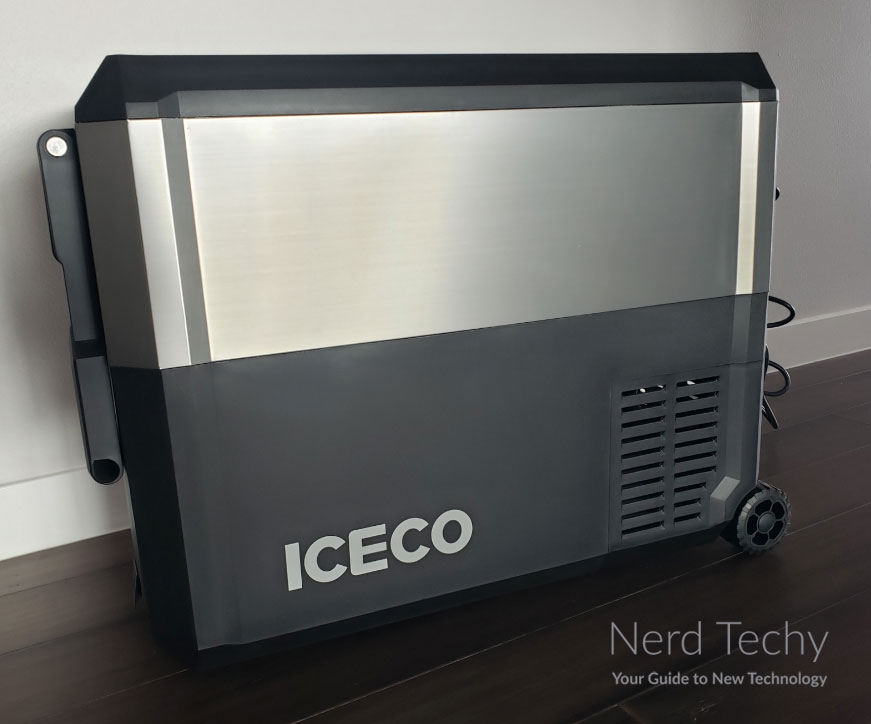 What we liked the most about the JP50 Pro was its ability to cool rapidly fast. Within a matter of minutes, the interior is noticeably cooler. In fact, within 30-40 minutes, it can go from 77 degrees Fahrenheit, all the way down to -4. That's incredibly quick!
The control interface and screen is laid out in a manner that's very easy to understand and navigate through. It offers clear visuals that don't rely on trial and error. Simply put, the controls are simple, to the point and very easy to learn, even without any previous experience.
The wheels roll smooth and the handles feel nice. Best of all, the unique lid hinges on either end and provides a hermetic seal that keep the coolness in and the heat out.
We love that there are multiple extras, some that are even included. They improve the performance and assist in making the JP50 Pro an upgradable piece of equipment that should last for many years to come.
Whether you're an avid weekend camper or a full time off-grid user, the JP50 Pro is an easy recommendation without many drawbacks. Sure, it may be a bit expensive and it only has one cooling zone. But these potential downsides are minimal when compared to the overall quality and ease of use it can offer. Is it cooler than a cooler? In our opinion – definitely!
Meet Derek, "TechGuru," a 34-year-old technology enthusiast with a deep passion for tech innovations. With extensive experience, he specializes in gaming hardware and software, and has expertise in gadgets, custom PCs, and audio.
Besides writing about tech and reviewing new products, Derek enjoys traveling, hiking, and photography. Committed to keeping up with the latest industry trends, he aims to guide readers in making informed tech decisions.