Collecting scrap metal can be a fun and rewarding hobby. You can gather old wires, cans, and other junk, and turn it into a useful metal that can be resold. Or maybe you run a pawn shop and you want to melt down gold jewelry into ingots. In any of these scenarios, you're going to need some way to melt metal. But you don't need an enormous forge. A small electric melting furnace can get the job done.
The benefit of an electric furnace is that it's easy to use around the house. You don't need a whole dedicated area. You can just set one up in the floor of your garage and start melting and casting metal. Just make sure you're using it over concrete or dirt. The last thing you want to do is spill molten lead or copper on your living room floor.
Today, we're going to review four of the best electric melting furnaces for smelting and casting metal. There are plenty of details to cover, but here's a quick and dirty overview:
Of course, we'll have to dig a lot deeper if we want to get a full understanding of these furnaces. Let's get started, and see what we learn!
Best Overall: ToAuto TGF3000 Melting Furnace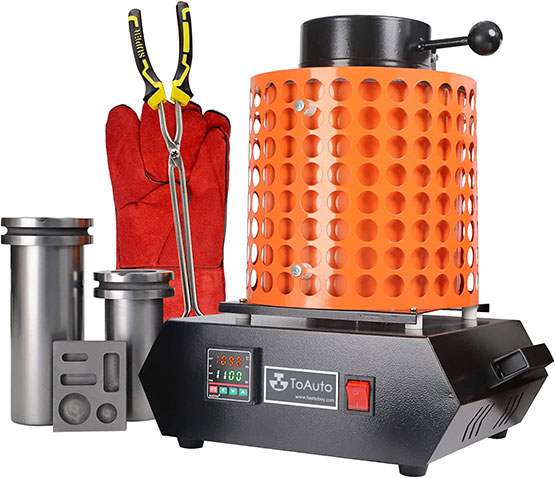 Key features:
Heats up to 2,000 degrees.
2.2-pound and 6.6-pound graphite crucibles.
5-in-1 graphite mold.
The ToAuto TGF3000 Melting Furnace has an orange cylindrical body, surrounded by a metal barrier. This barrier keeps you from accidentally touching the housing while the furnace is hot. The total size is 12 inches tall, 10 inches long, and 11.5 inches wide. This includes the beefy black base, which is designed to be bottom-heavy and stable. The base also has a pair of carrying handles built into the sides. You can even move it around when it's hot, although needless to say this requires extreme caution.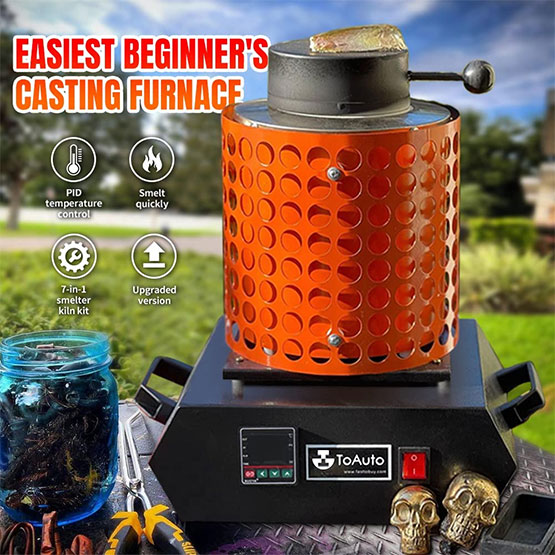 Along with the furnace, you get a pair of crucibles. These are made of smooth, durable graphite, and are both long, tall cylinders with flared tops. The tops have an indent around the edges where you can grip them with tongs, and a groove in the lip for pouring. The smaller crucible has a capacity of 2.2 pounds, while the larger has a 6.6-pound capacity.
You also get a graphite mold for casting your metal. This is a flat plate with five hollows in it for forming ingots. There are three bar-shaped indents and two round ones, all in different sizes. So you can cast small or large ingots depending on what you're trying to achieve.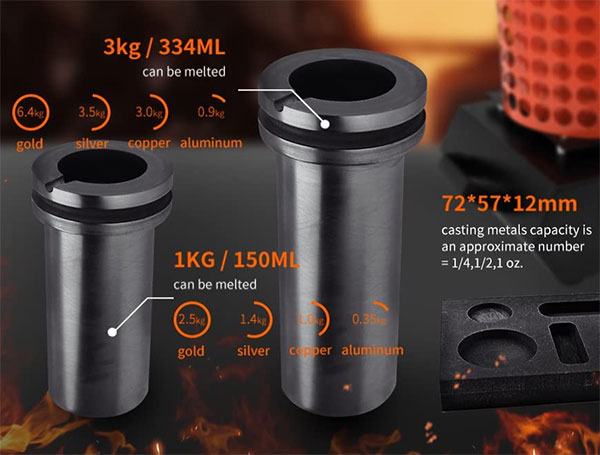 Operation is pretty straightforward. First you insert whichever crucible you intend to use. Then close the lid and turn on the power. There's a little display pad on the front left of the base with a set of buttons to adjust the temperature. You can set a precise temperature in degrees, up to a maximum of 2,000 degrees Fahrenheit. Unfortunately, the display only works in Centigrade. You'll have to convert your units if you're used to working in Fahrenheit.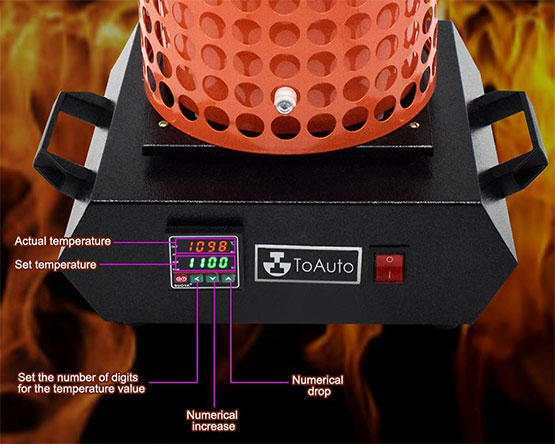 The heating element takes about an hour to fully heat up the crucible. Obviously, this depends on temperature. If you're not going all the way up to 2,000 degrees, you can get hot in as little as 40 minutes. Either way, the furnace is rated for three hours of use before it has to cool down. So you can melt two to three batches of metal per use depending on the temperature.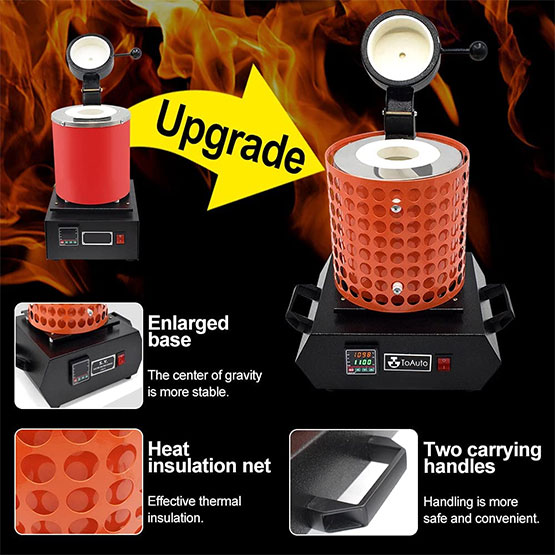 As for capability, 2,000 degrees is very hot. It's hot enough to melt lead, tin, zinc, aluminum, brass, bronze, copper, gold, and silver, among other metals. There's a handle on top for opening the lid, and the package includes a heat-resistant leather glove. We highly recommend you wear it when you're working with the furnace. You can fill the crucible most of the way full before closing the lid, but don't overfill it. It could splash inside the lid and create a messy safety hazard.
The kit also includes a set of tongs for removing the crucible and pouring it out. It gets the job done, but it feels a little bit flimsy. You'll probably want to get better tongs at some point.
What we liked:
Melts most types of non-ferrous metal.
High-quality crucibles and mold.
Low center of gravity.
Precise temperature controls.
What we didn't like:
Takes an hour to heat up.
Cheap crucible tongs.
Best Runner-Up: GOLDENSOIL Electric Melting Furnace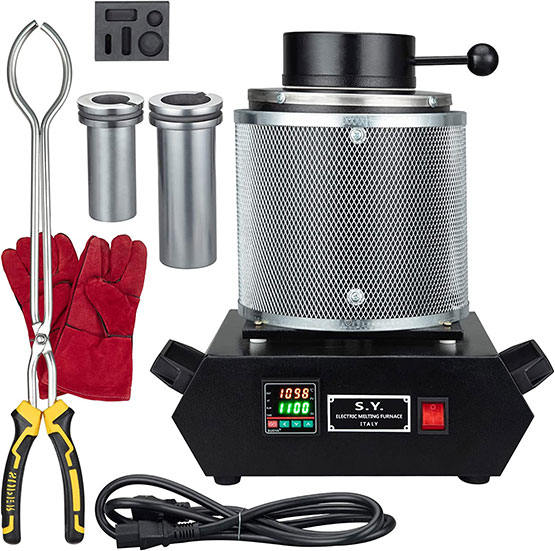 Key features:
Heats up to 2,100 degrees.
2.2-pound and 6.6-pound graphite crucibles.
5-in-1 graphite mold.
The GOLDENSOIL Electric Melting Furnace is a black cylindrical furnace with a wide black plastic base. The total size is 16.93 inches tall, 14.57 inches wide, and 12.6 inches deep. There's a steel guard cage around the furnace to keep you from accidentally brushing it with your finger. It's nice and bottom-heavy, so it won't tip over easily by accident. You'll also notice carrying handles on the sides of the base, which make it easier to carry.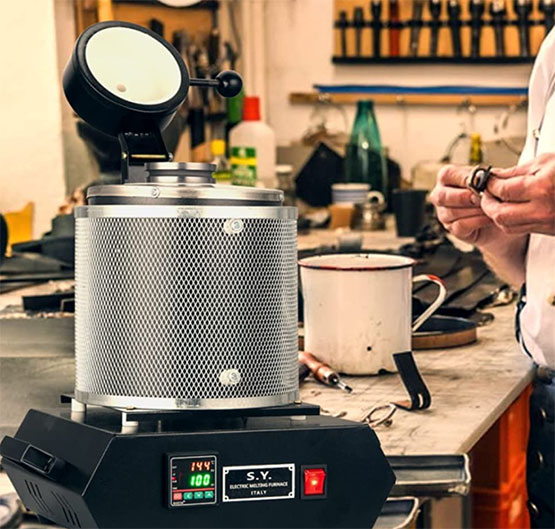 The package includes a pair of graphite crucibles and a 5-in-1 graphite mold. The crucibles are large and small, with capacities of 6.6 pounds and 2.2 pounds respectively. They're smooth-sided cylinders with wide lips, with grooves that make molten metal easy to pour. The mold has three different-sized slots for casting bar-shaped ingots, and two for round ingots. As a result, you can cast the shape and size you want. The package also ships with a pair of heat-resistant leather gloves and a pair of crucible tongs.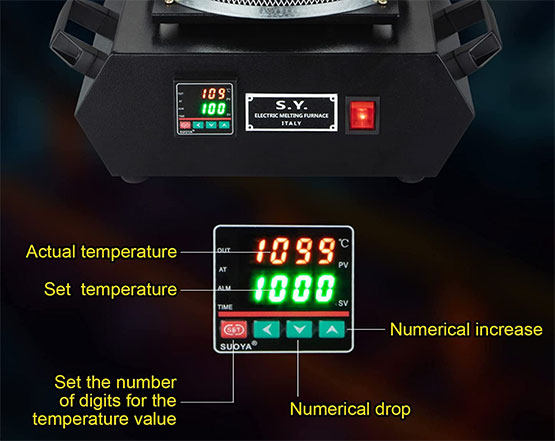 There's a display on the front left that shows the current temperature and the temperature you've set it to. You can set precise numbers, but the actual temperature can vary by as much as 50 degrees. An infrared thermometer is a big help here. That said, the temperature can get as hot as 2,100 degrees Fahrenheit. Although as before, the display only works in Centigrade.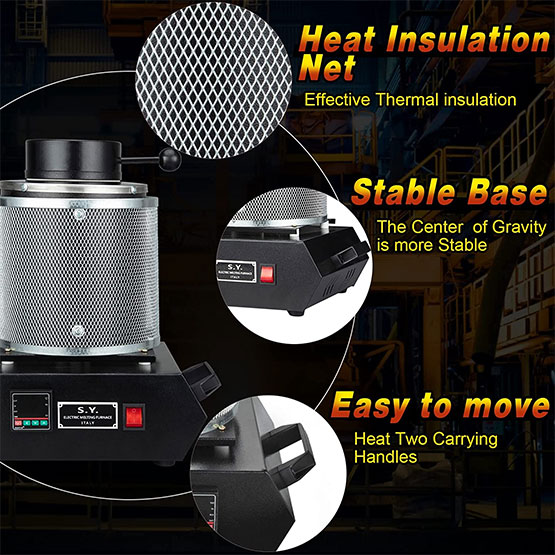 The crucible will take about 60 minutes to heat up all the way once you turn on the power. This can be faster if you're heating to a lower temperature. But assuming you go all the way to 2,100 degrees, you can melt most non-ferrous metals. These include gold, silver, lead, tin, brass, bronze, aluminum, zinc, and copper.
What we liked:
Melts most types of non-ferrous metal.
Easy to use for beginners.
High-quality crucibles and mold.
Low center of gravity.
What we didn't like:
Takes an hour to heat up.
Imprecise temperature control.
Best Budget: Do-It Hot Pot 2 Electric Melting Pot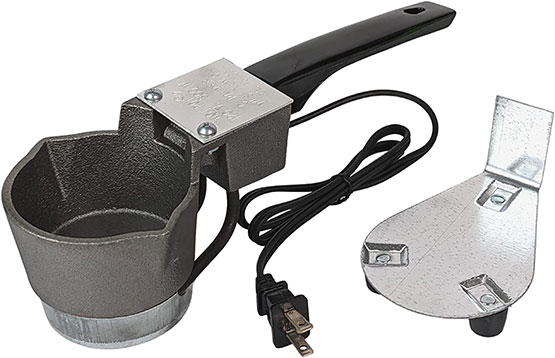 Key features:
Heats up to 750 degrees.
4-pound cast iron hot pot.
Safety stand and built-in pour spout.
The Do-It Hot Pot 2 Electric Melting Pot is a little bit different than the other furnaces we looked at. Instead of a full-sized furnace with a crucible, it's a cast iron hot pot where you just drop scraps of metal in. It has a capacity of four pounds, with a little spout on the side to make it easier to pour. There's also a black plastic handle which can be used to manipulate the pot.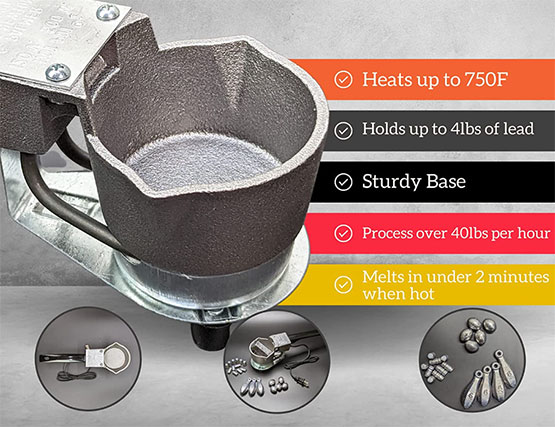 This pot has a set of built-in heating coils, and plugs into a regular household outlet. Plug it in, and it will automatically heat up to 750 degrees Fahrenheit. Unplug it and it will cool back down. It heats up in about five minutes, so you don't have to wait around to start working. It's also made in the USA, and can process around 20 pounds of lead per hour.
We say "lead" and not "metal" because other than tin and leather, this hot pot won't melt most metals. Along the same lines, there are no molds included. The Hot Pot 2 is designed specifically for people who are casting their own bullets and fishing weights. As a result, Do-It assumes you already have your own molds you want to use.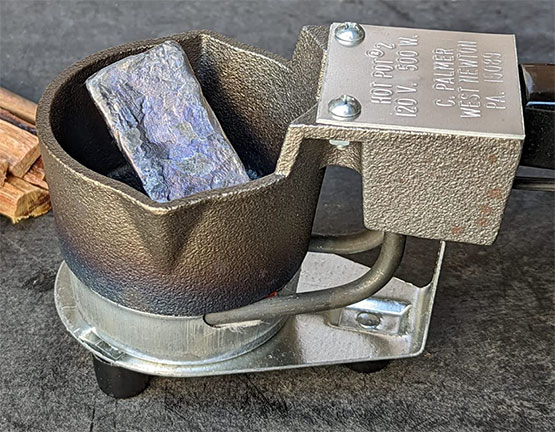 This melting pot is very affordable, but Do-It didn't skimp on quality. In addition to the pot itself, the kit includes a little aluminum stand with rubber feet. This stand keeps the pot elevated above your workbench and keep it from getting damaged.
What we liked:
Simple, straightforward operation.
Heats up in 5 minutes.
Perfect for casting bullets and fishing weights.
Built-in pouring spout and well-designed safety stand.
What we didn't like:
Only melts lead and tin.
No molds.
Best Alternative: VICSEC Electric Melting Furnace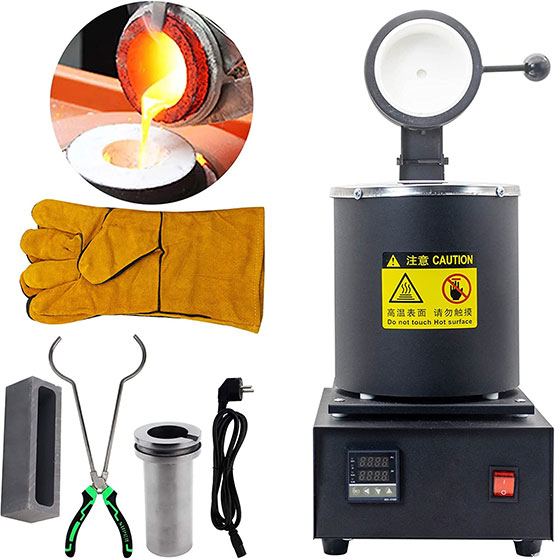 Key features:
Heats up to 2,000 degrees.
6.6-pound graphite crucible.
Graphite ingot mold.
The VICSEC Electric Melting Furnace has a straightforward design. It measures 14.5 inches tall, 9.8 inches wide, and 14 inches long. The furnace portion is a matte black cylinder, while the base is rectangular. The furnace itself is insulated with zirconium wool, which is incredibly effective and efficient. There are no carry handles, though. Once it's hot, you won't want to move it around.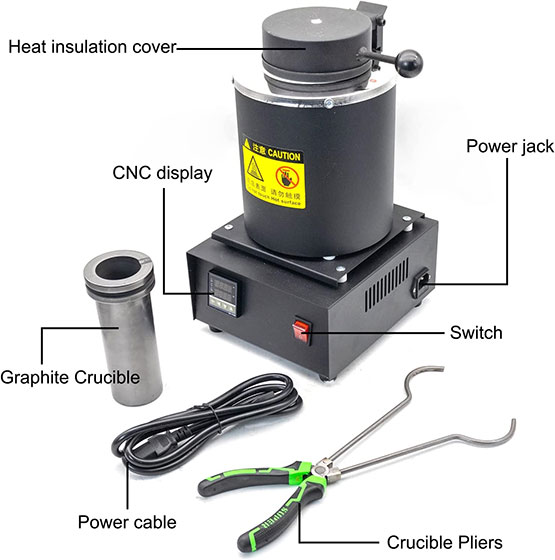 The kit includes a 6.6-pound graphite crucible, along with a single rectangular ingot mold. You also get a pair of leather gloves and crucible tongs. All of this is covered by a 12-month manufacturer's warranty, which protects you from any factory defects.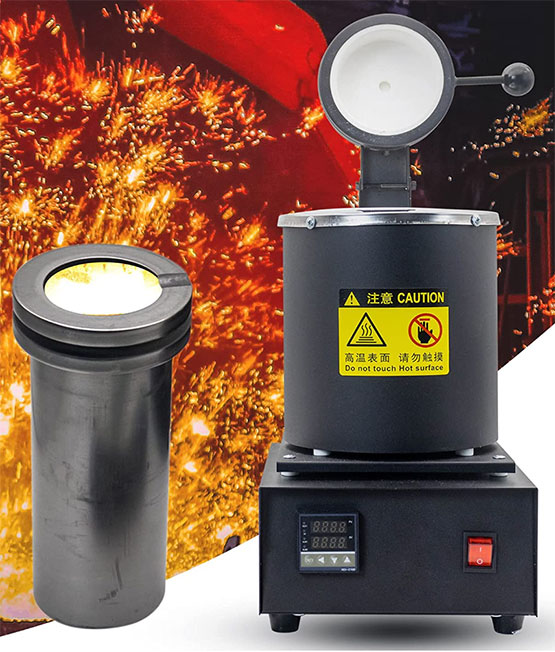 On the front right of the housing is a large red power switch. At the front left is a control panel where you can set the temperature as how as 2,000 degrees Fahrenheit. As before, the display is in Centigrade, so be prepared to convert some units if necessary. The crucible will heat up in only 40 to 48 minutes, and can melt most metals. However, it can struggle to maintain a full 2,000 degrees if it's all the way full. If you're melting a metal with a high melt point, you'll want to only fill the crucible halfway.
What we liked:
High-quality graphite crucible.
Melts most types of non-ferrous metal.
Precise temperature controls.
Very well insulated.
What we didn't like:
Not safe to move when it's hot.
Struggles to maintain temperature when full.
Final Verdict
All four of these electric melting furnaces are well-designed for their purpose. But which one is the best choice will depend entirely on your needs. Let's go over what we've learned today.
We began by examining the ToAuto TGF3000 Melting Furnace. This furnace's bottom-heavy design makes it exceptionally safe for use by beginners. The crucibles and mold are both durable and versatile, allowing you to create many ingot sizes and use different batch sizes. We would have liked to get a sturdier set of crucible tongs. But the precise temperature control and otherwise stellar engineering make the TGF3000 a solid choice.
Next, we took a look at the GOLDENSOIL Electric Melting Furnace. This is similar in many regards to the ToAuto furnace. However, there's a trade-off involved. On the one hand, the accessories with the GOLDENSOIL furnace are higher-quality – particularly the tongs. On the other hand, the temperature control isn't anywhere near as precise. Whether the trade-off is worthwhile is a matter of opinion.
Third on our list was the Do-It Hot Pot 2 Electric Melting Pot. This pot doesn't get anywhere near as hot as the others, but it might not have to. 750 degrees is more than hot enough to melt lead, which is a common type of metal to work with. If you're casting bullets or fishing weights, why waste money on a furnace that can melt copper and silver? This affordable little pot will do the job just fine.
Fourth, we reviewed the VICSEC Electric Melting Furnace. This furnace has the best insulation of the bunch, which translates to excellent efficiency. You have to be a little more careful about leaving space in the crucible, which can struggle to maintain temperature. But with its precise temperature control and rock-solid graphite crucible, there's a lot to like about the VICSEC furnace.