Bob and Brad T2
Pros
5 speeds and 5 massage heads.
44-pound stall force.
Quiet brushless motor.
Compact, lightweight, and ergonomic.
Included carrying case is nice to have.
Cons
Relatively short 10mm stroke.
Some attachments are hard plastic.
For those of us with active lifestyles, aches and pains are just a fact of everyday life. And make no mistake, "active lifestyle" can encompass quite a lot of things. We're not just talking about people who go to the gym seven days a week.
Maybe you're an avid cyclist, and put in hundreds of miles a week. Maybe you love to go hiking on the weekends. Or, maybe you work a job that puts a lot of stress on your muscles and joints. All these things and more can leave you sore at the end of the day. This can limit your activities, and negatively impact your performance in all areas of life.
A good massage is a great way to relieve that pain and stress. Many people love to visit a masseuse, or take advantage of their gym's massage table. But you don't always have access to those things when you need them.
What if you want a massage before bedtime, or at six in the morning on a Saturday? What if you're on the road? In those and similar situations, a personal home massager is an ideal solution. With an impact massager, you can get deep into muscles, and even massage joints and connective tissues. This is one of the best massage techniques for people who do a lot of physical activities.
We're about to review the Bob and Brad T2 Massage Gun. This is a smaller massage gun, designed primarily for portability. It still packs a surprising amount of power, though, with 44 pounds of stall force.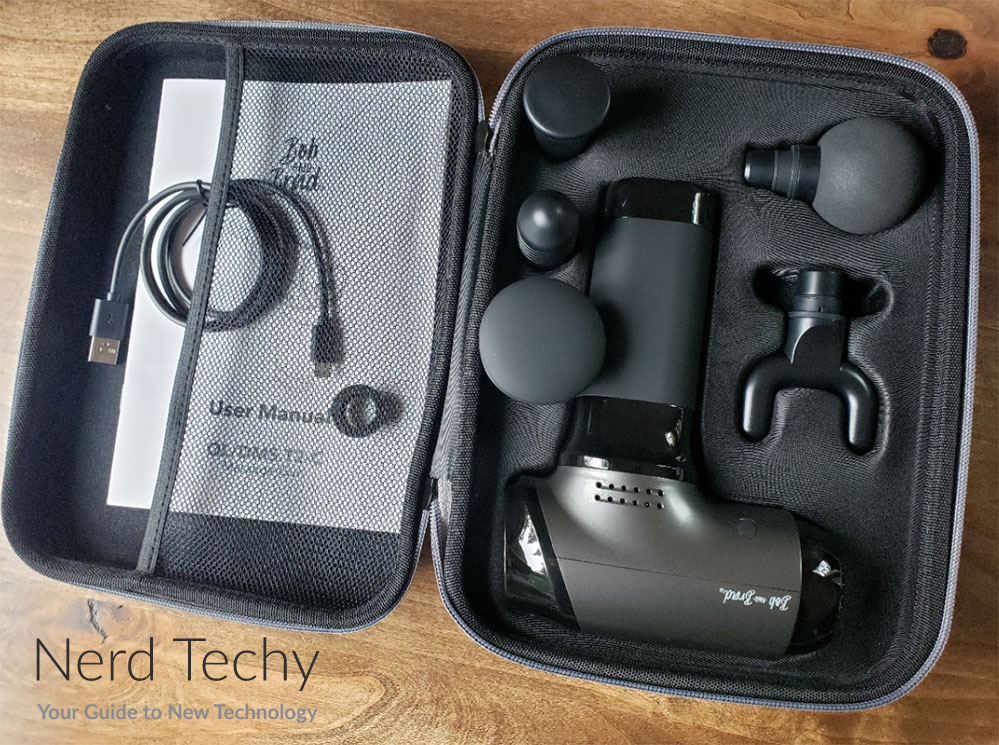 But to truly understand this massager, we need to take a deeper look at the design. We'll have to talk about the ergonomics, along with the controls. We'll need to look at the various settings, and all the massage heads you can choose from. And of course, we'll have to talk about the battery life. After we've considered all of those things, we'll be in a good position to provide a fair judgement.
Overall Design
The Bob and Brad T2 Massage Gun is shaped a little bit like a power drill. There's a vertical handle, which attaches to a horizontal motor housing, with a massage tip at the front. The overall size is 7.6 inches high, and 5.4 inches long, so it's pretty compact. It also weighs just 1.98 pounds, so it's easy to carry around.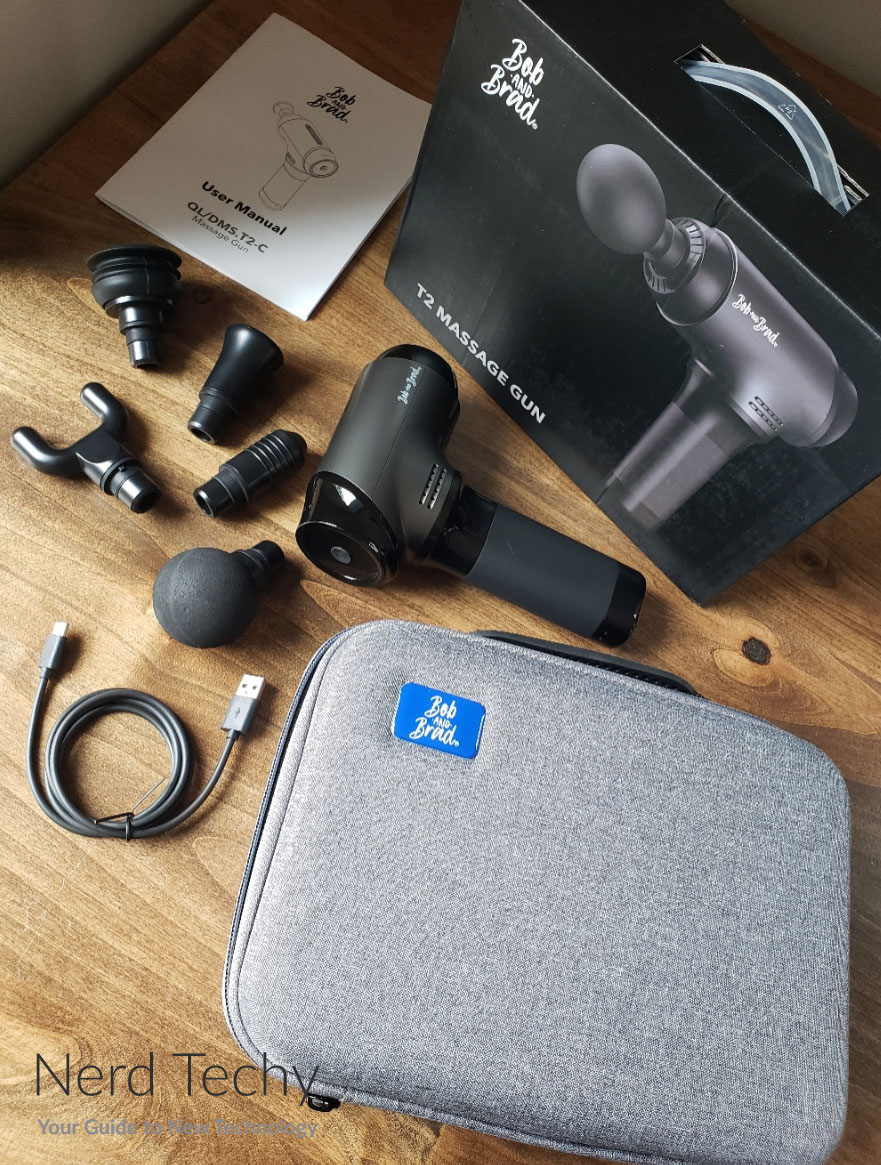 The handle portion of the housing is made from a glossy black plastic. Most of this area is coated with a rubberized silicone grip that's very comfortable to hold. The upper portion of the housing is a matte black material, which is easy to keep clean. It's mostly bare, but there are white "Bob and Brad" imprints on the sides. There are also air vents on the sides and top.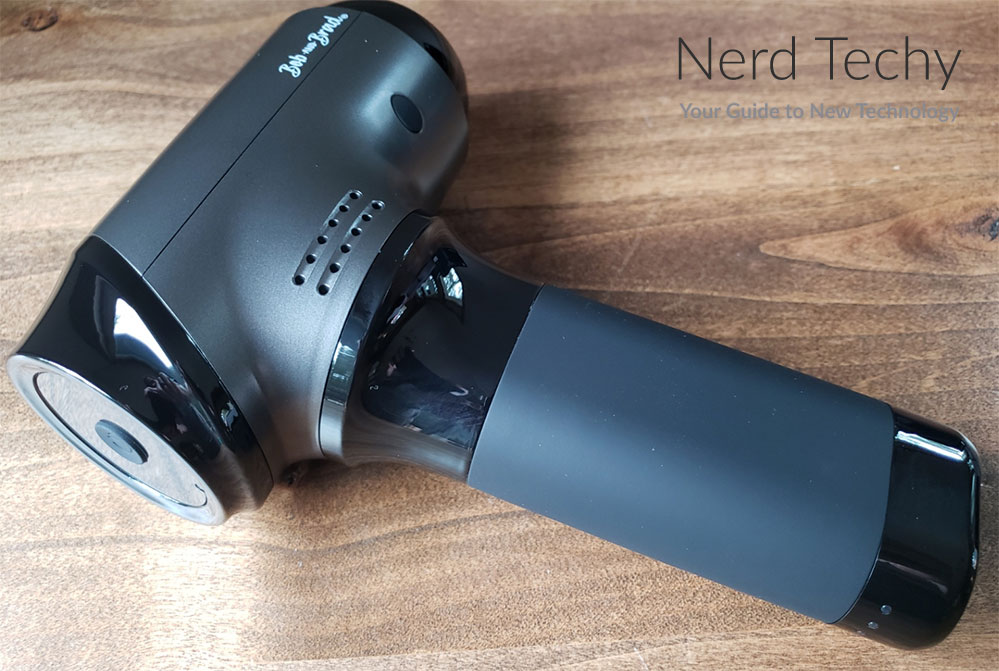 The T2 is already a great choice for travel. But if you're looking for a dedicated travel massager, you might want something a bit smaller. If that's what you need, consider the Bob and Brad C2 and Q2. They're even smaller and lighter, with many similar features. Then again, they have shorter strokes, and a lower stall force.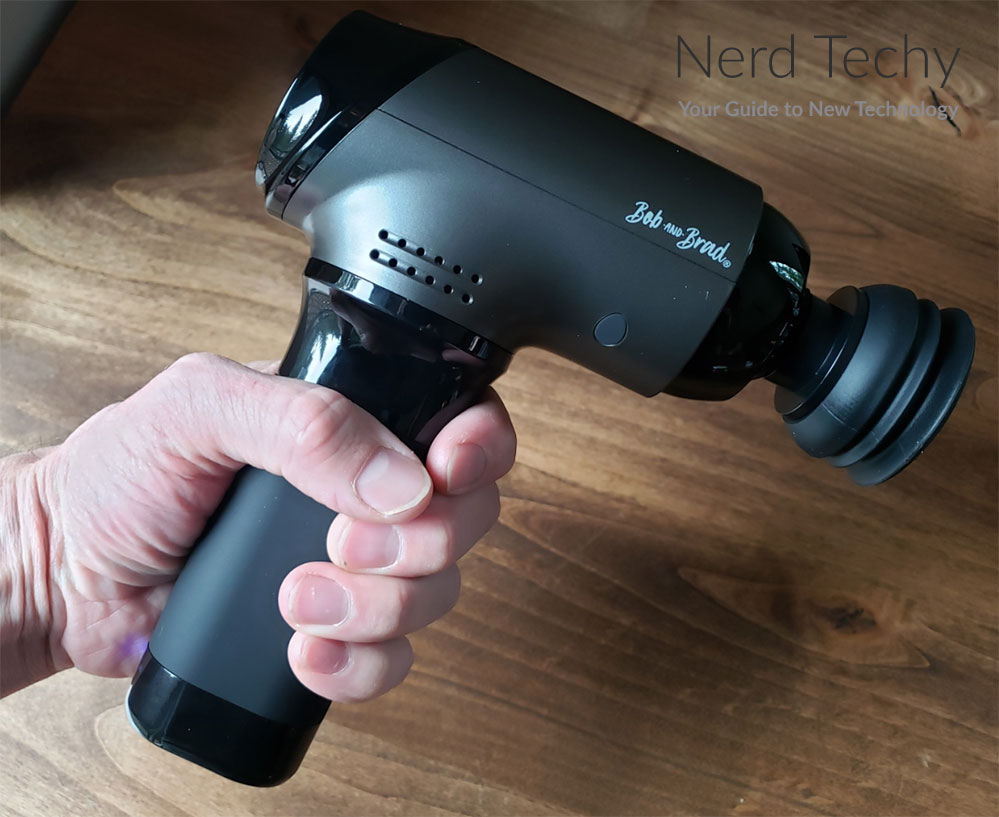 On the back of the housing, right in the center, there's a rubber power button. This button is easy to activate, and provides good tactile response. Arching over the curved top of the housing, you'll notice a row of five square green LED lights. These light up one by one as you cycle through the power levels.
Along with the massage gun and tips, you get a USB Type-A to Type-C power cable. This plugs into the bottom of the handle, and is used to charge the internal battery.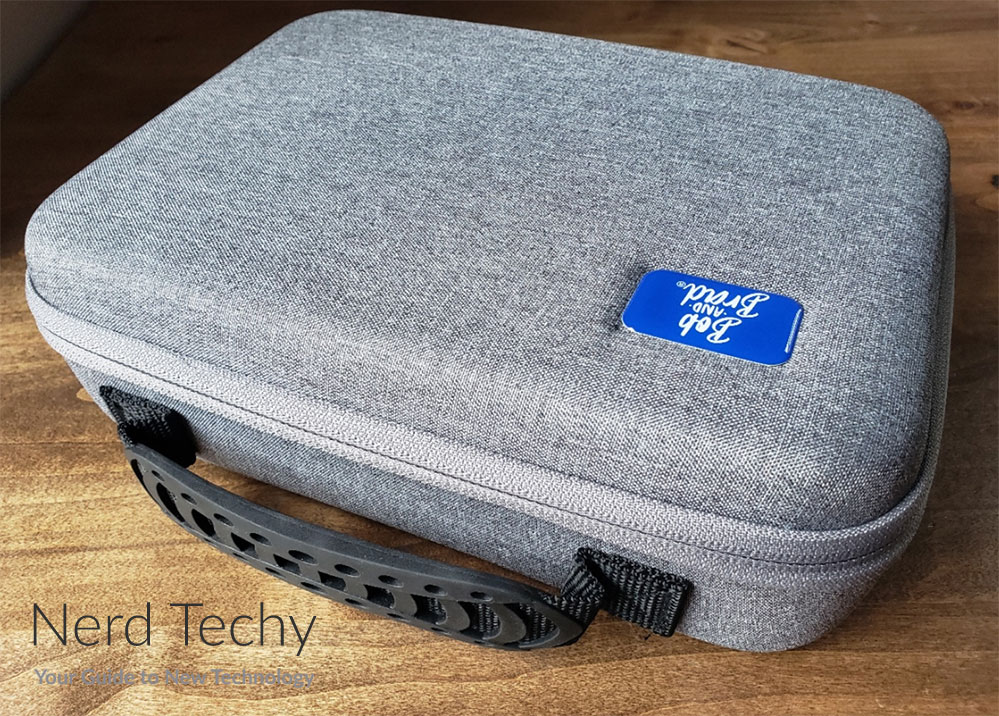 You also get a convenient carrying case. The case has a semi-rigid construction, and will keep the massager safe under most ordinary circumstances. The outer surface is a grey fabric weave, with a blue Bob & Brad decal on one of the corners. It's secured with a zipper, which runs around the outer edges, and the lid attaches at the back. A black nylon handle with a rubber grip makes it easy to carry the entire kit with one hand.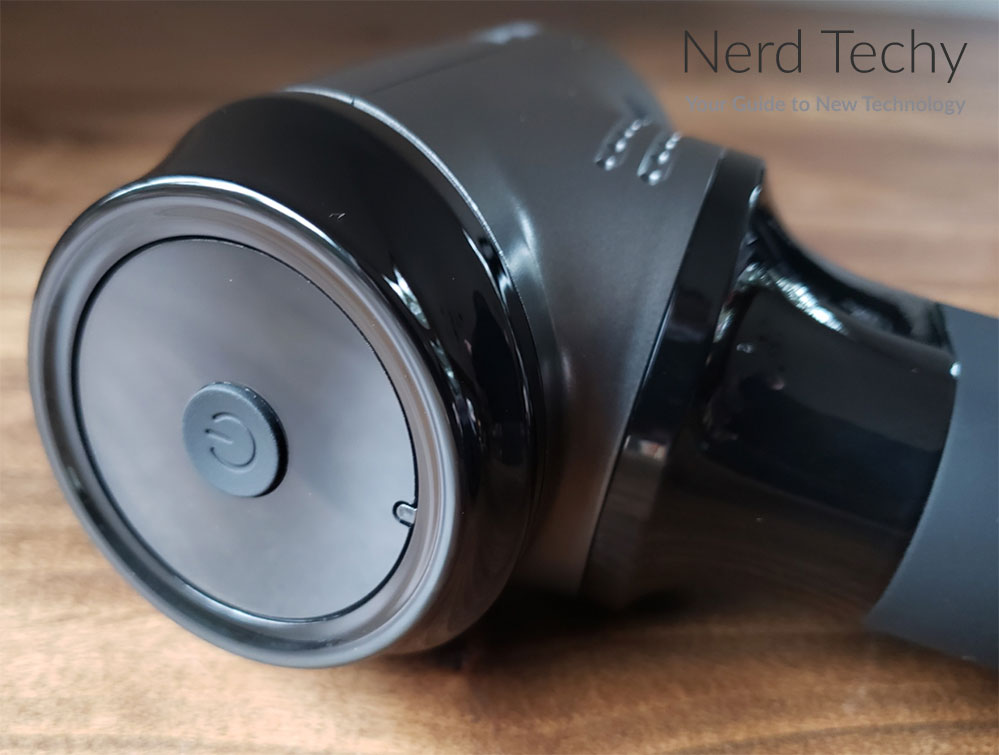 Controls and Operation
The T2 Massage Gun has five different intensity settings. When you first turn it on, it will run at the base setting of 2,000 RPM. This is a slower, gentler massage that's good for starting out with. Pressing the button additional times will increase the speed in increments of 300 RPM. You can set it to 2,300, 2,600, 2,900, or 3,200 RPM. Another press of the button will turn the motor back off.
Even on its highest setting, the brushless motor is fairly quiet. It produces a maximum of 45dB, which is much softer than ordinary conversation. At the lowest setting, it produces only 35dB, barely louder than a whisper.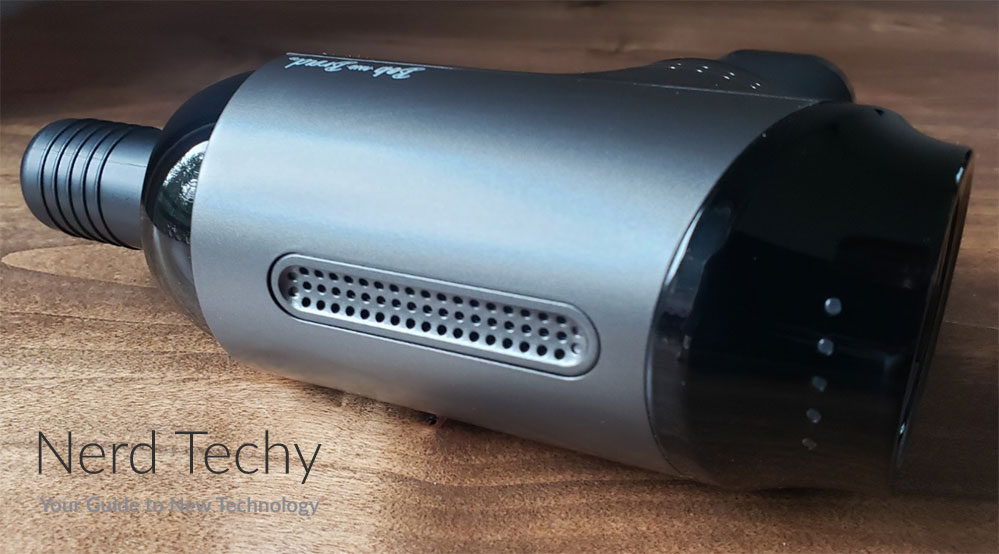 In terms of strength and power, the T2 offers moderate performance. The stall force of 44 pounds is impressive for such a small massager. This means you can apply 44 pounds of pressure on the tip before the motor stalls out.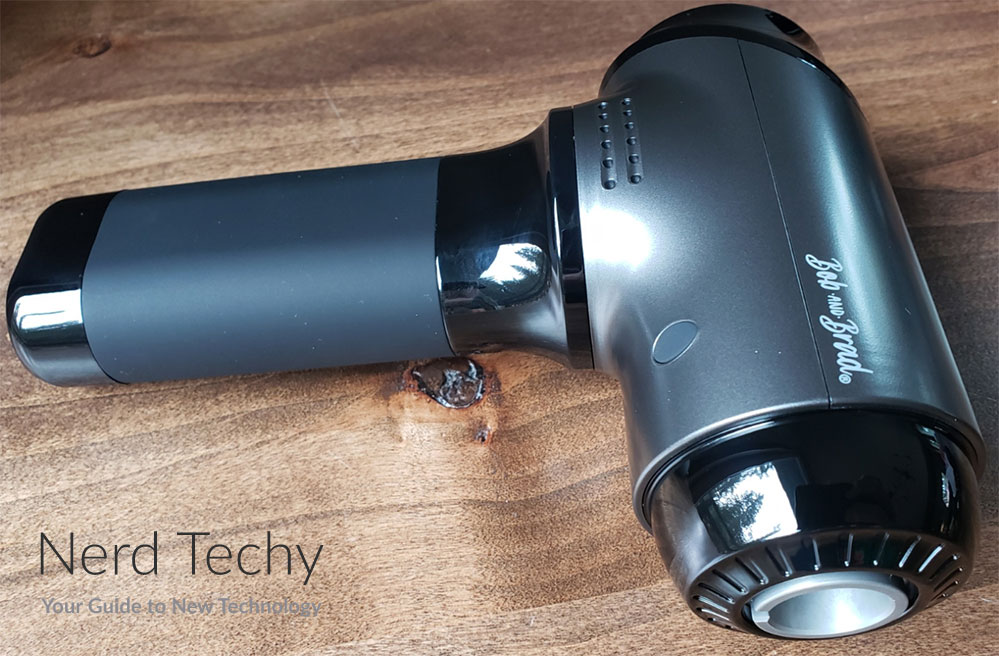 On the other hand, the 10mm length of stroke isn't all that long. To be fair, there are many percussion massagers with a shorter stroke. But if you want the deepest possible tissue penetration, you might be somewhat disappointed. In that situation, you might want to think about the Urikar AT1. It has a 16mm stroke, as well as an impressive 65-pound stall force. It's a real workhorse, but it's also fairly big and bulky.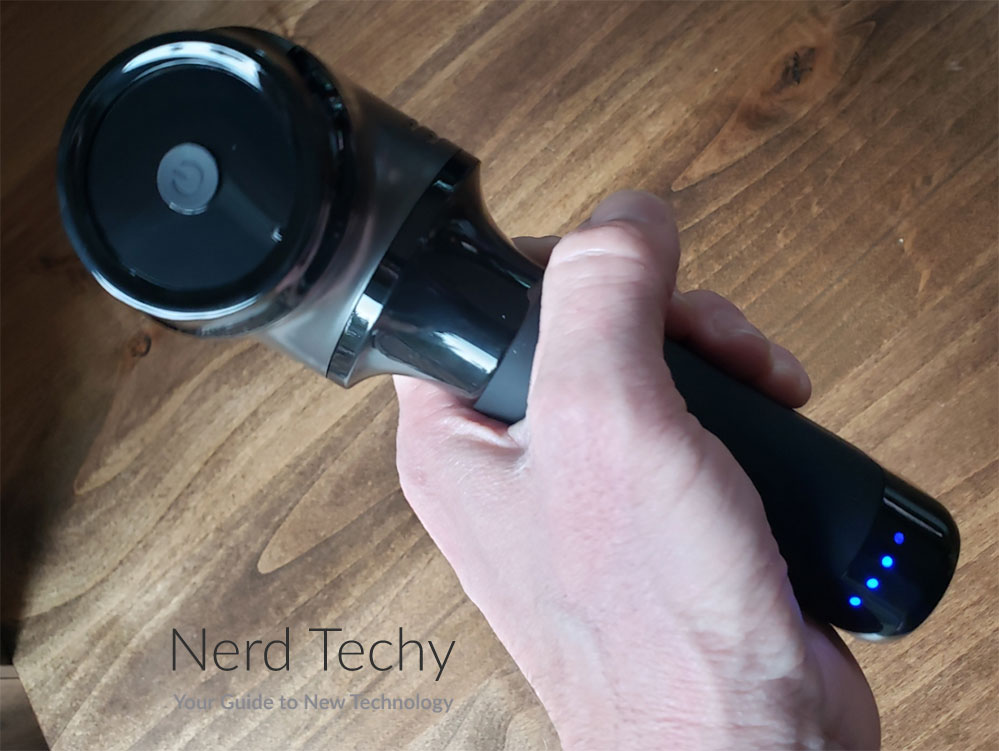 The T2 comes with five different tips, which are used to perform different massage techniques.
We'll start with the oddball of the bunch, which is the forked tip. This tip looks like an NFL field goal post, with two separate posts on a horizontal crosspiece. The posts are designed to impact on either side of your spine, to help relieve back pain. It can also be used on your shins, or to work in areas where you want to get around other bones.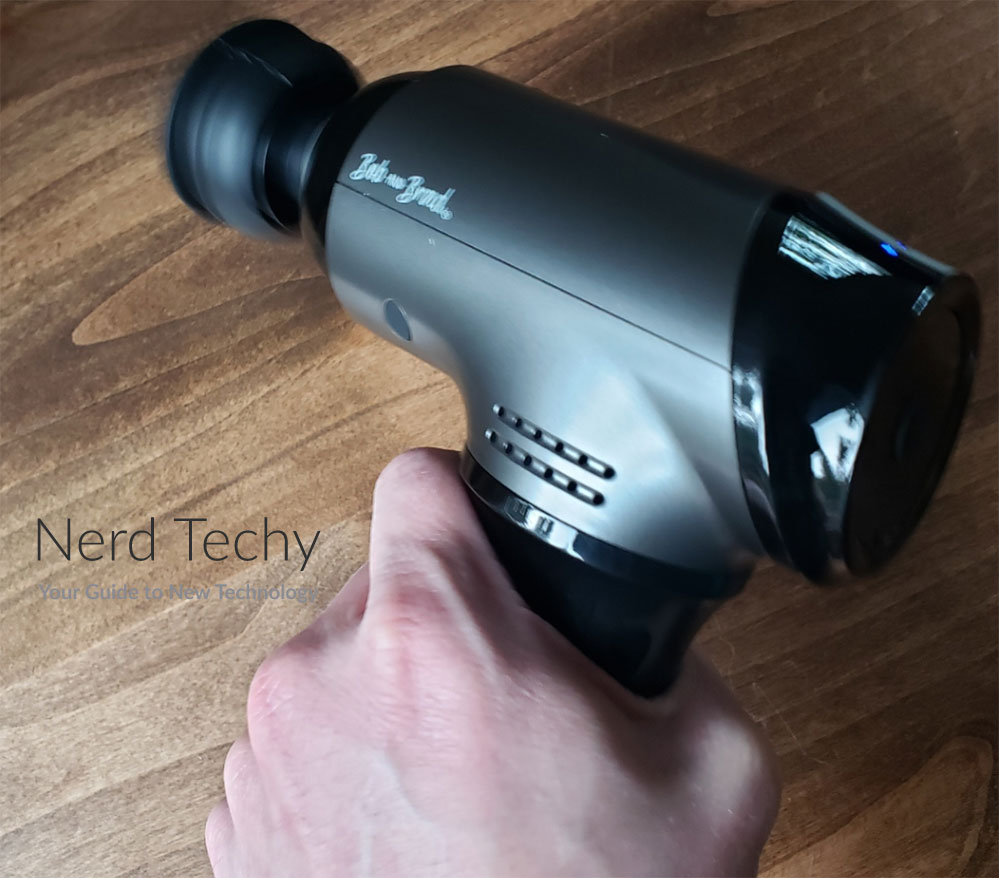 The next tip is pointed, shaped almost like a bullet. This tip is designed for precision, to provide the maximum impact on a single point. It's the best if you want to reach the deepest possible muscles. On gentler settings, it can also be used on your knees, elbows, and other major joints.
The third tip is shaped kind of like a trumpet, with a flared head that terminates in a flat end. The purpose of this tip is to impact a moderate area. It's useful for back muscles, and for muscles like your calves and thighs.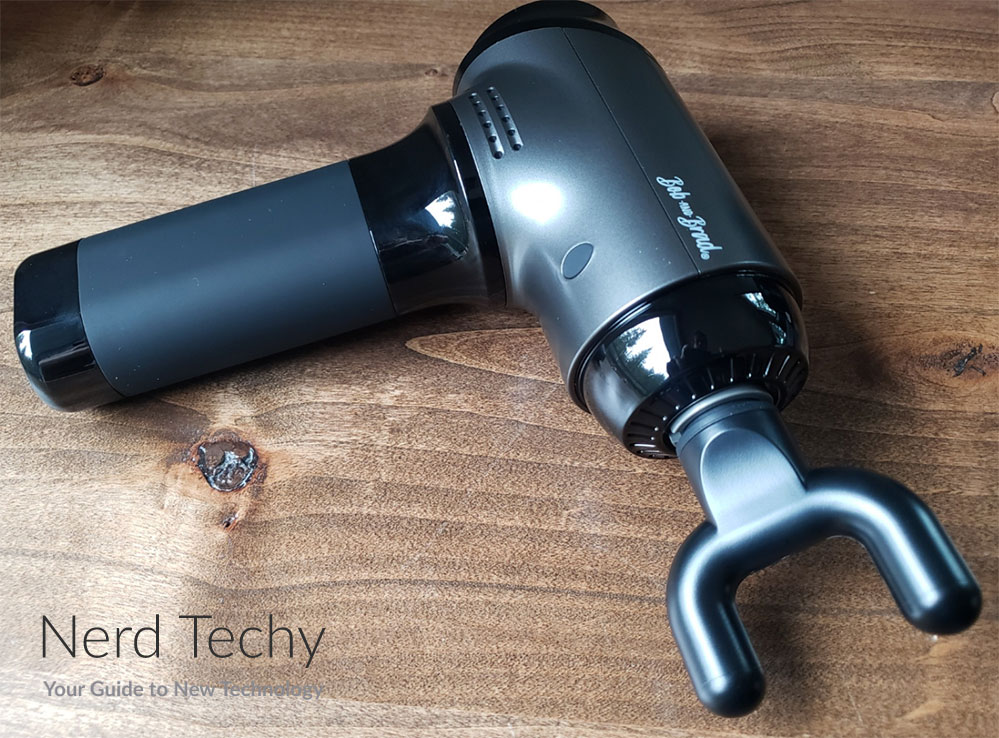 The fourth tip has a slightly convex tip, and is designed to be more gentle. Because of its profile, it distributes the impact over an even larger area. This is ideal when you want a more general-purpose massage, rather than focusing on a particular spot.
The last tip is sphere-shaped, which is the most commonly-used tip. The sphere tip can be applied from many angles, and can perform all kinds of massages. It's also constructed from a softer, more forgiving material. The other tips, on the other hand, are made from a harder plastic. This isn't necessarily a bad thing. But some people find it uncomfortable, and prefer a softer feel.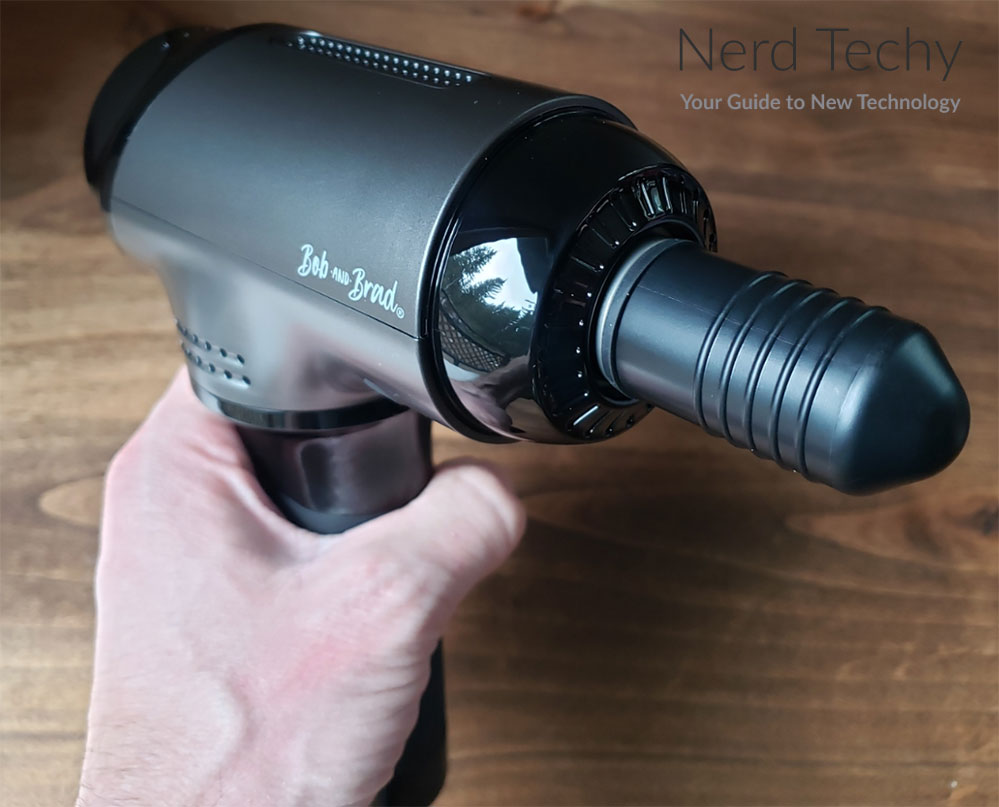 If you'd prefer an upgraded tip selection take a look at the Bob and Brad X6 Pro. It has a similar stroke length and stall force, but better-quality tips, and a titanium flat head. The drive shaft is also made out of titanium, which makes it very durable, albeit more expensive.
Battery and Charging
When fully charged, the T2's battery will provide enough power for 2 to 5 hours of operation. The reason there's such a wide range is because the battery life depends on many factors. To begin with, how high is the motor setting? The motor will use a lot more power at 3,200 RPM than at 2,000 RPM. Another consideration is how much stress you're putting it under. If you're pressing down hard all the time, the motor needs to use more power. Besides which, 2 hours is more than enough juice for most people's needs.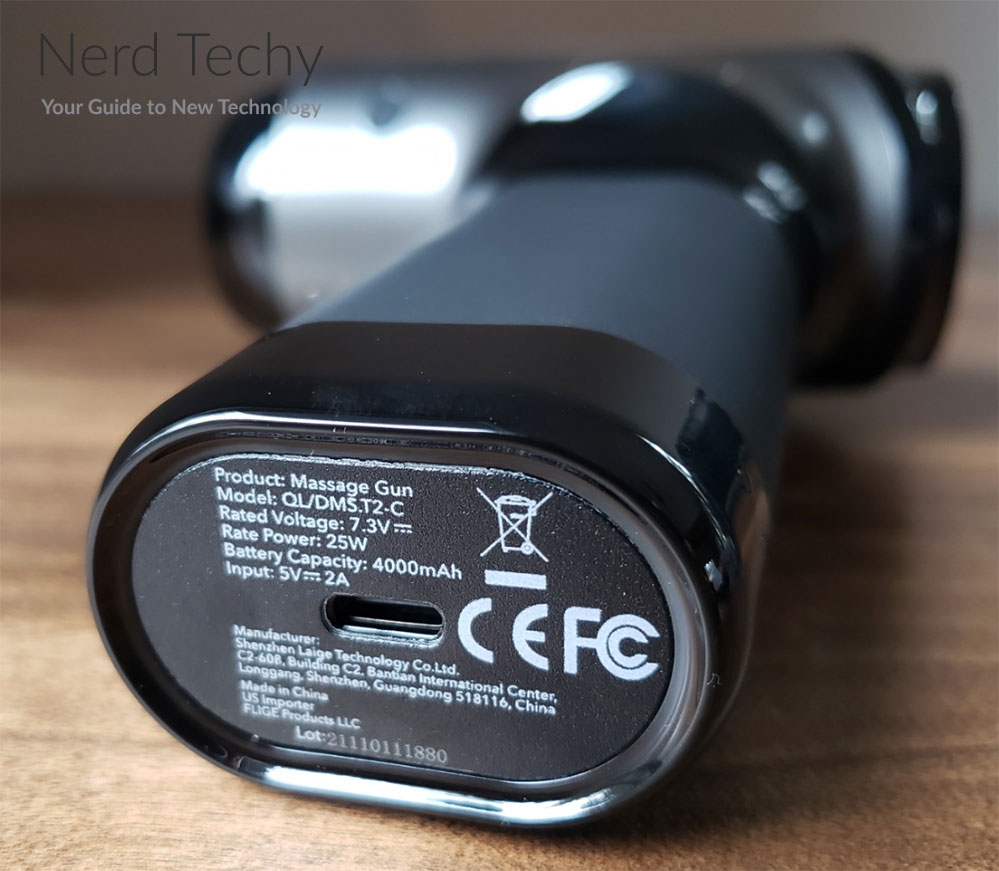 Even when the battery is fully discharged, it doesn't take long to top off. The USB Type-C cable will fully charge the battery in 2 to 3 hours. Not only that, but Bob and Brad built a 10-minute automatic shutoff feature into the circuitry. This ensures that you won't kill your battery by accidentally leaving the massager running.
What's So Special About Percussion Massage?
So, what is it that makes a percussion massager different from an ordinary vibrating massager? Vibrating massagers are designed to work like a Swedish massage. It works your muscles from side to side, to cover a large area of your body.
A percussion massager, on the other hand, is meant to be more like a shiatsu massage. It focuses on a particular spot or area, rather than, for example, your entire back. This can be used for muscle cramps, physical therapy, and even to break up scar tissue. Percussion massage also stimulates blood flow to a particular area. This can help facilitate healing of bruises and other muscle and joint injuries.
Percussion massagers aren't just for using on yourself. There's also a good argument for owning one if you're a masseuse or physical therapist. Manually massaging multiple patients can be exhausting, especially if you're applying a lot of pressure. Using an electric massager can make your job much easier by applying force for you.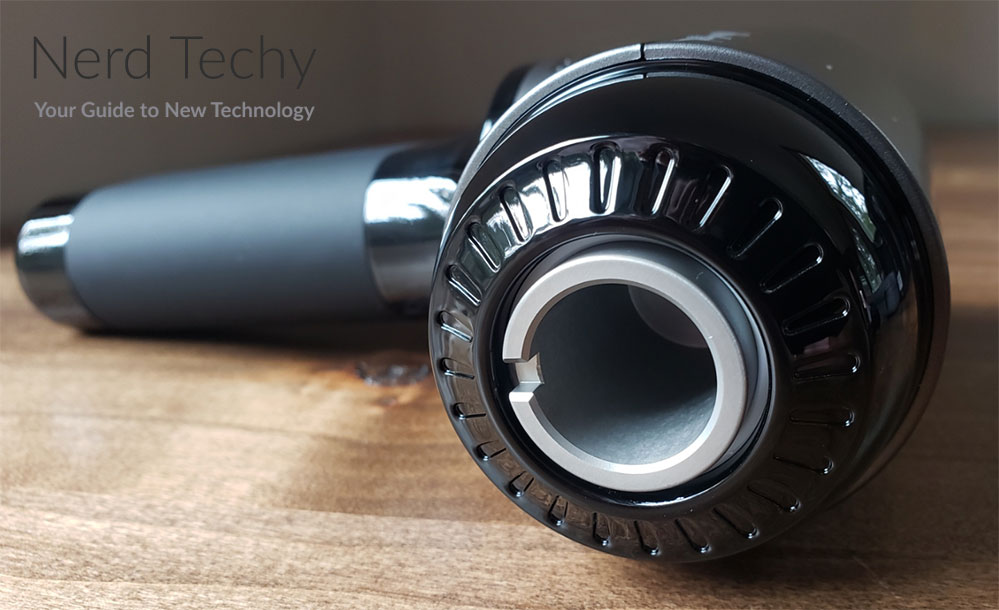 Final Verdict
The Bob and Brad T2 Massage Gun is one of the better small- to mid-sized impact massagers on the market. It's surprisingly capable for the size, with a 44-pound stall force, albeit with a short stroke length. There's a good range of motor speeds, and the controls are easy to operate. You also get reasonably good battery performance, as well as quick charging. All things considered, we were pleased.
If you're looking for a massage gun that's more-compact and a bit less expensive, look no further than the Bob and Brad Q2 Mini and C2 Massage Guns. They're quite similar but still designed well. Regardless of the exact model you pick, Bob and Brad have created some pretty favorable products that are now readily available.