Staying warm in the winter often involves painful trade-offs. You can turn up the heat as much as you want, but that can get prohibitively expensive in a hurry. The alternative is to bundle up. However, there's a reasonable limit to bundling up. If you find yourself wearing a hat, scarf, and gloves inside your living room, you need a better solution.
An electric heated blanket provides a nifty alternative. It provides extra heat, so you don't need to pile on a bunch of extra layers. At the same time, it doesn't require nearly as much energy as heating your house. Instead, you're just warming up a little blanket. As a result, you're able to keep yourself warm without spending a small fortune.
We're about to review four of the best low wattage electric blankets on today's market. Each one has a number of features we'll need to cover. If you're short on time, here's a quick one-sentence summary of each option:
To truly find out how these blankets perform, we're going to have to dig a lot deeper. We'll look at all of their features, then render a final verdict at the end. Let's get into this.
Perfect Fit SoftHeat Micro-Fleece [Twin Size] Electric Blanket (82W)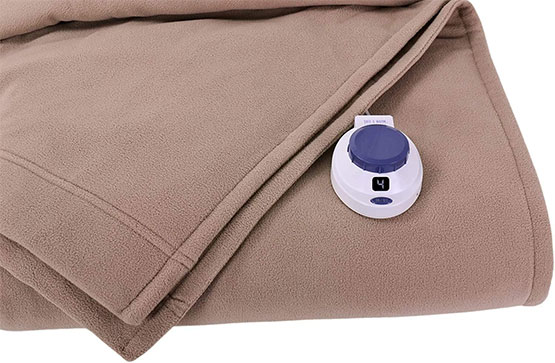 Key features:
Uses 82 watts.
Twin size blanket.
Fleece shell.
10 heat settings.
Available in beige or blue.
The Perfect Fit SoftHeat Micro-Fleece is exactly what it sounds like. It's a twin sized blanket that measures 62 inches wide and 84 inches long. That's enough to cover the entire bed and hang down over both sides. It's constructed from soft fleece, with stitching around the edges for reinforcement. You get two color options: beige or blue.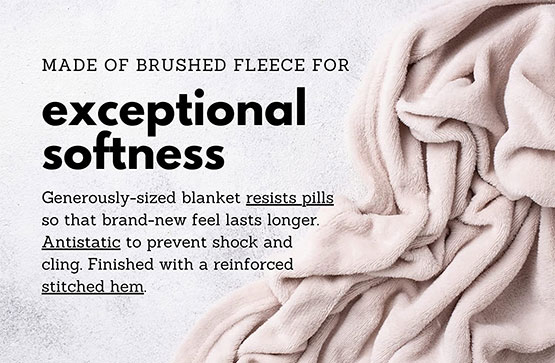 One thing we really liked about this blanket is how thin the wires are. A lot of electric blankets have heavy wires that you can easily feel through the material. Curl up and try to get cozy in one, and the wires can start digging into your skin. The thin wires in the Perfect Fit blanket are so fine that you'll barely feel them. So you can wrap yourself up and feel extra comfortable.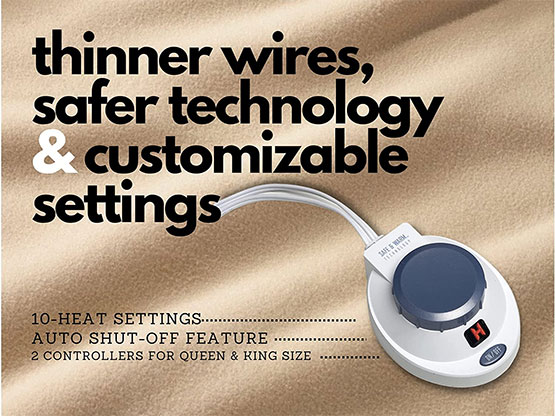 The blanket has a power cord, as well as a control unit. The controller attaches via a wire, and can sit off to the side while you're using the blanket. It's white and oval-shaped, with a blue on/off button at the front. On top is a large blue knob that can be used to adjust between 10 different heat settings. Between the knob and the button, you'll see a small digital display that shows your current level.
The controller can be unplugged from the blanket, which can then be machine-washed. Just make sure it's 100% dry before you plug the controller back in. There's also an auto-shutoff function for safety. After 10 hours of operation, the blanket will automatically turn itself off.
Perfect Fit backs their blanket with a five-year manufacturer's warranty. If it fails prematurely due to a flaw in parts or labor, you'll receive a refund or a replacement.
McJaw Electric Throw Blanket (68 watts)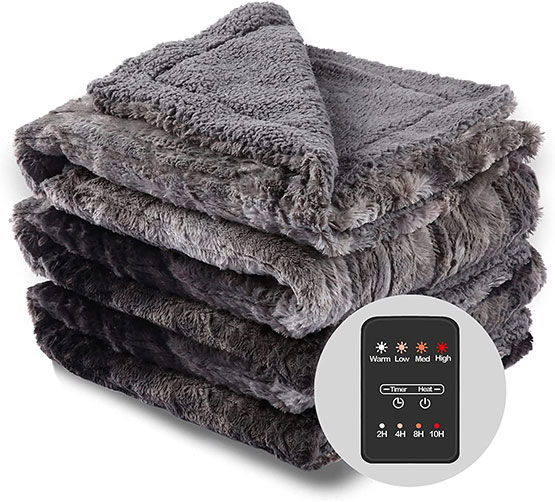 Key features:
Uses 68 watts.
50" x 60" throw blanket.
Faux fur shell.
4 heat settings.
Available in grey or brown.
The McJaw Electric Throw Blanket is a bit smaller. At 60 inches long and 50 inches wide, it won't cover a whole twin bed. But it's a good size for curling up on a chair or sofa and relaxing for the evening. It's also incredibly comfortable. One side is a faux fur, which is thick, lush, and very warm. The reverse side is a soft plush, which is less fluffy but just as luxurious. You can order it in grey or a rich chocolate brown.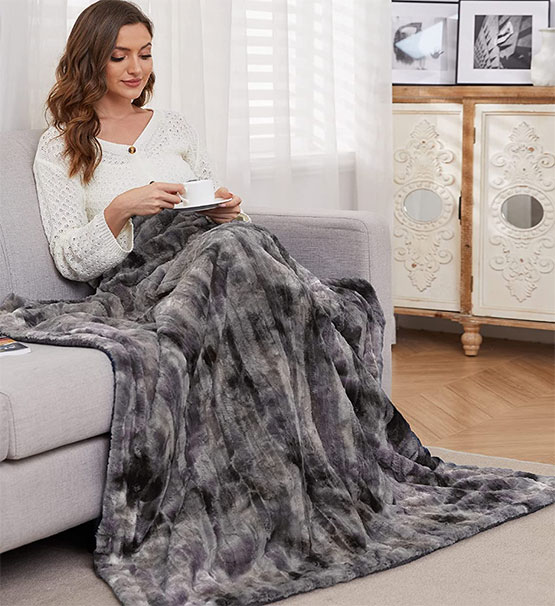 There are two different versions of the McJaw blanket. The first has an in-line control fob on the power cable, and the second has a built-in controller on the blanket. The built-in controller is only available on the grey blanket. That said, both work pretty much the same way. There are five heat settings, ranging from 86 to 108 degrees. There's also an auto-shutoff timer that you can set to 2, 4, 8, or 10 hours. A set of indicator lights keep you posted on the current settings.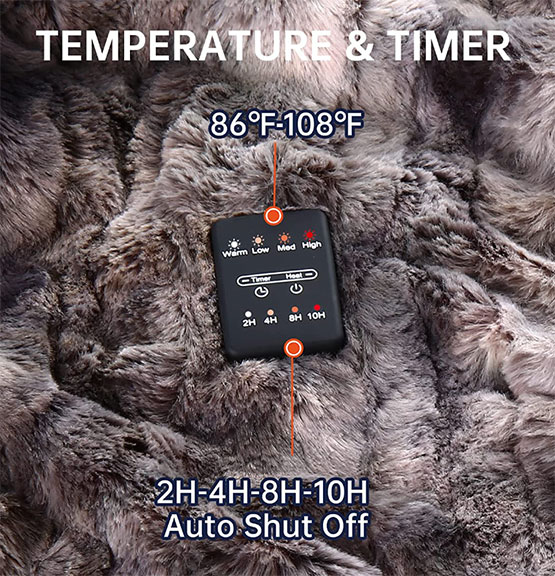 The blanket with the on-board controller is very convenient to operate. That said, it's not removable, so you can't machine wash it. The version with the in-line controller can be washed by machine, since the power cord and controller are removable.
Sunbeam Royal Ultra [Twin Size] Heated Blanket (108 watts)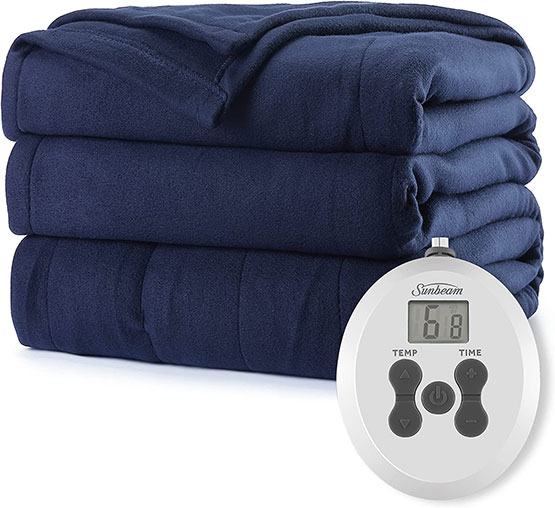 Key features:
Uses 108 watts.
Twin size blanket.
Polyester fleece shell.
12 heat settings.
Available in blue, charcoal, burgundy, green, or tan.
The Sunbeam Royal Ultra Heated Blanket is a standard twin sized blanket. It's manufactured from polyester fleece, which has a smooth, soft surface. It's 84 inches long and 62 inches wide, with stitching around the edges for strength. You can order it in five colors: blue, charcoal, burgundy, light green, or tan.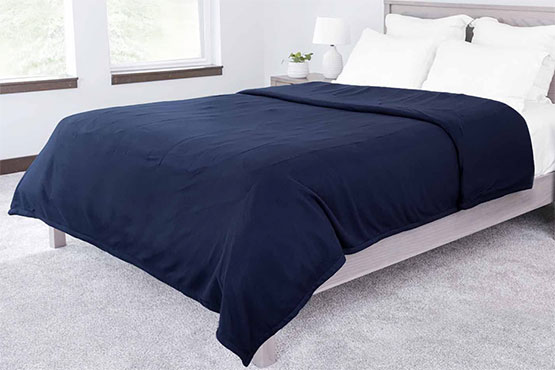 The controller is a white, oval-shaped pod that connects to the blanket with a wire. There's a rubber power button in the center, which turns the blanket on and off. The buttons to the left can adjust up or down between 12 different heat settings. Meanwhile, the right side switches can adjust the shutoff timer from 1 to 12 hours. There's an LCD display to the front, which shows your heat level and time remaining. As with the other blankets, you can unplug the controller and throw it in your washing machine.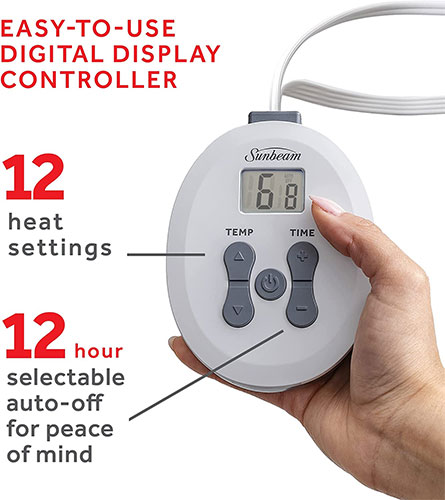 You also get the benefit of a five-year manufacturer's warranty. If it stops working during this time period, you'll be protected.
VENTIMI Heated Blanket (100 watts)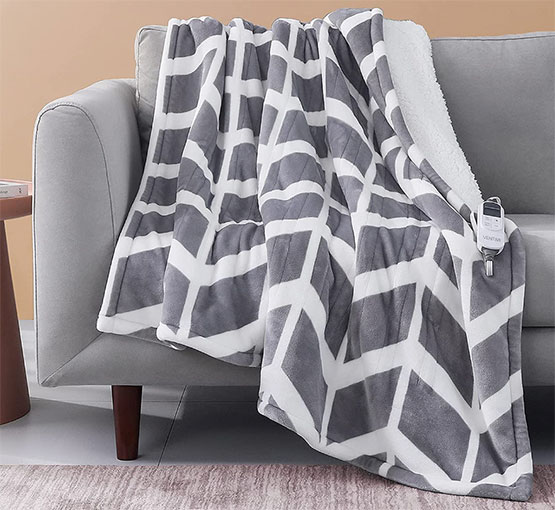 Key features:
Uses 100 watts.
50" x 60" throw blanket.
Plush and flannel shell.
10 heat settings.
Available in grey, green, or blue.
The VENTIMI Heated Blanket is a small throw blanket that measures 60" long and 50" wide. It's a bit small for your bed, but it's an ideal choice for your sofa or easy chair. The top is made of soft, smooth flannel, with your choice of three geometric patterns. These are white on grey, white on green, or white on blue. The reverse side is all white and has a sherpa plush finish that's very warm. It's nice and thick, and doubled up around the edges. This not only makes it stronger and hard to rip, but adds a soft little bumper around the outside.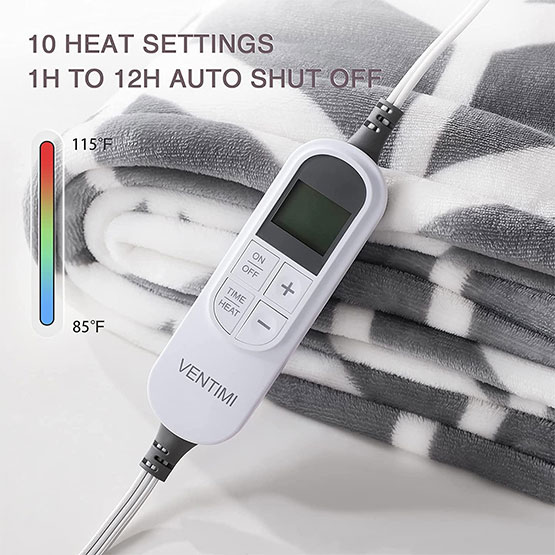 The power cord is removable, so you can wash the blanket by machine. It also has an in-line control fob for adjusting your settings. The fob has four solid white buttons, arranged in a grid. The top left button toggles the power on and off. The two right buttons are used to adjust the heat and timer. You can choose from 10 different temperature settings, ranging from 85 to 115 degrees. The timer is adjustable from 1 to 12 hours. Using the bottom left button will change the up and down buttons between the timer and heater. Meanwhile, a square LCD display shows your current temperature and timer settings.
Choosing the Best Electric Blankets
Before we conclude, let's talk about electric blankets in general. Why would you want to choose one over another? Here are some of the factors you'll want to think about when making your selection.
Comfort
If you haven't used an electric blanket in a while, you probably remember them as being uncomfortable. And while it's true that old-school electric blankets were thin and scratchy, that's no longer the case. Today's blankets are available in faux fur, flannel, plush, fleece, and other more comfortable materials. So hold your electric blanket to the same comfort standard as a regular blanket.
Size
As with any blanket, it's important to get the correct size. This will largely depend on how you intend on using the blanket. For example, suppose you're looking for one for your bed. You'd want a twin sized blanket for a twin bed, a full sized blanket for a full bed, and so on. You may also prefer a small throw blanket. These are more manageable on the sofa or in a chair. They're also more portable, which is great if you want to take one on the road.
Maintenance
Most electric blankets these days are machine washable. You have to remove the power cable and follow your manufacturer's instructions to the letter. Also, keep in mind that most electric blankets are not machine dryable. You'll have to hang dry them before you can use them again.
Controls
Different electric blankets have different control schemes. Some use buttons, while others utilize a dial to adjust the temperature. Button controls are more precise, but can be awkward to operate in the middle of the night. Dials are less precise, but they're easy to twist in the dark. If your blanket is queen sized or larger, it's also smart to look for one with separate controls for both sides.
Safety Considerations
Underwriters Laboratories is an independent safety testing service. A UL-certified blanket has been rigorously tested, and you should look for this whenever possible. That said, UL certification is so ubiquitous that most companies don't even advertise it. It will be buried deep in the product specs or in the fine print in the manual.
One feature you should always look for is an automated shutoff. Without this feature, your blanket could cause burns and land you in the hospital.
Other features
Look for a blanket with multiple heat settings so you can get the ideal temperature. An adjustable timer is also handy, especially for short naps.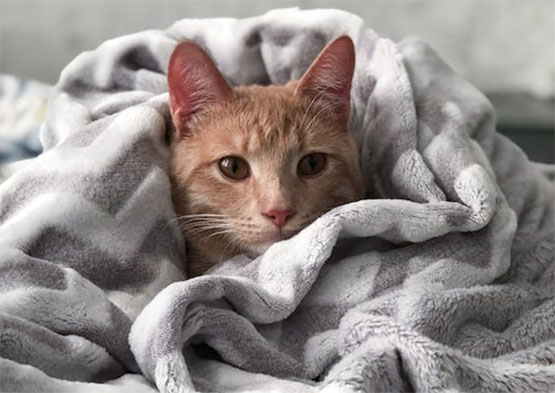 Final Verdict
As you can see, these are all great electric blankets. Under the right circumstances, any one of them could be the best choice. But which one is the ideal blanket for your needs?
We started out by reviewing the Perfect Fit SoftHeat Micro-Fleece. This is a standard-sized blanket for twin beds, and the fleece material is soft and comfortable. We loved the thin heating wires, which don't dig in and create pressure points like many blankets. The controller is straightforward and easy to operate, and you can easily choose from 10 heating levels.
Second on our list was the McJaw Electric Throw Blanket. This little throw blanket is extremely warm and comfortable, with faux fur on one side. It has five heat settings, and you can also adjust the timer between two and ten hours. We also liked that you get your choice of controllers. Choose the in-line controller for a machine washable blanket, or get the built-in controller for easier use.
Next, we checked out the Sunbeam Royal Ultra. This soft fleece blanket is available in five color options, and is perfectly sized for twin beds. Its in-line controller is straightforward, with 12 heat settings and a 12-hour customizable timer. And it's machine washable, so you don't have to wash it by hand when it gets dirty.
Fourth, we took a look at the VENTIMI Heated Blanket. This little throw blanket is very comfortable and warm, with a flannel surface and sherpa plush reverse side. The geometric pattern on the front is attractive, with three pastel colors to choose from. We liked the in-line controls, which are simple and easy to use. And with a 30-degree temperature range, it's easy to get the heat level that's right for you.