HUIVEOO Cordless Table Lamp
Overall Design -

7.5/10

Light Output -

6.5/10

Battery & Charging -

8/10

Build Quality -

8/10
Summary
The HUIVEOO cordless lamp is a cordless take on an otherwise traditional small appliance. With all-metal construction, it feels solid, well-made and seemingly tough, albeit somewhat top-heavy. The amount of light it produces isn't ideal for all situations, but it's fun to use anywhere you need to light-up a small space.
Pros
Fully aluminum construction
Completely water and dust resistant
Wire-free; can be used anywhere
Adjustable brightness/color temp
Minimal assembly required
Cons
Touch control area requires precision
Top heavy design
Only good for small spaces
It's not everyday we come across a gadget like the HUIVEOO table lamp. It's a miniature version of a standard table lamp with a unique twist; it's completely cord-free.
Rather than being permanently plugged into an outlet, powering the HUIVEOO is done via the built-in rechargeable battery. It's located inside the "shade" of the lamp and offers touch-control activation that's simple and straightforward.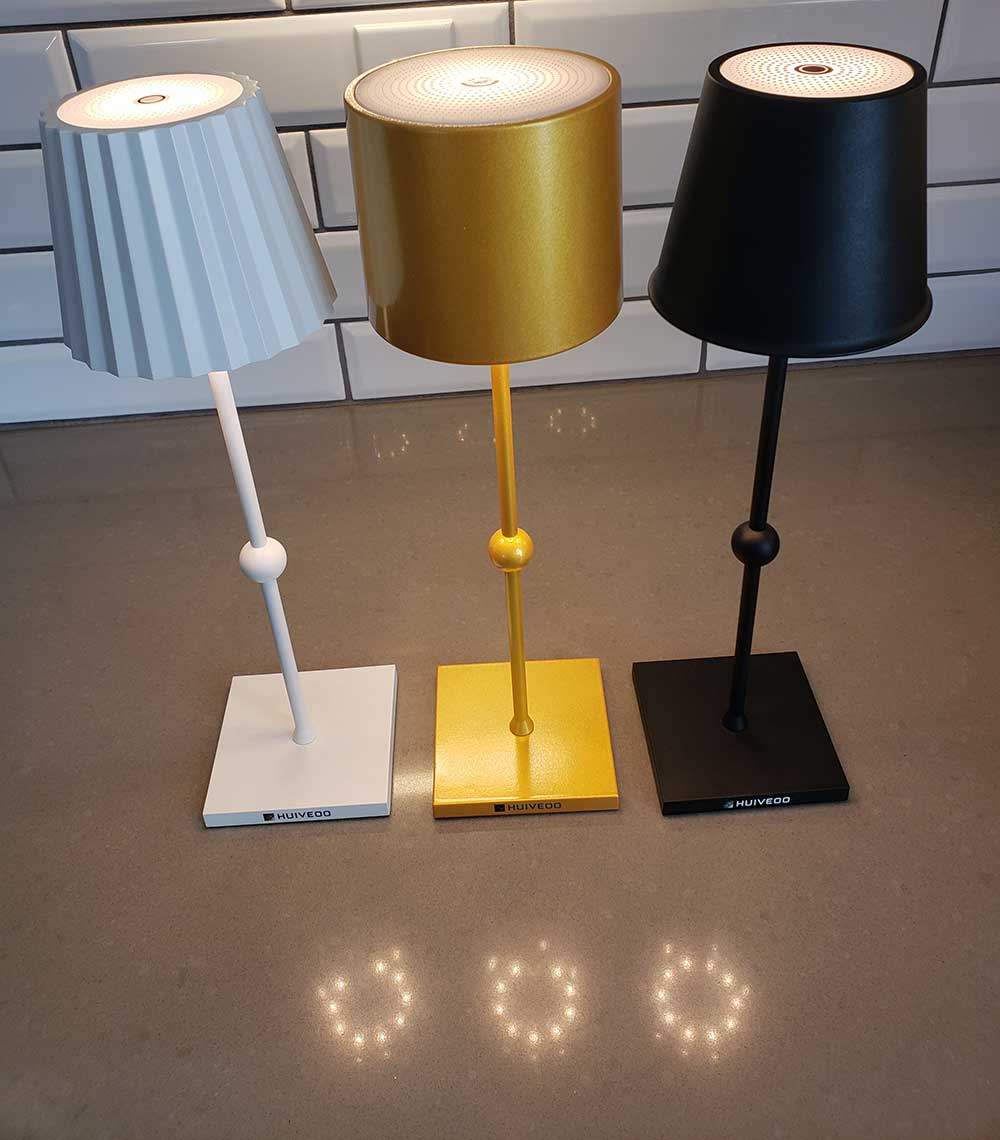 Designed to be a elegant and easy to use, this lamp is supposedly suitable for a wide range of purposes. Is it all what it's cracked up to be? Let's get right into it.
What's in the box?
Lamp base
Two shaft rods
USB-C charging cable
Lamp head
User manual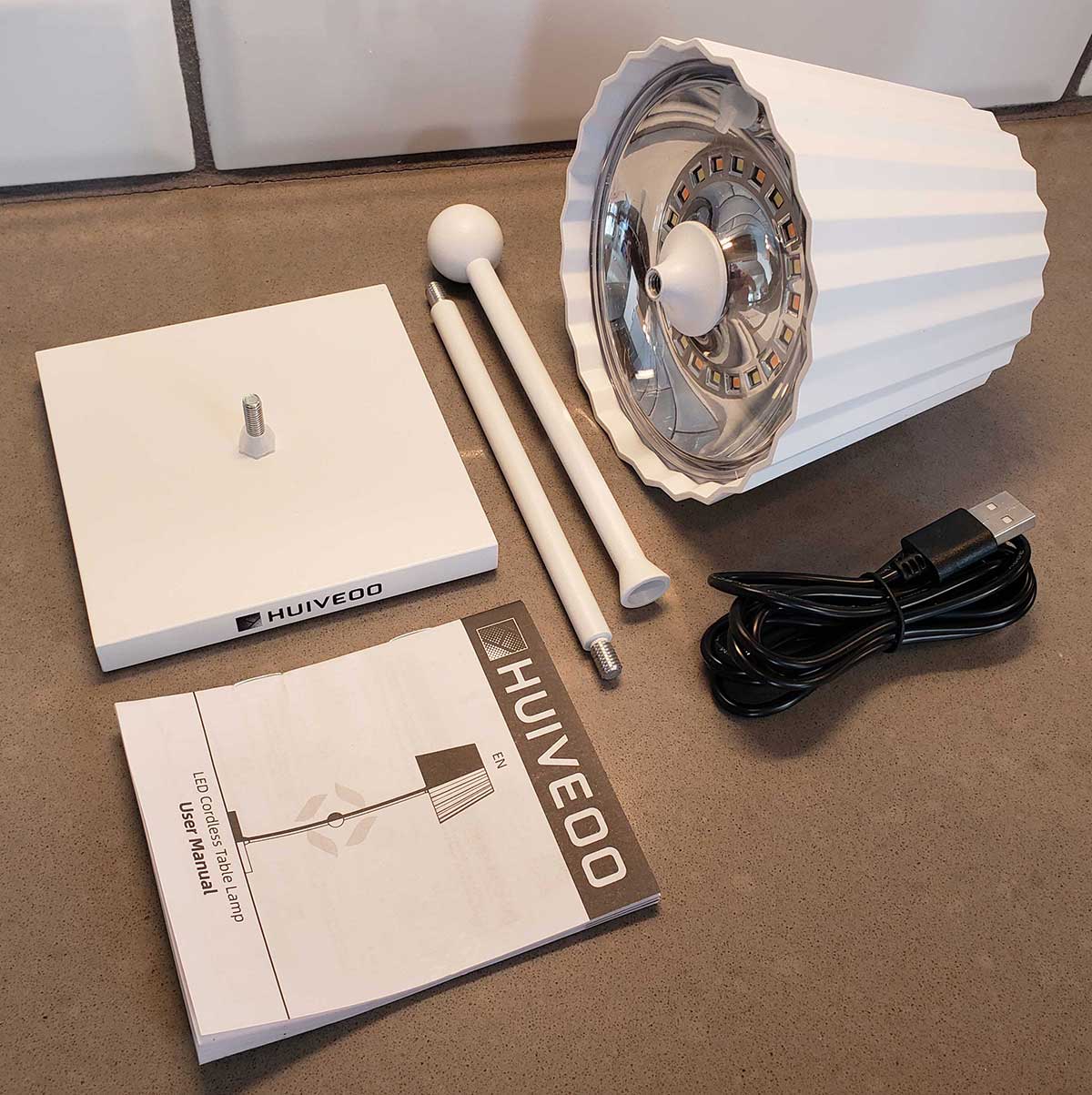 Setting it up
As you can see, HUIVEOO includes everything you need and nothing more. Minimal assembly is required, but it's extremely easy. Simply attach the two rods together along with the base and main lamp head. Everything is comprised of aluminum, making it feel solid and relatively heavy duty. The threads are solid, robust and once it's put together, there's no loose or moving parts.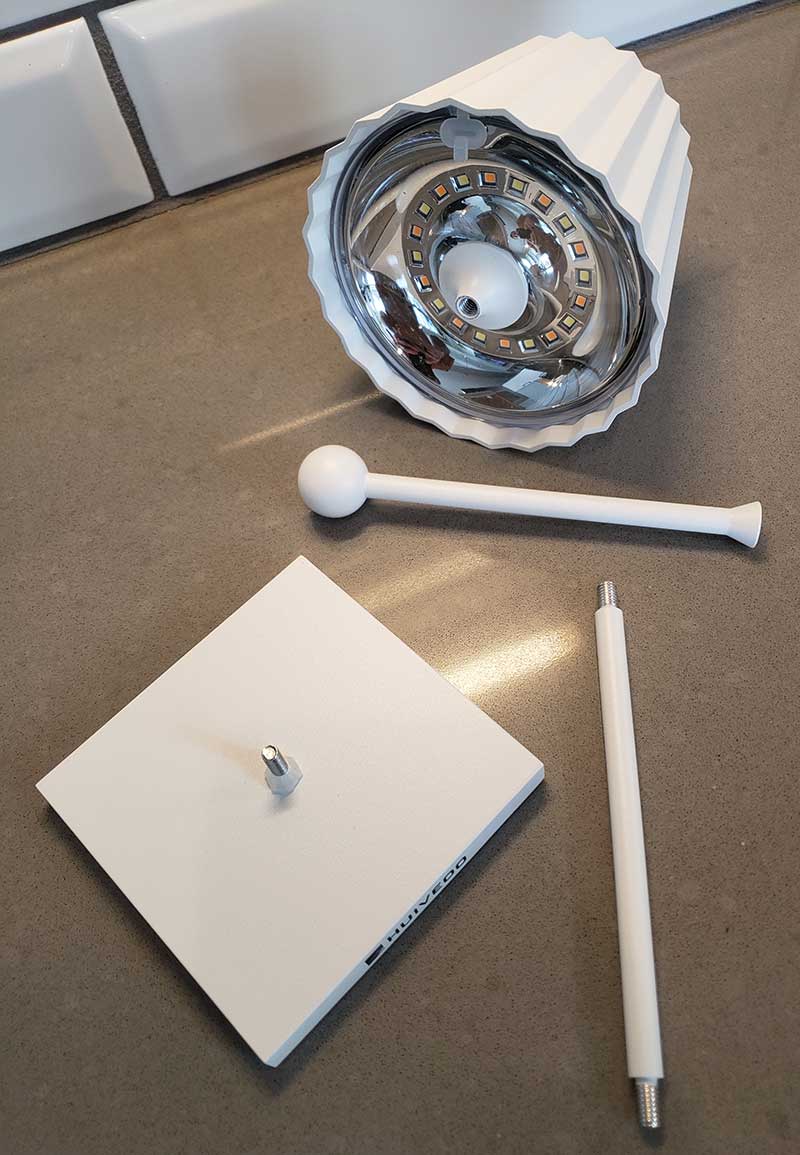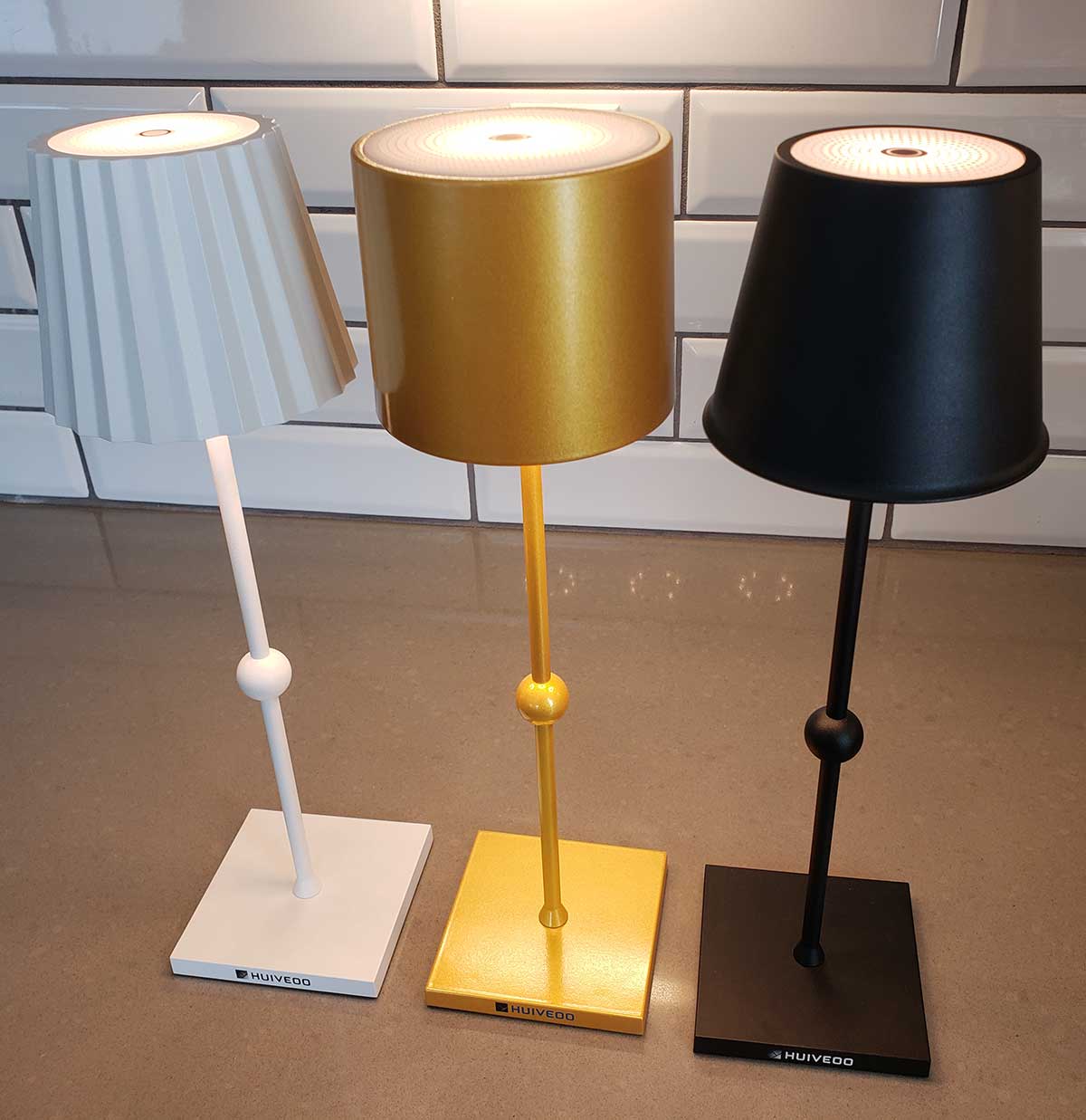 Available in three color schemes, it comes in a white, black or yellowish gold color. Each one looks distinctively unique, offering a style that can't be had by a traditional table lamp.
As stated earlier, all the functionality is performed on the touch-activated area, at the top of the main shade. Centered here is a small button that accepts taps from your hands or fingers. It offers decent sensitivity, although you must be very precise on hitting the center, not just the outside.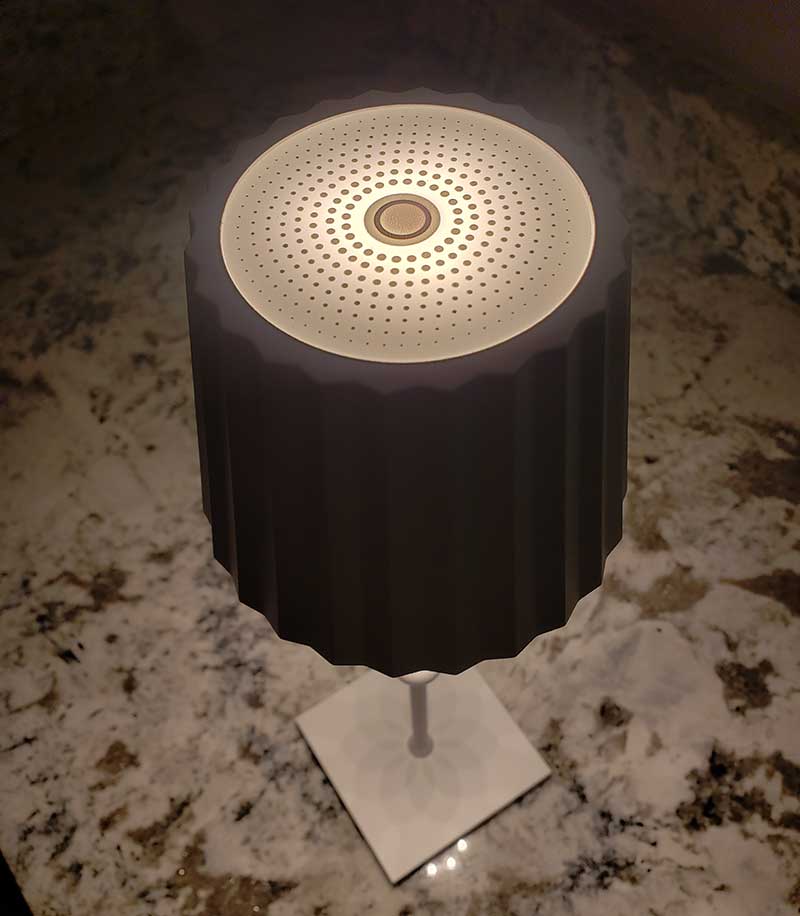 My experience using the HUIVEOO lamp
When I first unboxed the HUIVEOO lamp, I was amazed at how small it actually was. The thing is freakishly cute with a very small footprint. Measuring just under 15″ tall with a base of 4″ x 4″, you'll likely agree.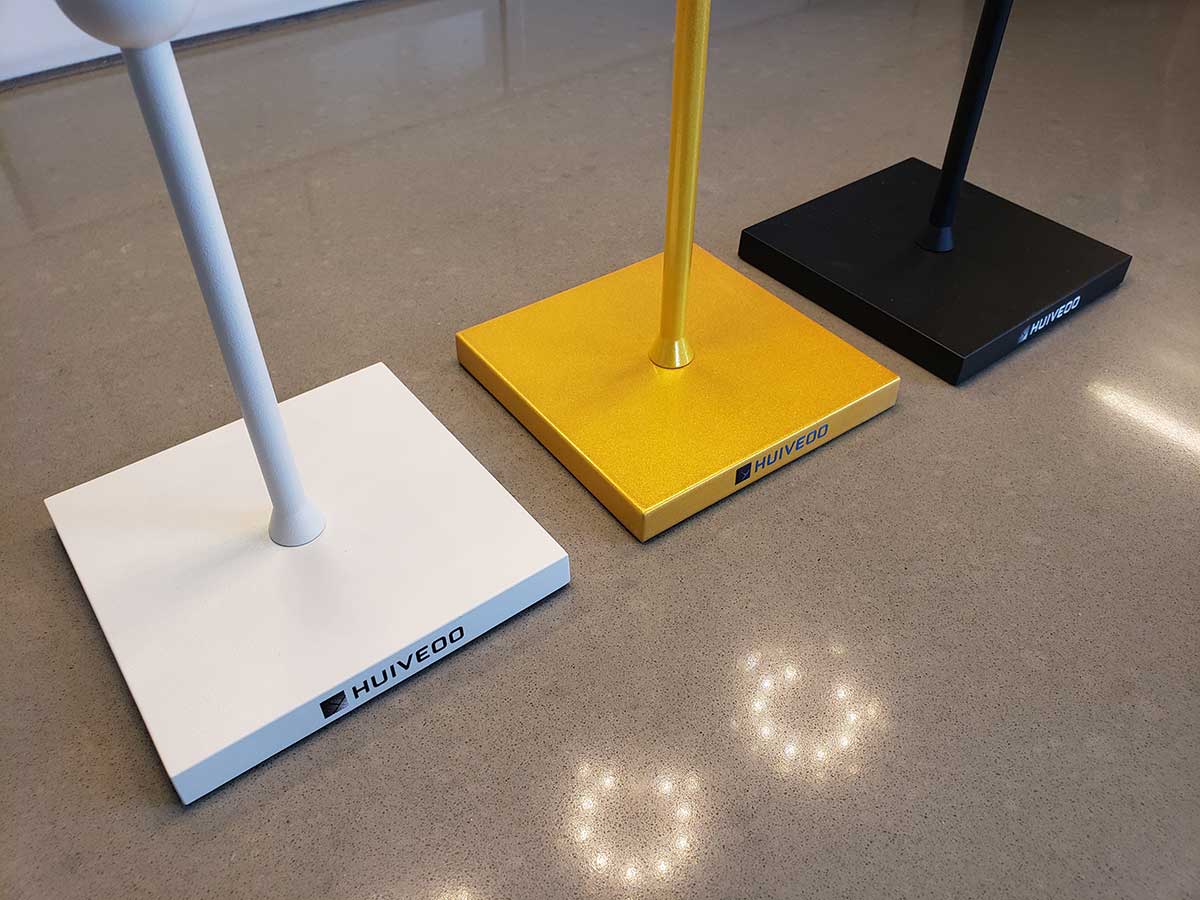 Surprisingly, it's moderately stable and seemingly heavy duty. The "shade" is somewhat heavier than expected; it's definitely a bit top heavy. All of the components including the battery is housed here, so it's to be expected. You've got to be careful; an accidental 'knock off the table' could turn this thing into a damaging projectile
I was pretty surprised to find that it's actually IP54 rated for water resistance. It's fully capable of being outside in the rain, with no ill-effects. Since it's sealed-up in every way possible; dirt, dust and water don't seem to be an issue for it. While I can't say I took it in a rainstorm, I did spray it with the kitchen faucet and it didn't affect it.
The main lamp "head" is equipped with 26 individual LEDs that illuminate evenly once you touch the top button. Activating the touch control requires a small amount of precision. While it would have been nice to have the entire top surface a touch-activated button, it's not. You must make precise contact with the center button.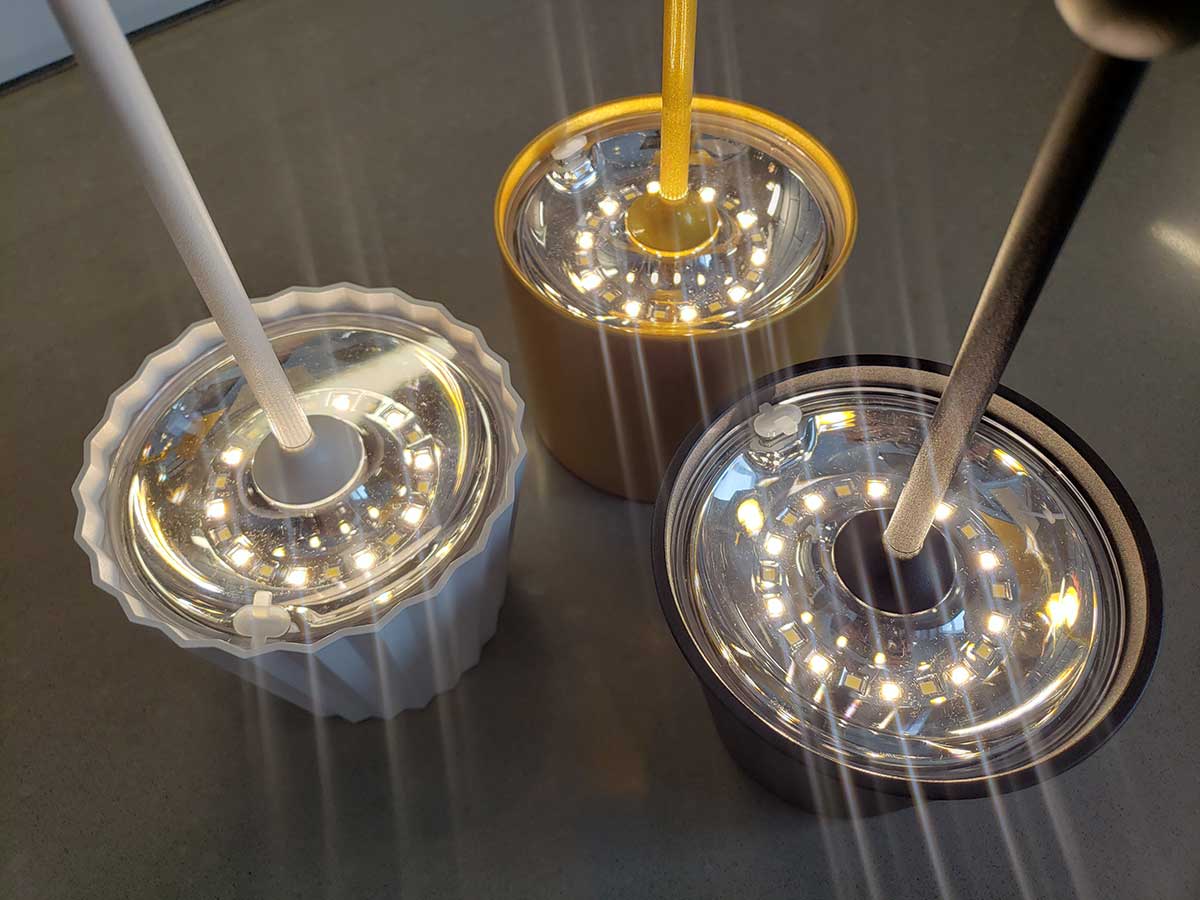 The clear, acrylic underside offers a visible look at each diode as they're laid out in a circular manner. Once turned on, light emits from both the under and top-side. And while not as bright as most traditional lamp, it does pretty well, considering its size.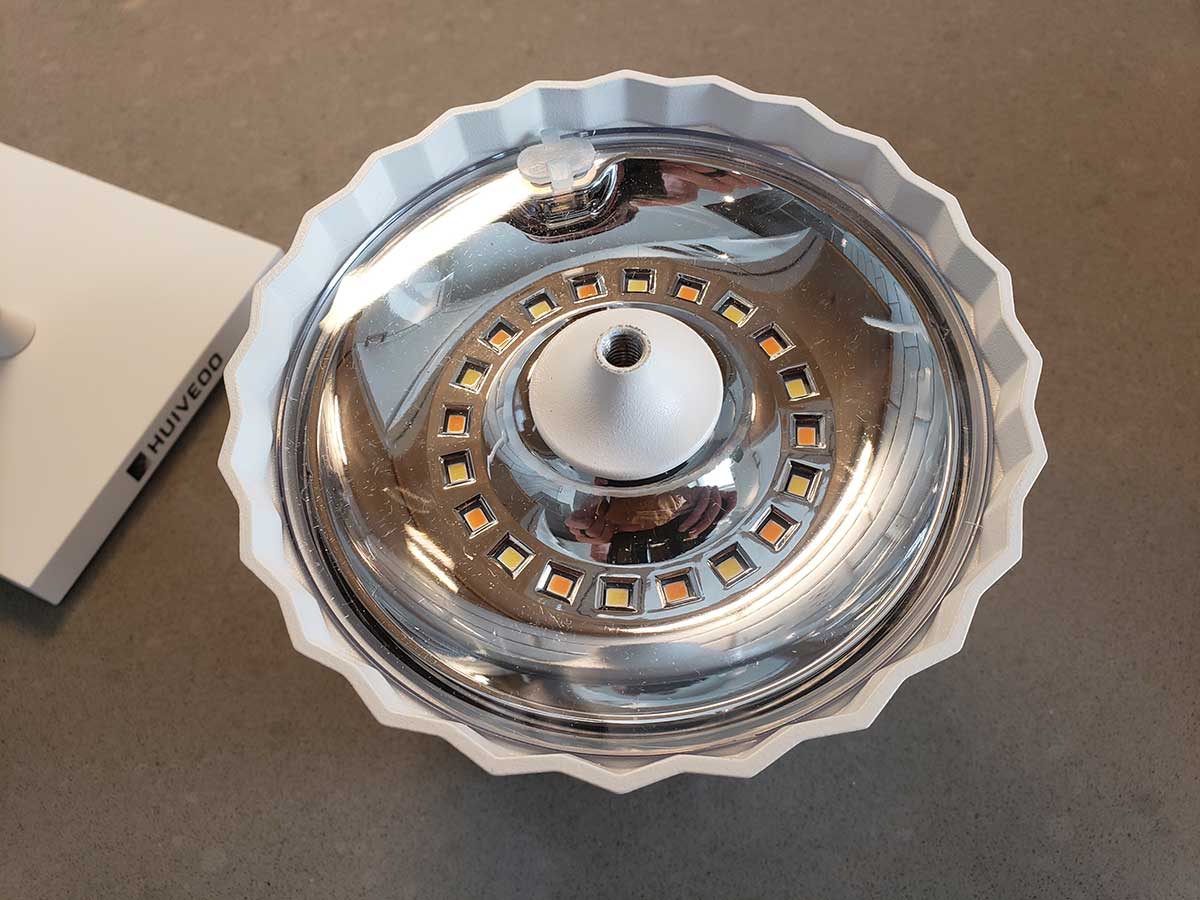 The HUIVEOO doesn't have a specific lumen output listed, but I found it to provide ample lighting as long as you're not too far away from it. In dark rooms, it worked best. In wide open areas, however, you may want more light than this. Think of it more as a personal lamp; a reading lamp, per se. Regardless, the light emits evenly and produces a steady glow with no flickering.
Adjusting the brightness is easy. Simply hold the touch-button and you'll see the light move down or up in intensity. Give it a quick-tap and you can toggle between three various colors, or simply turn it off. The options offered are 2700K, 4000K and 6500K. That said, you get a nice range to test out and use based on your own preferences.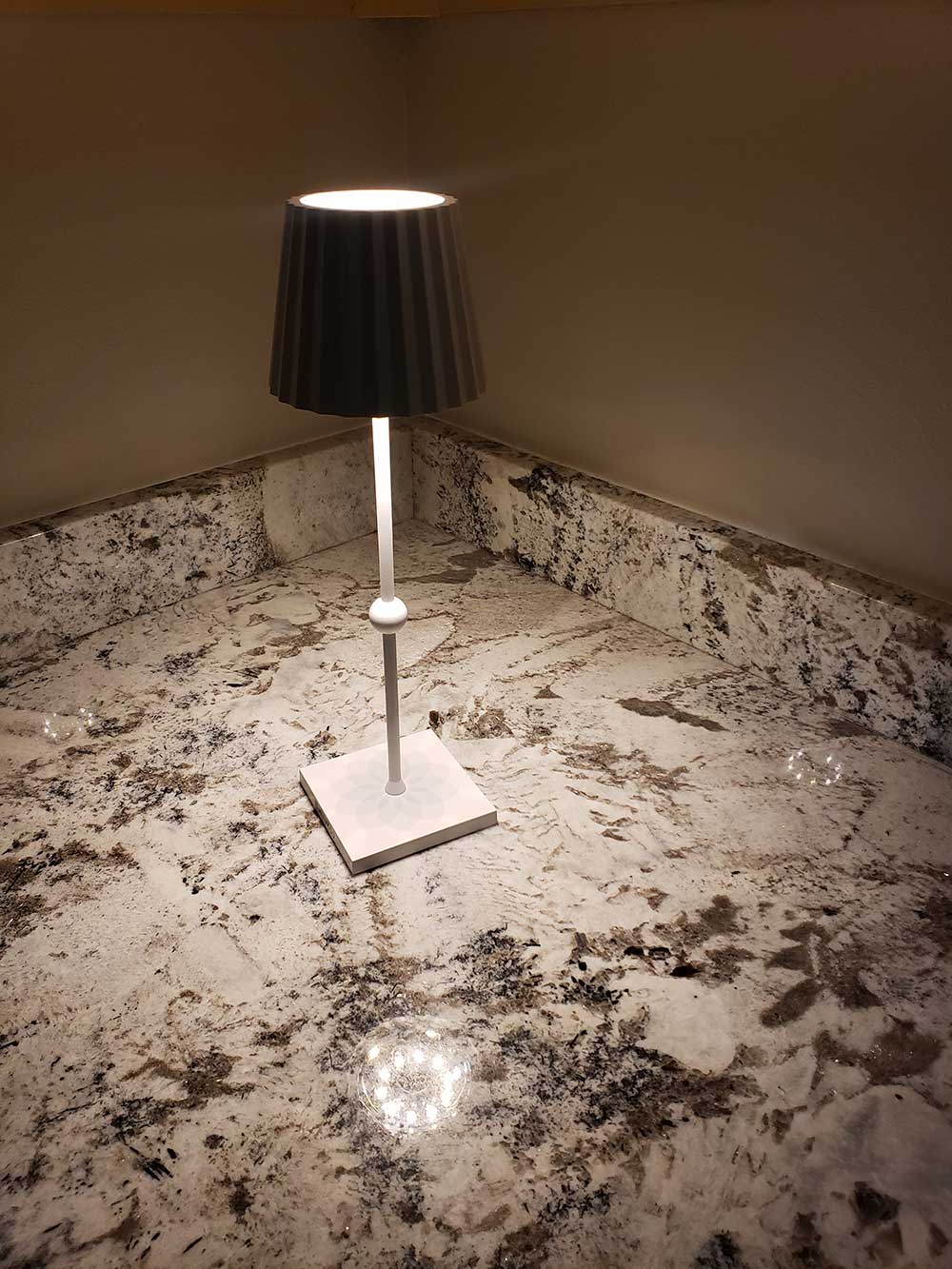 As you know, the HUIVEOO table lamp is completely cordless. There's no need to plug it into the wall, only when you need to charge it up. To do so, simply plug-in the included USB-C charging cable, located in the underside of the shade. Once plugged in, you'll see a slight glow from the top. Red indicates that it's currently charging while green indicates a full charge. From 0% capacity to 100%, I found it to take around 5 hours to complete a full charge. Not bad.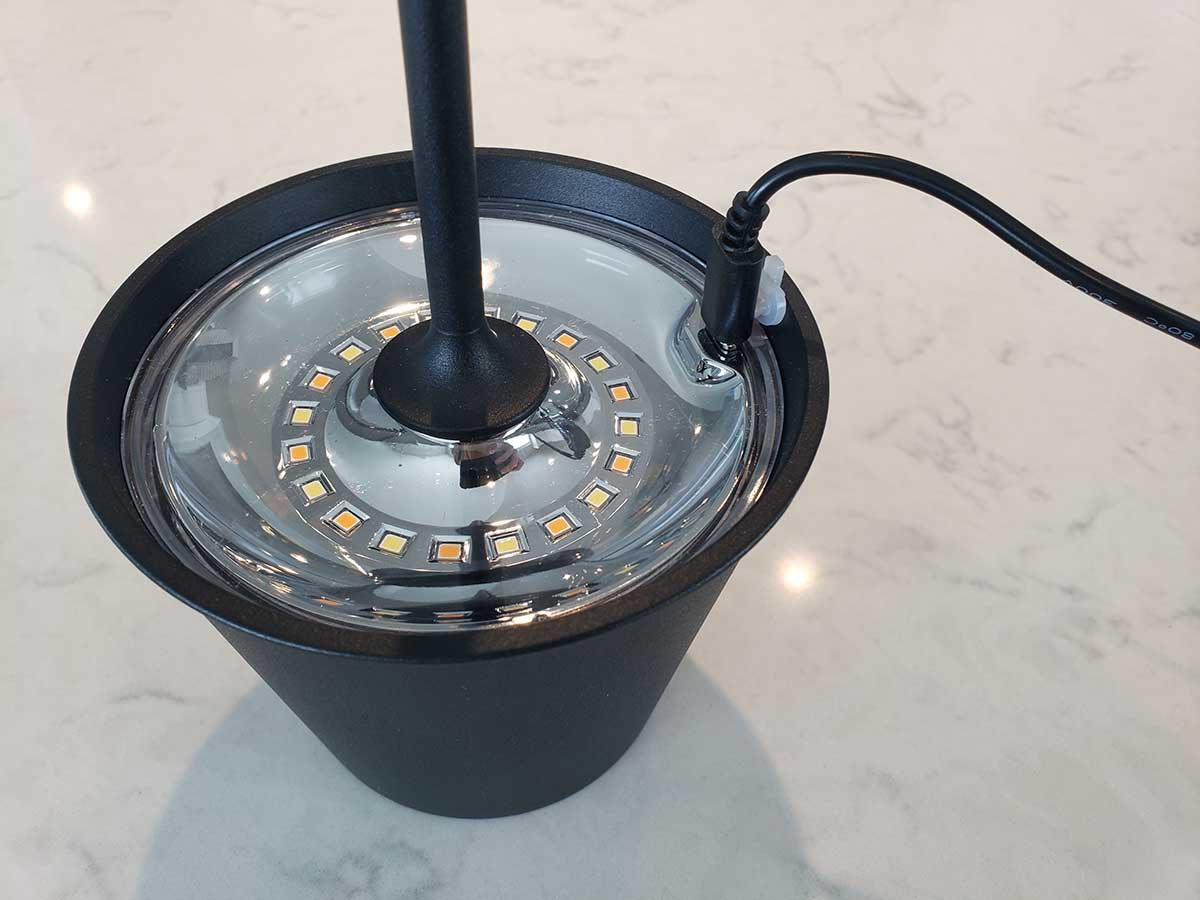 As far as runtime per charge, 12-30 hours is what they advertise. But in my experience, this varies greatly from 10 to 24 hours. Yes, the brightness level has a lot to do with actual battery life. If you have it at the brightest setting, expect 10 hours as a maximum.
In Summary
Overall, the HUIVEOO lamp is great for what it's good at. Providing light in areas that would otherwise be hard to reach. Think; patios, outdoor eating areas, small closets, glamping, etc. I don't think it's a suitable replacement for a stay-in-place table lamp, but it sure is a fun and unique twist on an otherwise standard appliance.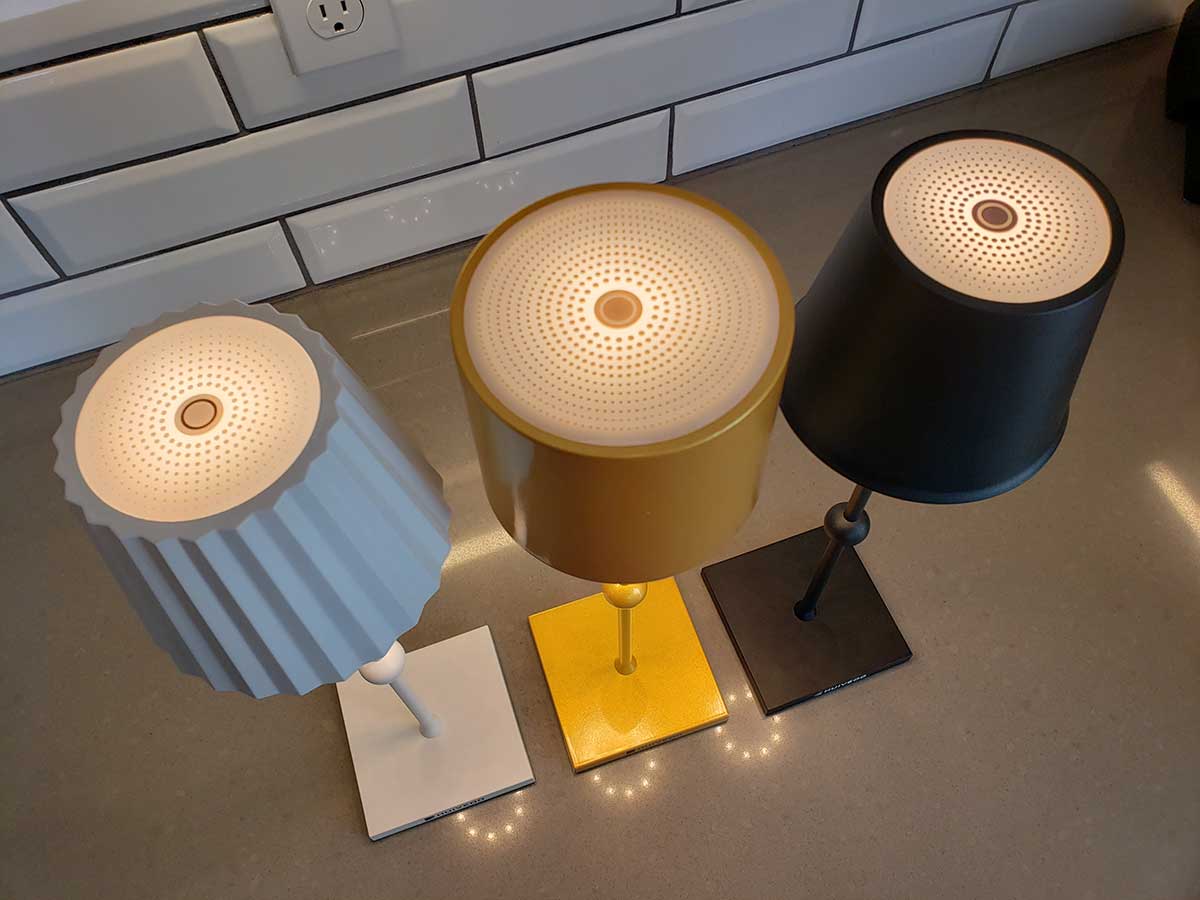 Sure, it's a bit top-heavy, but it's relatively stable if you're careful around it. I would have liked for the touch control area to be bigger. In fact, I found myself accidently mis-tapping when I was quick about turning it on or adjusting the color temp. Thankfully, however, it offers a nice arrangement of adjustment in terms or brightness. While the brightness setting won't seem all that bright in the day, it can easily emit enough light in certain situations.
In terms of battery life, I'd say it's acceptable. Charging is easy and thankfully via USB-C rather than outdated Micro USB. All in all, you're looking at a nicely made, highly functional and unique lamp that's easy to grab and go. Pretty sweet!
Meet Derek, "TechGuru," a 34-year-old technology enthusiast with a deep passion for tech innovations. With extensive experience, he specializes in gaming hardware and software, and has expertise in gadgets, custom PCs, and audio.
Besides writing about tech and reviewing new products, Derek enjoys traveling, hiking, and photography. Committed to keeping up with the latest industry trends, he aims to guide readers in making informed tech decisions.