With the rise of working from home, you may find yourself needing a solution for your calls. Sure, you could use your wireless earbuds, put your phone on speaker, or get a regular microphone for your computer, but they all have different issues associated with them. If you're looking for something more powerful for your meetings, then you may want to consider a Bluetooth speakerphone device.
What is a Bluetooth Speakerphone?
A Bluetooth speakerphone is a device that pairs with your phone or computer to act as both speaker and your microphone when in meetings. They are compact and have various buttons used to control the functions they can perform.
Why do you need a Bluetooth Speakerphone?
These devices are great for a wide variety of use cases. They work well for online video meetings, phone conference calls, distance learning, and more. One specific use case is when you have a few people around you who all need to be on a call.
These devices can easily project sound so everyone can hear and also pick up everyone's voice when talking. There are various buttons, such as volume controls and muting, that make it simple to customize each call to your needs.
Best Budget: EMEET M0 Plus Conference Speakerphone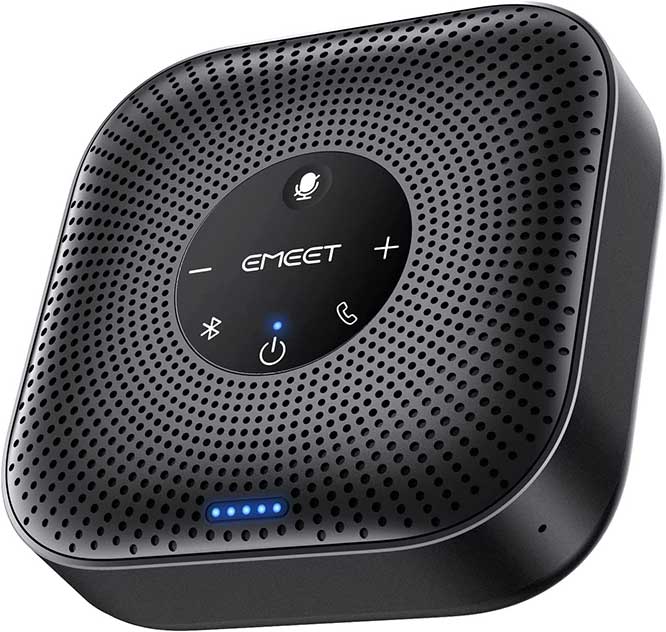 Key Features:
10-hour battery life
Four microphones
Daisy chain compatible
The EMEET M0 Plus Conference Speakerphone is a great option for those on a budget. This is a compact device that will easily blend in with your desk setup. Additionally, it's available in black to further blend it in.
There are a few buttons on the top of the device to control it. They include buttons for muting, volume control, power, Bluetooth, and calls. You can also control and customize it via the eMeetLink software. Options such as standby time, microphone gain, and device name are all customizable here.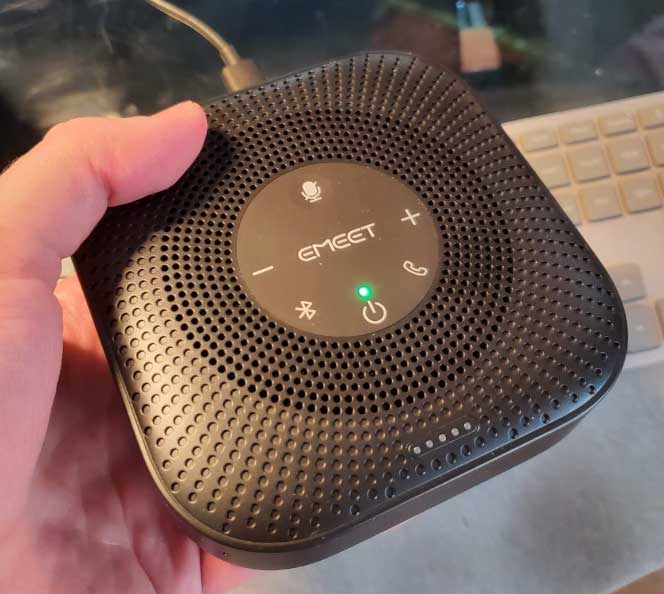 The EMEET M0 Plus uses Bluetooth 5.0 to connect to your phone, computer, or other meeting device. If you prefer a wired connection, you can do so via USB-C. Once connected, the speakerphone can be used with a wide variety of platforms such as Zoom, Microsoft Teams, Skype, Slack, phone calls, and more.
For audio, the device uses four AI Mics to pick up the voice in a full 360 degrees of coverage. The speakers used are 3W and can provide ample sound for a large area. Additionally, this speakerphone uses noise-canceling technology to enhance your sound input no matter what's going on in your home.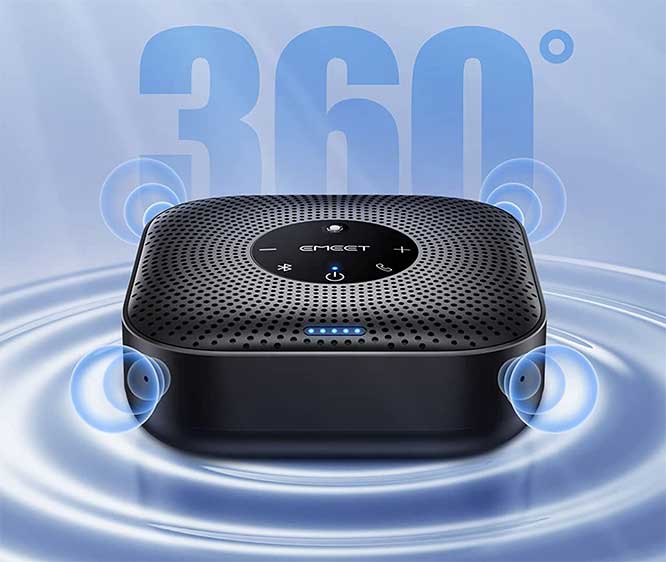 One cool feature of the EMEET M0 Plus is its daisy chain ability. If you have a larger room or conference table that needs to have up to 15 people on the same call, there's a solution. You can simply get two of these devices and link them together. They work together to collect and project sound seamlessly.
Pros:
360 degrees of microphone coverage
Two ways to connect
Daisy chain ability
Cons:
Some users report random disconnects while using
Best High-End: EMEET M2 Max Bluetooth Speakerphone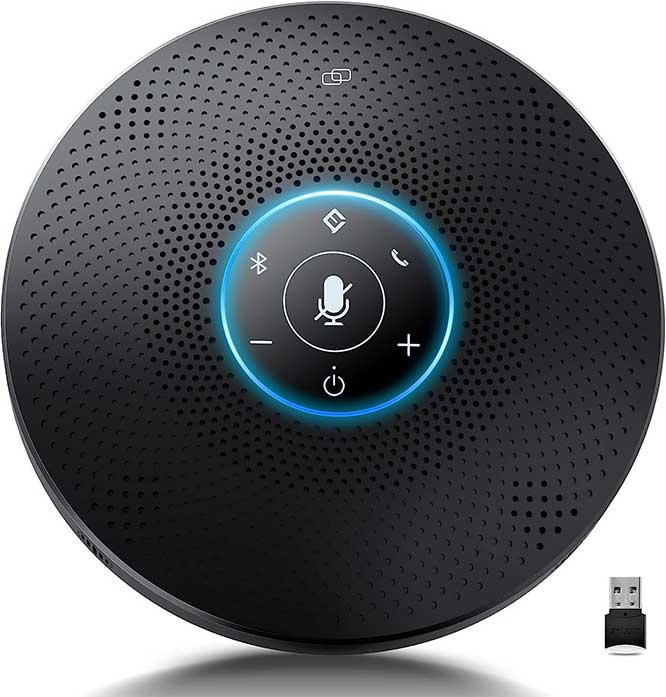 Key Features:
12-hour battery life
4 microphones
AI and machine learning noise cancellation
The EMEET M2 Max Bluetooth Speakerphone is a premium device for those who want the best. It has a circular shape and is compact enough to sit on your desk or take with you on the go. It's available in black with a blue light on the top.
To control the M2 Max, there are seven buttons on the top of it. They control various functions such as muting, power, calls, volume, and Bluetooth. Similar to the M0, you can control and customize it with eMeetLink software.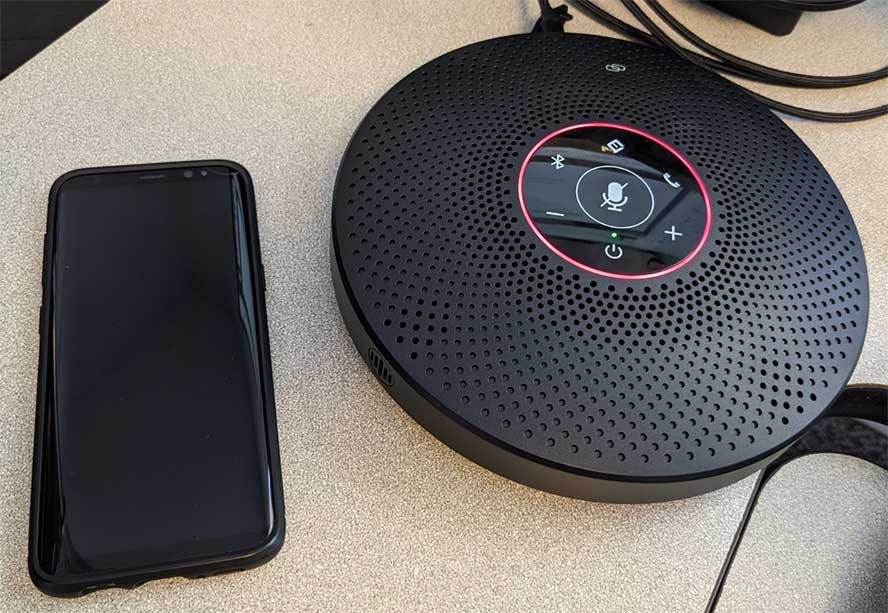 You have a few options to choose from when determining how to connect the M2 to your device. Options such as USB, Bluetooth, AUX, and Dongle connection are all available to be used. When used with phones, you can connect up to two different devices at once to one speakerphone.
The M2 Max is also compatible with various platforms such as Zoom, Skype, WebEx, Google Hangout, and more. As for operating system compatibility, it can be used with options such as Windows, macOS, Android, and Linux.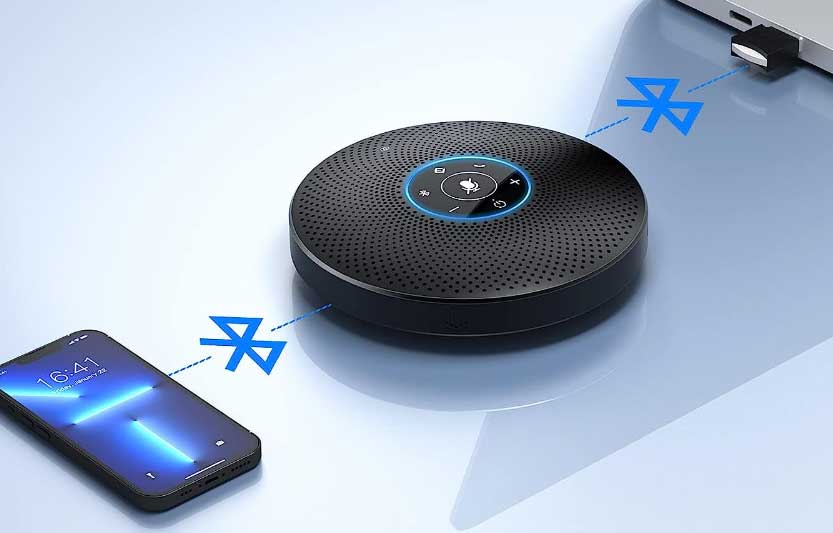 The audio on the M2 Max is extremely good. It uses four professional-level microphones at 48kHz to pick up voices from up to 15 people. You can also Daisy chain two devices together to increase the reach to up to 30 people. There is also VoiceIA noise reduction technology implemented in the speakerphone. This cancels over 282 types of noises with machine learning technology. As for speakers, it uses a 5W speaker to produce 89dB of sound.
Pros:
Machine learning noise cancellation
Daisy chain technology
A vast amount of connection options
Cons:
Best All-Around: Jabra Speak 710 UC Wireless Bluetooth Speaker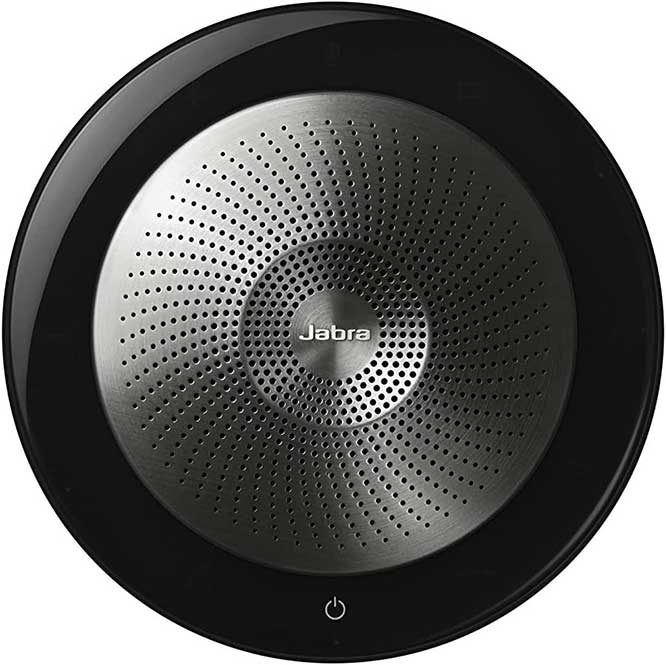 Key Features:
15 hours of battery
Omnidirectional microphone
Plug and play ready
The Jabra Speak 710 UC Wireless Bluetooth Speaker is one of the best all-around options on the market. It's a circular device that is compact enough to use at home or take with you wherever you need to. It only weighs 296g. As for looks, it's really unique, with the speaker cover popping out above the rest of the body. It's a black and silver design that looks professional and discreet.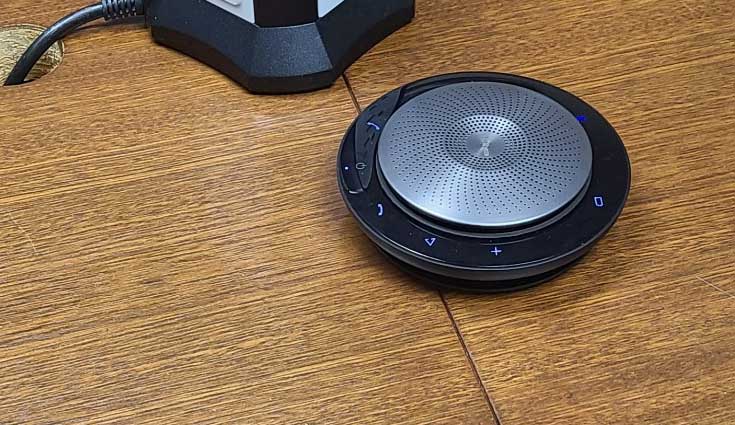 The controls for the Jabra all have touchscreen functionality and are located on the outer perimeter of the device. These controls let you set the volume, mute the device, power it on, and more. Best of all, there's even a button to communicate with your connected digital assistant. This allows you to communicate with Siri, Cortana, and more to ask questions while in use.
To connect to the Jabra, you have a few options. They include Bluetooth, wired via USB-A, and wireless through a dongle. When connected via Dongle, you can use this device up to 30 feet away from your computer. The Jabra is compatible with computers and phones. As for platforms, it can be used with Skype, WebEx, Google Meets, and more.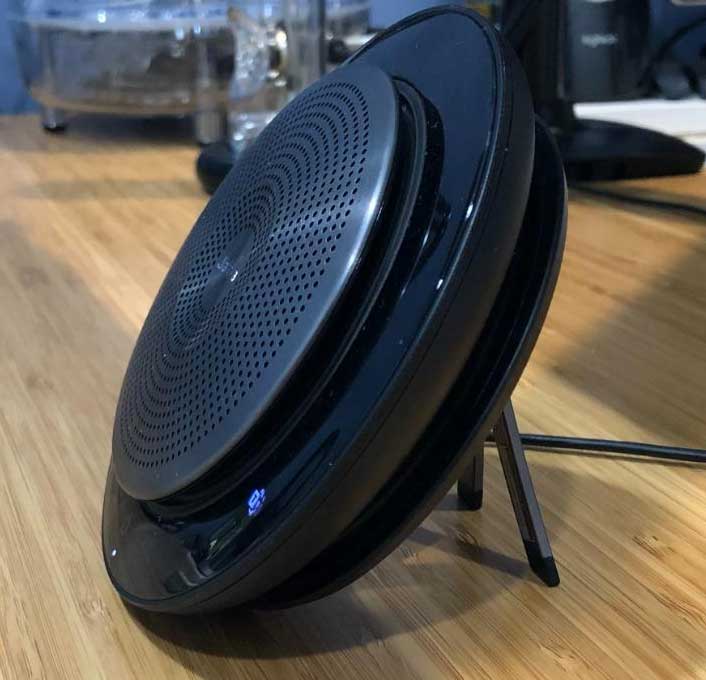 The audio quality of the Jabra 710 features omnidirectional microphones. This allows it to pick up voices 360 degrees around the device. Additionally, it uses HD speakers to ensure crystal-clear clarity while emitting sound. Similar to the options from EMEET, you can connect two Jabra 710s together to create an even larger conference call area.
Pros:
Portable
Touch screen controls
High-quality audio
Cons:
Some users report the microphone isn't sensitive enough for some use cases
Best Alternative: Anker PowerConf S3 Speakerphone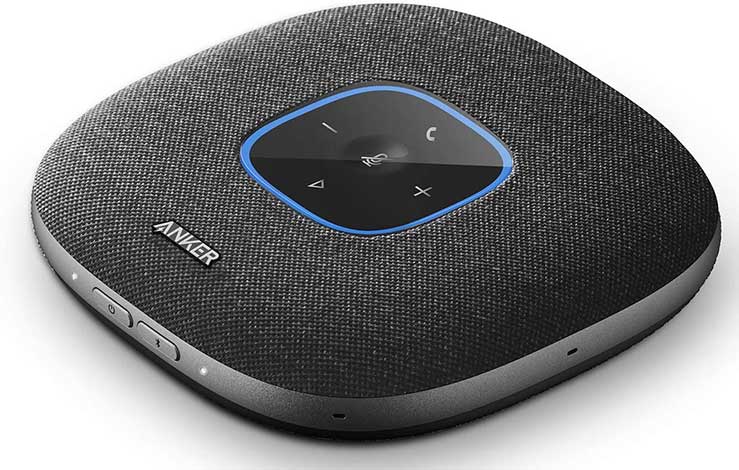 Key Features:
24 hours of battery life
6 microphones
Voice indicator included
The Anker PowerConf S3 is another speakerphone that functions well and can easily be taken on the go. This is a very small device, coming in at only 12 ounces and 4.88 x 4.84 x 1.18 inches. The included carrying case makes it easy to transport this, making it ideal for hybrid working conditions. As for looks, it's an extremely clean-looking device with both black and grey elements. There is also a blue version available at a higher price point.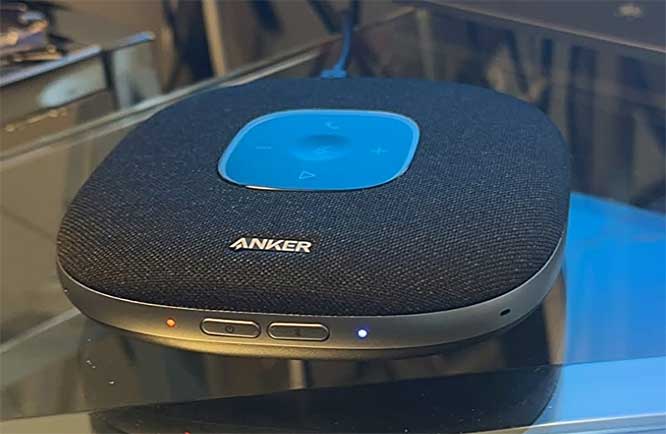 The controls on the Anker are very simple. On the device itself you can change the volume, mute, and answer calls. To further enhance controls, you can use the AnkerWork App. This allows you to change the volume, change lighting, control standby mode, update firmware, and more.
There are only two connection options for the Anker PowerConf S3. You can either use Bluetooth or a USB-C cable. This allows you to easily pair it to your phone or laptop for meetings. As for compatible platforms, the S3 can be used with Skype, Google Hangouts, FaceTime, Zoom, and more.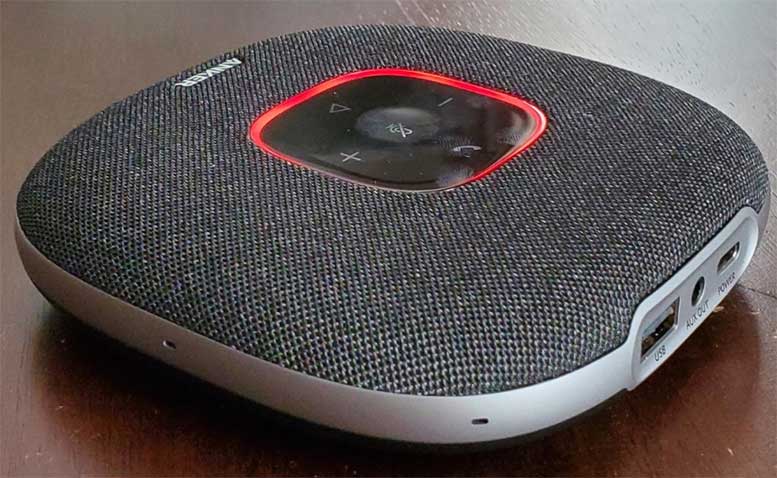 As for Audio, the S3 has some fantastic features. There are six microphones located along the entire outside edges of the device. This ensures that no matter where you sit or walk around it while in use, the other side of the call will hear you perfectly. It uses voice balancing technology to keep your voice at a steady volume regardless of how close or far you get from the device.
Another feature that supports this is active noise cancellation, which makes sure it only sends your voice to everyone. Internally it uses a 20kHz speaker to produce 86db of sound. Best of all, it has a voice direction indicator that lights up when it picks up your voice. This lets you visually know that everyone can hear you while you're talking.
Pros:
Visual voice indicator
Active noise cancellation
AnkerWork App
Cons:
No mention of using multiple S3s at once
Best 2nd Alternative: Yealink Bluetooth Speakerphone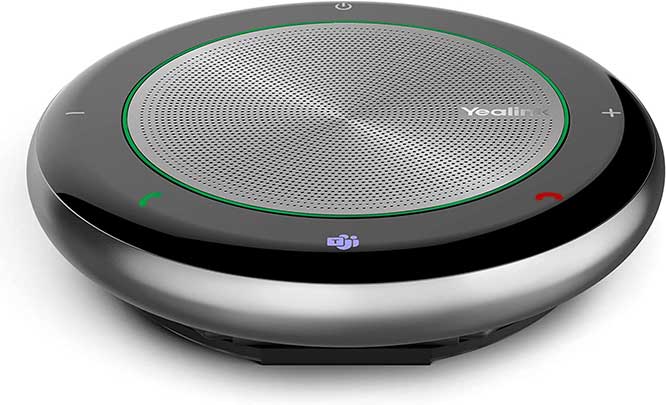 Key Features:
9 hours of battery life
2 omnidirectional microphones
Microsoft Teams certified
The Yealink Bluetooth Speakerphone is another solid alternative choice for Bluetooth audio needs. Its circular design and compact size allow you to easily store it out of the way or take it outdoors for some unique meeting locations. The design does make the Yealink stand out a bit, with a black and silver colorway.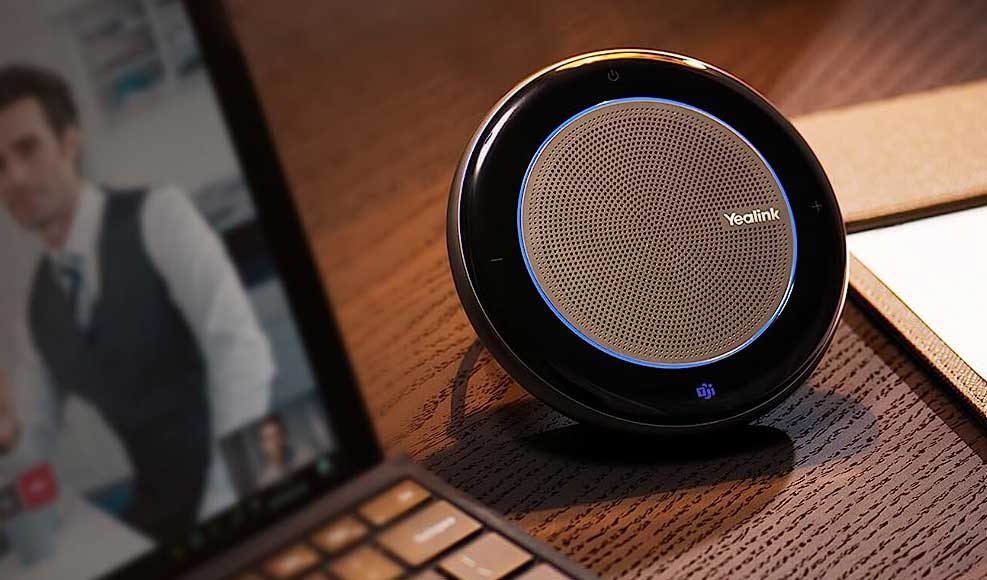 The controls are similar in design to the option from Jabra. The buttons are touch screen and located around the outer rim of the device. These buttons are for power, volume control, call accepting, call ending, and a dedicated Microsoft Teams button.
The Yealink is designed to be used with computers, smartphones, and tablets. To connect to devices, you can either use Bluetooth, USB, or upgrade to a version with a dongle. Additionally, it can be paired with up to three devices at once. Once connected, it can be used with various platforms such as Zoom, Skype, WhatsApp, FaceTime, and more. Additionally, it has been designed and certified to be used with Microsoft Teams, so if that's your primary meeting software, you can't go wrong with the Yealink.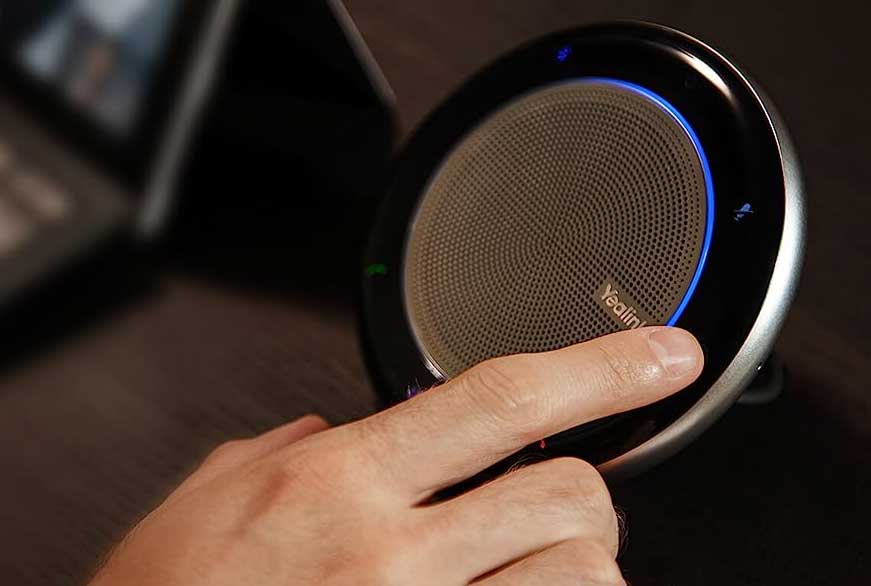 As for audio, the Yealink uses two omnidirectional microphones. This allows it to pick up the voice of multiple people all at once in a 360-degree range. This is possible due to its full duplex technology. Similar to other options, the Yealink also has noise cancellation to help ensure your voice is all that gets transmitted to the rest of your meeting. The speaker quality is also reviewed to be great, giving you crystal-clear audio to listen to as well.
Pros:
Full duplex capable
Great for Microsoft Teams
Connect to three devices at once
Cons:
Some wasted functionality if you aren't using Microsoft Teams