Over the past two years, remote work has become a more and more popular option. Even as the pandemic – hopefully – moves into its final phase, many people continue to work from home. In retrospect, this shouldn't be surprising. Businesses pay a lot of money to rent commercial office space. If an employee is just as productive from home, the rent on their cubicle space is just wasted money. But companies are taking a similar attitude towards remote meetings. It used to be commonplace for employees to fly coast-to-coast for a two-hour meeting. For most companies nowadays, that would be seen as a huge waste of money. Why spend thousands on airfares and hotel fees when a simple conference call will do?
That said, remote work and remote meetings don't always go as smoothly as intended. Malfunctioning software and low-quality hardware can make it more difficult to communicate. If your speakerphone is not up to par, it can be the weak link in your business communications. To keep things running smoothly, you want a good quality speakerphone. You want clear, crisp communications, ideally from all directions. You want at least some noise reduction, to keep background noise from intruding. And you want multiple ways to connect the phone. Otherwise, it might not be compatible with all your devices.
Note: At no extra cost to you, we may earn a commission for purchases using our links. Learn more.
We're about to review three of the best Bluetooth speakerphones for your home office or conference room. We'll start out by taking a look at the Jabra Speak 710 UC. This is a loud speakerphone that can be paired together to provide stereo sound. Next, we'll examine the Anker PowerConf S3. This is a versatile speakerphone with a 24-hour battery and smart volume adjustment. Third, we'll check out the eMeet M2 Max. This is a beefy desktop speakerphone that can pair with two phones at the same time. We'll go over their physical design, their speaker and mic quality, and their connectivity. We'll also talk about their battery life, and any other relevant features. After that, we'll be prepared to render a final verdict. Let's get started!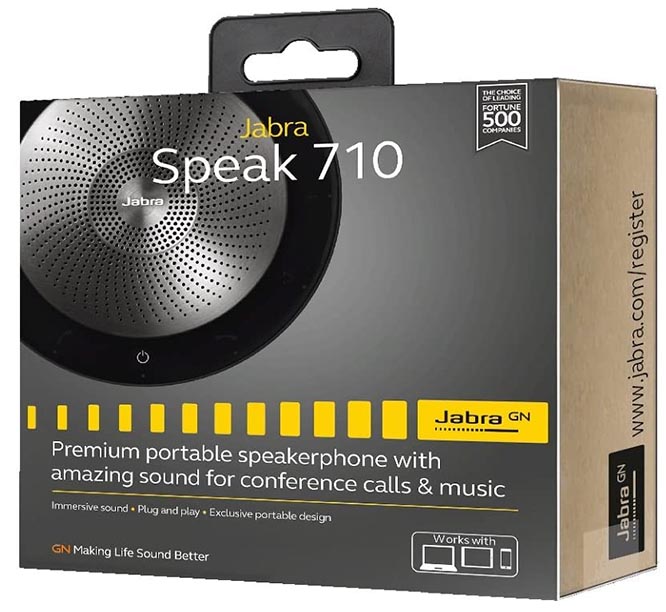 Jabra Speak 710 UC
Jabra is known for producing high-quality audio equipment. Among their other offerings, we've reviewed the Jabra Elite 75T wireless earbuds. Given Jabra's reputation in the industry, it made sense to take a look at their Bluetooth speakerphone.
The Jabra Speak 710 UC has a roughly disc-shaped black plastic housing. The base is slightly smaller than the top, where it flares out to its maximum width. It has a diameter of 6.2 inches, and a total thickness of 2.1 inches. And at only 1.06 ounces, it's almost ridiculously lightweight for the size. It can also be used in two configurations. To begin with, it can be laid flat on a desk or a conference table. This is ideal when the phone is being shared by multiple people, since everyone gets equal sound distribution. If you're working by yourself, you can pop out the little kickstand on the bottom of the housing. This will point the speaker directly at you, so you can hear even better.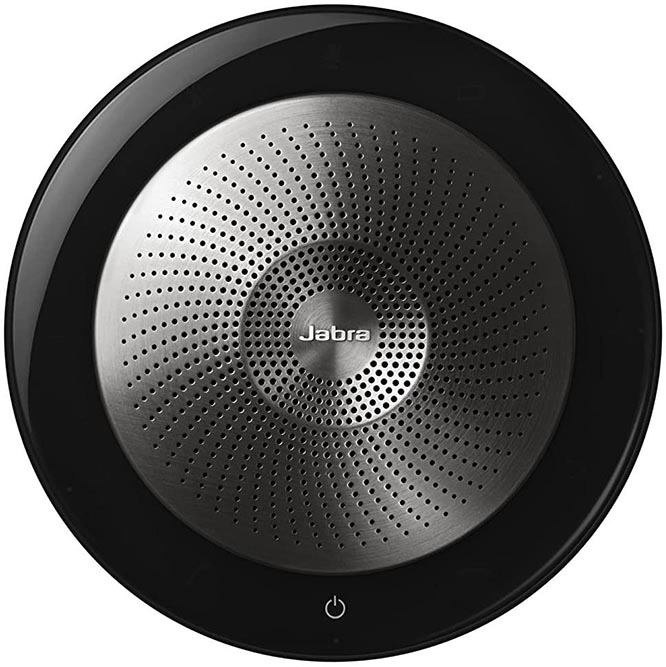 On the top of the housing, there's a silver speaker grille, which is round, and occupies much of the top. It's perforated from the edges in a spiral pattern that runs almost to the center. The very middle of the speaker is smooth, with a small white "Jabra" imprint. The only physical control button is a soft touch power button, located just south of the grille. It has a small LED indicator, so you know when the speakerphone is active.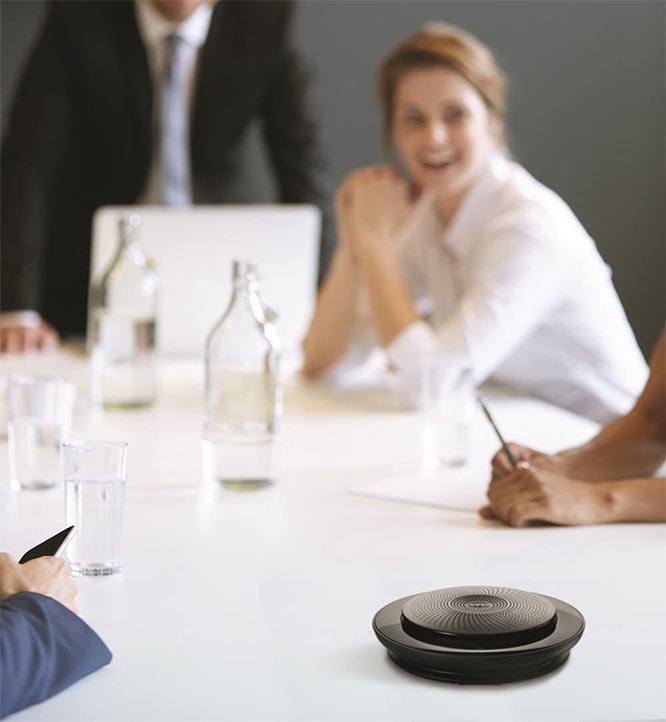 The bottom of the housing has an integrated USB pigtail. This can be used to connect directly to your PC, Mac, or laptop. It's only a few inches long, and wraps around the base when it's not in use. You'll also find a little USB receiver fob, which snaps into the bottom of the housing. This can be used to connect wirelessly to any device with a standard USB port. The package also includes a padded zipper carrying case. This makes it easy to transport without causing any damage.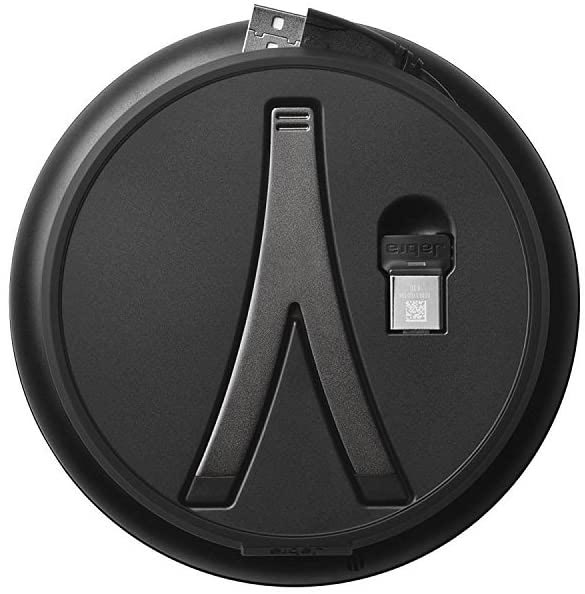 If you're using a smartphone instead of a computer, you'll still have options. You can connect via Bluetooth instead. The Bluetooth mode uses Bluetooth 4.2, which will be compatible with any Bluetooth device. It has a little more latency than newer Bluetooth versions, but it draws less battery power.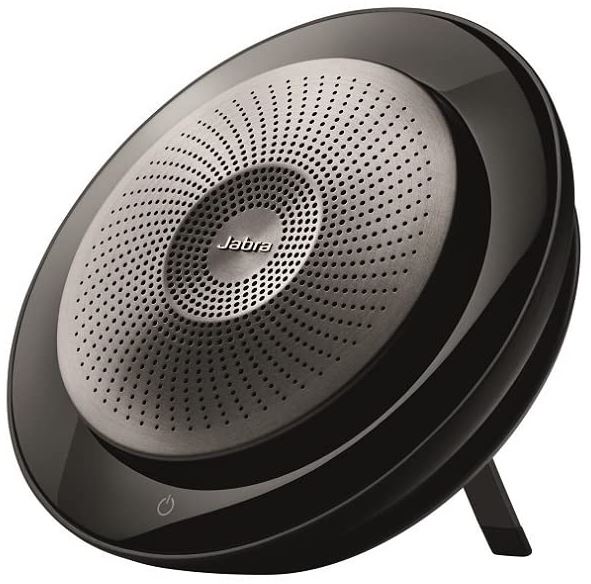 This speakerphone has an internal battery, which lasts for about 15 hours. This is a rough estimate, because a lot depends on how you're using it. The volume level will have a major impact, as will how much you're actually on the phone. The battery will theoretically last for much longer if it's just sitting in standby mode. Conversely, you'll get a shorter life if you're using the phone nonstop.
As far as voice quality goes, you're looking at a solid performer. The internal microphone provides HD voice quality, so the other party will hear you clearly. It's also omnidirectional, and can easily be used at a medium-sized conference table. If you want to cover a larger area, you can. By using the Bluetooth connection, you can pair two Speak 710 UC speakerphones simultaneously. This gives you broader coverage, enough for even an oversized conference table with a dozen people. It also provides stereo sound for music playback – a great touch if you're working from home.
Anker PowerConf S3
Anker is another well-known electronics manufacturer. They produce all kinds of equipment both for work and for entertainment, like the Anker Nebula Cosmos Max Projector. So when we learned that Anker makes a Bluetooth speakerphone, we were eager to take a look!
The Anker PowerConf S3 has an oblong housing that measures 4.88 inches wide, 4.84 inches long, and 1.18 inches thick. The frame and back of the housing are constructed from a charcoal-colored plastic. On the top surface, there's a black fabric speaker cover, which is stiff, but soft to the touch. There's also an alternative blue variant, with a matching blue plastic housing. In the center of the top surface, there's a little touchpad with all the controls. The mute button is smack dab in the middle, with the call/answer button just above it. The volume buttons are off to the sides, and the play button is underneath. The power and Bluetooth buttons are in the front of the housing, with their own separate LED indicators. Like the Jabra speakerphone, the kit comes with a padded zipper case for transport.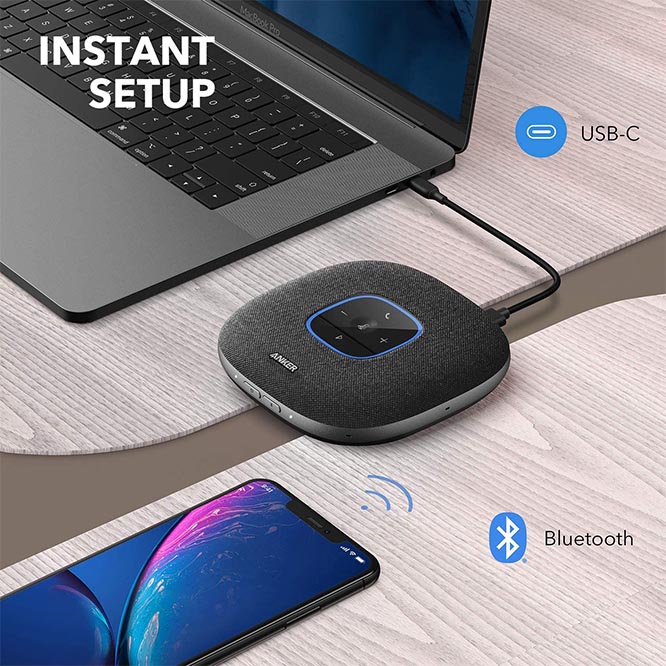 This speakerphone can be connected to your phone or computer. It's compatible with all operating systems, from Windows to Mac, as well as iPhones and Androids. To connect to your phone, you'll need to use the Bluetooth connection. You can also use Bluetooth to connect to your computer. But when you're using Bluetooth, you're draining the battery. Admittedly, this isn't that bad of a thing. With 24 hours of call time, the 6,700mAh internal battery packs quite a punch. But you can also use the USB Type-C cable to connect to your computer. This frees you from the limitations of using the battery. The same USB port is also used to charge the battery, which only takes a couple of hours.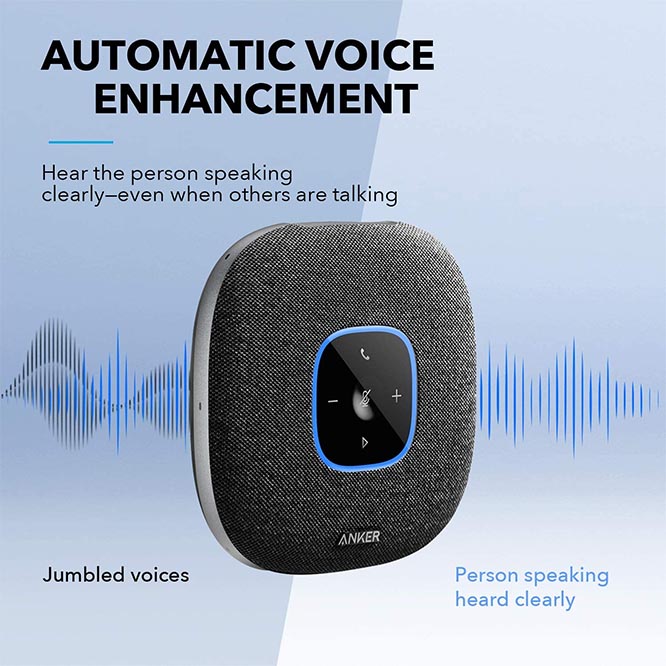 The audio quality on the PowerConf S3 is excellent, both on the receiving and the sending side. An advanced voice optimization algorithm filters out background noise. It also boosts the human voice above other sounds in the environment, like keyboards clacking. There's another algorithm that's designed to detect when multiple people are speaking. This software will attempt to eliminate cross-talk, so you're not missing chunks of a multi-sided conversation. How well you hear the other person will depend more on their mic than anything else. But the speaker here will do an excellent job of reproducing whatever sound is sent to it.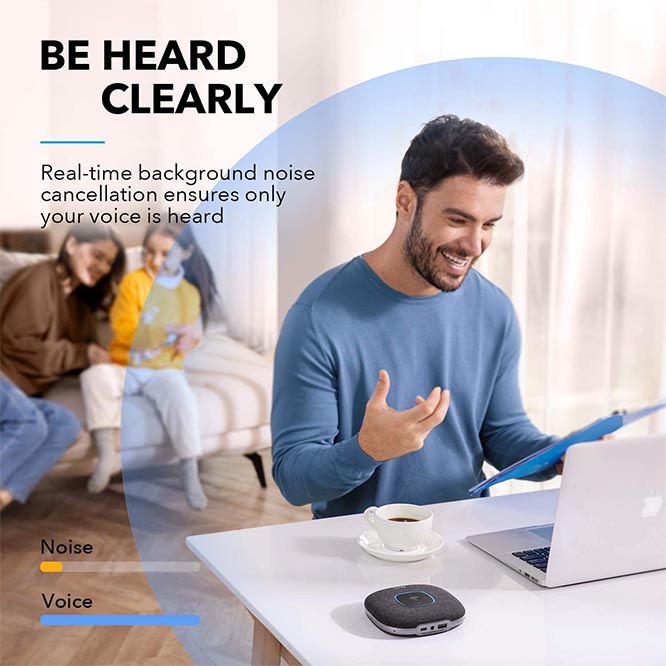 Inside of the housing, there's a total of six microphones, arrayed in six directions. This allows for even audio pickup from all directions, so nobody sounds too quiet or too loud. In addition, the software can detect when you're moving closer or further from the mic. The result is that you can walk around the room while you're talking. The software will adjust your volume up as you move further away, and louder when you get closer. From the other party's perspective, it will be just like you were sitting still in front of your speakerphone.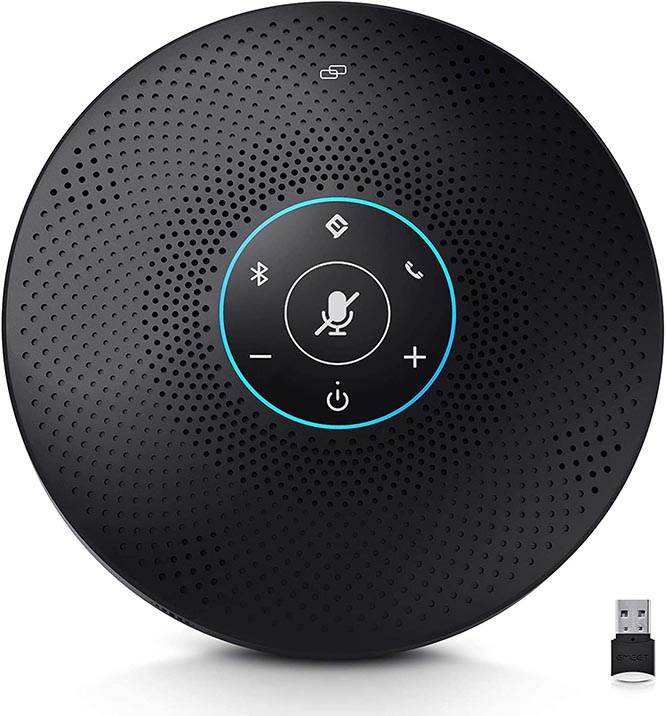 eMeet M2 Max
eMeet is a company that specializes in communications technology. For example, we've reviewed the eMeet Luna, and we very much enjoyed it. As a result, we decided their newest Bluetooth speakerphone would be well worth investigating.
The eMeet M2 Max has a circular housing, constructed from durable black plastic. It has a diameter of 7.4 inches and a thickness of 1.77 inches, with a domed top. Most of the top surface is perforated for the internal speaker, but there's also a center control panel. Right in the middle, you'll find a large mute button. Arrayed in a circle around that, there are call, Bluetooth, volume, daisy chain, and power buttons. There's a little Bluetooth dongle as well, which snaps into a socket in the bottom of the housing.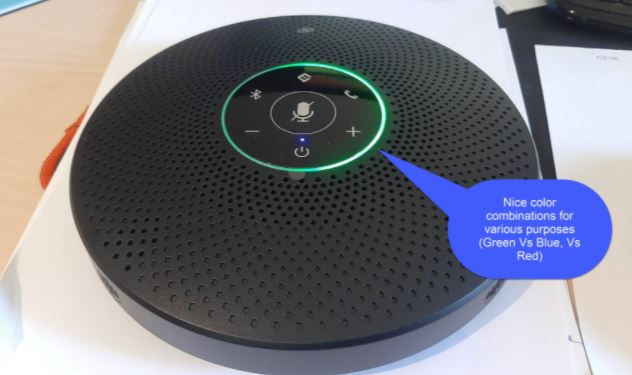 This speakerphone gives you four different ways to connect to your devices. You can use a direct USB connection to save batteries and minimize latency. You can use the USB dongle for a quick wireless connection. Alternatively, you can use a 3.5mm aux cable, to connect to any Android phone or computer. And of course, you can use Bluetooth, which gives you a battery life of 8 to 12 hours. All connection modes support full duplex. This means that upstream and downstream transmissions come through simultaneously. As a result, your audio won't get cut off because the other person started talking.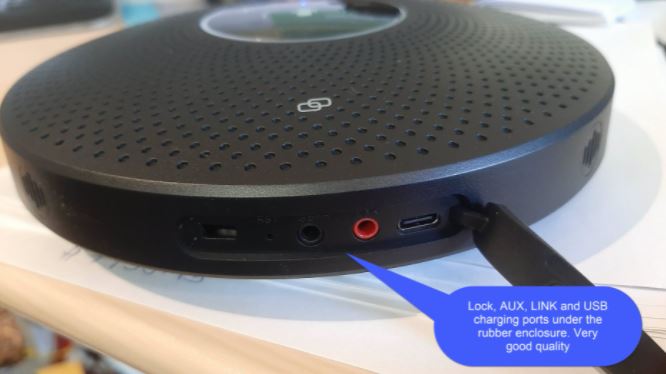 Using a 3.5mm patch cable, you can connect two M2 Max speakerphones together. Press the daisy chain button, and both speakerphones will act as if they were one. This is useful for larger conference rooms, where one speakerphone may not cover the entire space. As an added bonus, you can also pair two phones with one speaker simultaneously via Bluetooth. That way, you can receive a call on either line. You can even pair with a phone via Bluetooth, and use a USB cord or dongle to connect to a computer.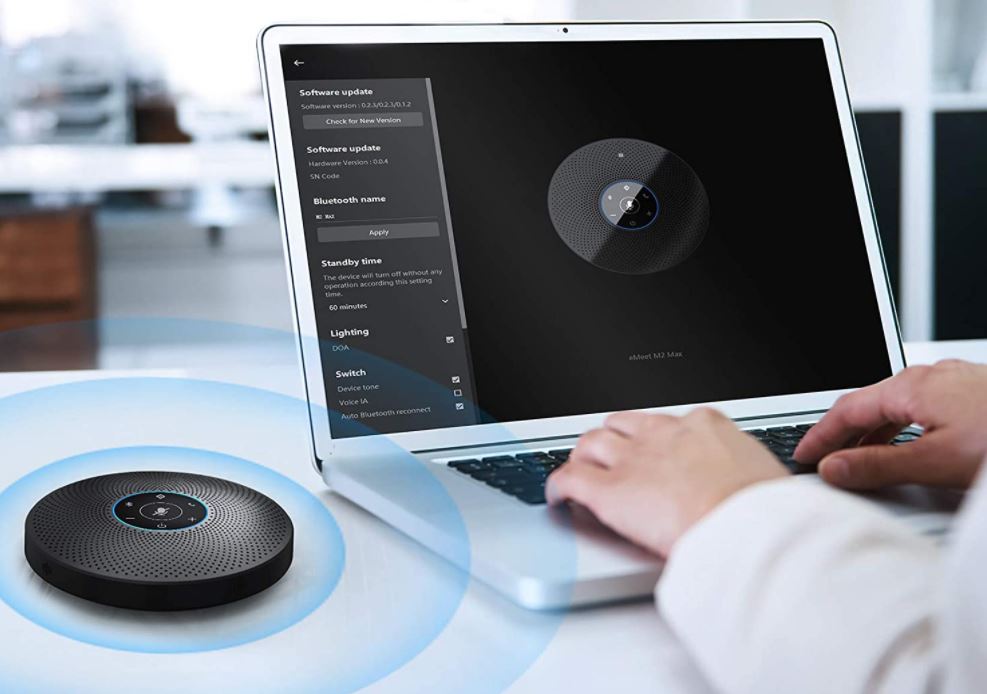 There are four directional mics inside the housing, pointing in four different directions. This ensures excellent pickup quality from anywhere in the room. The internal speaker is very loud at the highest setting, enough to fill a large space. If you're concerned about not getting enough volume, that's not going to be an issue here. To maximize audio quality, there's a set of three layers of rubber insulation around each mic. This prevents them from being disturbed by room vibrations, or vibrations from the speakers.
Final Verdict
So, which one of these Bluetooth speakerphones is the best for your home office? A lot depends on what you're looking for. The Jabra Speak 710 UC is versatile enough for home or office use. When it stands up, you get great directionality for a one-person phone call. When it's laying down, the omnidirectional mic will pick up sound from the whole room. We also liked the option to pair two speakerphones, since you can cover a very large space.
The Anker PowerConf S3 is a little more limited in terms of connectivity. There's no USB dongle, so you either use a wired connection or Bluetooth. That said, the software is out of this world. It does a great job of tracking you if you tend to pace during phone calls. And if there are multiple speakers, any cross-talk will be reduced to a minimum.
The eMeet M2 Max is a powerful speakerphone with a loud maximum volume. It can be daisy chained, and you can pair two phones with a single speaker. This gives you plenty of flexibility to use the speakerphone in different situations. It also provides quality audio, with excellent vibration protection to keep the internal mics safe.
Please consider sharing:
Note: At no extra cost to you, we may earn a commission for purchases using our links. Learn more.