In an incredible feat, BLUETTI has successfully raised $11,000,000 via their Indiegogo crowdfunding campaign. Smashing the previous record for their highest selling product, it goes without saying; this shows the high demand is in full force.
As a result, the AC500 and B300S is now available in Canada on BLUETTI's official website and Amazon store. This comes as great news for Canadian's who've been anticipating its release since being fully funded.
While the AC500 shares many of the same aspects of its predecessors, the B300, they've made quite a bit of improvements in its features. That said, let's dig right in and see how it stands out above the competition.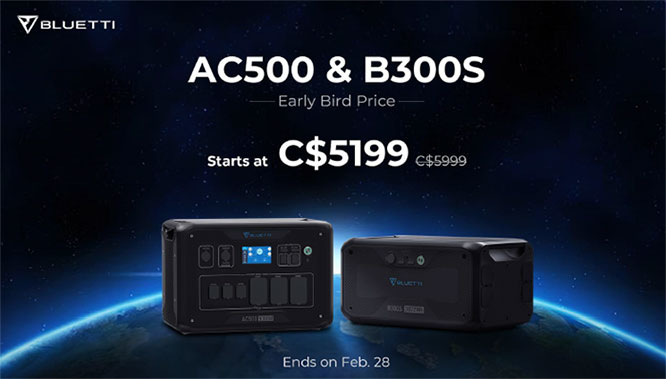 Notable Features of the BLUETTI AC500
Module Design – The AC500 is fully modular and compatible with all B300 and B300S battery packs for expanding its total capacity well beyond the norm. With multiple B300 or B300S units, users can expand the capacity to a whopping 18,432Wh.
5000W Inverter – With 6 AC outputs on the front, three are rated for 20A while the other three provide 30A max. In turn, this results in an incredible 5,000W output with a 10,000W surge rating. That's higher than the competition, by a long shot.
Fast Dual Charging – If at least two B300S units are connected, charging from a combination of solar and AC will yield a maximum 8,000W input. Thus, bringing the total capacity from 0 to 100% takes only 1.8-2.3 hours, offering a huge improvement in charge speed that replenishes the battery bank in minimal time.
Various Charging Methods – With up to 9 different inputs for charging, users can select between 12V, AC, solar, USB, dual input and more.
BMS and LFP Technology – Inside the AC500 is an intelligent battery management system with LFP cells that assure it's always charged properly and managed smartly. This ensures longevity and security for years to come.
Split Phase Bonding – By connecting two AC500 units together as a pair, you're able to double the voltage, capacity and power to 240V/10,000W and 36,864Wh. Keep in mind, however, that a Fusion Box Pro is required for this (sold separately).
BLUETTI App – Using your smartphone or tablet, users have the ability to monitor and control their backup power station in an organized and efficient manner. It even allows for firmware updates over WiFi, keeping your system updated with the latest software and features.
Weight and Size – Tipping the scale at 66.2 lbs. and measuring 20.5″ long, 14.1 inches tall and 12.8 inches deep, it's relatively portable.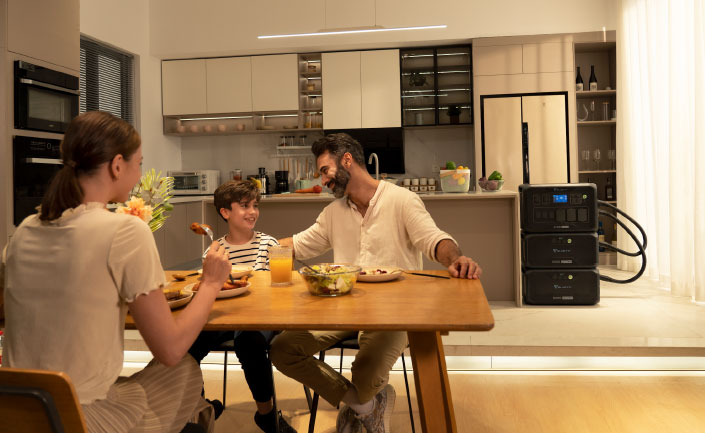 Safer Charging for Longevity
The BLUETTI AC500 utilizes LiFePO4 battery cells that are credited as the most reliable and longest lasting technology currently available. In fact, it's rated for an impressive 3,500 charge/discharge cycles.
After that, it'll remain functional, but only at 80% of its original capacity. In comparison to traditional lithium-ion or lead acid technology, this is 5-6 times as long. In fact, with optimal charge cycles, it can last for upwards of 10+ years.
Highly Efficient Solar
Inside of the AC500 is an MPPT solar inverter that allows users to connect up to 3,000W of solar panels. With an array this large, in ideal conditions, charge times from 0-80% capacity may take only 1.5-2 hours. Although this is highly dependent on a variety of factors, the ability to hook-up to this large of solar input is a hard feat to meet. Even if you have or plan on having a solar setup that's even half the maximum, this means a fully replenished capacity with one long summer day.
Home Backup Power
The AC500 is a great choice for camping, but it's also a smart decision if you're looking for reliable home backup power. Whether your home is prone to frequent power outages or grid issues, the AC500 is fully modular. That said, it can be paired with as many as six B300S battery modules to expand the capacity all the way up to 18,432Wh. Best of all, with the use of the optional Fusion Box Pro, two AC500 units can be connected in series to provide a 240V/6,000W output. This is enough to run most high demand home appliances for several days of typical use.
High-Tech Monitoring
By downloading and installing the free BLUETTI app, users can enjoy a wealth of insights, settings and adjustments to make on the fly. In addition, its real-time monitoring capabilities mean that you always have a clear insight into how much energy is going in and out of the AC500. On top of that, important firmware updates can be completed within minutes over WiFi.
Incredibly Quick Re-Charging
If you've owned or used a portable power station in the past, you likely know a major caveat to them. Typically, they take as much time to re-charge than they can provide power for. Thankfully, BLUETTI took note of this and designed the AC500 with incredibly fast re-charging speeds. Users are able to combine multiple charge methods (AC, generator, solar, etc.) to double or triple-up the input to a maximum rating of 8,000W in. Ultimately, this means a fully replenished battery bank ranging from 1.2 to 3 hours.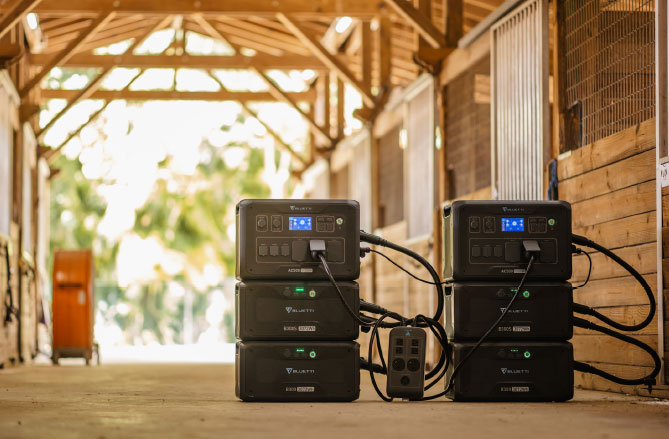 Cold Temperature Protection
One of the best features of the AC500 comes with its built-in heating function. Typically, when using a standard generator or power station, cold temperatures can have a drastic effect on the performance and wake-up time. Inside the AC500 is a self-heating feature that immediately heats up the unit when it detects freezing temperatures. With the ability to function normally at temperatures as low as -20 degrees Celcius, it's wonderful for those who want to use it in cold, wintery climates.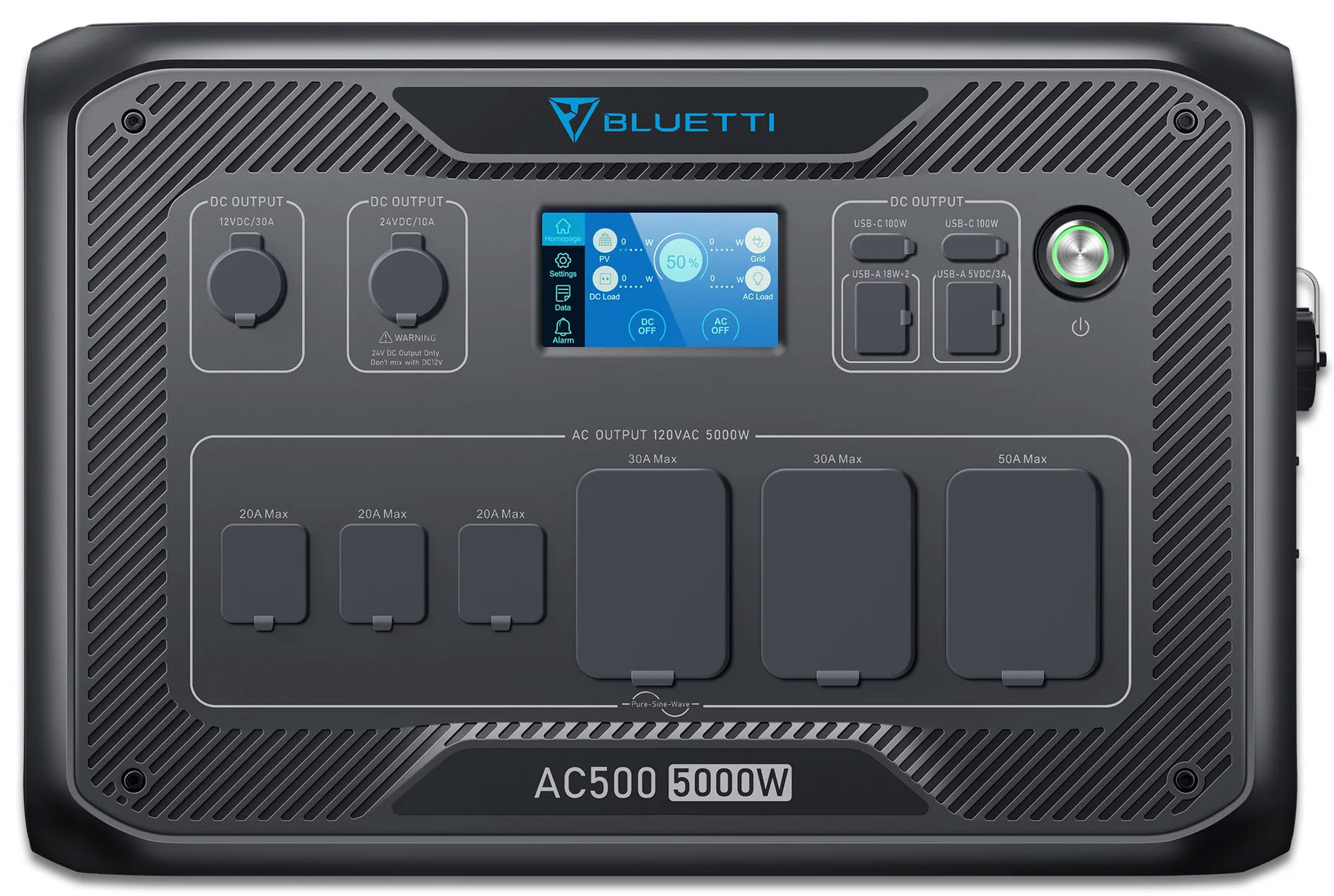 Pricing and Availability
The BLUETTI AC500 is now available to Canadians before February 28th with a special early bird discount. If you lock your order in by the end of the month, you can acquire it for C$2599. The B300S units are also discounted to C$2799. If you plan on purchasing both, even more savings can be achieved by combining your order with a total price of C$5199 for the AC500+B300S combo.
About the BLUETTI Company
If you've been searching for the right portable power station, you've likely already heard a lot of great things about BLUETTI. For over a decade, they've been at the forefront of sustainable, green energy storage. In that time, they've released countless products and supported millions of customers by providing reliable and efficient power backup solutions. If you'd like to learn more about them, be sure to visit https://bluettipower.ca/