It's tough to believe, but the Gameboy Advance SP is turning 20 years old this year. It was released way back in 2003, and handheld gaming has changed a lot since then. That said, there's still a lot of value in this little system. It has over 1,500 games, including a number of legitimate classics. As a result, it's bound to remain popular for years to come.
But like any other physical product, the GameBoy Advance SP can degrade over time. The battery life will be reduced, and the controls might feel a bit loose. But the most obvious point of failure is the case itself. After 20 years of bumps, drops, and dings, there's a good chance your case is starting to show its age. A good replacement case can make your old game system look as good as new.
Today, we're going to introduce four of the best GBA SP replacement shells we could find. To understand these housing shell replacements, we're going to have to dig deeper into their features. Let's get right into it.
Timorn GBA SP Housing Shell Replacement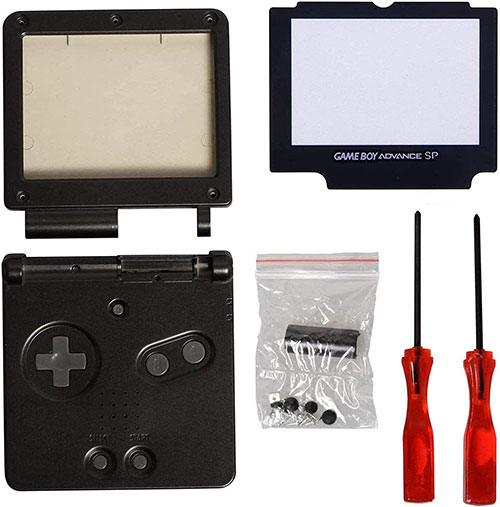 Key features:
Complete shell, including screen cover, hinge, and buttons.
Available in 8 colors.
The Timorn GBA SP Housing Shell Replacement is a complete shell. It comes with all the parts you need to replace your old shell, including the buttons and screen cover. You even get a replacement hinge, which most replacement shells don't come with. It's available in eight colors: black, blue, gold, light blue, silver, purple, white, and red. All colors have a matte finish, which is very easy to keep clean and clear of fingerprints.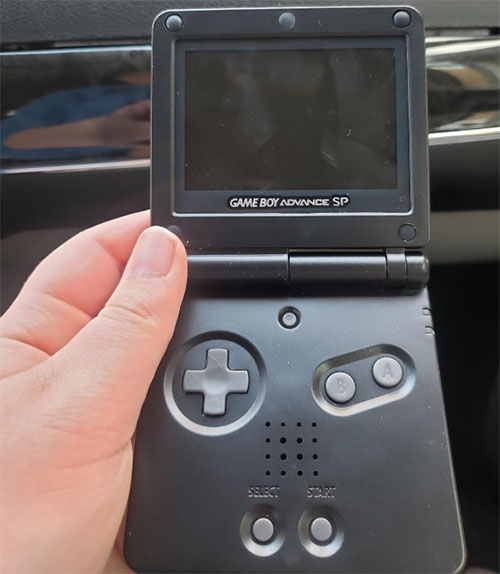 The package includes a pair of screwdrivers that you'll need for installation. There's a 2.5mm Philips screwdriver, as well as Nintendo's specialized 2.5mm Y-shaped driver. They're just basic drivers and aren't designed for heavy-duty use. But the red plastic handles are easy to grip, and they're more than sufficient for replacing your GBA SP case.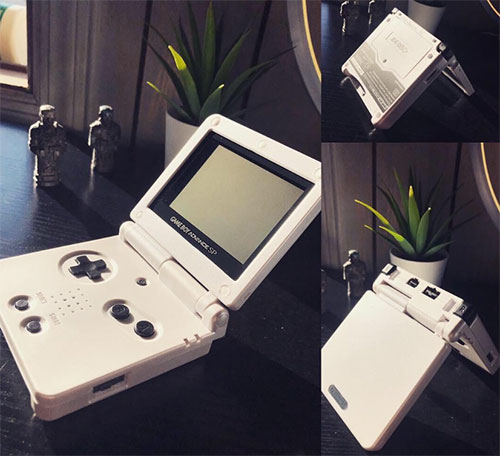 In most respects, this is a perfect replica of the original Gameboy shell. However, some of the hardware seems a little bit off. In particular, the battery door screw protrudes slightly from the back, which can get annoying. Just save your original battery door screw and this won't be a problem.
Timorn is a manufacturer that creates all kinds of electronics. However, they're best known for their game console and controller parts. We recently reviewed their Gameboy Advance SP Charger, and liked what we saw. So when we looked for replacement shells, we decided to go back to the well.
eXtremeRate Soft Touch Custom Replacement Housing Shell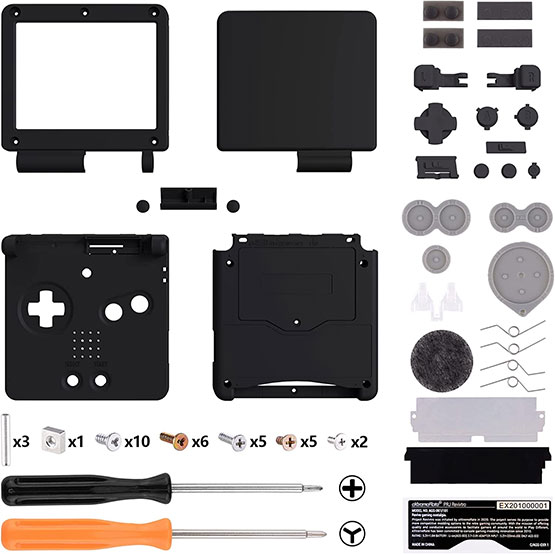 Key features:
Full shell, including buttons.
Available in 6 colors and 2 patterns.
The eXtremeRate Soft Touch Custom Replacement Housing Shell is mostly complete, including all the buttons and replacement springs. That said, there's no screen protector, so you'll want to keep your original. You'll also want to hang onto your original hinge, since there's none in the kit.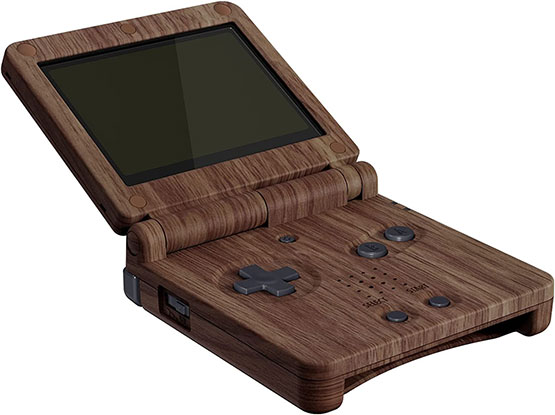 You can choose from six colors and two patterns. You can order it in black, blue-purple, pink, gold, red, white, and wood grain. There's also an alternate white version that depicts the classic Japanese painting The Great Wave off Kanagawa.
As with the previous kit, you get a set of screwdrivers. The 2.5mm Philips driver has a black handle, while the Y-shaped driver's handle is orange. This makes them easy to tell apart at a glance while you're working. As before, these are not pro-grade tools, but the handles are ergonomic and easy to grip.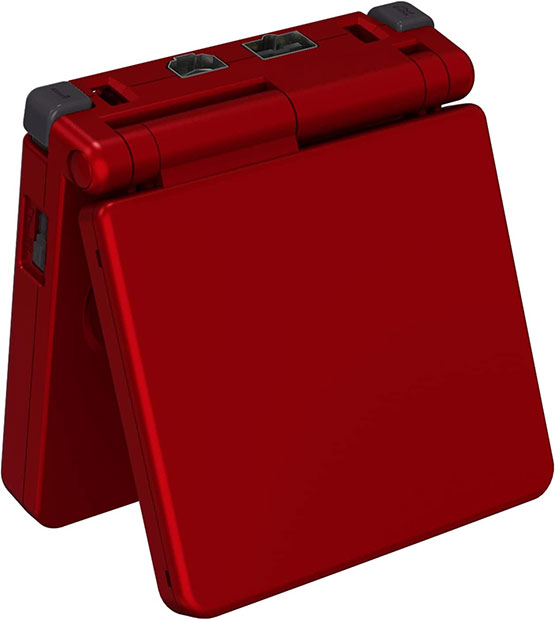 The quality of construction is generally very good. Everything fits together perfectly, and you won't have any issues with anything being misaligned. That said, some of the colors have a glossy finish, which feels a bit slick to the touch. These colors are also hard to keep clean, and constantly collect fingerprints.
eXtremeRate is another brand we've looked at in the past, and they're known for their controller and mobile console components. These include a Housing Shell for the Xbox Series X/S Controller, which we have reviewed. Considering the company's track record, it only made sense to check out their GBA SP shell.
EXSEK Replacement Housing Shell Pack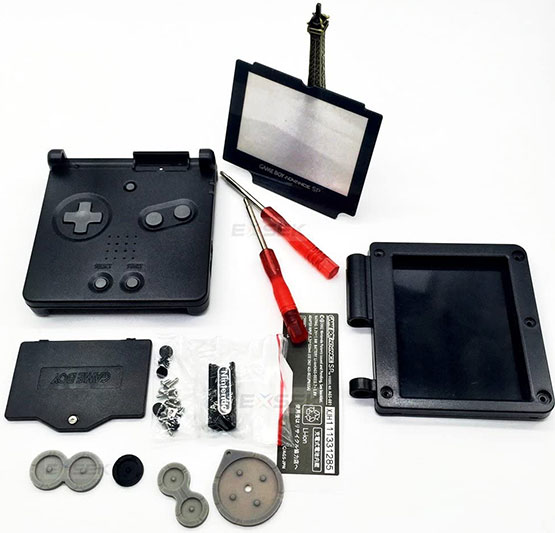 Key features:
Full shell, including screen cover and buttons.
Available in 9 colors and patterns.
The EXSEK Replacement Housing Shell Pack is a nearly complete unit. It includes the shell, screen cover, and buttons, albeit not the hinge. Perhaps more bizarrely, there's no volume slider, so you'll have to save your old one. Then again, it comes with a replacement back sticker with the same information as the factory sticker.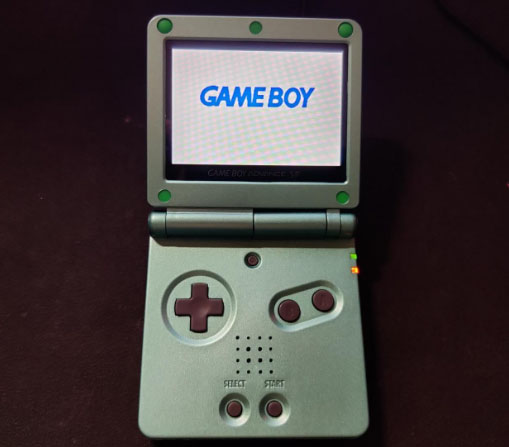 There are nine colors and patterns to choose from. To begin with, you can order the shell in black, blue, red, gold, light green, orange, silver, or turquoise. Or if you want something a little more eye-popping, you can choose the NES tribute variant. This version is colored like the original NES Controller, with identical colors and markings. It also has a blue striped pattern on the back of the display, to replicate the ridges on top of the original NES.
You get 2.5mm Philips and Y-shaped drivers to make installation easy. These aren't anything to write home about, but they'll get the job done. And the translucent orange plastic handles are knurled and easy to grip.
AOKA Limited Edition Replacement Housing Shell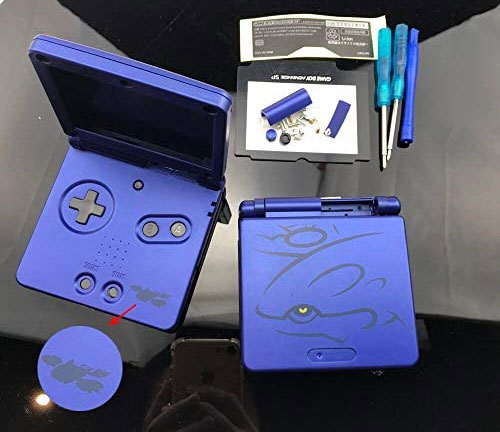 Key features:
Full shell, including screen cover and buttons.
Available in 3 Pokémon-themed patterns.
The AOKA Limited Edition Replacement Housing Shell is a complete kit, with everything except the hinge. The parts all fit together well, and we had no issue with the assembly. As with the other kits, you get a pair of Philips and Y-shaped screwdrivers. However, you also get a plastic spudger to aid with installation.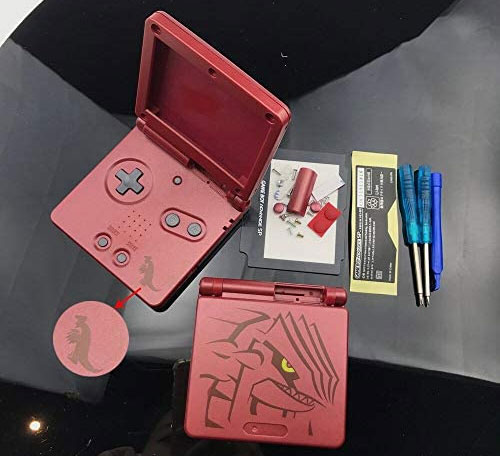 You can order this shell in three Pokémon-themed patterns. There's a blue version with Kyogre, a green one with Rayquaza, and a red one with Groudon. All have a matte finish, so dust and fingerprints are not a concern. At the bottom right of the control surface is a grey silhouette of the Pokémon in question. On the back of the display is a zoomed-in closeup of the character's face with gold eyes that create an attractive highlight.
While you're refurbishing your GameBoy Advance SP, you may also want to install a new battery. If your original battery is starting to show its age, check out our list of the best GameBoy Advance SP replacement batteries. At least one of them should be exactly what you were looking for.
GameBoy Advance SP vs. GameBoy Advance
In 1998, Nintendo released the GameBoy Color. This was an upgrade of the original black and white GameBoy, with improved processing power. Unfortunately, Nintendo soon realized that the GameBoy Color was already obsolete. In terms of power, it was roughly comparable to the original NES. By the time the PlayStation 2 was released in the year 2000, it was clear Nintendo needed a replacement.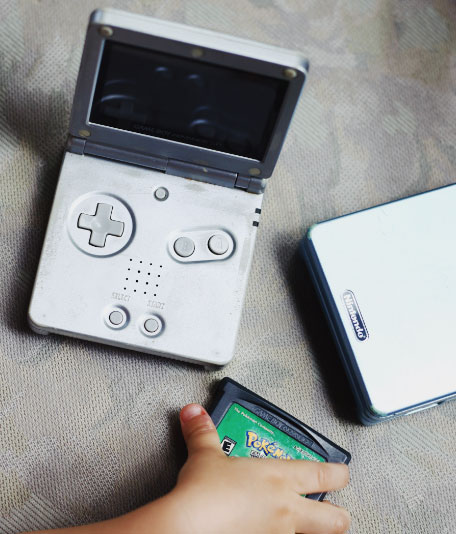 In March 2001, they released the Game Boy Advance. It supported 32-bit graphics, and a 16-bit processor similar to the Super Nintendo. It also added shoulder buttons to accommodate more modern control schemes. This system supported some of Nintendo's most popular titles, including The Legend of Zelda: A Link to the Past. It was even backwards-compatible with GameBoy and GameBoy Color cartridges.
However, the Game Boy Advance didn't have a rechargeable battery, nor did it have a closeable lid. This made it very easy to scratch the screen. In 2003, Nintendo released the GameBoy Advance SP. It has the same system specs as the base model GBA, but with a convenient rechargeable battery and protected screen.
Final Verdict
All four of these GameBoy Advance SP replacement shells are pretty well-designed. You really can't go wrong with any of them. As with most cosmetic parts, your choice will probably depend on aesthetics more than anything else. That said, there are still a few important differences that are worth considering.
The Timorn GBA SP Housing Shell Replacement is the most robust of the bunch in terms of the parts you get. Most notably, the package includes a replacement hinge, which none of the others do. So if your GBA SP hinge is broken, you're going to want to choose this case. Furthermore, the matte material has a smooth finish and is easy to keep free of dust and fingerprints.
Second on our list was the eXtremeRate Soft Touch Custom Replacement Housing Shell. This shell doesn't include a hinge or a screen protector. That said, the quality of construction is excellent, with near-perfect fit and fitment. We also liked the Great Wave aesthetic option, which just looks awesome. Just stay away from the glossy versions, and you can't go wrong.
Next, we reviewed the EXSEK Replacement Housing Shell Pack. This pack includes a screen cover and replacement back sticker, but no hinge or volume slider. The matte finish is attractive and easy to keep clean, and you can choose from multiple colors. Our favorite was the throwback NES replica shell, which makes your grip look like an old-school NES controller.
Last but not least, we looked at the AOKA Limited Edition Replacement Housing Shell. This shell has a couple of things that make it stand out from the others. To begin with, the little toolkit includes a spudger, which can be incredibly helpful during assembly. For another thing, it has a Pokémon theme. If you use your GBA SP primarily for playing old Pokémon games, this is the case for you.