It's been a long time coming, but the Xbox Series X and S are both widely available. Like Sony's PlayStation 5, supply chain issues had held up production, and demand outstripped supply. Now, you can get your hands on one as soon as you're ready to make the purchase. If you were itching to own one, it's probably already connected to your TV.
But a new game console requires new accessories. Depending on what you need, this can include any number of extras. Maybe you want an aftermarket charging station. Maybe you want an external SSD, or a cooling stand. There are any number of ways to personalize your system.
Cosmetics are also important. The fact is, an off-the-shelf game console can feel dull. It's the same thing everybody else owns. This stands in sharp contrast to what happens when you turn the console on.
The Xbox menu is truly unique for each person. You have your own avatar, background image, apps, and games. Even if you log into your profile on your friend's console, it immediately looks and feels like your own. Why should your hardware have the same boring, generic look at everyone else's?
One great area to customize is the faceplate of your controller. Your controller is always in your hands when you're gaming, and you end up looking at it a lot. An aftermarket faceplate gives it more personality, making it uniquely your own. Not only that, but it's a relatively easy change to make. This makes it one of the most popular Xbox customizations.
Choosing the Best Xbox Series X/S Controller Housing Shell Faceplates
Today, we'll be reviewing three of the best Xbox Series X/S controller faceplates. These are high-quality plates, designed to be easy to use and install. In many ways, you can't go wrong with any of them.
That said, there are differences between the three. To begin with, we'll have to talk about the physical design. What kind of material are they made out of, and how durable are they?
We'll have to look at the aesthetics, and the different designs you can choose from. We'll also need to consider any tools that come with the kit. After that, we'll have a clear picture of each of these choices. Let's begin!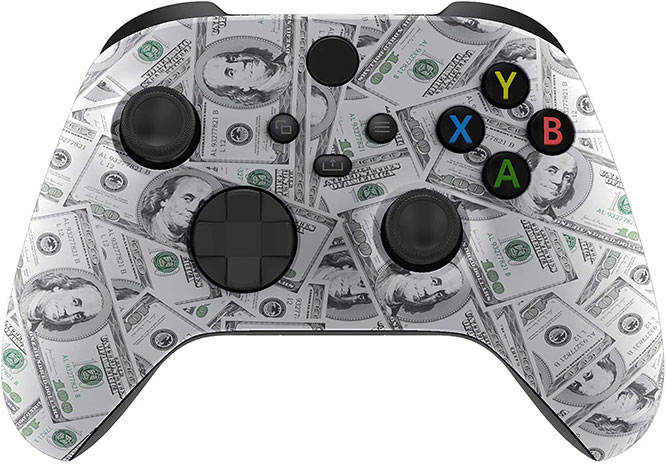 eXtremeRate Soft Touch Front Housing Shell
EXtremeRate is an established manufacturer of accessories for video game consoles. Not long ago, we reviewed their RGB LED light strip for Xbox Series X. It was easy to install, and you could customize it to meet your needs. So we were more than excited to get our hands on their Xbox controller faceplate.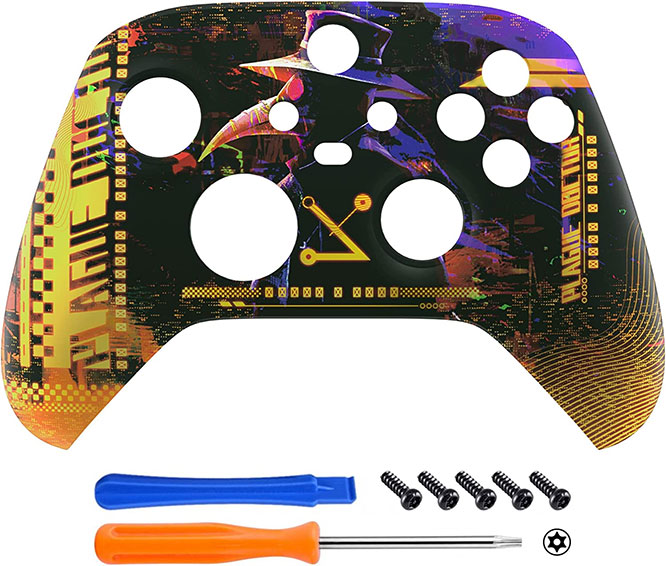 Despite its name, the eXtremeRate Soft Touch Front Housing Shell is not "soft" in the traditional sense. It's a solid ABS plastic, not a rubber or silicone surface. In this context, the word "soft" refers to the texture, which is a matte finish. It's not glossy like a stock Xbox controller, so it feels a bit softer under your thumbs. As an added benefit, it also doesn't collect fingerprints!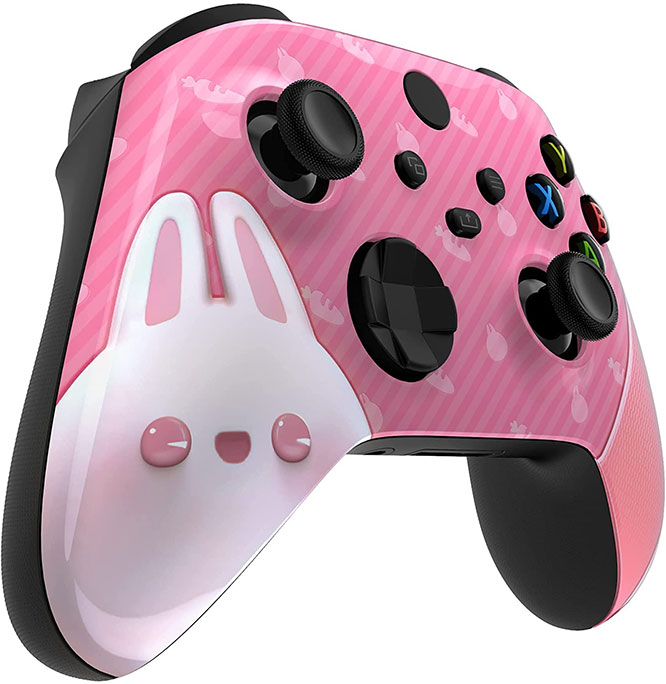 This faceplate comes in 35 patterns. The selection is incredibly diverse, and it would be silly to try and describe them all. A lot are things you might expense. There's a handful of camo patterns, as well as some aggressive striped designs. There are a fair share of fantasy creatures, including an impressive chaos knight. There are skull themes, an Egyptian theme, animals, and a pair of evil clown designs. You'll also find a selection of national flags.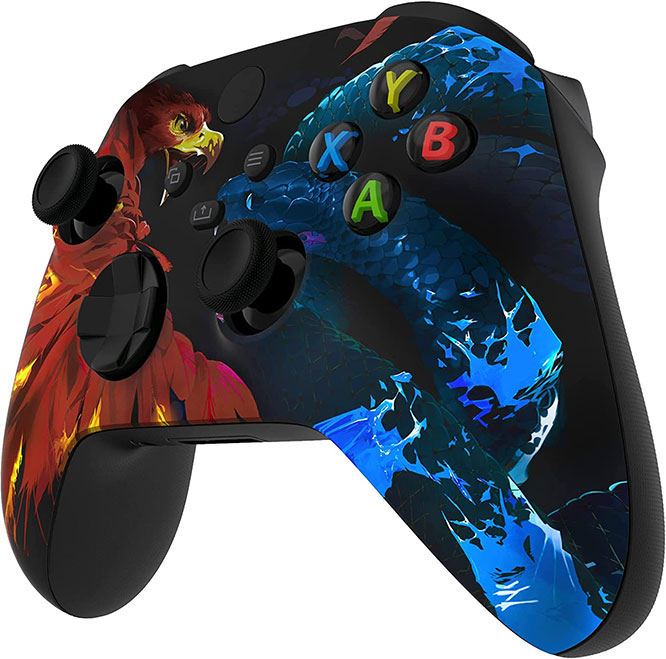 Regardless of the version you order, the kit includes everything you need for installation. There's a small Torx screwdriver with an orange plastic handle. It's not exactly a Snap-On, but it will get the job done. You also get a plastic spudger, and five replacement screws. The screws aren't strictly necessary. But the originals can be hard to remove, and it's nice to have replacements if you stripped some.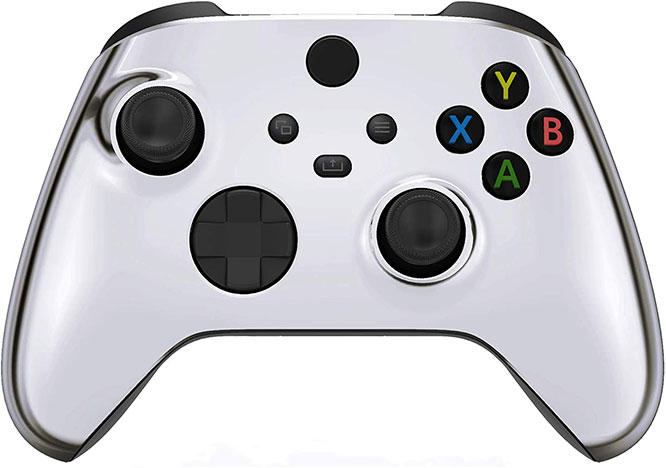 eXtremeRate Hard Touch Front Housing Shell
The eXtremeRate Hard Touch Front Housing Shell has the same high-quality engineering. But instead of a soft matte finish, it sports a rock-solid, high-gloss finish. It can tend to collect fingerprints, but it's easy enough to clean off. And it's certainly eye-catching as finishes go.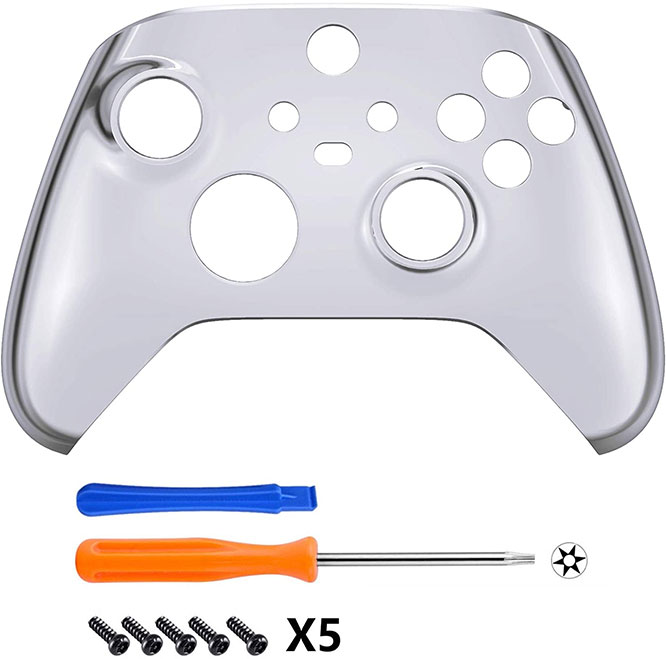 Instead of patterns, most of the 12 options are bright primary colors. You can order red, blue, green, or yellow. The white is the same tone as the default Xbox white, but with an ultra high-gloss sheen. Some of the options are gradients, like the black to gold to silver or the cyan to gold to red.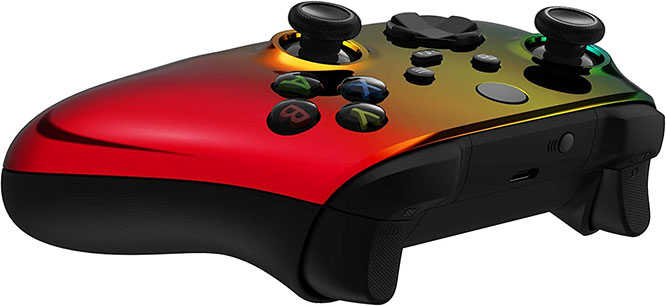 Along with all this, you get the same tools that you get with the soft eXtremeRate faceplate. This includes the Torx screwdriver, the plastic spudger, and the five replacement screws.
While you're outfitting your controllers, don't forget to think about your batteries.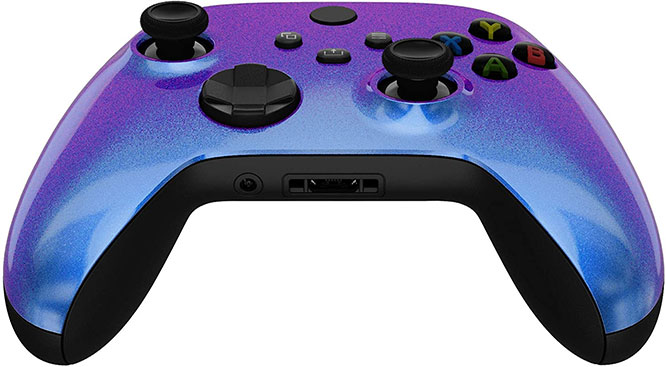 Instead of relying on a set of AAs, check out our guide to the best Xbox Series X/S controller charging stations. They're a great way to save money on batteries, and they also make it easy to store your controllers.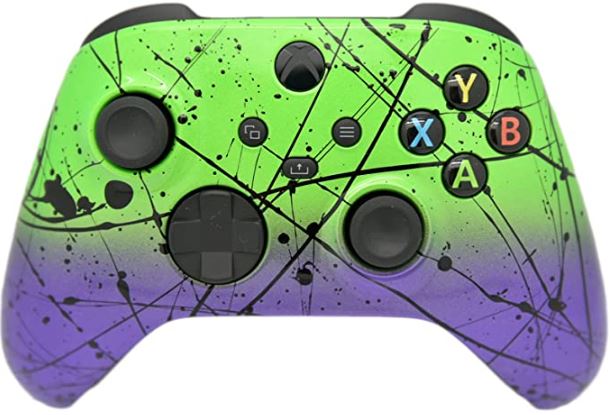 ProControllers LLC Hand Airbrushed Fade Custom Controller Cover
The ProControllers LLC Hand Airbrushed Fade Custom Controller Cover is pricier than our other options. A lot pricier. But there are two very good reasons for this.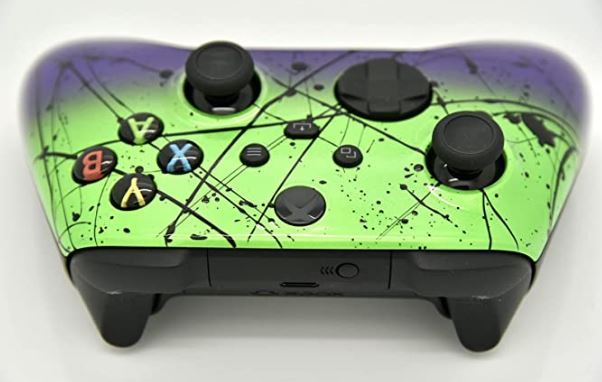 First off, this isn't just a line of faceplates. These are complete Xbox Series X/S controllers, with the custom faceplates already attached. You don't have to do any installation, or risk damaging your controller during disassembly. You'll also be able to keep your original controller for split-screen games. Considering the cost of an OEM Xbox Series X/S controller, this is a good value.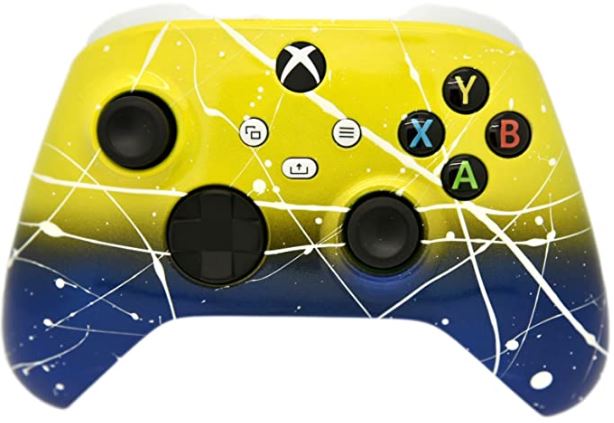 The second benefit of the ProControllers faceplate is that it's hand-painted. The examples in the advertising materials are models, and the artists try to replicate that. But as with anything hand-painted, each individual faceplate will have its own unique quirks.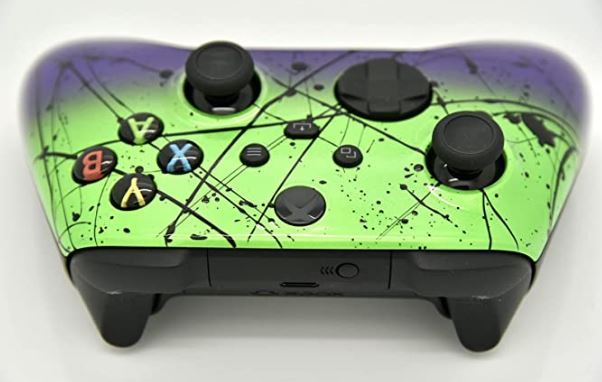 There are 35 designs, most of them involving a splatter pattern on top of a color gradient. There are also animal themes, national flags, and a few more unique, airbrushed pieces. All have a standard, mid-gloss finish, similar to the factory controller.
How to Replace the Xbox Series X/S Controller Faceplate
Assuming you're not buying a complete controller, how do you replace the faceplate? The process is pretty simple, but you'll need a T8 Torx driver. It's also helpful to have a plastic spudger for prying.
Once you've got your tools handy, flip the controller over and remove the battery cover. Pop out the battery, and you'll see a sticker underneath. Peel this sticker away. Don't worry; it's made of plastic. It won't tear in half or leave any residue. And if you want to put it back when you're done, you can. With the sticker removed, you'll see a screw. Remove it and set it aside.
Now, you'll have to remove the side panels on the controller's grips. There are several tabs securing each one in place, and it can be a pain to pop them all loose. Start at the front. Push in the trigger, and pry down and outwards on the front of the side panel. Then, work down both sides, popping each tab as you reach it. This is where that spudger can really come in handy.
Underneath each side panel, you'll see two more screws. Remove them both, and the faceplate will be free. Flip over the controller and you'll be able to lift it right off. Replace it with your new faceplate and reverse the steps. The whole process takes fifteen minutes or less.
Evolution of the Xbox Series X/S Controller
The Xbox Series X/S controller has come a long way since the one on the original Xbox. The original 2001 Xbox controller, affectionately nicknamed "the Duke," is big, fat, and clunky. It was often criticized for its large size, and like other controllers of the era, there was no wireless option. You can still see the heart of today's Xbox controller, with the offset thumbsticks and A, B, X, Y buttons.
The Xbox 360 controller, released in 2005, was a little bit smaller and easier to grip for most players. This controller was wireless, and sported the now-familiar Xbox guide button in the center. Another enduring change was the elimination of the Duke's awkward black and white buttons. Gamers hated these, since they forced you to operate six buttons with one thumb. The Xbox 360 controller got rid of them, and replaced them with the bumpers we know and love.
In 2013, the Xbox One's controller introduced further innovations. While the general button layout is similar, the guide button was moved forward. This made it harder to fat-finger when you were pressing the Start or Back buttons. The Xbox One controller also introduced haptic feedback for triggers, a much-loved feature for fans of first-person shooters.
The Xbox Series X/S controller is sleeker and slimmer than the previous version. It's actually about the same size as the PlayStation 5's controller, which was sized up from the PS4's. The D-pad has been upgraded to an 8-way pad, hearkening back to the original Duke controller. In addition, Microsoft added a screenshot button. You've always been able to take a screenshot through the menu, but a dedicated button makes things easier.
Final Verdict
As you can see, each of these Xbox Series X/S controller faceplates is a worthwhile option. But which one is the best choice for you?
The eXtremeRate Soft Touch Front Housing Shell has the most diverse number of designs. It also has a soft matte finish that's very comfortable under your hands. And with a full set of tools, you've got everything you need for installation.
The eXtremeRate Hard Touch Front Housing Shell doesn't have as many options. However, the glossy finish makes your Xbox controller pop. If you want a bright, vibrant faceplate, you'll be very happy with one of these. You also get the same tools you get with the other eXtremeRate faceplate.
The ProControllers LLC Hand Airbrushed Fade Custom Controller Cover has a major advantage. While it's expensive, it's an entire controller, so you don't need to attach your own faceplate. Not only that, but each individual faceplate is truly unique. Since they're handmade, you're getting a one-of-a kind controller.
Meet Derek, "TechGuru," a 34-year-old technology enthusiast with a deep passion for tech innovations. With extensive experience, he specializes in gaming hardware and software, and has expertise in gadgets, custom PCs, and audio.
Besides writing about tech and reviewing new products, Derek enjoys traveling, hiking, and photography. Committed to keeping up with the latest industry trends, he aims to guide readers in making informed tech decisions.