If you're like most Xbox Series X/S owners, you probably had a hard time getting ahold of your console. This is particularly true for the Series X, which is still seeing major stocking shortages. But obtaining the console itself is just the first step on the journey. Now that you've got your next-gen system, it's time to outfit it with all the accessories you need. With the right companion equipment, you console can be significantly more convenient to use. For example, you need a good headset for online gaming. A set of thumbstick caps can create the perfect feel, and a USB hub can help with connectivity.
Today, we're going to review the best Xbox Series X/S controller charging stations. These are third-party chargers that come with their own rechargeable batteries. Instead of using AA batteries or the standard Xbox Play & Charge kit, these charging stations give you more freedom. Of course, we wouldn't want to use just any charging station. We want to find one that's designed to be long-lasting. We want batteries with plenty of power, and we want an easy-to-use design. In addition, we also want a charger that's attractive to the eye. To find out which one is the best, we'll need to look at these features, along with several others. After that, we'll have a clear picture of what we're dealing with. Let's dig in, and see what we learn about these charging stations!
Xbox Controller Batteries and Charging
As you probably know, a brand new Xbox Series X/S controller comes with a pair of AA Duracell batteries. These are great batteries, and they can easily provide you with over 30 hours of gaming. Unfortunately, they're not rechargeable. Instead, you have to replace them with a brand new set. Over time, this can get expensive. Not only that, but it's bad for the environment. You're creating a bunch of chemical waste every time you swap out your AAs. For these reasons, many people opt to use a rechargeable battery.
Play & Charge Kit?
One popular option – and the only one offered by Microsoft – is the official Play & Charge Kit. It consists of a rechargeable battery, along with a USB Type-C charging cable. This is certainly effective, but it has some limitations. For one thing, you can end up stuck using the controller in wired mode. This defeats the purpose of having a wireless controller to begin with. For another thing, you have a wire running between your controller and your console in standby mode. This isn't any kind of practical concern, but compared to a standalone charger, it's ugly.
Or, Use a Controller Charging Station
A controller charging station gives you the best of both worlds. Unlike with a pair of AA batteries, you're not creating any unnecessary waste. Any decent rechargeable will last for 500 charges or more, producing very little waste per charge. Moreover, you're saving a lot of money. Yes, you'll have to pay more upfront for a charging station. But think about those hundreds of charging cycles. Imagine how much you'd have to pay for 500 sets of AA batteries. That's a lot of savings over the life of your charging station.
Moreover, you can easily keep a backup controller charged. When your battery runs out, all you have to do is switch out the controllers. Unlike with a Play & Charge Kit, you won't have to deal with any wires. You can run any wiring discreetly, and keep your console area free of clutter. If these are things that appeal to you, it's definitely worth considering a controller charging station. Now, let's take a closer look at each option!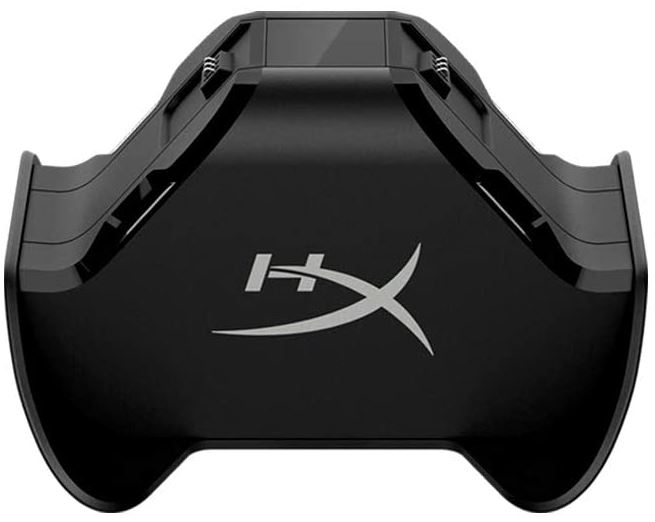 HyperX ChargePlay Duo
The HyperX ChargePlay Duo is constructed from black ABS plastic, with an attractive matte finish. This finish is easy to keep clean, and it more or less matches the finish on the Xbox Series X. The total size of the charger is 5.16 inches wide, 4.6 inches tall, and 3.16 inches thick. It has a curved, irregular shape, and tips the scales at 14.1 ounces. That's surprisingly light for the size, but it's bottom-heavy, so it won't tip over easily. The design is fairly spartan, and doesn't attract a ton of attention. The only major cosmetic feature is a white "HX" emblem on the side.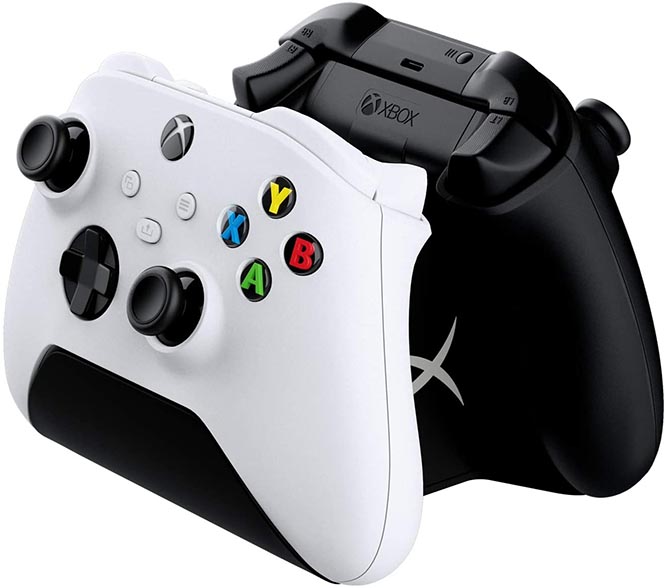 Each side of the housing is designed to hold one Xbox controller. There's a curved area at the base, which wraps around your controller bottom. This doesn't just provide plenty of support. It ensures good, solid contact between the batteries and the charging contacts. As an added bonus, it lends an attractive profile to the bare charger, which isn't the case for most chargers. When both controllers are inserted, they're angled towards each-other. The triggers will be nearly touching, while the grips will be pointed away from each other.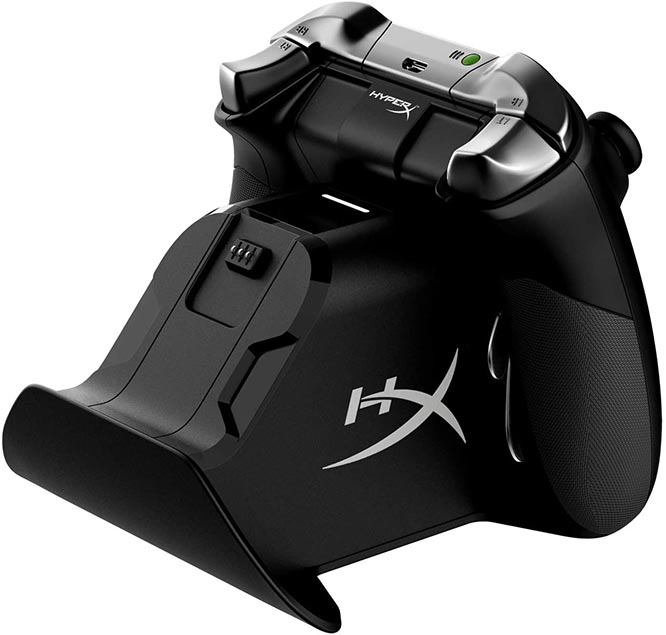 One thing we really liked about the HyperX charger is the wide compatibility. In addition to the Xbox Series X/S controller, it can also be used with the Xbox One controller. If you're still using your old Xbox, you'll be able to use the same charger for both of them. Now, you might be wondering how both controllers are able to fit in the same housing. As it turns out, the kit comes with four battery covers – two for the Series X/S, and two for the Xbox One. The backs for the Xbox One will slightly change the profile, ensuring a secure fit with the charging base.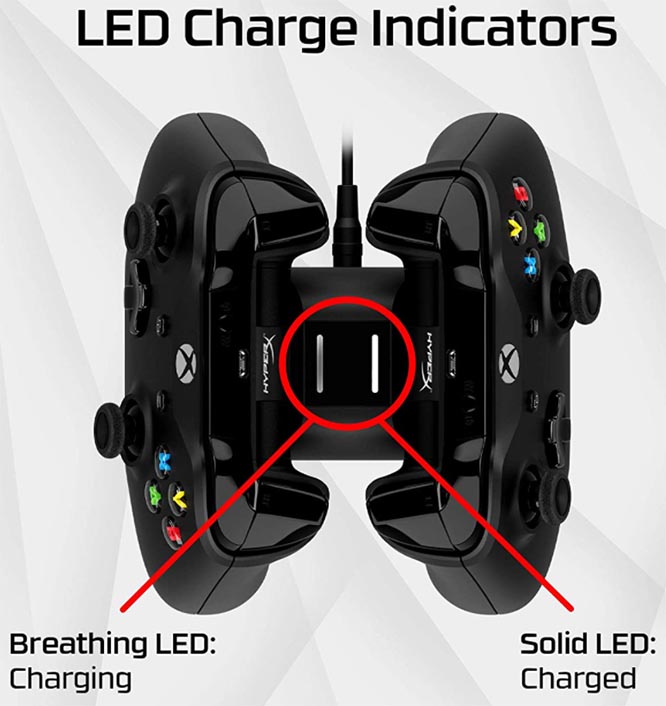 No controller charging station would be complete without a set of rechargeable batteries. The pair included with the HyperX kit each have a capacity of 1,400mAh. That's 100mAh more than the batteries that come with the official Play & Charge Kit. Charging takes only a few hours, even if you started with a totally dead battery. There's a pair of white LED bars on top of the housing, one on each side. Each one will breathe when the corresponding controller is charging. When the battery is fully charged, the light will turn solid. Power is provided by a barrel-style DC power supply, which plugs into an ordinary wall outlet.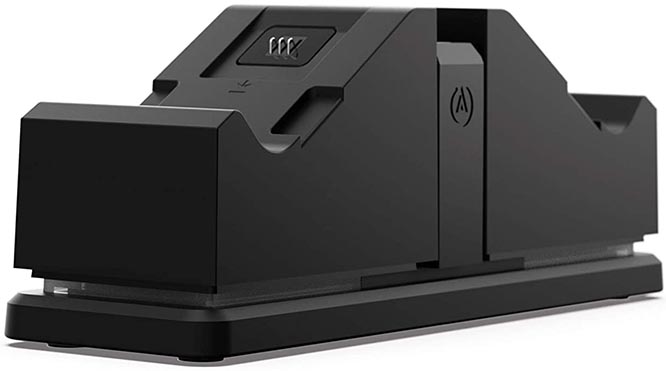 PowerA Dual Charging Station
The PowerA Dual Charging Station has a black ABS plastic housing, with a smooth matte finish. It measures 8.35 inches wide, but only 2.9 inches high and 2.6 inches wide. The resulting design is very stable, with a low center of gravity. And at 1.04 pounds, it weighs about what you'd expect for the size. The shape is arched towards the center, with little scoops at either side. These two scoops support your controllers, which sit with the handle side down. The design is well molded, and you won't have any issues seating your controller.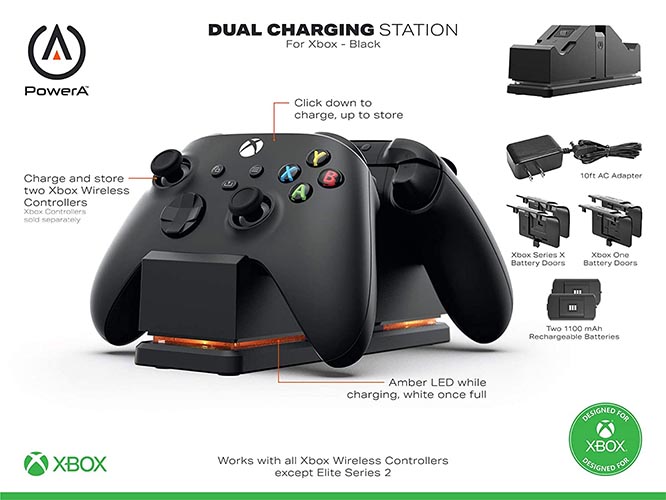 Using this charger is very simple. You press down on your controller until it clicks, and an LED light ring activates at the bottom. This will shine orange to let you know the controller is charging. When the battery is fully charged, the light ring will turn white to let you know it's done. The neat thing about this system is that you can click down again to deactivate either side of the charger. That way, you're not wasting power on a controller that's fully charged.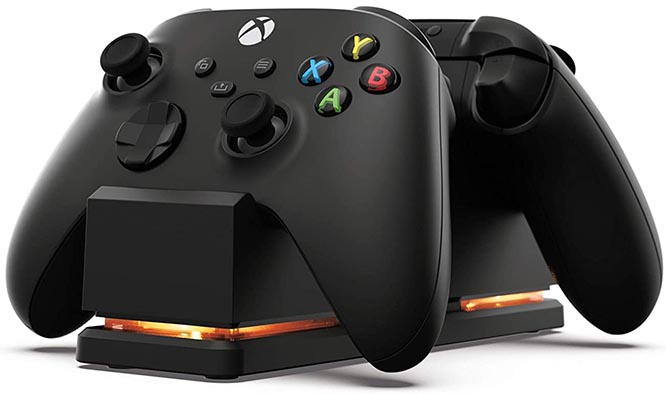 Like the HyperX charger, the PowerA charger works for both Xbox Series X/S controllers and Xbox One controllers. The kit comes with a set of four battery covers, two each for each type of controller. This allows you to mix and match controllers however you need to for your gaming setup. Also like the HyperX charger, this one is powered by an AC/DC adapter. This doesn't tie up any USB ports on your console, leaving you free to connect more accessories. The adapter has a long, 10-foot cord, so you've got plenty of reach to get to an outlet. The charger and the adapter alike are covered by a two-year warranty. That's pretty generous for a charger of this nature.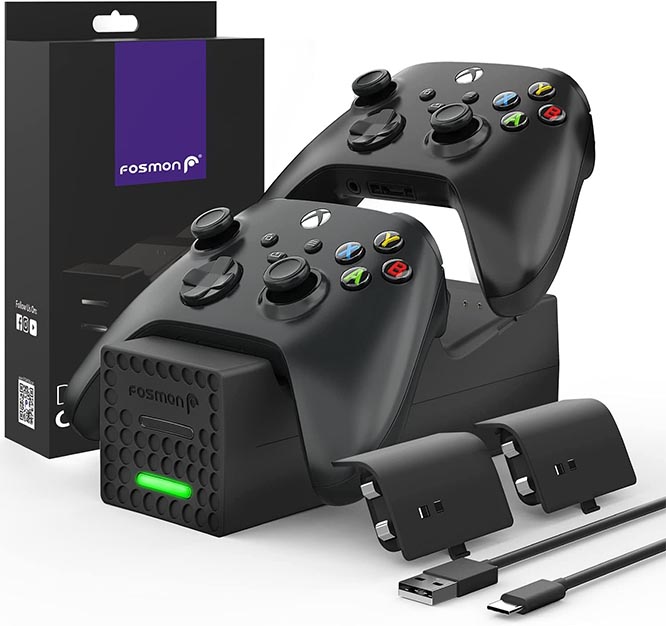 Fosmon Dual Controller Charging Station
In the world of console gaming accessories, Fosmon is a familiar name. Their PS5 thumb grips are among the best on the market. So it shouldn't come as any surprise that they've also given some love to the Xbox Series X/S controller.
The Fosmon Dual Controller Charging Station has a much different design than the other two. Instead of a curved design, it's a big, rectangular block. The only curves are located where the two controllers drop into a charging well. The controllers sit handle-side-down, but they sit facing the same direction, not angled towards each other. The overall size is fairly large, at 9.49 inches wide, 5 inches thick, and 2.64 inches tall. It's available in your choice of black or white to match your specific controllers. At one end, there are two green LED bars, which are large and easy to see. They blink when the controllers are charging, and glow solid when charging is complete.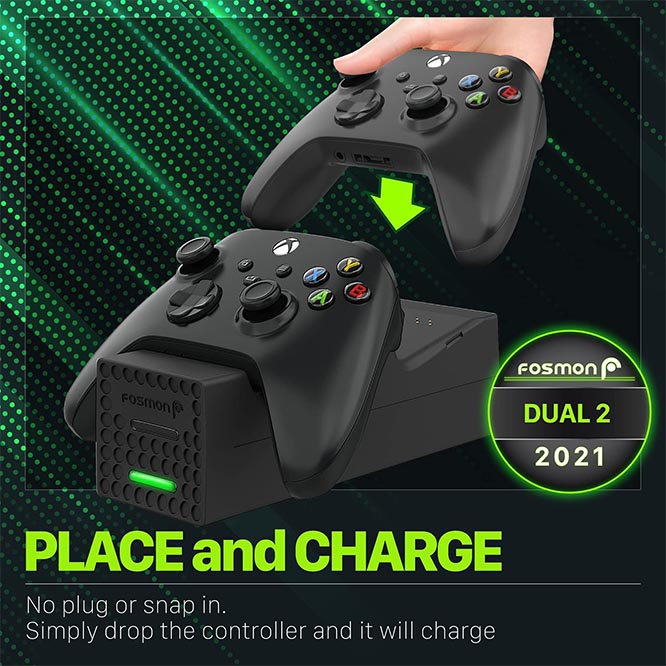 Unlike the last two options, the Fosmon charging station works with the Xbox Series X/S controller only. It will not fit the controller for the Xbox One or One X. In fact, it won't even work with all Xbox Series X/S controllers. If you have the Elite controller, you'll need to remove the paddles in order for it to dock properly. The rechargeable batteries have a unique design. Rather than being separate pieces, they're built into the replacement battery covers. This design is easy to use, but it's most likely why there's no Xbox One controller compatibility. It's also worth noting that the 1,000mAh battery capacity is somewhat limited. It's good for dozens of hours, depending on what you're doing. But it can drain quickly if you're using a headset.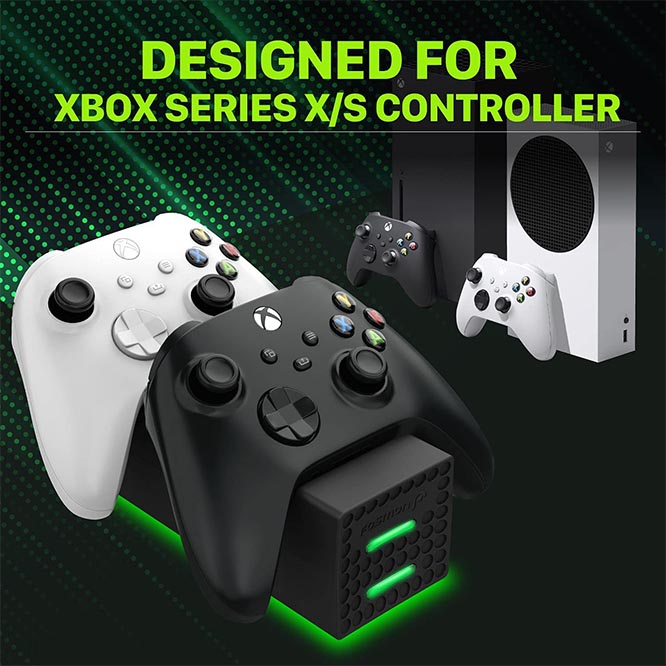 This charger works on USB power, and it comes with a USB Type-A to Type-C charging cable. The kit includes a four-foot cord, which can be used to charge directly from your Xbox. Alternatively, you can plug it into a wall outlet via a USB charging block.
Final Verdict
All three of these charging stations will get the job done. But which one is the right choice for your needs? Let's quickly recap what we've learned about all three of today's options.
We started out with the HyperX ChargePlay Duo. This charging station comes with the most powerful batteries, with a capacity of 1,400mAh. Moreover, it's compatible with both the Series X/S controller and the Xbox One's. This is great news if you still put in some time on your old system. And with its compact, sleek design, the HyperX charger is very easy on the eyes.
The PowerA Dual Charging Station is a flatter, wider charger with fewer curves. It can also charge both the Series X/S and Xbox One controllers. But beyond that, you can also activate and deactivate both sides of the charger. This is a great power saving solution, since you won't be wasting juice on a full battery. Not only that, but the long charging cable, you can reach up to 10 feet to access an outlet.
The Fosmon Dual Controller Charging Station is a unique power station with a blocky, utilitarian design. It runs on USB power, so it's a bit more flexible in terms of where you can plug it in. Not only that, but the batteries are built into the covers, which makes them easy to install.