Ever found yourself in the heat of an intense gaming session on your PS5, only to have your performance hindered by slippery thumbsticks? Fear not, fellow gamers, as we at NerdTechy have put numerous thumb grips to the test, ensuring your next virtual adventure is seamless and slip-free.
From enhanced precision to unbeatable comfort, our comprehensive guide is here to assist you in finding the perfect set of thumb grips for your DualSense controller. Stay tuned as we unveil our top picks, ensuring your gameplay is nothing short of extraordinary.
Key Takeaways:
Best Overall: KontrolFreek FPS Freek Thumbstick Grips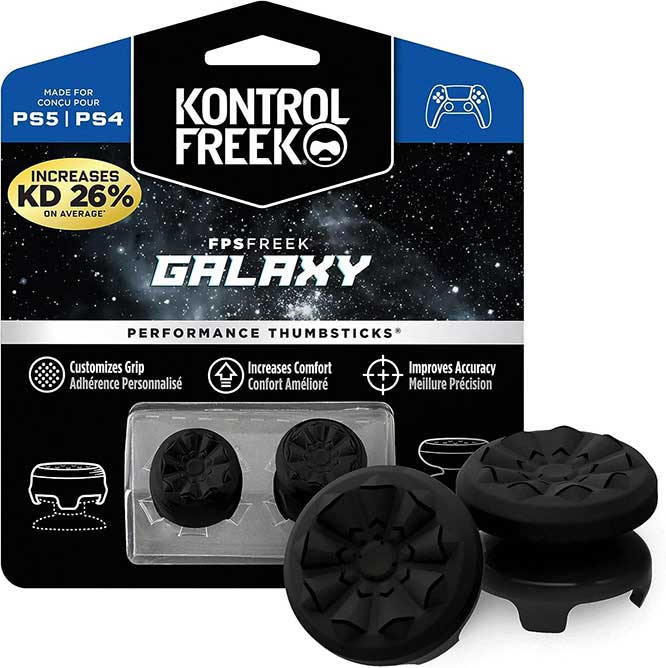 Key Takeaways:
Name-brand, highly reputable company.
Concave design for better grip.
Comes with both mid and high rise – adds 6.5mm-10mm of height to each thumbstick.
Works for other controllers, not just PS5.
We recently got our hands on the KontrolFreek FPS Freek Thumbstick Grips, and we've been thoroughly impressed by the level of control and comfort they provide. Right off the bat, we noticed a significant improvement in our PS5 DualSense controller's precision, especially in fast-paced shooters. The mixed height combo of the thumb grips is a game-changer, offering quicker target acquisition with the right thumbstick while ensuring steady and smooth movement with the left.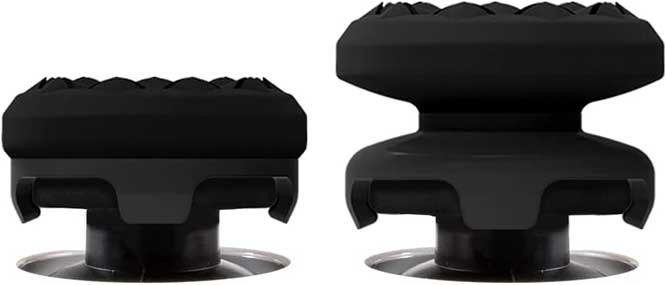 The high-rise, concave thumbstick for the right analog adds a considerable 10.0 mm, giving us that extra precision needed for pinpoint accuracy. On the flip side, the mid-rise, concave thumbstick on the left enhances our in-game movement control without feeling too bulky, adding a subtle height of 6.5 mm. It's a balanced design that truly makes a difference in gameplay.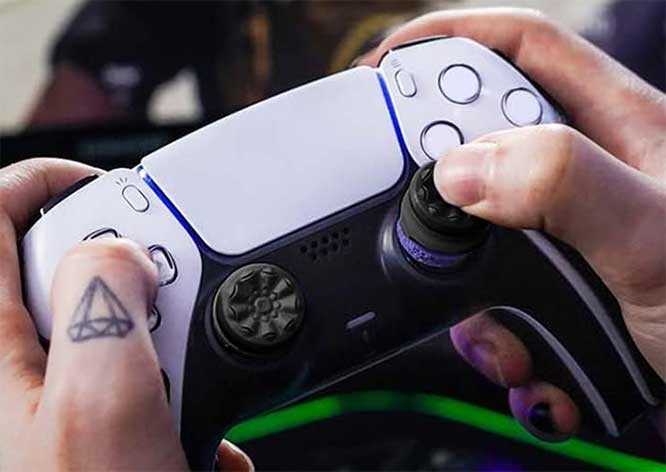 One of the best features for us has been the non-slip, proprietary rubber compound used in these grips. It not only provides an exceptional grip but also requires less force from our fingers. It noticeably reduces fatigue in our wrists, hands, and thumbs during long gaming sessions. We could play for hours without any discomfort, which is a big plus for any serious gamer.
Apart from the performance benefits, these thumb grips are also quite versatile. They've added a layer of protection to our stock thumbsticks, saving them from wear and tear. And no matter what type of game we jumped into, these grips delivered a comfortable and controlled gaming session. Although they're a bit pricey for what you get, the KontrolFreak brand is highly reputable as a top choice among the PS5 gaming community.
Most Plush: PlayVital Thumbs Cushion Caps Thumb Grips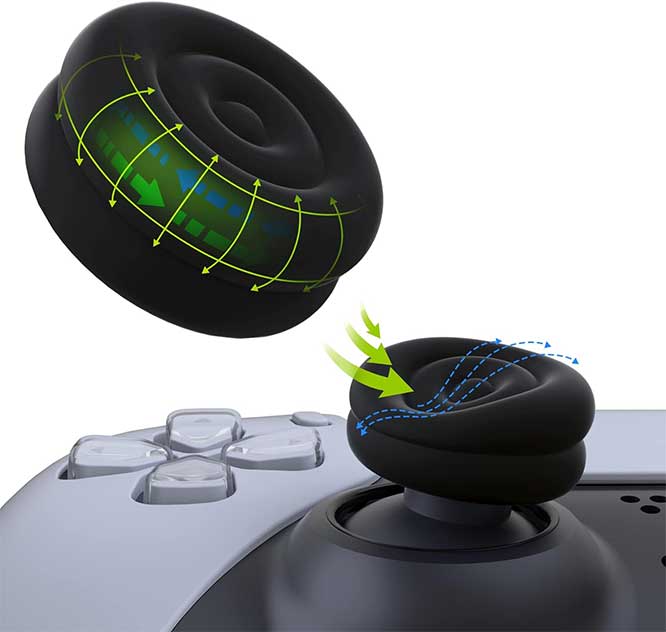 Key Takeaways:
Uses air cushioning for a super-plush feel.
Available in several colorways.
Circular texture that makes a big difference during long gaming sessions.
Does not slip or become loose over time.
Upon trying the PlayVital Thumbs Cushion Caps Thumb Grips for our PS5 DualSense controllers, we instantly noticed the unique air cushion technology that sets these grips apart. The double-layered analog stick caps offer a plush and softer touch compared to the KontrolFreek grips, providing a luxurious feel right at our fingertips.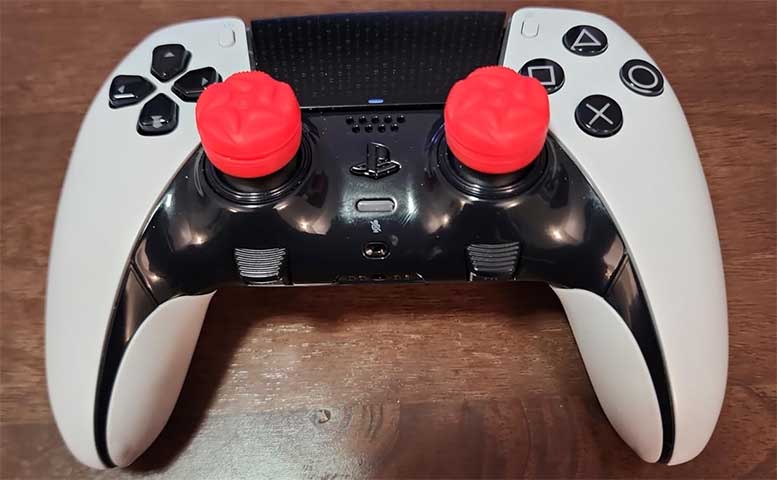 The PlayVital grips fit perfectly onto our thumbsticks, and the circular texture on the top of the caps ensured our thumbs stayed securely in place, preventing any accidental slips during intense gaming moments. The design is meticulous, enhancing our joystick's functionality without compromising its normal operation. It was apparent from the beginning that these grips were made with the gamer's comfort in mind.
Protection-wise, the PlayVital grips excelled. The special air cushion grip topper, crafted from soft silicone, not only provided an additional layer of comfort but also acted as a protective shield for our controller's original thumb stick caps. This was a major plus for us, especially considering the potential wear and tear from heavy use. While at first they may seem a bit bulky, we didn't mind one bit.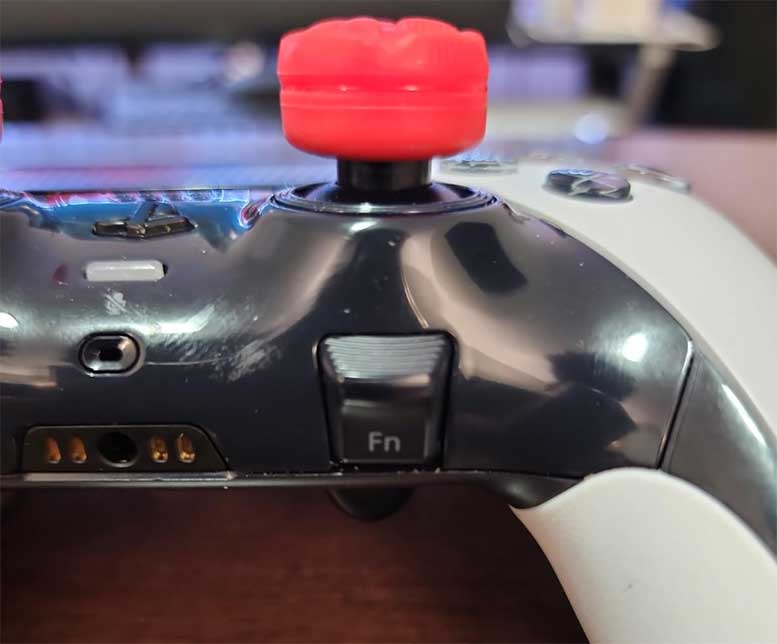 What really stood out was how easy these grips were to install and remove. With a simple inside-out flip of the thumb grip edge and a quick cover over the original analog stick, we were ready to go. A final rotation of the grip cap ensured everything was perfectly aligned. The process was straightforward and hassle-free. This is a clear indication that PlayVital had user convenience in mind when designing this product. Best of all, they don't come loose or fall off with repetitive use.
Best of all, the wide range of colorways available allowed us to personalize our controller to our liking. It's a great way to add a fun and unique touch to our setup. And to top it off? These grips come at a lower price point than the KontrolFreek grips, offering an affordable yet high-quality option for those on a budget.
Best Variety: Skull & Co. Skin, CQC and FPS Thumb Grip Set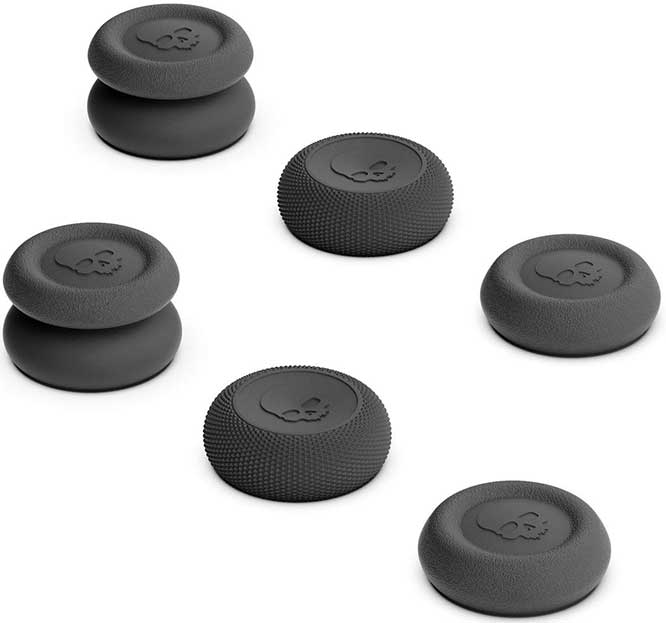 Key Takeaways:
Comes in a 3-pack (pairs) for a nice selection.
Available in over 20 colorways.
Each grip pair adds more or less height.
Super snug fitting.
When we got our hands on the Skull & Co. Skin, CQC, and FPS Thumb Grip Set for the PS5 DualSense controller, we were eager to see how the various textures and designs would affect our gameplay. This set includes three pairs of grips, each uniquely crafted to enhance gameplay in different ways. After extensive testing, we can confidently share our thoughts.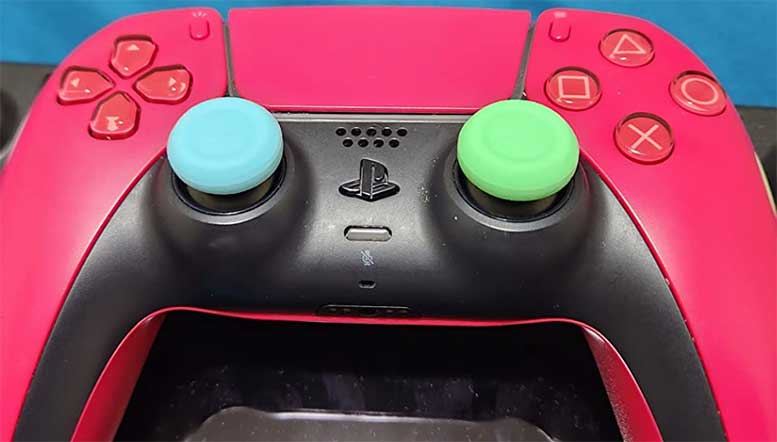 First up is the Skin Grip. These instantly caught our attention with its original feel and high level of control. This grip raises the thumbsticks by a subtle 2mm, providing a noticeable difference without being too intrusive. It's perfect for those who are not sure about adding thumbstick grips who also may need time to get used to them.
The CQC Elite was the next pair we tried. It was a game-changer, especially for games that required precise movements. By raising the height by 3mm and adding a 20% radius, it bulked up the joystick just enough to improve accuracy and the movable radius of the analog sticks. The mini diamond-like texture on these grips made a noticeable difference. It offers a tactile feel that enhanced our connection to the game.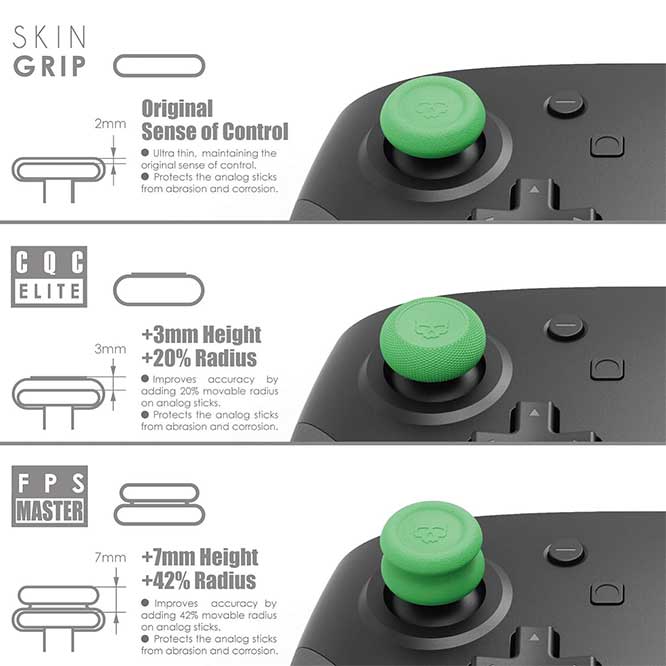 For shooter games where pinpoint accuracy is paramount, the FPS Master grips proved to be the perfect companion. They add 7mm in height and a whopping 42% more radius, creating a bulkier feel that might take some getting used to but pays off in performance. Our shots were more accurate, and our movements more precise, leading to a more successful and enjoyable gaming session.
Installing these grips was a breeze. They fit onto our thumbsticks snugly, never coming loose throughout our testing. Just pop them on and you're good to go. We were also impressed with the variety of over 20 different colorways available, allowing us to customize our controller to our personal style.
One of the most notable benefits we experienced was a significant reduction in gaming fatigue, even after hours of continuous use. The ergonomic design and thoughtful textures of these grips made a world of difference, allowing us to game for longer periods without any discomfort.
Best Budget: GeekShare Thumb Grip Caps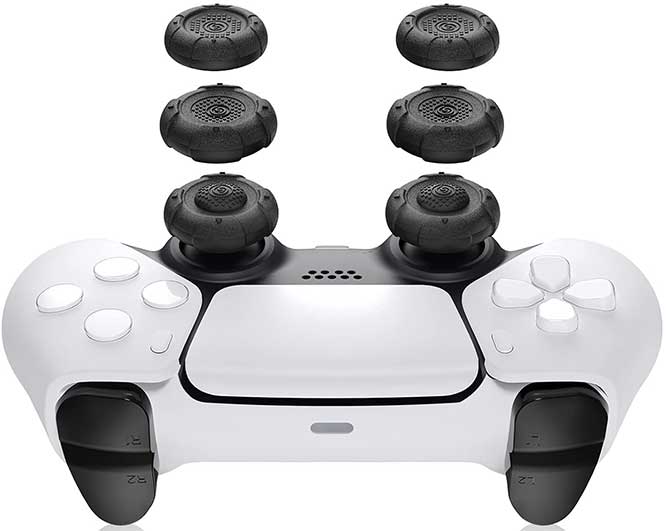 Key Takeaways:
Three distinct pairs: Classic, FTG, and FPS styles.
More stiff feeling than other options.
Made of 100% silicone material.
Snug fit without wiggle.
Available in black, dark red, or purple color schemes.
The GeekShare Thumb Grip Caps have quickly become one of our go-to accessories for the PS5 DualSense controller. We love their budget-friendly price and the variety they offer. With three distinct pairs included in the set, each style brings something unique to the table. Each one caters to different gaming preferences and needs.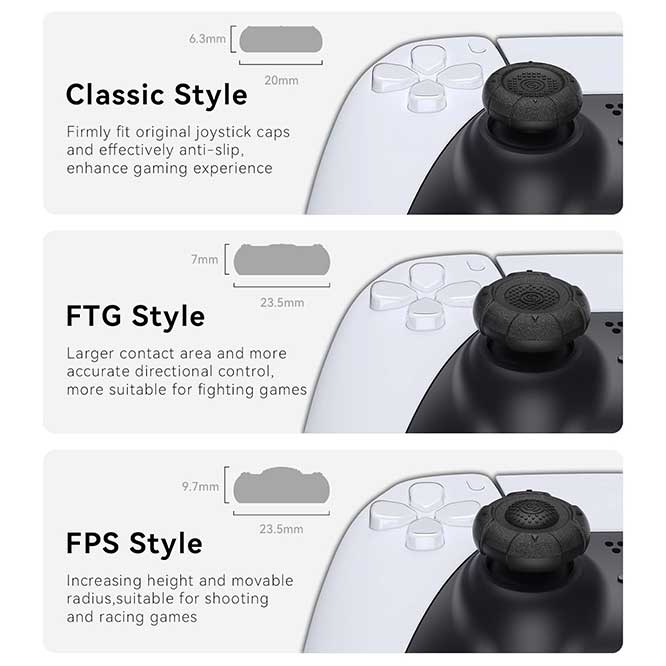 The classic style grip caps measure 6.3mm in height and 20mm in width, striking a perfect balance for all-around use. Whether we were navigating through adventure games or competing in sports simulations, these grips provided a comfortable and controlled experience. They're a versatile choice for any gaming library.
The second is the FTG style, with a larger contact area of 7mm tall and 23.5mm wide. We found these to be exceptionally useful for fighting games. The additional surface area allowed for more precise directional control, giving us an edge in fast-paced combat scenarios.
For shooter games, the FPS style grips were a game-changer. By increasing the height to 9.7mm tall and 23.5mm wide, the movable radius of our analog sticks improved dramatically. They noticeably enhanced our aiming precision and overall performance in games where every shot counts.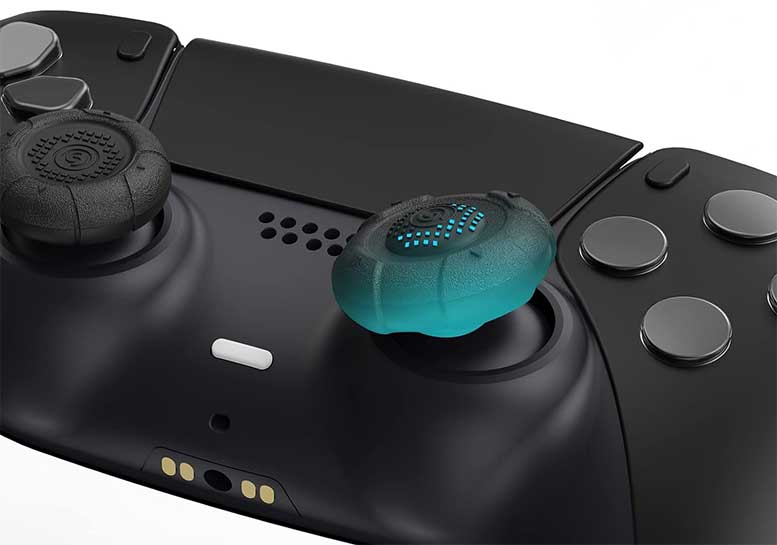 Despite being a bit stiffer than the other options we've tested, the GeekShare grips added a level of responsiveness to our gameplay that we didn't know we needed. This stiffness, paired with the supple yet sticky silicone material, provided an ideal grip. It ensured our thumbs stayed firmly in place even if things got sweaty.
Available in black, purple, or dark red, these grips, like others, allowed us to add a personal touch to our controller, enhancing both its aesthetic and functionality. Installing the grips was a breeze. Once attached, they stayed securely in place without any wiggle or movement, delivering a consistent gaming experience.
PS5 DualSense Controller Thumb Grips FAQs
What are thumb grips, and why should I use them on my PS5 DualSense controller?
Thumb grips are small accessories that attach to the analog sticks of your controller to enhance grip, comfort, and accuracy during gameplay. They are especially beneficial for extended gaming sessions as they help to reduce thumb fatigue and provide additional height and texture for better control.
Can thumb grips improve my gaming performance?
Yes, thumb grips can enhance your precision and control, especially in fast-paced games that require quick and accurate movements. They provide additional height and grip, allowing for more precise control and reducing the risk of your thumbs slipping off the analog sticks during critical moments.
How do I install thumb grips on my PS5 controller?
Installing thumb grips is usually straightforward. Simply turn the grip inside out, place it over the analog stick, and gently fold it back into place. Make sure it's securely fitted and fully covers the stick. The process might vary slightly depending on the brand, so follow any specific instructions provided.
Are thumb grips easy to remove, and will they damage my controller?
Thumb grips are designed to be easy to remove and should not cause any damage to your controller when done carefully. Gently peel the grip away from the analog stick, being cautious not to pull too hard or too quickly. Regularly removing and reattaching grips can cause wear over time, so it's best to do this gently and as infrequently as necessary.
How do I clean my thumb grips?
Most can be easily cleaned with a damp cloth and mild soap. Ensure the grips are completely dry before reattaching them to your controller. Regular cleaning helps to maintain the grip's texture and overall performance.
Meet Derek, "TechGuru," a 34-year-old technology enthusiast with a deep passion for tech innovations. With extensive experience, he specializes in gaming hardware and software, and has expertise in gadgets, custom PCs, and audio.
Besides writing about tech and reviewing new products, Derek enjoys traveling, hiking, and photography. Committed to keeping up with the latest industry trends, he aims to guide readers in making informed tech decisions.