2020 gave us many things, most of which we'd rather forget. But one bright spot in all of the madness was November's release of the latest generation of consoles. PlayStation and Xbox fans were able to finally get their hands on the newest, most powerful game systems. Initial sales were so high that early stock soon ran out. Even today, there are a lot of gamers still waiting for an available console. But for those who already have one, the PlayStation 5 is already a source of great enjoyment. It's basically a powerful gaming PC at a fraction of the price. Capable of 4K graphics at 120 frames per second, it's meant to keep up with the newest televisions. If you want to play a newer game like Cyberpunk 2077, you'll definitely get better performance compared to the PS4.
But if you've already got a PS5, you're probably already thinking about new accessories or upgrades. We've reviewed a ton of gaming accessories in the past, such as PS4 and Xbox One controller chargers. Today, we'll be discussing something a bit simpler: replacement thumb grips. At first glance, this might seem like an odd thing to talk about. Aren't the stock thumb sticks already well-reviewed? Yes, they are! Gamers love the PS5's thumb sticks, which is why they're designed the way they are. That said, there are a couple of reasons you might want a replacement grip.
Note: At no extra cost to you, we may earn a commission for purchases using our links. Learn more.
First, you might have very large hands. If you've got big hands, it can be uncomfortable keeping your thumbs in contact with the sticks all the time. By using a taller replacement grip, you can make the controller more suitable for your hands. Along the same lines, taller grips are also favored by hardcore FPS players. A longer stick makes the dead zone feel smaller, and gives you better precision when sniping. It also provides better control in general, since you have a longer "lever" with more travel.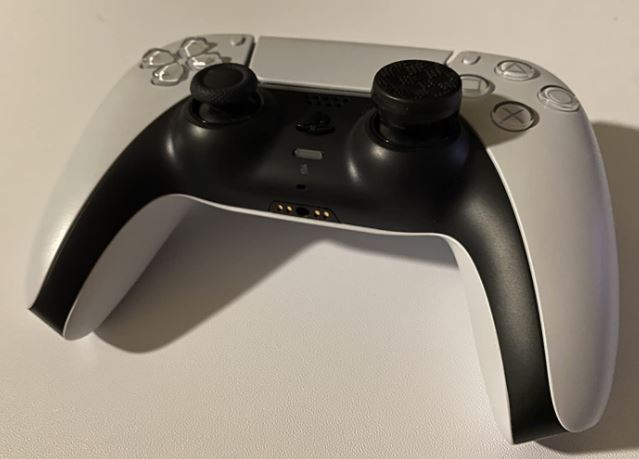 Another reason to use thumb grips is because the stock grips will eventually wear out. We've all had to deal with a bald thumbstick at one point or another. Smooth spots can be annoying at best, and will get you killed at worst, at least in the in-game sense. Even a very short set of grips will prevent this unfortunate outcome. When the grips themselves wear out, you're only out a few dollars instead of an entire controller. Of course, you could replace the entire thumb stick as well. But that involves opening up your controller, and at least being comfortable with electronics. For many people, simply using third-party grips is going to be the best solution.
We're about to review three of the best thumb grips for PS5 controllers. Starting off our list is the KontrolFreek FPS Freek. This is a simple kit that consists of two rubbery grips with different heights. It's geared mostly towards shooter players, for whom this is a popular configuration.
Next, we'll look at the KontrolFreek Omni. These are a pair of concave low rise grips, ideal for protecting your thumb sticks without significantly altering the performance. Last but not least, we'll review the Fosmon High Rise Thumb Grips and Trigger Extenders. This is a complete kit with four grips and four trigger extenders, with two sizes of each. After we've thoroughly examined each of these thumb grips, we'll be ready to render our final verdict. Let's get started, and see how they stack up!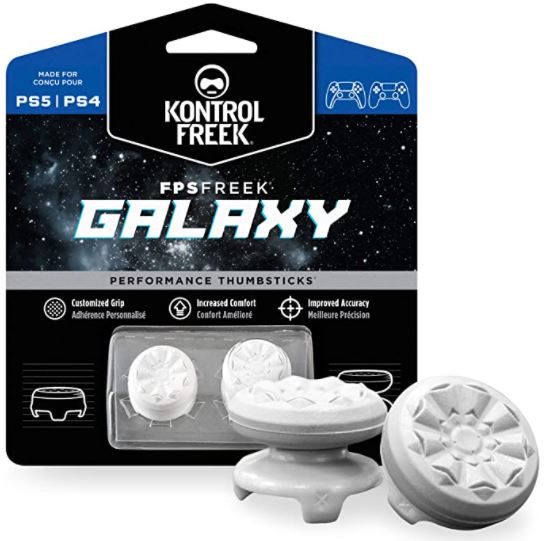 KontrolFreek FPS Freek
The KontrolFreek FPS Freek is a well-named set of controller grips that's engineered specifically for first-person shooters. Instead of a uniform height, the kit consists of not one but two thumb grips in two different heights. The taller has a height of 6.5mm, which is roughly medium in thumbstick terms.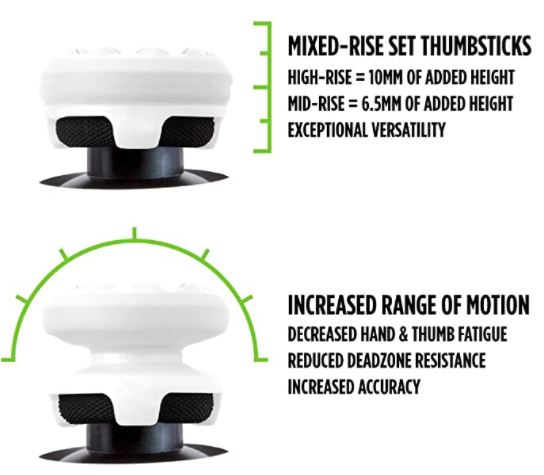 The taller has a height of 10mm, which is one of the longest on the market. The idea is to use the taller one on your right thumbstick and the shorter on the left. With standard controls, this will result in better movement control, along with more aim accuracy. If you're playing with southpaw controls, just reverse the grips and you'll get the same result.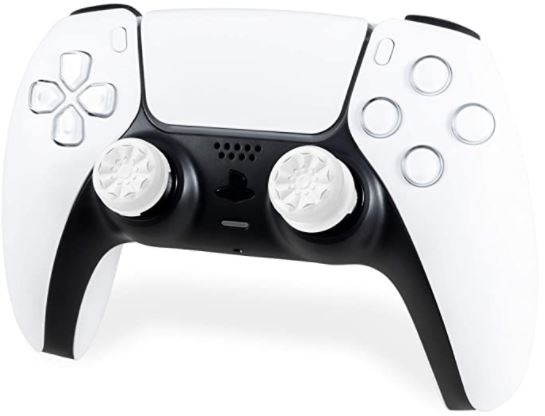 The FPS Freek grips are engineered from a rubbery material that's both stiff and grippy. The surface is textured with a raised diamond pattern that radiates out from the center. These are advertised as "convex," but that's only technically true because the pattern is raised. In fact, because of the way it's laid out, the texture guides your thumbs naturally towards the center of the grips. Unless you're doing something weird, you shouldn't have any trouble with your thumbs slipping out of place. We would have preferred a black color instead of white, but that's purely an aesthetic choice.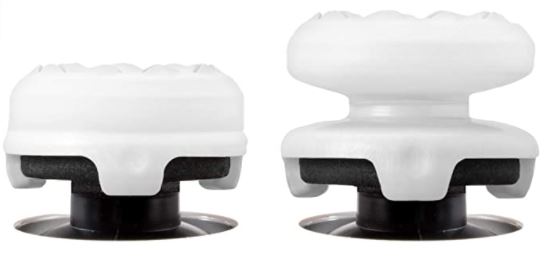 Many PlayStation thumb grips are compatible with Xbox thumb sticks. However, because of the way it clips on, the FPS Freek grips will not fit on an Xbox controller. Xbox players will need to order the version that's designed for Xbox controllers. That said, the FPS Freek grips will work on older PlayStation controllers, including the PS3 and PS4. So if you want to use the same grips on your old system, you'll be able to. The only real downside is that while the grips clip on easily, they're also too easy to remove. They have a tendency to pop off if you're overly vigorous, particularly the longer grip on the right stick.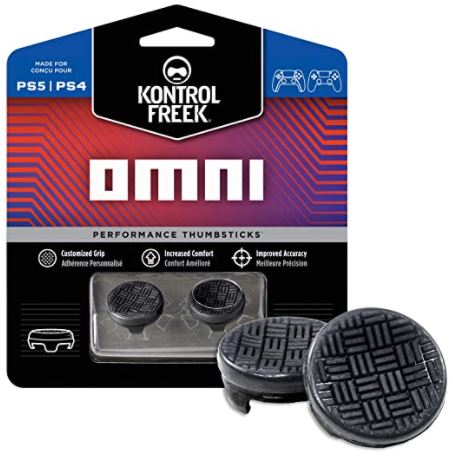 KontrolFreek Omni
The KontrolFreek Omni is a pair of concave thumb grips that are designed with minimal height. At only 4.0mm in thickness, the change is barely perceptible. You'll get a bit more travel, but not much. The main benefits are instead that you get a better grip and that your stock thumb sticks are protected.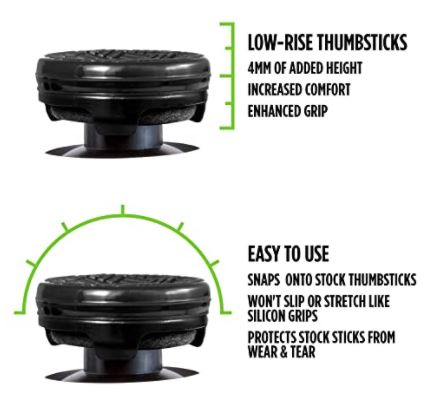 For grip, you get a crosshatched texture that prevents slipping in all directions. The material is a similar rubber to the FPS Freek grips, with plenty of firmness and good grip. In addition to texture, these grips are also wider than the PS5's standard convex tips.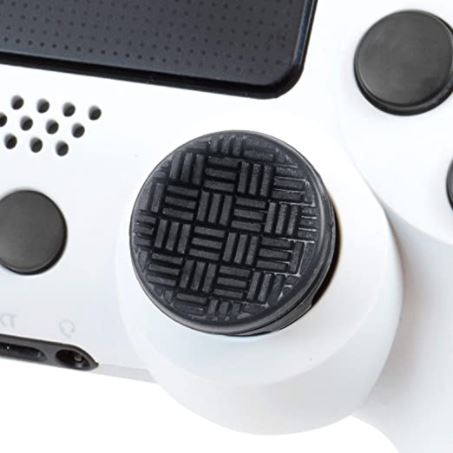 The total surface area is over 145 percent larger, so you have a lot more real estate to play with. If you prefer a non-traditional grip or hand position, you'll appreciate this larger surface area. Control is improved across all genres, although FPS players in particular would do better with more height.

For protection, you get the thickness of the material itself. This ensures that as you're playing, your controller's thumb sticks aren't getting worn smooth. Like the other KontrolFreek grips, the Omni grips are easy to attach and detach, since they simply snap on. However, because they're so short, accidentally knocking them off is much less of a concern. We suppose it's possible, but you'd have to really be wailing on your thumbstick for these grips to pop off.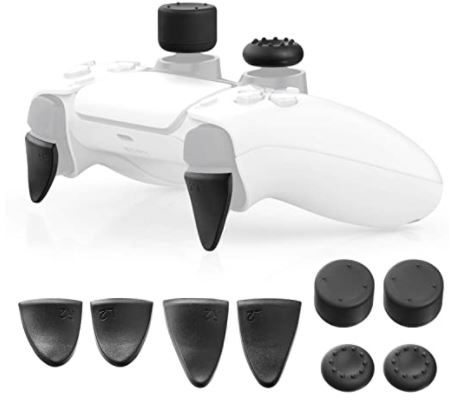 Fosmon High Rise Thumb Grips and Trigger Extenders
Fosmon is a manufacturer we've dealt with in the past. We actually reviewed their outdoor wireless remote outlet, which is a far cry from controller grips. Still, we were impressed enough with its overall quality to consider the Fosmon High Rise Thumb Grips and Trigger Extenders.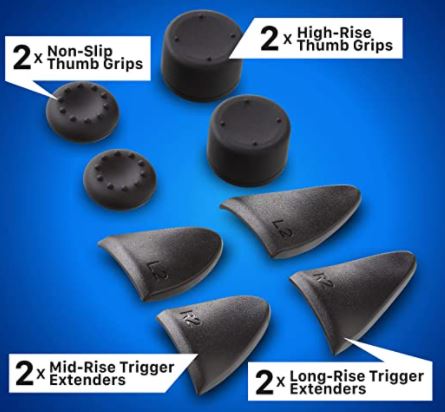 This is a complete kit, with four trigger extenders and four thumb grip covers, and two sizes of each. Unlike the KontrolFreek grips, these can also be used with Xbox controllers as well as PS3 and PS4 controllers. However, the trigger extenders are exclusive to the PlayStation 5 Dualsense controller. They won't work correctly on any other controller, including older PlayStation controllers.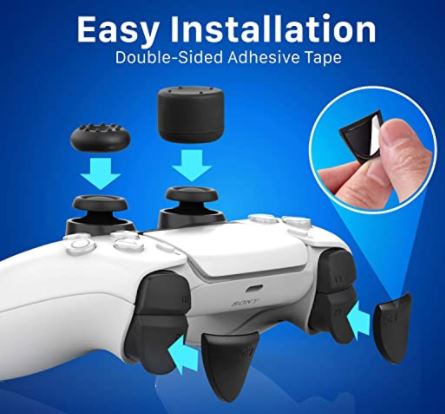 The grips are made of a rubbery material, which is a bit softer than the KontrolFreek material. On the one hand, this is soft and very comfortable during longer gaming sessions. On the other hand, it has the downside of being faster to wear down. This means you can expect to replace these grips sooner than you would ones that are made from harder material. They fit by slipping over the top of your thumb stick, then hugging tight to it. Attaching them is a bit of a pain, but once they're in place, they stay put. You can jerk the thumb sticks fairly aggressively without worrying about your grips flying off. The taller grips are about 10mm in height, while the shorter ones are simple skins.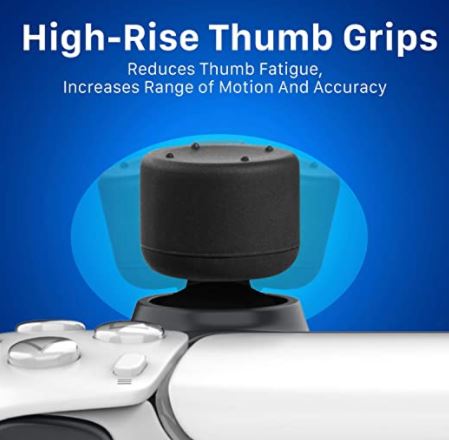 The trigger extenders are made from harder plastic, just like the material of your existing controller triggers. Unlike the grips, they're not designed to provide a more secure hold. Instead, they're engineered to make it easier for people with larger hands to operate the triggers. The idea is that with a more relaxed grip, your overall game performance is going to improve. These extenders are a bit more involved than the grips. They attach with an adhesive, so you'll need to clean your triggers before you attach them. You'll also need to be careful about placement, since they're difficult to adjust later on. The smaller extenders are barely larger than the originals, while the longer extenders nearly double the surface area.
Final Verdict
As you can see, each of these thumb grip sets has its own strengths and weaknesses. Which one is right for you is going to depend on exactly what you need. We started out by looking at the KontrolFreek FPS Freek. These grips are ideal for FPS players, particularly if you want them to be easily removable. The downside is that they can pop off if you're rough with your sticks. But for most people, this shouldn't be a concern. They're nicely textured, and the material feels comfortable even after several hours of play.
The KontrolFreek Omni Grips are similar in construction in that they snap easily on and off. However, at only 4mm in thickness, they aren't prone to popping off accidentally. They're also better-suited for games in non-FPS genres. The concave shape is comfortable, and keeps your thumbs properly positioned. Finally, they increase your thumb sticks' surface area, accommodating a variety of play styles.
The Fosmon High Rise Thumb Grips and Trigger Extenders provide more versatility, so you have more options. You can use two tall grips, two short grips, or a mixture of the two. Similarly, you can choose between larger and smaller trigger extenders. That said, if you don't need the extenders, you might prefer some grips that are more durable.
Please consider sharing:
Note: At no extra cost to you, we may earn a commission for purchases using our links. Learn more.