Overall Design -

8/10

Battery Life -

8.5/10

Performance -

8.5/10

Battery Life -

8.5/10
Summary
After putting this controller through the wringer, it's safe to say that it's not just a jack-of-all-trades; it excels at them. With features like GYROCON+ technology for motion controls and customizable RGB lighting, it's well ahead of the curve. Whether you're a casual gamer or a competitive player, this controller offers an array of options to elevate your gaming experience.
Pros
Highly responsive Hall Effect triggers
Multiple connectivity options
Customizable RGB lighting
ALPS joystick precision
Cons
No 8-way D-pad
Pricey for some budgets
Ever since companies like GuliKit and GameSir popularized Hall Effect sticks and triggers on modern-day controllers, the gaming community as a whole has taken notice. Manufacturers are finding that gamers will absolutely spend their hard-earned money elsewhere for controllers that last.
And let's be real here; we're all pretty sick and tired of stick drift. It's a problem that should have been remedied a long time ago. And in all actuality, it was – Sega used Hall Effect technology back in the Dreamcast days.
The problem, though, was that companies chose to opt for cheaper components. And unfortunately, this became the norm for more than two decades running. But we're fed up with having to replace our controllers so quickly.
We've replaced controllers in less than a week's time due to stick drift! Thankfully, companies are finally embracing more advanced tech like Hall Effect and ALPS. And now that it's here to stay, we're seeing more manufacturers release their own versions of these controllers.
The latest comes from BIGIBIG WON in the form of the Rainbow 2 Pro Wireless Controller. If you've never heard of BIGBIG WON, don't feel left out. It's not exactly Nintendo or Microsoft or even GuliKit or GameSir, for that matter.
But that's not to say it can't hang with the big brand names. In fact, you may even find that the Rainbow 2 Pro Wireless Controller trumps all other advanced gamepads on the market. There's only one way to find out, so read on to hear our unbiased review of this new controller.
Unboxing and First Impressions
Upon opening the package, you'll find the controller, a USB dongle, a USB-C cable, charging dock, several replaceable joysticks, an extra D-pad, and a user guide. The controller most closely resembles a Microsoft Xbox One controller.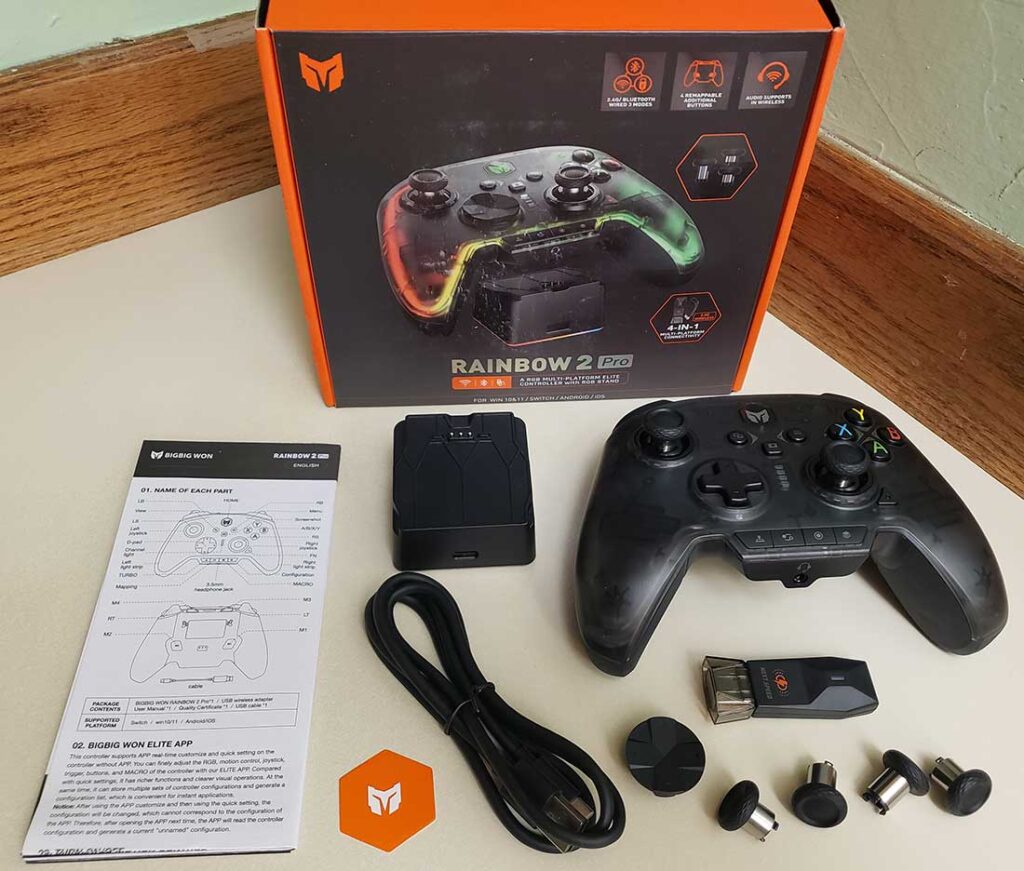 At 5.91 x 3.94 x 1.57 inches and 7.05 ounces, it feels almost tailor-made for the average hand. During our hands-on time with the gamepad, its comfortable ergonomics stood out. You can spend hours in marathon gaming sessions without feeling like you're holding a brick.
But the real test is how it holds up in actual gameplay. For that, we subjected the Rainbow 2 Pro Wireless Controller to a series of gaming sessions with a wide variety of games. So let's break down each aspect of this gamepad to see how it performs.
Buttons and Joysticks
First off, let's talk about the ALPS joystick, which is touted for its zero deadzone. In real-world terms, that means highly accurate aiming and movement. It's a different kind of technology compared to the Hall Effect, but its results are very similar.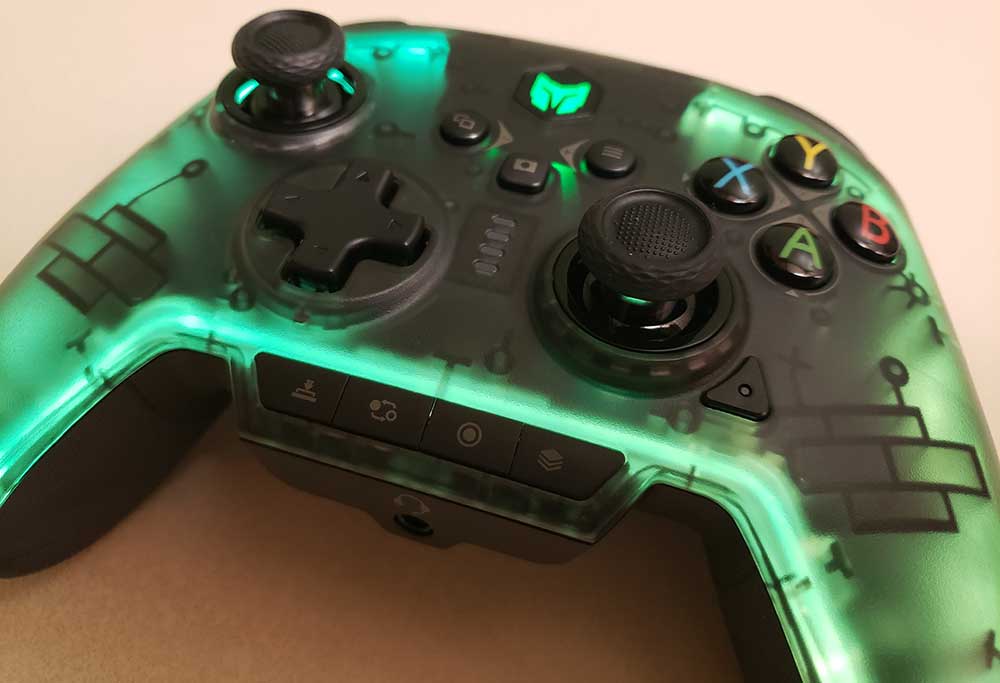 While playing APEX, we found that those millisecond adjustments could be made effortlessly, adding a layer of proficiency to our gaming. As for the custom back buttons and top buttons, they come in handy for Macro and Turbo functions – easy to configure and a joy to use.
Where Hall Effect is used is in the triggers, and they deserve special mention. These provide precise control that we found especially useful in racing games like Forza Horizon 5. They're versatile enough for quick fire in shooting games and nuanced enough for intricate maneuvers in racing games.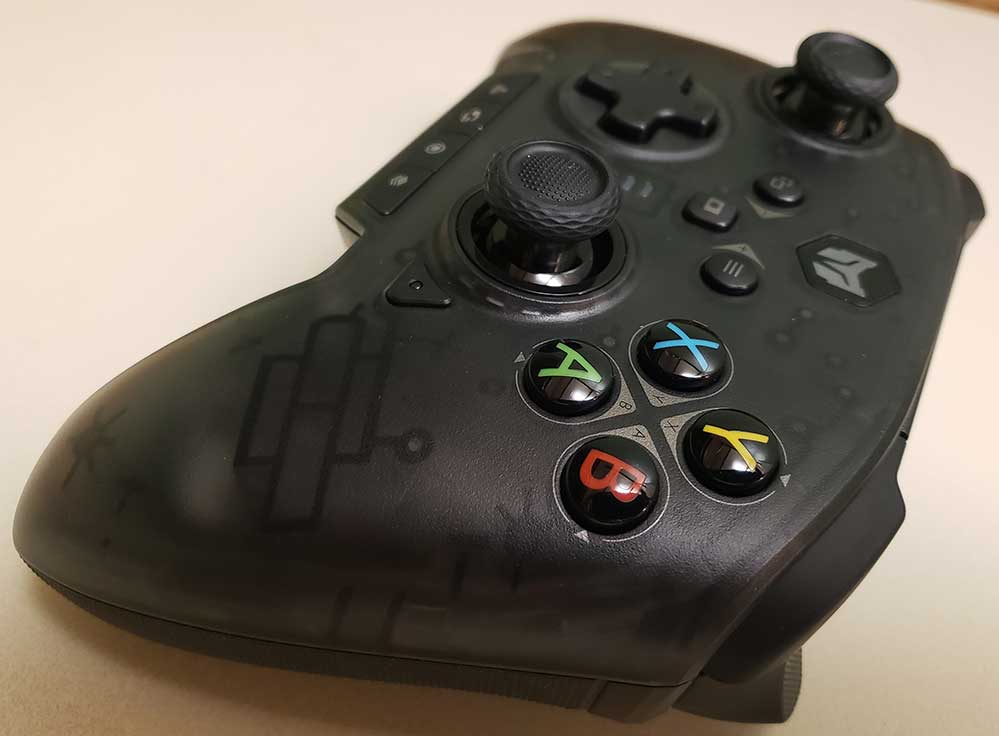 When you're down to the wire in a fast-paced FPS, the last thing you want is a controller that can't keep up. Our hands-on test revealed that the Hall Effect triggers were more than up to the challenge.
They offer what is effectively dual-stage action. For first-person shooters, the short pull is fantastic for quick-fire situations. It's so responsive that it almost feels like an extension of your reflexes. And that's exactly what we want in our game controllers. In racing games, you know that a poorly designed joystick can lead to your car spinning out of control.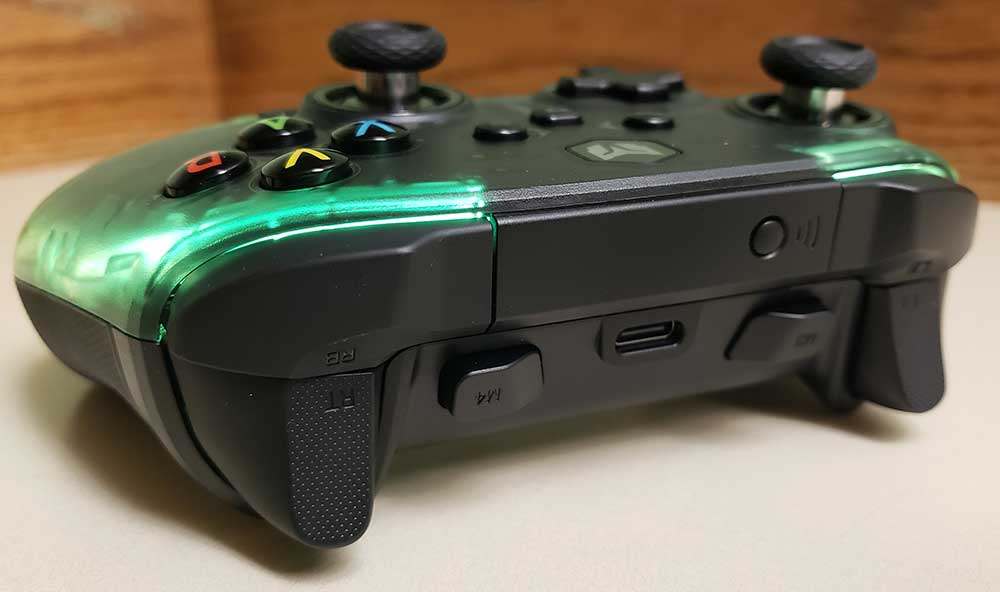 However, with the ALPS joystick, you can pull off turns and drifts with surprising finesse. It's not just the zero deadzone that impressed us; it's the overall feel of control and precision. In addition to the reliable performance, you're also getting based-in longevity that's likely to equate to not having to replace your gamepad any time soon.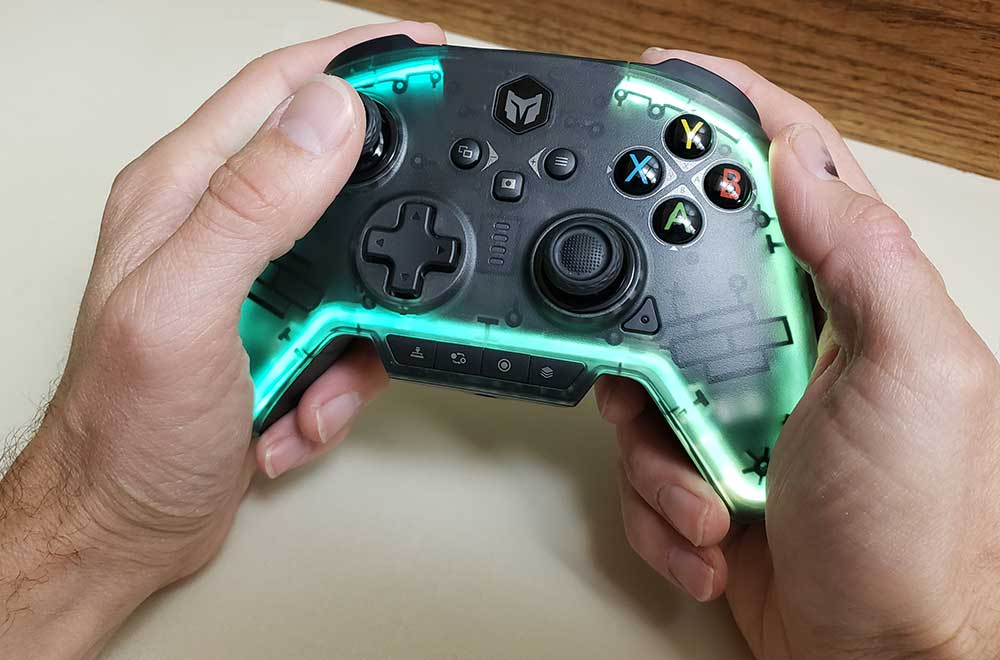 For many gamers, that's going to be the most notable benefit of buying this controller. But just because it's capable of outdoing conventional gamepads doesn't mean it's worth buying. You want something that can hang with leading controllers, and BIGBIG WON doesn't disappoint here. Its Rainbow 2 Pro Wireless Controller delivers, giving you a gamepad that's worthy of your attention.
Connectivity Options
If you're the sort who likes options – and let's be real, who doesn't? – this controller won't disappoint. One of its strong suits is the variety of connectivity options it brings to the table. Let's break it down a bit more.
Wired Connection
For the purists who swear by a direct line to their console, the unit can be connected using a USB cable. The impressive part? A wired connection ramps up the polling rate to 1000Hz.
To put that into context, polling rate refers to how often the controller reports its status to the console. Higher is better, and 1000Hz is as good as it gets. We tested this out extensively, particularly in high-stake multiplayer scenarios, and the results were seamless.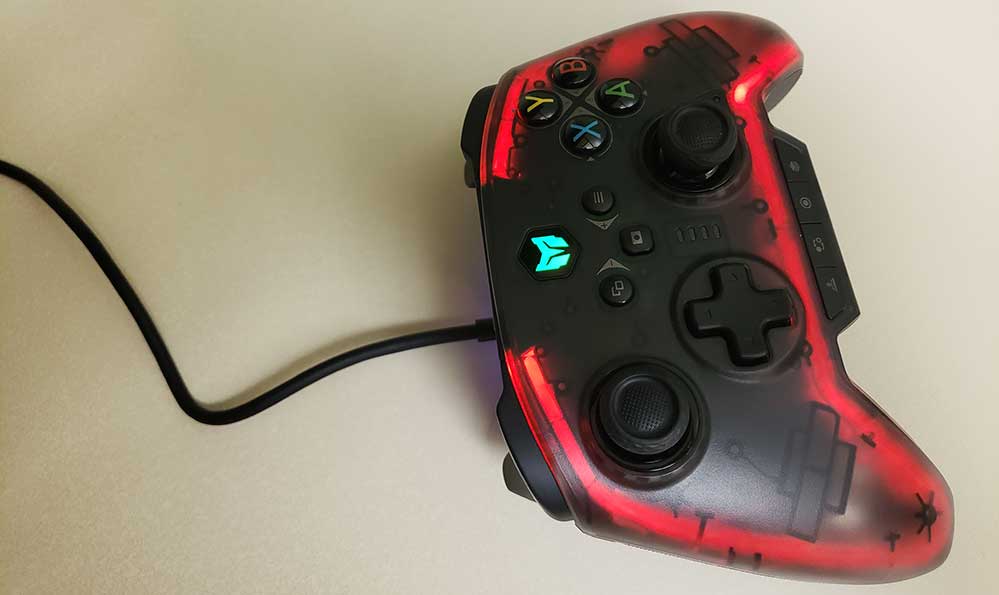 Wireless via 2.4G Dongle
If you want to lounge on your couch away from the screen, you can opt for a 2.4G wireless connection. The dongle is incredibly easy to set up; just plug it into your console, and you're ready to game.
Even with a slightly lower polling rate of 200Hz, the signal remains robust. During our gaming sessions, there were zero hiccups – no sudden disconnects or noticeable lag. The included lithium-polymer batteries provide roughly 16 hours of use on a single charge.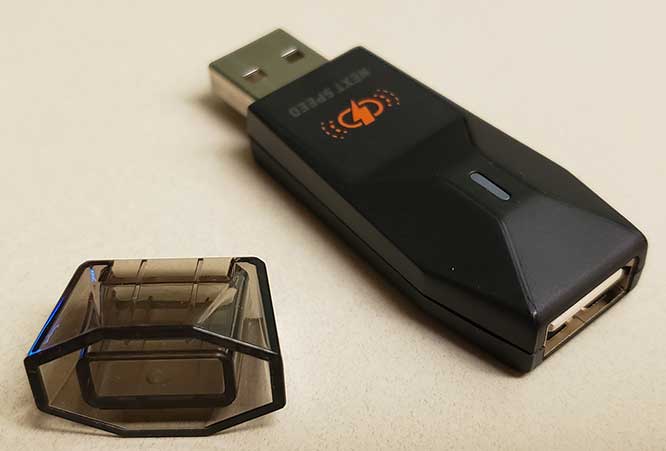 Bluetooth Connectivity
While we didn't spend as much time with the Bluetooth option, it's worth mentioning for its versatility. If you're looking to connect the controller to a mobile device, this is the way to go.
Please note, however, that Bluetooth tends to require the most battery power, so your mileage may vary based on the route you take for wireless play. It's for this reason that we primarily stuck with the dongle. You can expect to get around 12 or so hours of gameplay per charge via Bluetooth.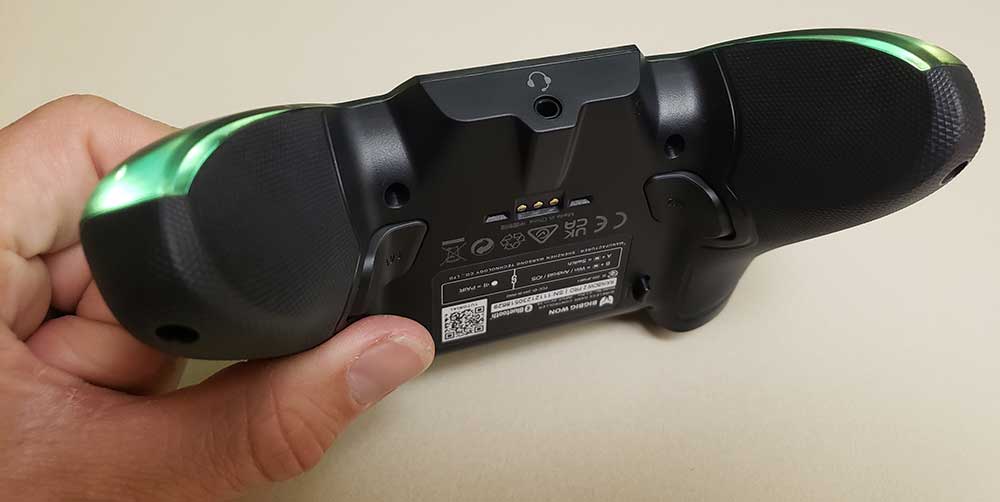 While we're on the topic of connectivity, this controller includes a standard 3.5 mm audio jack that you can use in both wired and wireless modes. It's a welcome addition that isn't always included on controllers. So we're pleased to see it here.
Charging Dock
The inclusion of a charging dock was a nice treat. Simply plug the USB cable into it and rest the controller on it when not in use. This will automatically top-off the internal battery so it's fully powered and ready for action each time you go to use it.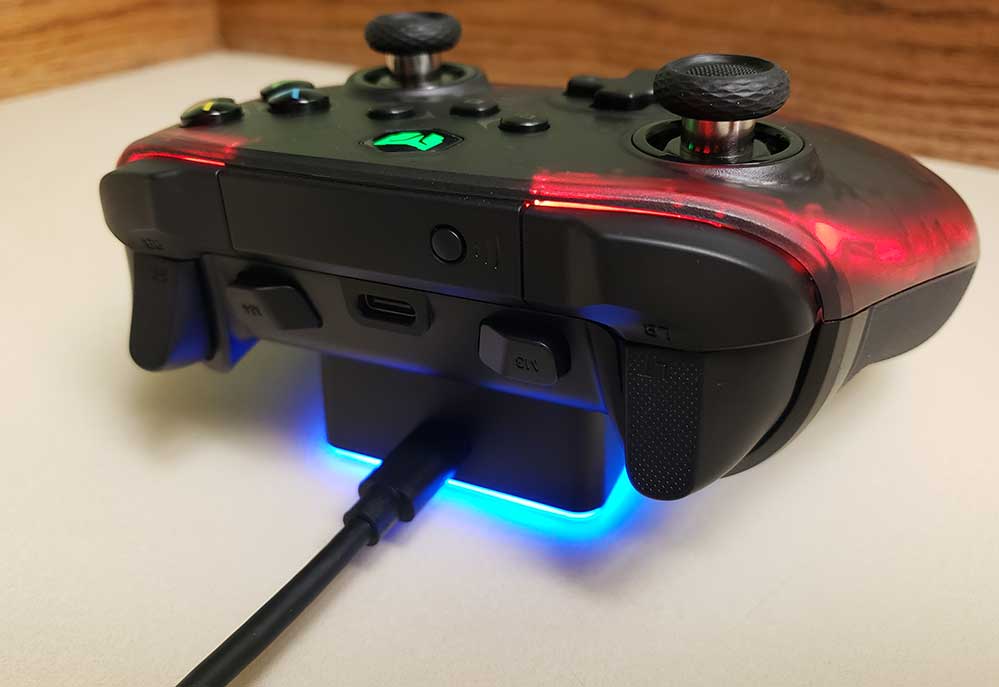 The controller rests nicely on it, but a slight bump may knock it off the contacts. Take note that the controller lights up and "breathes" when you place it on it. This is a clear indicator that the battery is actively being charged up. Speaking of, it takes around 4 hours for a charge from depletion to full capacity.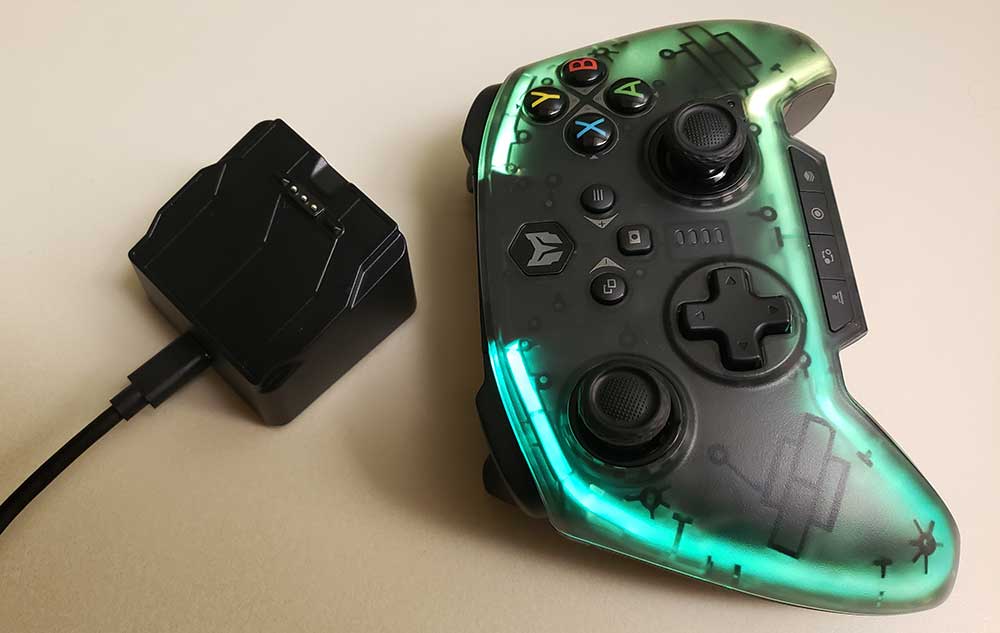 Motion Control
Motion control's actually been around for quite some time now. It made its first appearance all the way back in the late 1970s, courtesy of Sega.
Of course, it's only within the last 15 or 20 years that it's become reliable and enjoyable enough for a fun gaming experience (see the Nintendo Wii, for example). And now that it's here, more companies are incorporating motion control technology in their controllers.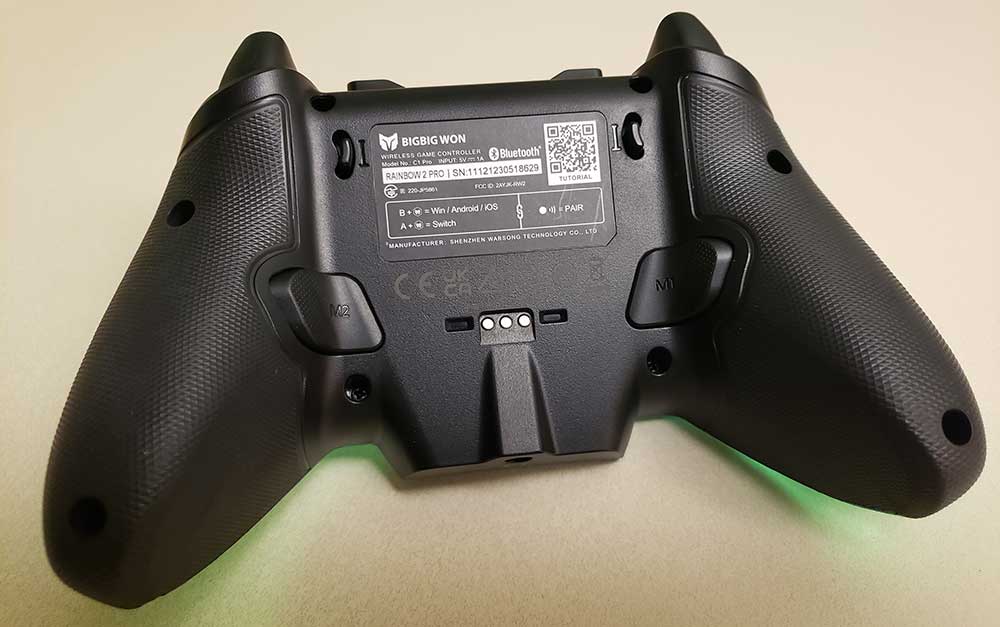 BIGIBIG WON is no exception. It included motion control in the Rainbow 2 Pro, which opens up more gaming possibilities for the consumer. From emulating the aforementioned Wii on your PC to playing games on the Nintendo Switch, you can do it all with motion control. So, how is this made possible? It's all thanks to something called "GYROCON+." GYROCON+ technology takes motion-controlled gaming to a new level on PCs.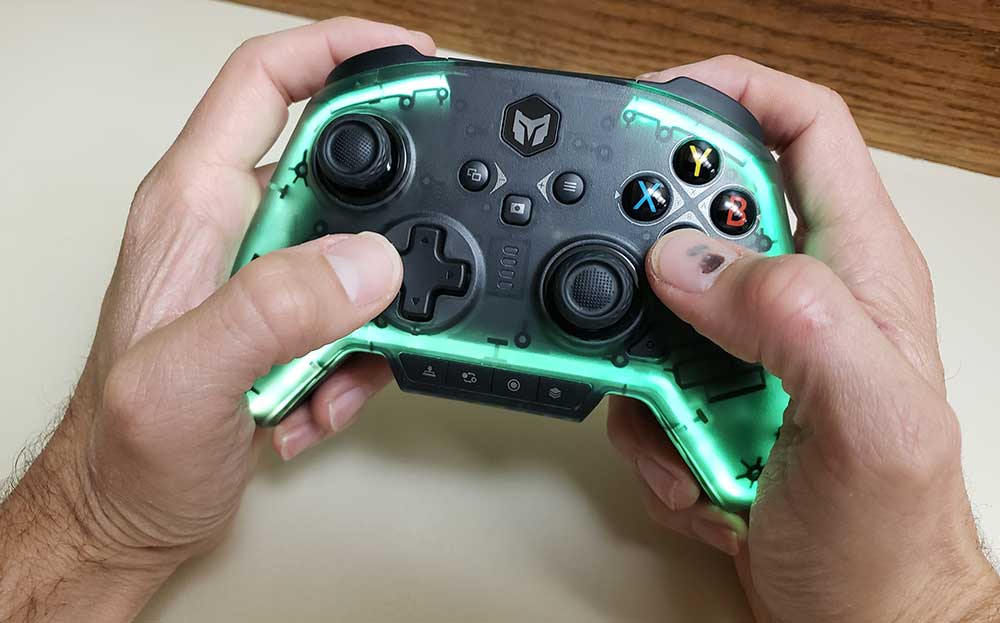 If you're a fan of shooters or any genre that requires quick, on-the-fly aiming, this is a serious game-changer. During our test, we found that the sensitivity and responsiveness of the motion controls were top-notch.
We feel we should mention that while this gamepad does indeed work with the Nintendo Switch, you'll want to make sure that you don't turn on the motion aim feature when playing Switch games. Why? Because your Switch console has that aspect covered all on its own.
We're talking about the kind of accuracy that makes aiming down sights or scopes feel like second nature. Particularly in games where your aim needs to be nothing less than sniper-precise, motion aiming with this controller offers a competitive edge.
We tried it in several FPS titles and found that it offered an extra layer of control that thumbsticks alone couldn't provide. And thanks to its high polling rate, it doesn't skimp on speed or responsiveness. So if you're in a situation where you need to make a snap adjustment to nail that headshot, this controller is up to the task.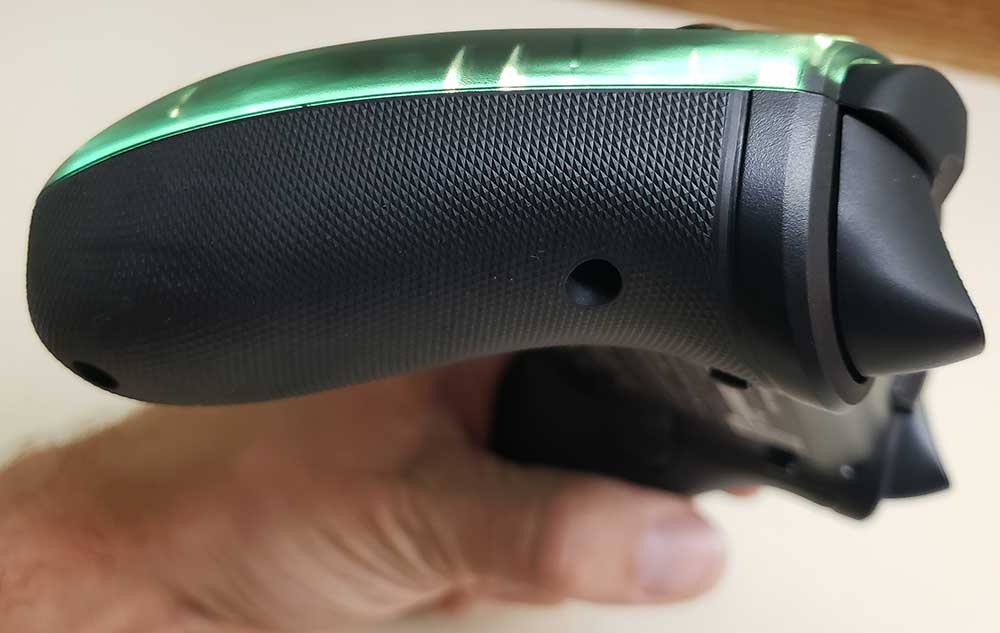 RGB Lighting
If you've always thought of a controller as just a functional piece of hardware, prepare to have your perceptions slightly altered. This unit comes equipped with customizable RGB lighting that you can control via the ELITE App.
Available on both Apple's App Store and Google Play, this app allows you to tailor the RGB lighting to match your gaming setup or mood. Want to go full-on neon rave as you navigate through a game's dystopian future? You can. Prefer a single, cool blue to keep you focused in a strategy game? That's possible, too.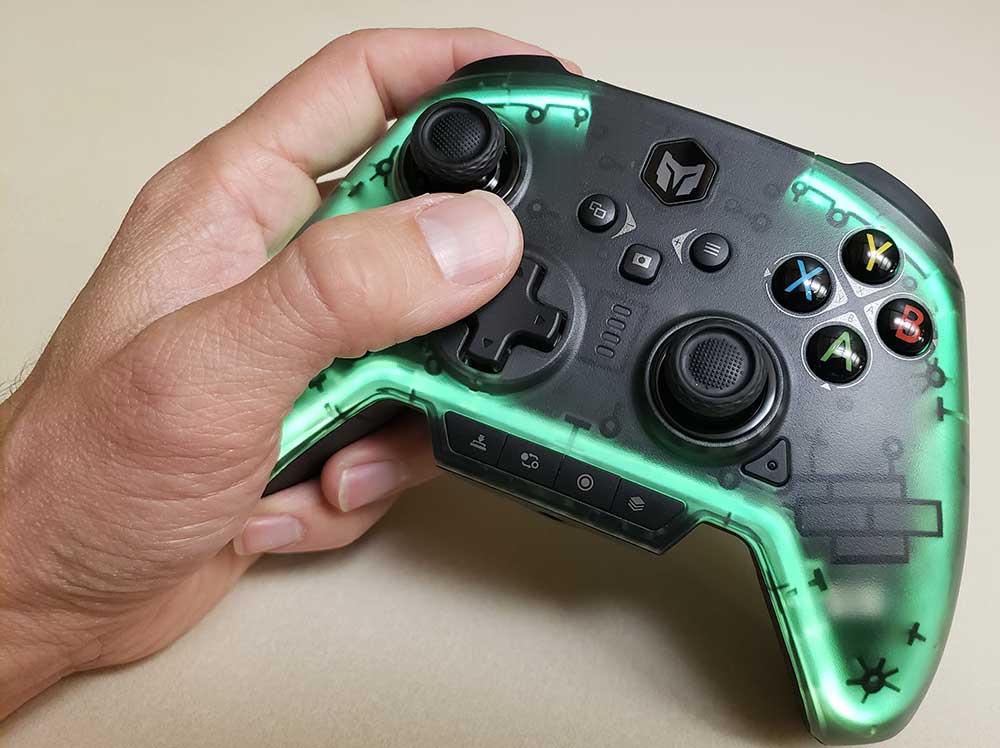 We found the app to be user-friendly, with a range of options to explore. While you might think RGB lighting is solely to make your gaming rig look pretty, think again. Different color schemes can serve to remind you of the active on-board profile (see below).
For example, you could set the controller to glow red when you're in your FPS profile and blue for your RPG settings. In this way, a quick glance down can serve as a visual confirmation that you're in the correct mode for your gaming session.
Four On-board Profiles
The controller comes with four on-board profiles that you can customize to your heart's content, allowing you to save your personalized settings for various types of games. Imagine switching from an FPS to a flight simulator without needing to readjust all your settings – yes, it's that convenient.
As you can see, the RGB lighting on this controller isn't just an extra frill; it's a feature that's both aesthetically pleasing and functionally relevant. Whether you're setting a mood or need a quick visual cue, the customizable lighting options are a welcome addition to a controller that's already brimming with features.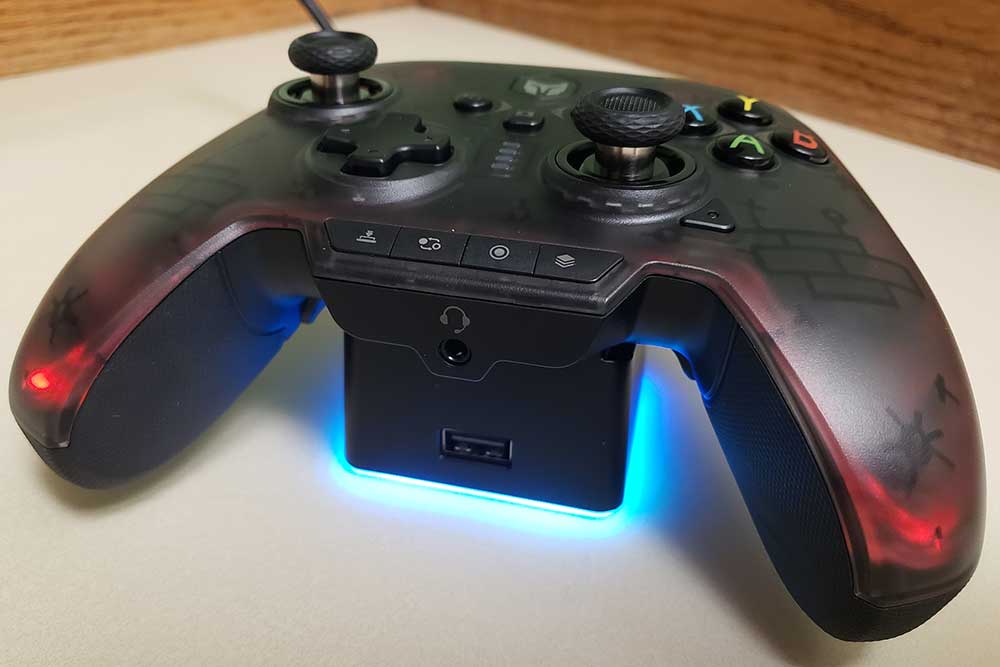 Final Verdict
After putting this controller through the wringer, it's safe to say that it's not just a jack-of-all-trades; it excels at them. With features like GYROCON+ technology for motion controls and customizable RGB lighting, it's well ahead of the curve. Whether you're a casual gamer or a competitive player, this controller offers an array of options to elevate your gaming experience.
Meet Derek, "TechGuru," a 34-year-old technology enthusiast with a deep passion for tech innovations. With extensive experience, he specializes in gaming hardware and software, and has expertise in gadgets, custom PCs, and audio.
Besides writing about tech and reviewing new products, Derek enjoys traveling, hiking, and photography. Committed to keeping up with the latest industry trends, he aims to guide readers in making informed tech decisions.