Haylou W1
Pros
Good sound quality with a nice balance of highs, mids and lows.
Beautiful appearance with a minimalist design.
Stable and accurate wireless transmission.
Acceptable battery life with fast re-charge times.
Call quality is superb with good sound isolation.
Cons
Touch controls can be finicky.
No actual IP water-resistance rating.
No noise cancellation.
Extremely short charging cable.
In this day and age, wireless earbuds are seen as a necessity. The freedom to listen to music without the tangle of wires is something people often take for granted. Over the past few years, we've seen an explosion of new-release true wireless earbuds that seem to promise everything. Pristine sound, incredible battery life and a wide range of enticing features is what all of them try to deliver. However, we've seen some major short-comings and a whole lot of hype around earbuds that are said to have it all.
Truth be told, you don't need to spend an arm and a leg. In our opinion, most budget-friendly options are now just as capable as earbuds that used to cost well over $100. Simply put, technology has advanced and competition has increased, substantially driving prices down. Gone are the days that Apple, Beats or Sony are seen as the one and only choice. Now, you can go on Amazon and find hundreds to choose from; most from no-name or new brands that we aren't typically familiar with.
Take Haylou, for example. They're a lesser-known brand with a new release TWS earbuds that have recently gained quite a bit of popularity. We're talking about the Haylou W1, of course. These true wireless earbuds seem to promise quite a bit on paper. But in reality, how do they actually perform? We were graciously invited to check them out and report back on our findings. Today, we're going to take a closer look at the W1 and put them to the test. We'll go over each feature and ultimately determine if they're worth investing in or passing up.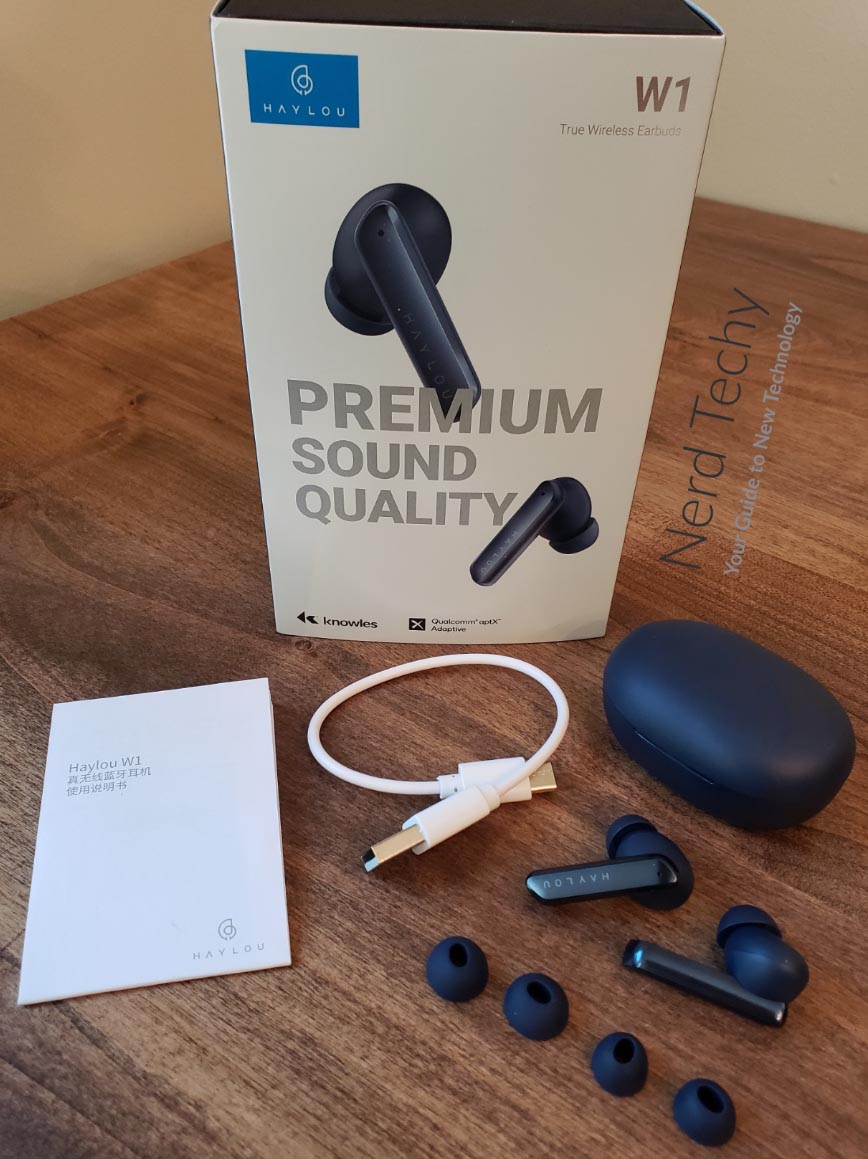 First Look
Available in either a blue or white color scheme, the Haylou W1 TWS Earbuds have a minimalist appearance. Each earbud is designed in a manner that contours to the inside of your ear canal. Protruding from each one is a small stem with "Haylou" written on each side. Paired with their own charging case, the earbuds nest within and trickle-charge whenever you're not using them. Speaking of the charging case, it's quite compact as well. Roughly the size of a medium-sized egg, it has a standard magnetic clamshell design with the Haylou logo on the top lid. On the front are three LEDs that illuminate when the lid opens to clearly indicate the remaining battery life. On the back of the case is a standard USB-C charging port, but nothing more.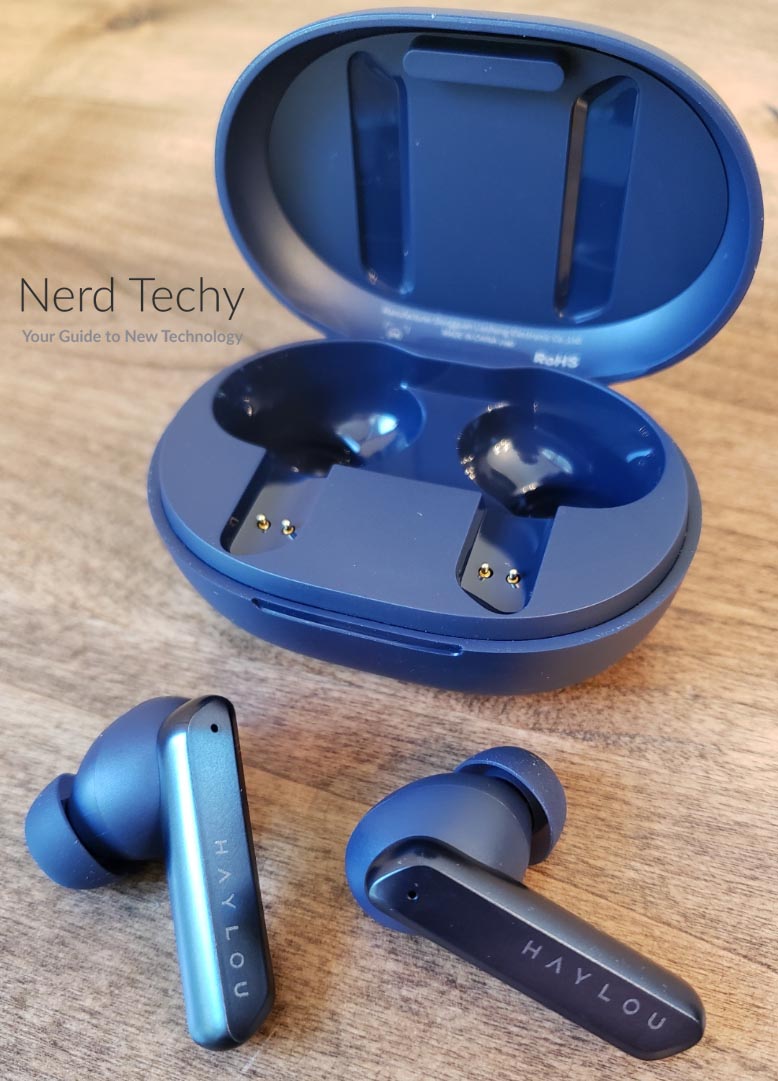 Inside the box, in addition to the earbuds and the charging case are a few notable accessories. They've included a short USB-A to USB-C charging cable along with two additional sets of eartips. These tips are removable and interchangeable for a small, medium or large sized ears. There's also a multi-lingual user guide that helps users learn all of the specifics without the added guesswork.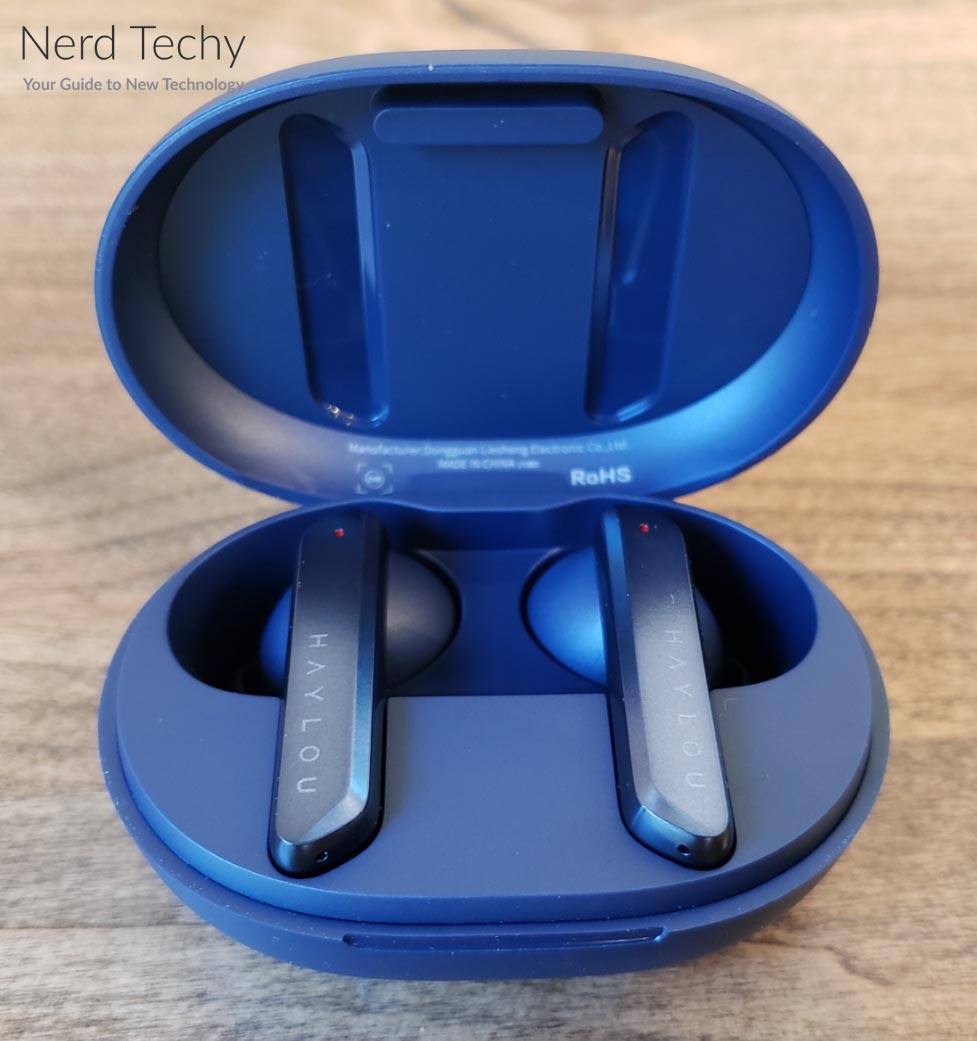 Comfort
The first thing you'll want to do with the Haylou W1 earbuds is achieve a proper fit. First, place the earbuds as they come shipped directly into your ears. The silicone tips that are included are the medium size. If you find that they're too snug, swap them out for the smaller size. Too loose? Move up a size by adding the largest tips. Removing the tips is easy. Simply pinch and pry the existing one and carefully align a new tip to take its place. Once you find the proper size for your specific ears, you'll need to pair them.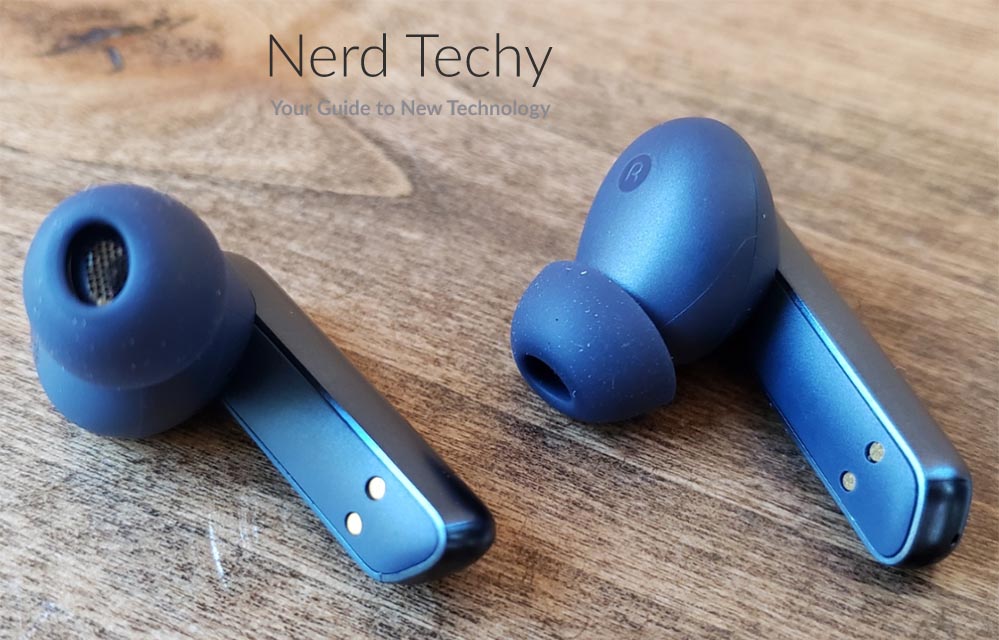 Pairing the W1 earbuds to your smartphone or other Bluetooth-enabled device is easy. Immediately once you remove the earbuds from their charging cradle, they'll go into "pairing" mode. At this time, move over to your smartphone and select "Haylou W1" from the list of available nearby connections. Give it a "tap" and the connection will be established. Best of all, the pairing process only needs to be performed once per device. In the future, when you remove the earbuds from the charger, they'll automatically connect without any manual intervention.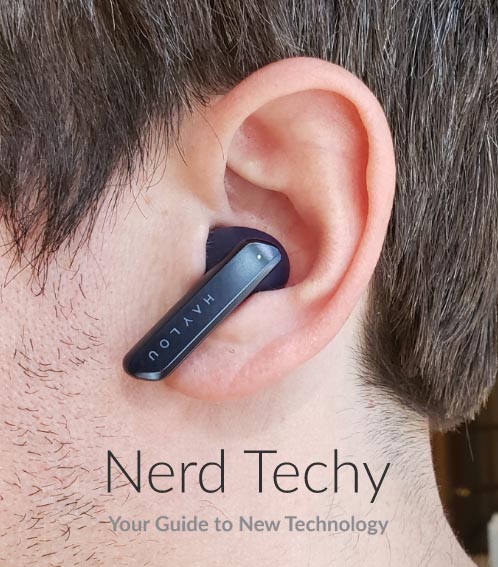 We found the W1 earbuds to be plenty comfortable. We feel that the overall size is slightly smaller than average, meaning their lightweight as a result. As long as you are utilizing the proper tips, the fit shouldn't be an issue. With movement, they should stay in-position and never come loose. Then again, they shouldn't promote any sense of added pressure to your inner-ear. Ultimately, they're snug but never too much, even through long listening sessions.
Sound Quality
On paper, the Haylou W1 have a lot going for them. They utilize a Knowles Balanced Armature Driver along with a 7mm dynamic driver that work in conjunction to provide exceptional sound quality. In addition, Haylou equipped with W1 with a variety of advanced codecs: AAC, SBC and aptX adaptive. Each of these work with Bluetooth 5.2 and the latest Qualcomm 3040 chipset. As a result, this reduces any delay of transmission and assures for lossless audio without lag, distortion or chattiness that can sometimes be apparent in low-end earbuds.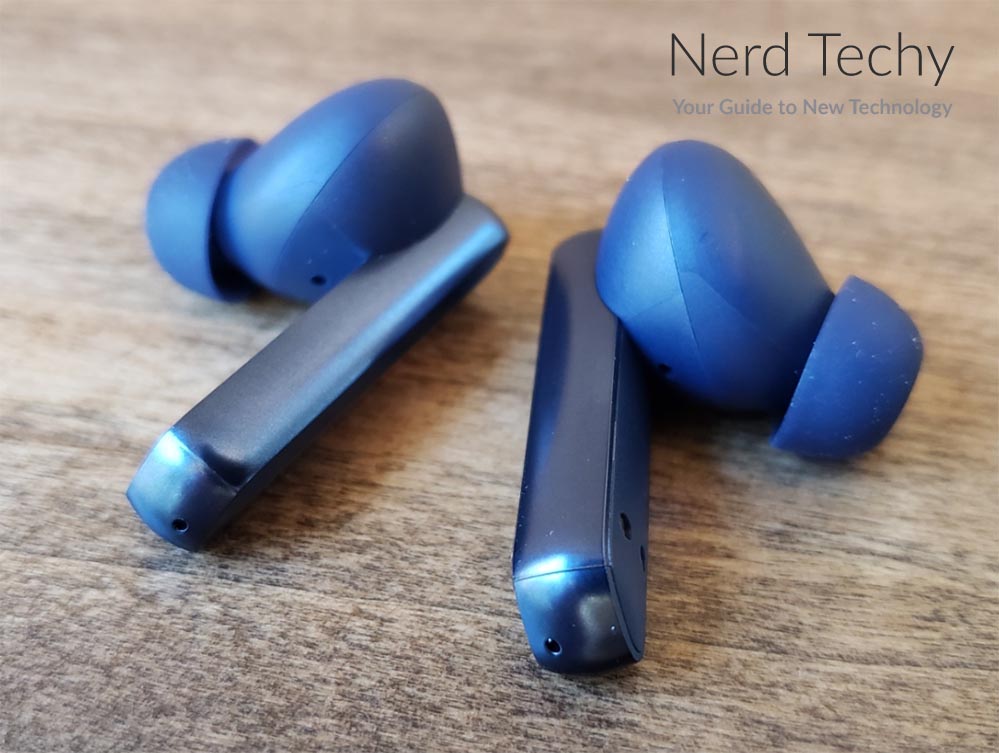 To our pleasure, in reality, the sound quality is fantastic. Especially considering that these are budget-friendly earbuds, we were definitely impressed with the sound they could deliver. Highs come across as crisp and accurate with a properly balanced mid-range and an accurate low-end. That said, vocals come across with a nice amount of clarity with a deep bass that only seems to slightly distort at higher volumes. The bass feels rich and genuine, without crackling or a muddy mixture of sound.
We're not sure if it's the Knowles driver or the 7mm dynamic driver, but the clarity is top-notch. Even with high paced, upbeat music, the only trouble we heard was when we had the volume cranked up to its maximum level. As a result, you could notice a very slight amount of distortion. In reality, we're not sure it would affect much listeners. Truth be told, the W1 earbuds get quite loud! Listening through them at a 60-80% maximum volume brings a much more favorable audio experience. Regardless, in our opinion and experience, the sound quality is superb for the price.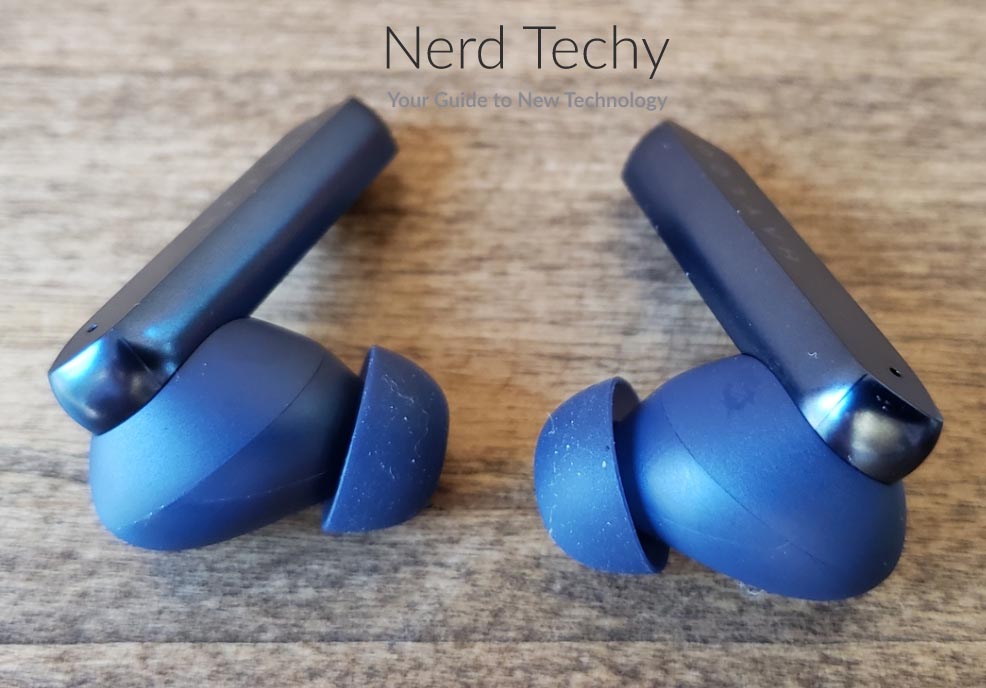 Call Quality
If you look extremely close to the exterior of the W1 earbuds, you'll notice 4 individual microphones among the pair. These work in conjunction with the cVc 8.0 noise cancelling technology to drown-out background noise when you're making or receiving an incoming phone call. cVc works by listening to your surroundings and distinctively cancelling out disruptions in your current environment. It'll listen for noise and emit the exact opposite sound to effectively cancel it out. On paper, it sounds a bit complex. However, in reality, the noise cancelling during calls works very well.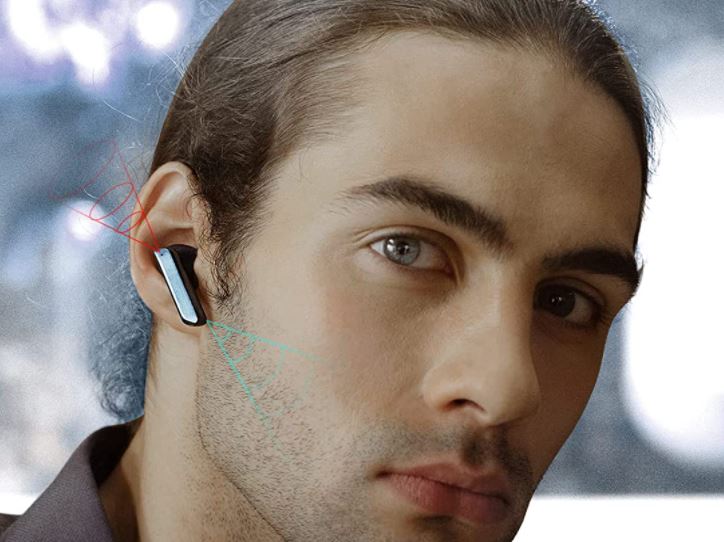 The voice clarity through the Haylou W1 earbuds is favorable as well. The microphones pick up voice without accepting feedback from any other people or subjects physically near you. In fact, the sound quality seems to be the same, whether you're making an outgoing call or receiving an incoming call. Regardless, it's quite important to utilize the proper eartips, as we discussed earlier. Isolating the soundstage with a good seal is the best way to assure quality sound regardless if you're listening to music or talking to someone on the phone.
Battery Life
Haylou advertises a 26 hour battery life with the W1 earbuds. In our opinion, this is a bit deceiving. They estimate the earbuds to work for around 6 hours per charge, with the charging case capable of re-charging the buds 3-4 times before you need to plug-in the USB-C charging cable. However, this is all dependent on the volume you listen at and the style of sound. Music that's bass-heavy or played at an extremely loud level will lessen the estimated battery times by quite a bit.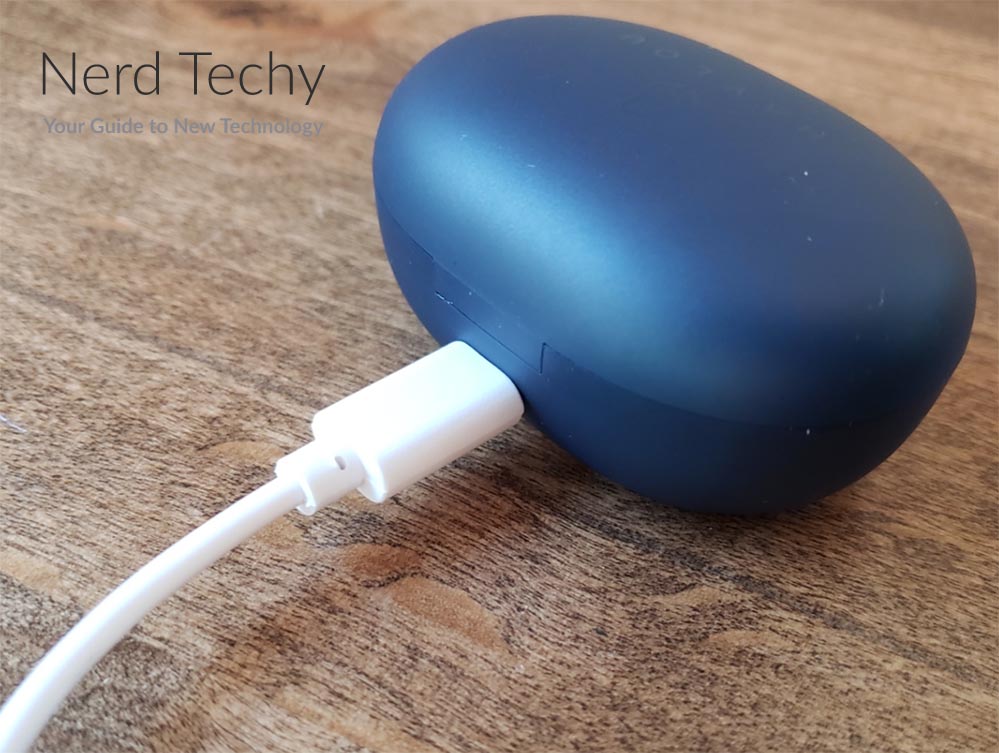 That said, we achieved around 4-5 hours of playtime for the pair of earbuds in more than one instance. In fact, we never experienced over 5 hours of battery life between charge cycles. The case provided almost 4 full re-charges, ultimately meaning we estimate the battery life to be more-like 18-20 hours (if you're lucky). Regardless, 18-20 hours of battery life is sufficient for most situations; just not quite the 26 hours that Haylou tries to advertise.
However, we were quite happy with the re-charge times. Once the charging cases' internal battery is depleted, plugging in the USB-C cable lets you charge it up in around 90 minutes. Additionally, each earbud fully charges in about an hour when placed into their respective charging cradles. All in all, the battery life estimate is slightly off, but the re-charge times are on-point!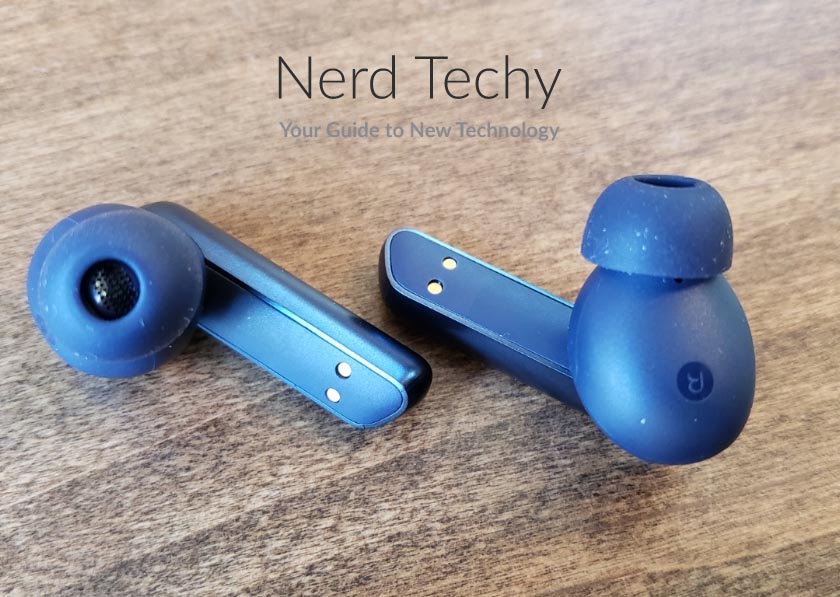 Touch Controls
If you look at the W1 earbuds up-close, you'll notice a lack of buttons or moving parts. Rather, Haylou incorporated "touch controls" into the exterior of each earbud. Through a series of taps, long presses or short presses, users are able to control all the functionality at their fingertips. While it does take a bit of learning to master every control (play, pause, skip track, volume adjust, accept/reject calls, etc.), doing so will open up quite a bit of freedom. Freedom from your phone screen, that is. If you learn the touch controls, you won't ever feel the need to manually adjust your music from your phone's screen. Simply learn the proper series of taps and controlling them is easy.
There's one major downfall to the touch controls, however. Most notably, the touch area is on the exterior of each bud. Because of this, accidently touching the controls can be a real nuisance. Even placing them in your ears or adjusting the way they fit with your fingers can trigger a command you don't necessarily want. If you're careful though, you can actually press them into your ears in a manner than misses any sensitive area. Simply grab the outside edge rather than the flat exterior face. This way, you won't mistakenly mute them, activate siri or skip the track.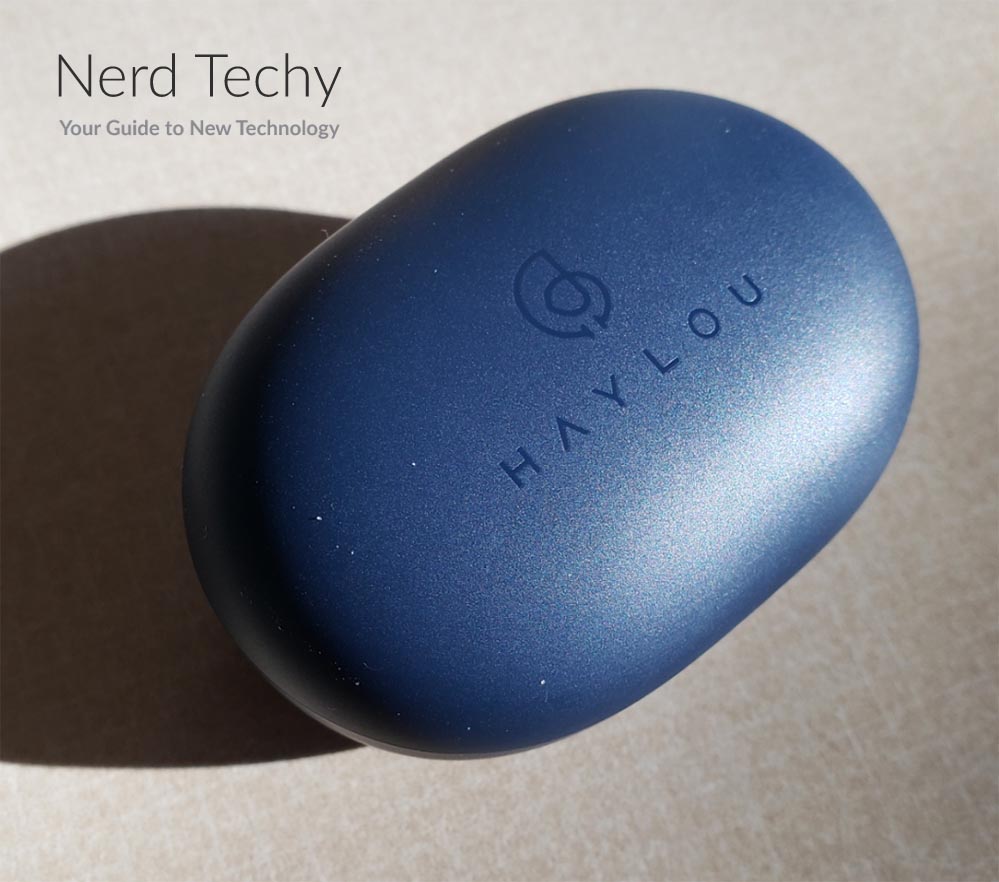 Durability
Taking one close look at the Haylou W1 TWS earbuds and you'll notice that they're sealed up quite well. While Haylou doesn't give the W1 earbuds an actual water resistance rating, they advertise that they are both sweatproof and water resistant. They highly recommend you don't submerge them into any depth of water, but they claim it's perfectly acceptable to get a bit of moisture on them. That being said, bringing them on a run during a rainy day or sweating your butt off at the gym will pose no harm to these earbuds. However, don't go swimming with them, drop them in a puddle or heavily abuse them in a manner that would expose them to any big risks.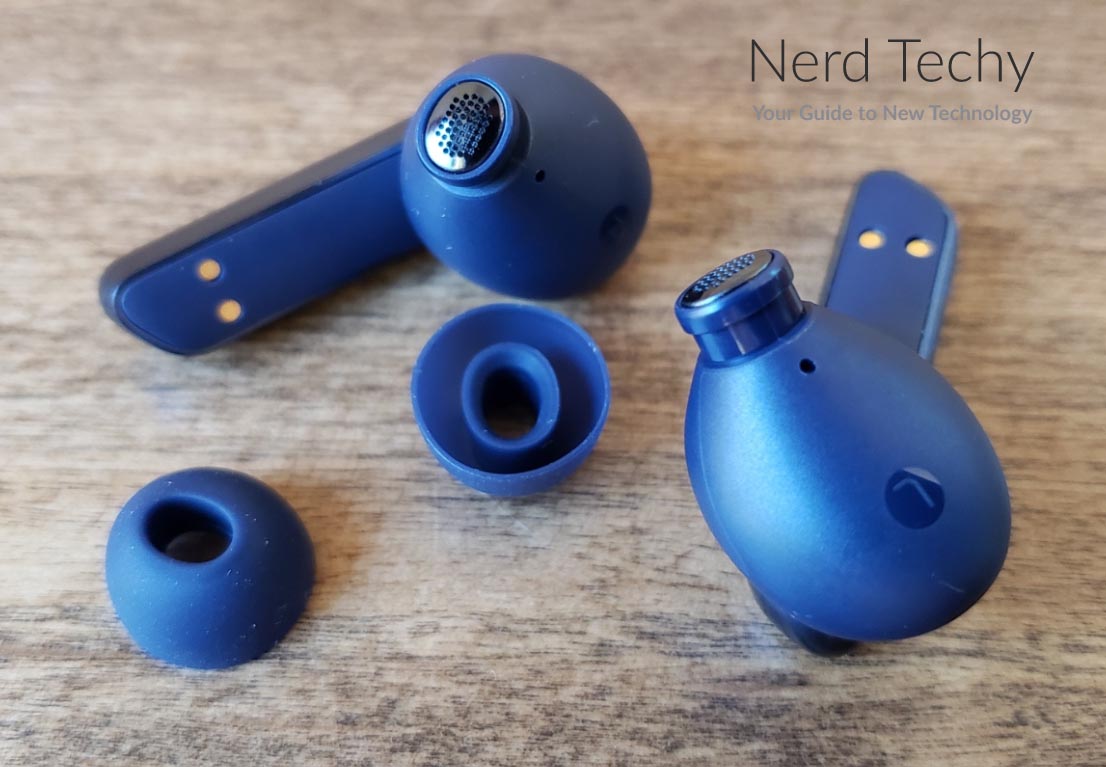 Keep in mind, however, that the case is nowhere near as water-resistant as the actual buds themselves. This is mostly always the case (no pun intended) with earbud charging cases since it's assumed that you'll put them in a dry pocket or simply leave it at home when you go for your workout. There isn't any sort of seal to keep out moisture, so when the earbuds are in use, make sure you place the case in a safe and dry area.
Final Thoughts
As you can see, the Haylou W1 TWS Earbuds have a lot going for them. Available in either white or dark blue, they're an attractive, well-featured pair of earbuds that don't break the bank. For the price, the sound is excellent; with only a slight amount of distortion when cranked up to 100% volume. Although they aren't equipped with active noise cancellation or any truly advanced features, the isolation they provide is exceptional. As long as you achieve a proper fit, the earbuds do a fantastic job at drowning out background noise without any qualms.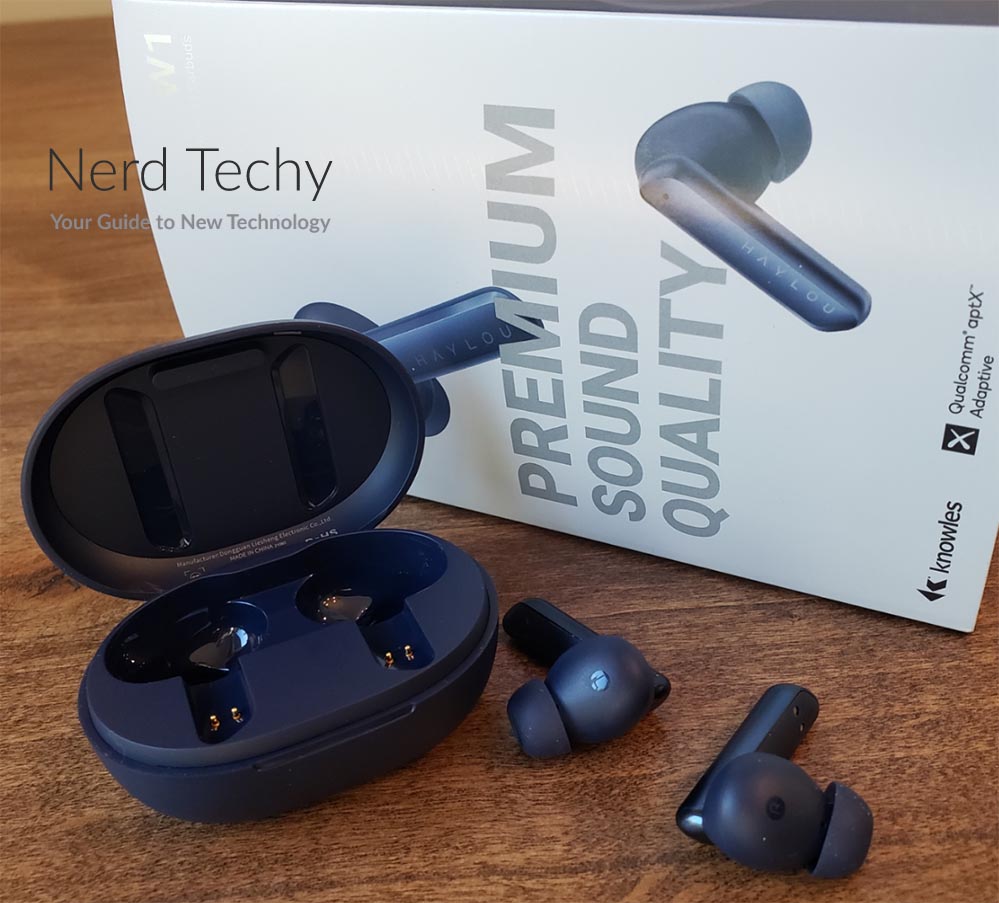 The W1 utilizes the latest Bluetooth 5.2 with a variety of codecs paired to a high-end Knowles and 7mm dynamic driver, the sound profile is favorable. Vocals come across crisp and airy with bass present, but not too overpowering. In addition, call quality is on-point and highly effective at blocking out background noise for clear transmission on both ends of the call.
The touch controls can be a bit finicky, but remember; a little bit of practice and mastering them will open up the door to simply functionality if you choose to memorize all of the touch-functionality. While the battery life is slightly worse than advertised, it's sufficient enough in our opinion.
Overall, the Haylou W1 earbuds are hard to pass at the price they sell for. Retailing for around $40, this is a set of affordable earbuds with many great features most wouldn't expect at this price-point. To conclude, we'd recommend them to virtually anyone who's looking for a capable set of buds that sound great and don't break the bank!