The Xbox Series X/S has been an enormous success. Through 2021, the two new consoles had collectively sold more than 10.3 million units. That's more than any previous Xbox console at this point in its life cycle.
Imagine how many units would have been sold if it hadn't been for supply chain shortages! But now that we're well into 2022, the most dedicated gamers have been able to make the upgrade. Now that you've got your hands on a next-gen Xbox console, it's time to accessorize. You don't just want the basic, factory system. You want a tricked-out system that's got all the customizations you need.
One of the main issues console players deal with is storage capacity. The Xbox Series X ships from the factory with 1TB of storage, while the Series S ships with 528GB. That's a lot of space, but current titles can be pretty big. Call of Duty: Black Ops Cold War takes up over 190GB of space. To be fair, that's an outlier, but next-gen titles promise to get bigger and bigger.
Cyberpunk 2077, for example, takes up 70GB, and Gears 5 takes up 64GB. These three games alone would take up most of a Series S hard drive. Even a Series X will be overtaxed if you want to install dozens of games.
An external SSD can be the perfect solution to your storage needs. With an external drive, you'll be able to install multiple games simultaneously. Once you've set up the drive, you can use it just like your regular drive. In fact, Microsoft anticipated these needs, and partnered with Seagate to make an official expansion.
But there are other alternatives, and we wanted to go over them. In addition to the official expansion, we're about to talk about three other aftermarket alternatives. After that, we'll sum up what we've learned about all four, and deliver our verdict. Let's get right into it!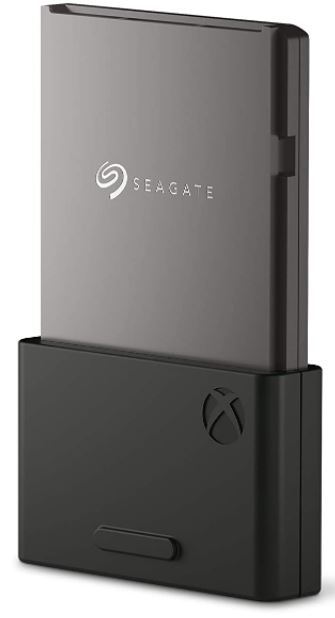 Best Overall: Seagate Storage Expansion Card for Xbox Series X/S
Seagate is one of the world's foremost manufacturers of data storage equipment. Given Seagate's long track record, it makes sense that Microsoft would partner with them.
The Seagate Storage Expansion Card for Xbox Series X/S is the officially-licensed expansion memory. This is a two-tone black-and-grey card that plugs into the back of your console. It's very compact, and it weighs only 2.4 ounces. The black back portion is made from plastic, with little nubs that make it easy to grip. The front, grey portion plugs into the special storage slot on the back of your Xbox console.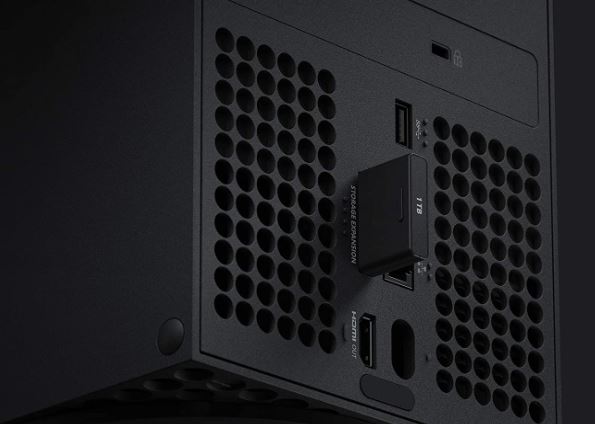 You can order it in two sizes: 1TB and 2TB. Even the smaller one will double the Series X storage capacity. Just keep in mind that this expansion card costs more than the other three SSDs.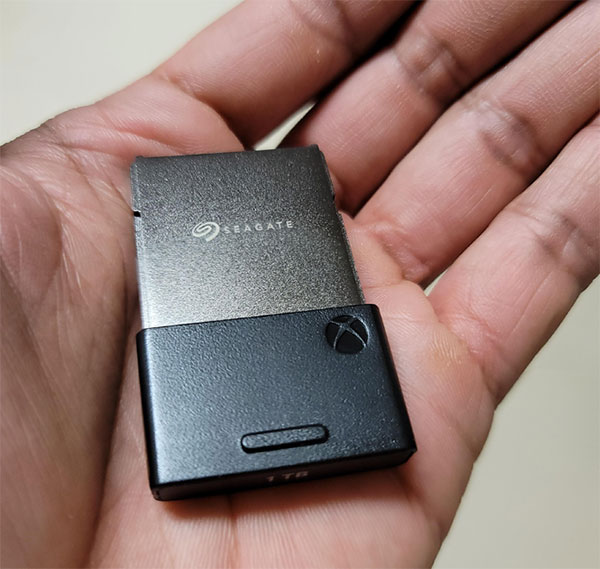 That said, you're getting performance that far outstrips any third-party solution. The proprietary slot was designed by a team of Microsoft and Seagate engineers to maximize transfer rates. When you transfer files or load games from this expansion, there's no latency. It's as if you're working directly with the internal hard drive. Your load times will remain short, and graphics and textures will load normally.
This is simply not possible with a standard SSD drive. That said, because of the proprietary connection, this expansion is only useful with the Series X/S. It can't be plugged into your computer or any other devices.
Pros
The official expansion card for Series X/S.
Compact form factor that matches the style of the console.
Available in 1TB or 2TB capacities.
Fastest transfer rates out of any external SSD.
Cons
Relatively expensive.
Not available in any other colors.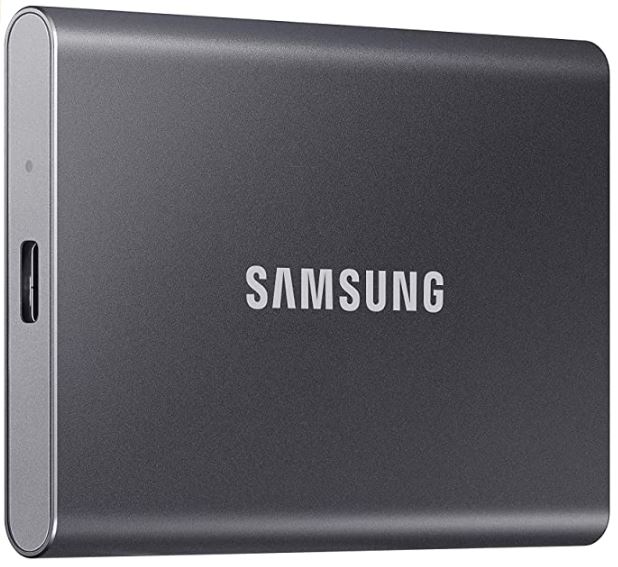 Best Runner-Up: Samsung T7 Portable SSD
Samsung is another huge name in the electronics world, with many high-quality offerings. The Samsung T7 Portable SSD is an exceptionally compact external SSD. It's a long, flattened oval, measuring less than ½-inch thick. And at 2 inches wide and 3 inches long, it can fit just about anywhere.
The housing has a smooth, matte finish that's easy to keep clean and clear of fingerprints. It's available in three colors: grey, blue, or red. It's up to you whether you prefer a more understated grey, or a bolder, more colorful look.

This drive is also available in three different capacities: 500GB, 1TB, and 2TB. They have a maximum write speed of 1,000MB/s, so you can transfer files quickly from your main drive. Beyond that, you get read speeds of 1,050MB/s. That's fast enough for reasonably short loading times in most games. You also don't have to worry about a lot of graphic pop-in or other issues. It works very well in the vast majority if situations, and connects via a high-speed USB cable. The USB Type-C to Type-A cable in the kit is only a few inches long, though, so it can be a pain to set up.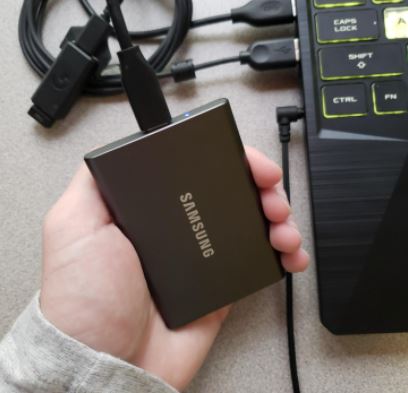 As you might expect from such a major manufacturer, Samsung has built advanced thermal controls into the drive. This keeps you safe from damage, but it can throttle your speeds sometimes if the drive is hot. The best solution is to use the companion PC software to update your firmware before you set it up. This will ensure that the system works at maximum efficiency.
Pros
Relatively affordable.
Uses USB-C Gen 3.2 for wide compatibility with other devices, not just Xbox.
Available in 500GB, 1TB or 2TB capacities.
Comes in a multitude of color choices.
Built-in thermal controls keep it operating cool.
Cons
Not specifically designed for Xbox, but works.
USB transfer cable is somewhat short.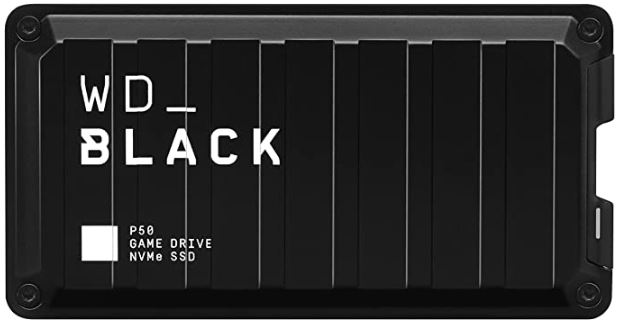 Best Alternative: WD BLACK P50 Game Drive
The WD BLACK P50 Game Drive is a bit chunkier than the last one, at 2.43 inches wide, 4.65 inches long, and 0.54-inch thick. This is in large part due to the rugged design, which is designed to be tough and shock-proof.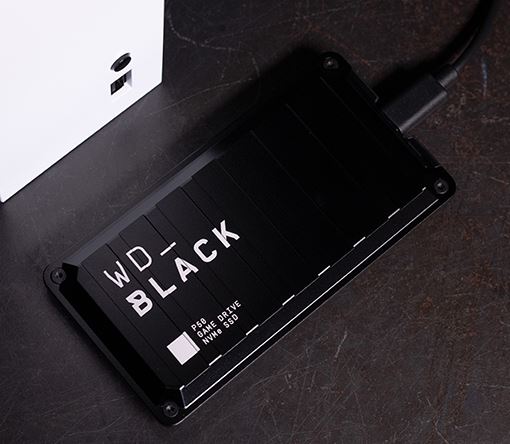 It's constructed from blacked-out aluminum, with a ridged top and bottom, and screws at the corners. The words "WD_BLACK" are printed on top in large, block white print, along with the model number. There are also screws visible at the corners, although they won't protrude and snag on anything. Not that that's much of a concern, since it will mostly be sitting behind your Xbox console.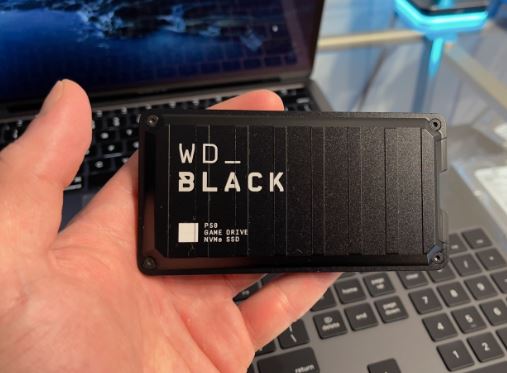 This SSD comes with a USB Type-C to Type-A cable for connecting to your computer. Using the appropriate cable, it's capable of read speeds as high as 2,000MB/s. That's as close as you'll get to the Seagate's performance with this generation's technology.
You'll get exceptionally fast load speeds, almost as good as the internal drive. As for storage space, you'll have plenty of selection. There are 500GB, 1TB, and 2TB sizes, along with an extra-high-capacity 4TB version.
Pros
Specifically designed for gaming.
Ultra-thin form-factor.
Uses USB-C Gen 3.2 for wide compatibility with other devices, not just Xbox.
Available in 500GB, 1TB, 2TB or 4TB capacities.
Cons
Only available in black.
A bit more expensive than other offerings.
Not specifically designed for Xbox, but works.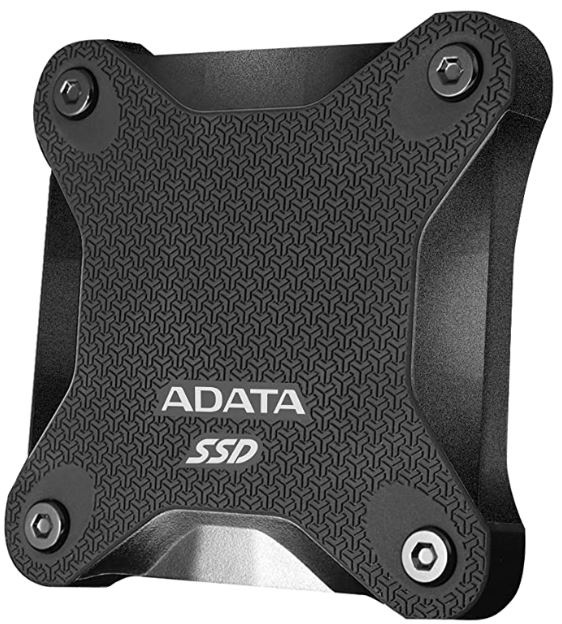 ADATA SD600Q Portable External SSD
The ADATA SD600Q Portable External SSD has the most unique build of the bunch. Instead of being any kind of regular shape, it's roughly rectangular, but with an X-shaped base and faceplate.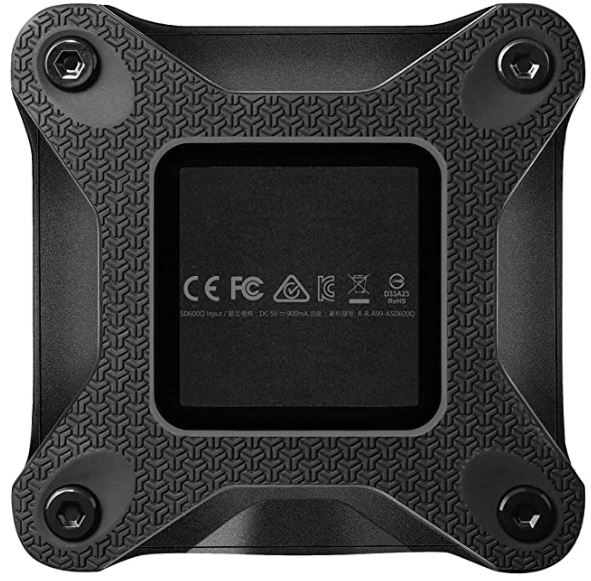 This gives it a quirky form factor, and it has fun coloring to match. The main housing is always black, and you can order an all-black drive if you want to. However, you can also order it with red or blue face and back plates. It seems pretty rugged, and it's also quite portable. The total size is only 3.5 inches to a side, and 0.6-inch thick. At 4.2 ounces, it's lightweight enough to carry around in your pocket.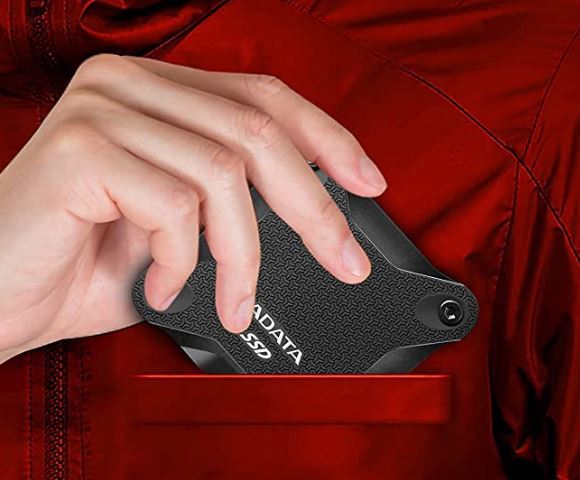 Unfortunately, this SSD suffers when it comes to speed. The maximum read speed is only 440MB/s, and the write speed tops out at 430Mb/s. That's not very fast when you're in-game. In games with a lot of textures and graphical assets, you'll see some pop-in and occasional stuttering. Load times will also be adversely affected. Then again, it's a robust drive with a three-year warranty. If you travel a lot with your Xbox, it could be a good choice. As for capacity, you have your choice of 240GB, 480GB, and 960GB.
Pros
Relatively compact form-factor with a durable design.
Available in smaller capacities of 240GB, 480GB or 960GB.
Relatively inexpensive.
Available in three colors; red, blue or black.
Cons
Relatively slow transfer speeds, especially when compared to similar options.
Not specifically designed for Xbox, but works.
How to Add External Storage to Your Xbox Series X/S
Before we begin, we should mention that most SSD drives need to be set up correctly first. For copyright protection reasons, Microsoft uses a special format to save actual game files. With an ordinary SSD drive, you'll be able to play music, watch videos, and transfer other media files. But to actually install games to the drive, you'll need to set it up. Note that this is not necessary for the official Seagate drive, which comes pre-formatted for the Xbox. Thankfully, the setup process is pretty straightforward.
Getting Started
First, start up your system, either with the controller and the button on the console. Wait for it to wake up, or to fully boot up if you have power saving mode enabled. When the main Xbox menu appears, plug your SSD into one of the USB ports. At this point, a menu will appear, asking if you want to access the device or format it. Choose the option to format.
Name Your SSD
You'll then be prompted to name your SSD. Type in anything you want, as long as it's something you'll recognize later. "Series S SSD" or "Series X SSD" are always solid choices. After that, the console will ask you if you want to install games to the drive by default. Whether or not you want to do this is up to you.
Choose Default Drive
Your SSD won't read as quickly as the internal drive, so you may not want it to be your primary option. It will certainly have longer load times, for example. A lot of people will use one as a backup drive for games they don't play as often. Alternatively, your main drive might be packed with drives you play all the time. In that case, you can set the external drive as your default for new installs. You can always change this later in your settings.
Format Storage Device
After you've chosen your default drive for installation, the Xbox will ask you to confirm the formatting process. Select "Format Storage Device," and your SSD will be formatted in just a few minutes. Keep in mind that this will erase anything that's already on the drive. If you've already used the drive for anything, make sure to back up your data. Once the formatting is complete, you're all ready to go. Get back into the game, and enjoy your newly-expanded Xbox!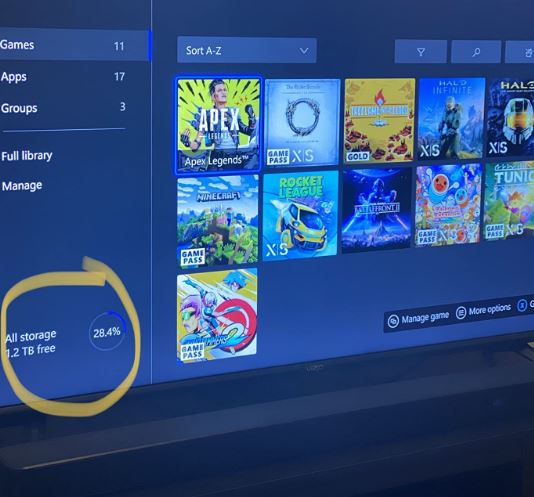 Which External SSD for Xbox Series X/S is Best?
As you can see, all four of these external SSDs have a lot of value to offer. But which one is the best one for you? Let's recap what we've discussed.
We started out our list with the Seagate Storage Expansion Card for Xbox Series X/S. This is the official expansion card, and it's undeniably the fastest. With near-zero latency and blazing fast read-write speeds, it's as good as your internal hard drive. It's also available with up to 2TB of capacity, which is considerable. Then again, it's expensive, and the proprietary connection means it can only be used with your Xbox.
The Samsung T7 Portable SSD is another very well-engineered SSD. With data transfer speeds of over 1,000Mbps, you can load large save and texture files quickly. The compact design also makes it easy to conceal behind your console. It's not as fast as the Seagate, but it gets the job done at a much more reasonable price.
Other than the Seagate, the WD BLACK P50 Game Drive has the highest data transfer speeds. With up to 2,000MB/s of loading speed, you'll barely notice the difference between it and the internal drive. Not only that, but you can order it in capacities as large as 4TB. Even the most devoted Game Pass addicts will have more than enough storage space with this drive.
The ADATA SD600Q Portable External SSD has a slower read/write speed than the others. As a result, it's better for storing games you don't play quite as often. It's also great for travel, thanks to a chunky, durable case that nonetheless fits in your pocket.
Meet Derek, "TechGuru," a 34-year-old technology enthusiast with a deep passion for tech innovations. With extensive experience, he specializes in gaming hardware and software, and has expertise in gadgets, custom PCs, and audio.
Besides writing about tech and reviewing new products, Derek enjoys traveling, hiking, and photography. Committed to keeping up with the latest industry trends, he aims to guide readers in making informed tech decisions.