When you think of new technology, candles probably don't come to mind. They're a decidedly old technology, right up there with the wheel or the sail. It's true that old-school beeswax and paraffin candles are still popular. There's a certain charm that comes from a flickering flame. On the downside, traditional candles can present a fire hazard.
An LED candle is the perfect combination of nostalgia and safety. They can also do things that traditional candles can't do. For example, you might be able to adjust the brightness or set the light on a timer. Not only that, but they don't burn down and need to be replaced. You just need to change some batteries every now and then.
Today, we'll be reviewing five of the best battery-powered flameless pillar candles. If you're just looking for a quick overview, here are the basics:
Of course, there's a lot more to learn about each of these candles. Let's dig a little deeper, and see what we come up with!
Vinkor Battery Operated Pillar Candles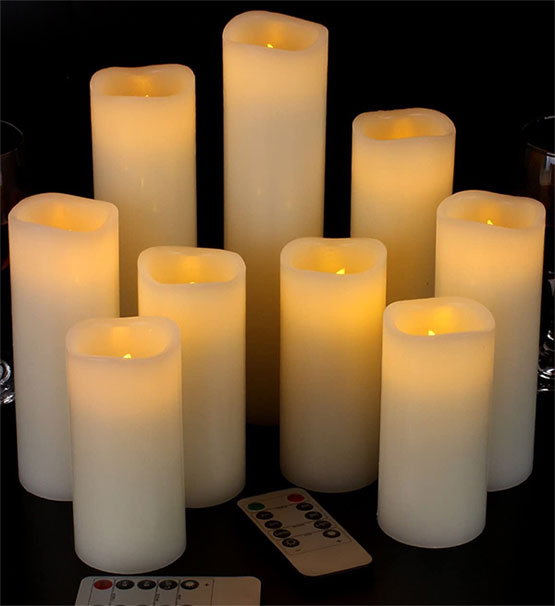 Key features:
9-pack of candles in various sizes.
Real wax construction.
Available in white or burgundy.
Remote with timer function and brightness adjustment.
The Vinkor Flameless Pillar Candles are made from real wax. This makes them look more authentic than plastic candles, which catch the light differently than wax does. Furthermore, the tops look like they've melted away, leaving a hollow recess for the flame. From the side, the flame shines through the wax, and you can't tell it's not real. The only drawback is that if you leave the candle on a warm surface, it can leave a waxy residue behind.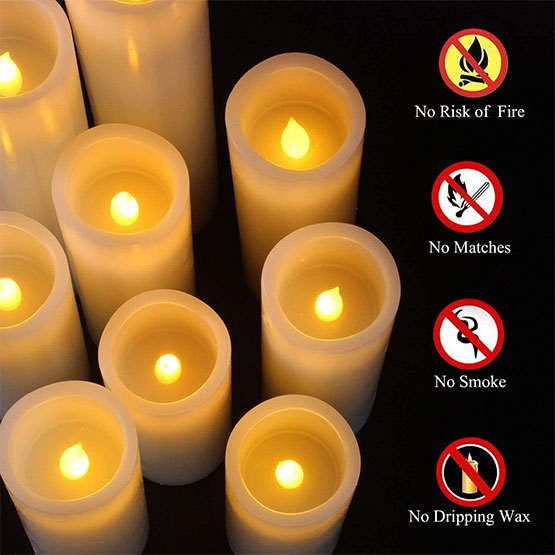 You have the choice of two different colors: ivory or burgundy. Both ship in a nine-pack, with two candles each in 4", 5", and 6" lengths, and one each in 7", 8" and 9". All sizes measure 2.2" in diameter. This creates the illusion that some of the candles are more heavily-used than the others. If you don't need that many, you can order a pair of 6" ivory candles.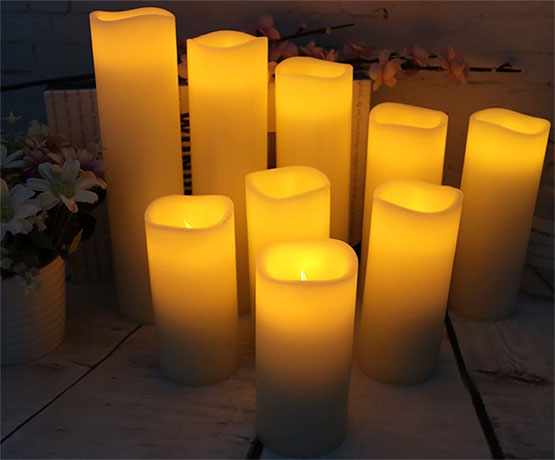 Along with the candles, you get a small handheld remote. It's the flat kind that's powered by a watch battery, and has 10 small domed buttons. The two at the front are a straightforward on/off toggle. Next, there's a grid of four buttons that can be used to set a 2-, 4-, 6-, or 8-hour timer. The timer runs on a 24-hour cycle. So if you set a 2-hour timer at 8PM, it will turn off at 10PM. Then it will turn back on at 8PM the next day.
Additional buttons allow you to switch the bulb from flickering to steady mode. Flickering is far more realistic if you're trying to simulate a real candle. But a steady glow can be better if you want less distracting accent lighting. You can also adjust the brightness. An alternative version of the kit includes a second remote for a few extra dollars.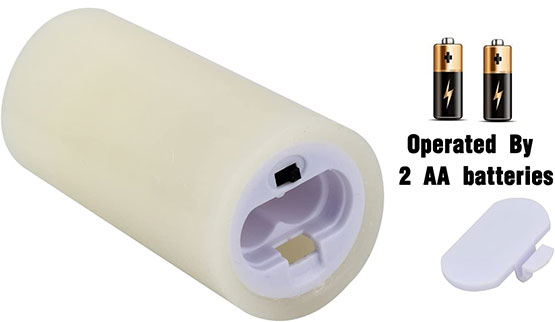 Each candle takes a pair of AA batteries, which fit into the base of the candle. Next to the battery cover is a simple on/off switch. Unfortunately, the battery life is fairly short – they can run dry in less than a week depending on use. On the plus side, the LEDs themselves are rated for 50,000 hours.
What we liked:
Beautiful real wax design.
Assorted candle sizes.
Works in flicker and steady mode.
Fully functional remote.
What we didn't like:
Short battery life.
Can leave behind a wax residue.
Fo32won Amber LED Flameless Pillar Candles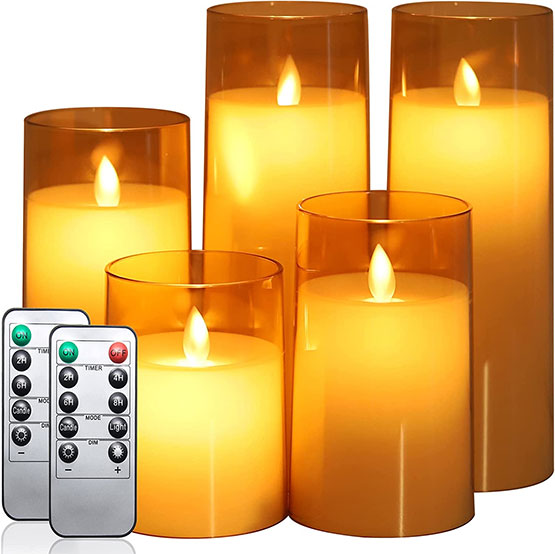 Key features:
5-pack of candles in various sizes.
Plastic candles in tinted acrylic jars.
Three color options.
Includes 2 remotes.
The Fo32won Amber LED Flameless Pillar Candles are designed like traditional jar candles. The candles themselves are white plastic barrels, but they sit inside acrylic jars with smooth sides. We reviewed the amber version in particular, but Fo32won also sells grey and plain white versions. The package includes five candles in four different heights. All are 3 inches in diameter, with one each at 4, 5, or 6 inches tall, and a pair of 8-inch candles. All have a soft white flickering flame, which changes color depending on the jar color.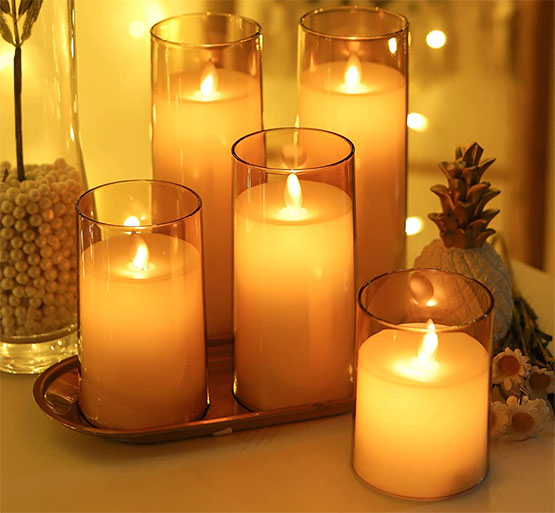 Along with the candles, you get a pair of small, flat remotes. The remotes can turn individual on or off, change the flame to steady or flickering mode, and adjust the brightness. There's also a 2-, 4-, 6-, or 8-hour timer mode that runs on a 24-hour cycle. If you don't need two remotes, there's a plain white option with a single remote.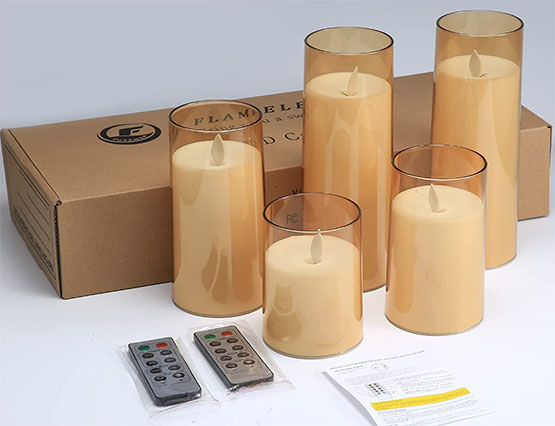 Each candle runs on a pair of AA batteries. Assuming they're good quality batteries, you should get around two weeks of use out of them. Moreover, the LED is rated for 50,000 hours, enough for years of constant operation.
If you want a taller, narrower candle for your windowsill, there are other options. Check out our list of the best LED window candles for inspiration. They're specifically built for windows, and stay in place very easily.
What we liked:
Assorted height levels.
Old-school tinted glass design.
Works in flicker or steady mode.
Comes with two remotes.
What we didn't like:
Flame looks a bit fake.
Remote only works well at close range.
NONNO & ZGF Waterproof Flameless Battery LED Pillar Candles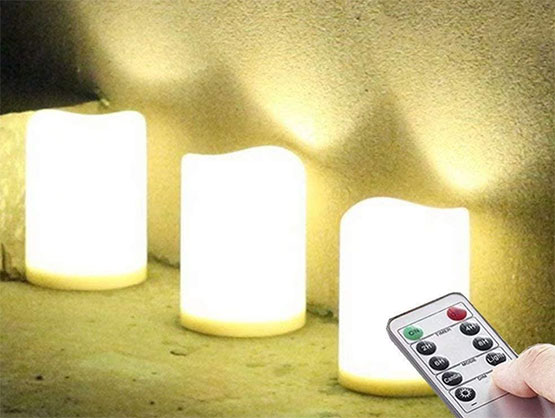 Key features:
3-pack of candles with multiple size options.
Resin construction.
Water-resistant design.
Includes a fully-functional remote.
The NONNO & ZGF Waterproof LED Pillar Candles are made out of white resin. This material looks almost exactly like real wax, with a recess "melted" into the top. The flame sits inside this recess, and glows through the sides of the candle. When it's flickering, it looks very convincing.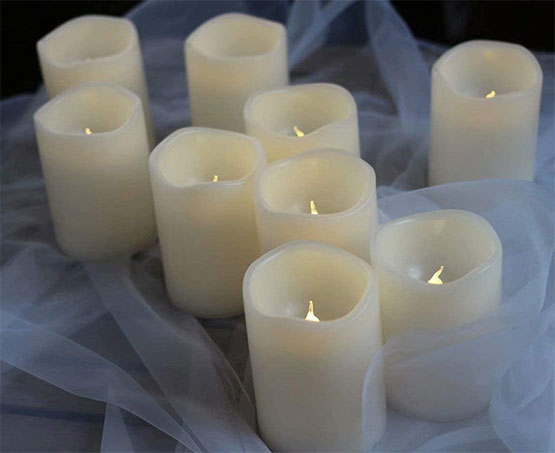 These candles come in a 3-pack. They come in six different sizes: 3"x4", 3"x5", 3"x6", 4"x6", 4"x8", and 4"x10". They're also IP44-rated for weather-resistance. You can't immerse them in water or anything. But if you want to use your candles outdoors, you don't have to worry about rain or dust. There's even a draining slot in the bottom of the recess that discreetly keeps water from pooling in the top.
As with the last two candle kits, this one comes with a remote. It has similar functions including flicker and steady modes and a brightness adjustment function. However, the timer function doesn't automatically cycle every 24 hours. The LED will stay lit while the timer is active, then turn off and remain off until it's turned on again.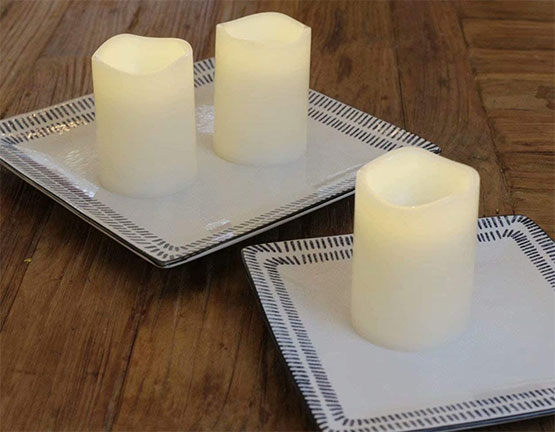 Each candle takes three AAA batteries. Depending on how long you run them, they'll last for around 7 days. You can save battery life by switching off the candles using the switch at the base.
What we liked:
Weather-resistant construction.
Realistic resin build.
Includes a handheld remote.
Multiple size options.
What we didn't like:
Timer does not automatically cycle.
Short battery life.
Luminara Moving Flame Flameless LED Pillar Candle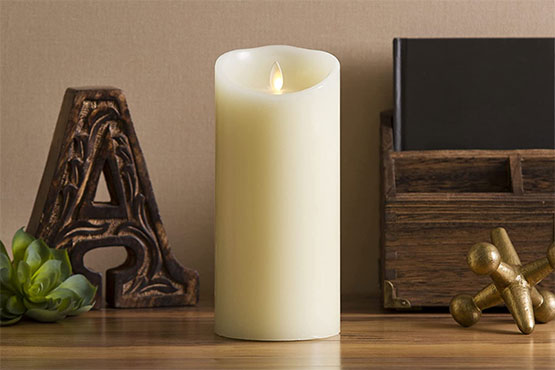 Key features:
Single candle.
Paraffin wax build.
Two size options.
The Luminara Moving Flame LED Candle is crafted from hand-poured paraffin wax. It looks like a real candle because it is – with the exception of the LED flame. The flame is more realistic than most, though, with an attractive flickering pattern. This is enhanced by the look of the top of the candle, which appears to have melted away on one side.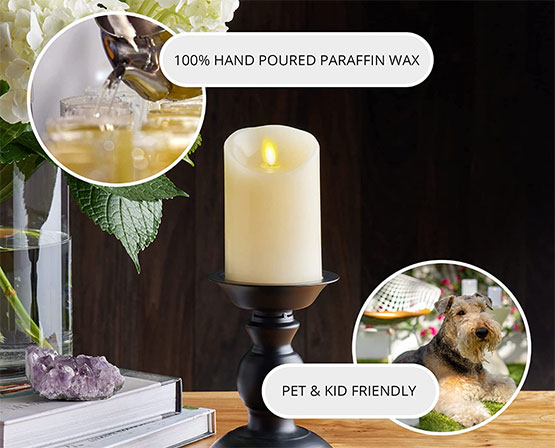 This candle is a bit on the pricey side, and comes as a single unit. You can order it in 6.5 inches or 4.5 inches tall, with a diameter of 3 inches.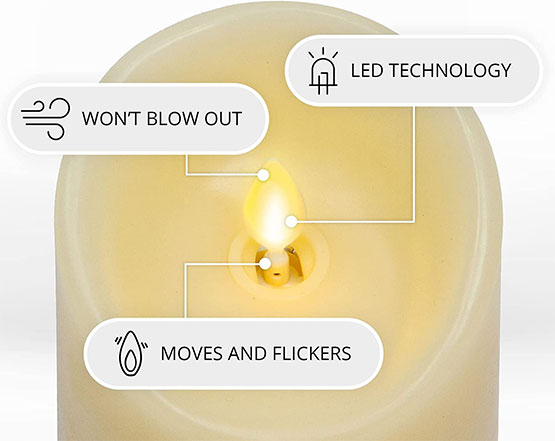 Power is supplied by a pair of AA batteries, which you install in the base. A set of batteries will run for around 200 hours, depending on what brand you use. Next to the battery cover is a three-position switch. The light can be on or off, or you can set it to timer mode. When you activate the timer, the LED will illuminate for five hours, then turn off for 19 hours. It's a basic 24-hour cycle, but without the ability to customize the time interval.
If you're looking for a smaller flickering light, check out our list of the best LED pumpkin lights. They might not look like candles, but they're the perfect accessory for your next Jack-o-lantern.
What we liked:
Made from real paraffin wax.
Realistic flickering flame.
Attractive design.
Long battery life.
What we didn't like:
No remote control.
A bit pricey.
LightLi Touch Pillar Flameless LED Candle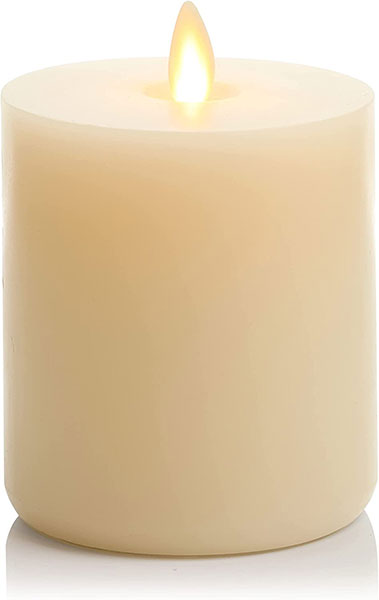 Key features:
Single candle.
Plastic construction.
Three size options.
The LightLi Touch Pillar Candle is another single candle. At first glance, it isn't all that impressive. It's basically an ivory plastic cylinder with a little dip in the top and a faux flame. It measures 3.2 inches in diameter, and can be ordered in 4", 6", or 8" heights.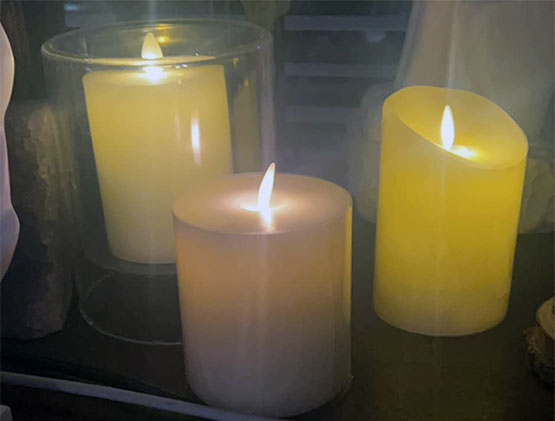 That said, there are a couple of things that make the LightLi candle stand out. To begin with, the flame doesn't just flicker. It actually wobbles from side to side, which makes it look like the flame is dancing. As far as artificial flames go, this is as authentic as it gets.
Another unique feature of this candle is the control scheme. The top is touch sensitive, and acts as an on/off switch. All you have to do is tap it to turn the flame on and off. There's also a timer switch in the base, next to the battery compartment. It sets a 5-hour timer, which runs on a 24-hour cycle. Power is provided by a pair of C batteries, which will run for about 500 hours. That's more than 20 days of continuous use!
What we liked:
Realistic dancing flame.
Long battery life.
What we didn't like:
No remote control.
A bit pricey.
Final Verdict
All five of these battery-powered flameless pillar candles are viable options. But which one is the best fit for you? Let's go over what we've discovered about each one.
We began with the Vinkor. This 9-pack of real wax candles is great for centerpieces and other displays. The recessed flames look very realistic from the sides, and the remote works well. We also liked the burgundy-colored option, which is particularly striking.
Next, we reviewed the Fo32won Amber. These candles have a traditional jar-style design, with different colored acrylic jar options. The heights are also varied, which makes for a fun display. And with a full suite of remote control functions, you can customize the light to meet your needs.
After that, we looked at the NONNO & ZGF. These water-resistant lights are perfect when you want to use your LED candles outdoors. They're also made from resin, so they're insanely durable. And while the timer doesn't run on a 24-hour cycle, the remote functions are well thought-out.
Fourth on our list was the Luminara Moving Flame. This candle is a single unit, but it's gorgeous to look at. The paraffin wax body is very authentic, as is the flickering flame. And while there's no remote, the timer function is straightforward enough.
We finished by examining the LightLi Touch. This candle has the most realistic flame of all, since it literally dances around. We also liked the touch control, which makes the light very easy to operate.