Nowadays, millions of people are taking the plunge and installing a solar power system. Not that long ago, the only reason to install solar panels was to benefit the environment. But thanks to increasing efficiency and decreased costs, solar panels have become a wise investment. For the savvy homeowner, you can save a significant amount on your power bill, or even pay nothing at all. And if you own an off-grid cabin, solar panels and deep cycle batteries can provide year-round power. There are plenty of services that will install and maintain your solar panels for you. Or, you could get the right tools, and do the job yourself.
Whether you're installing a new solar system or modifying an existing one, you have to deal with cables. These cables connect via standard connectors, usually using the MC4 standard. If you want to add more length or install new panels, you might have to do some crimping. Crimping is the act of attaching a new tip to the end of a cable. That's where a good solar crimping tool kit comes in handy. With a good quality kit, you can attach multiple connectors in a short period of time. If you're a homeowner, you can save a lot of time. And if you're a professional, a better kit means less time in the field.
We're about to review three of the best solar crimping tool kits we could find. To begin with, we'll look at the BougeRV Solar Crimper Tool Kit. This is a comprehensive crimper tool kit with six sets of waterproof MC4 connecters and silver-plated pins. Next, we'll examine the IWISS Solar Crimping Tool Kit. This is a versatile crimping tool kit that works with MC4 and older MC3 connections. After that, we'll check out the Pro's Kit PK-2061 Solar Tool Kit. This is a similar versatile kit with standard and Philips screwdrivers. But which one is the best choice for you? Let's take a close look at all three, and see how they compare!
MC4 vs. MC3 Connectors
Whether you're connecting one or multiple solar panels, you'll be using one of two connectors. These are MC4 and MC3. So, what's the difference? First, let's talk about MC4, which is by far the most common. MC4 connectors were first introduced back in 2011, as an upgrade to the MC3. The "4" in MC4 refers to the size of the contact pin, which is 4mm in diameter. This is a contrast to the MC3 standard, which used a 3mm contact pin.
Both standards are cosmetically similar, and both work in a similar fashion. You can push them together by hand, which makes them easy to connect in the field. Both standards are gendered, meaning you have a male and female plugs. These can be used to daisy chain several solar panels together, creating a more powerful system.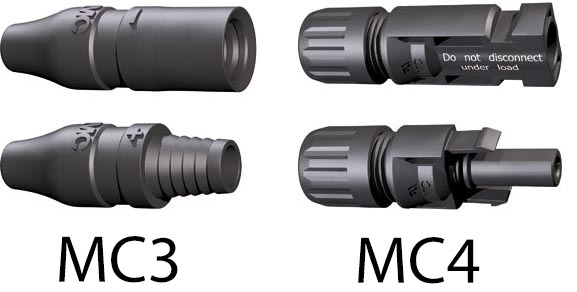 However, the MC3 standard had a significant safety flaw. While the connectors can be easily pressed together, they also come free easily. When this happens, the contacts pins can come disconnected, and arcing can occur. This can cause the connectors to melt, shutting down your solar system, or even sparking a fire. For this reason, the National Electrical Code no longer allows for their use in new installations. The MC4 has a set of locking pins that keep them from coming disconnected by mistake. That said, arcing can still occur if you pull the plug apart while the solar system is active.
Besides safety, the MC4 standard has also allowed for increased voltage. An MC3 connector can support 20 amps of power at a maximum of 600 volts. This makes it more complicated to install very powerful systems. Standard MC4 connectors are still rated for 600 volts. However, some newer variants come with a rating of 1,500 volts. And in Europe, 1,000-volt systems have been commonplace for some time.
How to Crimp Your Solar Connectors
So, how do you crimp a set of solar connectors? To begin with, you need to strip your wire. Compare your wire to the metal on the back of your connector, and you'll see how much should be exposed. Remember, you don't want to expose too much wire. If your cable goes past the mark on your connector pin, the two sides won't mate together properly. Go ahead and strip as many cables as you need for the job.
Now that your wires are stripped, you're ready to start crimping. Paradoxically, the male metal pin goes with the female plastic connector. Put the wire into the opening in the back of the pin, and make sure the wires are all inside. Now, find the right size hole in your crimper's jaws. The back of the pin should fit snugly, but comfortably in the gap. Squeeze tight on the crimper, and then release. Make sure to squeeze all the way down, so the pin will remain in place securely. Give it a tug afterwards, to make sure it won't pull loose easily.
Now, remove the cap from the plastic part of the connector, and take out the compression sleeve. Slide the sleeve over the pin, then push the pin into the connector until it clicks. Screw the end cap back down on the connector, and use your plastic spanner wrench to tighten it securely. Remember, a tight connection is essential to keep water out. Do this for all your female connectors.
After that, it's time to repeat the process, but this time with the male connectors. You'll do the exact same thing, except you're using the female pins. Once all the connectors are assembled, all you have to do is plug them in together. Again, you should hear an audible click. After that, the connectors cannot be pulled apart by hand. To free them up, you'll have to use the release clips on a spanner wrench.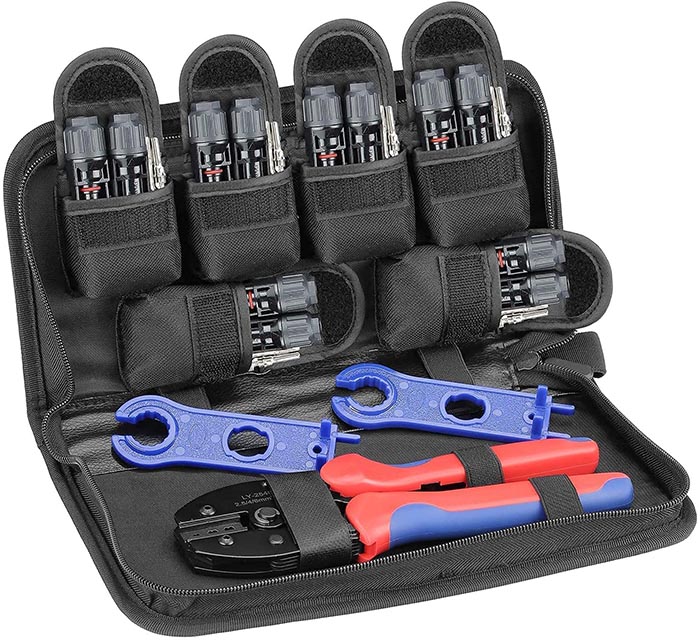 BougeRV Solar Crimper Tool Kit
BougeRV is a company best known for their RV accessories, like their 30-quart portable fridge/freezer. But a lot of RVers rely on solar power, so it makes sense that they'd get into this market. The BougeRV Solar Crimper Tool Kit is different from the others in that it includes a set of connectors. It's designed for an RVer who wants to wire up some panels for a new system. That said, the tools are all good quality, and can be used for years if properly taken care of.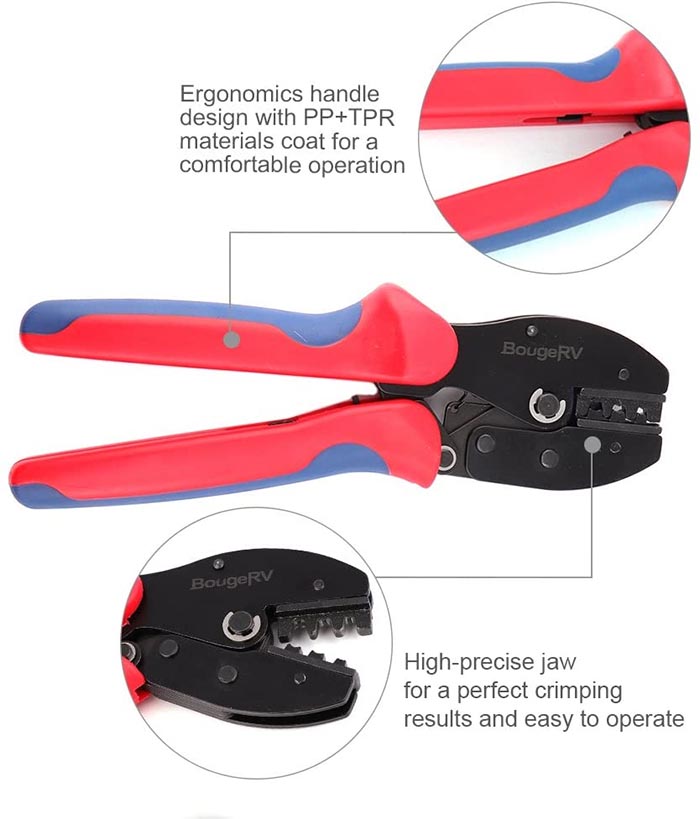 In total, you get a set of six pairs of MC4 connectors, along with the requisite male and female pins. The pins are high-quality, high-conductivity silver, and provide as little resistance as possible. The plastic connectors, meanwhile, have a sterling weather-resistance rating of IP67. The 6 indicates an extreme level of dust-resistance. The 7, meanwhile, means that they can be submerged for up to 30 minutes at a depth of 1 meter.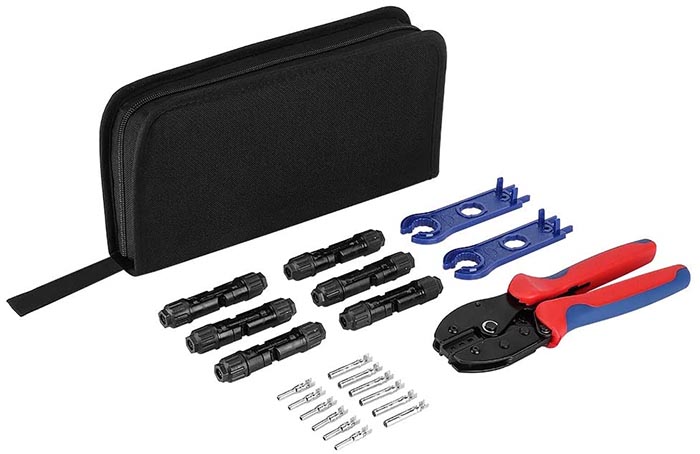 All of these connectors are stored in a set of velcro pockets, which are stitched into the side of the zipper case. The pockets and the case are all made from a durable black nylon, which seems tough enough to take a beating.
The crimping tool itself is big and chunky, with an ergonomic blue and red plastic handle. The jaws can accept any standard cable, whether 2.5mm, 4mm, or 6mm. They can also accept almost any wires, from heavy 10-gauge wire to ultra-light 26-gauge. There's also a pair of blue plastic spanner wrenches in the kit. These are sized for standard MC4 connectors, for both the tip and base. They also have built-in release clips, to help decouple existing connectors.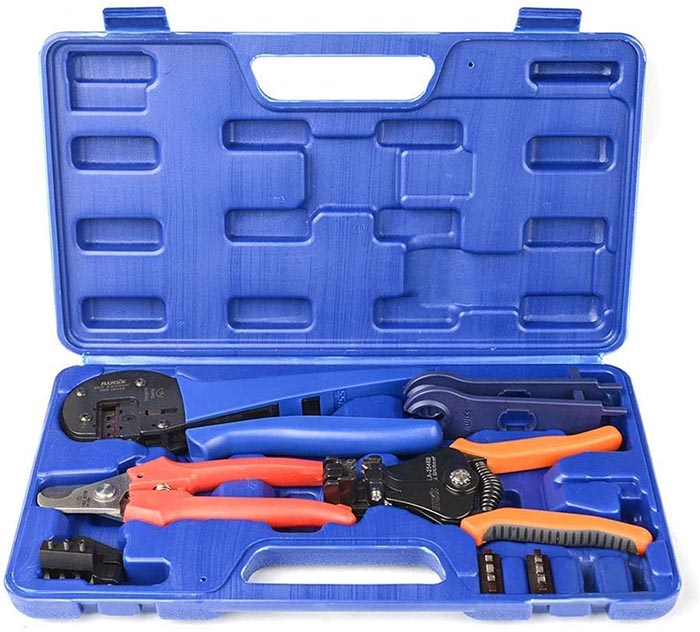 IWISS Solar Crimping Tool Kit
The IWISS Solar Crimping Tool Kit is designed more for working professionals, starting with the case design. Instead of a zipper case – even a durable one – there's a solid plastic storage case. It's made of a high-visibility, impact-resistant material, with easy-to-use closure clasps. The inside of the case is molded, with appropriately-shaped recesses for every tool.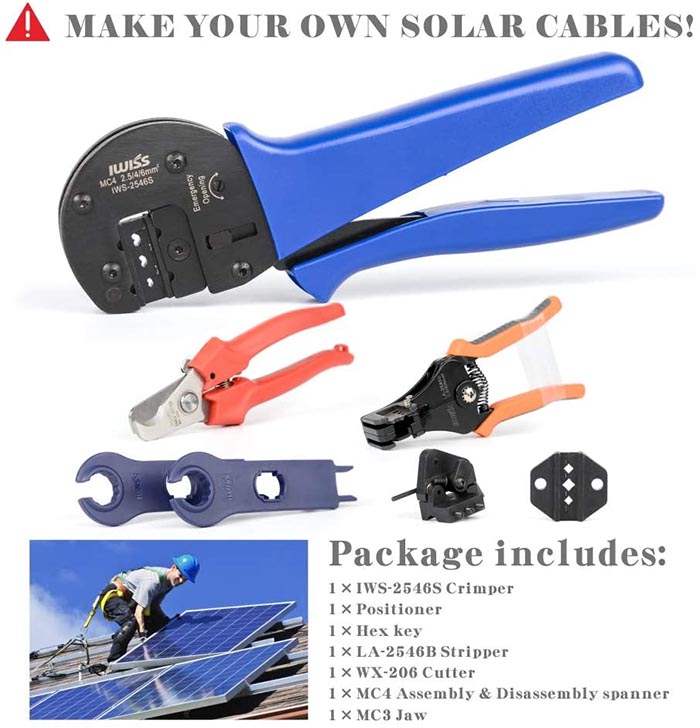 There are no connectors in this kit. That said, the tools are noticeably more durable. They're made from hardened steel, and there are more of them. To begin with, you get the crimping tool. This fits a similar cable size range, with slots for 2.5mm, 4mm, and 6mm cables. You can also fit the most common wire gauges of 14 to 10 gauge. That said, the crimping jaws are interchangeable. The kit ships with a set of standard MC4 jaws. But there's also a set of MC3 jaws, so you can work with older connectors. In addition, there's a slotted release screw in the side of the hinge. If the jaws get stuck shut, you can twist the screw to force them to let go.
Along with the crimper, you get a wire cutter and a wire stripper. The stripper is well-designed, and can strip most common wire gauges. It's spring-loaded and adjustable, so you can easily control how much insulation you remove. The wire cutters have a concave blade, so they're good for more than just cutting. In a pinch, you can use them to score insulation on a larger cable. Along with all this, the kit also comes with a pair of plastic spanner wrenches. These are pretty standard, with sockets for both parts of the connector, as well as a pair of release clips.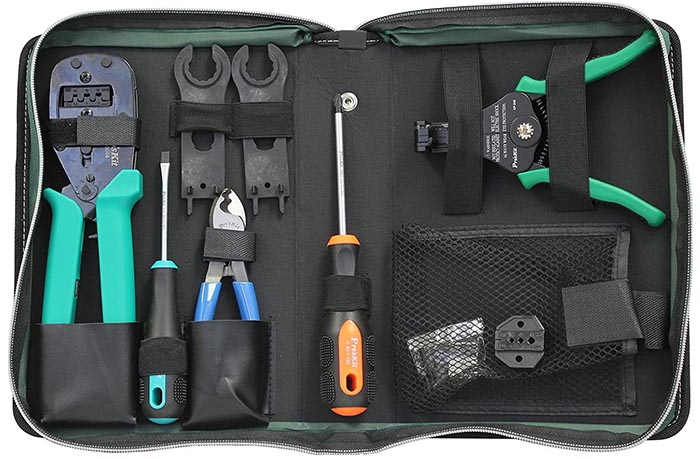 Pro's Kit PK-2061 Solar Tool Kit
The Pro's Kit PK-2061 Solar Tool Kit is the most rugged and comprehensive of the bunch. The case is a simple nylon fabric zipper case, although it seems durable enough. Inside, though, you'll find some very high-quality tools.
The main crimper is exceptionally sturdy, with hardened steel and an ergonomic green plastic handle. The built-in jaws are designed for MC4 connectors, with 2.4mm, 4mm, and 6mm diameters. As far as wire gauge goes, you get support for gauges 14 to 10. If you're working on older equipment, you can swap in the MC3 jaws, and get the same level of compatibility. No matter which jaws you're using, you get a release screw. There's also a fine adjustment setting. You can modify the exact pressure and spacing, down to a very fine tolerance.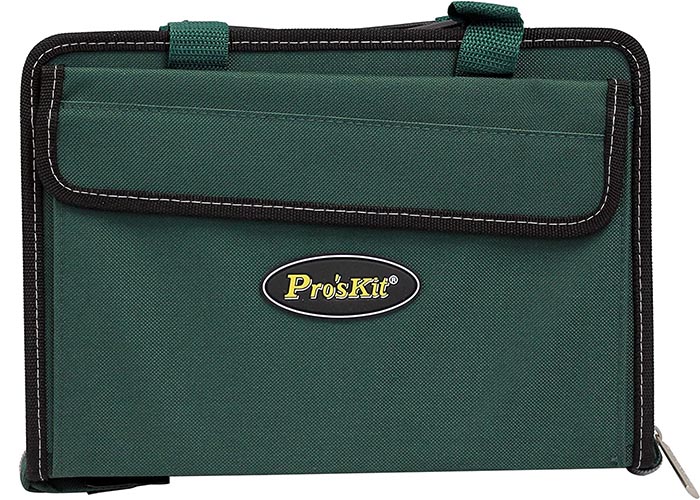 The other tools include a set of #2 Philips and a 5mm standard screwdriver. These have rock-solid tips, with beefy rubber handles that are comfortable to grip. There's a spring-loaded cable stripper, which can be used not just for solar, but for almost any cable. There's also a cable cutter, which deserves particular attention. Like the IWISS cutter, it has a concave blade, so it can double as a scoring blade. But it actually has two curves, one smaller than the other. As a result, it can be used to make more precise cuts on a variety of different cable sizes. A pair of plastic spanner wrenches rounds out the kit. These are pretty much identical to the ones in the other two kits, but they're a fairly standard part.
Final Verdict
As you can see, each of these solar crimping tool kits has its own strengths and weaknesses. But which one is going to be the right choice for your needs? Let's go over what we've learned. We started out with the BougeRV Solar Crimper Tool Kit. This kit is ideal for DIYers who need to perform a small installation. The high-quality connectors are a good value for the price. On the other hand, you only get a crimper and wrenches, no cutter or stripper. You'll have to provide those tools on your own, and you won't be able to crimp MC3 connectors.
The IWISS Solar Crimping Tool Kit is a more comprehensive kit. Since you get a stripper and a cutter as well as a crimper, you have everything you need to get started. You also get a better-quality crimper, with an interchangeable MC3 jaw and a release screw. Not only that, but the case is the toughest of the bunch.
The Pro's Kit PK-2061 Solar Tool Kit is even more comprehensive. You get a pair of high-quality screwdrivers for performing other solar-related tasks. The cutter is also very well-designed, with its double-curved design. And with the ability to fine tune the crimper jaws, you can get the perfect fit for any job.