Battery technology has come a long way in the past century. Starting with old-school, extra-heavy lead-acid batteries, we now have a plethora of options. Nickel cadmium, lithium-ion, and lithium-polymer batteries all have their own advantages and disadvantages. But one thing they all have in common is that they weigh less than lead-acid. That said, lead-acid batteries still dominate the market for large, powerful batteries found in motorcycles, boats, cars, and RVs.
One of these newer battery types has a name that looks like a license plate: LiFePO4. Short for lithium iron phosphate, LiFePO4 batteries use LiFePO4 as a cathode, with a metal-backed graphite carbon anode. These batteries have a much higher specific capacity than other batteries. In plain English, this means you can get significantly more juice from a battery that's lighter than other varieties. However, the relative voltage is going to be lower.
Another significant benefit of LiFePO4 batteries is that they are less toxic than most other types. This is particularly helpful in marine and automotive applications, since old lead-acid batteries can burn you when they're damaged. Lead-acid batteries also require special processing, which makes them pricey to dispose of. Finally, LiFePO4 batteries are generally more stable, which means they'll hold a charge for longer.
All of these advantages have made LifePO4 batteries the go-to choice for utility systems like solar arrays. However, they're now becoming available for vehicles, as well as for residential backup power systems. Today, we're going to be reviewing three of the most popular LiFePO4 batteries on the market. We'll talk about their advantages, their disadvantages, and what distinguishes them from each-other. Afterwards, we'll explain which models are best for which applications. Now, let's get started!
Battle Born LiFePO4 Deep Cycle Battery
The Battle Born LiFePO4 Deep Cycle Battery has a similar design to a traditional automotive battery. It measures 12.75 inches wide, 9 inches tall, and 6.875 inches deep. It also uses standard automotive-style terminals, so you can wire it into your vehicle without the need for any adapters. However, it weighs only 31 pounds, about 1/3 the weight of a comparably-sized lead-acid battery. It's suitable for a wide variety of applications, including boating, RVs, campers, golf carts, and residential backups. It's also suitable for off-grid use. If you have a hunting cabin, for instance, the Battle Born can let you run a few lights over the weekend.
Battle Born does not provide an exact cycle rating for their batteries, which is a bit disappointing. However, we can confidently point out that the LiFePO4 design allows for more charge and discharge cycles than other varieties. These batteries are 100 percent renewable, as well, so they don't damage the environment. Keep in mind, though, that whether or not they're carbon neutral will depend on your charging source. Dirty power sources will still create CO2. If you're charging from a gas generator or from a wall outlet that's supplied by a coal plant, for example. However, if you're charging from a solar panel or another clean source, you're looking at the most environmentally-friendly batteries available.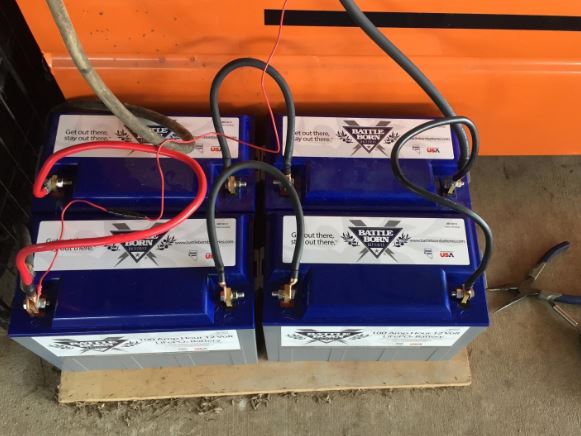 Battle Born batteries are engineered and built in the US, right in Reno, Nevada. This is the site of Tesla's famous battery "gigafactory", and is in many ways the world capital of battery manufacturing. All of their batteries come with a 10-year warranty, which is virtually unheard-of for batteries. The actual rating for the battery is 100 amps of continuous output, with a 200-amp surge output. This surge can be maintained for up to 30 seconds, allowing for significant, temporary overloads. As a result, the Battle Born is right on the borderline for starting an engine. If your vehicle's starter will function with 200 cold crank amps, you're good to go. If not, you'll need a battery with more power.
Battery Management System
Like most certified LiFePO4 batteries, the Battle Born uses a battery management system (BMS). The BMS is, essentially, the "brain" of a battery, and allows it to prevent a lot of problems. For example, rather than burning out – or exploding – when it gets too hot, the BMS will simply shut it off. Similarly, the BMS will automatically shut the battery off in the event of a ground fault. This function makes the Battle Born LiFePO4 battery significantly safer than a similar lead-acid battery. Not only is this safer for you, it's safer for the battery. Sure, it might shut off for a bit, but it will remain intact and ultimately remain functional.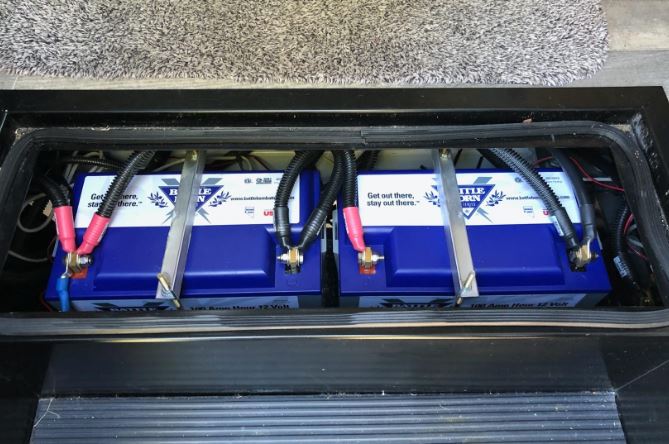 In addition, the BMS will shut off the battery when it drops below the minimum prescribed voltage. This measurement is made at the factory, and is designed to prevent permanent damage to the battery. When this happens, all you need to do is recharge the battery.
In terms of operating conditions, the Battle Born battery can operate in a wide range of temperatures. It will continue to work in all temperatures from -4 to 120 degrees Fahrenheit. However, the BMS will not allow the battery to charge below 25 degrees. This is in order to protect the cells from damage due to low-temperature charging.
Renogy 12V 100Ah Smart Lithium Iron Phosphate Battery
The Renogy 12V 100Ah Smart Lithium Iron Phosphate Battery is somewhat more compact than the last one. It measures 11.38 inches in width, 6.77 inches in depth, and 7.38 inches in height. It tips the scales at 26 pounds, which is relatively lightweight for a 100Ah battery. Unlike the Battle Born battery, it uses F12 terminals rather than automotive terminals. This – among other reasons – makes it poorly suited for automotive use. However, the F12 terminals are purpose built for solar arrays, and can easily be adapted for RV use.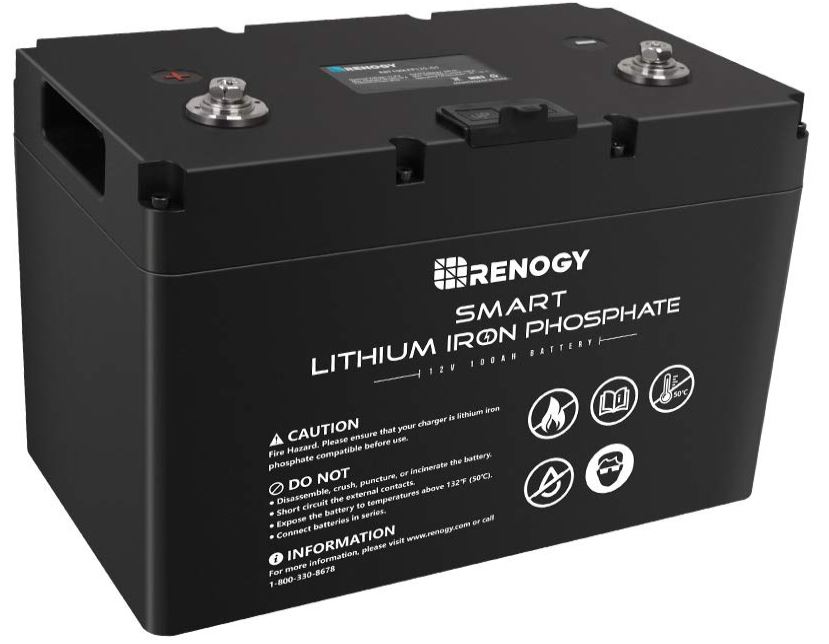 Renogy's LiFePO4 battery is rated for over 4,000 charge and discharge cycles. This is unheard of with other types of batteries, and allows for years or even decades before needing a replacement. It puts out 100 amps of continuous current, and charges at a brisk rate of 50 amps. However, there's no listed rating for surge output. This makes it better suited for moderate, steady use than for applications with a lot of fluctuations. However, if you need more amperage, you can connect any number of Renogy batteries in parallel. They're not designed to be wired in serial, though, so your voltage will be limited to 12 volts.
This battery has an IP rating of IP54. This does not make it 100 percent waterproof. However, the dust rating of 5 makes it safe to use when you're mudding or riding an ATV in dusty conditions. And the water rating of 4 makes it splash-proof, so you don't need to worry about rain. You can even use the Renogy battery for marine applications, provided it's not going to be immersed.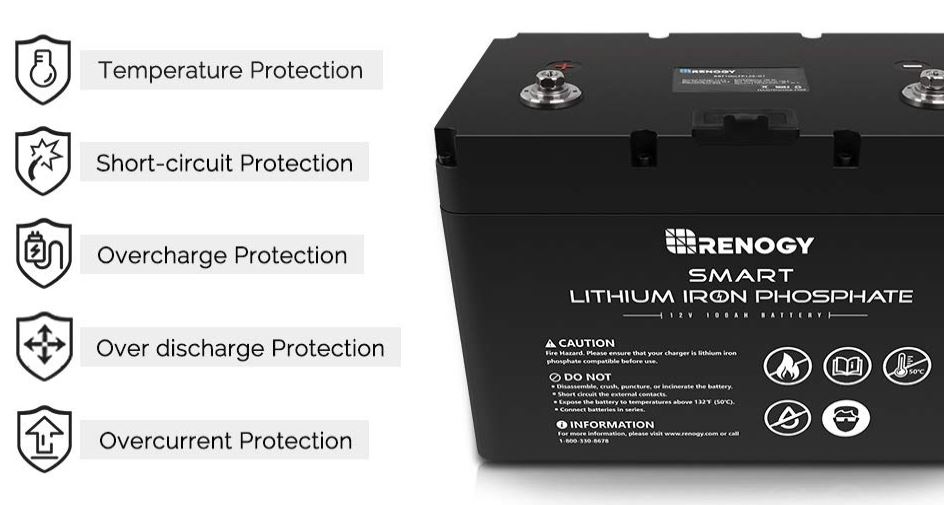 Battery Management System
The BMS on the Renogy battery works similarly to the BMS on the Battle Born battery. It provides a wide variety of protections to keep your battery from getting damaged, or causing damage. Among these protections are short circuits, overcharges, over discharges, and over current. The BMS will also prevent operation if the battery reaches a dangerous temperature. In all, it can safely operate from -4 to 122 degrees Fahrenheit, so it's suitable for most conditions.
One useful feature of the Renogy battery is that it includes a pair of RJ45 communications ports. At first glance, these look like Cat5 Ethernet ports, and the cable is indeed similar. However, these cables are designed to allow for smart communication between your batteries and devices. For a lot of purposes, such as RV power, you're never going to need this feature. However, it's very useful for smart power applications. For example, an RJ45 jack is virtually indispensable if you're using your battery with a smart solar array. It allows you to maximize charging when it's needed, and to shut down the flow of electricity when it's not.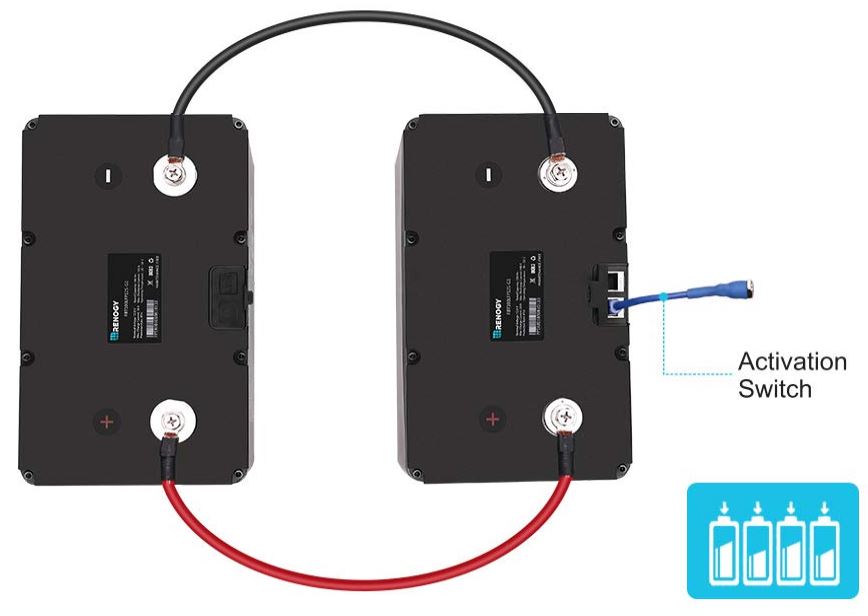 If you're using a dedicated charger, make sure your charger is compatible with Lithium batteries. Otherwise, your BMS might cause the battery to stop charging. Another important thing to keep in mind is that these batteries aren't rated for cold cranking amps (CCA). This means they can't be used to start a motor. Then again, that's not what the Renogy battery is designed for to begin with.
ExpertPower 12V 100Ah Lithium LiFePO4
The ExpertPower battery measures 13 inches in width, 9.3 inches in height, and 6.8 inches in depth. This makes it comparable in size to your average automotive battery, although it's much lighter. At 29.7 pounds, it's easier to transport and install than a lead acid battery. However, it's not designed for automotive use. Instead of automotive terminals, it has F12 terminals, which are designed for solar arrays and other similar systems. F12 terminals are also easy to connect to an RV power system or an ATV. As a result, the ExpertPower is suitable for a wide array of applications.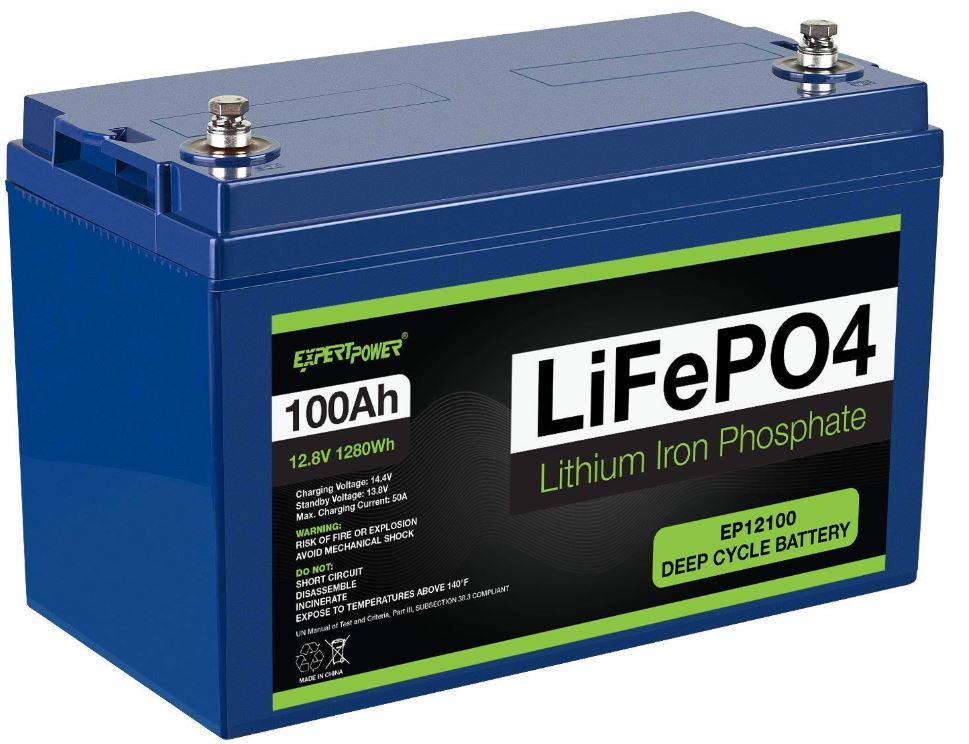 The cycle rating is 2,500-7,000 cycles. The exact longevity will depend on how the battery is used. Frequent total discharges will lower its lifespan, while moderate, continuous use will maximize it. It also has a natural lifespan of 10 years, after which the cells will need to be replaced. ExpertPower offers a 1-year warranty, so should there be any issues, you'll be able to get a replacement.
With a total capacity of 100Ah, the ExpertPower battery is quite a workhorse. It's rated for 70 amps of continuous output, with a surge rating of 100 amps. This means it's not suitable for starting an engine. The peak power just isn't sufficient. It charges at a rate of 50 amps, ideal for solar array backups. Assuming it's connected to a charger that provides a full 50 amps, it will fully charge in about 2 hours. Not bad!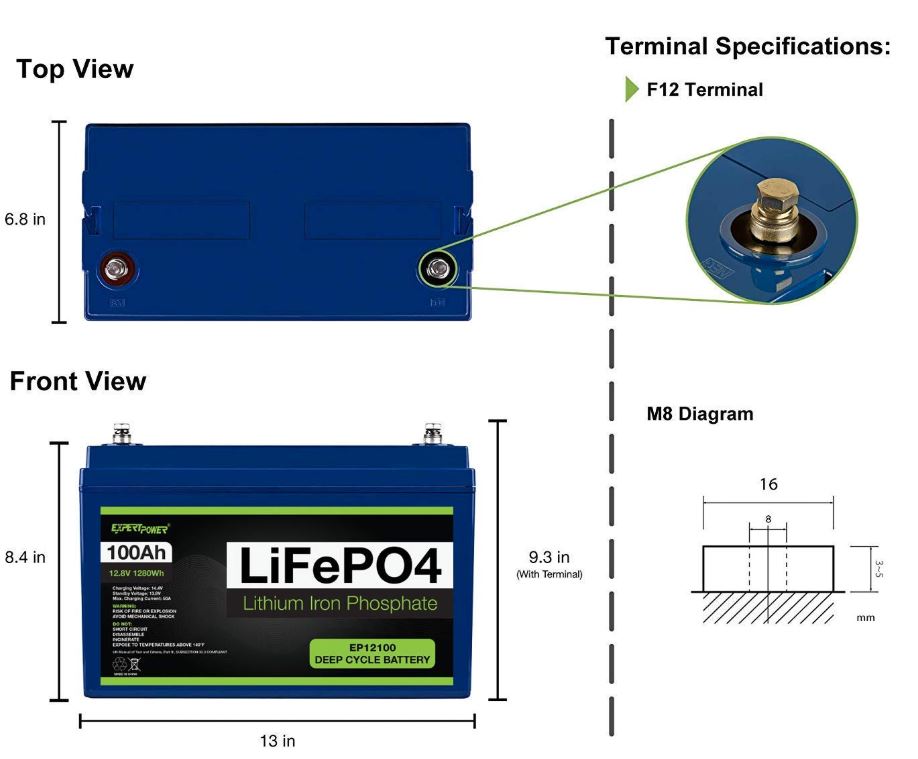 If you want your batteries to last longer, you can wire several ExpertPower batteries in parallel. The more batteries wired into your system, the longer they'll last. However, they cannot be wired in series. As a result, your maximum total power is limited to 12 volts.
Battery Management System
Like the other batteries we looked at, the ExpertPower has a built-in BMS. This ensures that you're protected from a variety of faults, such as overcharges, over discharges, and overloading. The BMS will also automatically shut off the battery if it's overheating, or if there's any short circuit in the system. In terms of temperature, the ExpertPower can run a bit hotter than the other batteries on our list. It can operate from -4 to 140 degrees Fahrenheit, so it's a great choice for ATV riding in hot climates. The rated charge temperature range is 32 degrees to 140 degrees. As a result, it's a poor choice for continuous outdoor use in cold climates.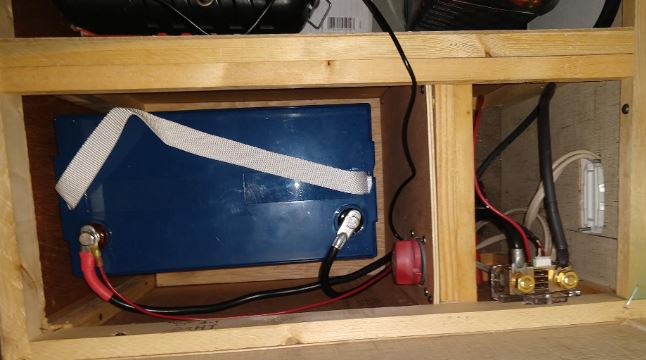 One thing the ExpertPower battery does very well is hold onto its juice. The self-discharge rate is only 2 percent per month, so it could theoretically sit for 4 years without fully draining. That said, ExpertPower recommends limiting storage to a single year. At that point, it's not too much to ask to plug it in for half an hour to top it up.
Final Verdict
So, which one of these batteries is the best? For automotive use, the Battle Born battery is the winner by default. It's the only one that even has a chance of actually starting your car. Even with this battery, make sure to check your starter requirements before you spend your money. LiFePO4 technology isn't quite there yet.
For RVs or ATVs, the Renogy battery is your ideal choice. It's water-resistant, which means it can handle extended use in the great outdoors. On the other hand, the ExpertPower battery is your best choice for residential backups and solar arrays. It operates best when in continuous use, with constant shallow discharges. This is exactly what you want for a long-term backup battery or solar power pack.