Laptops are expensive! They're high-tech devices that are arguably better than their immobile counterparts. But they're also quite vulnerable to damage. Not having the right storage solution on your desk or at your gaming battle station can lead to them suffering surface damage or worse. Plus, leaving your laptop lying around takes up precious desk space. Students and office workers will both know what we're talking about.
When it comes to maximizing your desk space and protecting your laptop from damage, vertical laptop stands are the way to go. These have pre-set or adjustable slots in which you set your laptop like a file folder. This keeps the laptop from taking up lots of room on your desk and gives it a designated spot where it can remain unharmed.
There are lots of vertical laptop stands to choose from, though. Today, we'll look through three amazing choices and see how they differ from one another. Let's begin!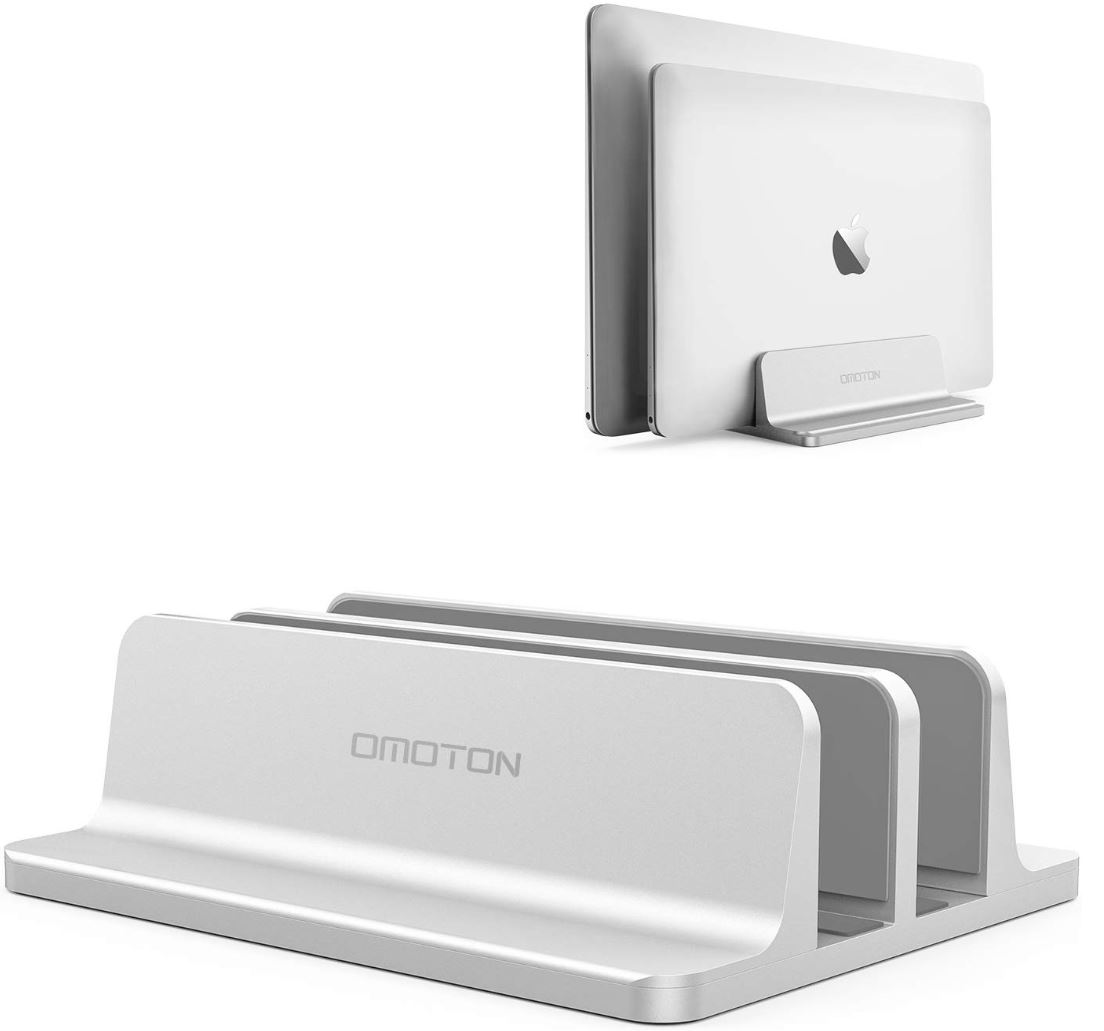 OMOTON Vertical Laptop Stand
The Omoton Vertical Laptop Stand is a supremely affordable choice for most. The stand is constructed from anodized aluminum. The aluminum has been sandblasted and brushed to provide it with a smooth but stylish texture. This means that it has excellent scratch resistance and great durability. A wide base at the bottom is perfectly sized to prevent your laptop from falling down.
Not only does this laptop stand look aesthetically pleasing, but it also has a special non-toxic silicone mat. It's centered around the grooves of the stand. Basically, this mat will both prevent the stand from scratching your laptops and help secure them more reliably.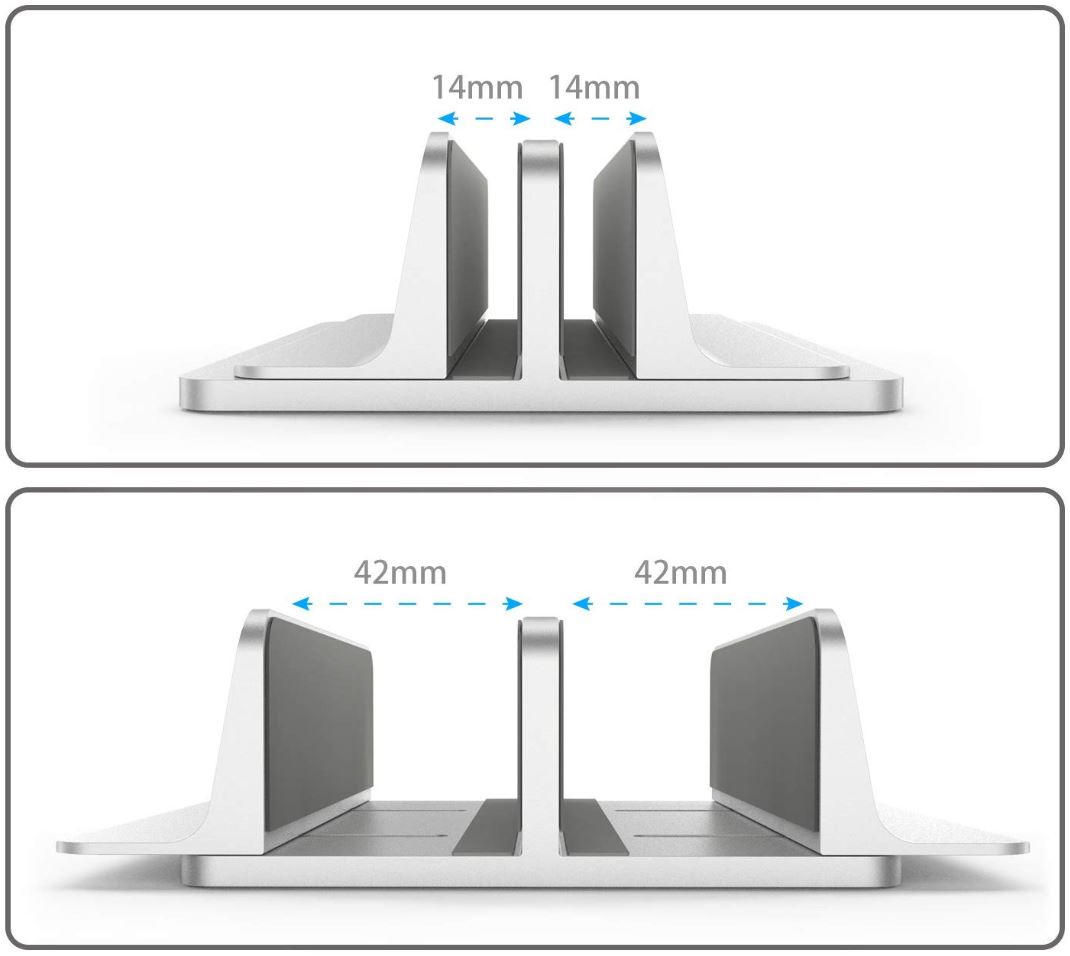 Sizes and Adjustability
This laptop stand is a great choice for most especially because of its adjustability. Right out of the box, it can accommodate laptops or notebooks ranging in size from 0.55 inches thick to 1.65 inches thick. Practically any laptop you could choose to use can be fitted into the stand!
The stands are also tall enough to accommodate laptops up to 17.3 inches tall. Since most laptops these days are well below this limit, you shouldn't have any trouble using this stand with a modern machine.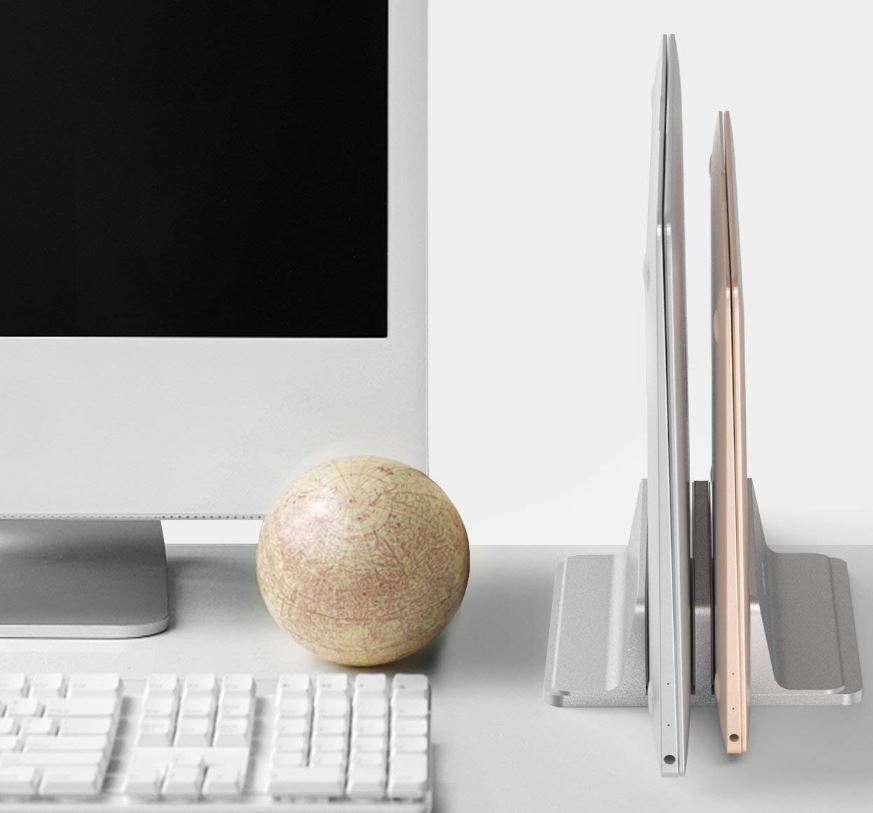 But that's not all. This stand is a double-dock model. It features two equally sized grooves that both include the aforementioned silicone non-slip mats. You can put two laptops into this holder at the same time and they won't brush up against one another. Thanks to the mats, they also won't stand a chance of being scratched. This stand is, therefore, a great choice for laptop owners that want to protect the look and feel of their prized computers.
How about adjustability? Changing the size of the grooves is as simple as moving the brackets back and forth by tightening the screws on the bottom. This ease of use is another great selling point that catapults this laptop stand to the top.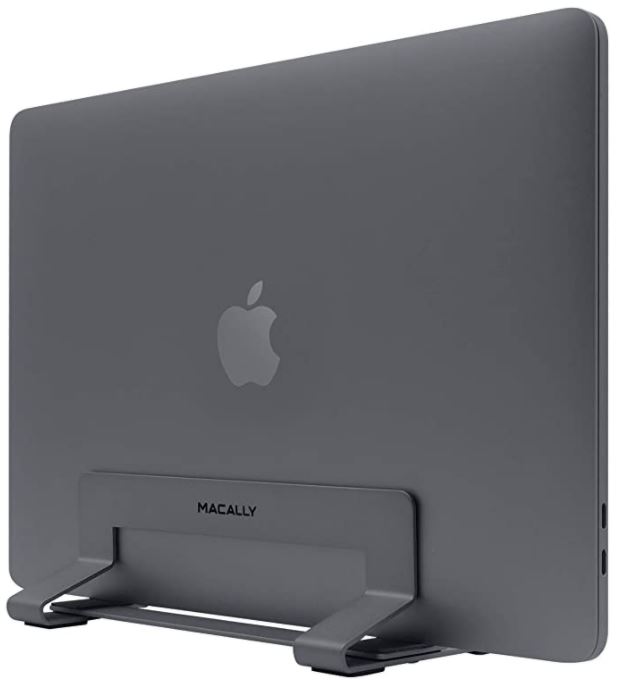 Macally Vertical Aluminum Laptop Stand
The Macally Universal Vertical Aluminum Laptop Stand has a unique design that we really love. It's built with an elegant curved shape for its feet, which elevates the stand about an inch from the table. Despite this design, the laptop stand is incredibly stable. The groove is perfectly positioned in the middle to facilitate excellent structural integrity for the stand and any laptop.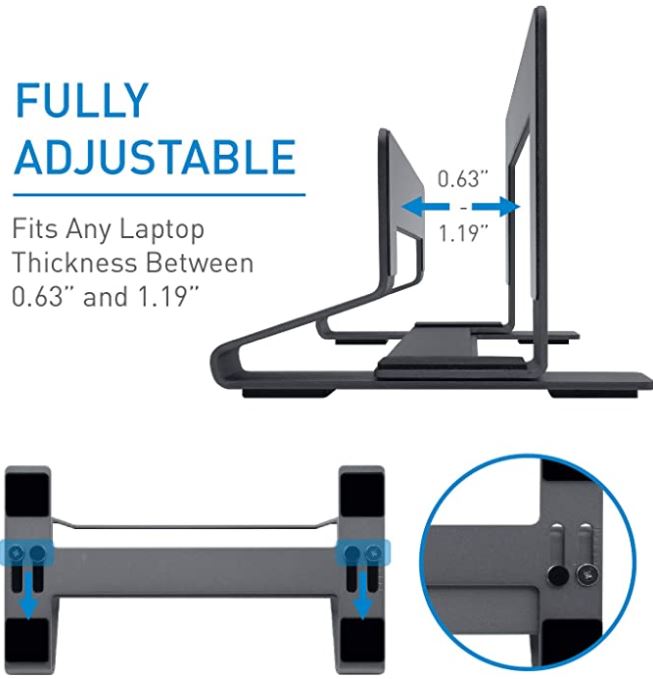 This curved and elevated design does a few things. Firstly, it looks amazing and will seem right at home with stylish and modern desk setups. Secondly, it also allows for airflow through the bottom of the stand and your laptop. This can be an excellent point if your laptop tends to run hotter than most. The airflow will prevent your machine from overheating as it rests, even in a hot room.
The stand as a whole is made with sturdy anodized aluminum. Such a material is both lightweight and durable. The anodized coating will prevent scratches from accruing very easily and reduce the risk of corrosive damage. It's no stretch to say that it's one of the best materials to build a laptop stand out of, bar none. You can even get this laptop in three separate colors; all are identical aside from their shade.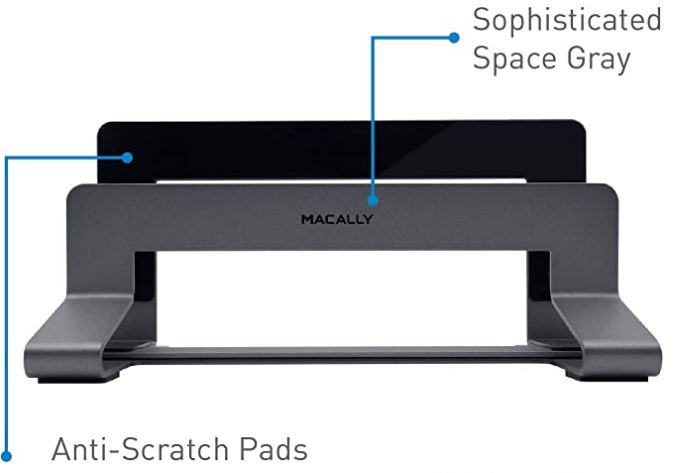 Sizes and Adjustability
Now let's consider how well the stand accommodates most laptops. It's fantastically adjustable through the use of a backside knob. This is much easier to use than many other stands' screw-adjustable setups. This stand can adjust to accommodate laptop and tablet widths between 0.63″ to 1.19″. It's a great size range, as most laptops will comfortably rest between these values.
Inside the groove, you'll notice the rubberized grips that line along either side of the slot. These will effectively cradle your device and prevent it from easily slipping out. This pick is a good choice for those whose desks have only a small amount of space. The small general size and elevated design make it awesome for making the most of limited desk surface area.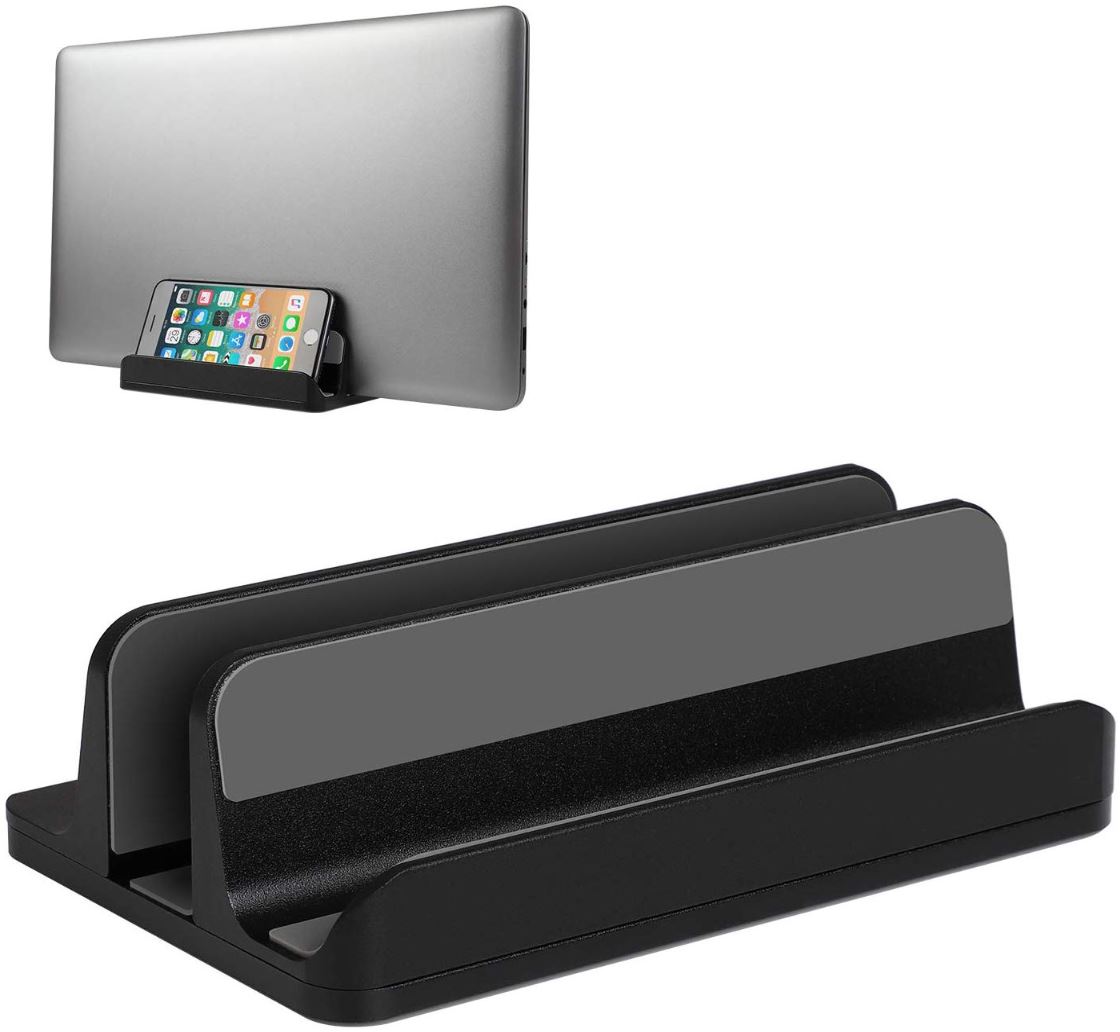 Jarlink (Upgraded Version) Vertical Laptop Stand
This Jarlink Laptop Stand is constructed with 2-in-1 functionality in mind. This means that it can be used to both hold larger laptops and smaller devices like an iPhone. It's one of the more versatile laptop stands on the market, being capable of holding all manner of electronic smart devices. It's built with anodized aluminum. As we said before, this material is both lightweight and resistant to scratch damage. It'll look great for a long time to come even under heavy wear and tear. Like our last pick, this stand can be chosen in three colors: black, gray, or silver.
The stand is constructed with a flat, wide base, affording it excellent stability. Even taller laptops or computer monitors won't tip the stand when falling over. In fact, the very bottom of the stand is lined with rubber. The rubber does a great job of keeping the stand secure even on slippery desk surfaces. There's little to no chance that this stand will ever move once it has a laptop resting in its grooves.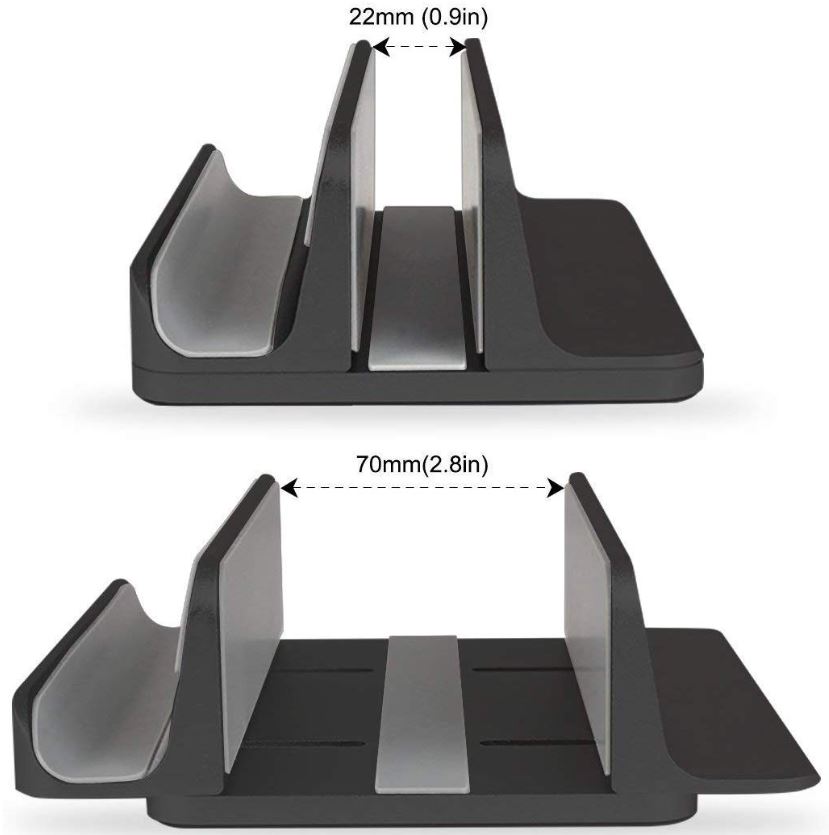 Sizes and Adjustability
As a 2-in-1 stand, this pick has two separate slots on either side of the base. You can effectively use one for a larger device, such as a monitor, and the other for a smaller device. Either way, both slots are adjustable in size. They can carry devices with thicknesses between 0.9 inches and 2.8 inches. Of course, smaller devices don't necessarily need to be securely gripped by either side of the groove. So the real range of carrying is between the thinnest device you can imagine and laptops that are 2.8 inches thick.
Adjusting the grooves is relatively easy, though it relies on the screw tightening method that most other stands use. The purchase comes with the Allen key necessary to make any adjustments. The screws you'll handle are located on the bottom of the stand and are easy to turn.
On the interior of each groove, you'll notice scratch-resistant silicone mats on the bottom. These bottom mats have two purposes. They first cradle the laptops or other devices and prevent their bottoms from being scratched by a metal stand. They also prevent the laptops or devices being stored from slipping around easily.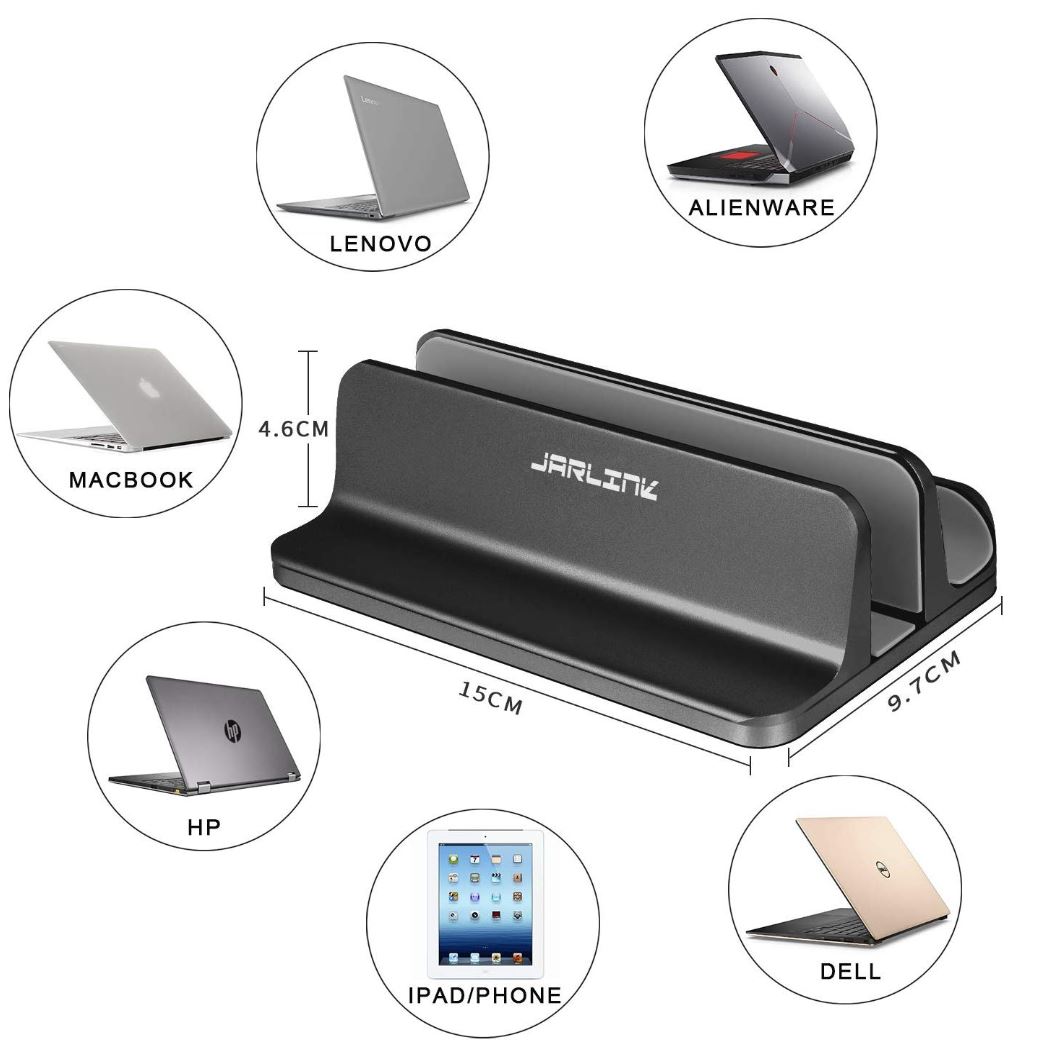 But there are additional silicone mats located on either side of the vertical groove walls. These serve the same purpose as the bottom mats, preventing your laptops from getting scratched or moving. This stand's grooves truly gripped the devices placed in their slots. All in all, it's hard for a device to wobble or shake free in this stand. This is arguably the steadiest stand on the market.
Final Verdict
Each of these vertical laptop stands are great. Which one should you choose? Well, the Omoton Vertical Laptop Stand has lots of room for the thickest and largest laptops on the market. It's constructed with the superior anodized aluminum we saw in each of our choices. Plus, it has two slots for holding laptops instead of just one. Ultimately, it's a phenomenal pick if you have larger than average laptops or want to store monitors in the grooves, as well.
The Macally Universal Vertical Aluminum Laptop Stand, as we saw, is another solid option. As durable as the first choice, it can adjust its single slot to accommodate multiple sizes of laptops. Unlike the other choices, it uses a back knob rather than a set of screws to facilitate this action. We think this is a perfect choice for people who don't like using screws and Allen keys.
The Jarlink Laptop Stand rounded things off for our reviews. Like the Omoton, it features two grooves for storing laptops of similar or different sizes. But it can also be used to store smartphones or smaller devices. The added silicone coatings on the bottoms and sides of the grooves are truly smart design choices. This is the best choice if you're concerned about laptop security overall.
Meet Derek, "TechGuru," a 34-year-old technology enthusiast with a deep passion for tech innovations. With extensive experience, he specializes in gaming hardware and software, and has expertise in gadgets, custom PCs, and audio.
Besides writing about tech and reviewing new products, Derek enjoys traveling, hiking, and photography. Committed to keeping up with the latest industry trends, he aims to guide readers in making informed tech decisions.