If you're building a home theater PC (HTPC), it's essential to have a quality case. This is true for any PC, but not all computers serve the same function. A home theater PC needs to be able to handle large amounts of video data, but it doesn't need to do much else. So, for example, you don't generally need a ton of USB ports, since you're not going to need to connect a bunch of peripherals. Today, we'll be looking at the best 4 HTPC media cases on the market.
Before we start on today's list, let's talk about what you'll need to build your HTPC. You'll need a case that's capable of supporting all the components you need.
Do I Need a Graphics Card?
Generally speaking, no graphics card is needed. However, there's a good argument for buying a graphics card, depending on what you want. Modern processors are more than capable of handling 1080p videos. An Intel Core i3 can handle the task, and that processor series has been on the market since 2010. With the release of the Core i5 and Core i7, there are even better options on the market. And there are several decent AMD chipsets that are also up to the task.
Typically, graphics cards are only required for gaming. However, if you want to go all-out and buy a future-proof system that's ready for 8K and virtual reality, you might want to buy a graphics card. If you decide to go that route, buy a high-end card that's actually capable of 8K and VR. Otherwise, you're just wasting your money.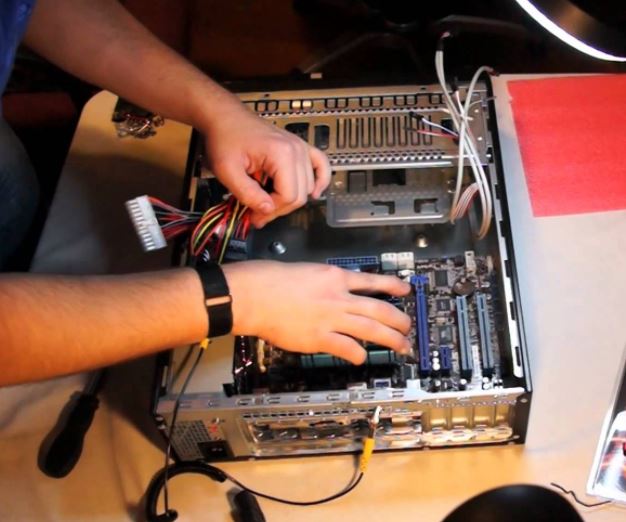 Choosing the Right Form Factor and Motherboard
When choosing a PC case, "form factor" just means the dimensions of the case. Since different motherboards are different sizes and mount in different ways, you'll need to choose a different form factor depending on what your motherboard size is.
There are several form factors available, but virtually all motherboards on the market are either ATX, mini ITX, and Micro ATX. These form factors are more or less equivalent in terms of performance, provided we're comparing motherboards with similar chipsets. That said, smaller motherboards have fewer expansion slots, so a larger motherboard is more upgradable. Then again, how many times are you really going to upgrade your home theater PC?
The most important thing when choosing a motherboard is to ensure that it's compatible with your processor. Once you've done that, choose a case that works for you. Larger cases take up more space, but generally allow for more airflow. Conversely, while smaller cases are easier for you to fit in your entertainment center, they offer less airflow, which means that the fans will need to run faster and will produce more noise.
Fans and Cooling
Speaking of fans, let's talk about what type of fans you should be using. Ideally, you'll want several fans, since they won't need to run as fast and will therefore be much quieter. Counter-intuitively, large fans are also quieter than small fans, so try to use the largest fans you can.
If at all possible, a liquid cooling system is an even better way to keep your HTPC nice and quiet. These systems are a bit pricey, but they're very efficient, and they can significantly reduce the necessary fan speed for keeping your processor cool.
Power Supply
Another consideration is the power supply unit (PSU). Many cases include a stock PSU that may or may not be up to snuff. Don't get us wrong, any stock PSU should provide plenty of wattage for a home theater system. But many stock PSUs have limited cable options, or may not be right for your motherboard. If you need to buy your own – or if you decide to upgrade – a basic 350-watt PSU will be more than good enough. Look for one with modular cables that are easy to manage, and choose a fanless option if possible. Built-in PSU fans tend to be loud, and you don't need to deal with the extra noise.

SilverStone Technology Grandia GD09
The SilverStone Technology Grandia GD09's best feature is its size. It's just about the smallest ATX-compatible case on the market, at 17.3 inches wide, 14.1 inches deep, and 6.7 inches tall. This is a slightly large form factor for a home theater system, but it's still small enough to fit in most entertainment systems without any issues. This makes it a good choice if you want to install a GPU in your home theater PC.
The steel case is very durable, and the front panel is plastic, but with a faux aluminum finish that matches quite well. We also liked the textured paint finish, which is attractive to the eye and easy to grip when you need to move the computer around or perform maintenance. And while it's not the cheapest case on our list, it's very reasonably priced considering what you get for your investment.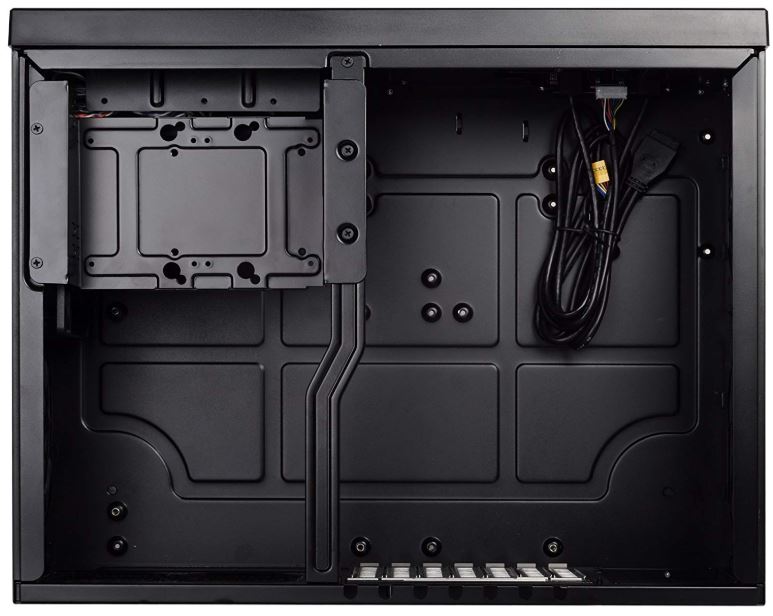 There's a cross brace inside the GD09, which makes it possible to stack another device on top, such as a small sound bar, or even a small TV or large monitor. And in terms of cooling, there are also plenty of options. The case comes with a single 120mm fan, but there's room for two additional fans: one next to the original fan and another next to the power supply on the other side of the unit. No power supply is included, but the space is large enough for a high-wattage ATX PSU. Not that you'll be needing a super-powerful PSU for a home theater setup, but if you're planning on using your HTPC for multiple purposes, it's nice to have the option.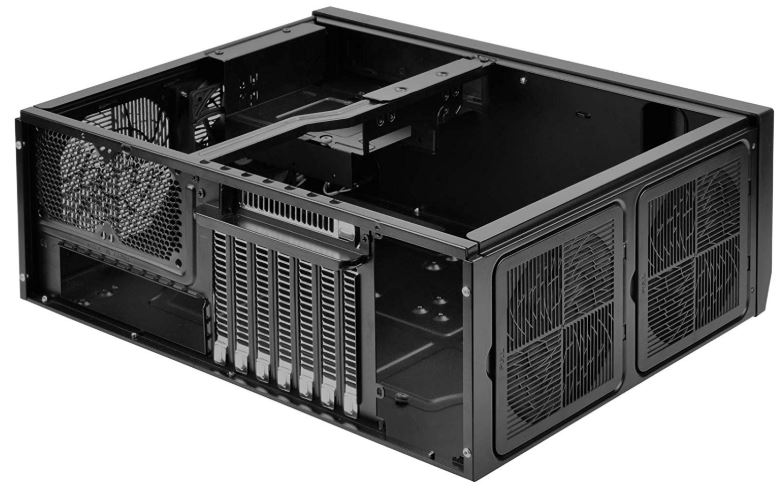 The front of the case features a power button as well as a reset button, both of which are equipped with indicator lights. On the other side of the front, you'll find a pair of 3.5mm ports for a microphone and headphones, as well as a pair of USB 3.0 ports for inserting flash drives. There's also a slot for a 5.25-inch external drive, which you'll presumably want to use for a DVD or Blu-Ray drive.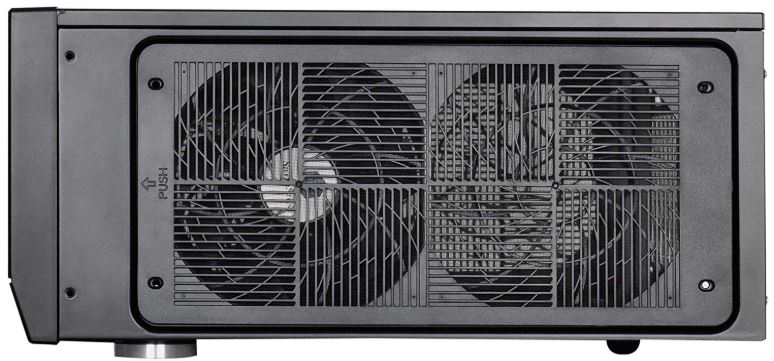 Inside the GD09, there's also mounting space for a 3.5-inch drive or a pair of 2.5-inch drives. There's an additional mounting slot for an additional 3.5-inch drive. If you want, you can also put an additional 3.5-inch drive in the 5.25-inch slot if you so desire. While you'll be foregoing an optical drive, you'll have even more capacity if you're using your HTPC as a media server. Finally, there's an additional mount at the very bottom of the case for yet another 2.5-inch drive. While the screw holes are countersunk – you won't have to worry about screws protruding from the bottom of the case – flush-mounting an SSD can come with its own problems. For example, a standard SATA cable can be difficult to connect, since the clip will ultimately get in the way, so you might have to jury-rig a solution to make this mount work.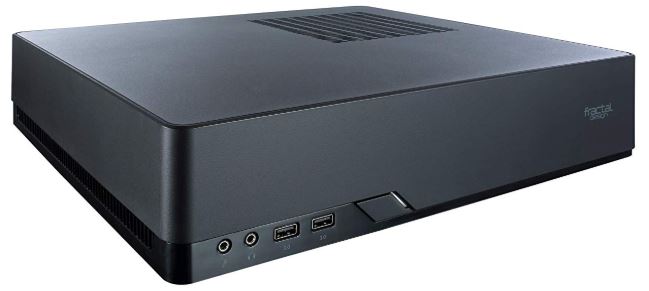 Fractal Design Node 202
The Fractal Design Node 202 is made in Sweden. And much like Ikea furniture, it's ideal for do-it-yourselfers – although, sadly, it does not come with a side of Swedish meatballs. Its form factor is designed for Mini ITX motherboards, and it's one of the slimmest you'll see for anything bigger than Micro ATX. It measures 14.84 inches in width, 12.99 inches in depth, and an exceptionally slim 3.23 inches in height. That said, the way the motherboard mounts, there's still space for a full-sized video card, which is very impressive, and is essential for an 8K or VR rig.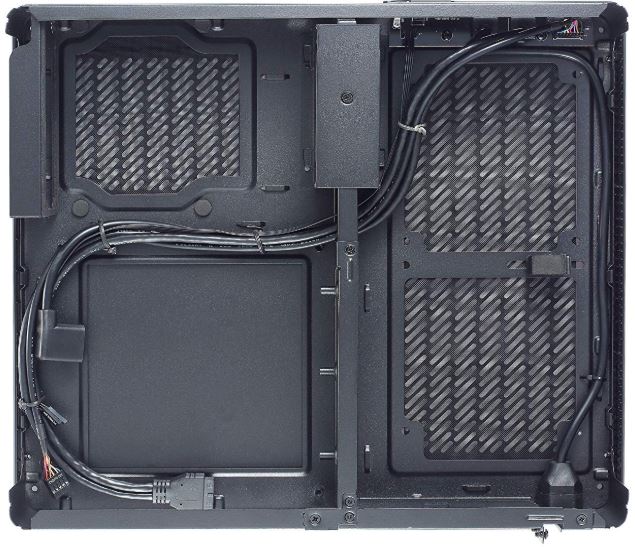 The top and bottom of the case are constructed from anodized aluminum, with ABS plastic front and sides. All of the sides are smooth, except for the back, which we'll get to in a minute. There are two large air vents: one on the top and one on the side. This design ensures that both vents will be open to the air, whether the case is oriented vertically or horizontally. On the front, there's a small panel on the lower left with a power button and indicator light, but no reset button. There's also a pair of USB 3.0 ports, as well as 3.5mm audio ports. The rest of the front is clean and clear, with the exception of the Fractal Design logo. Take note: this means there's no space for a DVD or Blu-Ray drive, so you'll be limited to streaming media and whatever you care to store on the hard drives.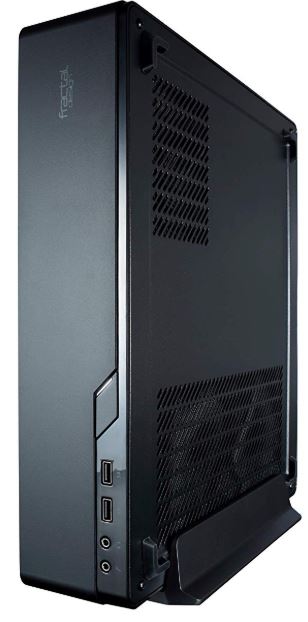 On the rear of the case, you'll see a relatively clean design, with a pair of vented expansion slots that can be removed to accommodate your full-sized graphics card. There's also the standard large opening for your PSU. To install your hardware, you'll need to remove a set of four screws on the bottom of the case. Inside, you'll notice a pair of dust filters that provide a level of protection we very much appreciate. The Node 202 is black on the inside as well as the outside, for a sleek look all the way around. The base model does not include a power supply, but there's an alternative variant that ships with a 450-watt power supply.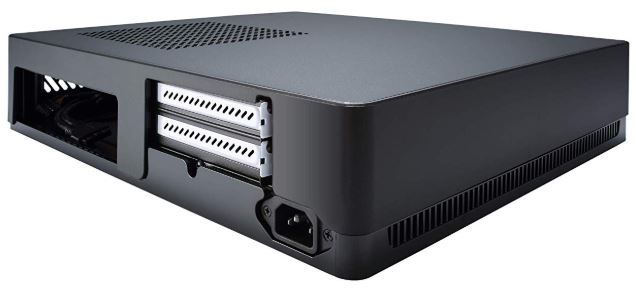 The configuration inside is fairly standard, with the motherboard mounting directly next to the slot for the graphics card. There's also a mounting bracket in the middle of the unit that can support a pair of 2.5-inch SSDs. For cooling, you have the option to install a pair of 120mm fans. However, this is one area where the slim design can come back to bite you; the second fan will need to mount in the GPU slot, which means you'll need to pick your poison here.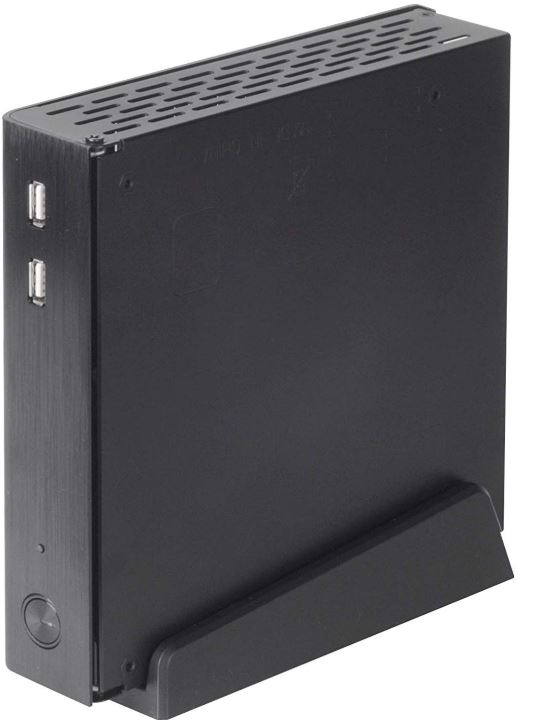 SilverStone Technology Petit PT13
The SilverStone Technology Petit PT13 is appropriately named. It is, by a significant margin, the smallest case on our list. It's more or less square, 7.1 by 7.3 inches in width and depth respectively, and only 1.65 inches thick. It's very rugged despite the size, with a 100-percent aluminum shell. It has a lightly textured black gunmetal finish that's attractive to look at, and looks really sharp on your shelf. Even the button is very sturdy, and it's nice to see that SilverStone has paid so much attention to detail.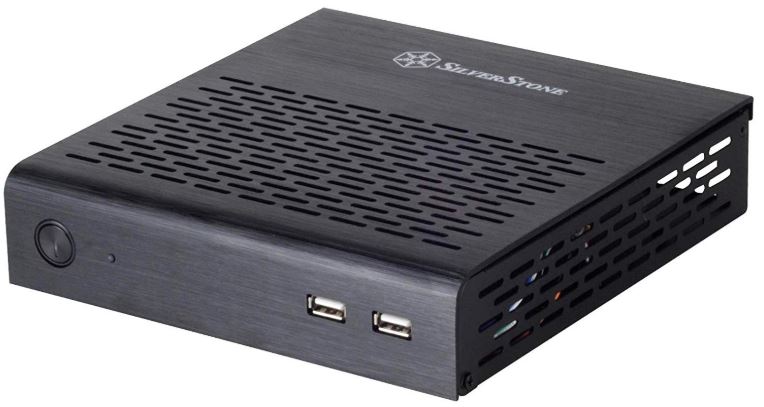 On the front of the case, you'll find a round on/off button and a power indicator light, as well as a pair of USB 2.0 ports. It would have been nice to see USB 3.0, but this is a side effect of the small size; USB 3.0 headers are significantly larger than 2.0, and wouldn't leave enough space for the motherboard. The sides and top of the case are vented, with plenty of slots for air access. Even if the case is positioned vertically in the standing base, it's going to be very well ventilated. On the back of the case, there's a cutout for the power supply, as well as a pair of holes that allow you to attach WiFi antennas.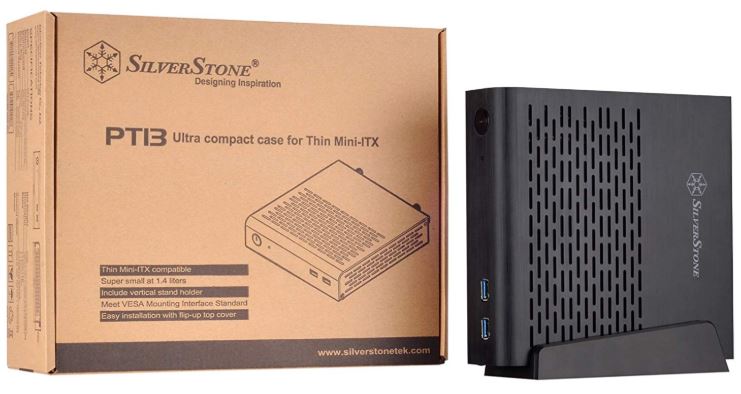 When you open the Petit, you'll notice one of its best features: an inner steel frame that provides a lot of extra rigidity. You'll also notice that there isn't room for either a fan or a graphics card, another unfortunate side effect of the small size. You'll have to rely on passive cooling, which means you need to make sure that there are no other electronic devices or obstructions to block airflow. If you put this case right up against a speaker or put anything on top of it, you're going to have a bad day.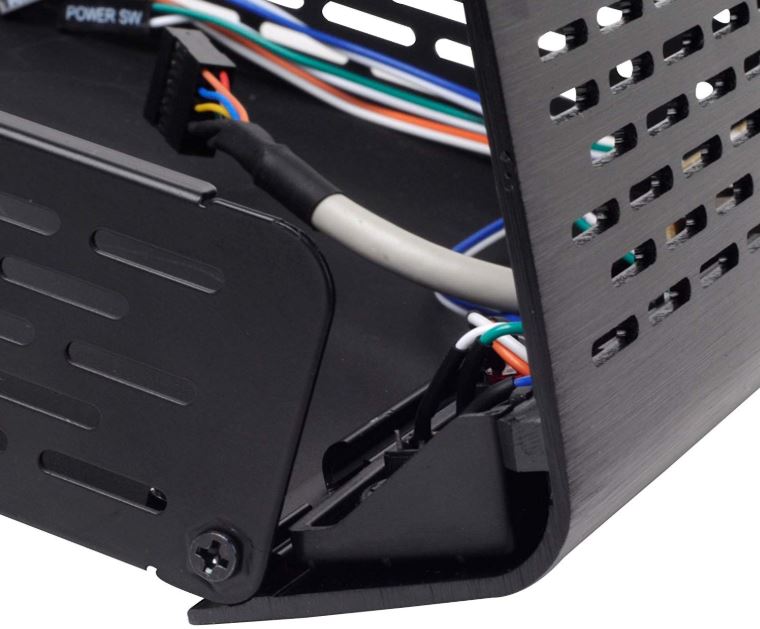 And here's where we end up contradicting ourselves. Earlier, we said that the three most common motherboard form factors were ATX, Micro ATX, and Mini ITX. While that's true, there are other styles on the market, and the Petit accepts one of those: the Thin Mini ITX. This type of motherboard is exceptionally compact, and was originally designed for all in one PCs. There are some minor differences between this and the original Mini ITX, primarily the fact that the processor can only be mounted in a single position. But essentially, it has the same capabilities. But be aware that if you buy a standard Mini ITX motherboard, it's not going to fit.
There's also a slot for a single 2.5-inch SSD. Given the lack of an optical drive, this is where you'll want to splurge and purchase a large-capacity drive. Otherwise, you won't have many options for storage. Finally, one last thing to be aware of. There's only room for a 30mm processor cooler, so get yourself a well-reviewed one. Especially with the lack of any fans, you're going to want the best cooler you can get.

Antec Slim Desktop VSK2000-U3
The Antec Slim Desktop VSK2000-U3 is a slim, compact case that's compatible with both Mini ITX and Micro ATX motherboards. It measures 14 inches wide, 13.3 inches deep, and 4 inches thick, and includes a small plastic stand to keep it stable if you choose to put it in an upright position. In the horizontal position, four rubber feet protect your entertainment center shelf from getting scratched. Keep in mind that while this form factor is very slim, it's not large enough to support a graphics card. The outside of the case is molded from ABS plastic, and has a slick black finish that's attractive, and will match a variety of modern electronics.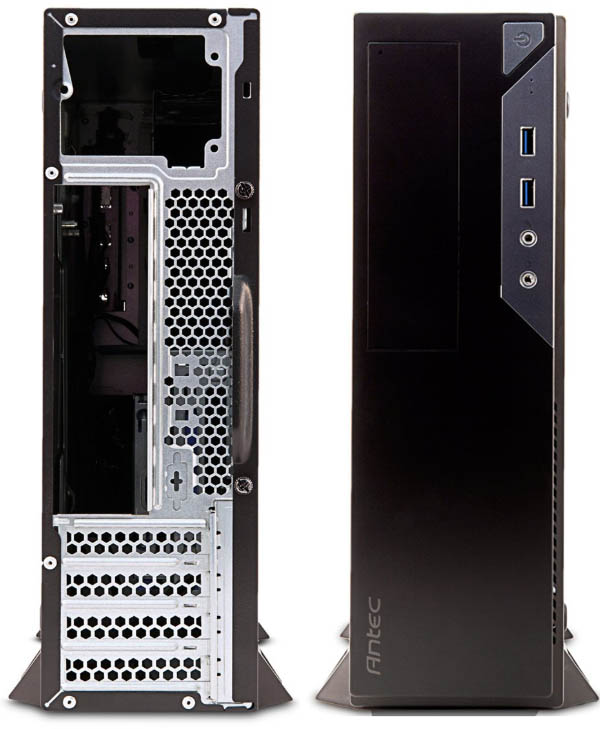 For such a small case, it offers a surprising variety of options. Inside, there are mounting trays for both a 2.5-inch and 3.5-inch drive, so you can install a small SSD for running your operating system as well as a larger HDD for storing your media. In addition, the front of the case has a slot for installing a DVD or Blu-Ray drive. That's impressive for a slim case, and it's hard to get much smaller while still providing space for an optical drive. That said, the slim size does have its limitations. The tallest possible CPU cooler is 65mm, and there's not a ton of space for extra fans. In fact, the only fan you'll be able to use is the 92mm fan in the back. We recommend upgrading to a higher-end fan to get the best performance.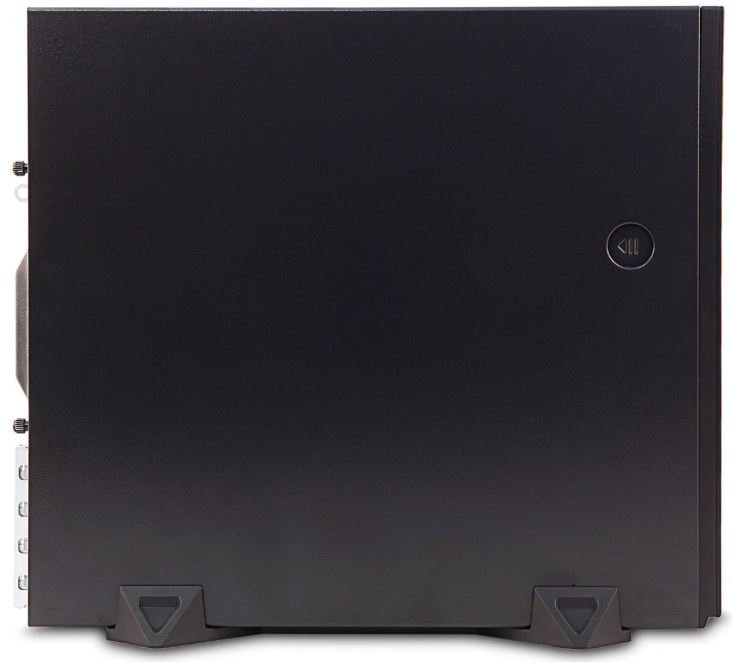 The front of the case is smooth, with just a power button and no reset button. A pair of small LEDs indicate when the power is on and when the drive is active. There are also a pair of USB 3.0 ports on the front of the machine, along with 3.5mm mic and earphone jacks. On the back, you'll find standard tool-free expansion slot covers, with a perforated aluminum plate that provides plenty of space for air flow. All in all, the Antec is a great value, especially for the low price.
Was this helpful? Please consider sharing: