Whether you're brand new to PC gaming or have been doing it for years, building your PC is something that you should try. All of the components to a PC are important, but they also have one thing in common. They all go inside the case.
The case is arguably one of the most important pieces of a PC build since there are so many options that suit your build's needs. Want a case that offers great customization and is big enough to house all the state of the art components? Well, an inverted ATX case is perfect for that!
But what exactly is an inverted ATX case? Put simply, its a computer case that allows you to flip the motherboard upside down so your graphics card is at the top. Why is that important?
Left-Hand Setups – Allows for setups with your computer on the left while still having a window into the PC in plain view
It's unique – Let's be honest, many PC setups are all about looks. An inverted setup is sure to set you apart from the norm.
Customization – The inverted setup allows you to move different components around in the case that aren't possible with a traditional ATX setup
Ready to find the perfect Inverted ATX Case for your next build? Here are four great choices!
Best Overall: be quiet! Dark Base Pro 900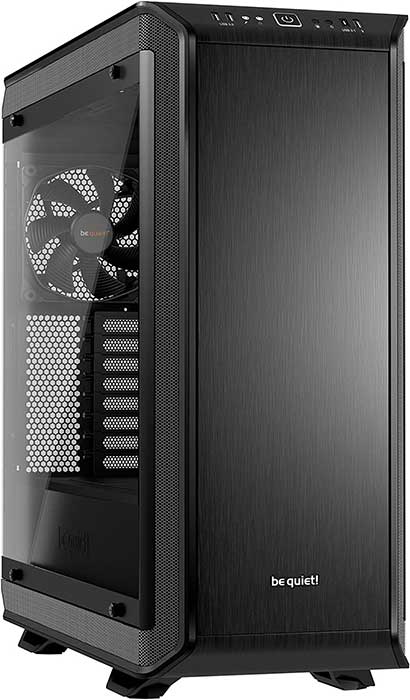 Key Features:
Configurable in both standard and inverted ATX format
Comes with three pre-installed Silent Wings 3 fans
Three-year warranty
26 x 13 x 27 inches
41.6 pounds
The Dark Base Pro 900 is our best overall choice for an inverted ATX case, available today. When you're looking for the best case, you need something that has enough size matched with great design to house your components exactly how you want them. The Dark Base Pro 900 does this perfectly.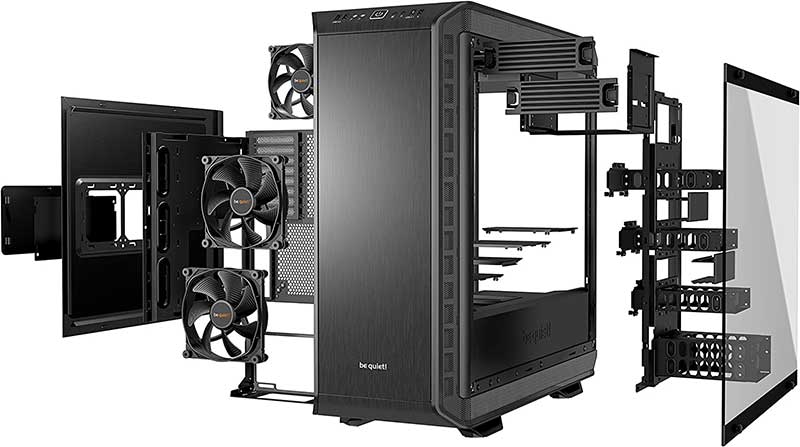 Leaving ample room inside the case for water cooling, hard drives, optical drives, and more, this case will allow you to build the PC of your dreams without having to leave parts out. Among reviewers, the case lives up to its name by staying very quiet while in use. While it comes with 3 pre-installed Silent Wings 3 fans, this case also allows for nine additional fans and up to 4 radiators so that you can be sure your PC won't overheat.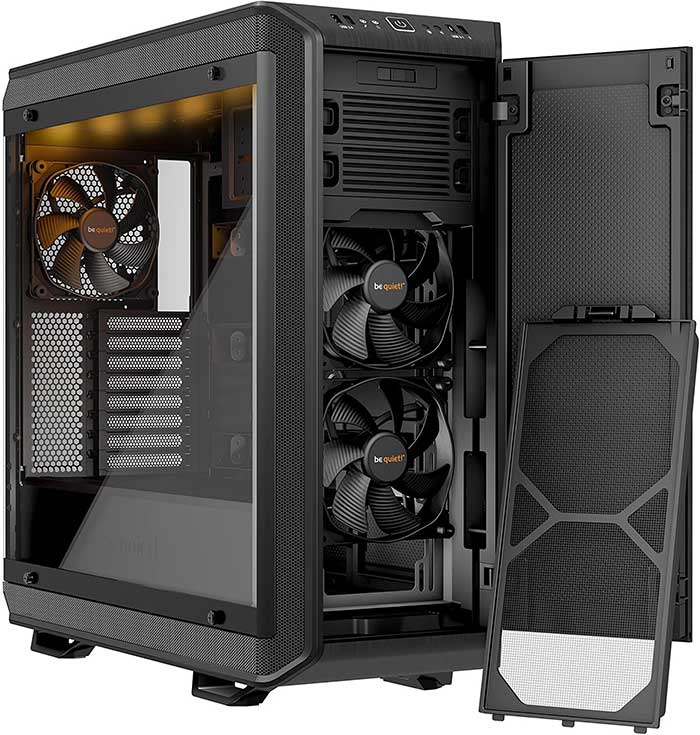 Aesthetically, the Dark Base Pro 900 is beautiful. It features a tinted glass side panel and a black body with your choice of black, orange, or silver accents. It truly has a great look that will pair well with minimal and RGB setups alike.
Pros:
Can hold up to 7 HDDs and 15 SSDs, offering a crazy amount of storage capabilities.
Plenty of room to build in.
Can be configured in both inverted and standard ATX.
Cons:
User manual is confusing, so knowing what you're doing while building will be helpful.
It's a large case, so it will take up quite a bit of space.
It's on the pricier side.
Best Runner-Up: Cooler Master Cosmos C700P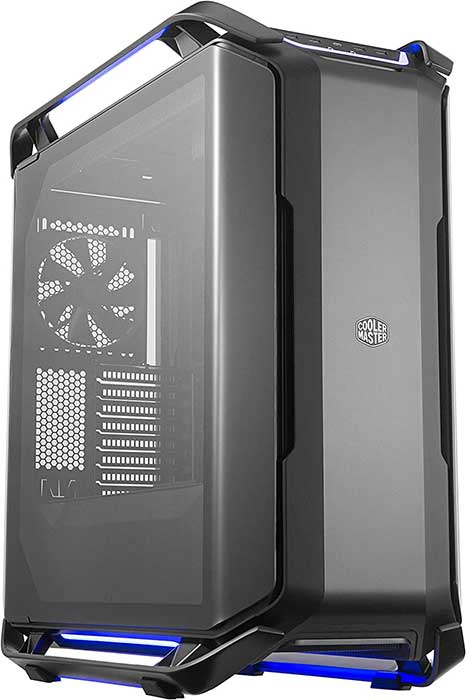 Key Features:
Alternate rear panel for custom motherboard layouts.
Ability to house a range of motherboard sizes.
12.05 x 25.16 x 25.63 inches.
48.8 pounds.
Our runner-up choice is the Cooler Master Cosmos C700P. This case offers truly a premium experience that will elevate any build you decide to make. This second-generation C700P offers changes and advancements from the original case from Cooler Master.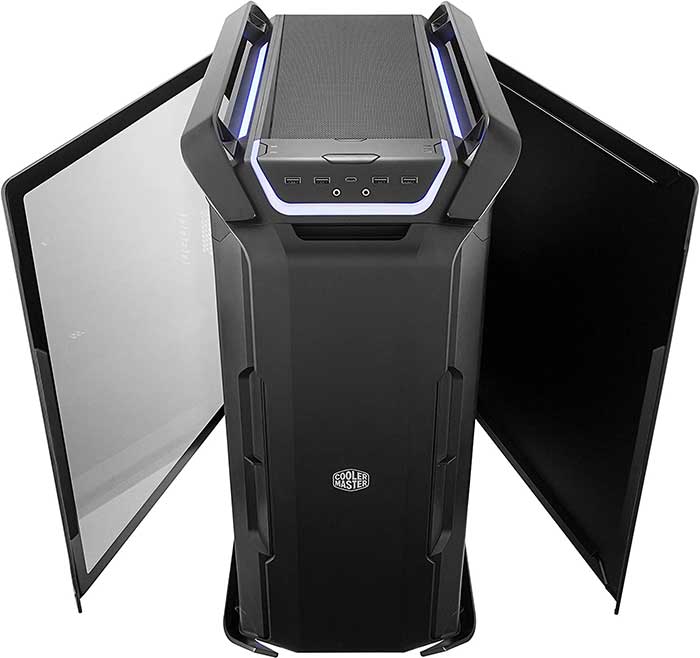 When it comes to versatility, this case does it all. You have the ability to use a range of motherboards from Mini ATX to Standard ATX and can mount them normally, inverted, or sideways. You can even remove the motherboard tray entirely to install it outside of the case.
The front I/O panel of the case is state of the art, featuring one USB 3.1 Type C port and four additional USB 3.0 ports. It also has a fan speed control button and an RGB control button, giving you access to all the control you want in a convenient location.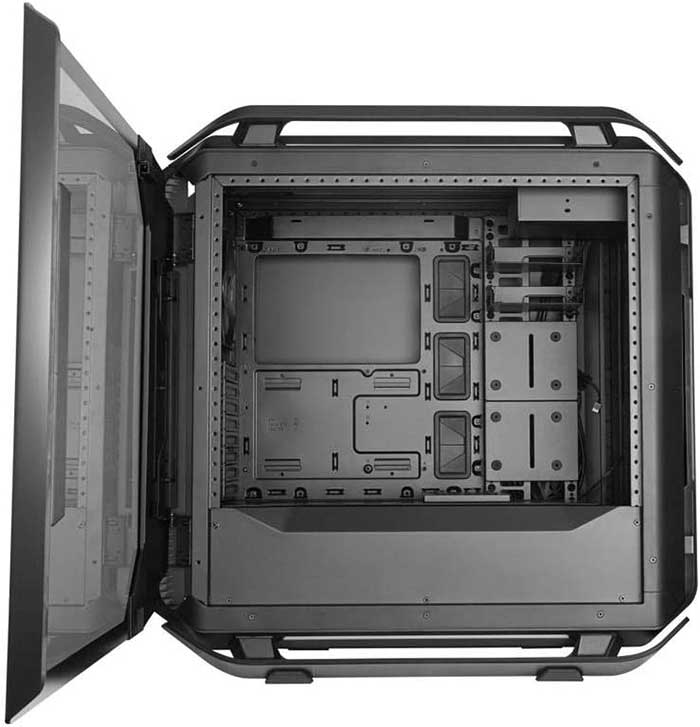 This case features a premium tempered glass side panel with curved sides to increase your view in from different angles. However, the tempered glass isn't reversible, so you may only want your PC on the right side of your setup.
Pros:
Comes with 3 pre-installed fans.
Completely customizable motherboard layout.
Can house radiators on top, bottom, and both sides.
Cons:
By far the most expensive on this list.
All color options aren't always available.
The tempered glass side panel is only viewable on right side setups.
Best Alternative: be quiet! Silent Base 802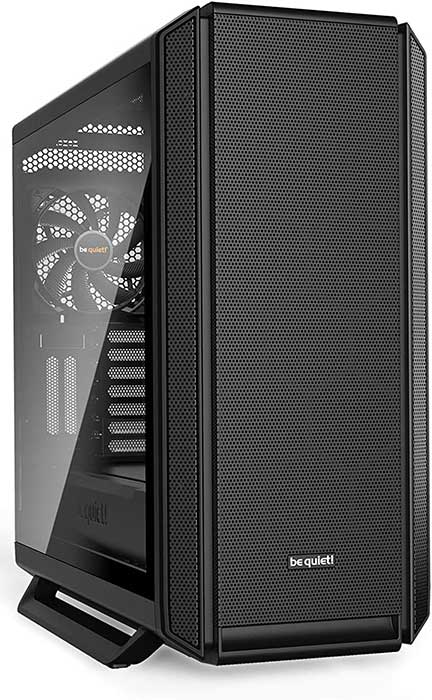 Key Features:
Smart I/O port.
Sound dampening insulation.
24.5 x 13 x 24.5 inches.
28.2 pounds.
Looking for a case that's a little bit different than our top choices? Check out our best alternative pick, the be quiet! Silent Base 802.
This mid-tower ATX case comes with 3 pre-installed pure wing 2 fans, and offers the same configuration options as the Dark Base Pro 900. This case does differ from the Cooler Master Cosmos C700 P, as it allows you to flip which side of the case the tempered glass panel is on, allowing for both left and right-sided setups.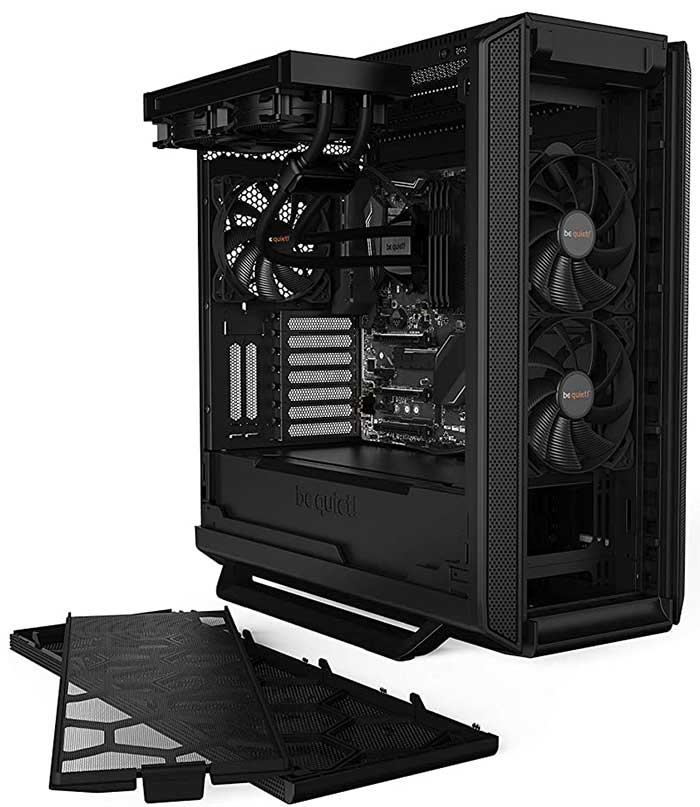 Another great feature is its insulation. 10mm mats are installed throughout this case to assist in noise dampening and stabilization.
Pros:
Can be used in left and right-facing setups.
Multiple top covers and front panels for different cooling methods.
Houses radiators up to 420 mm.
Cons:
Only two standard USB Ports on the front I/O Port.
Lack of space in the back panel for cable management.
Best Mid-Range: Segotep T1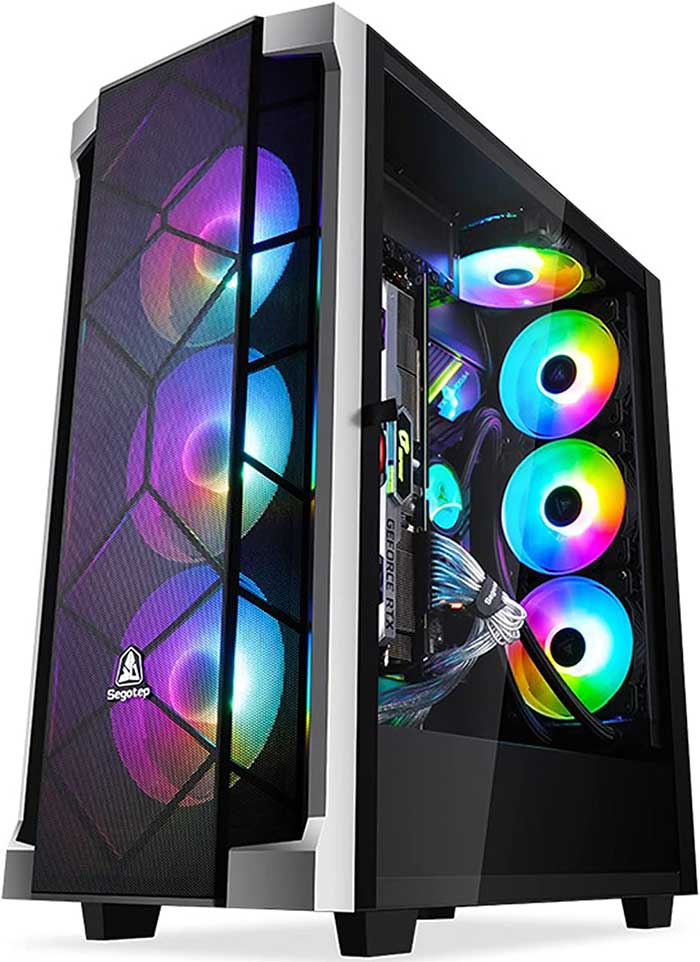 Key Features:
Vertical GPU mounting capability
Fits four different motherboard sizes
19.7 x 9.4 x 21.6 inches
23.9 pounds
The best mid-range option in this article is the Segotep T1. It's extremely unique to this list with its vertical GPU mount design. There's tons of room inside, allowing for GPU's up to 13.6 inches long. The vertical mount design allows for your GPU to be in between the airflow of your intake and exhaust fans on the front and back, allowing for maximum airflow and ultimately, lower temperatures.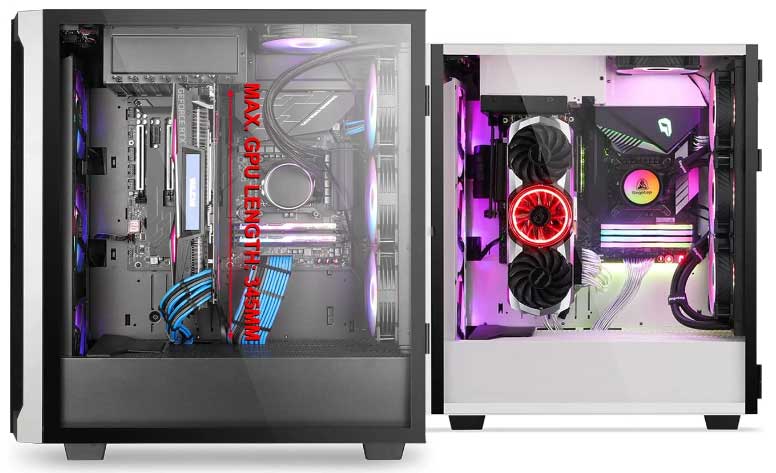 When it comes to cable management, the Segotep T1 comes prepared. Featuring a port storage box at the top for I/O cables, and spacious area behind the motherboard with velcro. Keeping your build organized will be a breeze.
For fans of storage, the Segotep T1 can hold up to 6 drives depending on your mix of HDDs and SSDs. For cooling, the front can accommodate three 120mm or 140mm fans or a 360mm radiator. The back can hold three 120mm fans, two 140mm fans, or one 360mm radiator. Since the top has the cable storage box, only one 120mm fan can be attached there.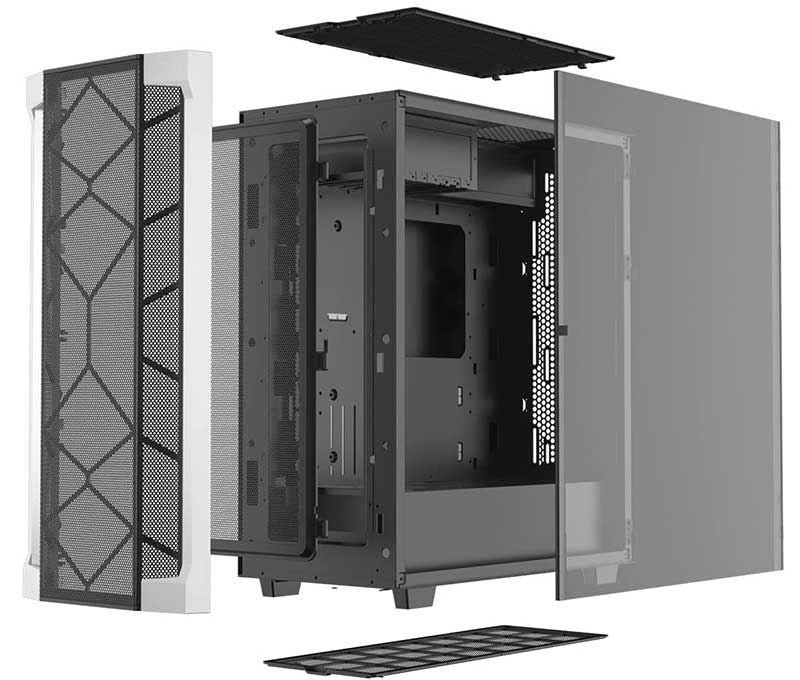 Aesthetically, it looks great. Offered in both black and white, you can match your setup perfectly. The side has a full tempered glass panel, and the front features a mesh and plastic see through panel, so RGB fans on the front are a great addition.
Pros:
Vertical GPU mount
Comes in black and white
Multiple radiator and fan sizes supported
Cons:
Not designed to support horizontal GPU placement in standard or inverted format
Fans are not included
Best Budget: Thermaltake Core G3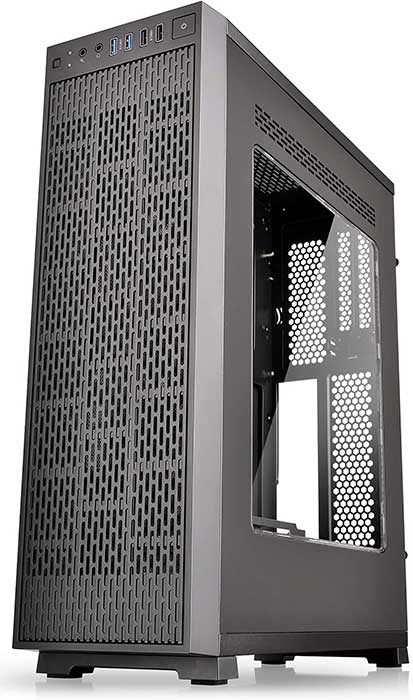 Key Features:
Vertical and Horizontal build ready.
14.6 x 5.5 x 17.9 inches.
11.04 pounds.
Looking for a great option for your budget build? Check out the Thermaltake Core G3! While this case is the smallest and most affordable, it can still house a powerful mix of components for any state-of-the-art gaming PC.
Offering the ability to build in both horizontal and vertical inverted orientations, you can build your PC exactly how you want to. This case is similar to the Cooler Master Cosmos C700P because the windowed side panel only works on one side. However, this case is designed with that panel on the right side, so you'll always be able to see inside your inverted right-facing builds.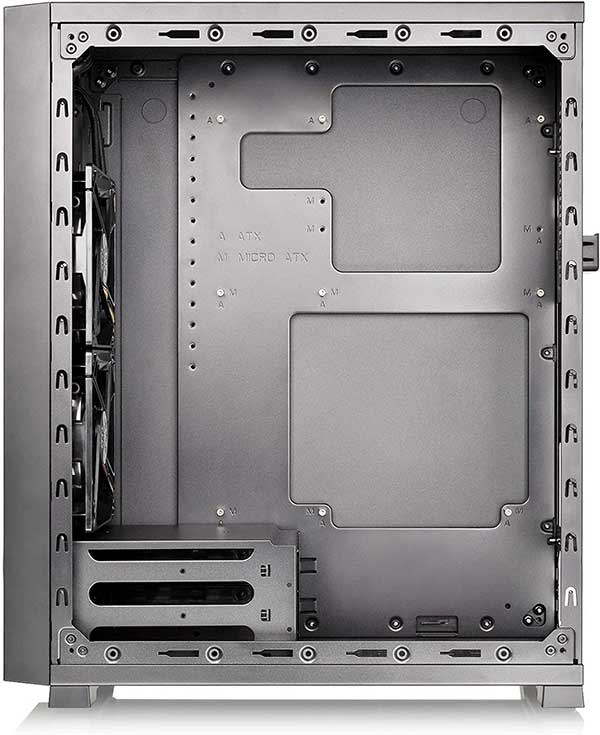 This case is designed with water cooling in mind. The flexibility of GPU placement helps to route cooling where it has to go. You will have to do some planning ahead of time to make sure your water cooling fits the way you want it to, due to the smaller size, but it's still more than possible to achieve.
Pros:
Most affordable option.
Designed for both horizontal and vertical inverted layouts.
Designed with water cooling in mind.
Smallest and lightest case.
Cons:
No USB C port on the front I/O
Small size restricts which GPUs will fit.
Lacks many of the features other cases have, due to its size.
Choosing the Best Inverted ATX Cases
If you're looking to build a new gaming PC and you want an Inverted ATX Case, you can't go wrong with any of the options we've outlined. With various sizes, prices, and customization available, you'll be sure to find a great case here.
The be quiet! Dark Base Pro 900 is nice option if you want the best mix of size, customization, and premium design. Right up there with it is the Cooler Master Cosmos C700P, but it isn't as competitive on price or customization.
If you want the most affordable option, the Thermaltake Core G3 offers a ton of features in a small profile. If you want something that's a lower price but great value, you can't go wrong with the be quiet! Silent Base 802 and its modular design.
When deciding, make sure to take into consideration how many different components you'll be adding to your build. Both now and in the future. Also, take note on how much desk space you have, how much you're willing or able to spend, and what type of cooling method you want to use. These factors all play an important role in deciding which of these ATX cases will be the best for your needs.
Meet Derek, "TechGuru," a 34-year-old technology enthusiast with a deep passion for tech innovations. With extensive experience, he specializes in gaming hardware and software, and has expertise in gadgets, custom PCs, and audio.
Besides writing about tech and reviewing new products, Derek enjoys traveling, hiking, and photography. Committed to keeping up with the latest industry trends, he aims to guide readers in making informed tech decisions.