PCs exhibit a vast array of forms and dimensions, tailored to accommodate our diverse requirements. Those seeking high-performance machines for gaming or professional tasks typically opt for a PC encased in a more sizable chassis.
This not only allows for the integration of numerous GPUs but also enhances airflow, ensuring optimal performance. On the other hand, there are those whose needs are more centered around entertainment. For them, a PC that acts as a media hub is sufficient, enabling video streaming on TVs, music playback, and more.
Driven by the advanced 12th Gen Intel Alder Lake N97 processor (4C/4T, 6MB Cache, clocking up to 3.6GHz, and with a 12W TDP), the Blackview MP80 has been intricately designed to cater to a plethora of needs, ranging from entertainment and work to educational purposes.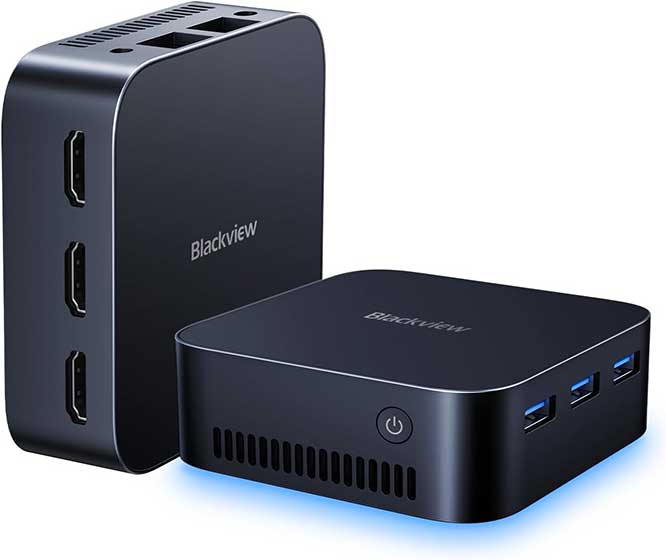 Blackview MP80
If a compact form factor PC is what you're searching for, then you're in for a treat. Blackview is currently hosting a promotional sale on its MP80 Mini PC. Ordinarily retailing at $299.99, a price that is already quite attractive for its offerings, this special offer slashes an additional 45% off, bringing the total cost to $164.99.
This deal represents a phenomenal bargain, particularly for those on the hunt for a PC that falls under the $200 mark.
To take advantage of this steep 45% discount, apply the promotional code LE5BDKVW when you reach checkout. It's available for a limited time only, running from October 23rd through to November 5th. This gives about a week to decide and seize this opportunity.
Miniature Form Factor
As depicted in the image below, the Blackview MP80 carries an impressively compact design, comfortably fitting within the grasp of your hand. For a size comparison, it's roughly akin to the dimensions of an Apple TV.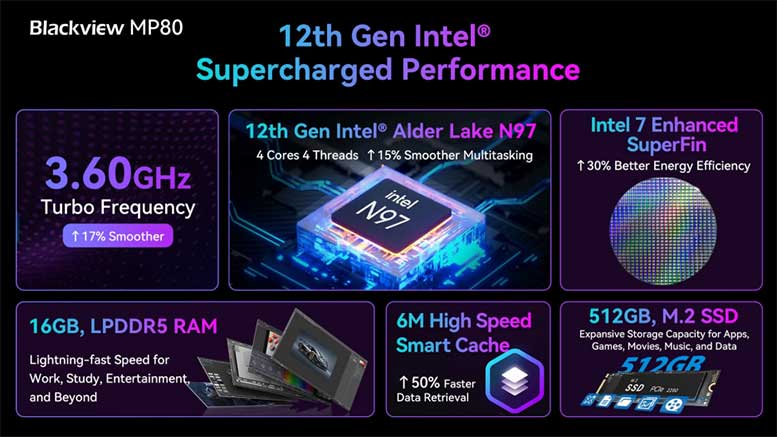 This diminutive form factor makes the MP80 particularly well-suited for environments with limited desk space, or for those aiming to achieve a sleek, understated aesthetic, desiring a PC that seamlessly blends into its surroundings. This is opposed to the glaring, formidable towers adorned with LED lights, PWM fan controllers and numerous fans, often showcased on r/BattleStations.
Best of all, it excels as a central hub for media in your living space. Whether you're looking to stream content from platforms like YouTube, Netflix, or Hulu, the MP80 has got you covered. In addition, it holds potential for lighter gaming activities (a topic we'll explore later on).
Excellent Performance
Given its petite stature, one might naturally question the Blackview MP80 Mini PC's capacity and performance. However, rest assured, this compact powerhouse packs a punch.
At the heart of the MP80 sits the robust Intel 12th-gen N97 CPU. It's capable of accelerating up to a swift 3.4GHz. Paired with a generous 16GB of LPDDR5 RAM, it's more than equipped to handle the daily tasks of most users with ease. Storage needs are swiftly met with a 512GB M.2 SSD, ensuring rapid file access and transfer speeds.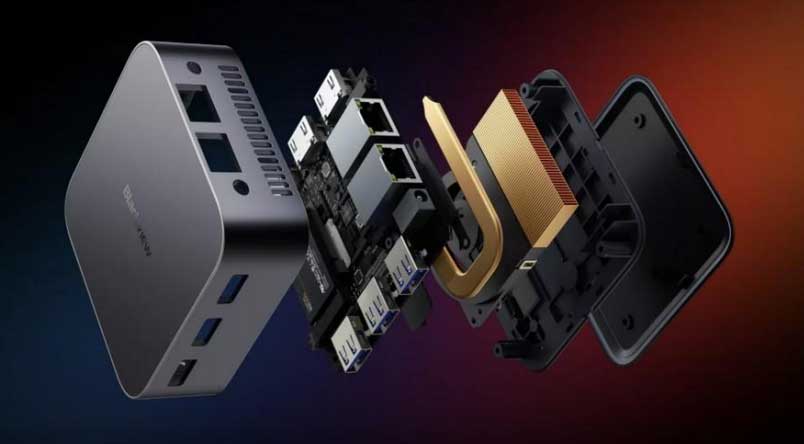 The mini PC arrives ready to roll with Windows 11 Pro pre-installed. There's a suite of connectivity options including dual LAN, triple HDMI ports, numerous USB connections, and built-in WiFi. For those inclined, there's also the option to mount it using the provided VESA mount.
To top it off, Blackview has meticulously addressed the cooling requirements, implementing a 4-in-1 cooling and noise-canceling system. This ensures the MP80 remains cool under pressure, all while maintaining a low noise profile, so you can focus on your tasks at hand without distraction.
Ideal for Daily Tasks
Let's set the record straight: the Blackview MP80 is not crafted with the intention to serve as a powerhouse for intense gaming or professional-grade video editing and 3D rendering tasks. For those heavy-duty needs, you're likely eyeing a different class of computer altogether.

Rather, the MP80 shines in its ability to adeptly handle productivity-focused tasks. Whether you're crafting documents in Microsoft Office, making occasional tweaks to photos or graphics, or engaging in light gaming, this machine is up to the task and more.
Boasting a trio of HDMI ports, the MP80 allows for the connection of up to three monitors simultaneously, providing ample screen space for those who crave or require an expansive digital workspace. Rest assured, in terms of screen real estate, the MP80 stands ready to deliver without compromise.
Price and Availability
Earlier, we highlighted that Blackview has a special promotion underway, with the MP80 Mini PC currently available at a remarkable 45% off. But only when you apply the discount code LE5BDKVW at the time of purchase.
This reduces the price from $299.99 to a staggering $164.99, presenting an excellent value for what this device has to offer. If the Blackview MP80 ticks all your requirements, don't miss this chance to secure a fantastic PC deal and save upwards of $130 in the process!
Do keep in mind, however, that this promotional offer is time-sensitive. It runs from the 23rd of October to the 5th of November, 2023. Time is of the essence, so act quickly to ensure you don't miss out!
Meet Derek, "TechGuru," a 34-year-old technology enthusiast with a deep passion for tech innovations. With extensive experience, he specializes in gaming hardware and software, and has expertise in gadgets, custom PCs, and audio.
Besides writing about tech and reviewing new products, Derek enjoys traveling, hiking, and photography. Committed to keeping up with the latest industry trends, he aims to guide readers in making informed tech decisions.