Now more than ever, people are placing a greater priority on their health and wellness.
Of the many things you can do for your health, making sure you stay adequately hydrated is towards the top of that list.
In America, over 75% of Americans are in some form of dehydration. Left unaddressed, prolonged dehydration can cause symptoms such as:
Headaches and cramping.
Nausea and vomiting.
Constipation.
Irritability and mood swings.
Difficulty managing stress.
Hampered immune system.
To make matters worse, things like underlying conditions, diseases and even some medication can make it hard for the body to absorb and process the water we consume. It's for this reason many are turning to water filtration technology to come to the rescue.
While there are countless options when it comes to water filtration, few are nearly as effective or cost efficient as systems that utilize a process known as reverse osmosis.
Why Are Countertop Reverse Osmosis Machines the Best Option?
For a long time, most people used either the filters in their refrigerators or used an under the counter water filtration system. You might be wondering, why is it better to get a countertop reverse osmosis machine?
Let's start with the filter built into your refrigerator. While it may be good for general purposes like cooking, the filters that come on your fridge are extremely limited in their ability to get out all the toxins that are in the water. If you look, they're often just a single carbon filter in the shape of a tube in where water passes through once before landing in your glass.
Contrast that to a reverse osmosis system, which can have more than three or four separate filters that water passes through before you consume it. If you want to ensure the quality of the water that you drink, getting it from your fridge may not truly be the best option.
Next are under-the-counter filtration systems that you may have grown up with. Often times, these require a more-involved installation. In fact, you may even need a professional plumber to get these installed. Therefore, under-the-counter filtration can require a much larger investment than you may have originally anticipated.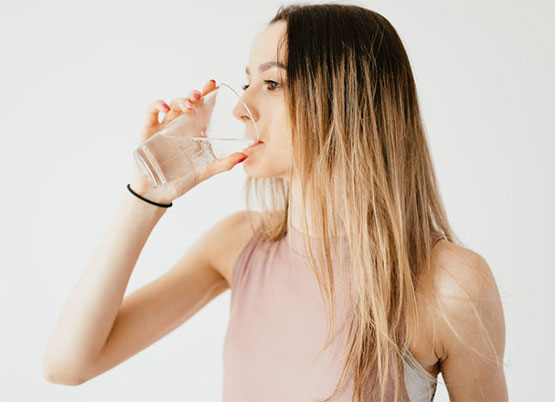 It's for these reasons that a countertop reverse osmosis system may be your best option for high-quality drinking water. As we mentioned, water goes through multiple filters and since it's out in the open, you can maintain it much easier.
So how do you pick the right reverse osmosis machine for yourself? The number of options can be overwhelming with new models popping up every few months. Not all of these devices are created equal and some should be avoided. In addition, most of us don't have hours to dedicate to researching the best countertop reverse osmosis system for the home or office.
To help, our team of experts have done the work for you, testing multiple units and curating a list of the best options currently on the market.
How We Picked the Best Countertop Reverse Osmosis System
We've leveraged years of experience to sift through dozens of options. Ultimately, we've settled on the five different units that are worth checking out. We achieved these selections by measuring these products against a wide criteria, including:
Quality of Materials: The last thing you want is for poor quality materials to seep toxins into the water you're trying to filter. Our team does a thorough analysis into where manufacturers source their materials to make sure that they're food-safe and leech free.
Third-Party Data: While we want to believe marketing and advertising, we trust data the most. Our selections in this article come with solid testing to verify their claims and water quality.
Taste: You won't drink water if it doesn't taste good. We've run these units through a range of taste tests. We've also surveyed owners of these units to get their take.
Cost to Replace Components: Eventually, you're going to need to replace the filters. We factored in the cost of maintenance and supplies to determine what would be in the best interest of overall value.
Price: The price range of countertop reverse osmosis systems is wide. Our primary concern is to make sure each product we've selected has proportionate value to the money you're paying.
There's a lot that goes into figuring out which countertop reverse osmosis units are best for your home and family. If you're still unsure which of these would be the best for you, stick around til' the end for a few things to keep in mind. Without further ado, let's get right into it.
Best Overall: AquaTru Connect Smart Countertop RO Water Filter System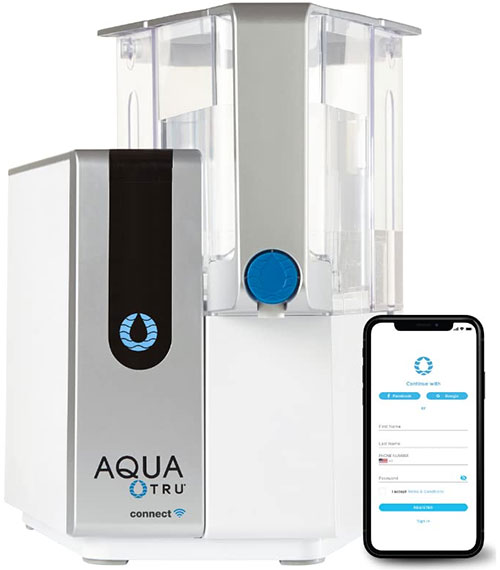 Key Features:
4-Stage Ultra Reverse Osmosis.
Removes 83 Contaminants like Lead, Chlorine and Fluoride.
Filters last for 600-1200 Gallons.
No Plumbing Required.
Quick Change Filters for Easy Maintenance.
Filters 1 Gallon at a Time.
14″L x 12″W x 14″H.
Smartphone Compatible.
Real-Time Filter Status.
Filter Replacements Can Be Purchased In-App.
The AquaTru Connect Smart Countertop RO Water Filter System is our best overall choice. It was not a difficult decision to make.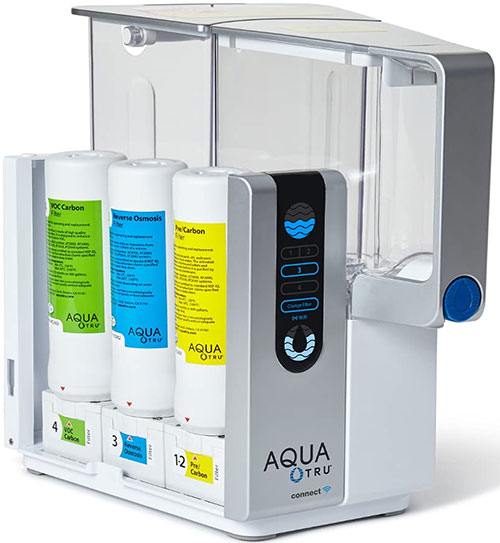 Where some countertop systems only have two to three stages of filtration, the AquaTru boasts a 4-stage process that cleanses the water of 83 contaminants. Things like nitrates, PFOS, fluoride, chlorine and lead are pulled away to deliver truly purified water. We found that while other filtration systems stated that the filters didn't have to be replaced for several months, their effectiveness fell through the floor well before they were supposed to.
According to third-party testing, the filters on the AquaTru hold fast to what they claim. This is a massive feat considering that one batch of filters is supposed to filter the equivalent of 4,500 single use, 16.9 ounce water bottles. That's upwards of 1,200 gallons.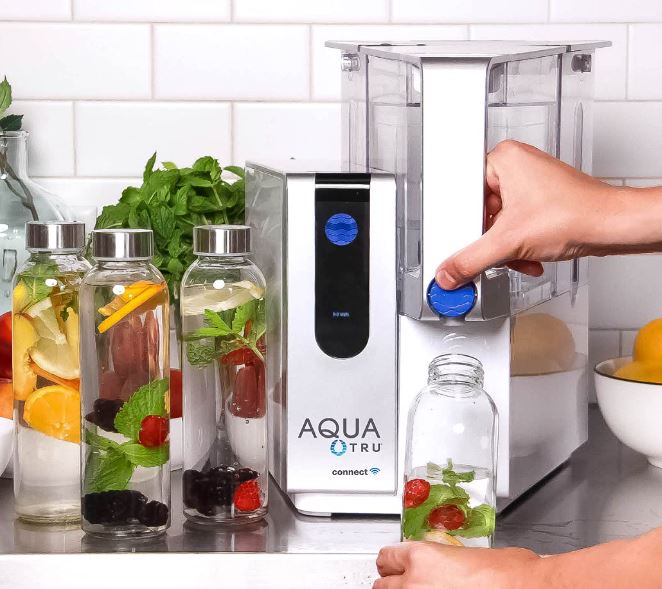 This translates into massive savings. Breaking down the math on how much it costs, the current price per ounce of brand name bottled water is 3.5 cents. The price per ounce of water from the AquaTru is .005 cents. It's reasonable to say that the AquaTru could bring in a savings to the tune of hundreds of dollars per year for a family of four.
The AquaTru is also considered a smart water filtration device. A built-in hotspot partners with the AquatTru App on your smartphone and delivers data that you can use to improve your health.
The app gives you helpful statistics such as:
Filter usage.
TDS (total dissolved solids) Meters in both tap and clean water tanks.
Water consumption tracking.
Total money and plastic bottles saved.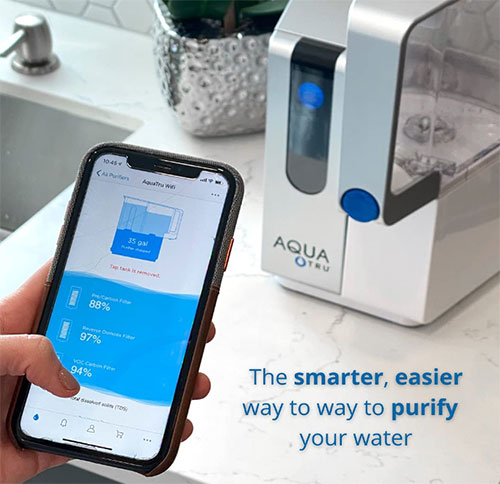 The reviews from real-world users have been extremely positive. Many of them note how much easier it is to consistently consume water with it being in plain view. As a total package, the AquaTru is a strong contender.
What We Liked:
Each filter is equivalent to 4,500 single-use, 16.9oz plastic water bottles.
Smartphone app provides info on the system's status.
Filters are budget-friendly to replace.
4-stage filtration system is among the best.
Taste is superior to many other systems.
1 gallon tank is adequate for families of 4 or less.
What We Didn't Like:
Reservoir could be bigger to reduce the number of refills needed.
More expensive than other options on the market.
Best Runner-Up: Frizzlife RO Reverse Osmosis Water Filtration System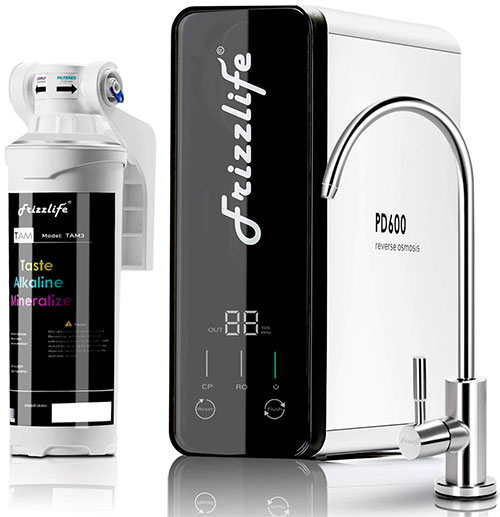 Key Features:
8-Stage Filtration.
Produces Alkaline Water Greater Than PH 7.5
Tankless Design.
Produces up to 600 Gallons Per Day.
Single Twist Filter Locking Mechanism.
Front Panel Light Indicators for Filter Life.
The Frizzlife Reverse Osmosis Water Filtration System is our choice for the best runner-up because of its minimalistic, low-clutter approach to countertop filtering. Skipping the water reservoir in favor of a direct water line connection frees up a lot of countertop space for other things.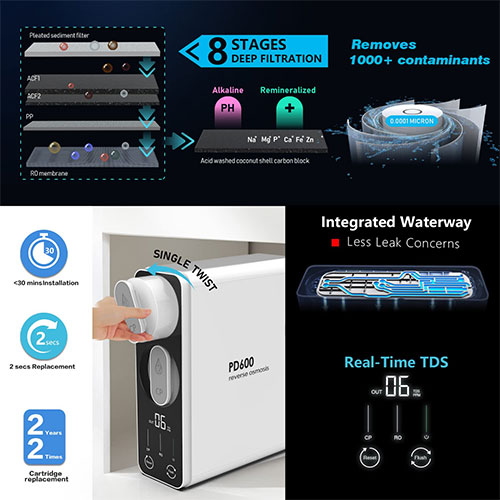 Another plus is that you never have to worry about refilling water tanks since it will always be available on-demand. This version is able to process up to 600 gallons a day which is more than enough for even the largest families.
In terms of filtration and output, the Frizzlife RO implements an 8-stage filtration system. It's one of the first systems of its kind to incorporate a filter that re-alkalizes the water to a PH level of over 7.5. Multiple studies have been done about the health benefits of alkaline water. The downside of many other RO systems is that they tend to make water more acidic because of removing all the minerals. The third filter on the Frizzlife restores important minerals to bring water back to alkaline.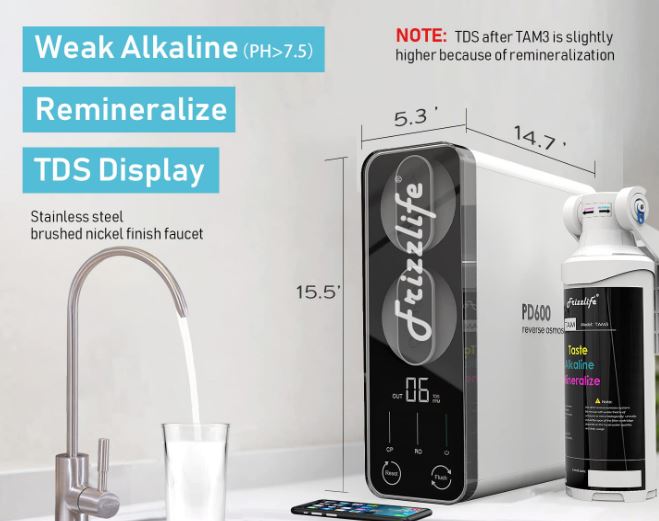 The Frizzlife system is very straightforward with a clearly lit, light-up display on the front panel to show you real-time filter status.
What We Liked:
Direct water line connection.
Processes up to 600 gallons per day.
Brings water back to alkaline.
Bright LED display.
Filters are easy to twist out and replace.
What We Didn't Like:
No smart features.
Setup may be a bit more-complex than others.
Best Budget: Express Water Countertop Reverse Osmosis Water Filtration System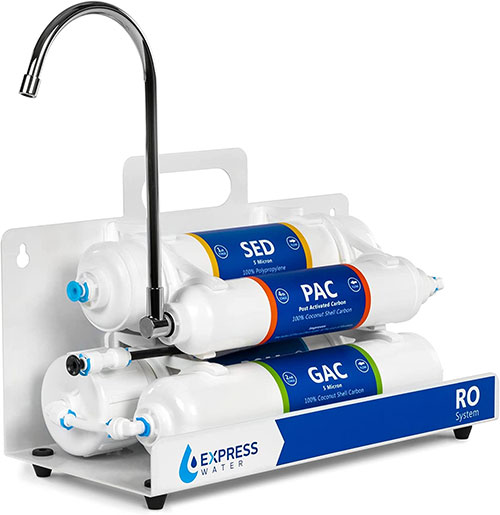 Key Features:
4-Gallon Capacity.
Activated Carbon, Reverse Osmosis Purification Method.
Filters 4.78 Liters Per Hour.
Although all of the reverse osmosis filtration systems featured on this list will save tremendous amounts of money compared to buying bottled water, some homeowners may need a budget friendly option that has a low cost of entry as well.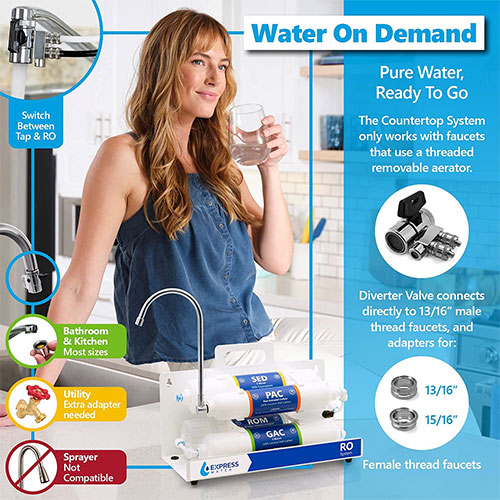 After testing over a dozen inexpensive systems, we settled on the Express Water Countertop Reverse Osmosis Water Filtration System as the best budget option. What it gives up in aesthetics it more than makes up for in functionality. Instead of an enclosed design, the Express Water opts for an open air form factor where the filters are in clear view.
It skips the water tank and comes with an adapter that fits to the end of the faucet. Water goes from the faucet through the four filters and then exits from the onboard spout. It can be a hassle having to attach the water line to the faucet every time you need a drink of water. However, most people use it to filter a gallon of water at a time to store in a pitcher.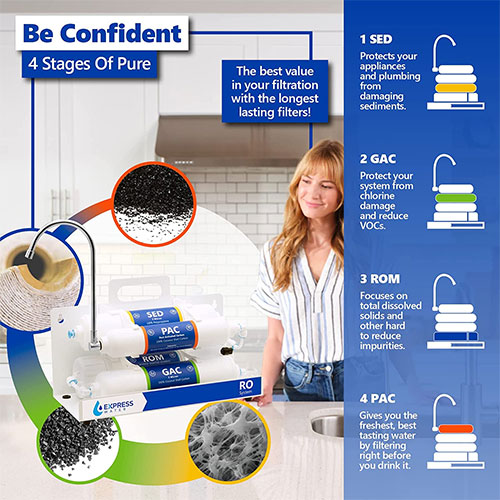 The Express Water system does the best job of any other product in this price range. It's a great option if you are trying to keep costs low while improving the quality of your water.
What We Liked:
Great price.
4-stage filtration system rivals more expensive models.
Easy to use.
What We Didn't Like:
Must connect to a faucet head.
Visually, not the most attractive.
Best Alternative: ICEPURE Countertop Reverse Osmosis Water Filtration System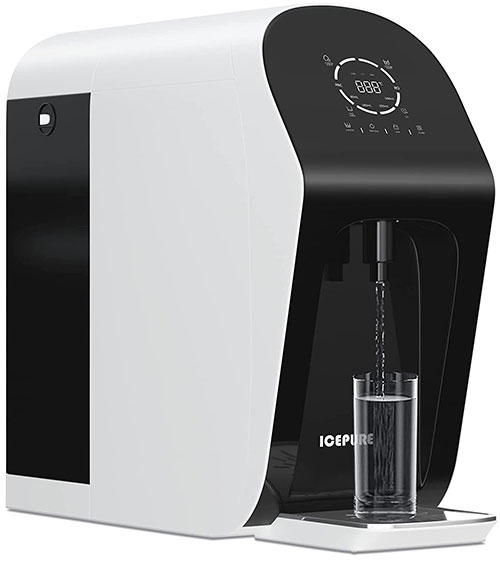 Key Features:
Variable Temperature Settings.
Preset Water Output Presets.
5:1 Pure Water to Drain Ratio.
4-Stage Filtration System.
The ICEPURE is the system for people that want options and convenient functions to make life easier. The design is one of the most aesthetically pleasing countertop solutions on the market. The onboard water tank is discreetly tucked away but easily accessible when you need to refill it.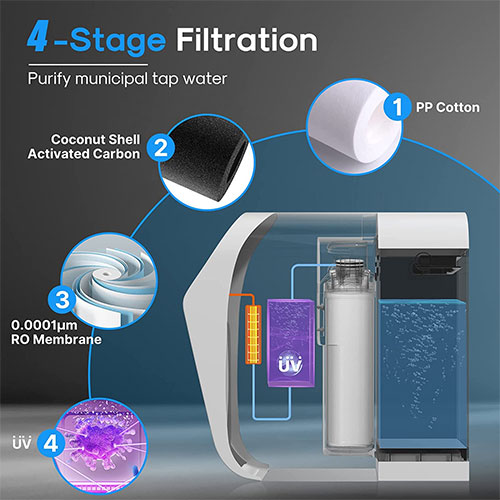 Its low water waste system makes it great for the environment while keeping water bills down. In addition to the superior filtration are the convenience features it comes with. First, you're able to set water output presets in advance including 80ml all the way to 500ml. No more timing when to turn off the filter, it will pre-measure the amount you want automatically.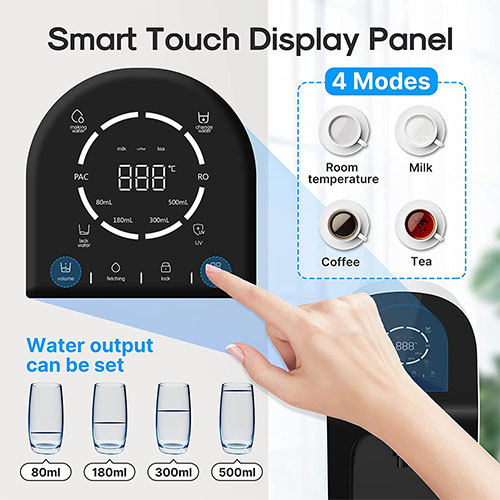 The ICEPURE comes with four different temperature settings letting you bypass additional steps for things like tea or coffee. It's our pick for the best alternative reverse osmosis countertop system.
What We Liked:
4 water temperature settings.
Water dispensing presets.
Sleek, modern design.
Easy push button interface.
High capacity water tank.
What We Didn't Like:
Best 2nd Alternative: Bluevua Countertop Reverse Osmosis Water Filter System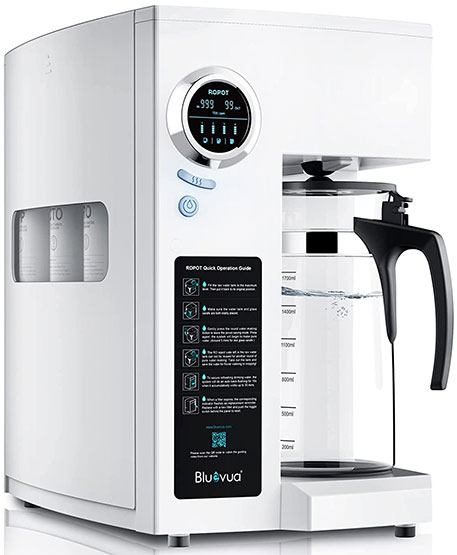 Key Features:
Glass Water Pitcher Included.
4 Stage Water Filtration.
Water Tank System.
2:1 Pure to Drain Ratio.
As one of the best looking options on the market, the Bluevua Countertop Reverse Osmosis system comes with a unique assortment of features. These features are ideal for people who want their water intake to be more prominent in their lives. The filters last extremely long. In fact, sometimes up to two years before a replacement is needed.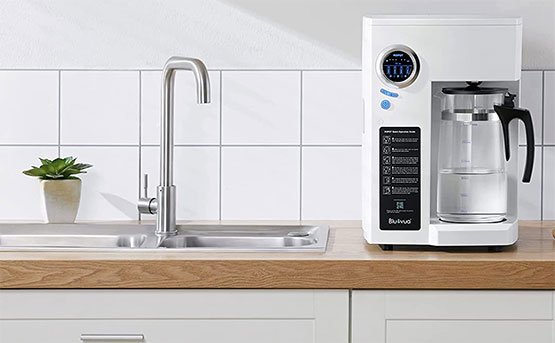 An automatic shutoff feature saves energy when not in use while also maintaining real-time monitoring on filter life. Testing showed that the Bluevua did a great job filtering out impurities while producing an enjoyable taste. It's a great alternative worth considering.
What We Liked:
Sleek white exterior.
Comes with a water pitcher.
Easy to operate.
Long filter life.
What We Didn't Like:
Customer service can be slow to respond.
How to Choose the Best Countertop Reverse Osmosis System
When it comes to choosing the right reverse osmosis system for your home or office, it might help to keep the following things in mind.
Define Your Goals: It's a great time to take inventory of your health goals as it relates to your water intake. Are you wanting to increase your water intake? Improve the quality of your water? A combination of both? Knowing this will help you hone in on RO systems that align with these goals.
Take Note of Your Lifestyle: There's a difference between what's ideal and what's feasible given you current circumstances. Be honest with yourself and how things are. Once you've come to terms with this, opt for a system that helps make your life easier, not harder.
Hopefully this roundup gives you the tools you need to select the best countertop reverse osmosis filtration system for your needs. Which one will you invest in? Regardless, each of these options make a great pick for the coming year.
Meet Derek, "TechGuru," a 34-year-old technology enthusiast with a deep passion for tech innovations. With extensive experience, he specializes in gaming hardware and software, and has expertise in gadgets, custom PCs, and audio.
Besides writing about tech and reviewing new products, Derek enjoys traveling, hiking, and photography. Committed to keeping up with the latest industry trends, he aims to guide readers in making informed tech decisions.