Depending on where you live, the water coming out of your tap may contain various contaminants. If you draw well water from a pristine mountain spring, congratulations! You might be just fine. But for most people, there's at least one chemical or contaminant in your water. Whether it's chlorine from treatment, salt from the environment, or VOCs from pollution, you're looking at some level of risk. Even well water isn't necessarily safe. In many areas, arsenic occurs naturally in the soil. In small quantities, you won't experience any short-term damage from this arsenic. But over the long term, it can cause several types of cancer. Yikes! And in some places, ordinary sediment can even occur at problematic levels.
Most of these contaminants won't cause problems for washing your dishes, or even for bathing. But you certainly don't want to drink them. One way is to use a reverse osmosis filter. Today, we'll be looking at three different options for you to choose from. First, we'll examine the SimPure Y6, a countertop unit. The Y6 is designed not just to purify your water, but to heat it for preparing beverages. Next, we'll look at the APEC Water Systems Countertop Reverse Osmosis Water Filter System. This is designed to attach to the end of your faucet and purify the water as it flows out. Finally, we'll check out the AlcaPure Zero Installation Purifier Reverse Osmosis Countertop Water Filter. This is another countertop unit, designed to both purify your water and adjust the pH. Let's take a closer look, and see which one is the best!
Note: At no extra cost to you, we may earn a commission for purchases using our links. Learn more.
How Reverse Osmosis Works
Before we go any further, let's talk about reverse osmosis filtration. Why is it better than a standard water filtration system? A standard filter uses a carbon filter, and possibly a sediment filter. These are useful for removing some materials, such as sediment and chlorine. But they won't remove VOCs, fluoride, pesticides, arsenic, salt, or many other dissolved contaminants. In a reverse osmosis system, the carbon filter and sediment filter is only the pre-filter. The real work is done by the reverse osmosis membrane.
So, what's reverse osmosis? Not to get too technical, but let's go back to high school biology. Imagine a cell that's full of fluid, surrounded by blood. Waste from the cell permeates the cell wall and enters the blood, where it gets filtered out by the kidneys. Similarly, nutrients from the blood permeate the cell wall, where they can be used to provide energy. For all you amateur biologists out there, yes, we know, this is a gross oversimplification. But it's a good basic description of how osmosis works. Basically, when pressure is equal on both sides of a membrane, material will flow freely back and forth.
In a reverse osmosis system, this gets turned on its head. With reverse osmosis, there's excess pressure on one side of the membrane. Because of this pressure, smaller molecules, like water, will flow freely through. Larger molecules, meanwhile, will get stuck in the membrane. By filtering material on the molecular level, a reverse osmosis filter is far more effective than a carbon filter. One thing we should point out is that reverse osmosis filters are not designed to remove bacteria or viruses. They're generally effective at that purpose, but they're not specifically designed for it. If your primary concern is microorganisms, your best bet is to buy an ultraviolet water purifier instead. Now, on to our reviews!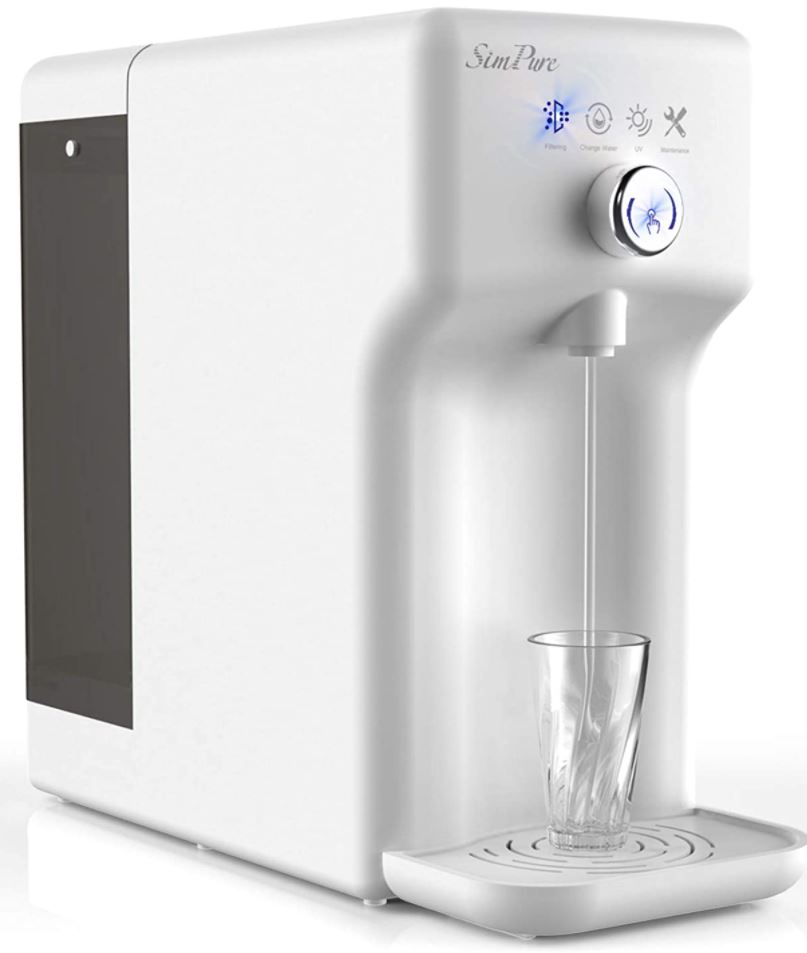 SimPure Y6
The SimPure Y6 is a countertop water purifier that's designed to prepare clean water by the batch. By filling the internal tank in advance, you can ensure that your water is clean when you need it. There's a removable 5-liter tank (a little more than a gallon), which you fill as needed. The water is dispensed into a 1.5-liter (a little more than a quart) storage tank. The nice thing about the removable tank is that it's easy to take out and clean. And because of this countertop design, you don't have to hook it up to your faucet. You'll be able to get full pressure from your faucet for washing dishes and other activities.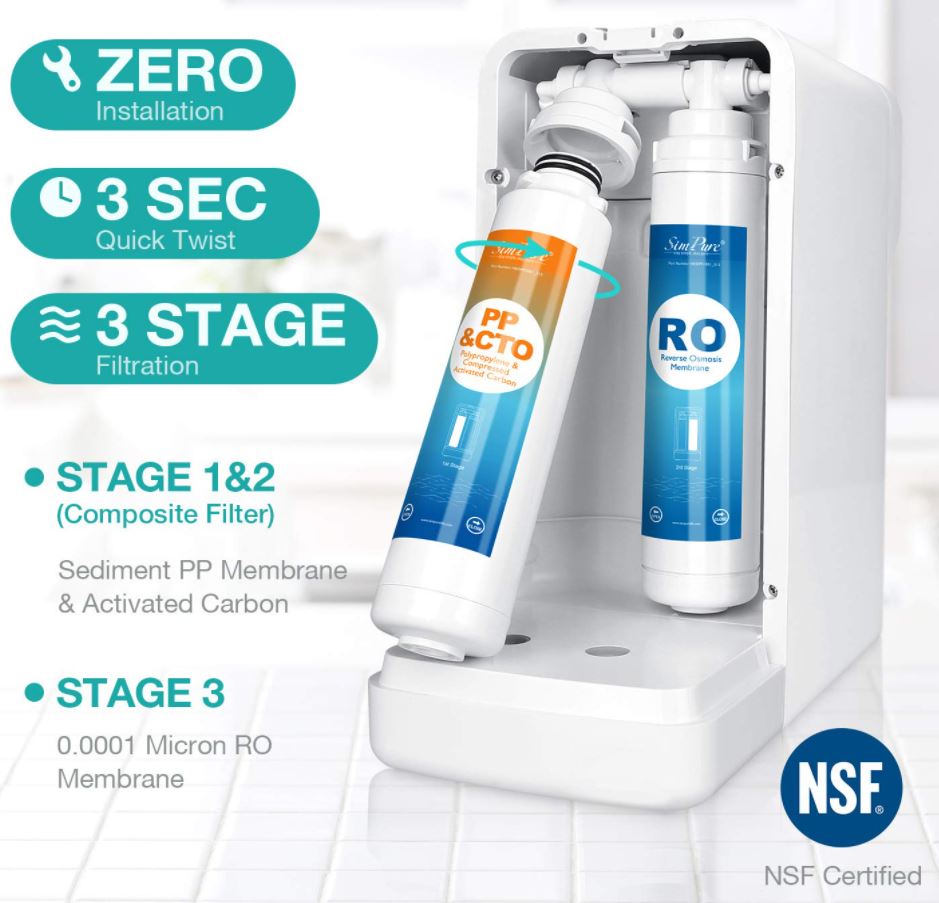 The overall size of the unit is 18 inches tall, 15 inches deep, and 8 inches wide. It weighs 19.9 pounds total, but this is without water. With water, it's closer to 30 pounds. Then again, the assumption is that you'll be using it for awhile, not constantly moving it around. The shell is constructed from glossy white ABS plastic, and looks attractive on your countertop. It has a rounded design, with a soft touch control panel on the front. The control panel has a variety of options, which we'll get to in a minute. It also has an indicator light that lets you know when the water tank needs to be refilled. Beneath the control panel, there's a dispenser, with a washable drip tray underneath. The dispenser offers enough clearance even for most water bottles, so you can fill most containers with ease.
The filters themselves are housed in the back of the unit. The back panel has a small tab that allows it to be easily removed. Inside, you'll see a three-stage filtration system. Each canister can be removed and changed individually, so there are no issues with wastage. No tools are required to change the filters. Just unscrew the canister, and screw the new one in. Make sure to have a towel handy; the old filter is going to drain as soon as you take it out. The first stage is a simple carbon fiber filter, which removes larger contaminants. The second stage is the reverse osmosis filter, which removes VOCs, microorganisms, and heavy metals such as arsenic. The third stage is a coconut shell carbon fiber filter. This stage removes residual contaminants from the reverse osmosis stage. It also ensures a sweet, pleasant flavor.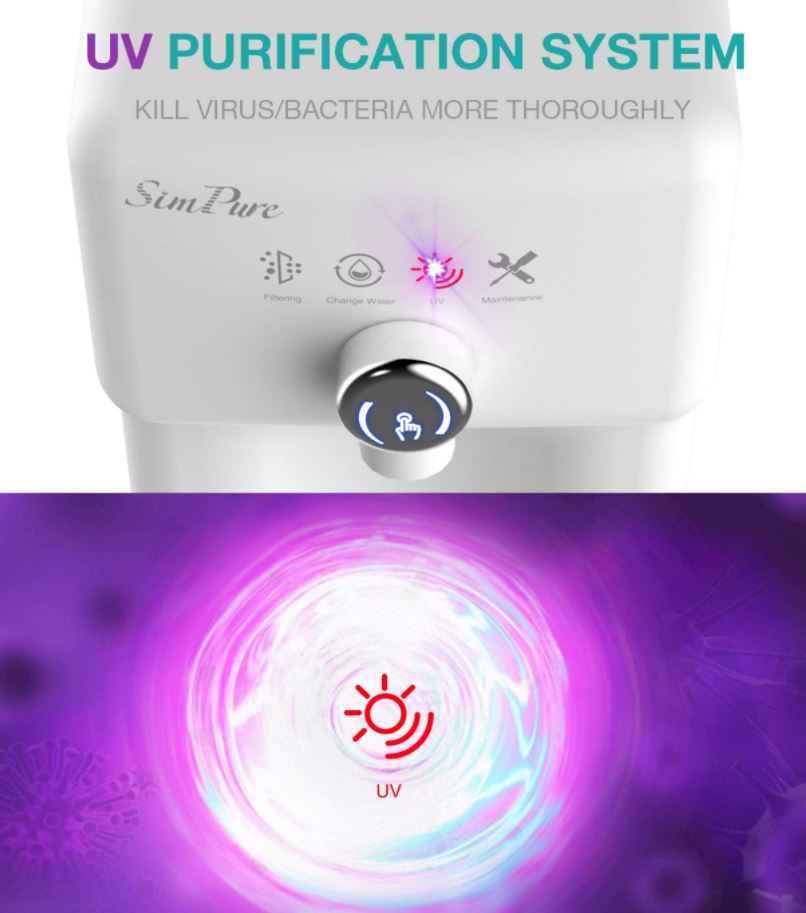 Bonus Features
There's even a built-in UV purification system that uses ultraviolet light to sanitize your water. It's an extra step that kills viruses, pathogens, and bacteria.
The Y6 also has an intelligent monitoring system on the control panel. There are three separate lights for the different filters, which light up when they need to be changed. There's also a reset button, so you can turn the filter lights off once you've switched out the filter. In addition, you can choose between four different temperature modes. The most basic is room temperature, which is self-explanatory. The second is for milk powder, which produces warm milk for baby formula. The next is for coffee. Obviously, a coffee maker is best for this purpose. But if you're making a cup of instant coffee, the Y6 produces water of just the right temperature. Finally, there's a tea setting, which produces scalding hot water for your Earl Grey or English Breakfast.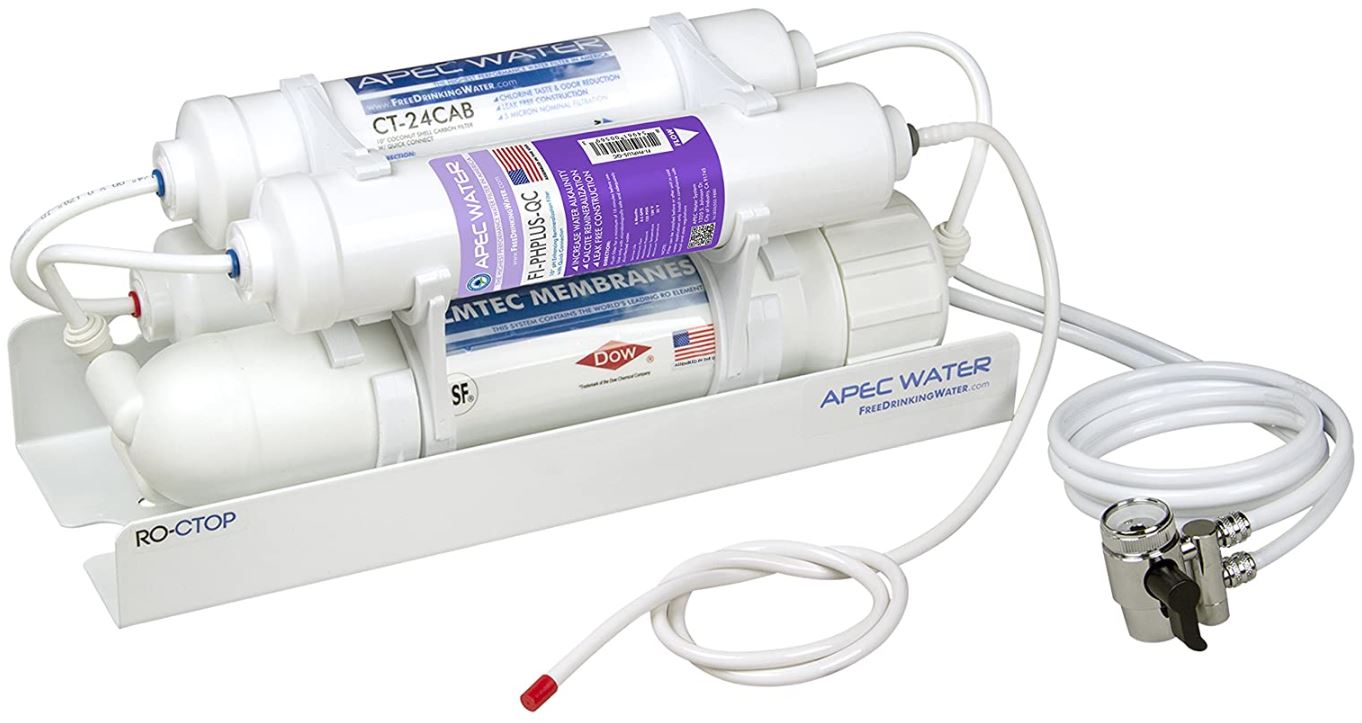 APEC Water Systems Countertop Reverse Osmosis Water Filter System
The APEC Water Systems Countertop Reverse Osmosis Water Filter System is a bit different than our other options. Instead of being a standalone unit, it's designed to attach to your faucet. A hose extends from the unit, with a screw tip that's designed to attach to a standard faucet. Keep in mind that this will only work with a standard faucet. Sprayers and pull-down faucets won't work with this system. A secondary hose comes out of the unit, and dispenses the purified water. There's a bypass valve on the connection that lets you shut the filter on and off. This lets you choose whether you want a slow flow of purified water, or use the faucet as normal. The unit itself measures 18.5 inches long, and about 6 inches to a side. It's constructed from durable aluminum, and weighs in at 12.8 pounds.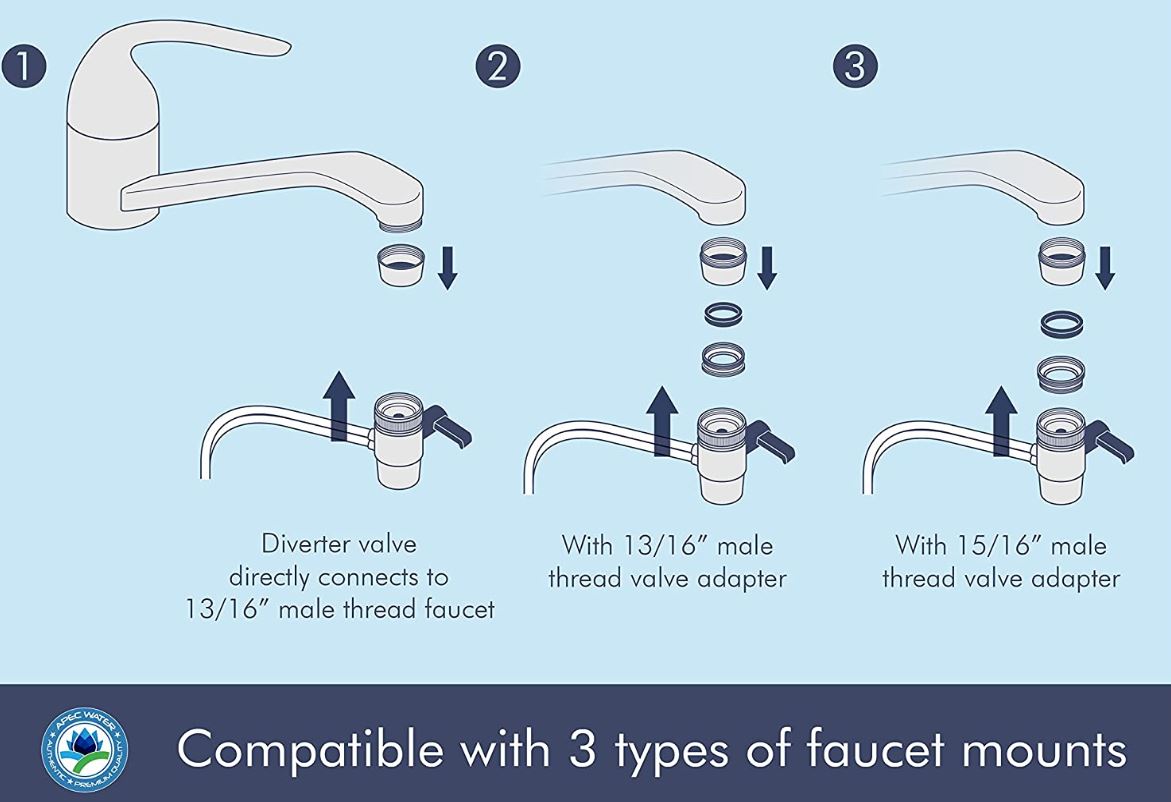 Inside the APEC unit, you'll find a four-stage system, with four individual removable filters. The first two stages are carbon fiber and sediment filters, for removing larger contaminants. Next is the reverse osmosis filter, which is where the magic happens. Finally, you'll get a calcium carbonate filter, which raises the water's pH. The total capacity is rated at 90 gallons per day, which is quite substantial. You shouldn't have any issues with capacity.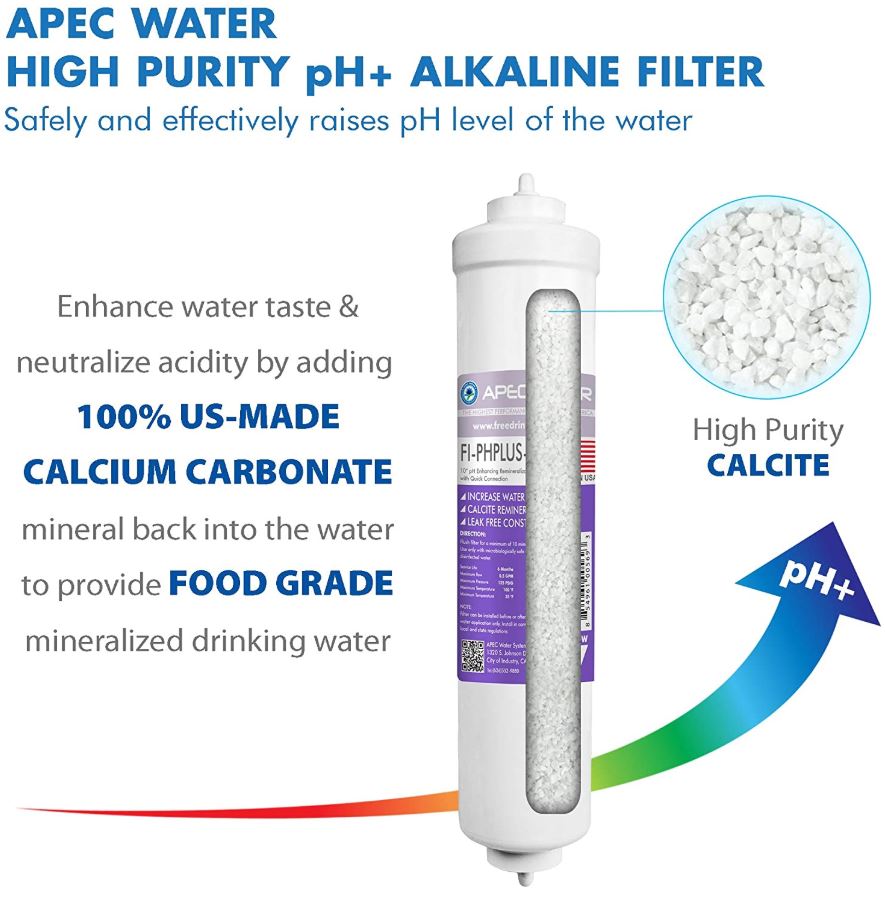 Bonus Features
The APEC Water Systems Countertop Reverse Osmosis Water Filter System is designed to be easily portable. Because there's no internal tank, it's relatively compact and easy to transport. And because it takes just a few seconds to install, you can use it just about anywhere. It's an ideal choice for college dorms, or even for taking on the road in your RV. It's also a solid choice for apartment dwellers. Since the installation won't damage any fixtures, you won't have any trouble with your landlord. And when you move to a new apartment, you'll be able to easily take the APEC filter with you.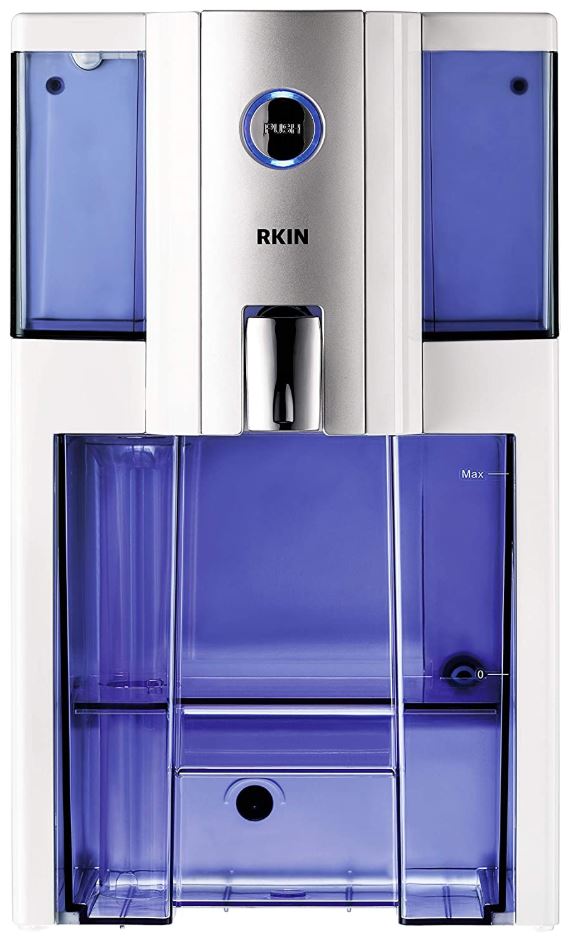 AlcaPure (Zero Installation) Purifier, Reverse Osmosis Countertop Water Filter
The AlcaPure Reverse Osmosis Countertop Water Filter is in many ways similar to the SimPure Y6. It's a countertop unit, designed to prepare purified water before you use it. The unit has a large, shiny silver case, and stands 16.2 inches tall. At 14.5 x 9.5 inches at the base, it takes up slightly more space than your average countertop coffee maker. It also weighs 23 pounds, or 35 pounds once it's been filled with water.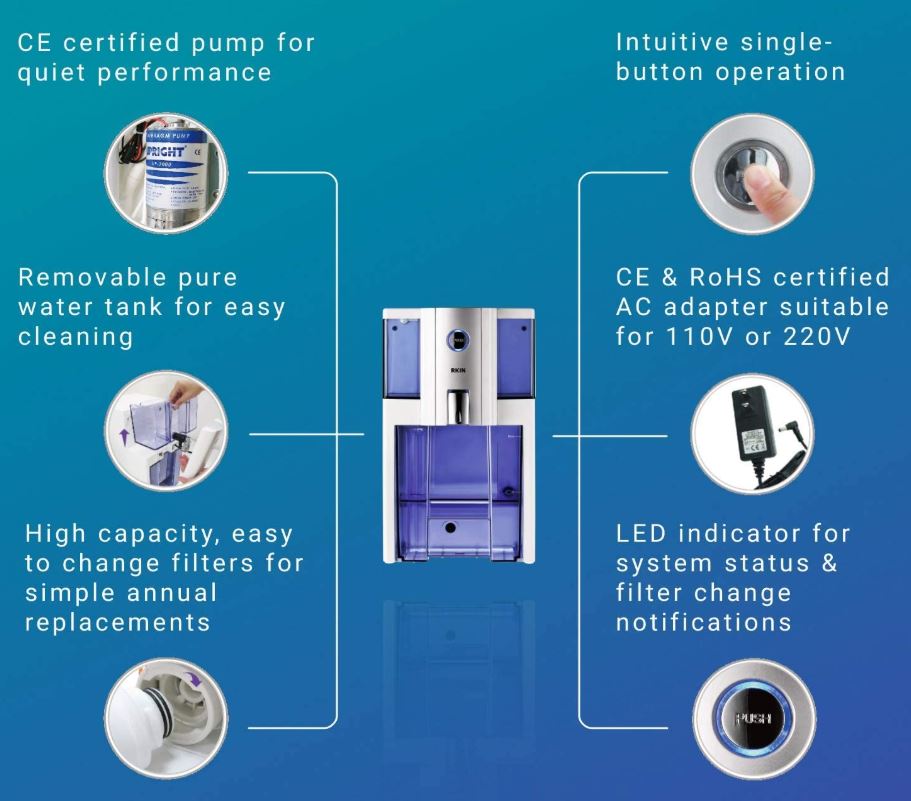 The blue plastic bottom tank has a capacity of 1 gallon, and is easily removable. Fill it up, and it will filter into the top tank in about 15 minutes. The top tank can also be removed for cleaning if you so desire. Both tanks are BPA-free, ensuring that you're not adding any contaminants to your water after it's filtered. Water is easy to dispense. Just push and hold the button, and it will flow into your glass or water bottle. Around the edge of the button, there's an LED light ring which illuminates when the filters need to be changed. Unfortunately, there's only one light ring, so you won't know which specific filter is dirty.
The filtration system itself has four stages. The first stage is a five-micron sediment filter. This removes larger particles such as sand and rust. It's great if you have a sandy well system, or if your municipal pipes sometimes dispense rusty water. Stage two is a coconut-based activated carbon filter. This stage removes odor-causing chemicals and VOCs. The third stage is the reverse osmosis filter, which removes everything else.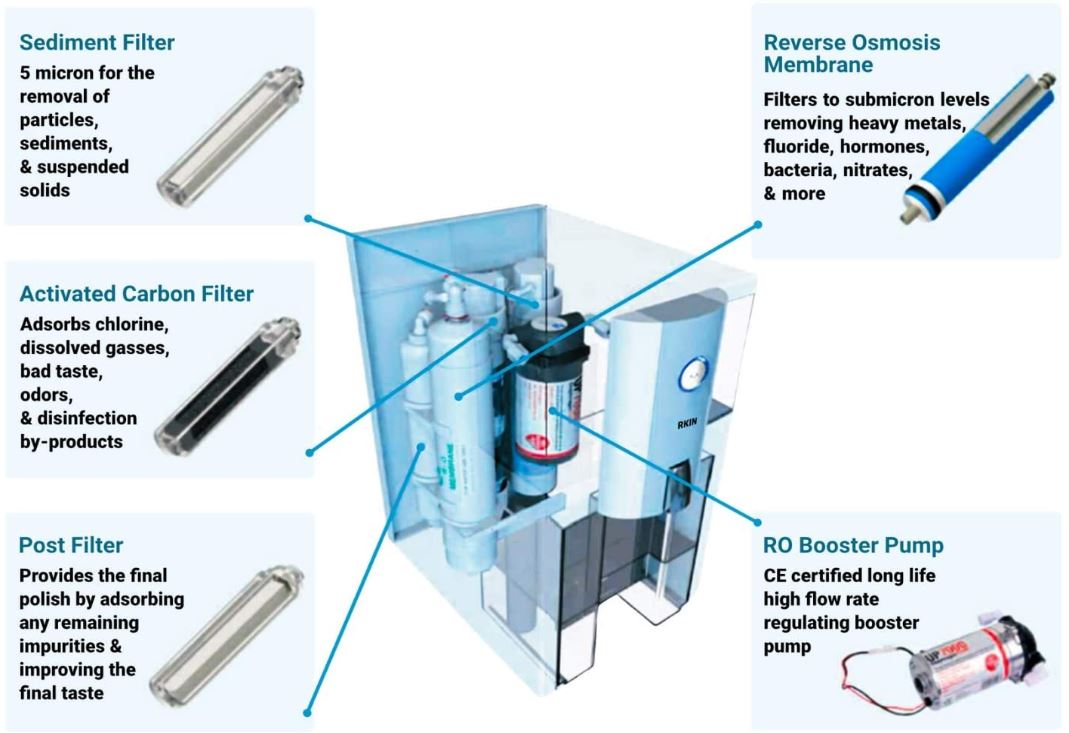 Bonus Features
So, what about the fourth stage? Here, you have a choice. The first option is the AlcaPure Calcium and Magnesium filter. This will raise the pH of your water to between 7 and 8, making it more alkaline. The other option is an OnliPure ion exchange filter. This purifies your water even more than the reverse osmosis filter, lowering total dissolved solids to zero.
Final Verdict
So, which one of these reverse osmosis filters is at the top of its class? Let's start with the SimPure Y6. This is an effective countertop unit that's designed to be much more than a filter. It also heats your water if you so desire. With four different temperature settings, you can prepare just about anything, from tea to baby formula. The LED display is intuitive and easy to use, and the filters are easy to change. That said, the unit is heavy, and occupies a lot of counter space.
Next up is the APEC Water Systems Countertop Reverse Osmosis System. This unit doesn't come with any fancy bells and whistles. It's just a straight-up filter with a bypass valve. That said, it's portable and it's easy to use. And it doesn't take up a whole lot of space.
Finally, we looked at the AlcaPure Countertop RO Water Filter. This is similar to the Simpure Y6, but it has fewer extra features. That said, the ability to choose your own fourth stage is a nice touch. It allows you to adjust your water's pH, or to get even better filtering. Like the SimPure, though, the AlcaPure also takes up significant counter space.
Note: At no extra cost to you, we may earn a commission for purchases using our links. Learn more.