RVing is a great way to get out and enjoy the world. You can go anywhere, sleep anywhere, and fulfill all of your travel fantasies. But unless you're a very experienced driver, there's one part of RVing that probably makes you tense: reversing. Backing up with an RV requires you to move a very large object while relying on your mirrors. With a fifth wheel, you have the added complication of reversing an articulated vehicle. And no matter what your RV's configuration, you can't actually see what's directly behind you. For many people, this means planning entire trips around never having to reverse.
With a wireless backup camera, reversing becomes a lot simpler. Yes, you're still backing up a big vehicle. But at least you aren't backing up into a blind spot. But you can't just use any old backup camera for your RV. An ordinary wireless backup camera won't have the signal strength for such a big vehicle. Moreover, an ordinary hardwired camera often won't work either. RV power systems can be either 12 or 24 volts. If your wired backup camera is designed for 12-volt automotive systems, it won't work on a 24-volt system. That said, most RVs come pre-wired and drilled for one or more types of standard RV camera. So, a purpose-built RV camera is definitely the correct tool for the job!
We're about to look at three of the best wireless RV backup cameras. We'll start by reviewing the Furrion Vision S. This is a long-range wireless camera that can also double as an RV security system. Next, we'll examine the AMTIFO A9. This is a wide-angle system, and also includes an SD card for storing your video. Finally, we'll look at the DoHonest V23. This is a more straightforward kit that's easy to use and set up. Which one is going to be the right choice for you? To find out, we'll need to take a closer look at all three of our choices. Once we've gotten a thorough overview of each, we'll be able to render our verdict. Let's get started!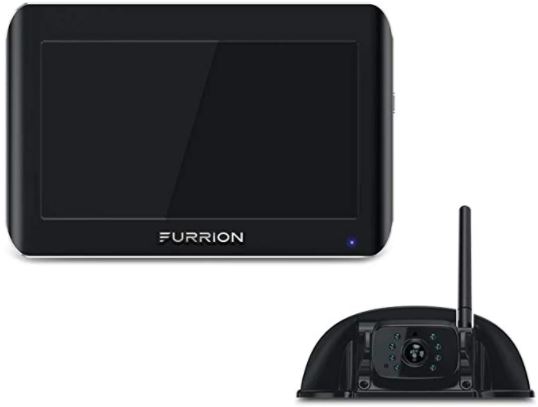 Furrion Vision S
The Furrion Vision S is a camera and monitor combination that's compatible with most RVs. As long as your RV uses the Furrion mounting system, you're already good to go. That said, if your RV uses a different system like Voyager, you'll need to use an adapter. The camera itself is housed in an elongated half-dome, much of which consists of a splash guard. The lens housing is much smaller, and sits inside the guard. It can be angled up or down as needed to get the correct positioning. The only other notable feature is a large antenna, which protrudes from the top of the housing.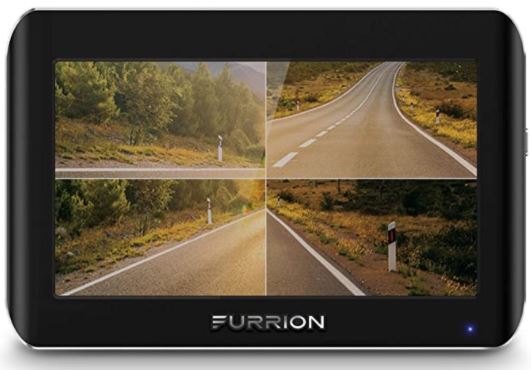 This camera can be positioned on the rear, side, or front of the vehicle. It's IP65-rated for water resistance, which means it can withstand rain without any issues. In addition to the single camera, you can also install additional cameras and connect them simultaneously. They are sold separately, and you can use up to four of them at once.
Inside your RV, the monitor measures seven inches on the diagonal. The screen has an anti-glare finish, which makes it easier to read in bright daylight. It also utilizes an IPS panel, which is visible from a wide angle. This makes it easy to view when you're not looking directly at it. All the controls are performed on the touchscreen, and the monitor comes with two mounts. One is a suction cup mount for your windshield, and the other is an adhesive mount for the dash. No matter what the configuration of your cab, you'll be able to position the monitor where you need it.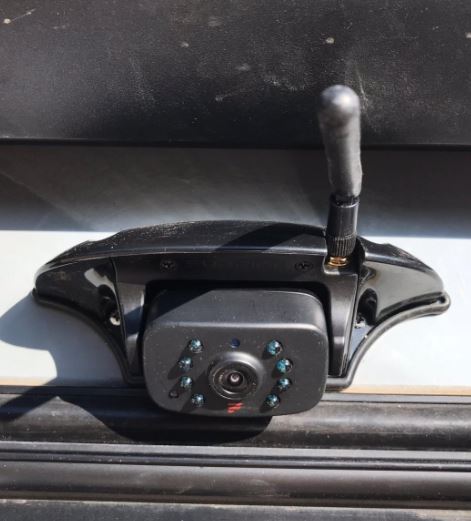 The monitor and the camera connect via a 2.4GHz wireless channel. Despite the relatively low bandwidth of the 2.4GHz channel, it's more than enough for the camera. The upside of using this channel is that you get much better range than a 5GHz camera. The maximum theoretical range is just under 500 feet. Even on the highway, Furrion guarantees a minimum range of up to 100 feet. That's far more than you'll need for any RV.
Video and Extras
The Furrion's long range comes with a distinct downside. These cameras are only 480p resolution, or 720 x 480 pixels. This is significantly less than 720p (1,280 x 720 pixels) or 1080p (1,920 x 1,080 pixels). Then again, 480p is still more than good enough as a backup camera. You'll be able to see people and objects just fine. You simply won't be able to make out finer details, such as the nametag on somebody's shirt. Moreover, night quality is actually surprisingly good. The infrared sensors are highly sensitive, and pick up just as much detail as the daytime sensors. Finally, there's virtually zero lag by day or night, and a 120-degree viewing angle. This equates to medium-wide, but is more or less standard for a backup camera.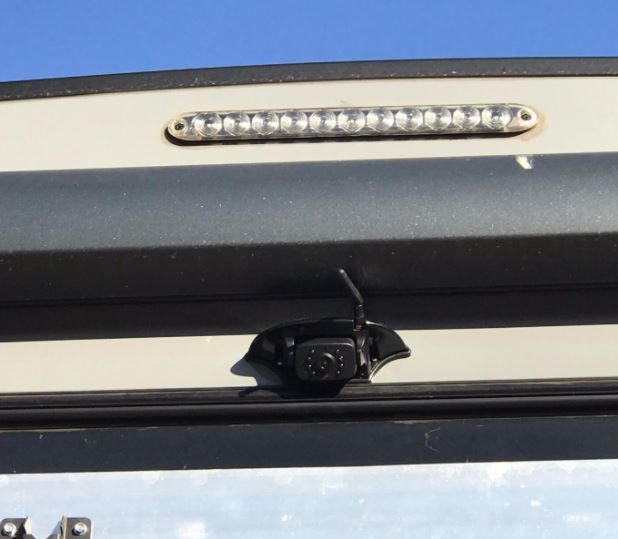 The Vision S camera also has built-in accelerometers that detect when there's an accident. Normally, these will serve no purpose. However, if you use a hardwiring kit to install the monitor, you can keep it running at all times. As a result, you can use the Vision S as a parking camera or security camera. Keep in mind that this is only effective for overnight use. Since the camera relies on your battery, it will eventually shut off to avoid draining the battery dry. So if your RV is in long-term storage, you'll need another solution.
The last notable feature of the Furrion Vision S is the built-in audio microphone. This can be used for two-way conversation between the cab and the rear of the RV. So if someone's standing outside, they can easily guide you, and you can easily ask them questions.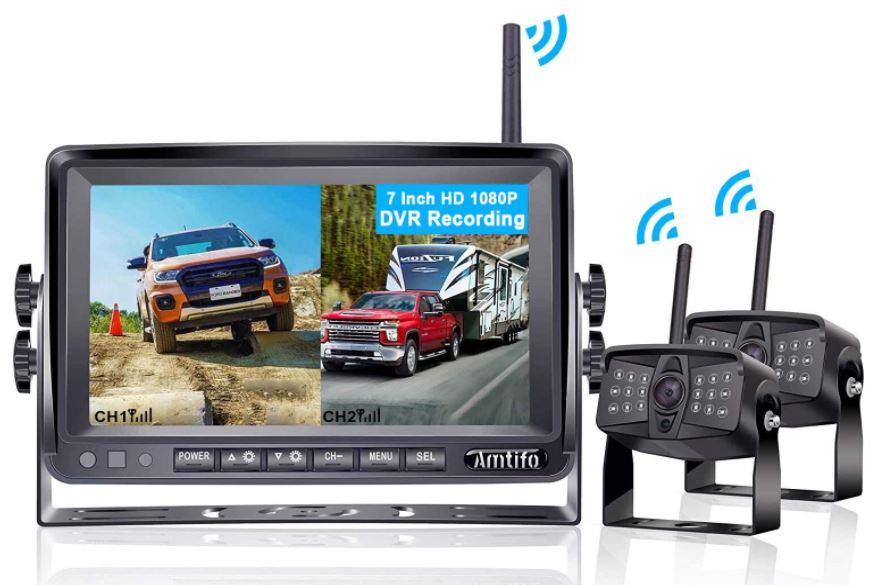 AMTIFO A9
The AMTIFO A9 is noticeably different from the Vision S, even at first glance. Instead of one camera, it ships with two, and they sit on more barebones brackets. You would simply drill some holes and install the bracket as-is. Alternatively, you can order a Furrion adapter bracket, which would attach to most RVs' pre-drilled holes. There's also an optional Furrion power adapter. Unless you're a dedicated DIY electrician, you're almost certainly going to need that. You can also expand the A9 system to four cameras if you so desire. This allows for 360-degree monitoring of your RV.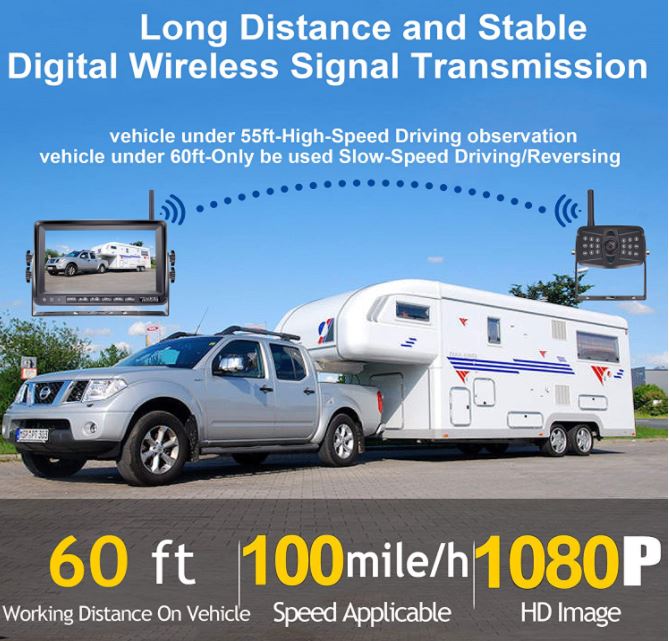 These cameras come with a water-resistance rating of IP69K. This is an unusual rating, but well worth mentioning. It's not, as you might expect, intended to indicate "better than IPX8." IPX8 simply means an object can withstand sustained submersion. IPX9 (or IP69K) means it can withstand a sustained jet of high-temperature water. Why would we want that? The answer is that this is a good proxy for resistance to a variety of weather conditions. If the camera can survive being blasted by a pressure washer with scalding water, it can handle any realistic weather.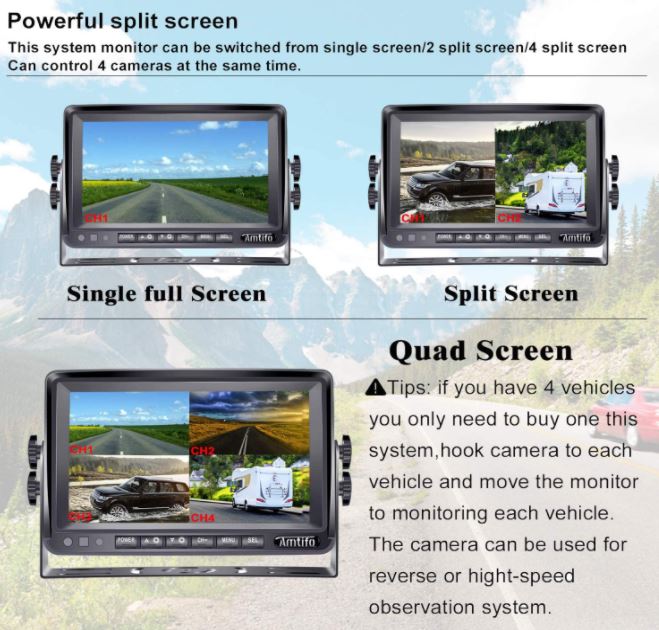 Inside your vehicle, you'll mount the seven-inch IPS display. It plugs into a cigarette outlet, which makes it easy to power. That said, the bracket is a screw-in style. You'll be more or less permanently mounting it on your dashboard. There's no adhesive or suction cup mount included in the package. This was a bit disappointing, but then again, strong mounting tape is relatively cheap. One thing we did like were the physical controls. This makes the A9 a bit easier to use than most backup cameras that use a touchscreen.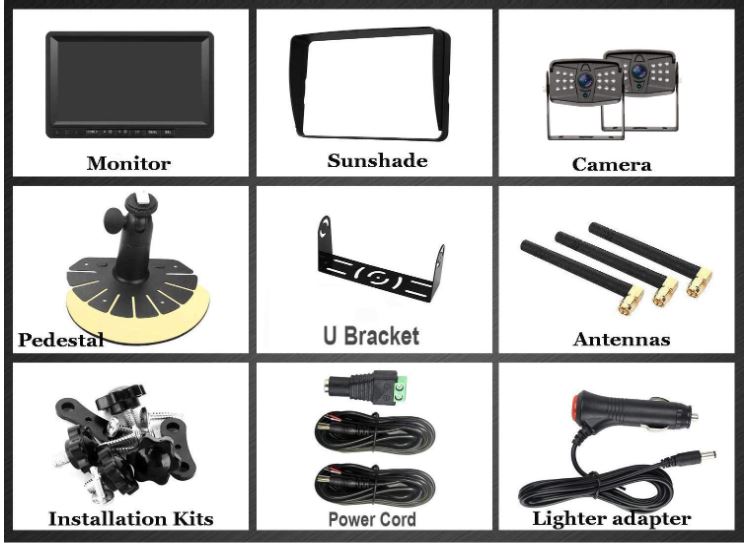 The range of the A9's wireless signal is 60 feet. This is sufficient for any street-legal RV in the United States. It's also sufficient for just about any fifth wheel system. Although with pickups and fifth wheels getting larger by the day, it's impossible to say for sure. Regardless, the signal is fairly reliable, even at highway speeds. Not only that, but the cameras and the monitor are all protected by a two-year warranty. If you have any issues, you can simply get a refund or replacement.
Video and Extras
The AMTIFO A9 cameras record in full 1080p, which provides all the detail you'd expect from a quality dashcam. To be fair, this far exceeds anything you'd need simply for backing up your RV. But if you're using multiple cameras, it's a good idea to have a higher resolution. To facilitate multi-camera use, the monitor allows you to flip and rotate each camera individually. This ensures that each one will display properly on the screen.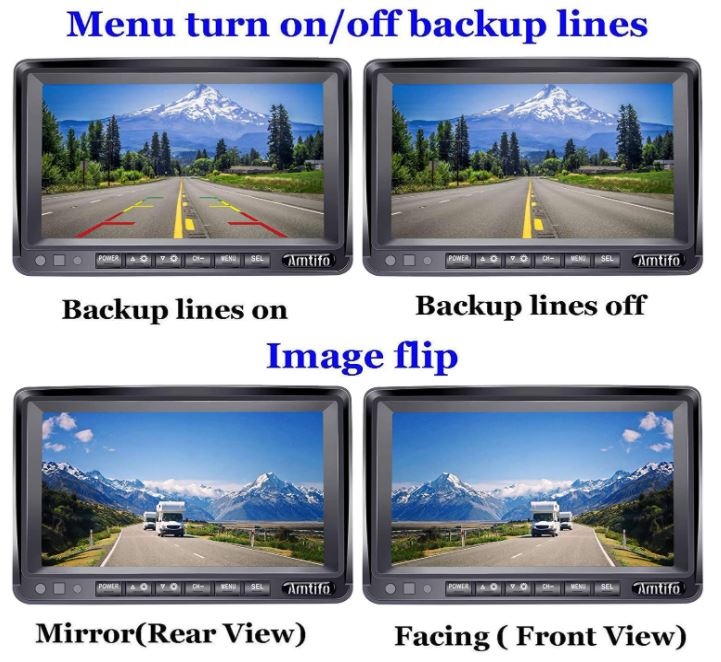 That said, there are a couple of useful backup features. First, you can turn the backup guidelines on or off. Second, the cameras have a wide, 150-degree viewing angle. This captures plenty of detail from around your vehicle, albeit with a very small amount of distortion. Finally, the monitor comes with a 32GB SD card already installed. It features automatic loop recording, which overwrites your oldest video first. You can also upgrade with a larger SD card if you feel the need.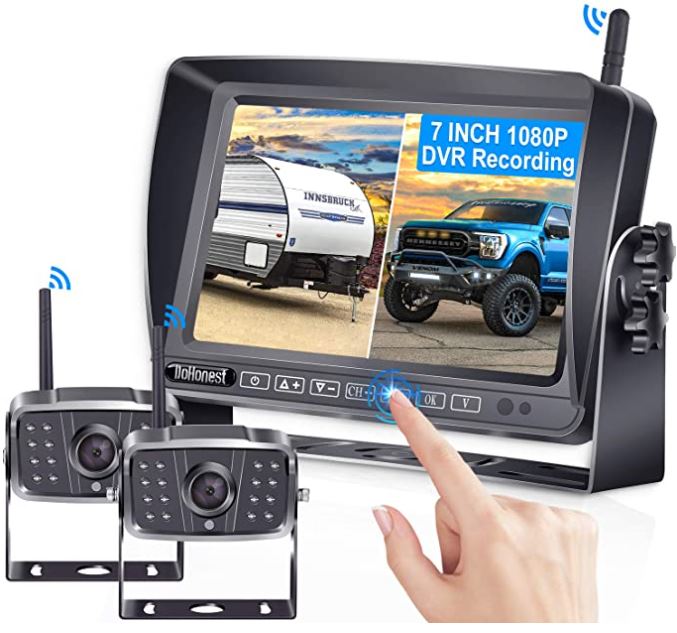 DoHonest V23
The DoHonest V23 is third on our list, but not in our hearts. It has a similar overall design to the AMTIFO A9, with two cameras and a monitor. The seven-inch IPS display is bright and easy to see. It's also shrouded by a protective sunshade, which helps take some glare off of the screen. The buttons are physical, but they're rubbery, so they provide decent tactile feedback. Mounting is also similar to the A9, with a single heavy-duty bracket on the underside of the monitor.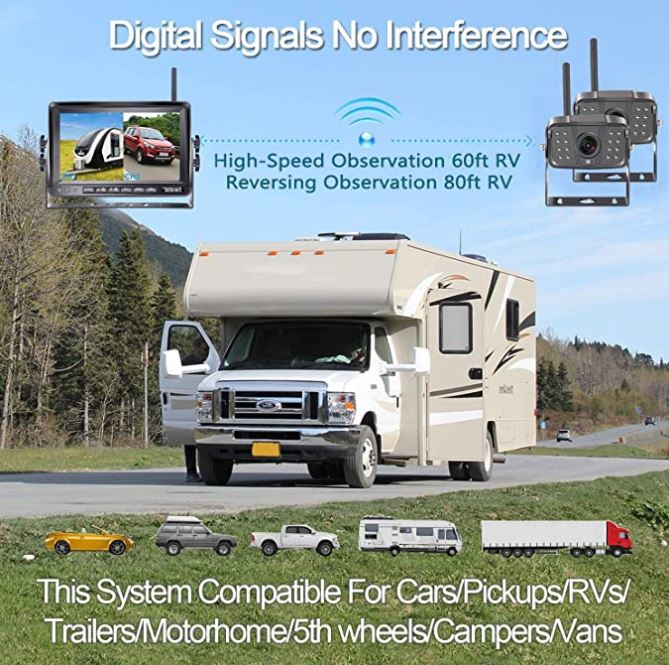 The kit comes with two cameras, but can be expanded to four. The cameras mount directly on the sides or rear of your RV, and can be adapted for Furrion systems. There are also additional, specialized side brackets for attaching side cameras. The camera housing is IP69K-rated for water resistance, enough to handle any kind of conditions. The signal is rated for 70 feet. This gives you enough range for any RV or fifth wheel on the road today.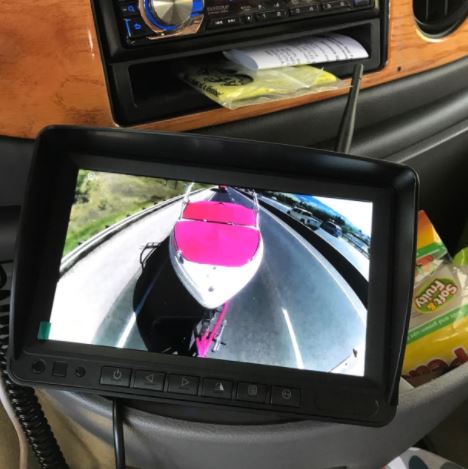 Video and Extras
The V23 cameras record in full 1080p, better resolution than many camera systems. Image quality is good by day or by night, thanks to the infrared night vision sensor. This system has a range of about 50 feet, but gives you full color video rather than green or greyscale. As a result, you'll get better nighttime visibility, but only for short-range use. The image can be flipped or rotated on the monitor, but there are no backup guidelines.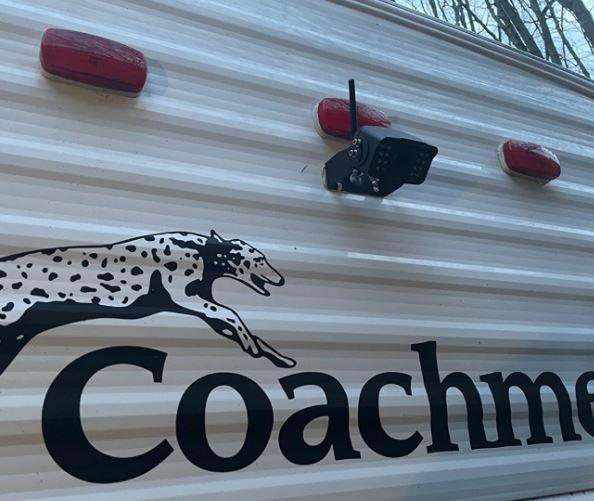 Final Verdict
So, which one of these wireless backup cameras is right for your RV? A lot depends on what you're trying to accomplish. Let's go over what we've learned. The Furrion Vision S comes ready-made for Furrion mounts, which are the most common type. It's capable of expanding to four cameras, but only ships with one. The video resolution is only 480p, though, which is a drawback if you want to use it as a dash cam. On the other hand, the voice communication and 120-degree viewing angle add a fair bit of value. Finally, you can use the Vision S as a security system, which is something the others don't offer.
The AMTIFO A9 is a better kit if you want a dash cam as well as a backup camera. With 1080p resolution, it provides more detail for your forward-facing camera. Moreover, it comes with an SD card already installed and set up for loop recording. On the downside, you'll almost certainly need additional adapters to get it installed properly.
The third camera we looked at was the DoHonest V23. This is a straightforward 1080p kit that includes two cameras and a monitoring station. It's neither wide nor narrow-angled, and it can install on most RVs with an adapter. That said, it doesn't really stand out in any way. But if you want a vanilla camera that's easy to use and understand, you're looking at it.
Meet Derek, "TechGuru," a 34-year-old technology enthusiast with a deep passion for tech innovations. With extensive experience, he specializes in gaming hardware and software, and has expertise in gadgets, custom PCs, and audio.
Besides writing about tech and reviewing new products, Derek enjoys traveling, hiking, and photography. Committed to keeping up with the latest industry trends, he aims to guide readers in making informed tech decisions.