There's always a chance that the temperature will drop, no matter what time of year it is. Some people may find themselves in a cold, wintery location for work or simply for enjoyment. However, even though wearing additional layers can help, a more robust solution may be required to maintain comfort and ideal levels of warmth.
Because of this, the number of people buying electric-heated long johns has grown. Sometimes referred to as thermal long underwear, they're worn as a base layer to keep you warm in cold conditions.
Note: At no extra cost to you, we may earn a commission for purchases using our links. Learn more.
They have the added benefit of providing heat from a source other than your body. Safe heating elements on different portions of the long johns can provide noticeable heat within a few seconds. In fact, they're often an essential layer for those who go skiing, snowboarding, or hiking outside where generating warmth through body heat alone may not be enough.
There are a host of additional benefits, which include:
Improving circulation: Heat, especially direct heat, can vastly improve circulation throughout the body.
Reducing muscle fatigue: The heat produced can help to relax muscles and improve performance during outdoor activities.
Easing joint pain: Heat can reduce inflammation and stiffness in your joints, which can be beneficial for people with arthritis or other joint conditions.
Being lightweight and easy to pack: Having bulky clothing can make packing hard. Heated long johns allow you to reduce the number of layers you need to pack while also being thin and easy to store.
Because of their popularity and the fact that they go by different names, finding the right pair of heated long johns can be a bit overwhelming. To help make the selection process easier, our team of experts has sifted through dozens of the best electric thermal underwear and included our top choices in this article.
There are several factors that went into our selection. Here are a few things to keep in mind:
Material: Pick materials that are breathable and moisture-wicking. For comfort, this is a crucial consideration. Choose a fabric like polyester and high-quality stitching that improves ventilation while lowering the danger of bunching and irritation if you plan to wear them for extended periods of time.
Size and fit: When wearing long johns underneath other clothing, it's important that they fit well and are very comfortable. We chose manufacturers whose clothes fit true to size and offered charts to help you choose the appropriate size.
Heating element: Think about the type of heating element being used, such as carbon fiber or wire. You can choose a pair that can warm the areas of your body that are important to you by paying attention to where these elements are placed and how much of your body they cover.
Heat settings: If you're looking for long johns that can adapt to different temperatures, opting for a pair with multiple heat settings may be an ideal choice.
Battery life: Having long johns that last long enough for your needs are essential. Options with long battery life tend to be more expensive and so being clear on your needs will be important to consider.
Price: Determine your budget and look for options that fit within your specific price range.
Best Overall: Sun Will Heated Long Johns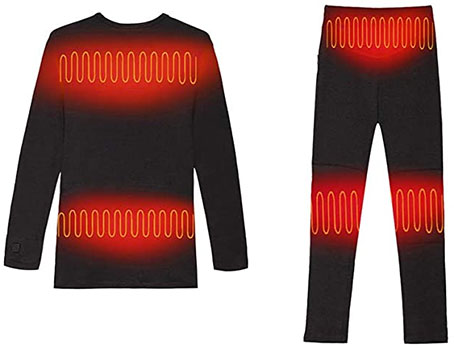 Key Features:
Horizontal, across the body heating pattern.
Rechargeable 3000mAH battery.
2.5 hours of heating time.
Cotton polyester blend.
Quick-dry material.
Three heat settings.
Machine washable.
The Sun Will Heated Long Johns are a versatile all-around base layer that do a lot of things incredibly well. The cotton-polyester blend material serves as an enjoyable first layer. It's extremely smooth on the skin and the seams are strong but allow enough flexibility to adapt to an actively moving body. Paired with moisture wicking and quick-dry characteristics, it's a great base layer if you're continually on the move.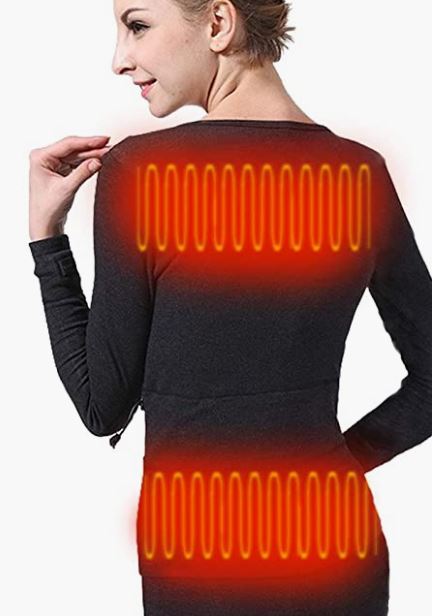 The Sun Will comes with two heating zones in both the top and the bottom. A horizontal layout provides direct heat to the upper back and shoulders and a lower band that wraps around the stomach. It does well with heat distribution providing an even heating experience that doesn't become spotty even as the battery runs low.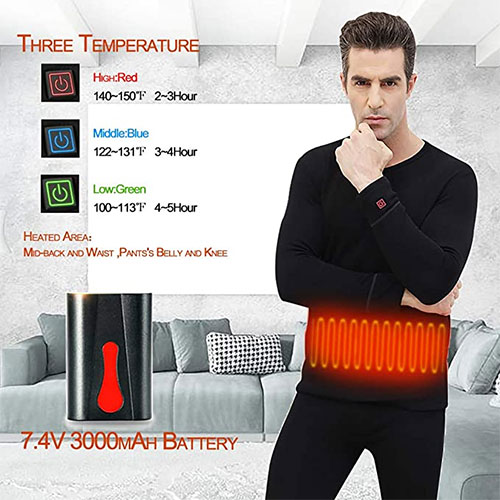 This model comes with three heating modes that are run off of a single button control. It's easily accessible even when worn underneath multiple layers. We found that controlling with a single button was much simpler than others with multiple buttons that you have to feel around for. The lowest temperature setting is a great option if you spend a lot of time indoors but run cold. We found that the setting gave just enough heat to keep things comfortable. Some tend to be too hot for indoor use even at their lowest setting.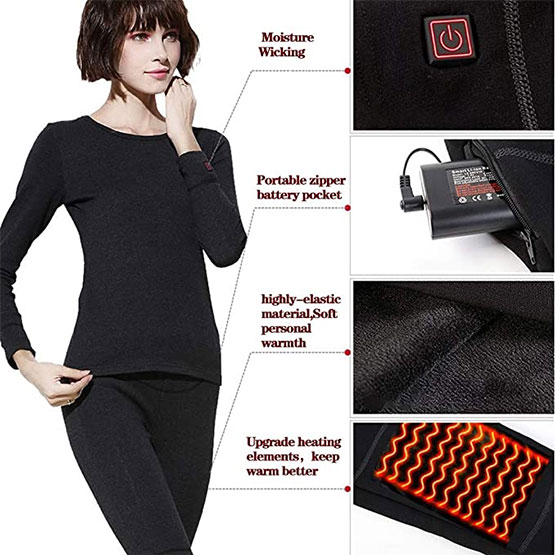 Battery life is extremely solid. Even though there are others that last longer on a single charge, we found them to offer the ideal balance of performance, heating time. With the 3000mAh capacity, it provides enough "juice" while being small enough to stay out of the way.
The Sun Will Heated Long Johns are one of the best overall options currently on the market. Their combination of quality materials, breathability, multiple heat settings and strong battery life make it a great option at an accessible price point.
What We Liked:
Easy to wash in the machine or by hand.
Sweat-wicking and quick drying.
Heat setting control is easily accessible even under several layers.
Multiple heat settings for finding the perfect temperature.
Comfortable elastic band in the pants.
What We Didn't Like:
No carrying pouch for the charger and cable.
Best Runner-Up: JINPEI Heated Long Johns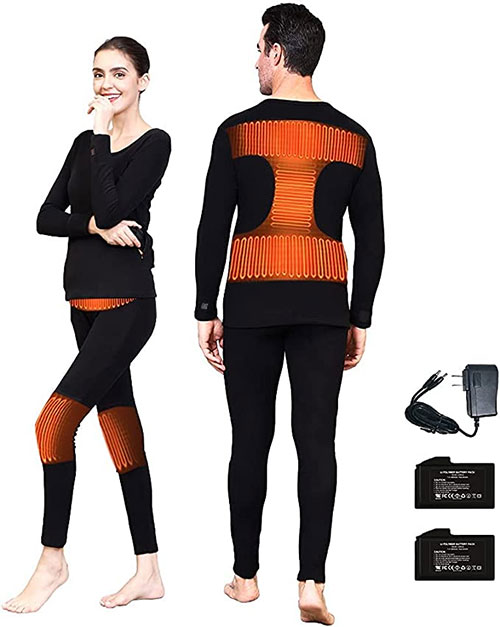 Key Features:
Carbon fiber heating elements.
Three temperature settings.
3000mAH rechargeable battery.
Top has a horizontal and vertical heating pattern.
The JINPEI Heated Long Johns provide many of the same comfort features as our best overall choice. However, there are some differences that make this an ideal choice for those that are looking for a pair that emphasize other health aspects of thermal underwear.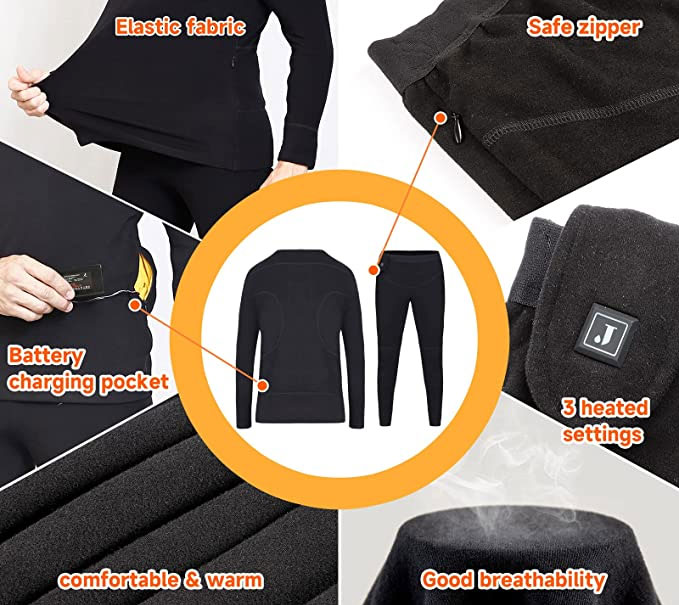 The heating element for the shirt is done in a I formation running across the shoulders, down the spine and across the lower back. The result is direct heat to areas where many people want increased circulation. Many users have chosen this pair because of its ability to also sooth the joints in their back, hips and shoulders with the increased concentration of heat in those specific areas.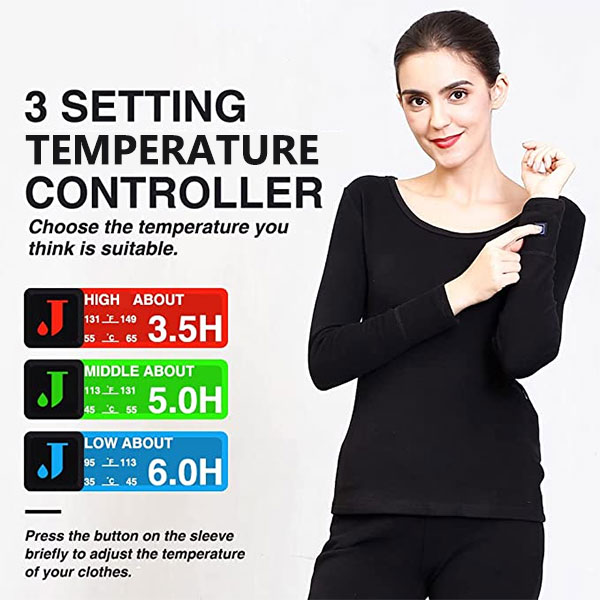 Our team found that battery life on this pair is slightly longer than the Sun Will with an additional hour of heating time. Where it doesn't do as well is providing even heat distribution at lower battery levels. However, most users say it's barely noticeable. Another thing to keep in mind is sizing. These tend to run small so it's a good idea to buy a size larger than what you would normally wear.
Overall, the JINPEI Heated Long Johns are a great option for those who want focused heat down their spine. They're soft, cozy and provide decent battery life for hours on end.
What We Liked:
Heating element layout is ideal for all over warmth.
Great option for joint comfort and increased circulation.
Machine washable.
Long battery life even at the highest temperature setting.
What We Didn't Like:
Overall heat distribution decreases towards the lower battery levels.
Best for Women: Venustas Heated Long Johns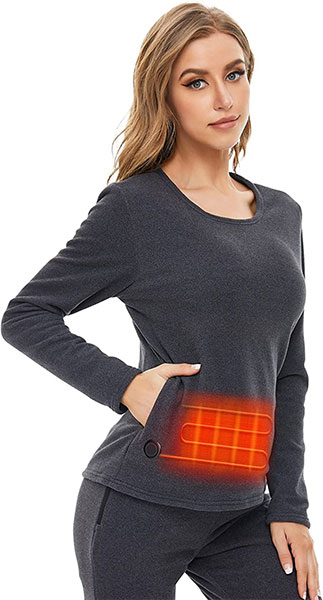 Key Features:
Carbon fiber heating elements.
Up to 11 hours of heating time.
Available as shirt-only or pants-only.
Three heat settings.
10000mAH rechargeable battery.
Cationic polyester fiber.
Machine Washable.
If you're looking to move away from a unisex style into something tailored for women, the Venustas Heated Long Johns are a great option to consider. Keep in mind that it's sold as a shirt-only or pants-only – not as a package. This is great for those who don't want both bundled together.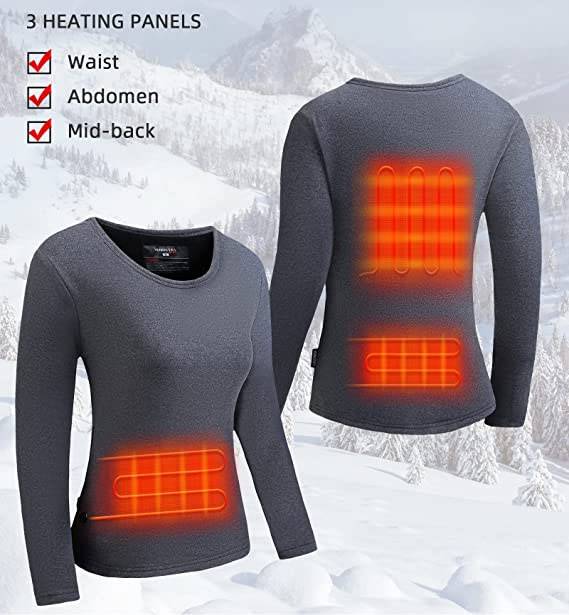 The first thing you'll notice is that the material they use provides a high amount of comfort. The polyester blend is tailored to lay well with strong stitching that can stand up to a lot of constant movement. The top is slightly tapered in the waist to eliminate any excess bulk that tends to occur with unisex options.
The wider collar, shorter sleeves and thinner material provides more versatility as a layering option. Ultimately, making it a great option if you are needing something that works in different indoor and outdoor settings. We found they were able to use thinner materials because of the effectiveness of their heating elements.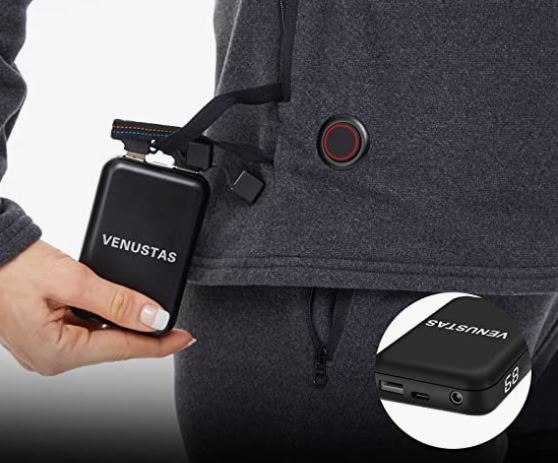 The largest heating zone is placed on the mid-back. Putting it here instead of on the shoulders like other models helps to keep things low profile while offering the same amount of heat. Smaller zones in the abdomen and waist area also help to keep the form factor minimal and out of the way. If you opt for the pants, the element is located near the front and back waist as well as in front of the knees.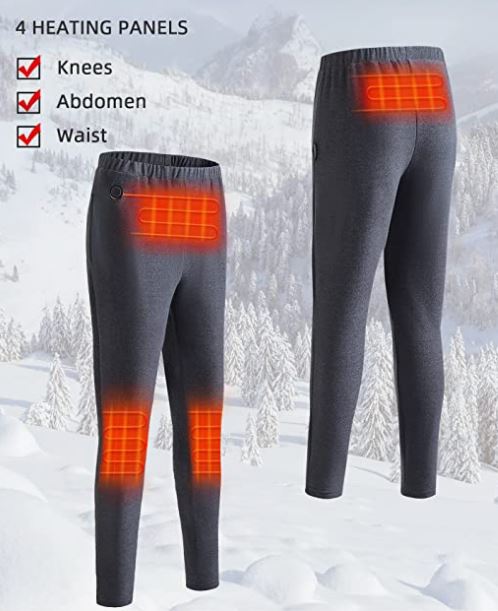 It has a larger battery, over three times the capacity than our previous options. While this is a pleasant feature to have, it requires additional time to charge which is something to keep in mind. In addition, it's slightly bulkier than others. Three temperature settings give it enough versatility for any indoor and outdoor use. At 11 hours, battery life is impressive. Although this is the estimate given to the lowest heat setting, even at the highest setting it's easy to achieve 6-8 hours of electric warmth.
The Venustas Heated Long Johns provide a great option for women that are looking for a fashion-friendly base layer that's tailored well.
What We Liked:
Heat placement is low profile and out of the way.
Design reduces bunching or increased bulk.
Three heating zones and three temperature settings.
Extremely long battery life.
What We Didn't Like:
Larger battery can be more-difficult to manage.
Best Pants-Only: ActionHeat Heated Base Layer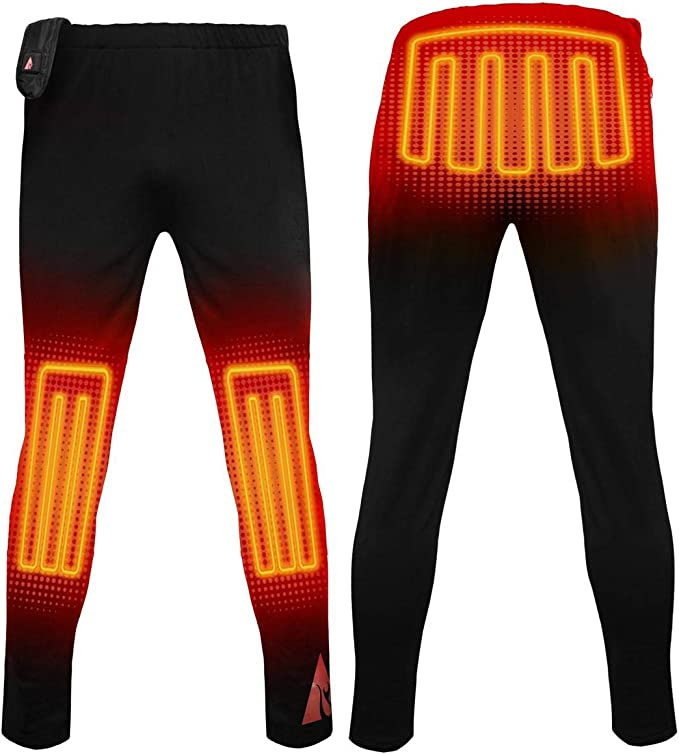 Key Features:
High rise fit.
Three heating zones (both knees and backside).
Elastic polyester blend material.
Three temperature settings.
For those looking for a pants only option, the ActionHeat Heated Base Layer delivers some of the best performance and durability. It comes with three heating zones which include the backside and both knees. They're large enough to provide adequate heat evenly distributed heat in the coldest of environments.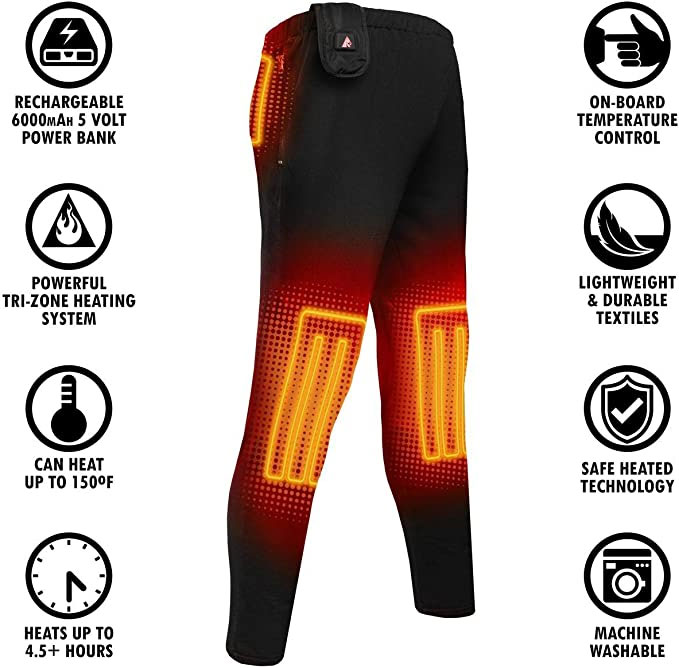 The design and materials used make it an ideal option for people that spend a lot of active time outdoors. These pants are extremely easy to move around in and are thin enough to provide heat without getting in the way of performance. They accomplish this by using something referred to as FAR infrared heating which creates a more efficient heating experience.
The ActionHeat comes with a 6000mAH battery that can provide heat for up to 4.5 hours on the lowest setting and 2 at the highest. Keep in mind, because of its great heat distribution, the highest setting tends to provide much more heat. In fact, these are the "hottest" pair of pants we've seen! While it has a dampening effect on overall battery performance, it's simply a trade-off.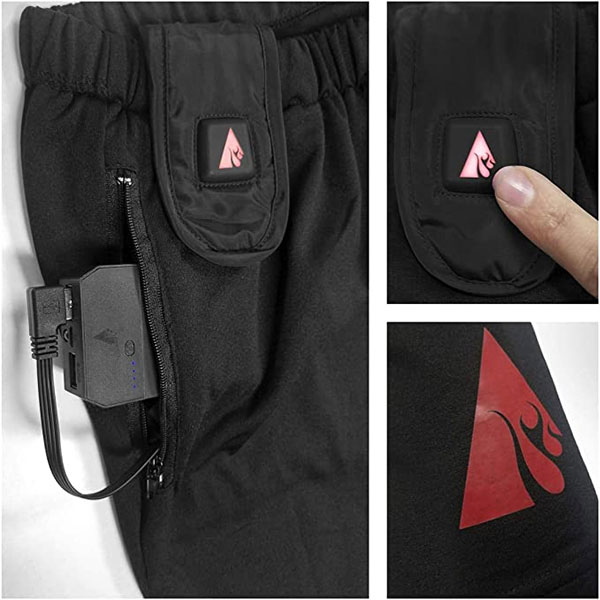 The ActionHeat Heated Pants are designed for high performance and durability in a thin, easy to maneuver form factor. While the battery life may not be as impressive as others, the overall fit and material is hard to beat.
What We Liked:
High quality, durable materials.
Thin and breathable.
Powerful heating at the highest setting.
What We Didn't Like:
Option for a larger battery would be good.
A bit more expensive than other options.
Best Shirt-Only: Leegosun Heated Thermal Shirt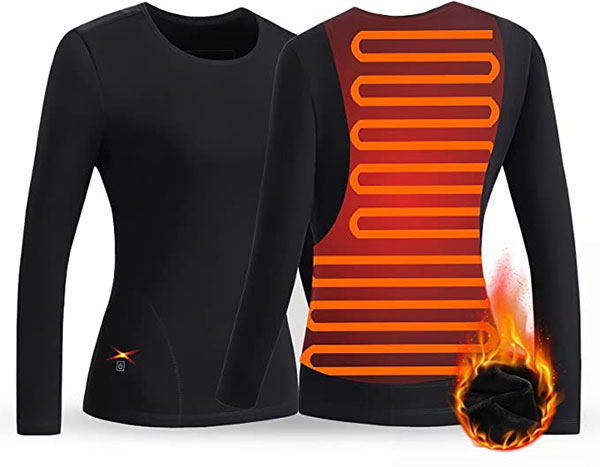 Key Features:
Carbon fiber heating elements.
3 temperature settings.
Fleece lined.
USB-powered (power pack not included).
Machine washable.
If you're looking for a shirt only option, the Leegosun Heated Thermal Shirt is a cost effective and versatile choice that won't break the bank. They accomplish this by selling their shirts without a battery pack and passing that savings on to you.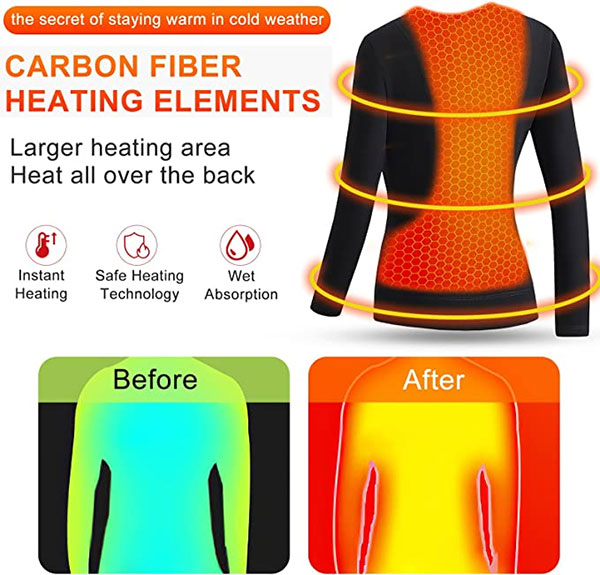 This is done for a couple of reasons. First, this allows you to only be required to purchase one battery for several electric-heated layers that you may own or would like to own. For example, if you're needing five or six shirts, this savings can be hundreds of dollars. Second, it gives you the ability to choose a battery size and capacity that works for you. Some may want the performance of a high capacity battery while others may want to prioritize something more lightweight and out of the way.
When it comes to the shirt itself, the heating element layout is what sets it apart. This model is one of the first to successfully feature an all-over heating design with superior, even distribution. We found that even when running on a lower battery, the provided heat still remained consistent. Additionally, the material includes Spandex. This makes it easy to move around in and prevents the heating elements on the back from feeling restrictive.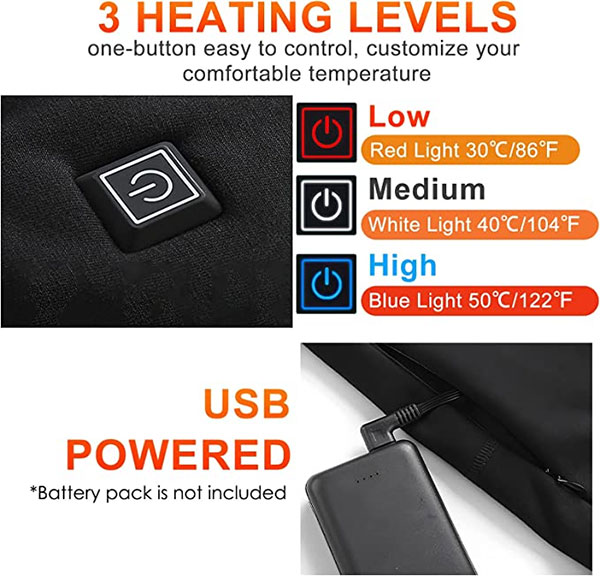 The power button is conveniently located on the front of the shirt in the bottom right corner near the waist. You can toggle between all three heat settings with little difficulty. Because it's machine washable, you'll be able to put them back into your rotation without the need for hand washing.
Overall, the Leegosun Heated Thermal Shirt is a great option if you already have your own USB power bank. The cost savings of not having to buy an included battery each time makes this an ideal solution for many. And with ample comfort and even heat distribution, it works as well as one can expect.
What We Liked:
Ideally placed heating elements for all over warmth.
Budget friendly option if purchasing more than one.
Comfortable, breathable material.
What We Didn't Like:
Battery must be purchased separately.
Please consider sharing:
Note: At no extra cost to you, we may earn a commission for purchases using our links. Learn more.