The Steam Deck by Valve Corp is the latest new-release console that will surely rock the gaming industry. But it isn't your average game console. It's actually a PC in a compact form-factor with a whole lot to offer. Although from first glance it may look similar to a handheld portable like the Nintendo Switch, but the Steam Deck offers much more. Users are able to plug directly into a monitor or TV, hook up gaming controllers or a mouse/keyboard and even install Windows! In addition, the system can even suspend and resume games, too. Needless to say, it offers plenty for the average gamer to get excited about.
However, the Steam Deck is also quite expensive; with three options available through Steam's official website. The least expensive option starts at $399 and comes included with 64GB eMMC and carrying case. The next step up is listed at $529 and contains a 256GB NVMe SSD. This level offers a faster storage option and also comes included with a carrying case and exclusive Steam Community profile bundle. Lastly, users may opt for the top-of-the-line option at a whopping $649. This premium level choice offers the fastest and largest storage with a 512GB NVMe SSD. In addition, this highest-end option contains premium anti-glare etched glass, an exclusive carrying case, Steam Community profile bundle and virtual keyboard theme. Pretty cool!
As you can tell, owning the Steam Deck is somewhat of a financial commitment. For a portable gaming console, it's quite expensive; there's no easy way to say it. Because of this, users will want to take a few precautions. First and foremost, you'll likely need a high quality screen protector.
Today we're here to unveil several excellent options for Steam Deck users who would like to upgrade their console with a quality screen protector. Luckily, there are already several available.
The options we're going to uncover today are all tempered-glass; the most ideal material for impact and scratch resistance. We'll explore each option and offer our opinion and analysis of each one. In the end, we'll determine which screen protector is going to be the best choice for your new Steam Deck console.
Tips for Installing a Steam Deck Screen Protector
Although each screen protector will have its own set of instructions, we have some tips for installing your own.
Wipe the screen on your Steam Deck several times. First, use an alcohol-based wet wipe and generously massage the screen.
Use a microfiber cloth to wipe-clean any dust or microscopic particles that may be barely visible (but still on your screen).
Tear off the protective film on the backside of your new screen protector and be careful of accidently sticking it to other objects.
Either use a provided installation "frame" or "guide" or carefully align the protector to the top, bottom and side edges of your Steam Deck.
Push the screen protector onto your console, starting by pushing the center and working your way towards the edges.
If bubbles are visible, simply continue pressing them towards each edge with the use of a microfiber cloth.
Try to get it right the first time. Although you may be able to unstick the protector, it'll mean it likely won't stick as well once you re-apply.
Take your time, double-read all instructions so you're assured proper installation.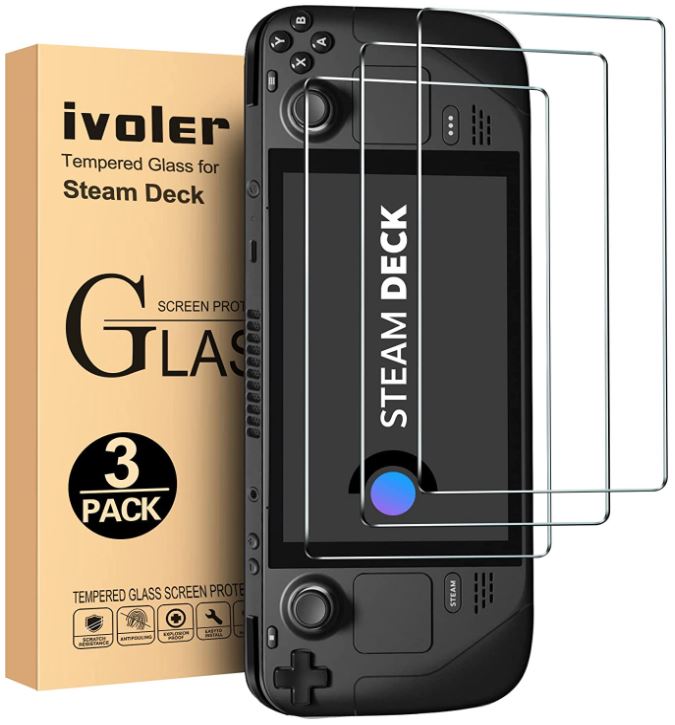 iVoler Tempered Glass Screen Protector for Steam Deck
Here at NerdTechy, in the past we thoroughly tested iVoler's Switch OLED screen protector and were impressed with what it had to offer. Because of this, we knew the iVoler Tempered Glass Screen Protector for Steam Deck was going to be a sure-winner.
Sold in a 3-pack, iVoler's screen protectors have been laser-cut for the 7″ screen that's on the Steam Deck. That said, you're assured a perfect edge to edge fit when you use the included tool kit for easy installation. We found the iVoler to easily attach without bubbles, fingerprints or poor alignment.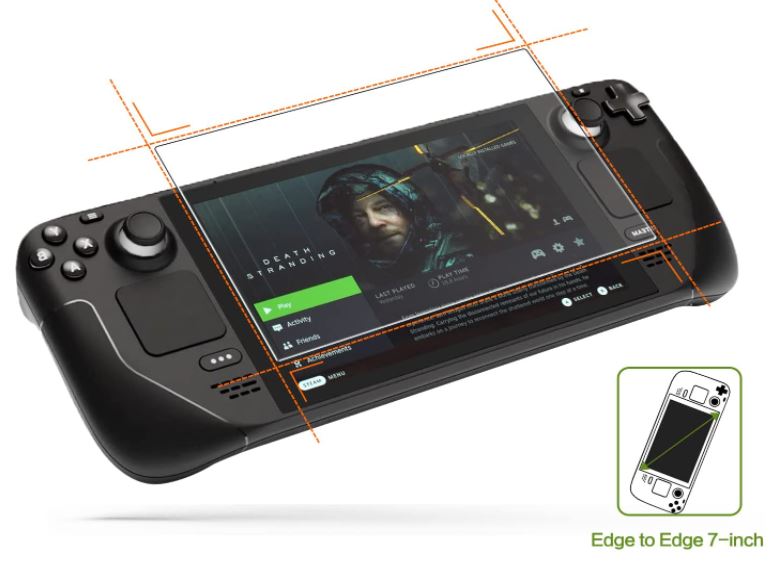 The instructions are easy to follow and laid out in a manner than makes installing a screen protector simple and painless; even if you've never installed one before. Simply use the provided wet/dry wipes, place the frame/guide over the console and place the tempered glass protector in position. As long as you make sure the guide is properly aligned, you're assured that the screen protector will lay straight and squared.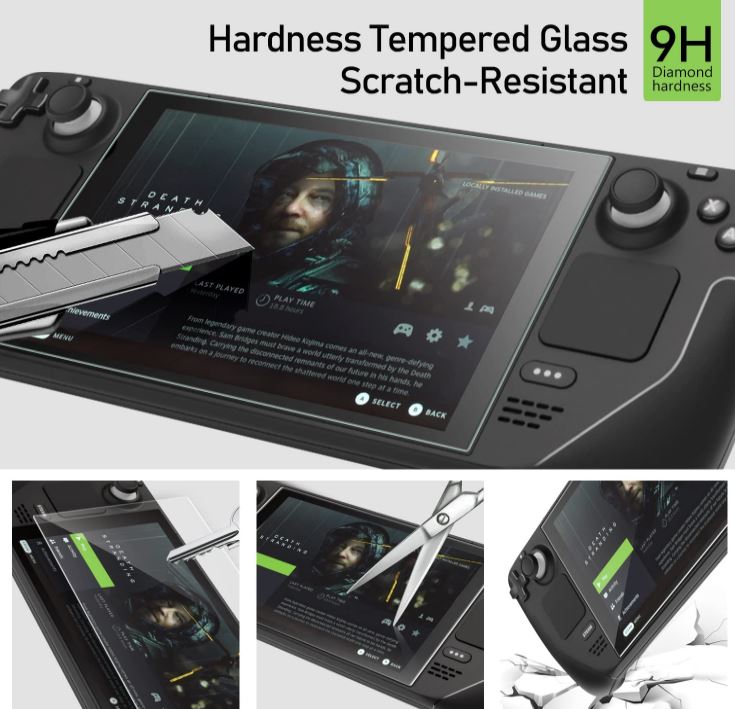 The iVoler screen protectors have a 0.3mm thickness, which is standard. This is the ideal size for reliable touch screen sensitivity while remaining resilient and durable against scratches and abrasions. With a clarity of 99.9, you're left with a screen that's crystal clear and retains all of the vivid colors you expect from the 7-inch Steam Deck screen. Once installed, a natural, beautiful viewing experience can still be achieved. Additionally, iVoler has given their screen protectors a unique anti-static and oleophobic treatment. What this means for users is more stain resistance and and an easier time cleaning. Simply put, fingerprints, droplets and smudges should be less of a concern; they're easy to wipe clean and naturally don't seem to appear as often.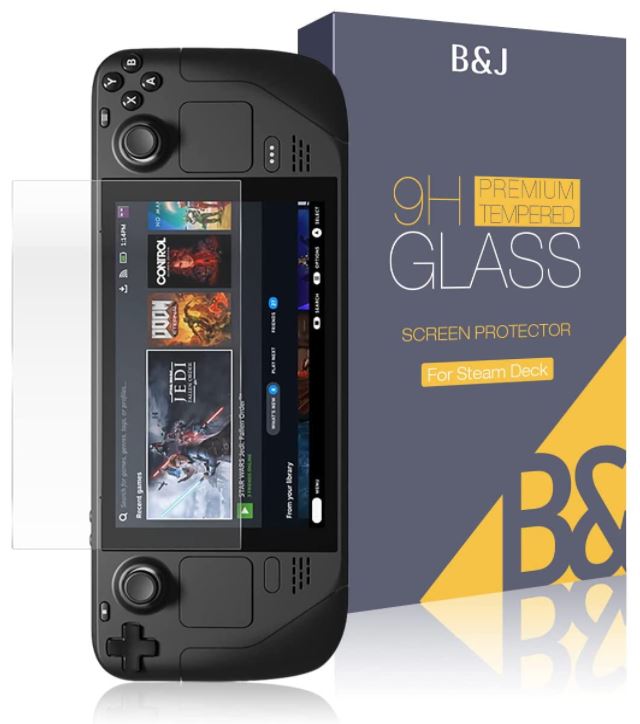 Benazcap Premium Steam Deck Tempered Glass Screen Protector
The next option on our list is the Benazcap Premium Steam Deck Tempered Glass Screen Protector. Although it's sold individually, this is a screen protector that's labeled as "Premium", but is it really? Taking it out of the packaging for the first time, you'll notice the same build quality and features as the iVoler. However, there's no installation guide included.
First and foremost, utilize the included wet/dry wipes to make sure the Steam Deck screen is clear of any smudges or debris. Prior to installation, you'll see tabs located on each side of the glass screen protector. Simply grab it from the tabs, and carefully, manually position it over the 7-inch screen on your Steam Deck. Since there isn't a frame or plastic guide in the box, installation can be a little more cumbersome, but with some patience and focus, properly aligning the glass is actually quite simple. Sure, there's less room for error, but we wouldn't call it overly difficult.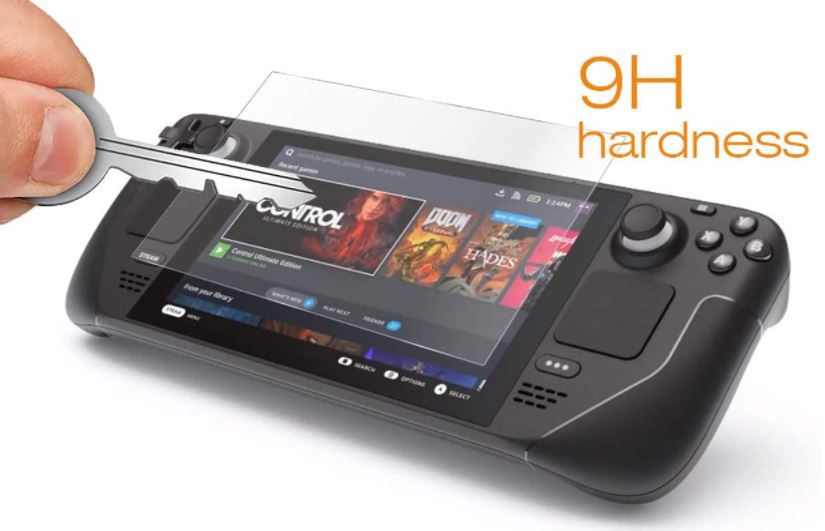 The Benazcap screen protector is ultra-thin, at 0.3mm thick. In addition, it's also given a 9H hardness level which is the golden standard for quality tempered glass screen protectors. Best of all, it's given a durable oleophobic coating to add another layer of fingerprint and smudge resistance. With this, whiping it clean from sticky fingers, moisture or small amounts of debris is effortless.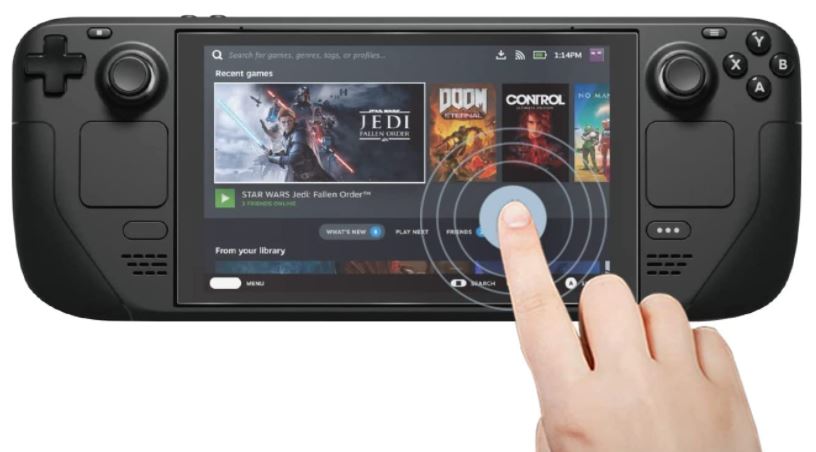 What truly sets the Benazcap apart from others is the generous 90 day warranty period. From the date you purchase, you're guaranteed 90 days of defect-free use. If it fails to adhere, prematurely cracks or simply doesn't live up to your expectations, you're covered. Although you're only getting a single screen protector in the box, it's backed by a guarantee that other brands simply won't compete with.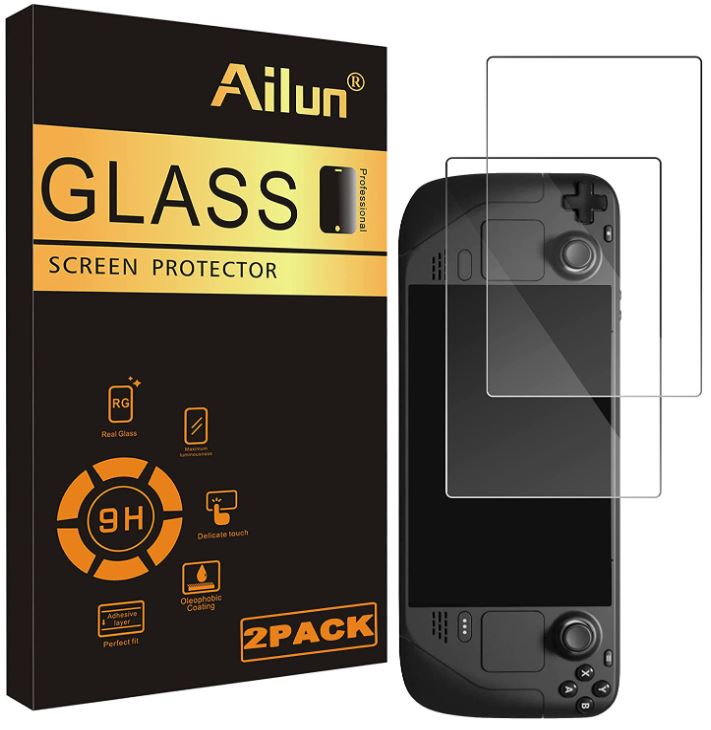 Ailun Steam Deck Screen Protector
The next option we're going to examine is the Ailun Steam Deck Screen Protector. Sold in a 2-pack, this tempered-glass screen protector, unlike the others, is labeled as "case friendly". Because of this, you're assured excellent compatibility with whichever case you decide to put on your Steam Deck. Ailun designed their protector with laser-etched precision to fit the 7-inch screen on the Steam Deck. However, you'll notice that the edges seem a bit more "gradual" or contoured in a manner than makes them tapered towards the edge. Rather than a sharp edge, this edge assures there's a smooth transition between your case and the screen protector; pretty smart!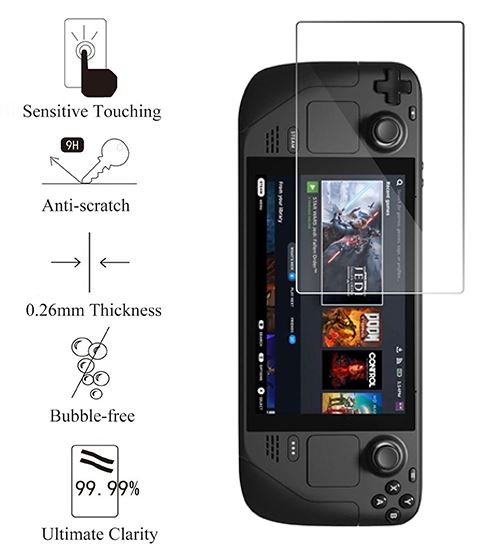 Taking it out of the box, you'll notice that each screen protector has the same 9H hardness as other options. However, they're 0.26mm thick, rather than the 0.3mm thickness that's offered by iVoler and Benazcap. While this difference in thickness is noticeable on paper, it's very minor and hardly noticeable in reality. While it may not offer quite as good of protection as other options that are thicker, the thinner material has its benefits.
Simply put, in our opinion, it's the clearest of the bunch. From first glance, you may not really notice a difference, but once it's installed, the clarity really seems to be apparent. Although it's labeled as 99.9% transparent, we feel it provides slightly less glare than both the iVoler and Benazcap, but improved clarity.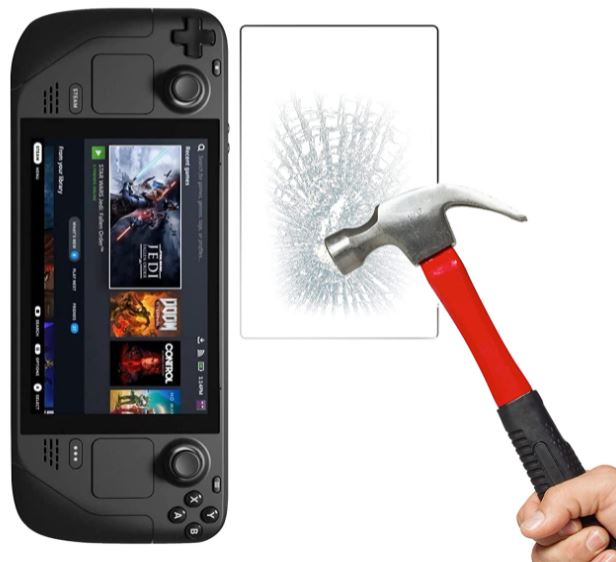 As far as the overall finish quality goes, Ailun apparently polishes each one to assure original colors stay true to the game. It's hard to convey, but the vividness almost seems to be slightly enhanced because of this. Additionally, fingerprints, smudges, moisture and oils naturally repel away thanks to the oleophobic coating. We can't say that this coating works any better than the competition, but it's a smart addition, nonetheless. Bubbles don't seem to be an issue, either. Although installation is a bit tricky since no guide is included, it's really not too complicated.
Ailun promises after-sales support, but they don't offer a warranty with their screen protectors. It's nice that there's two included per box, and priced less than the others, but you're not getting any extras like you would with the other options we discussed earlier.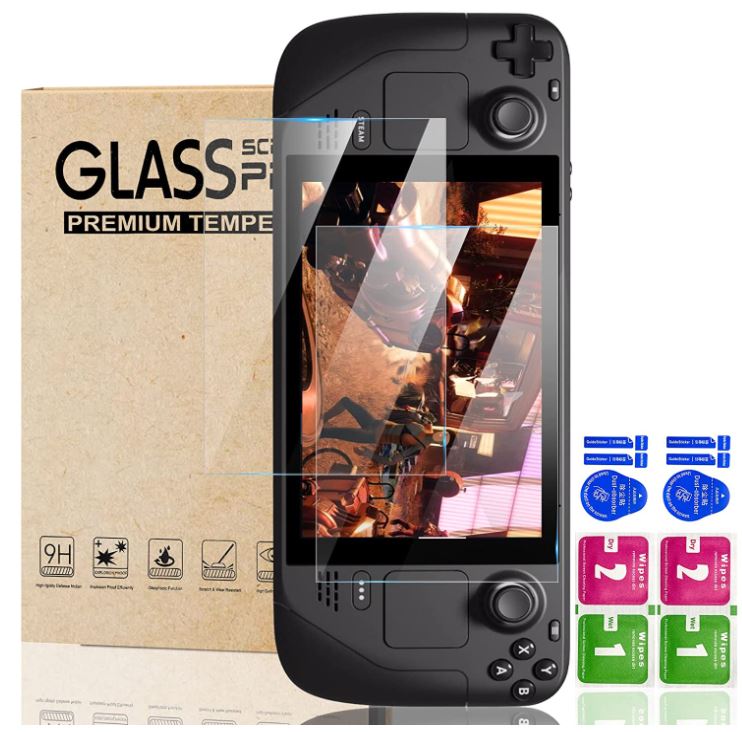 JETech Tempered Glass Screen Protector for Steam Deck
A few months ago when we uncovered the best grip case for Nintendo Switch OLED, we tested out JETech's offering and we were impressed with all it had to offer. When we saw that they now manufacturer screen protectors for the Steam Deck, we knew we had to check them out.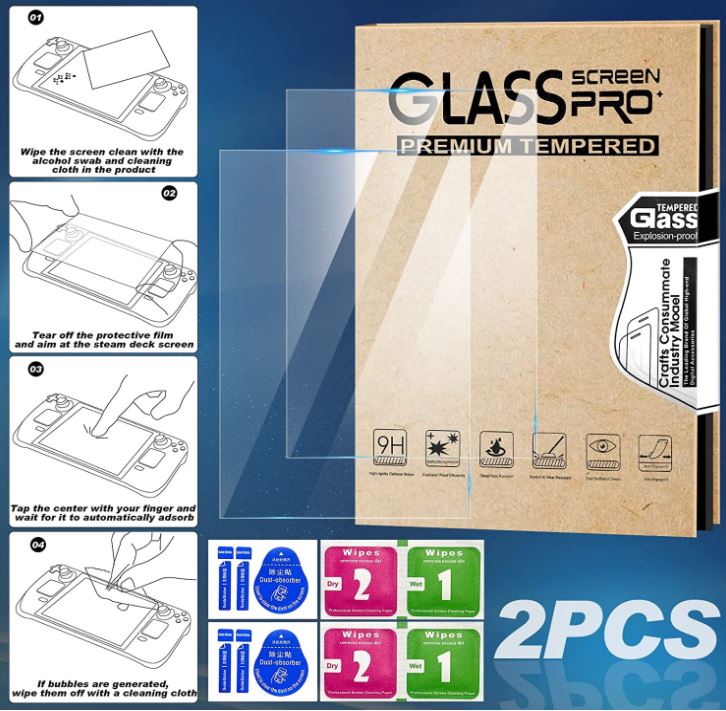 The JETech Tempered Glass Steam Deck Screen Protectors are sold in a 2-pack and seem to be engineered well. With edge-to-edge coverage that's been laser-cut for accuracy, they offer excellent protection. It's apparent from the start that these are built with longevity and impact resistance in-mind. You'll notice the same 9H hardness level and 0.3mm thickness that offers a favorable blend of protection without compromising the touchscreen in any negative way.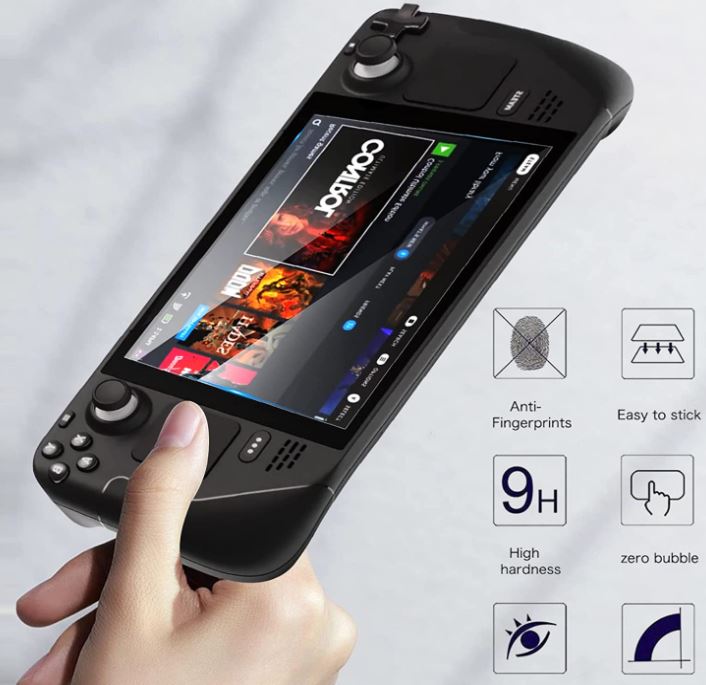 Although there isn't an installation frame/guide included in the packaging, JETech does include two dust absorbers, wet wipes and cleaning cloths. Installation is a bit more cumbersome without a frame, but not all that difficult. While installing, we noticed a much stronger adhesion than other options. Simply put, the screen protectors are much stickier, assuring perfect lamination that won't easily come off. In fact, you could probably re-apply it several times without any negative effects. Like all, however, just make sure there's no dust or debris in the way. Take advantage of all the included wipes to assure debris-free installation. Because of the extra-stickiness, there shouldn't be any bubbles to worry about. Achieving a bubble-free, crystal-clear result isn't too difficult.
JETech as a brand, isn't exactly well-known. However, they are easy to contact for support queries through Amazon if need be. In fact, they even promise a reply within 24 hours should you need help during installation or if any concerns come up. Unfortunately, they don't offer any sort of warranty or money-back guarantee.
Final Thoughts
We've uncovered several great options for those who want to add a tempered glass screen protector to their Steam Deck. However, discerning the difference between each is somewhat difficult. Let's re-cap.
The iVoler Tempered Glass Screen Protector for Steam Deck is one of our favorites for those who want a high quality option with fool-proof installation. The included frame/guide is essential for those who want a guaranteed straight and squared screen protector that lines up perfectly. Sold in a 3-pack, it also offers the most bang for your buck. Not to mention, the iVoler screen protectors are built to the best standards with 9H hardness, bubble-resistance and 0.3mm thickness.
Next up, we took a closer look at the Benazcap Premium Steam Deck Tempered Glass Screen Protector. Although it's sold as a single screen protector, Benazcap offer a generous 90-day warranty period in case it doesn't live up to your expectations. The protector is no worse (or better) than the iVoler, but the added guarantee offers extra assurance that many desire. Unfortunately, installation of the Benazcap is slightly more cumbersome; no guide/frame is included.
After that, we explored what the Ailun Steam Deck Screen Protector has to offer. Sold in a 2-pack, this is the best screen protector when it comes to case-compatibility. The contoured edge gives users extra assurance that it'll be compatible with any case that you decide to use. Although it's 0.26mm thick rather than 0.3mm thick, it may not offer quite as much protection, but the clarity is unmatched. It's also the most affordable! For those who want to retain the best visual quality of the Steam Deck's screen, we highly recommend it.
Last but certainly not least, we discussed the JETech Tempered Glass Steam Deck Screen Protectors. These are the stickiest among the offerings. With the best adhesion and the same 0.3mm thickness as the others, we feel it'll be the longest lasting among the bunch. Well that is, as long as you don't drop it on the ground…
All in all, we've outlined our favorite Steam Deck tempered glass screen protectors for the 2023 year. It'll be exciting to see what other accessories and upgrades will soon come in the coming months. Rest assured, NerdTechy will be here to make your decisions a bit easier.
Have you tried any of the screen protectors here? We'd love to know which one is your most favorite, longest lasting or even least favorite. Drop us a comment below to leave your opinion!
Meet Derek, "TechGuru," a 34-year-old technology enthusiast with a deep passion for tech innovations. With extensive experience, he specializes in gaming hardware and software, and has expertise in gadgets, custom PCs, and audio.
Besides writing about tech and reviewing new products, Derek enjoys traveling, hiking, and photography. Committed to keeping up with the latest industry trends, he aims to guide readers in making informed tech decisions.