By now, everyone knows you're not supposed to text and drive. At the very least, you should be using speech-to-text and hands-free calling. But nowadays, our phones are an integral part of our lives, and it's not always practical to set them down. This can even be true when you're driving, for completely legitimate reasons.
For example, many people use Spotify or another streaming app instead of their radio. So just as you occasionally adjust your radio, you sometimes want to interact with the app. Along the same lines, Waze and other GPS apps have mostly replaced traditional GPS units. If you're trying to follow directions, it's important that you're able to see the screen.
For these and similar reasons, a lot of people use a phone mount when they're driving. These come in all kinds of designs. Some attach to your air vent, while others stick to your dash with double-sided tape. There are so many varieties to choose from that you can put your phone just about anywhere.
But you don't want to choose just any phone mount. You want to find one that's suitable for your needs and lifestyle, as well as for your phone. You also want one that's durable and well-engineered. We've reviewed many phone mounts, even PS5 DualSense controller mounts. So we like to think we know what to look for.
Today, we're going to search for the best car cup holder phone mount. These three mounts are designed to sit inside your cup holder. That way, your phone doesn't block anything on your dash, or obstruct your view out your windshield. To find out which is the best, we're going to have to dig into all of their features.
We'll need to look at the mounting design, and how they fit securely in your cup holder. We'll need to look at the phone brackets themselves, and what types of phones you can use. Additionally, we'll also have to talk about how you can adjust your phone's position, as well as any extra features. After that, we'll sum up what we've learned, and render our verdict. Let's get started!

JoyTutus Cup Holder with Cellphone Mount
The JoyTutus Cup Holder with Cellphone Mount is constructed from a glossy black plastic. It's reasonably durable, and looks pretty sharp in most cars. When it arrives, it comes in three pieces: a base, a mounting collar, and a smartphone bracket. All three pieces are easy to snap together, and assembly takes under a minute.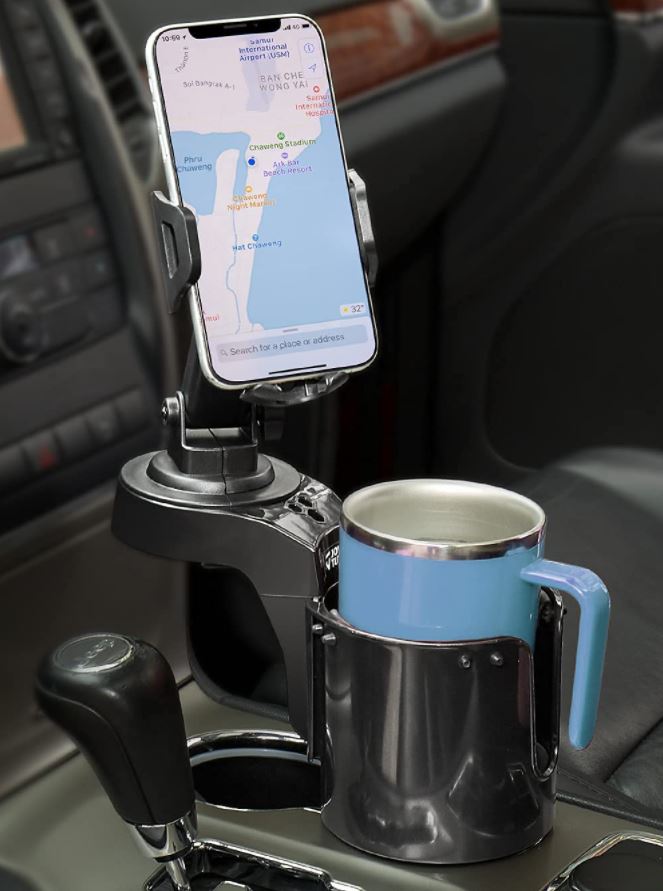 The base itself is a wide cup holder, with an extension underneath with rubber flanges around it. These flanges provide a flexible fit, for large and small cupholders. Not only that, but they provide a significant measure of shock absorption. You don't have to worry about your phone wobbling around when you're driving on a rough surface.
The mounting collar is basically a circular socket, with a vertical flange extending down from one side. This flange slides into a slot in the side of the cup holder, and snaps easily into place. The bracket, meanwhile, has a circular plug at the bottom that locks into the socket.
The bracket is supported by a solid support arm, with a tension screw on the side. By loosening the screw, you can adjust the arm angle up and down. Tighten the screw down again, and the arm will be held securely in position.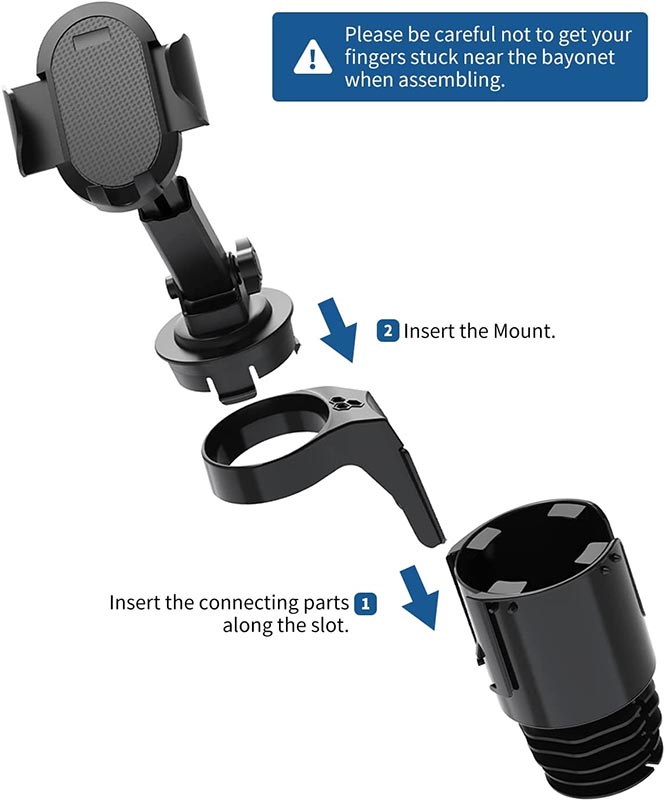 The top bracket itself is oval in shape, and very well padded. The front surface is coated with a thick layer of rubber, which provides plenty of protection. A textured finish helps reduce the risk of your phone sliding around. Not that that's much of a problem to begin with.
A pair of curved tabs at the bottom of the bracket cradle the bottom of your phone. Meanwhile, a pair of adjustable side clamps keep your phone from moving left or right. When they're closed snugly around your phone, it's not going to go anywhere.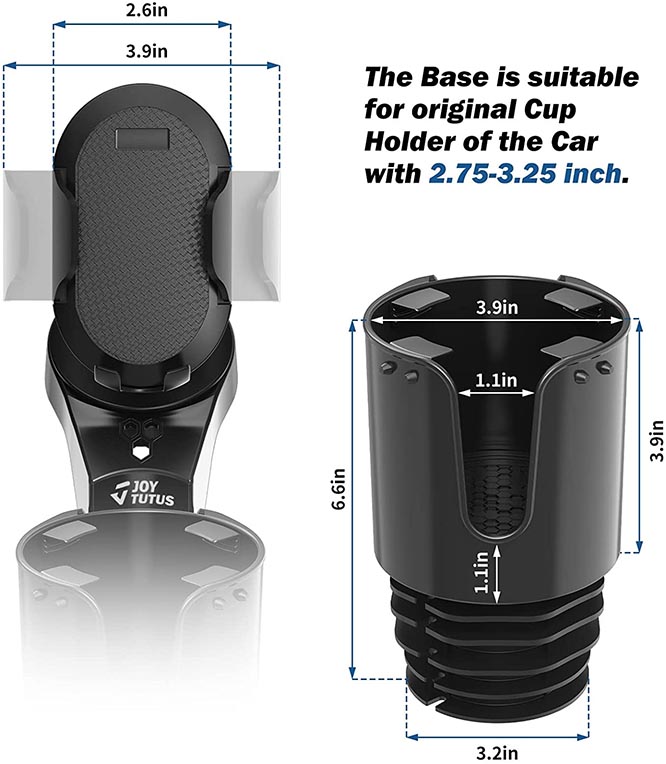 Compatibility & Extra Features
The JoyTutus mount is beefy enough to support all but the largest smartphones. In total, the side brackets can be adjusted from 2.6 to 3.9 inches in width. That's sufficient for a phone with a screen size of around 4-6 inches.
Keep in mind that this is a general guideline, because a lot depends on your case. A smaller phone might be able to fit if it has a beefy enough case. Conversely, a 6-inch phone with an ultra-fat case isn't going to fit. But for most people, you won't have any issues with size.
The bracket is designed to be easy to use, and it has a ratcheting design. You can push the side clamps together by hand with very little effort. To release your phone, press the locking buttons at the top and bottom of the back of the bracket.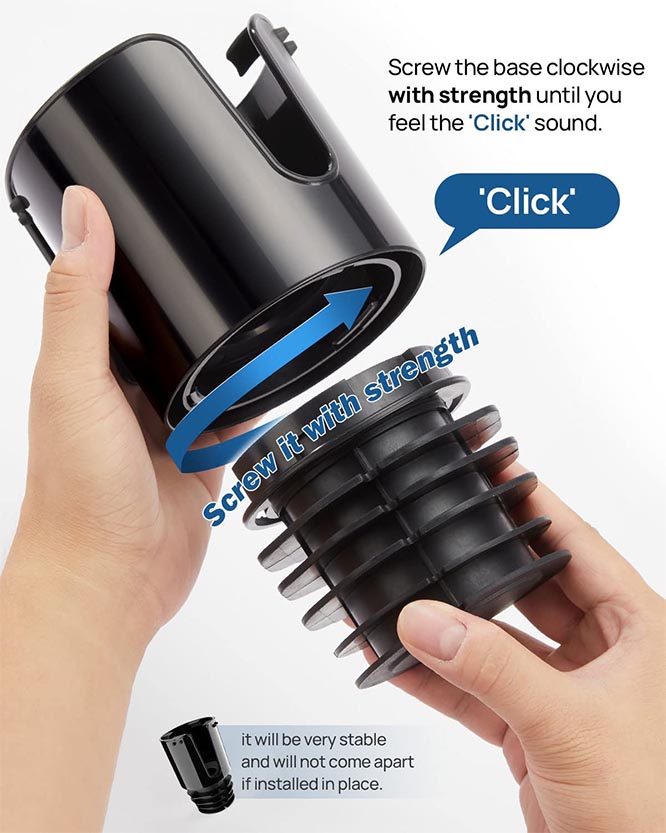 When they're depressed, the clamps will open easily. Not only that, but you can rotate your phone 360 degrees. Use it in portrait mode for your streaming apps, or put it in landscape mode to use your GPS app.
The bottom of the base can fit in car cup holders between 2.75 and 3.25 inches. This accounts for most ordinary cup holders. That said, some oversized cup holders can be as large as 4 inches. Make sure to measure the diameter before you buy. The built-in cup holder, on the other hand, is actually fairly large.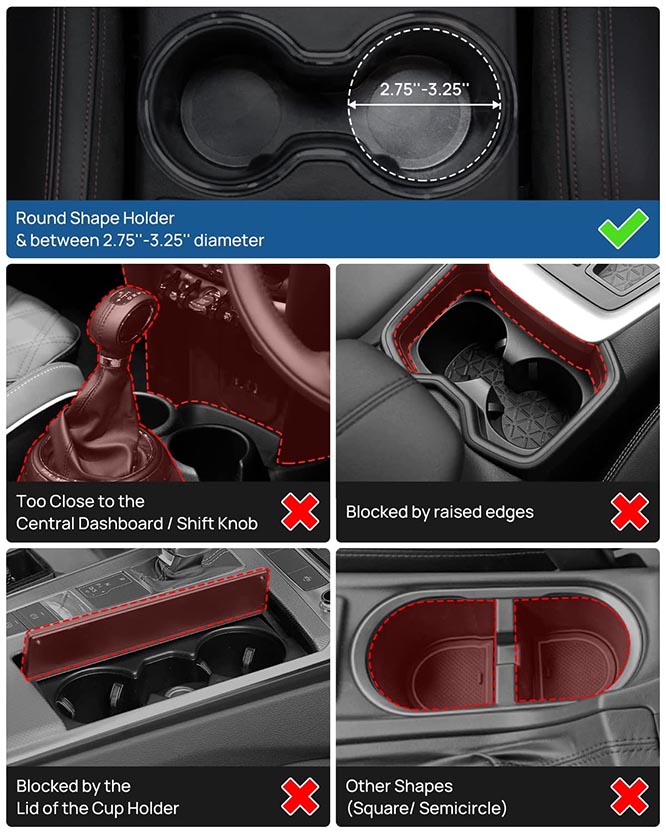 With a diameter of 3.9 inches, it can fit even a full-sized Nalgene bottle without any issues. For smaller cups, a set of four flexible rubber tabs will help them to remain stable. If you exclusively use large cups, you can remove the tabs to free up a little more space. There's even a vertical slot in the side, so you can use an ordinary kitchen mug as a travel mug.
This is great news as long as you're on the road. But if you want a home smartphone holder, you'll want something with a different design. Take a look at these pillow stands for tablets and smartphones. They're great for using on the sofa, in your bed, or even at your kitchen table!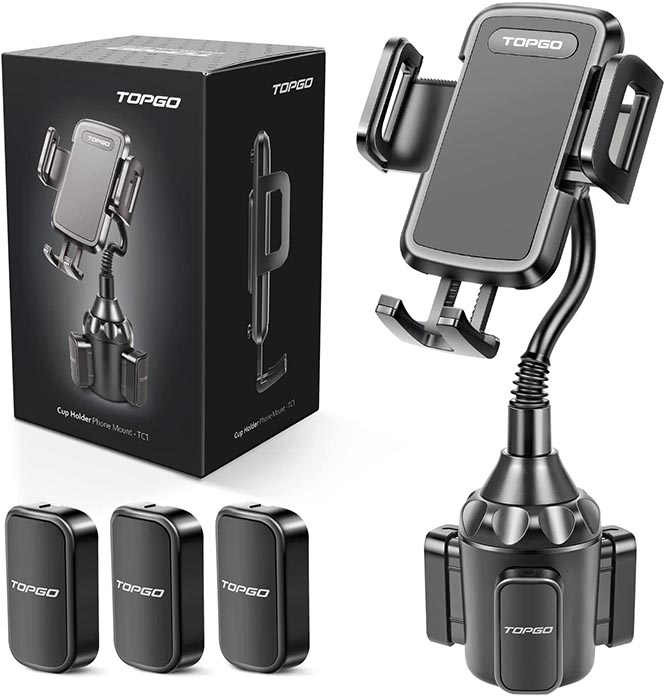 TOPGO Cup Holder Phone Holder
The TOPGO Cup Holder Phone Holder has a simple, two-part design. The base is made from black plastic, and has a nearly-cylindrical shape that's slightly tapered at the bottom. On the side, you'll notice a set of three rectangular panels arrayed around the perimeter. These are used to fit the base to the size of your cupholder.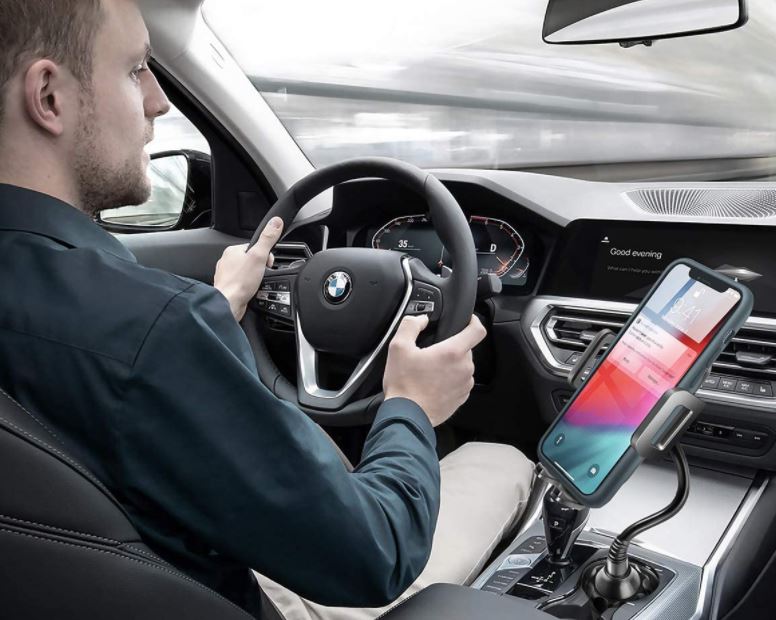 At the top of this base, there's a dimpled plastic collar, which wraps around a vertical gooseneck. The gooseneck has a total length of 8 inches, and can be flexed and twisted in any direction. Even so, it's nice and stiff. You don't have to worry about it sagging under the weight of your phone.
The smartphone bracket itself comes separately, but it's easy to attach. There's a set of slots on the back, which snap onto some pegs at the end of the gooseneck. The front surface is well padded, to keep your phone safe. The bottom support and side clamps are equally well padded. This doesn't just protect your phone's finish. The rubbery surface also retains your phone securely at any angle. As an added bonus, you can choose between black, blue, or grey padding and highlights. This is a purely cosmetic feature, but it's always nice to have options.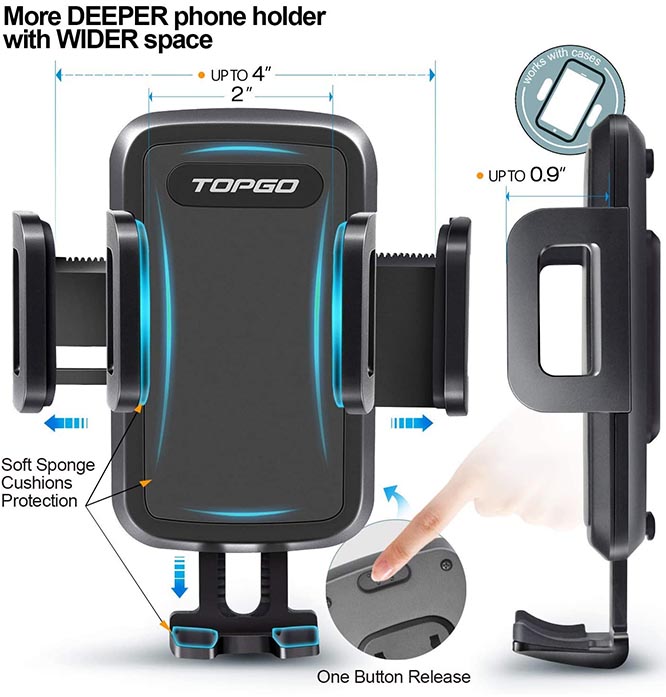 Compatibility & Extra Features
The phone bracket is adjustable between 2 and 4 inches in width. This is big enough for a 6-inch smartphone, which includes most models. Like the JoyTutus bracket, this one has a ratcheting design. But instead of two release buttons, there's only one, so it's a little bit easier to release.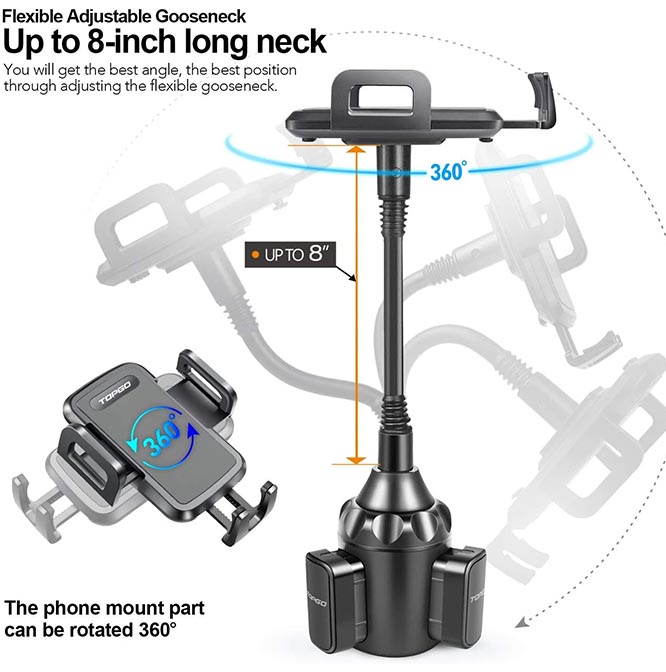 Moreover, the side brackets are extra-long, and can hold a phone case that's 0.9-inch thick. That's probably overkill. But needless to say, you can mount even the thickest smartphone cases. As with the last mount, you can rotate your phone 360 degrees. But you can also tilt it from side to side, or angle it up and down, thanks to the gooseneck support.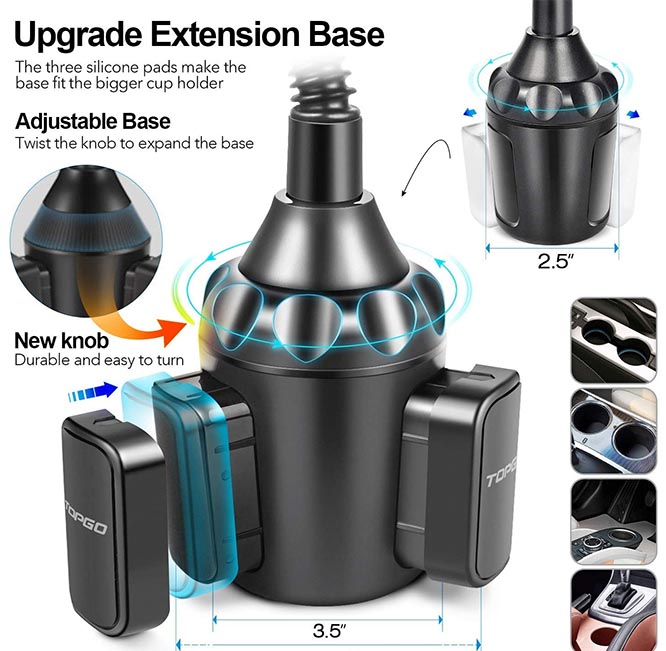 Out of the box, the base has a diameter of 2 inches, which is quite small for a cup holder. To fit a larger cup holder, you just twist the collar at the top of the base. This will cause the panels on the perimeter to push outwards, extending the total diameter. When fully extended, these panels will achieve a diameter of 3.5 inches. If for some reason you need even more width, there's a set of extension panels in the box. These can be snapped onto the existing panels, for a maximum diameter of 4.1 inches.
The only major downside of this design is that it obstructs your cup holder. If you absolutely need to have both of your cup holders available, you're going to want a different mount. For example, you could use a CD slot smartphone holder, although in that case, your CD slot will be blocked.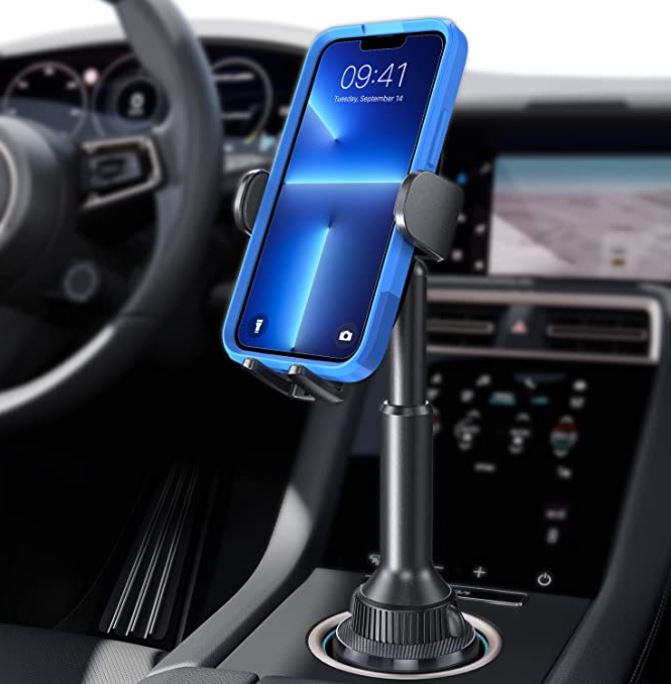 LISEN Cup Holder Phone Mount
The LISEN Cup Holder Phone Mount has a very straightforward design, with a single-piece construction. The small plastic base is very similar to the TOPGO's, with three spacing panels around the sides. It also has an adjustment collar at the top, which surrounds the bottom of the vertical support.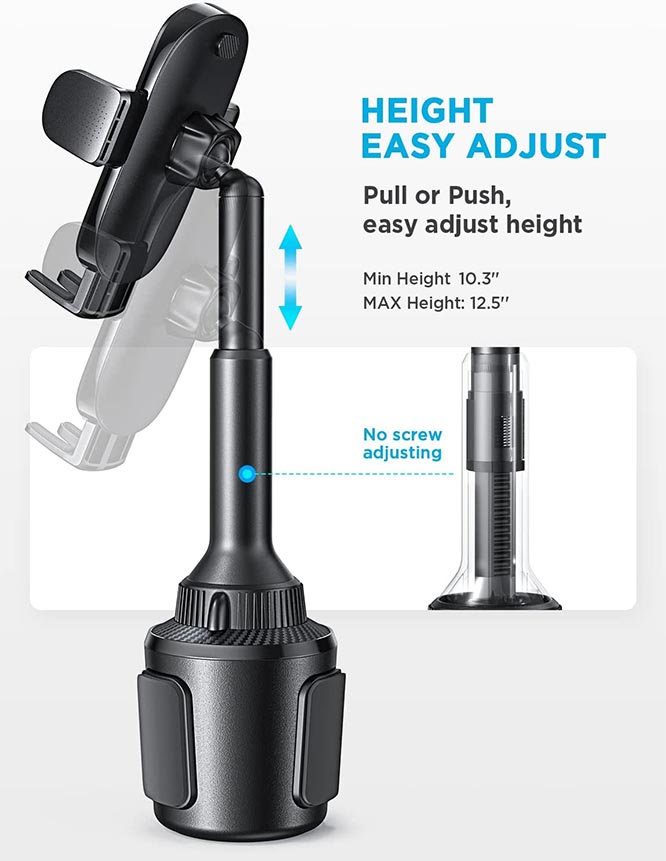 That said, the support itself has a rigid design, and cannot be twisted or tilted. You can, however, adjust the length. It has a telescoping design, and can extend from 10.3 up to 12.5 inches. The entire unit is an attractive black plastic, with a matte finish that doesn't collect a lot of dust.
The phone bracket at the top is attached with a ball socket. This allows it to be pivoted and angled however you need it. The front surface is an oblong panel, with a thick layer of padding to protect your smartphone. The bottom support and side supports are similarly padded, so your phone is safe on all sides.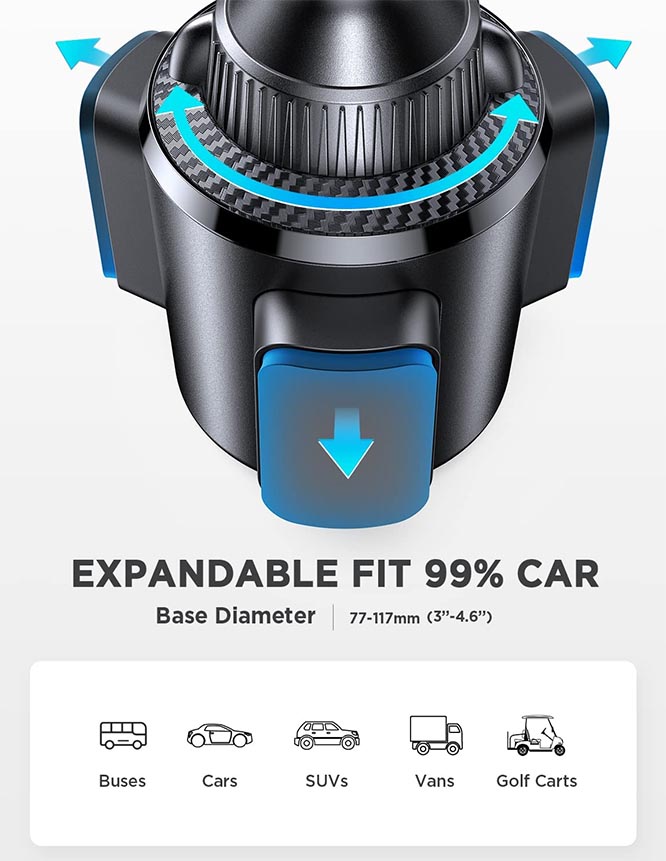 Compatibility & Extra Features
The phone bracket at the top can be adjusted between 2.1 and 3.7 inches. It's rated to fit up to a 7-inch phone, which includes the largest on the market. It can also support a phone of up to 0.7 inches in thickness. That's not quite as thick as the TOPGO, but it's still thick enough to fit an Otterbox. And like our last two options, the phone mount can be rotated 360 degrees for portrait or landscape use.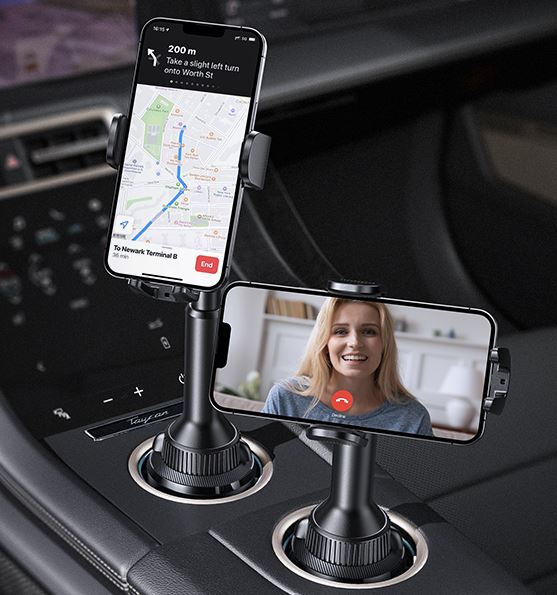 The base can be adjusted by twisting the knurled collar on the top. In all, it can fit cup holders between 3 and 4.6 inches in diameter. This is exceptionally large, big enough for even the most cavernous cup holders. That said, it might be a bit fat for some smaller cup holders. One added feature we liked were the rubber pads on the base's extension panels. These not only absorb shock, but help to keep the stand more stable.
Final Verdict
As you can see, each of these car cup holder phone mounts has its own unique benefits and quirks. We started out by reviewing the JoyTutus Cup Holder with Cellphone Mount. The most obvious benefit of this mount is that it doesn't prevent you from using your cup holder. If anything, it gives you a larger one! Our only gripe is that it won't hold larger 7-inch phones.
The TOPGO Cup Holder Phone Holder is probably the most versatile, and fits a wide range of cup holders. The gooseneck support is a big plus, since it's easy to angle your phone. And while it's purely cosmetic, we liked that there were different color options.
The LISEN Cup Holder Phone Mount is the best choice if you have a very large smartphone. While the support arm isn't as flexible as the other two, the phone can still be pivoted and angled. And with the rubber-padded base, you get excellent stock absorption and stability.