These days, we rely on our computers for just about everything. Sure, many people can get by with a smartphone, a tablet, or even a gaming desktop. But if you're a creative professional or a traveling businessperson, you need your laptop. It has all your important documents, and it's where you do your work. This means taking advantage of a laptop's greatest asset: its portability. You need a bag or a carrying case to get your machine from point A to point B. But not all bags are equally well-engineered. If you're not careful, you can end up with a damaged laptop.
In the past, we've reviewed several protective laptop accessories, including waterproof cases. Now, we're going to look at padded laptop sleeves. These are a bit different from laptop bags, which are designed as your main carrying case. Padded sleeves are designed to go inside your backpack or laptop bag. You can use them for carrying your laptop around your home or your office. You can also use them for carrying your laptop by itself, but they aren't made to have extra capacity. Forget about packing a bunch of papers and office supplies. At most, you'll be able to fit a charger and a cord inside.
We'll start off today's list with the tomtoc 360 Protective Laptop Sleeve. This is a thickly-padded 15-inch soft sleeve that's designed for drops and bumps. Next, we'll look at the Nacuwa Protective Laptop Case. This sleeve has a hard shell, and is resistant to scratching and punctures as well as drops. We'll finish by reviewing the ProCase. This is a stylish cloth sleeve that sports a retractable handle for easy transport. Which choice is the best? To find out, we'll need to put each of these laptop sleeves under the microscope. When we've gotten a good, close look, we'll be better prepared to render our final verdict.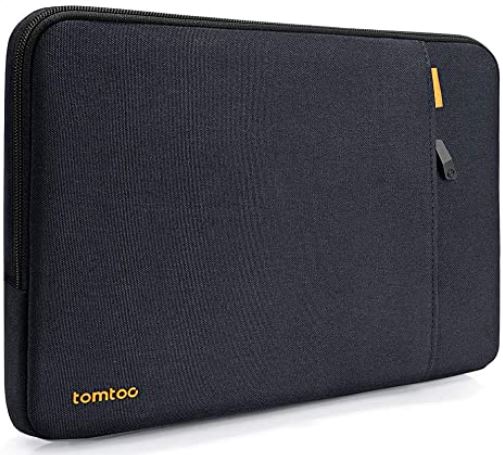 tomtoc 360 Protective Laptop Sleeve
The tomtoc 360 Protective Laptop Sleeve is a slim, no-nonsense sleeve that's constructed from nylon. It's a tight, durable weave, similar to a rugged piece of roll-away luggage. Unlike luggage, though, you're not limited to a boring black. You can order the tomtoc in nine different colors, including fun patterns as well as professional grey and navy. All colors come with matching zippers, which gives them a more unified appearance. The only thing that doesn't match is a small gold tomtoc logo in one corner, which is fairly unobtrusive.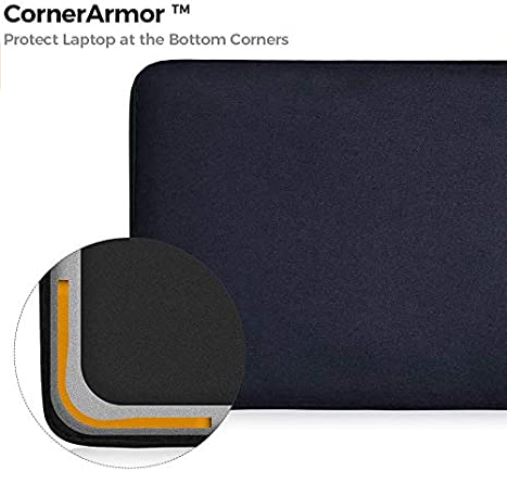 The tomtoc is listed as water-resistant, which can be confusing. Here's what that means, and it applies to all three of today's choices. The outer shell itself, meaning the fabric, is water-resistant. If you spill your coffee on it, the bulk of the moisture will bead up and roll off. That said, the zipper closure itself is porous. Moisture can and will pass through the gap. So if you drop this sleeve in a puddle or a bathtub, your laptop is still going to get wet.
The overall dimensions of the tomtoc sleeve are 14.5 inches wide, 10.2 inches deep, and 1.1 inches thick. This makes it compact enough for most laptop bags and backpacks. If you want to carry it along with other supplies, you won't have any trouble fitting it inside. This makes it a solid choice for travel, when you won't want a bulkier sleeve that occupies a ton of space.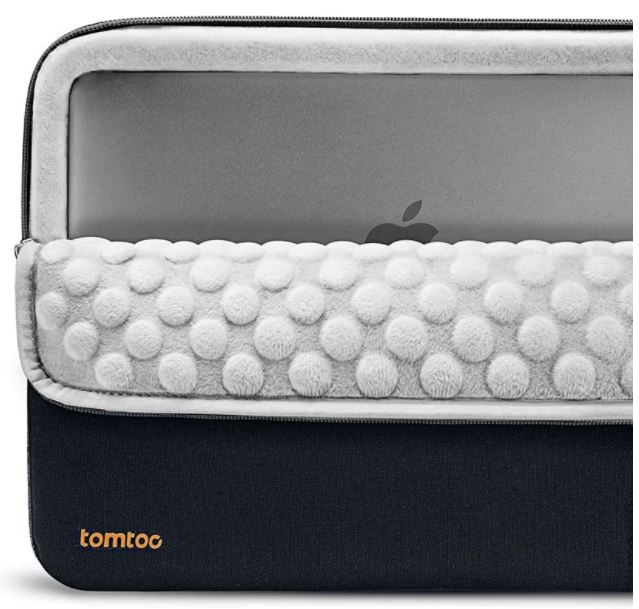 The inside of the sleeve has a plush lining, which is thick and lush. The tops and bottoms are textured, with fatter material around the edges for added protection. In addition, the corners are reinforced with what tomtoc calls "corner armor." This is a marketing term for double padding with an additional reinforcement in-between. Basically, it protects the corners of your laptop, which is where it's most vulnerable to damage. All of this makes for a case that's resistant to shocks and bumps. You can drop your laptop without any kind of serious concern.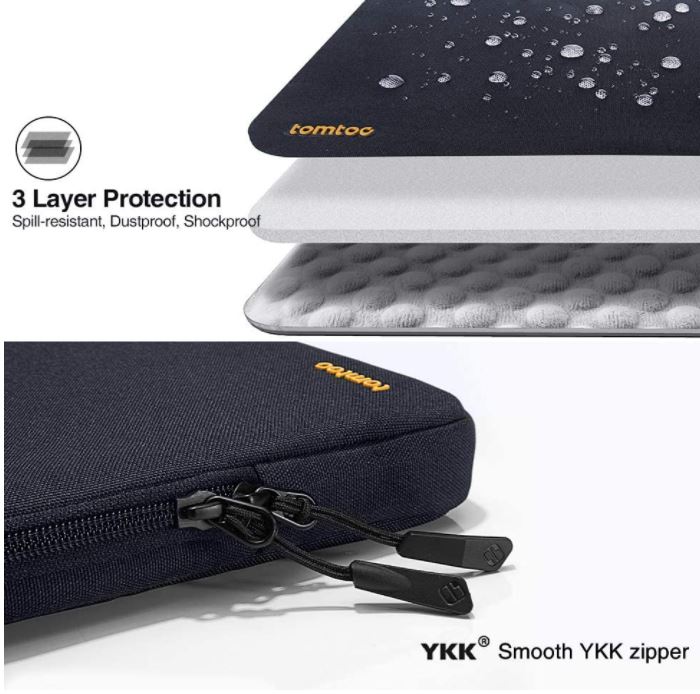 Storage
The internal dimensions of the tomtoc 360 are 13.75 inches wide, 9.45 inches deep, and 0.61 inches thick. It's designed to fit most modern laptops in the 14 to 15-inch range. This includes the MacBook Pro 15" with USB Type-C, the Microsoft Surface Laptop 3, and newer Dell XPS 15 laptops. While you can technically fit smaller laptops inside, you wouldn't want to. They would slide around inside, and wouldn't actually be protected very well in the event of a drop.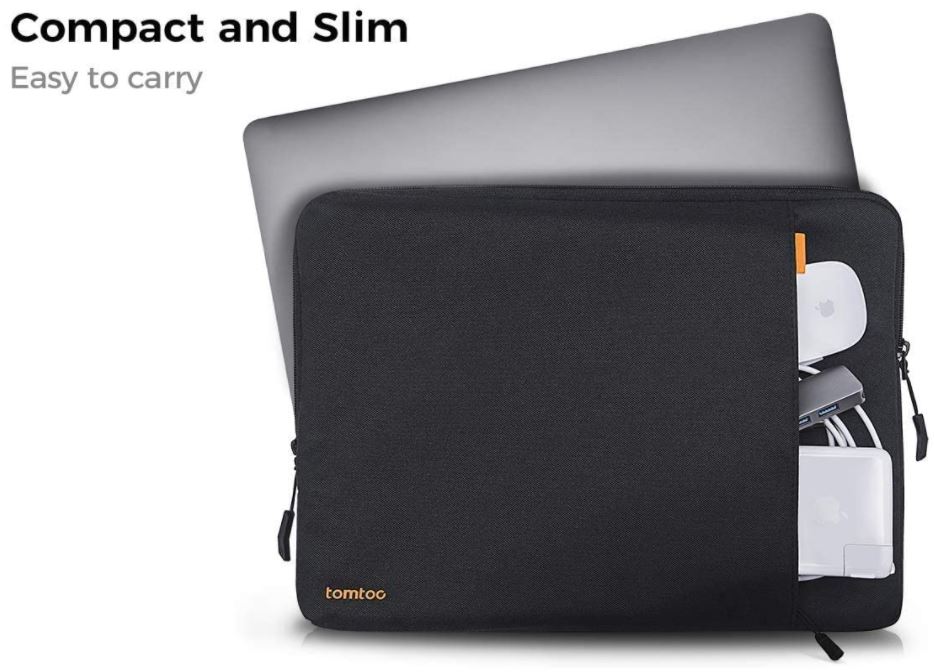 Thankfully, the tomtoc 360 is available in several different sizes. There are 10.9-12, 13, 13-13.5, 15, 15.6, and 16-inch variants available. This allows you to carry just about anything from a small Chromebook to a MacBook Pro 16". You can carry larger laptops, as well as small. Just make sure to check the sizing carefully before you make your purchase.
In addition to the main pocket, there's a zippered front pocket for carrying some extra supplies. It's fairly slim, but you can still carry along a small tablet, a charger, or a small notepad. Is this going to replace a full-sized laptop bag? Absolutely not. But the added space at least provides some minimal "on-the-go" capacity.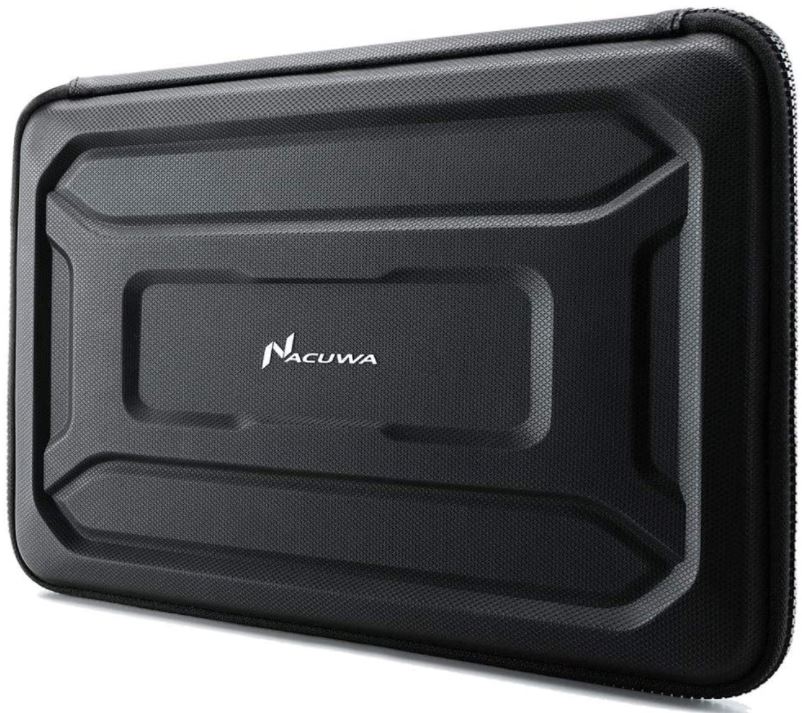 Nacuwa Protective Laptop Case
The Nacuwa Protective Laptop Case is built like a brick. It's engineered from molded EVA, which is a rock-solid polymer that withstands shock, scratching, puncturing, and just about anything else. Short of building their laptop case out of steel, Nacuwa could hardly have built more durable protection. Now, you might be thinking that such a rugged case would be ugly, and in some sense, you're right. The Nacuwa case is only available in black, and the form factor is relatively blocky.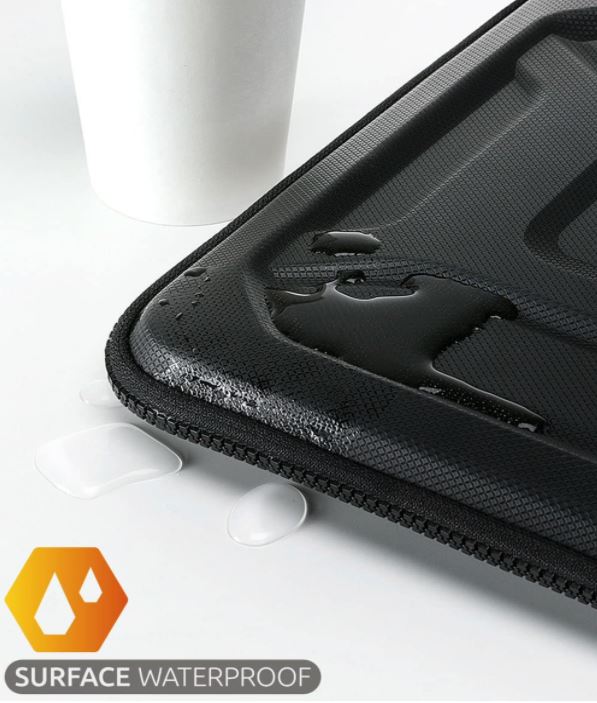 That said, it's not as if Nacuwa just gave up and built an ugly case. Instead of an EVA exterior, the case's outer shell is made of PU leather. This is a fancy way of saying it's an artificial leather, but it's still easy on the eyes. Moreover, the water-resistance coating is applied in a textured pattern. This makes the Nacuwa case far more attractive than it would have been if it were just plain plastic.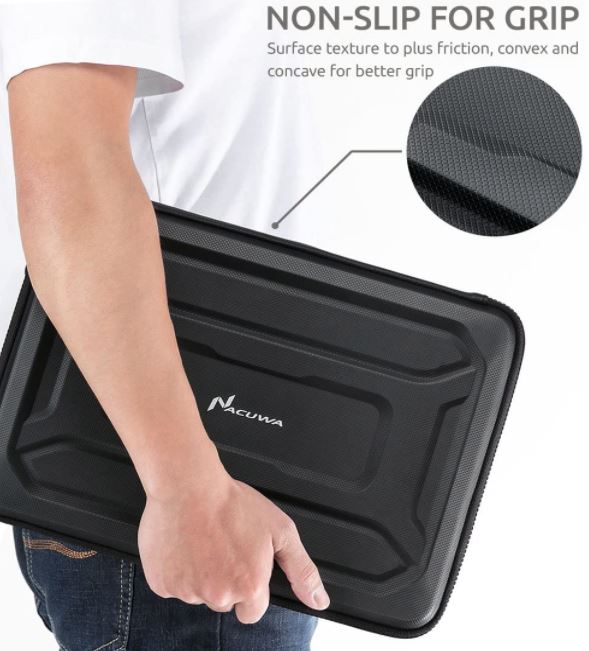 The inside of the case is padded in a stitched hexagonal pattern, similar to a soccer ball. The material itself isn't quite as thick as the tomtoc's padding, but it doesn't need to be. It just needs to be enough to keep the laptop safe inside the outer shell. To that end, the padding is fairly stiff, and isn't quite as squishy as you might expect. This provides excellent protection against all kinds of damage. Your laptop will be safe from shock, scratches, gouges, and most other potential hazards.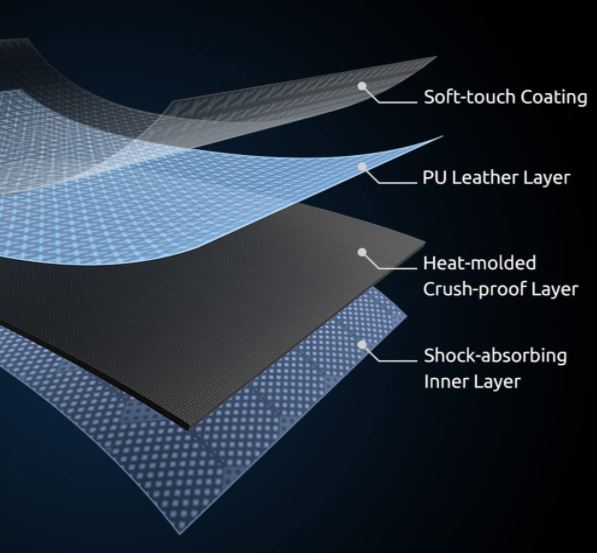 The variant of this case that we reviewed is a bit bulkier than the tomtoc. It measures 15.67 inches wide, 11.22 inches deep, and 1.61 inches thick. This makes it fairly beefy, and it can be too large for some laptop bags. But in a backpack or a larger piece of luggage, you won't have any trouble.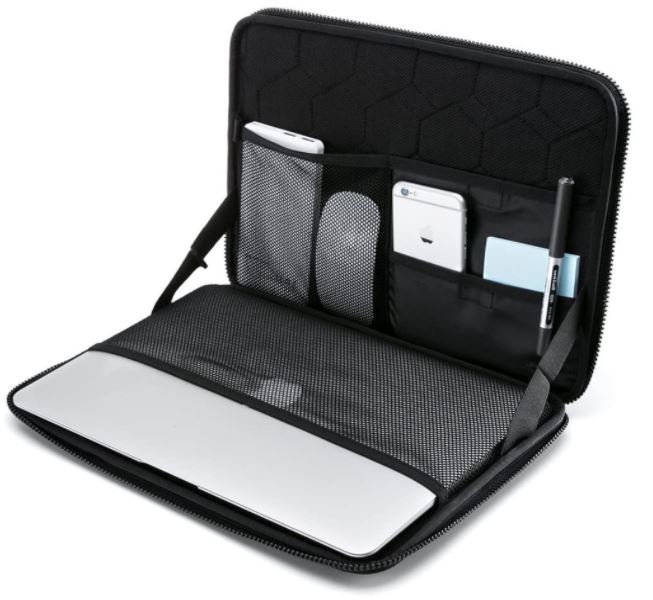 Storage
The version of the Nacuwa case we reviewed was designed for the MacBook Pro 15" with Retina Display. It had internal dimensions of 15.27 inches wide, 10.82 inches deep, and 0.98 inches thick. If this seems a bit large, you're not wrong. The reason for the extra space is that there are four internal storage pouches. These mesh pouches are big enough to carry an external mouse, a tablet, a power bank, or a phone charger. You're looking at a ton of extra capacity, enough for a full day of work outside the office.
Like the tomtoc case, the Nacuwa is available in several sizes. The smallest is for laptops from 9.7 to 10.5 inches, which is exceptionally compact. The 15-inch MacBook Pro Retina option is the largest. You won't be able to carry oversized laptops, but you'll be able to carry anything from small to medium.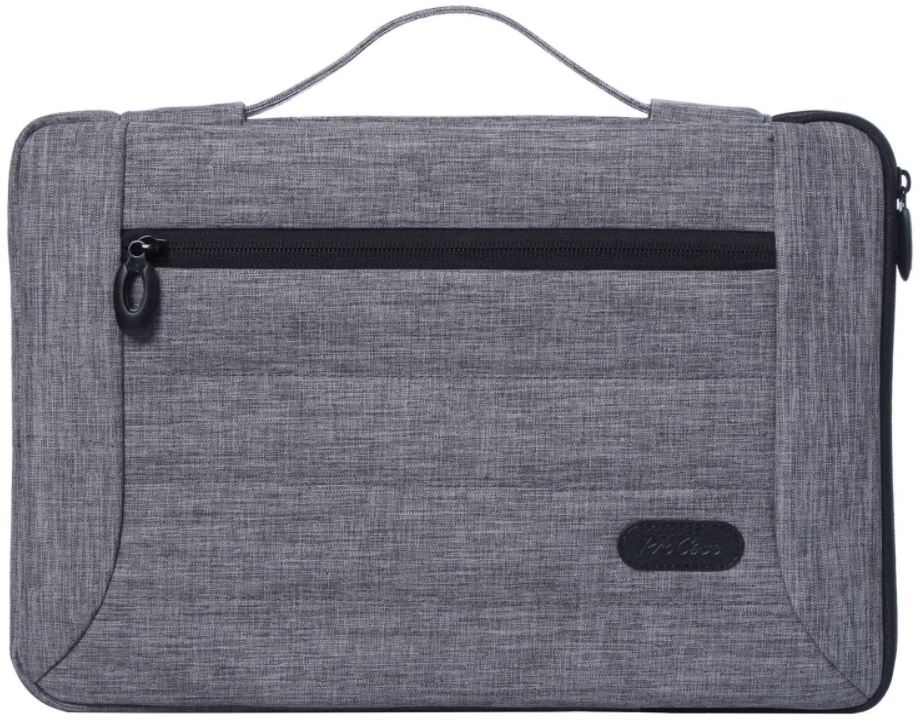 ProCase
The ProCase is designed first and foremost to be good looking. The outer shell is made of fabric, and comes in grey, navy, or pink. The fabric is treated for water-resistance, and has a soft texture. Think more along the lines of Oxford cloth than canvas or nylon. You could wear this material and it wouldn't be uncomfortable.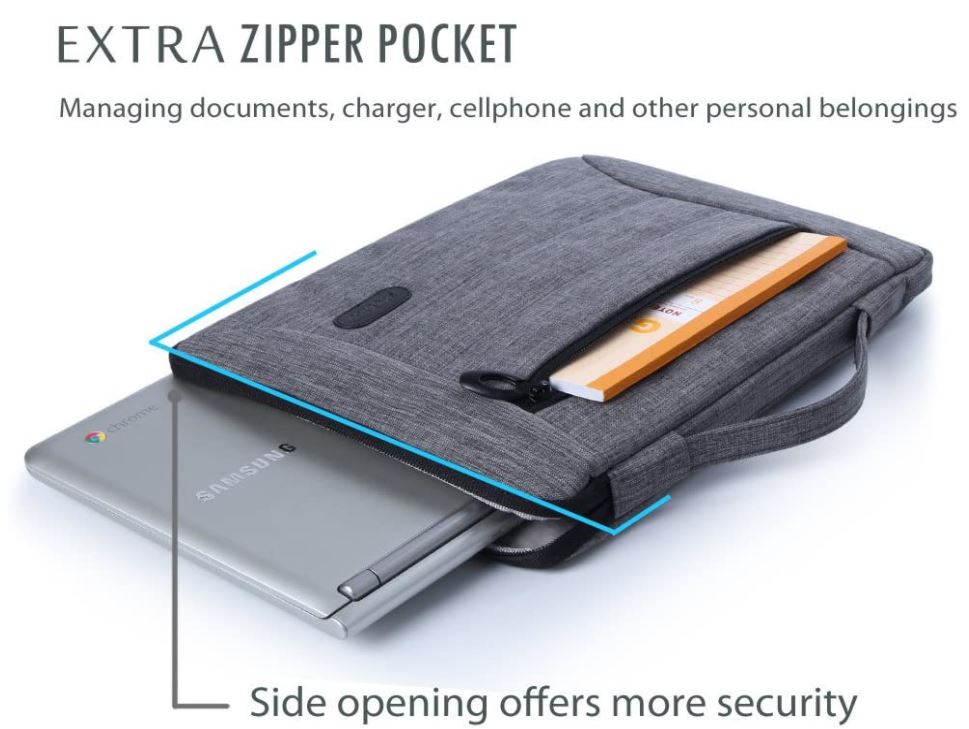 That's not to say that the ProCase isn't practical. It's also highly functional. For one thing, there's a cloth handle along the back edge. This makes it easy to carry by itself, even without a laptop bag or a backpack. The handle is even retractable. When it's not in use, it can simply be pushed back inside the sleeve. Moreover, the fabric is well-reinforced where it's liable to be under the most stress. It's doubled up near the edges, and even tripled up at the back end.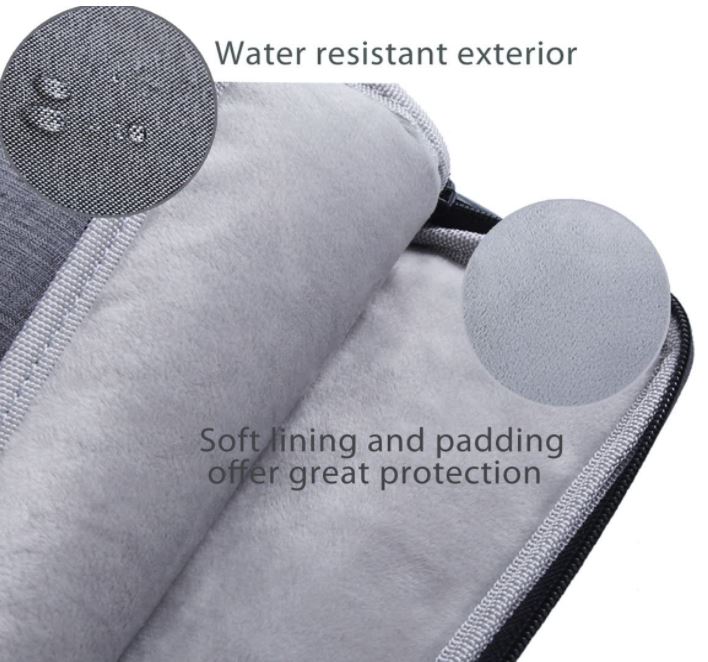 The inside of the sleeve has a plush lining, very similar to the tomtoc. While the lining isn't textured, it's nice and thick, as well as being soft. You won't have to worry about your laptop being scratched if it shifts inside the case. This lining is also reinforced around the zipper and the outer edges, providing additional protection. It's not as well protected as our last two options, but it's much tougher than it appears.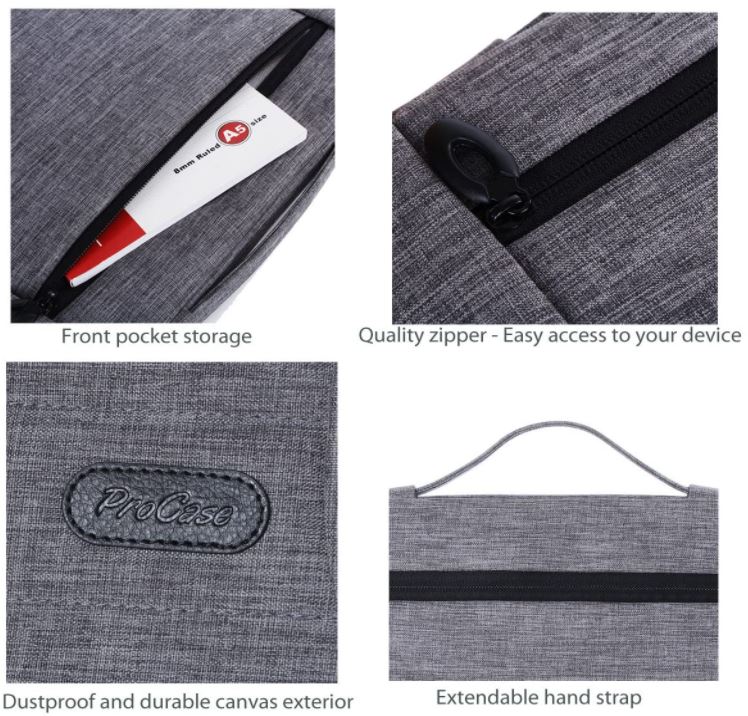 The external dimensions of this model of ProCase are 16 inches wide, 11.5 deep, and 1.5 thick. However, we reviewed a larger variant than we did of the last two cases. If you're comparing apples to apples with similar-capacity sleeves, there's not much difference. You'll have few issues with transport, outside of the ordinary issues people experience when traveling with a large laptop.
Storage
The internal dimensions of the ProCase are 15.6 inches wide, 11 inches deep, and 1.1 inches thick. This was at least true for the large variant we reviewed, which is large enough for the MacBook Pro 16". This same case is also rated for laptops as small as 14 inches, but at that size they're a bit loose. Anything 15 inches and up is a legitimate fit, though. If you have a smaller laptop, there are also 12-12.9 and 13-13.5-inch variants. This has you covered for most medium to large laptops, albeit not for some smaller machines.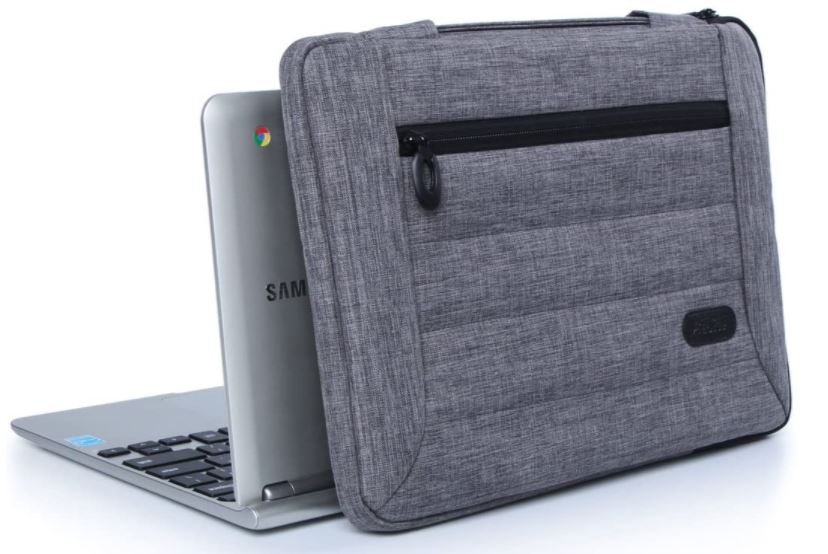 Unlike most laptop sleeves, the ProCase loads from the side, and not from the top. This means there's only a single small zipper, running along the short side of the sleeve. You have less potential area to fail, as well as more padding. The only outer storage is a zipper sleeve on one side of the case. It's fairly slim, and is only suitable for small objects or something flat like a notepad. Still, it's enough for carrying your charger around.
Final Verdict
So, which of these padded laptop sleeves is the best choice? Let's summarize what we've learned. The tomtoc 360 Protective Laptop Sleeve is an attractive choice with reasonable storage capacity. It's available in several sizes, and even has matching zippers for each color. And while it doesn't provide a ton of protection from slashing or scratching, it provides very good shock protection. If you're looking for a good balance of storage, appearance, and protection, the tomtoc is a solid choice.
Second on our list, we looked at the Nacuwa Protective Laptop Case. This is by far the most rugged of the bunch, with its EVA housing and its PU leather outer layer. It's safe from most kinds of damage, even if it's not the most attractive case of the bunch. It also comes with a lot of extra storage, so you can carry your mouse and other accessories.
The ProCase is the most stylish of the bunch, with a fabric shell in a quality material. It also has a retractable handle for easier carrying, and more padding than you'd expect from a fabric sleeve. Is it the most durable on our list? No. But for most people, it's durable enough, and it's attractive to look at besides.