A smartphone is really an all-in-one device. We rely on them for nearly everything from playing music, making appointments, taking photos and, of course, communicating. Usually they stay in our pockets, bags or cars but end up within an arms-length no matter what. For some it may be a little strange to consider, but smartphones have become an integral part of our lives and it's rare to find someone who doesn't rely on theirs to make life easier.
That being said, sometimes other things require our attention that can inhibit our ability to get the most out of our smartphones. Life doesn't always allow you a free hand to look something up or send a text, which makes it difficult to use your phone when you need to. Driving is a perfect example.
Note: At no extra cost to you, we may earn a commission for purchases using our links. Learn more.
Aside from the fact that operating a smartphone while you drive is illegal in most states, it just isn't the best choice from a logistical standpoint. Both operating a car and using a smartphone require some level of attention, and trying to do both is not only dangerous, but also prevents you from using your smartphone the way it was intended.
Luckily, there are specific items on the market right now that are made to keep you and your phone safe while you drive, while also letting you use things like the phone's GPS, or hands-free features. We're referring to CD slot mounts that attach right into the center console of your car. These mounts are easy to install, won't damage your car's CD slot and are designed to keep your phone close enough for you to see while you drive without the use of your hands.
There are three really high-quality CD slot mounts on the market right now that are certainly well-made, and we gave each of them a closer look to see which was really the best. We looked at the design, the versatility as well as any drawbacks in each mount and found out which one can really give you the freedom to turn your phone into a hands-free device in the car.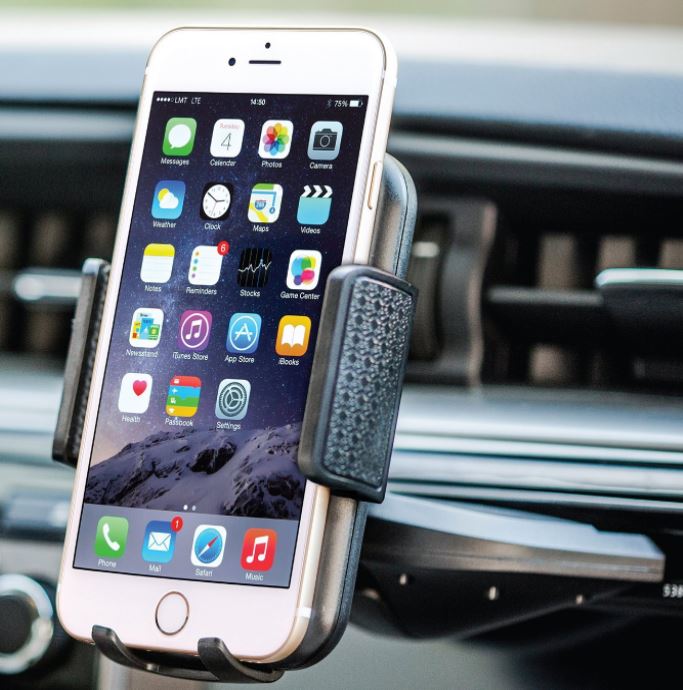 Bestrix Universal CD Slot Smartphone Car Mount/Holder
The Bestrix Universal CD Slot Smartphone Car Mount has a really simple design, required no assembly and seemed ready to go right out of the box. It only comes in black, but we felt it was the right color choice for most car interiors, and didn't feel like another color option was that important. It measures at 3.5 x 6.1 x 3.3 inches and weighs in at 7.2 ounces.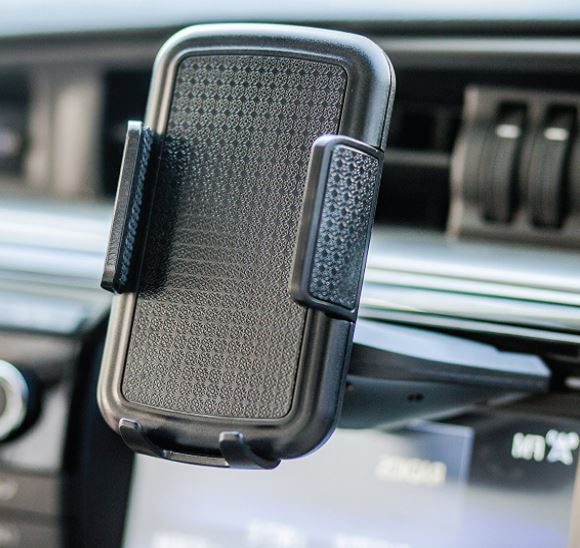 The cradle is made of a cushioned plastic material that was soft enough that it won't damage your smartphone and is fully adjustable up to 3.62 inches. This is wide enough to fit most phones with their cases on, which we felt added a lot of convenience to the overall design. Essentially, you won't have to remove your case for your phone to fit.
It's also fully adjustable by way of a 360 degree ball and socket attachment, allowing for a full 360 degree rotation so you'll be able to position your smartphone any way you like. The CD slot insert is also pretty intuitive. It clips into your CD player via a small plastic attachment and rests firmly in place even on bumpy roads once you lock it in with the on-board lever.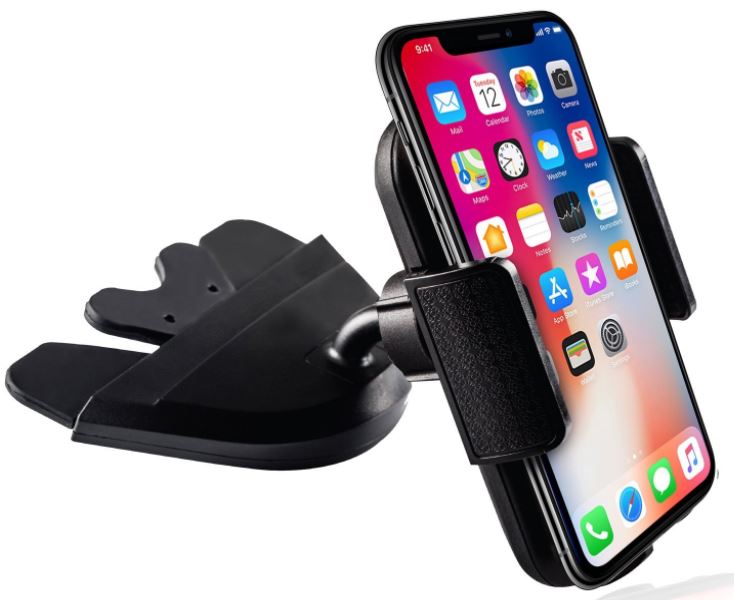 Versatility
The Bestrix CD Mount is extremely versatile and gives you a ton of possibilities for positioning your smartphone. It can only be mounted via your car's CD slot, but the cradle can be rotated 360 degrees so you can find whichever angle suits you best. The mount also comes with three interchangeable rubber pads that can be fitted to CD slots with a variety of different widths.
It has a one-touch release mechanism that enables you to remove your smartphone easily when you're ready to exit your car. Combined with the adjustable cradle, as well as the easy installation, we felt that this mount could be used in nearly any car with a CD player, and could also hold just about any phone even with a case still attached.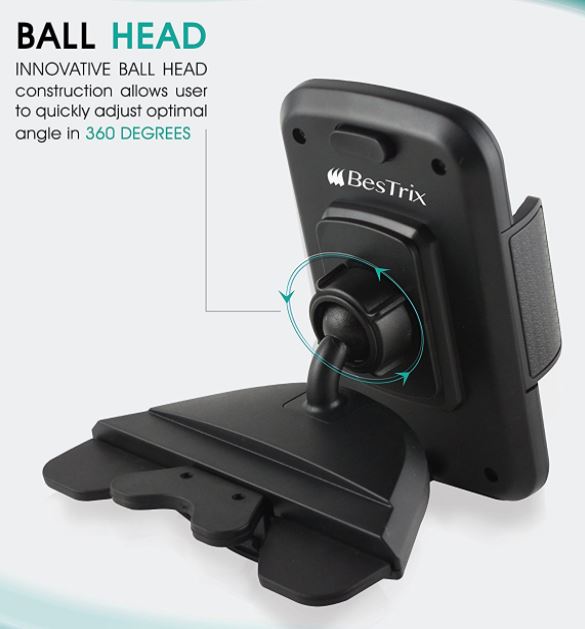 Drawbacks
Overall, the Bestrix Mount was a very high quality mount, and we could only think of a few minor areas for improvement. First and foremost, we would have liked for it to be a little bit better at shock absorption on bumpy roads. It does a pretty good job of keeping phones in place on the highway, but on gravely or stone streets, we noticed a lot of vibrating and shaking that almost made it harder to see our screen.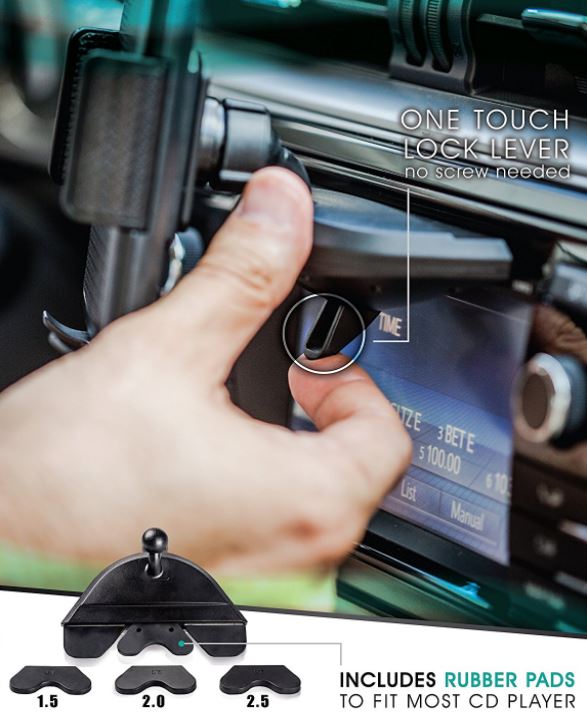 It does attach firmly to the CD player, but we would have liked for it to be a little bit less rigid so that it wasn't fighting the terrain as much it did.
Also, the material felt like it could have been a little stronger. Granted, the mount likely won't be going anywhere, but it felt like it could be easily broken or damaged. The entire unit is made mostly of plastic, and while it did keep our smartphone locked in place, we still found ourselves wanting something sturdier like carbon fiber or aluminum for the overall build.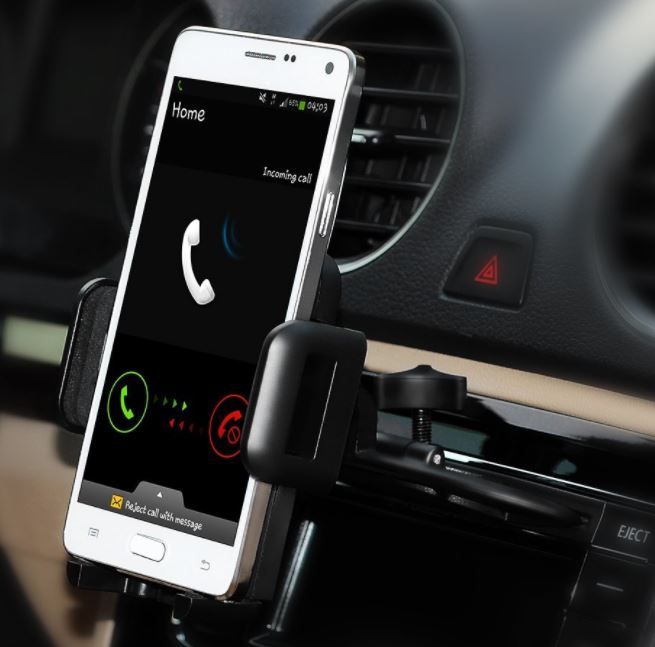 Mpow Car Phone Mount, CD Slot Car Phone Holder
The Mpow Car Phone Mount has an extremely robust design that might even be a little too heavy-duty for some people. It also comes in five different colors. You'll be able to choose from black, grey, red, yellow or blue. The phone holder section is large enough to fit phones between 1.58 inches and 3.54 inches and has soft rubber padding on both the cradle as well the clamps themselves. To give you an idea of the range of what the cradle can handle, it can fit phones the same size as the iPhone 4S, all the way up to phones the size of the iPhone 7 Plus.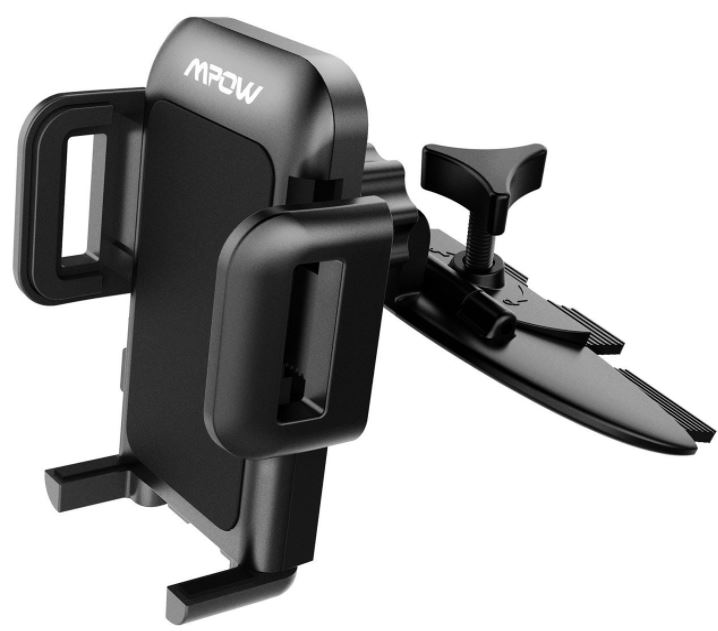 You can easily set the clamps to the right size simply by pressing them together until they lock, and there are two smaller supports on the bottom of the cradle. There's also a one-touch release button for removal of your smartphone, much like the Bestrix Mount. It is also adjustable to a full 360 degrees, and can even be slightly tilted for a more optimized viewing angle. The cradle connects to the CD slot blade via a ball and socket joint that gives it such a high level of adjustability, but it can also be tightened to maintain a fixed position. The blade itself has two parts, and can also be tightened with a small knob for snug fit into the CD slot.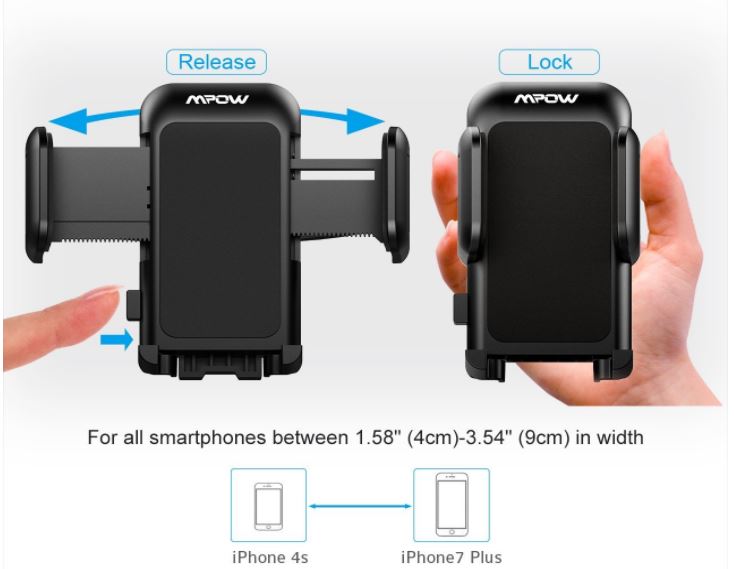 Versatility
We found the Mpow Mount to be extremely versatile, and felt that it could fit into just about any CD slot. The main reason for this was the knob that controlled the tightness of the CD slot blades. The blades themselves aren't thick enough to damage your CD slot, and can have their width customized for a secure fit. They can open as wide as 4.1 inches, even though we didn't think this was totally necessary.
The spectrum of smartphone sizes that you can fit in the holder also added to the mount's usability and wide variety of applications. For example, for those with larger phones like the Iphone 7 Plus or Samsung Galaxy S8, the Mpow Mount could be used to create an extremely easy to view GPS system.
Drawbacks
The biggest drawbacks to the Mpow Car Phone Mount was the bulkiness of the design, as well as the assembly involved in setting it up. The mount is capable of holding a variety of smartphones, but was just too large and clunky for something that is designed to sit in the center console of a car. It almost felt a little obstructive to our vision while driving, even while holding a smaller phone. We would have preferred for it not only to be smaller but also a little easier to install.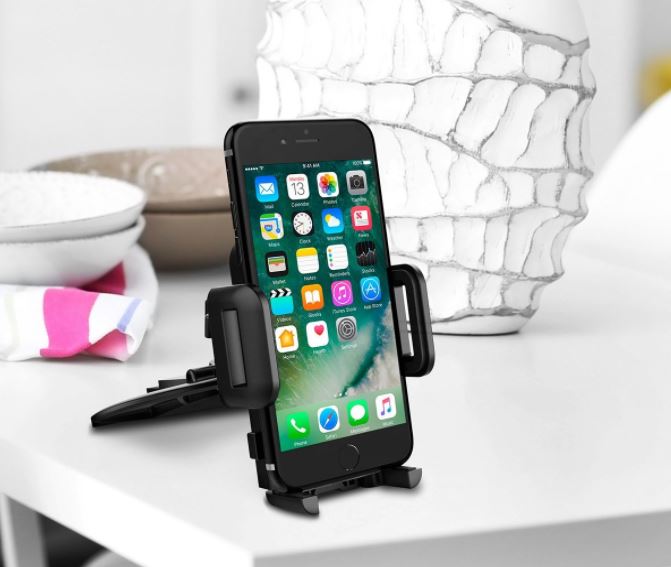 You'll have to connect the phone holder to the CD slot blades and then apply the cushions to the blades before inserting the entire unit into your CD player. Then, in order to ensure a secure fit, you'll have to turn the knob to tighten the blades. For something that could be very easy to use, this just felt like a lot of steps and took away from the overall convenience of the mount.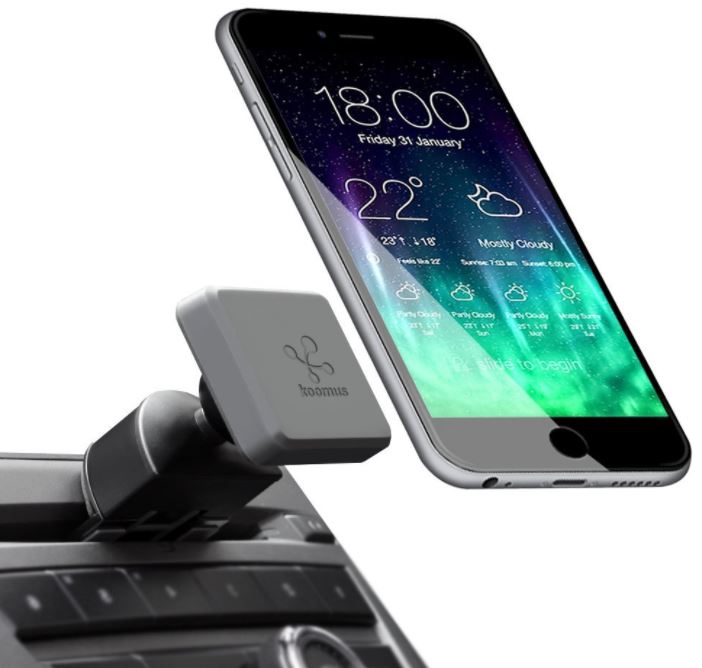 Koomus Pro CD-M Universal CD Slot Cradle-less Smatphone Mount
The design of the Koomus Pro CD-M Smartphone Mount was a serious departure from the other two on our list. Instead of a cradle, it uses a small, gray magnet that simply connects to a small adhesive metal plate that sticks to the back of your preferred smartphone. The magnet is also large and powerful enough that it could hold a tablet if you really wanted to navigate with a larger screen.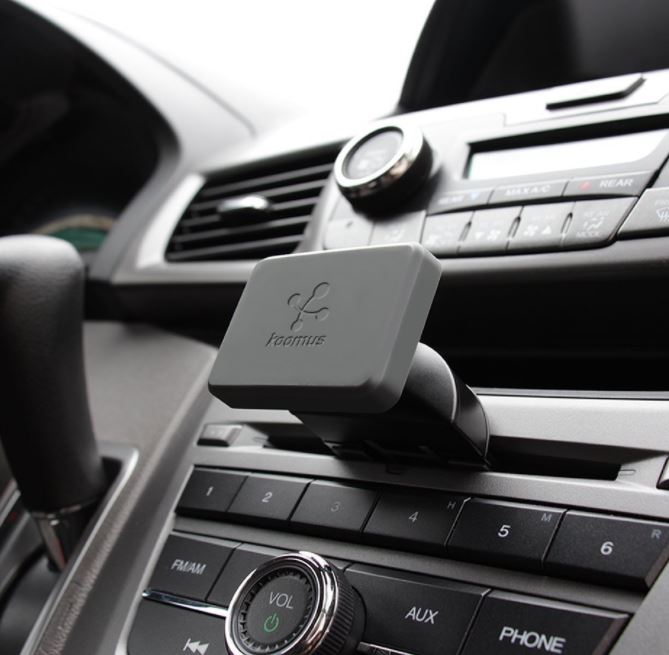 You'll also find a small button with the word "PUSH" on it that is used for easy installation. The mount attaches to both car air-conditioning vents as well as CD players through a small mount clip that opens and closes by using the button, making it easy to position in a number of different places. Of the three on our list, this mount was the most basic, economical, and simple and we were very impressed by its overall build.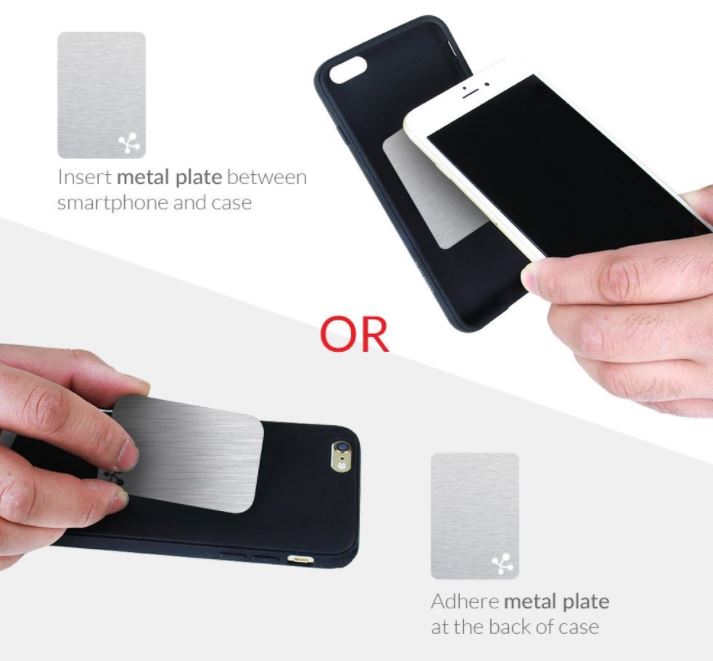 Versatility
The Koomus Pro CD-M Smartphone Mount was one of the more versatile ones we've seen, despite it having the simplest, most basic layout. The magnetic cradle-less design, makes it able to fit virtually any smartphone or tablet, because there are no clamps. All you'll have to do is use one of the adhesive metal plates, let the magnet do its job and your smartphone or table will remain securely fastened wherever you set it up.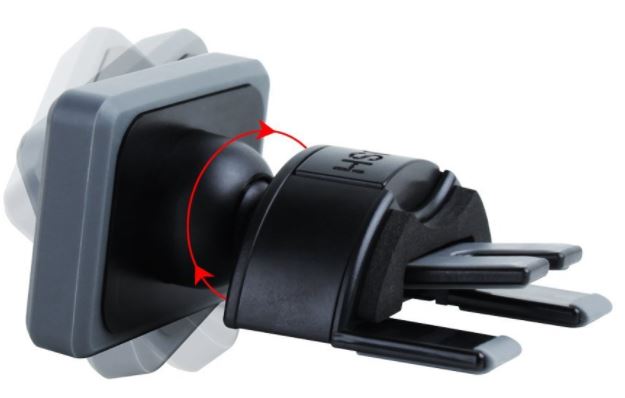 It's also adjustable to 360 degrees just like the other two on our list but did lack the same tilting capabilities. You can still rotate it to your liking, but when it comes to finding a specific angle, you may be a bit limited.
We also found that the quick-snap mounting system was a great addition because it didn't only work on CD players. The single button and mount clip enables you to place the mount on air-vents as well, in case you find that using your CD player causes too much of an obstruction to your vision.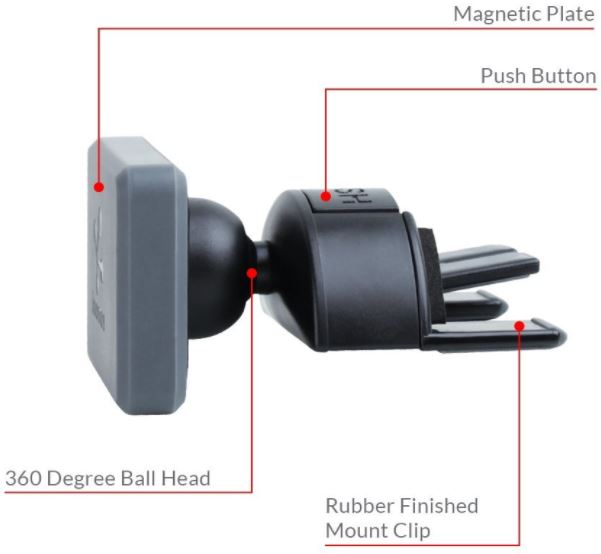 Drawbacks
Our only real concern when it came to the Koomus Pro CD-M Mount was the strength of the magnet. While we didn't have any accidents while using the mount, we were still left wondering how well it would hold up against bumpy roads or someone knocking into the connected unit. The adhesive metal plate, while a good concept, felt like it could come off after long periods of use, and there was no way to tell how reliable it would be over time.
Also, you'll be required to stick it to your tablet or phone, and if you want to continue using your device in the mount, you'll have to leave the plate on. This can be a little bit of an eyesore when you take the phone out of the car, and we would have liked a mounting option that didn't require such a heavy modification to our smart devices. Again, the adhesive metal plate and magnet worked for us in the short time, but made us a little skeptical about the potential longevity of the mount as a whole.
The Winner
Despite its few shortcomings we felt that the Koomus Pro CD-M Cradle-less Smartphone Mount was the best on our list. It required the least amount of installation, was the easiest to set up, and had a design that was simple, functional and user-friendly. It also opens you up to the possibility of mounting your phone or tablet in a number of different places other than just the CD slot. This added a level of uniqueness and made the mount customizable in a way that others just weren't.
While the other two used cradles that, at times, felt a bit more secure, our issues with the magnetic design of the Koomus Pro were mostly speculative. During our initial test, it performed just as well as the Mpow and Bestrix, while also managing to be less bulky.
Please consider sharing:
Note: At no extra cost to you, we may earn a commission for purchases using our links. Learn more.